This traditional Bread Pudding recipe is a classic dish that everyone is sure to love. Brioche bread is soaked in a deliciously sweet custard mixture, and baked to perfection. Every bite is a delight, and it makes for an indulgent breakfast or holiday dessert!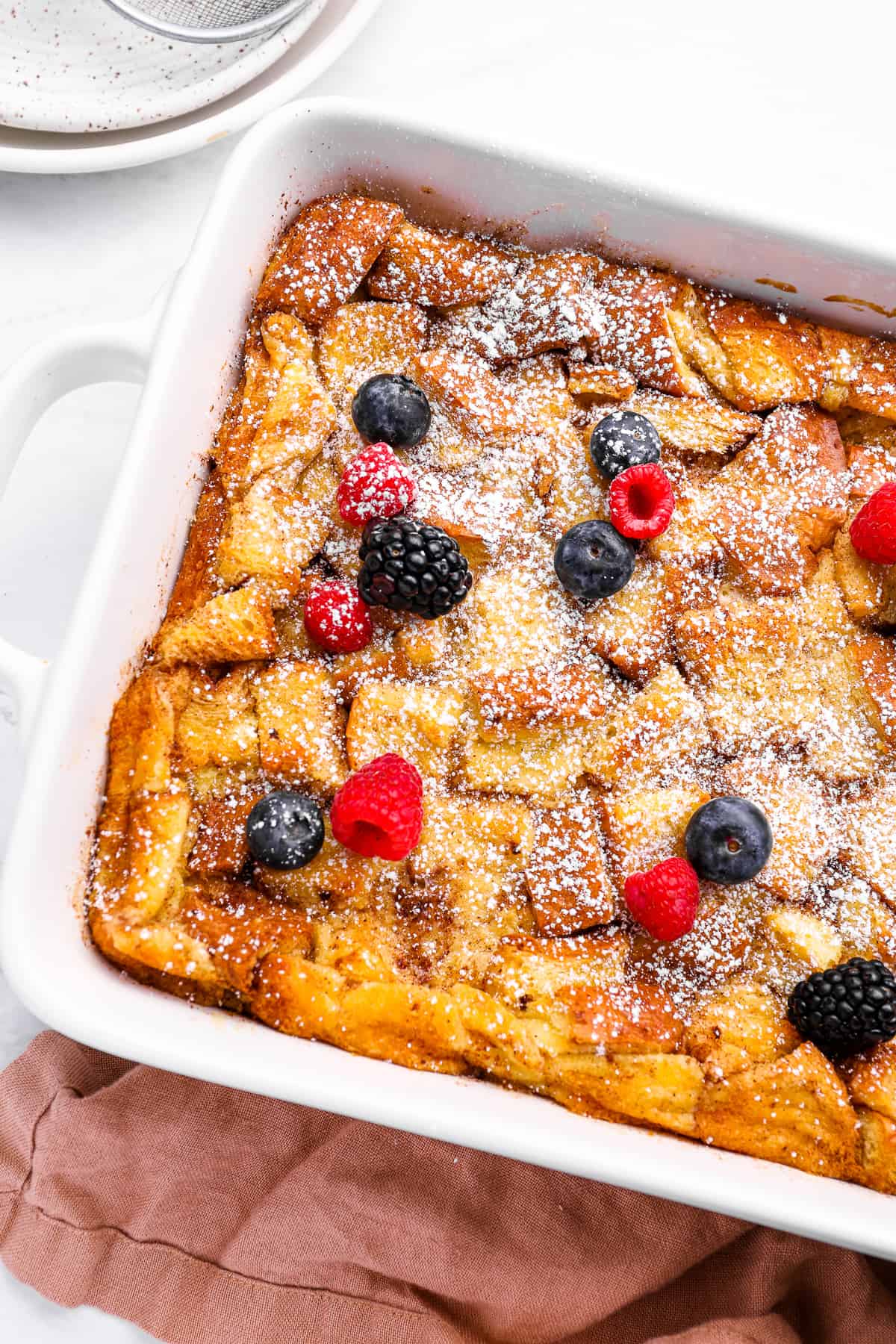 Easy Bread Pudding
This beautiful bread pudding is so easy to make, and it comes out perfectly delicious every time. The combination of brioche bread with a sweet, cinnamony custard creates the best texture.
Holidays are the perfect time to serve up this dish, especially on busy mornings with guests or large families. Make it ahead of time so it's ready to bake when you wake up!
Why You'll Love this Bread Pudding Recipe:
Easy: The steps for this recipe are so simple, you'll be able to throw this together in no time!
Perfect Texture: Baking this bread pudding in the oven leaves you with an amazing texture that makes every bite irresistable!
Crowd Favorite: Kids, adults, family and guests alike will all love this!
This makes a great Christmas morning breakfast, especially if you get it prepped the night before. And leftovers will make a nice dessert too.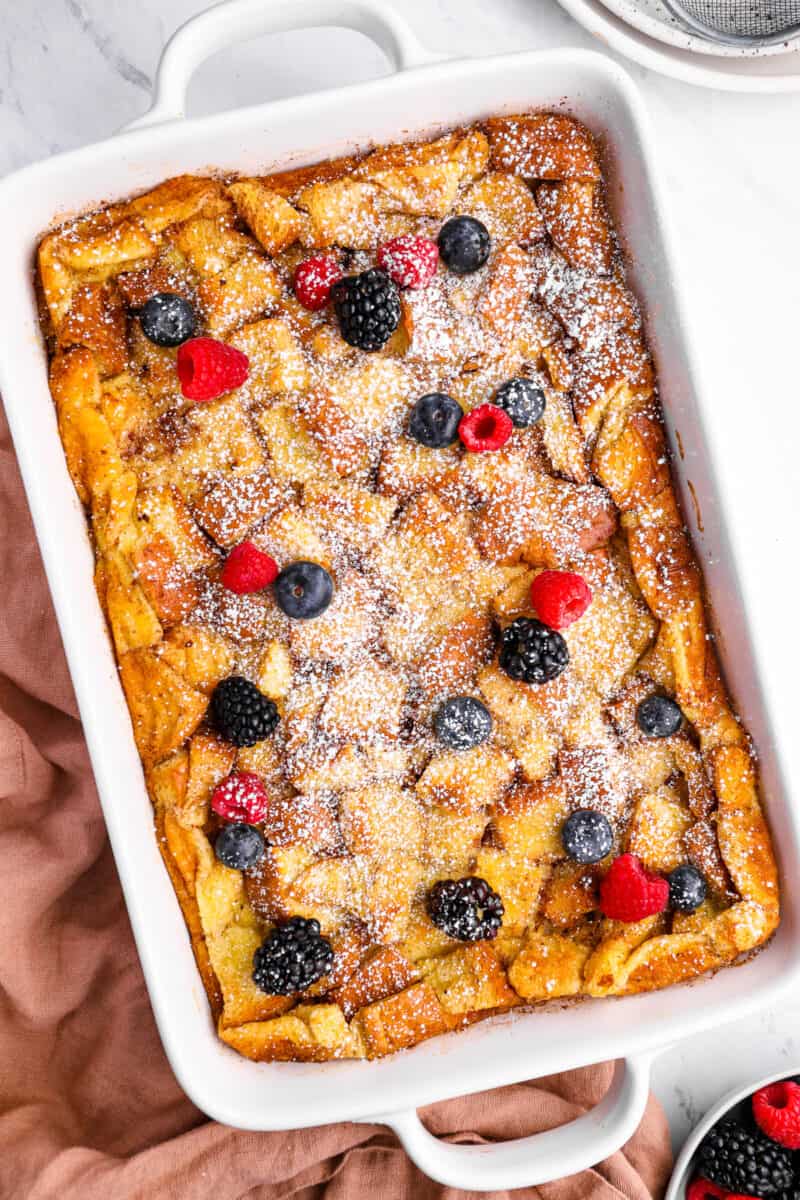 How to Make Bread Pudding
You can jump to the recipe card for full ingredients & instructions!
Cut up the brioche into cubes, and bake briefly. Then layer the bread into the bottom of a baking dish.
Combine ingredients to make the pudding mixture, then pour it directly over the bread cubes. Let it sit so the bread can soak up the liquid. (You can refrigerate it at this point until ready to bake.)
Then just bake, slice, and serve!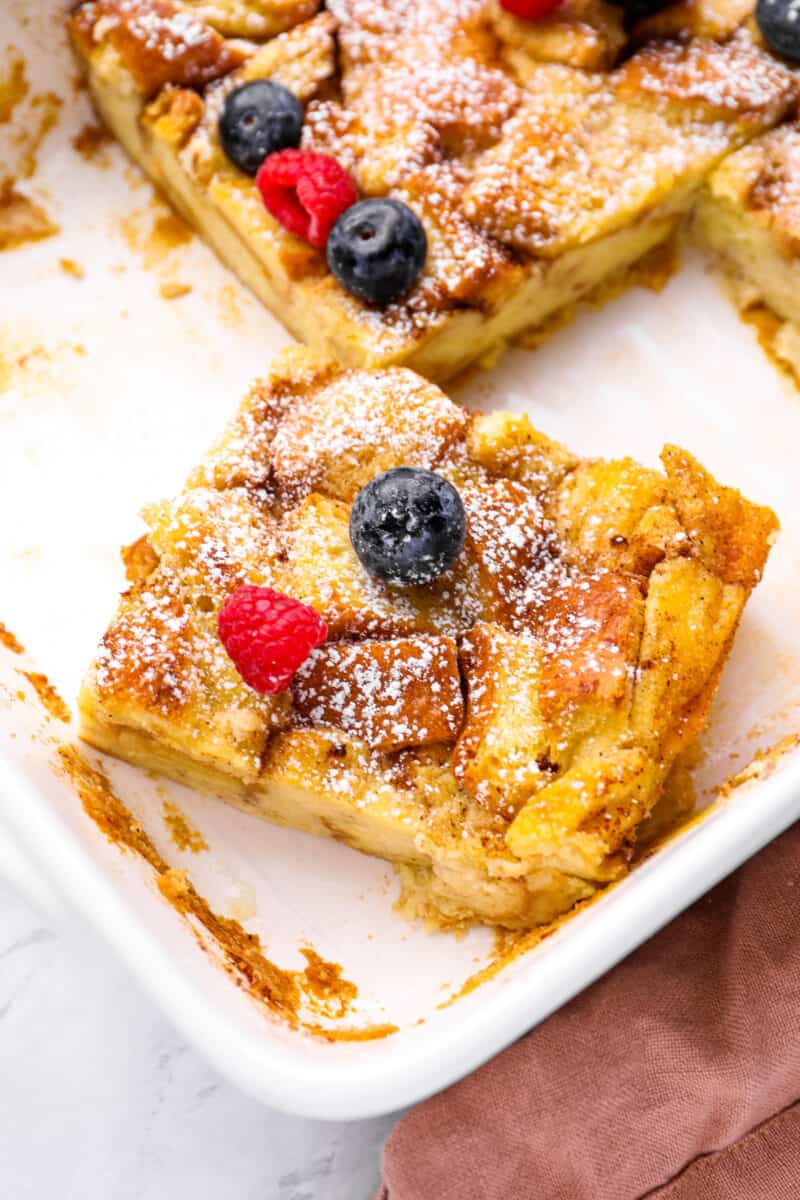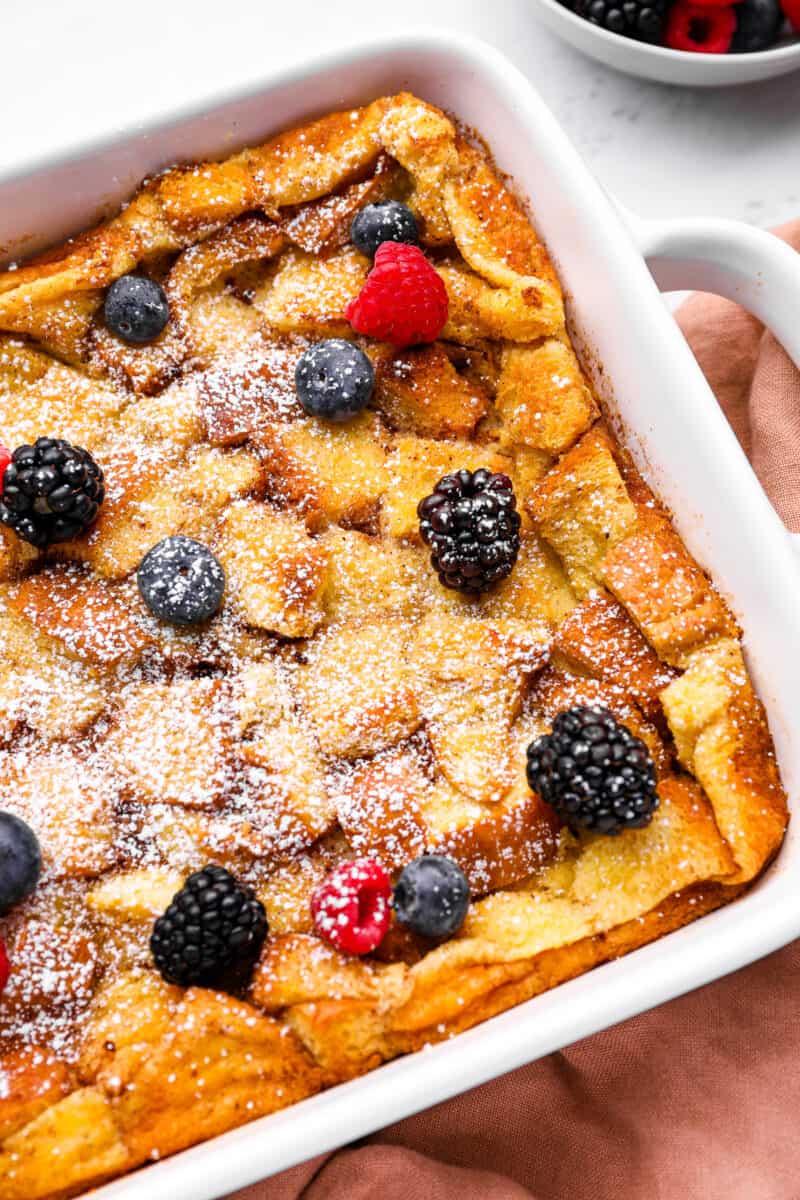 What is bread pudding?
Bread pudding is a custard-based dessert made with stale bread, milk or cream, eggs, and butter. It can be made sweet or savory, but this classic version is sweetened with sugar, cinnamon, and vanilla extract.
What's the best kind of bread for bread pudding?
Hearty loaves like brioche, challah, or French bread are best for bread pudding because they are sturdy and hold up to being soaked without falling apart.
How can you tell when bread pudding is done baking?
The center should be firmly set, not wet, droopy, or soggy. The bread will be beautifully golden brown.
Why is my bread pudding mushy?
Your bread pudding can come out mushy if it is either not fully baked or if the bread was not stale enough. Make sure to bake it until it is no longer wet and soggy, and be sure to toast your bread well before using it.
Do you eat bread pudding cold or hot?
This tastes amazing either hot or cold. I love eating it fresh out of the oven (slightly cooled), but leftovers straight out of the fridge are good too.
Does bread pudding need to be refrigerated?
Yes! Bread pudding should not be left at room temperature for more than 2 hours.
Can you freeze bread pudding?
Yes, this actually freezes nicely. Let it cool after baking, then wrap it tightly in layers of plastic wrap and aluminum foil. It will keep for up to 3 months.
Serving Suggestions
This old-fashioned bread pudding has a simple yet delicious flavor, so you can top it off with all kinds of things to make it unique. Add fresh berries, powdered sugar, maple syrup, or anything else you might have on hand.
I love having a hot drink ready to pair with this (or a cocktail if it's brunch time). Whip up a flat white if you're a coffee drinker, or make hot chocolates for the whole family.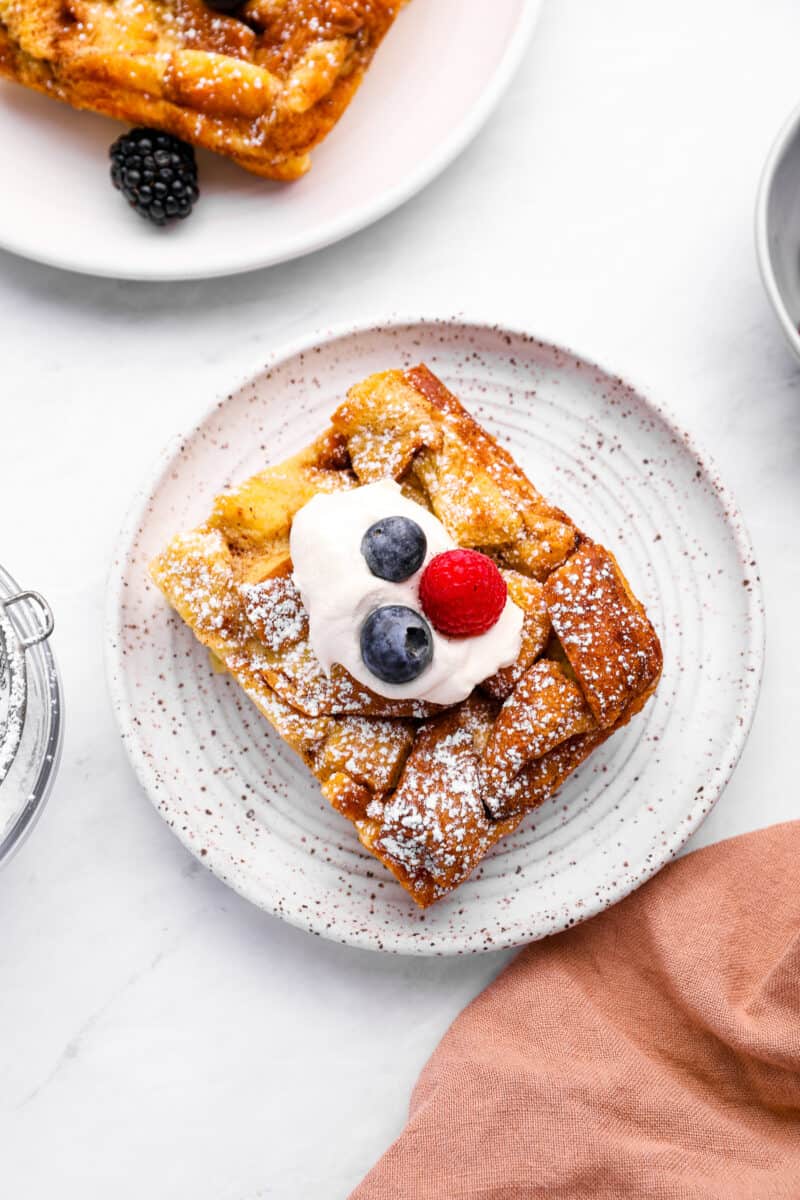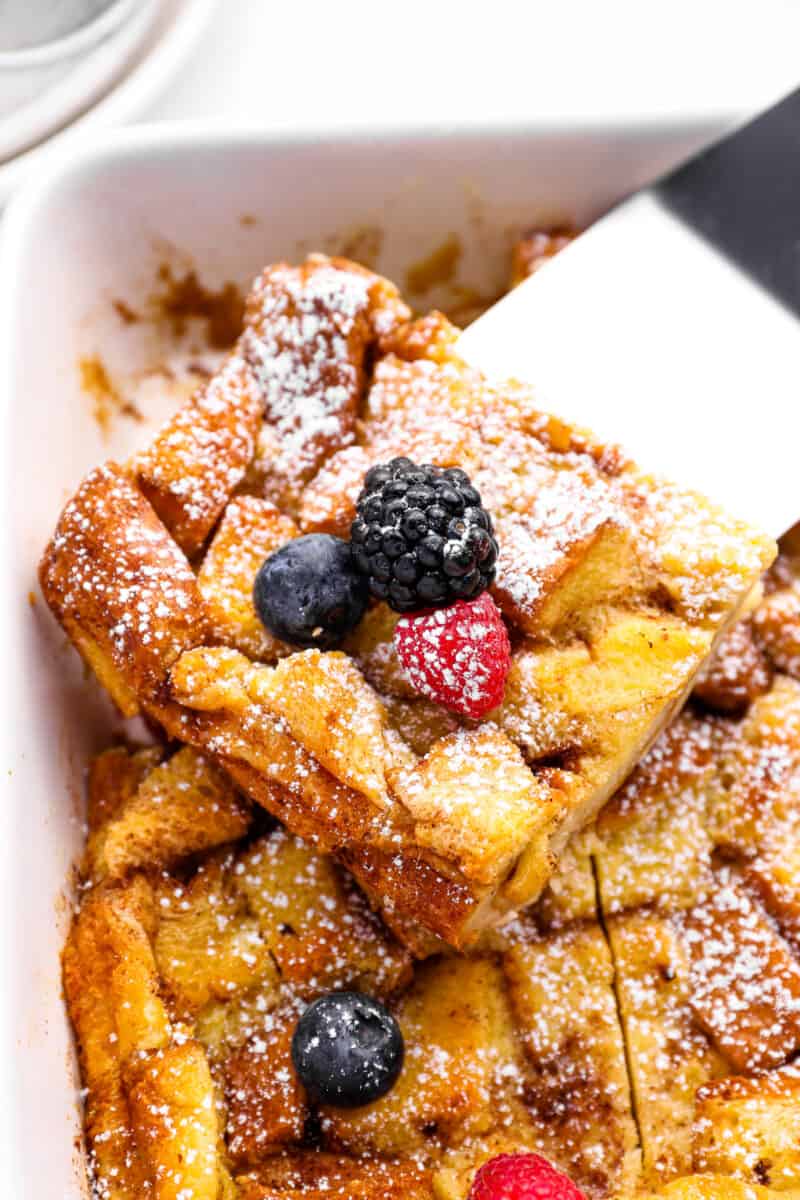 Make Ahead Instructions
Prepare this bread pudding through step 5, cover with plastic wrap, and store in the refrigerator overnight. Bake first thing the next morning!
Storage Instructions
Store leftover bread pudding in an airtight container in the refrigerator for up to 5 days. Reheat covered in a 350°F oven for 10-12 minutes, until hot.
Freezing Instructions
Freeze bread pudding whole or cut into individual portions tightly wrapped in 2 layers of plastic wrap and 1 layer of aluminum foil for up to 3 months. Let thaw overnight in the refrigerator before reheating.
Substitutions
Tips for the Best Bread Pudding
Make sure to use a hearty loaf of bread that won't fall apart once wet.
If your bread is already stale, you can skip step 2.
If you notice your bread pudding is browning too much during baking, cover it loosely with aluminum foil.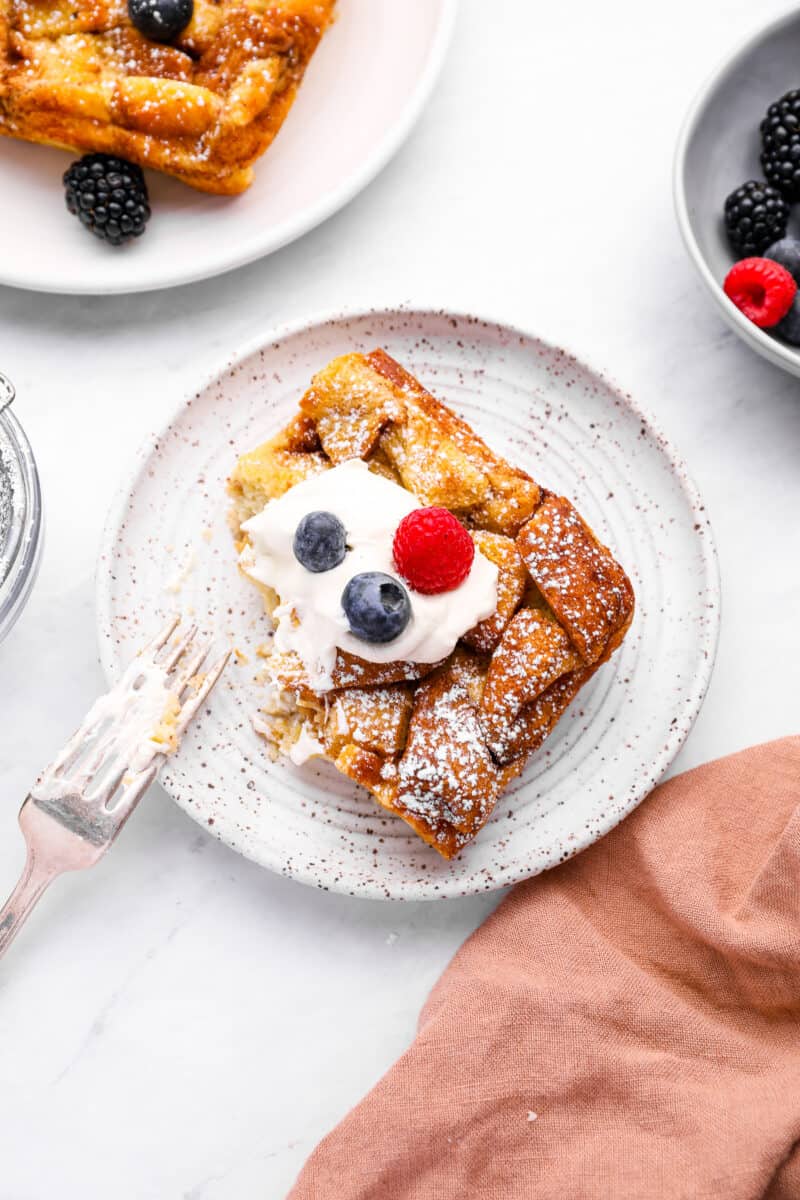 Impress guests, family, and everyone in between with this easy bread pudding recipe. It's so tasty, and the texture is unbeatable!
If you make this recipe be sure to upload a photo in the comment section below or leave a rating. Enjoy! You can also jump to recipe.