Sugared Cranberries are a simple and gorgeous treat! With only three ingredients, this beautiful candied cranberries recipe will be your go-to garnish or snack this holiday season. Sweet and tangy, they are a must have this Christmas!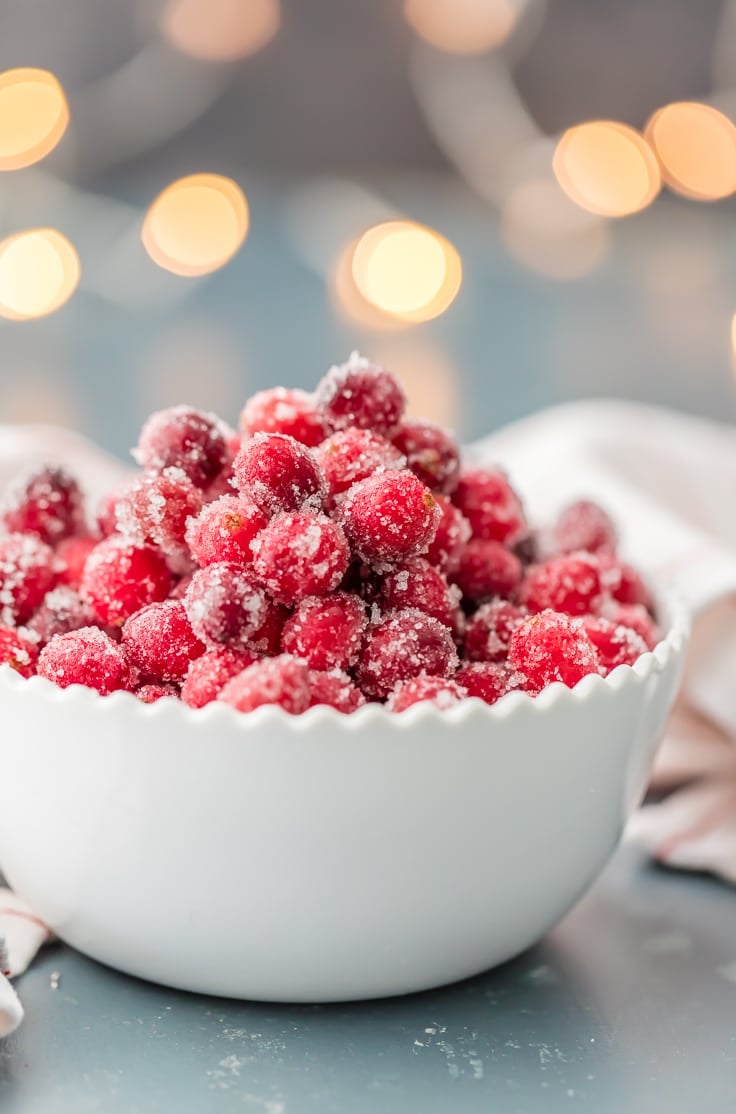 Sugared Cranberries
Sugared Cranberries are so easy to make and can be used in a million ways. They're so festive and pretty, they'll dress up any holiday buffet or dinner table. Use these candied cranberries in cocktails, as garnishes, or enjoy them as a quick and easy holiday snack!
I've been making sugared cranberries for a few Christmases now and they're easily among my favorite things to make and eat around the holidays. They're so pretty!
That gorgeous cranberry color dusted with sugar crystals just makes me think of snow on treetops. They're the perfect garnish for holiday cocktails, on an appetizer buffet, as a salad topper or a late evening dessert. And with only THREE ingredients, they couldn't be simpler to make!
Be sure to try my Sugared Almonds and Candied Pecans too!
Why You'll Love this Candied Cranberries Recipe:
Easy: There really is nothing to this recipe! Super simple and so fun to make!
Simple Ingredients: You only need 3 ingredients to make these so you have no excuses!
Festive: These will make the perfect finishing touches to your holiday parties! Great for garnishes, decorating and Christmas snacking!
These Easy Sugared Cranberries would make the most gorgeous Christmas tree garland! Try stringing some with your loved ones on a cozy evening in front of the fireplace. Sounds like a picture-perfect holiday activity to me!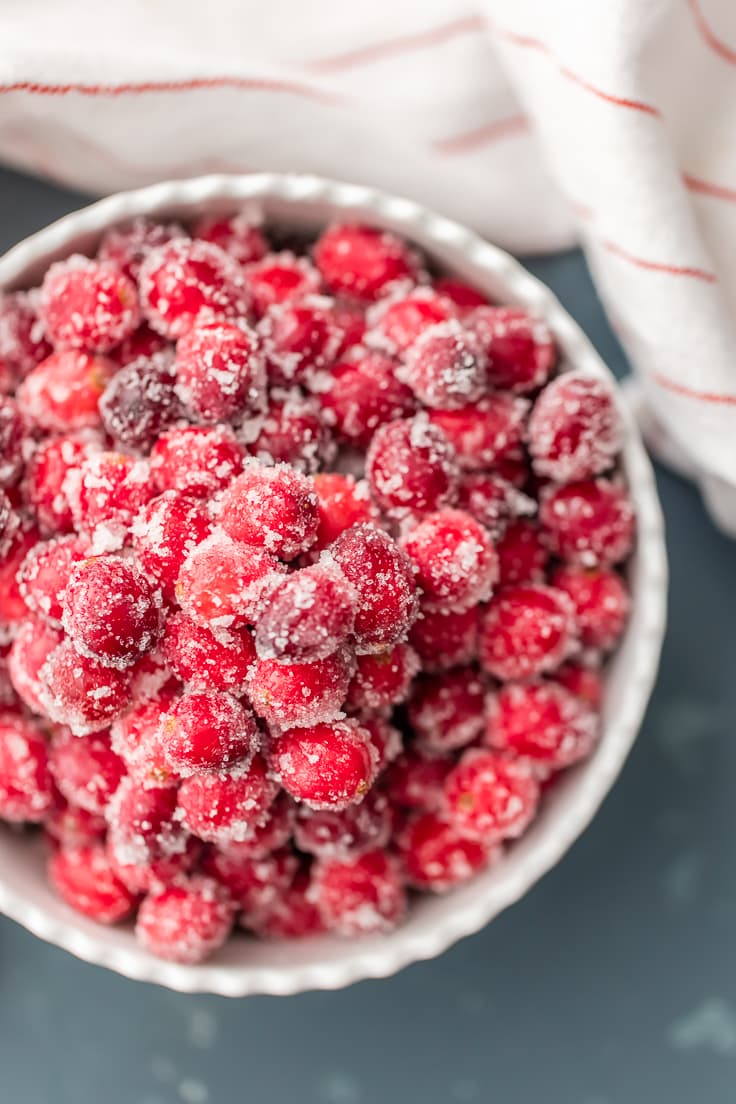 How To Make Sugared Cranberries
You can jump to the recipe card for full ingredients & instructions!
Mix some sugar and water in a saucepan and allow to come to a simmer.
Then, stir in your cranberries, making sure they're all nice and coated with the sugar water.
Next, roll the cranberries in more sugar and let them dry. Beautiful!
3 Ingredients
Cranberries: I recommend using fresh cranberries for best results.
Sugar: White granulated sugar is best for this recipe because it gives the cranberries a beautiful frosted look. But you can use different types of sugar instead.
Water: You'll need water to make the simple syrup (sugar + water).
That's it! Just 3 ingredients to make candied cranberries. I told you they were easy! And yet they pack such a powerful punch, and they're so nice to look at.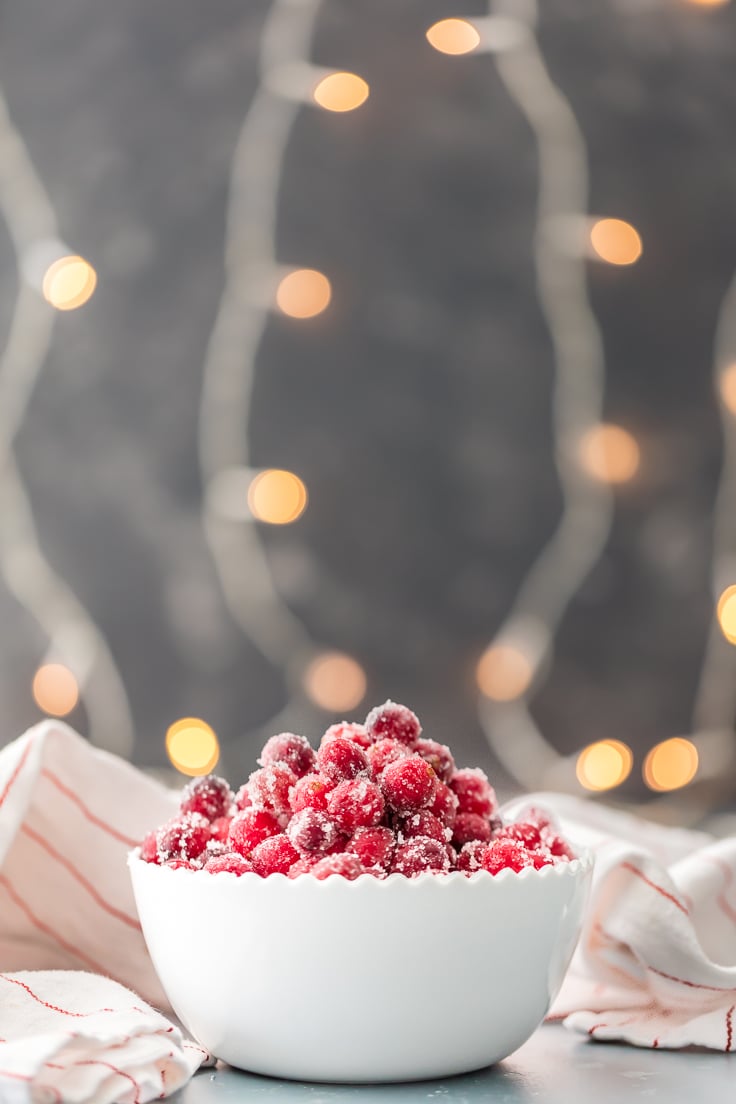 What are sugared cranberries?
Sugared cranberries are simply dipped in a simple syrup and then coated in sugar. They're sometimes called candied cranberries or frosted cranberries too.
How long do sugared cranberries last?
These easy sugared cranberries should maintain their shimmer and shine for up to a week. Store them in an airtight container in a cool, dry place. You can re-roll them in sugar to freshen them up after a couple of days.
Can you make these with brown sugar instead?
Yes. I prefer to make these with white granulated sugar. You can use brown sugar but they won't look as shimmery or festive, they'll still taste good though!
Can you make this recipe with other berries?
If cranberries aren't your thing, you can easily use this method to sugar coat other berries. Blueberries, strawberries and blackberries all work well. You can also use this technique to sugar nuts.
Can you use frozen cranberries?
Use fresh cranberries for the best results. If using frozen, fully defrost them first.
Can you eat raw cranberries?
Yes, cranberries are safe to eat raw. They have quite a bitter, tangy taste when uncooked, so some might not enjoy them. But when they're candied like this, they taste nice and sweet.
These are so great to snack on by themselves, but also make a good topping or garnish for desserts, cocktails, and more. They'd even be beautiful on a holiday-themed charcuterie board!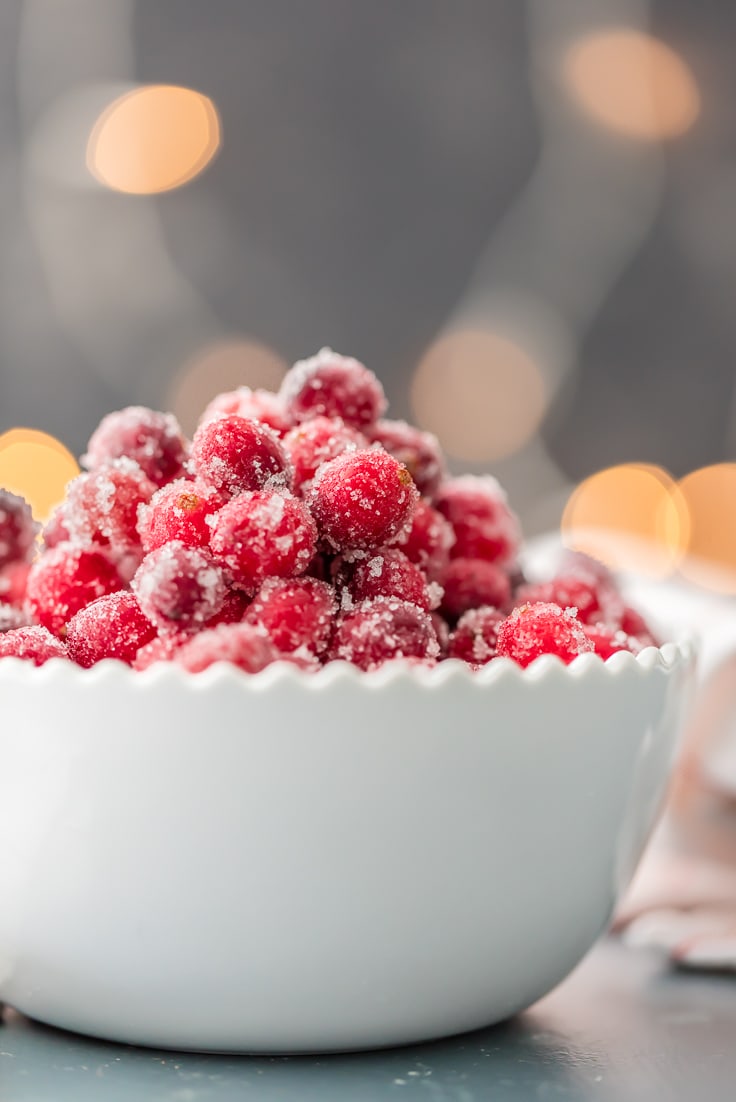 Tips!
Let the candied cranberries set on wax paper so that they don't stick to the tray.
Let the cranberries cool in a single layer so that they don't stick together.
Make sure that the sugared cranberries are fully set before storing.
These pretty cranberries take a little bit of time, but practically zero effort. You can do this while working on a bunch of other things!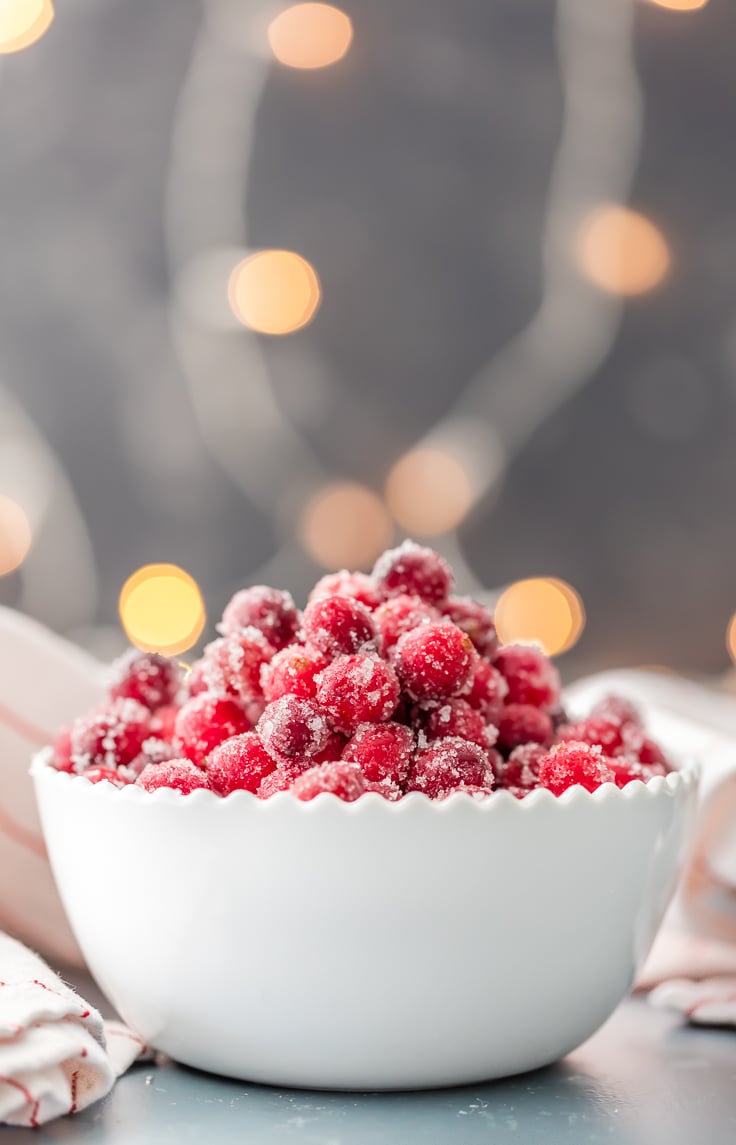 This easy sugared cranberries recipe is perfect for adding a touch of festive sparkle to your home and favorite Christmas recipes. I'm sure making these will become a family tradition for you too!
If you make this recipe be sure to upload a photo in the comment section below or leave a rating. Enjoy! You can also jump to recipe.