Cosmic Brownies are just like the childhood treats you loved, but even better! Homemade fudgy brownies are topped with a layer of sweet chocolate frosting and speckled with colorful candies.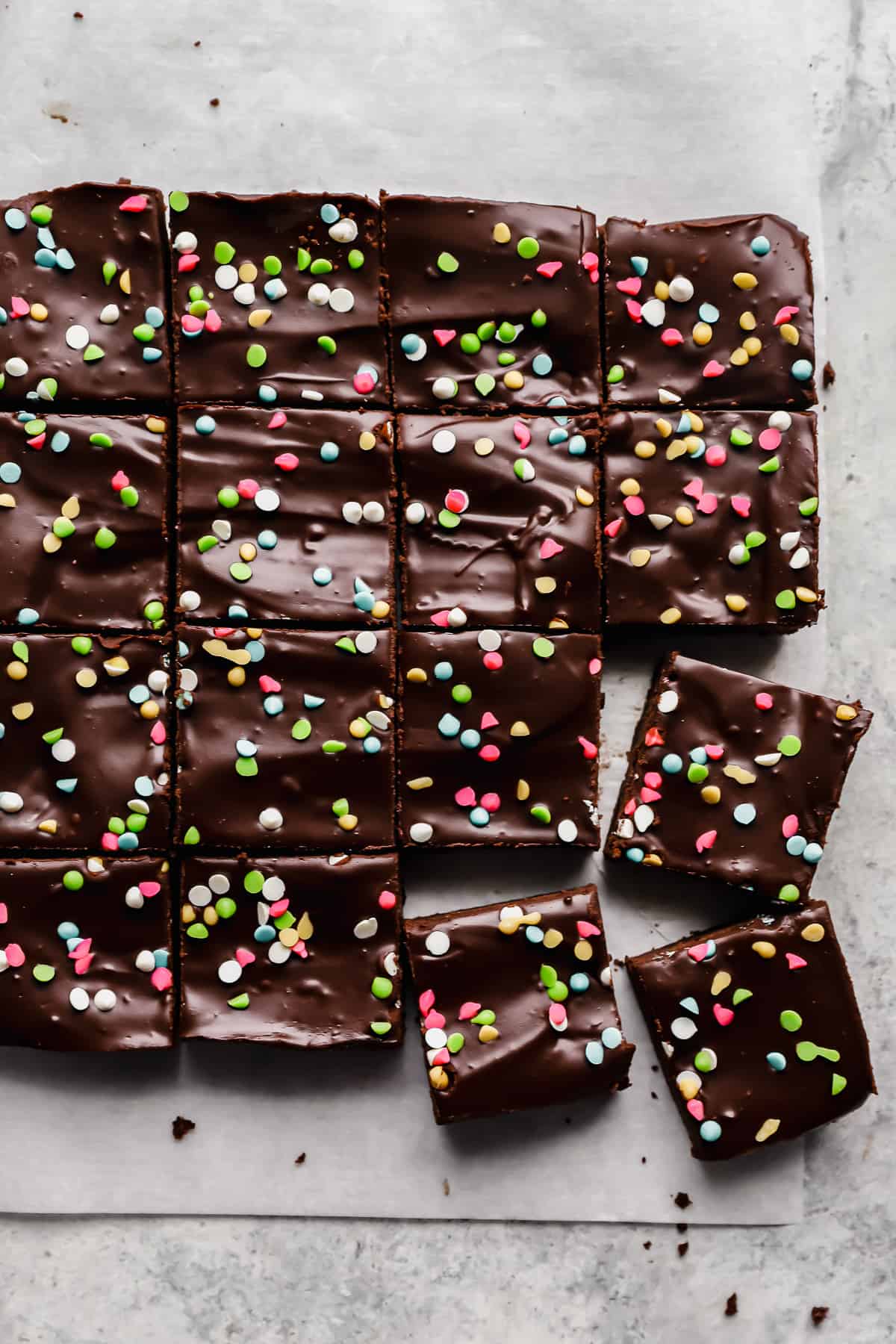 What's in a Cosmic Brownie?
These homemade brownies are chewy and thin, just like the Little Debbie snacks you know and love. The frosting on top is so smooth, chocolatey, and perfectly sweet! Of course, what really makes these brownies cosmic in appearance is the sprinkle of rainbow candy-coated chocolate chips on top.
All-Purpose Flour: Gives these brownies structure and texture.
Unsweetened Cocoa Powder: Gives these brownies their rich chocolate flavor. You can use any cocoa powder you prefer, as long as it is unsweetened. Use natural cocoa powder for a more natural taste, and use Dutch-process cocoa powder for a smoother taste.
Unsalted Butter: Adds moisture and richness to the brownies. You can use a neutral oil, such as vegetable, canola, or coconut oil, in place of the butter, but your brownies may not turn out as soft.
Sugar: A mixture of granulated and brown sugar sweetens these brownies while also giving them. rich, molasses-y flavor.
Eggs: Give these brownies structure and even more richness.
Vanilla Extract: Enhances the chocolate flavor of the brownies.
Kosher Salt: Enhances the chocolate flavor of the brownies.
Chocolate Chips: Melt down to create a rich ganache frosting. Feel free to use milk, semisweet, or dark chocolate chips in the ganache to make these brownies to your taste.
Heavy Cream: Thins out the chocolate chips to create a rich ganache.
Rainbow Candy-Coated Chocolate Chips: Add fun color and a yummy crunch to the brownies. If you can't find them, you can use mini M&M's or rainbow sprinkles instead.
Pro Tip: Feel free to add up to 1 cup of mix-ins to these brownies, such as chocolate chips or nuts.
Variations on Little Debbie Cosmic Brownies
This cosmic brownie recipe closely follows the iconic snack, but you can also make it your own with some simple modifications. Add a few drops of peppermint, coconut, or almond extract to the brownies to change their flavor. After pouring the brownie batter into the pan, you can swirl in some peanut butter, caramel sauce, Nutella, cookie butter, marshmallow fluff, or cream cheese. You could also add some of the rainbow candy-coated chocolate chips into the batter for even more fun color!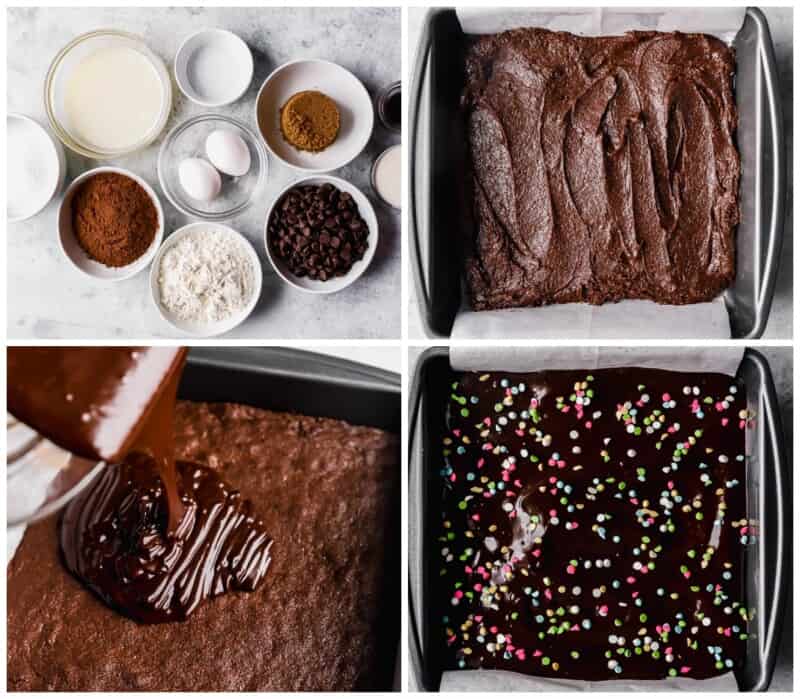 What are cosmic brownies?
Cosmic brownies are fudge brownies topped with chocolate frosting and candy-coated rainbow sprinkles. They were created in 1999 by Little Debbie to capitalize on the booming cosmic bowling trend.
Do cosmic brownies have nuts?
No, these brownies do not contain any nuts, but you could absolutely add some if you'd like. Chopped walnuts or pecans would be delicious!
Are cosmic brownies gluten-free?
No, these brownies are not naturally gluten-free. You could make them gluten-free by using a gluten-free 1:1 baking flour in place of the all-purpose flour.
Can I make cosmic brownies with oil instead of butter?
Yes, you can make these brownies with an equal amount of vegetable oil, canola oil, or coconut oil. Your brownies may turn out less fudgy and soft, though!
Why did my cosmic brownies turn out crumbly?
Your cosmic brownies may turn out crumbly if you don't measure your ingredients carefully. Be sure to spoon and level your dry ingredients for the most accurate results.
Where can I get rainbow candy-coated chocolate chips?
Unfortunately, I have not found these specialty candies in grocery stores. However, they are easily found on both Amazon and Nuts.com, or you can always substitute them for mini M&M's or regular rainbow sprinkles. If you choose to use rainbow sprinkles, I recommend nonpareils for the closest look to the original.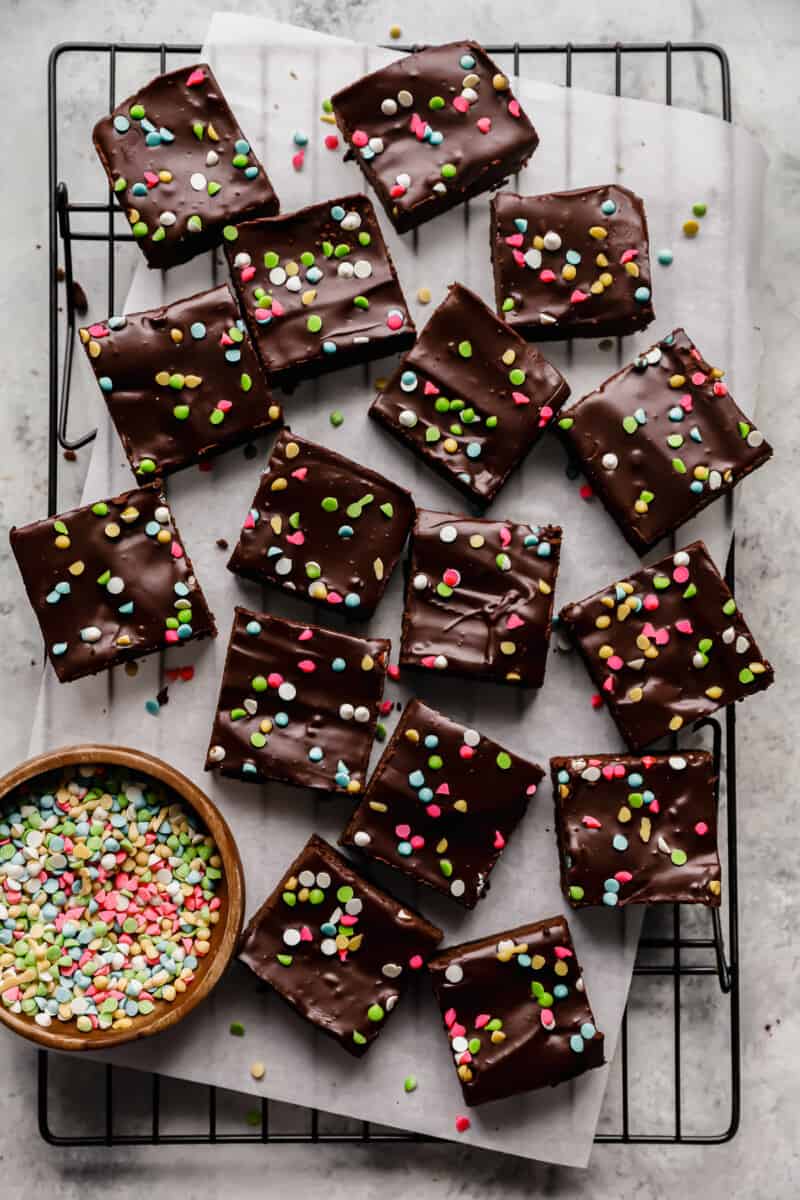 How to Make Ahead and Store
You can bake these cosmic brownies up to 1 day in advance and frost them on the day you plan to serve them. Store the unfrosted brownies in an airtight container at room temperature until ready to frost and serve.
Store leftover cosmic brownies in an airtight container in the refrigerator for up to 5 days. Although they are safe to store at room temperature, I do not recommend it, as the frosting tends to melt off in warmer temperatures. Bring the brownies to room temperature for about 10 minutes before serving.
How to Freeze
Freeze cosmic brownies cut into individual slices and wrapped in 2 layers of plastic wrap and 1 layer of aluminum foil for up to 2 months. Let thaw at room temperature before serving.
Serving Suggestions
Serve these cosmic brownies with a scoop of red velvet ice cream, white chocolate mousse, no bake cheesecake cups, or chocolate pots de creme for an even more indulgent dessert.
Or enjoy them simply with chocolate coffee, an iced mocha, or an iced chai tea latte. And who could say no to a Bailey's milkshake, frozen caramel hot chocolate, or hot buttered rum?
More Chocolate Brownie Recipes We Love