Ramen is a delicious and nutritious meal. This Vegetarian Ramen with Crispy Tofu recipe is certainly no exception. In just minutes, you will have a delicious bowl of easy ramen that warms the body and the soul! Not only that, but it is also very affordable to make.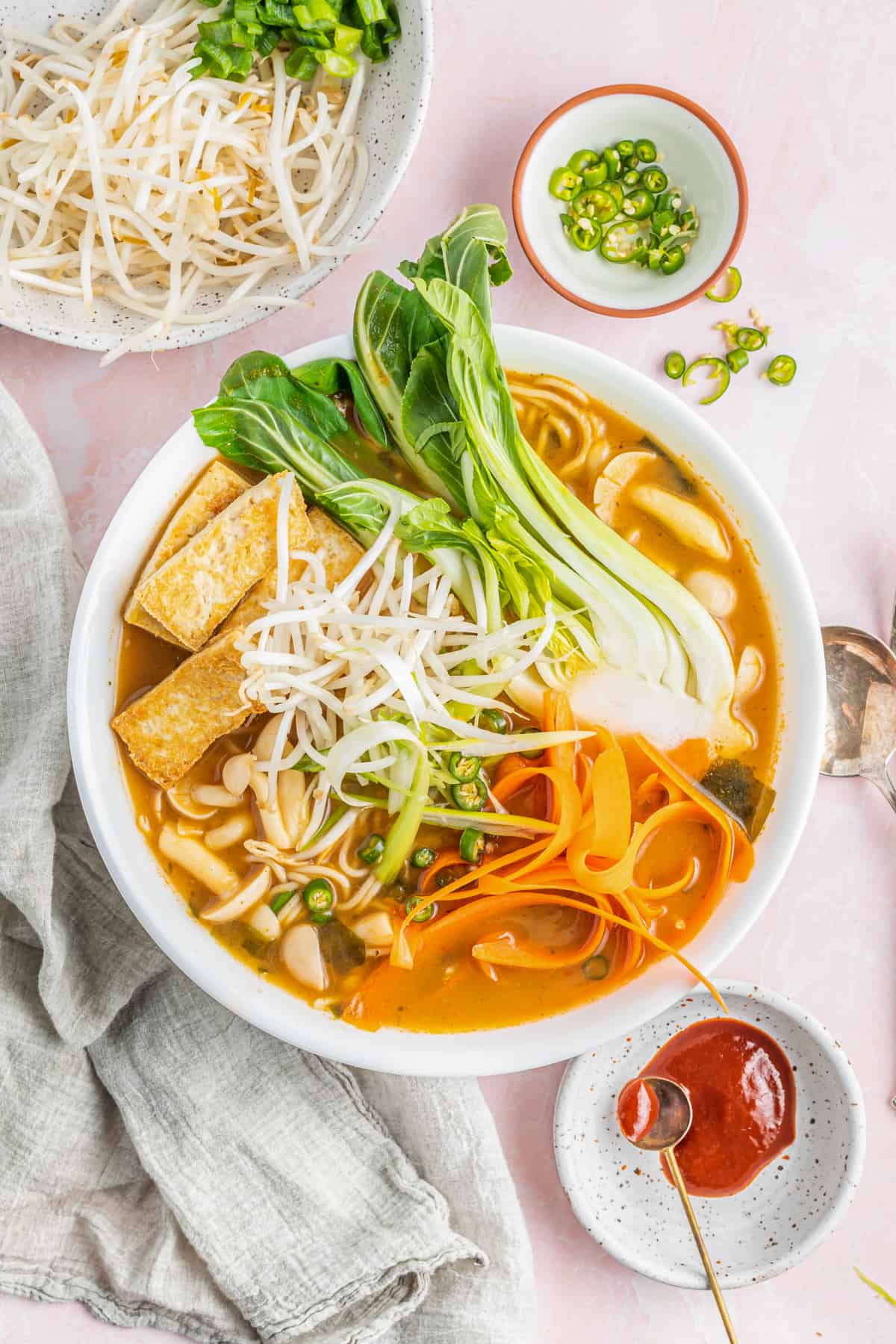 Vegetarian Ramen with Crispy Tofu
This recipe is a vegetarian variation of the traditional ramen recipe. Ramen has its roots in Yokohama, Japan in the late 19th century. Today, it is one of the world's most sought after cuisines for its health benefits and versatility.
Instead of pork or chicken stock, you will use water or vegetable stock for the base, as well as changing the protein from common ingredients like pork belly and eggs, to pan seared tofu. Vegetarian ramen is a healthy alternative in that it reduces calories and fats, but still offers plenty of nutritional value and wonderful flavor.
Why You'll Love this Quick Ramen Recipe:
Weeknight Friendly: This is a quick, easy, and filling meal.
Take out Flavor: Skip the take out line and make this easy ramen at home!
Versatile Recipe: Ramen is versatile! You can use any readily available ingredients to add to your meal.
The best part about ramen is that you can add, remove, or substitute any number of ingredients. There are thousands of ways to prepare it. For this vegetarian ramen recipe, you can add baby corn, water chestnuts, nori seaweed, soy sauce, bamboo shoots, sesame seeds, sesame oil, hot sauce, and so much more. There are no limits!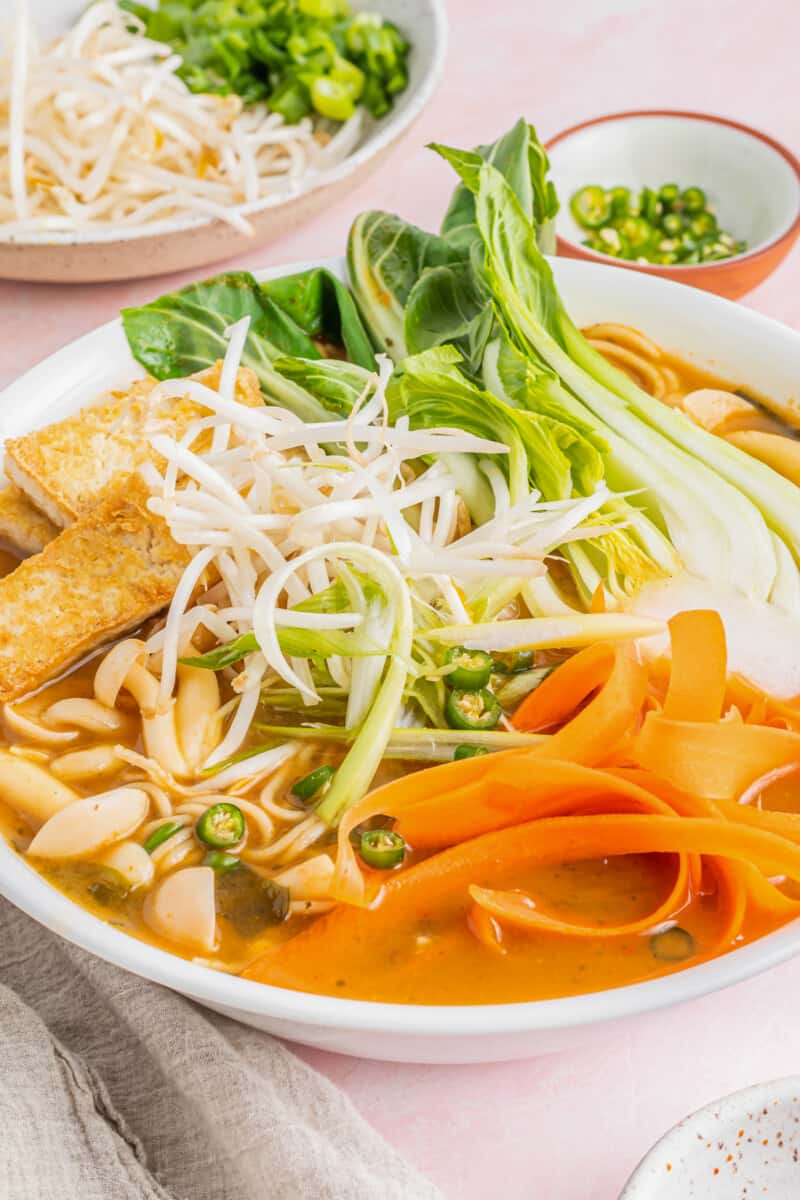 How to Make Easy Ramen
You can jump to the recipe card for full ingredients & instructions!
Pan fry the tofu over medium heat. Once it is golden crisp on both sides, season it with salt and set it aside.
Start your water or broth in a cooking pot. Add the noodles and mushrooms. Cook your noodles until they are soft.
Once the noodles are finished, remove the heat and add the bok choy.
Pour the broth with noodles, bok choy, and mushrooms into bowls and serve.
Vegetarian Ramen Recipe Notes
Mushrooms: I used beech mushrooms but any kind work great. Use your favorite!
Noodles: I used Lotus Foods Red Miso Soup Ramen for this recipe. Use any kind of dry ramen noodles you love – gluten free and/or vegan, if desired.
Bok Choy: Leave the bok choy whole or chop it into bite-sized pieces before adding to the soup in step #4.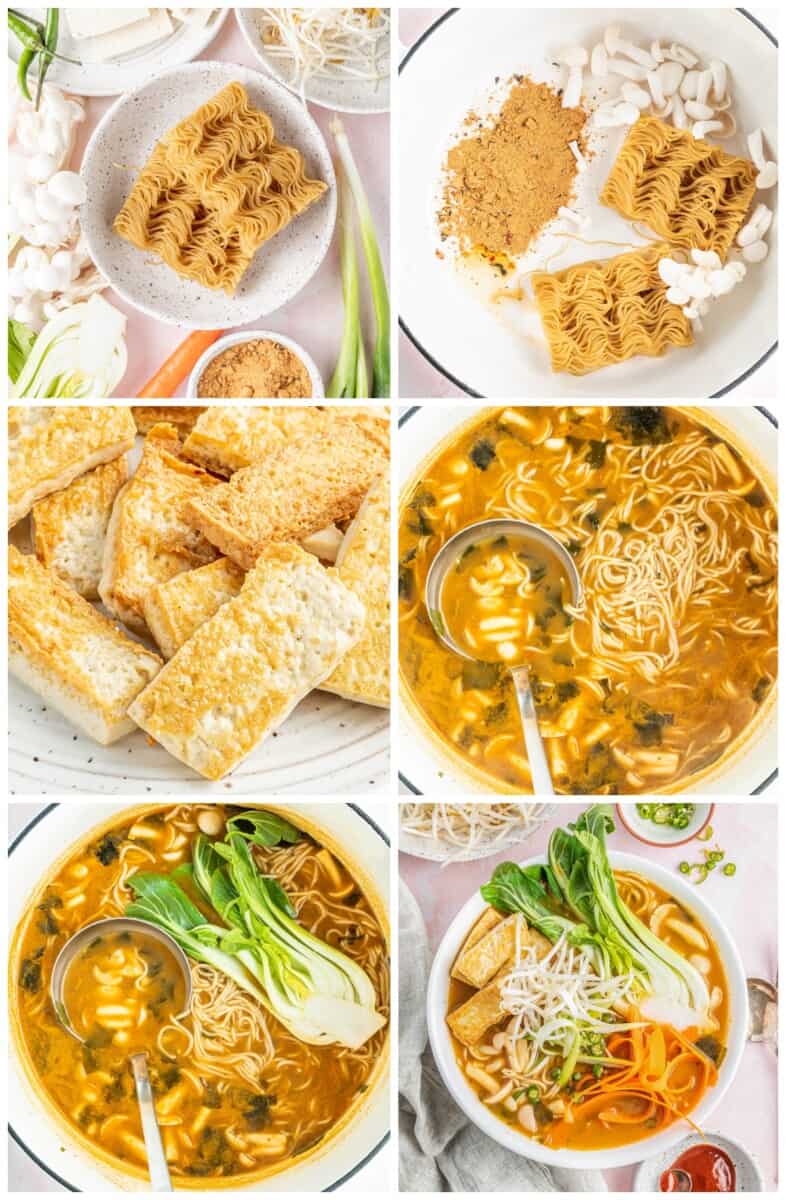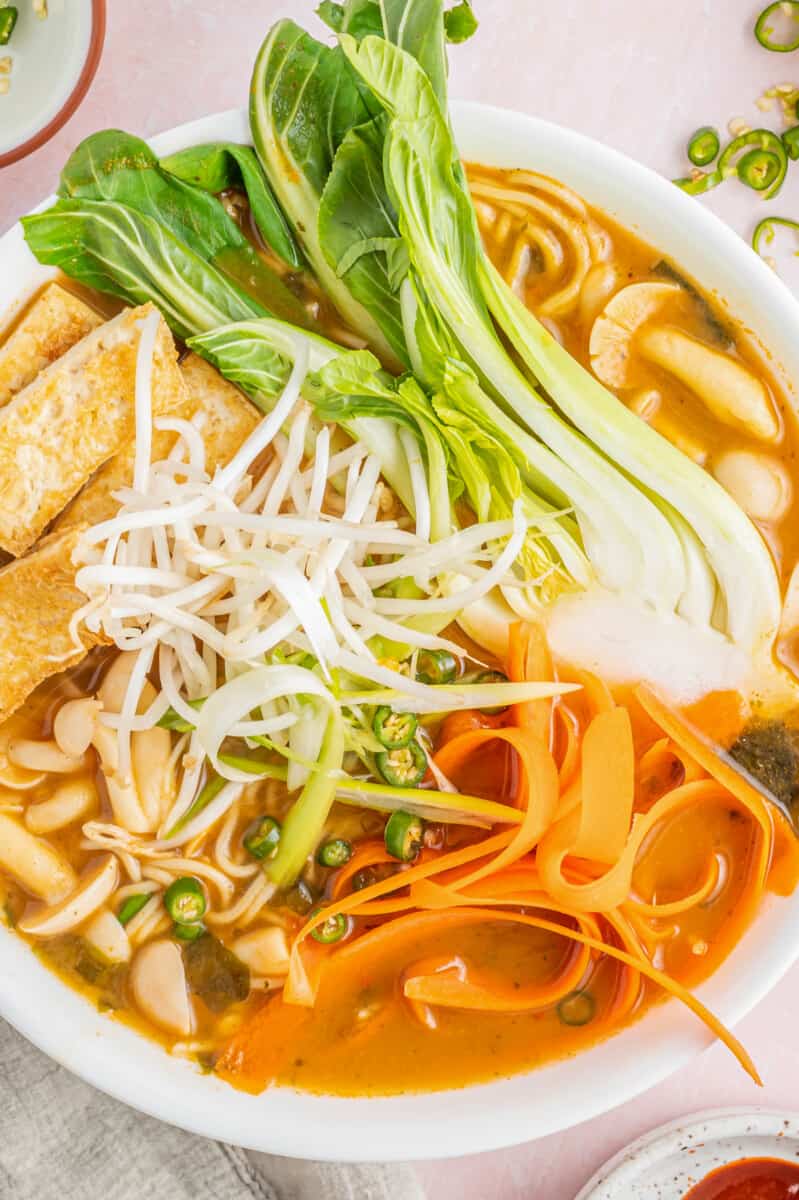 What is ramen?
Ramen is a Japanese style noodle soup, consisting of wheat noodles in broth, with proteins like pork, eggs, fish, or tofu added, as well as any number of vegetable toppings and Japanese or Chinese style sauces.
What kind of ramen noodles should I use?
Use any kind of dry ramen noodles you love – gluten free and/or vegan, if desired.
How long does homemade ramen last?
When stored in an airtight container, your leftovers will last for about 3 days in the refrigerator.
Can I freeze leftover vegetarian ramen?
Yes, you can! If you use airtight containers or zip-top bags, ramen can easily be stored in your freezer.
Not only is this ramen recipe easy to make and versatile in what you can add to it, but it is very economical. The ingredients are generally low cost. You can make a healthy, inexpensive meal for yourself, your family, and all of your friends!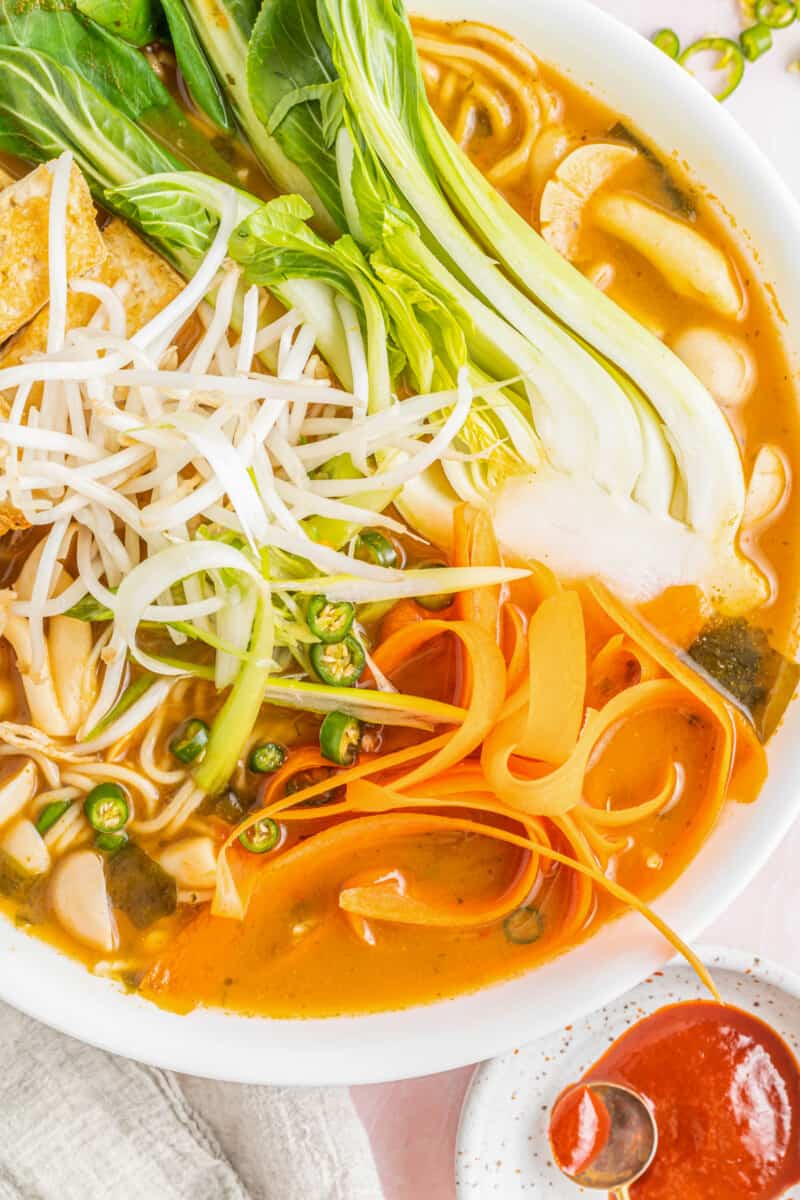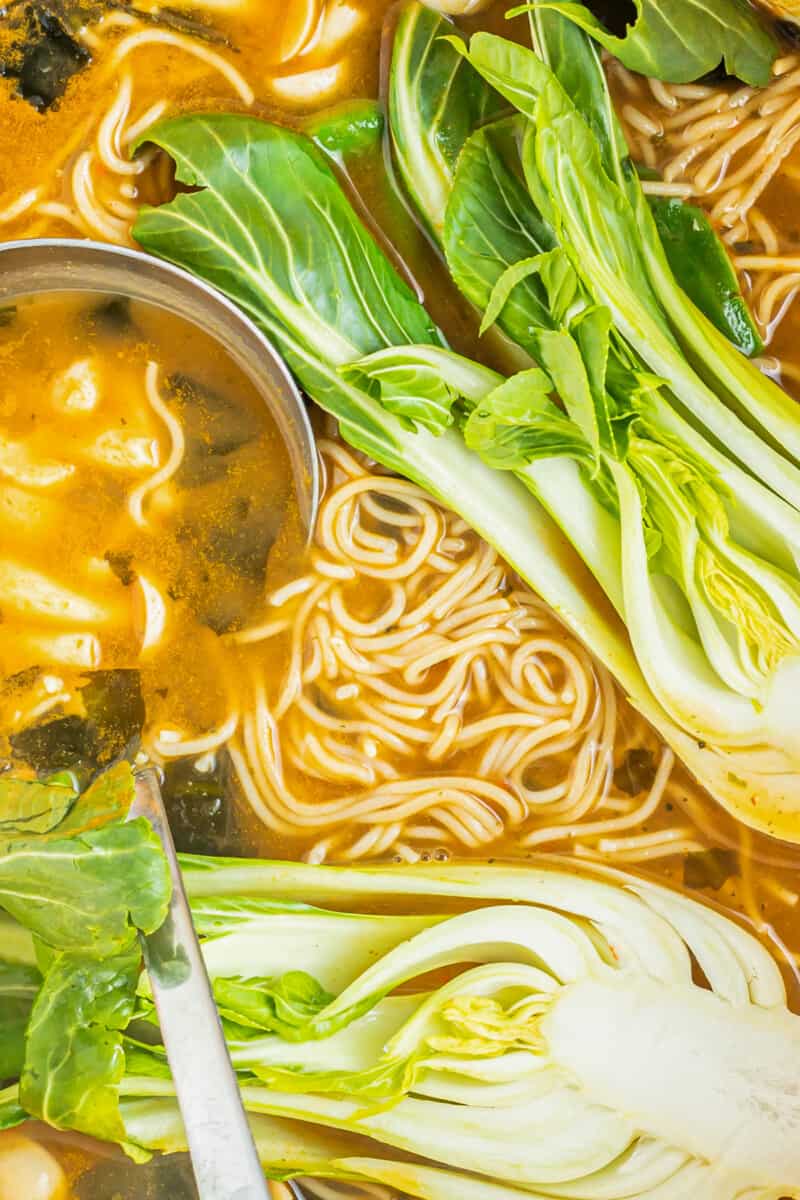 Storage Instructions
Store leftover easy ramen in an airtight container in the refrigerator for up to 3 days.
Serving Suggestions
Since this recipe is a delicious take on traditional Japanese ramen, why not have Japanese style sides with your noodles? Try:
Vegetable gyoza
Spring rolls
Tempura vegetables
Veggie sushi rolls
Protein Swap
If you're not a tofu fan or just want to try something different, try adding an egg. Add either a hard boiled egg in place of the tofu, or scramble an egg and add it to the ramen broth in the last minute of cooking, stirring constantly. This will create a thick and creamy ramen.
Tips!
Make sure to cook your noodles until they are soft.
Other than the mushrooms and bok choy, don't add the toppings until the ramen portions have been poured into the bowls. Fresh veggies in ramen taste amazing!
Enjoy with a hot mug of green tea.
With a recipe like this, there is no need to wonder where the best ramen place in the city can be found. You can cook and enjoy it right in the comfort of your own home and for a fraction of the price.
What kind of tofu works best for this recipe?
Generally, firm or extra firm tofu is best for pan frying. But be sure to check the freshness. While aged tofu may not be inherently dangerous to your well being, it can impart some unwanted flavors to your finished product.
Can I leave out the mushrooms?
Yes, you can. Not everyone loves mushrooms and some people are even allergic to them.
How can I make this ramen spicy?
Add more Sriracha, Thai peppers, or any other Asian style hot sauce you may have on hand.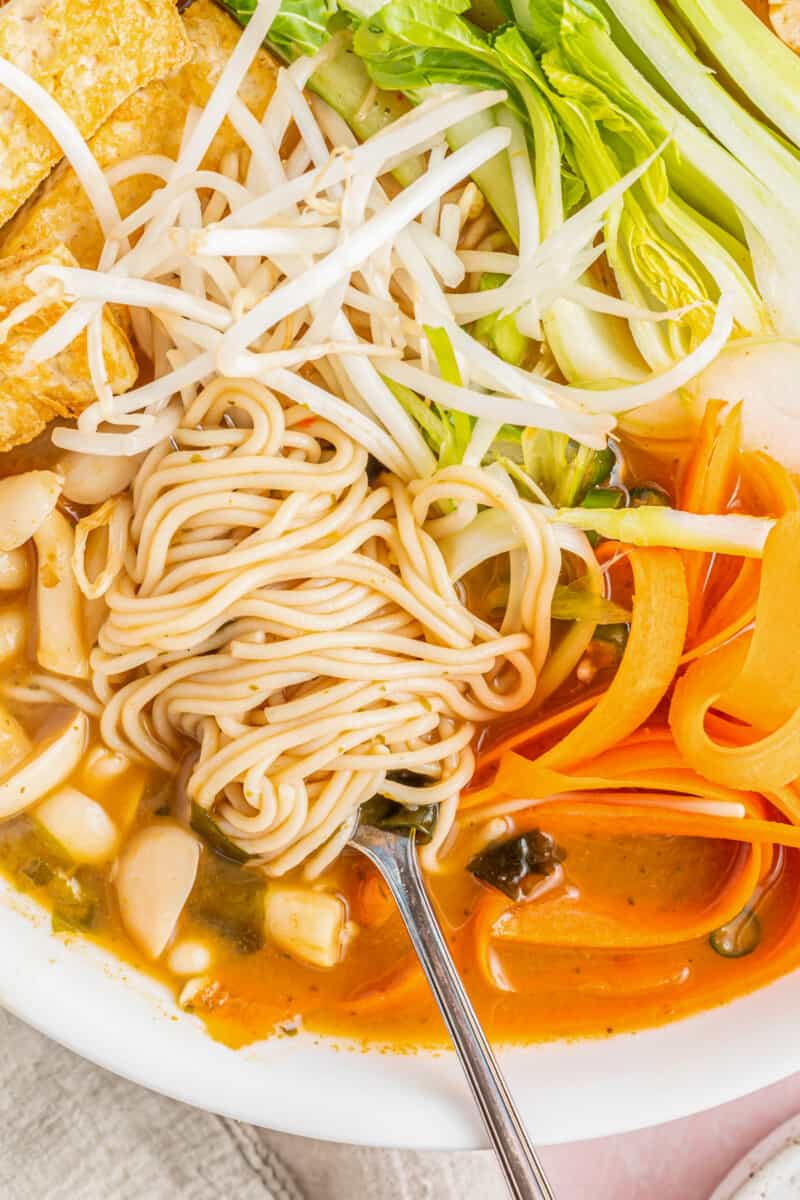 This easy ramen recipe is one that you can any time during the week. It's quick, easy and full of Asian inspired flavors. Everyone will love this homemade ramen!
If you make this recipe be sure to upload a photo in the comment section below or leave a rating. Enjoy! You can also jump to recipe.