There's nothing better than HOMEMADE CHICKEN NOODLE SOUP! The ultimate comfort food, made right in your kitchen. So much easier than I thought!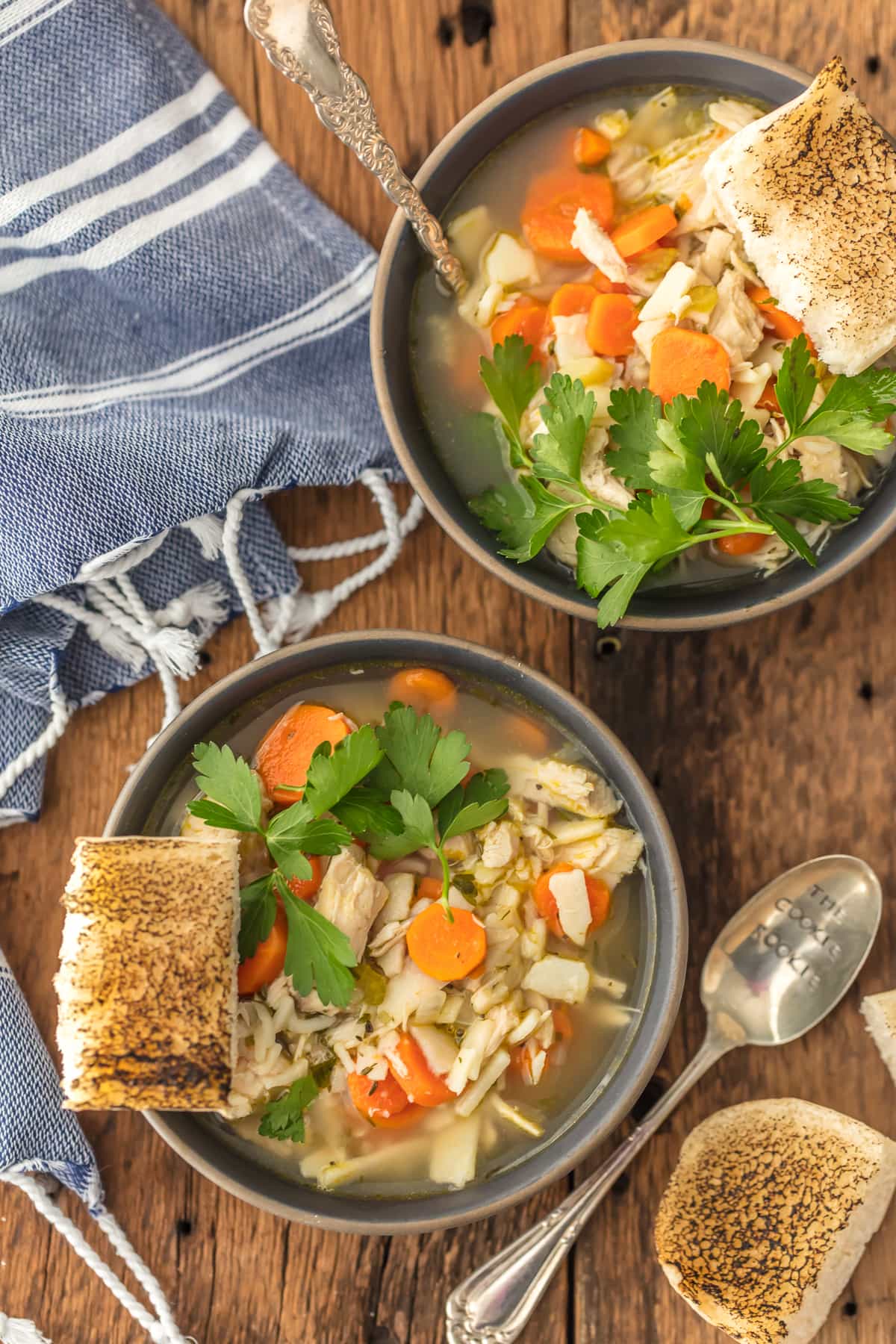 If you're looking for comfort food with this colder weather, nothing quite cuts it like Homemade Chicken Noodle Soup. It's what we all want when we are sick, the meal that makes us all feel like we are at home, and the perfect end to any long day. I've always been intimidated to make it on my own, but its so much easier than I thought. You can have it in front of you ready to devour in under an hour with little to no stress at all. Sound good? I know it does to me!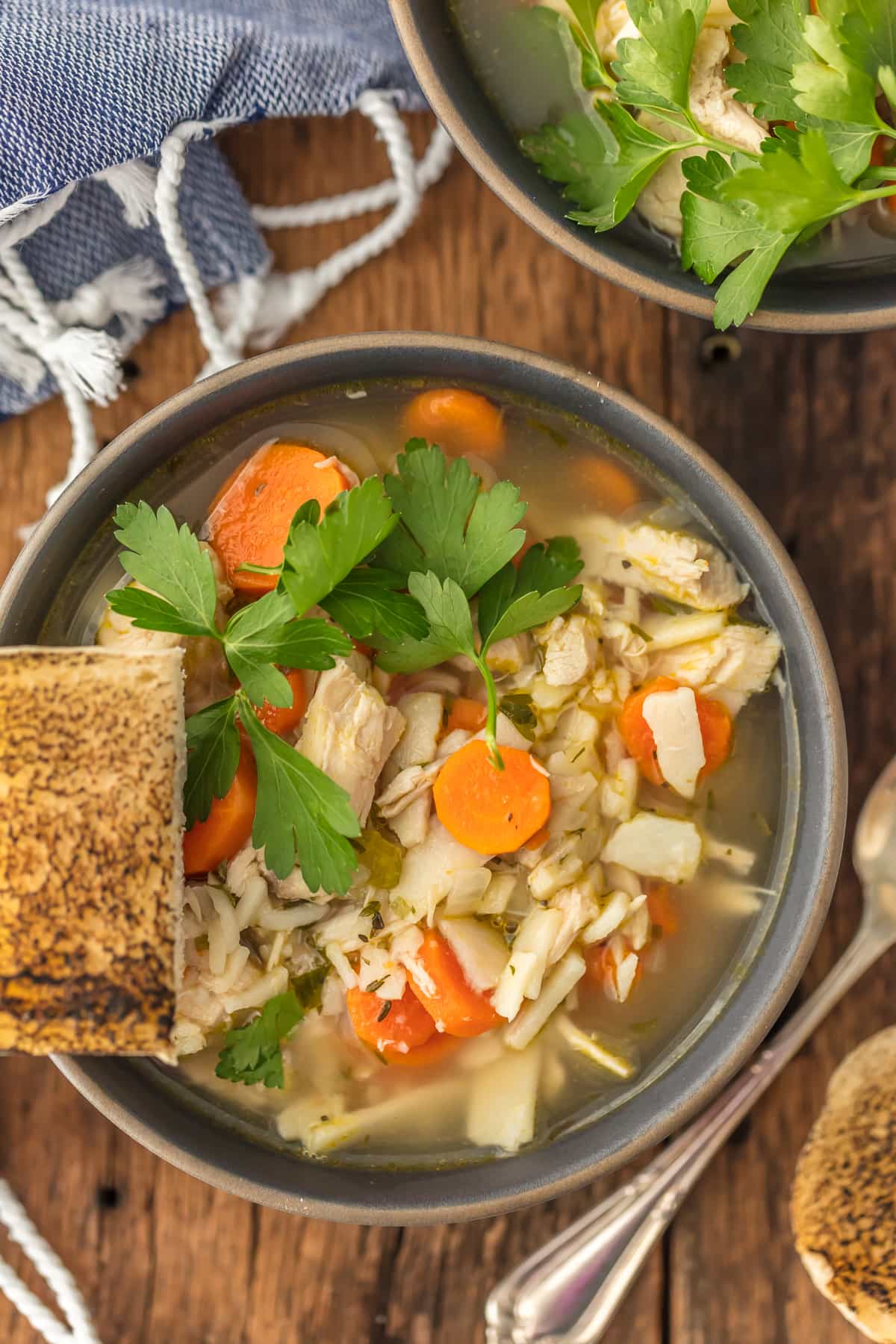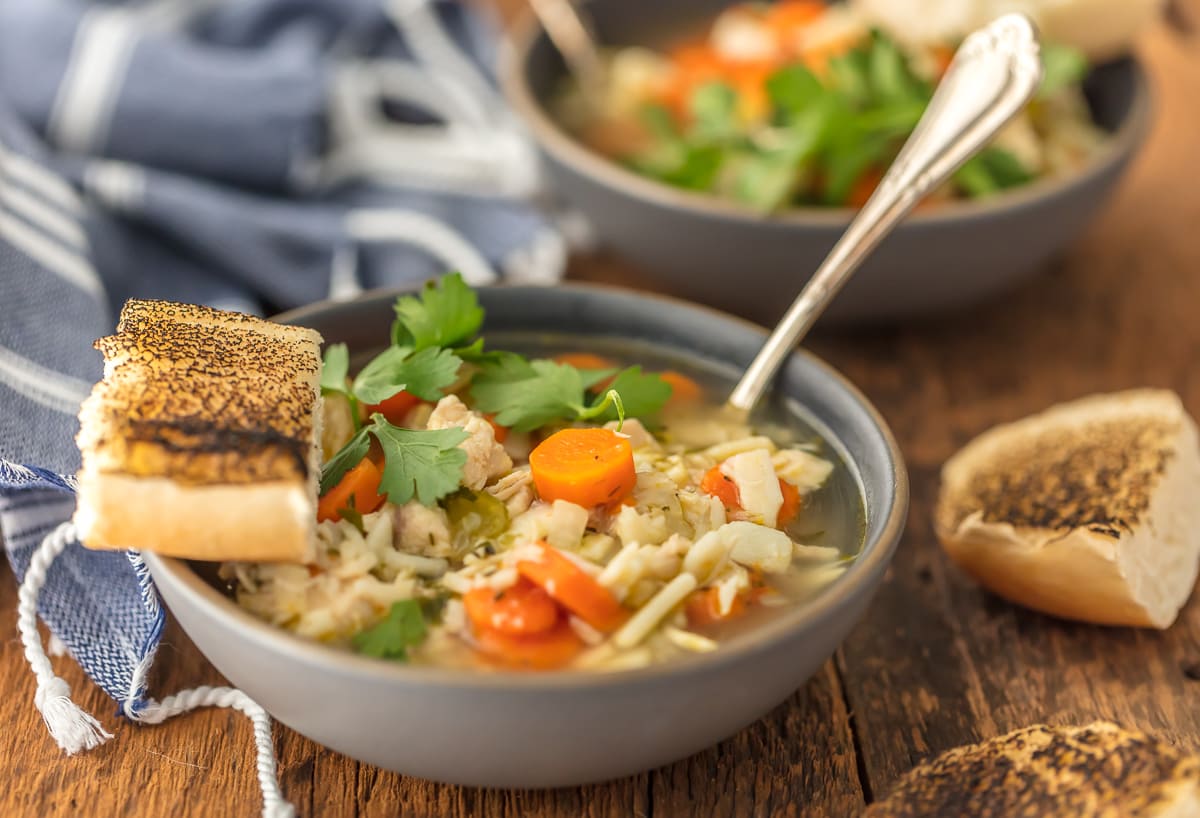 This is Mom's recipe (from Simply Sated) and anytime Mom makes something, you know it's good. This takes me back to being young and under the weather and being taken care of. Adulting isn't always what it's cracked up to be. Where are the people to cook for us when we are sick?! Pat certainly isn't going to. Luckily I can make this Homemade Chicken Noodle Soup for myself pretty easily. My kind of recipe!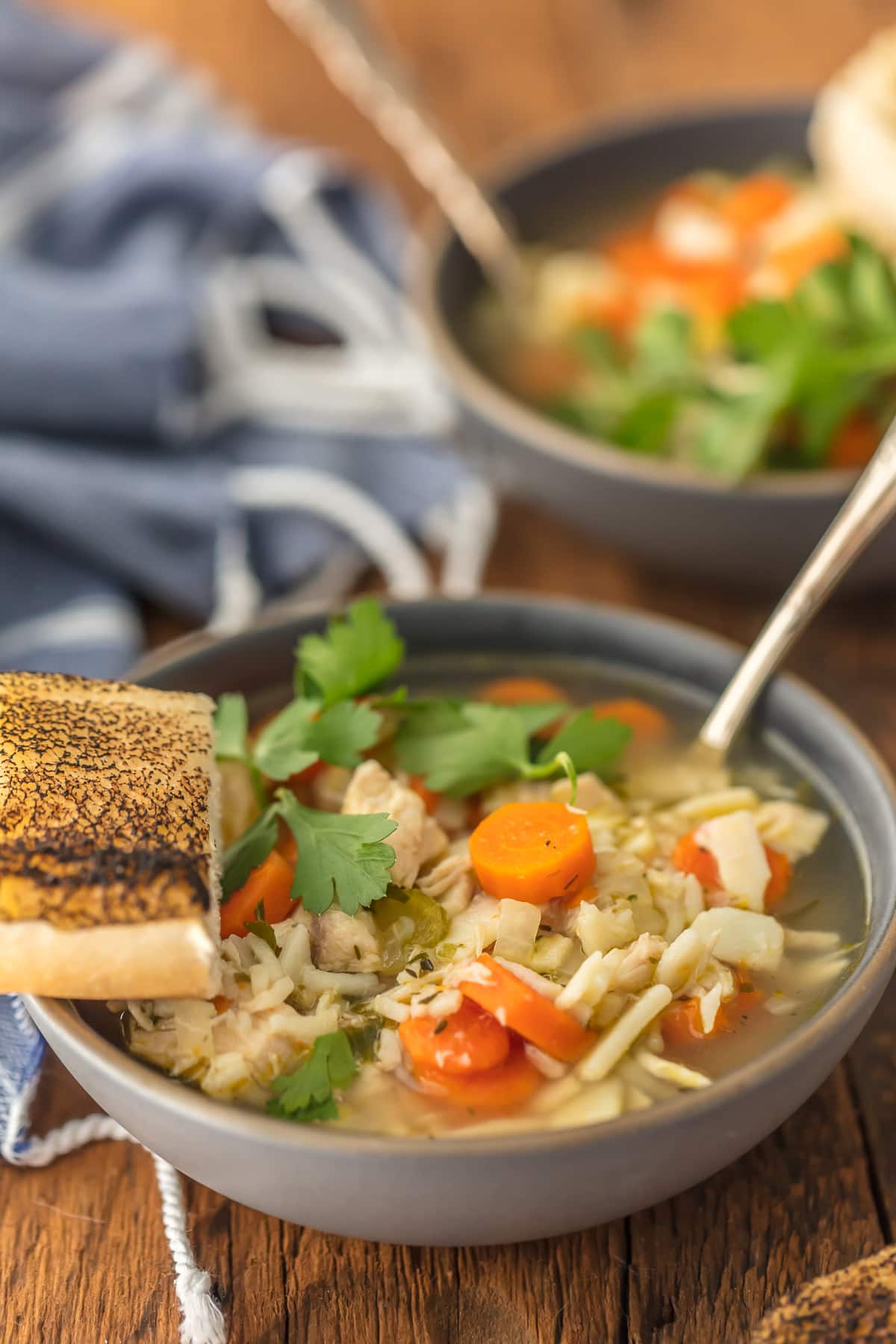 This Homemade Chicken Noodle Soup is hearty, delicious, and so full of flavor. You don't need to leave your house to make it or order it from a restaurant. Too yummy not to try! Don't you just want to curl up under a blanket, heat up some of this Homemade Chicken Noodle Soup, and watch some reality tv??? Well I know I do. Pat disagrees about the last part, but it's my guilty pleasure. SORRY!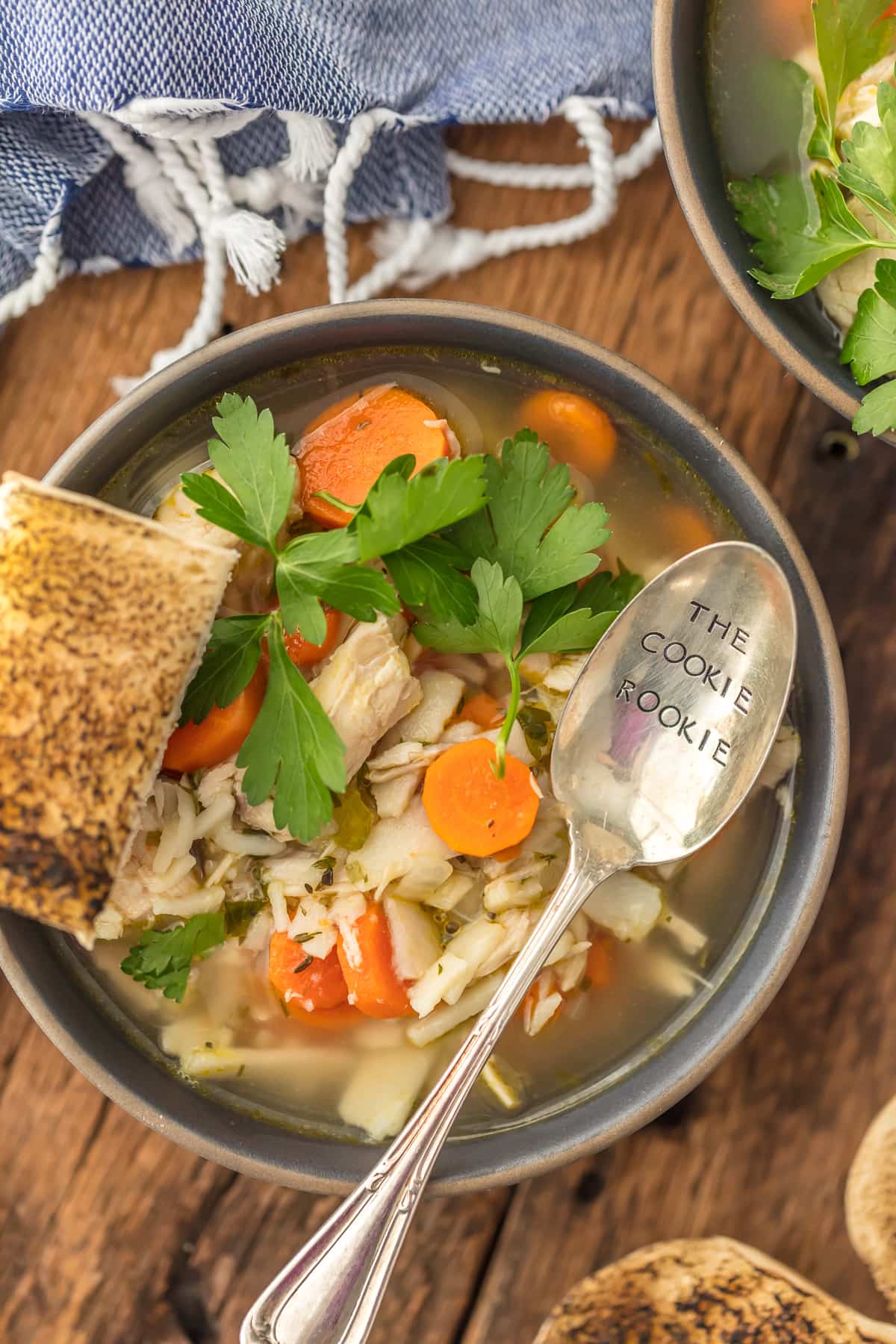 Enjoy!
Homemade Chicken Noodle Soup
10 minPrep Time
50 minCook Time
1 hrTotal Time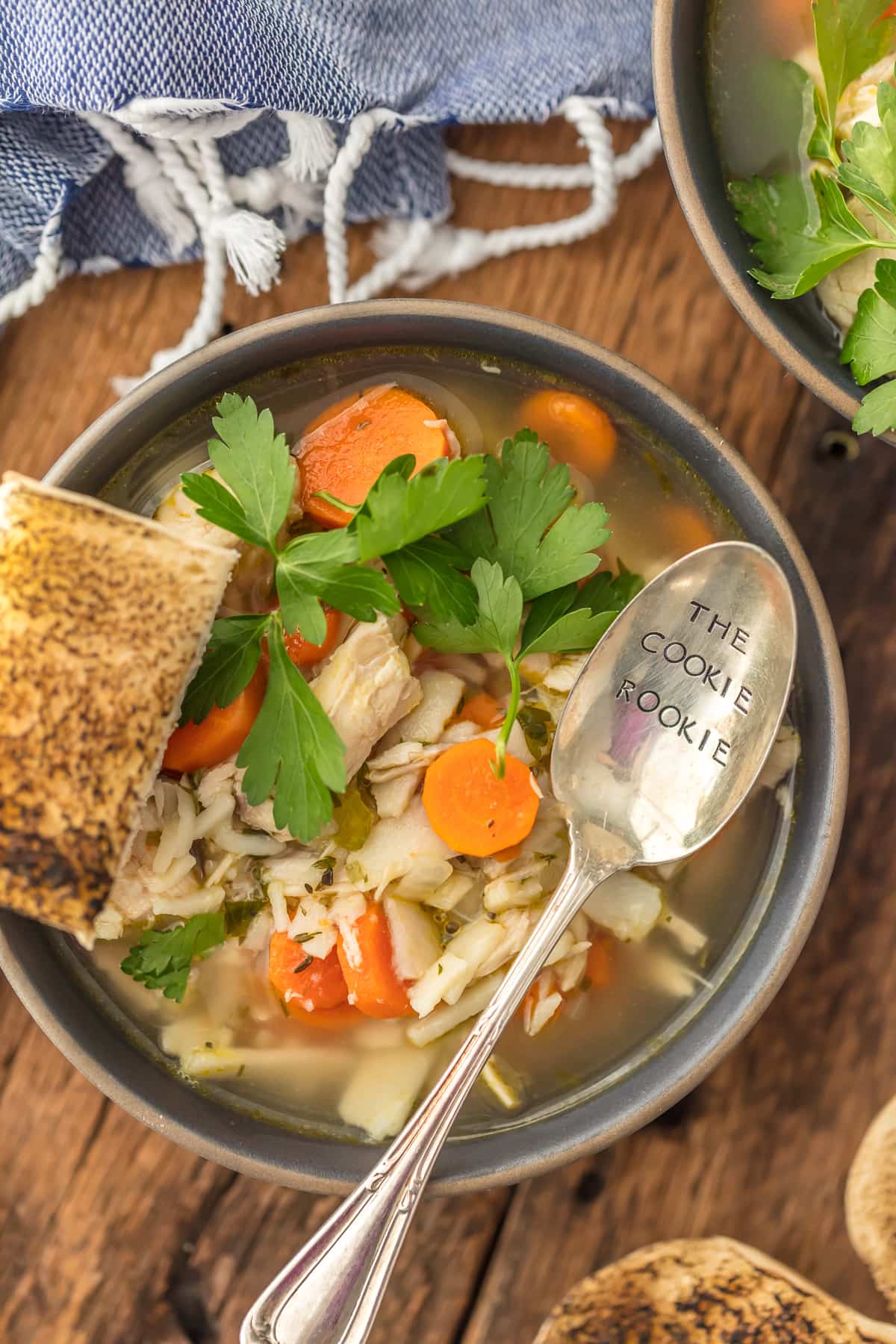 4 based on 2 review(s)
Ingredients
Please Note: If using rotisserie chicken or salted chicken stock, do NOT salt until after the soup cooks for 15 minutes. Taste first - then add salt only if needed.

2 tablespoons olive oil
2 tablespoons butter – unsalted
3-4 carrots (approx. 2 cups) – peeled & sliced
2 celery stalks (approx. 1 cup) – sliced
1 sweet yellow onion – diced
2 cloves garlic – minced
8 cups Chicken Broth or Stock – Swanson Unsalted or homemade
1/2 cup Dry Sherry
1 teaspoon ground black pepper or to taste
1 teaspoon dried parsley or 2 tablespoons fresh – chopped
1 teaspoon Parisien or Bonnes Herbs (a combo of chives, dill, basil, French tarragon, chervil
& white pepper)
3 bay leaves
½ teaspoon dried thyme or 3 fresh thyme sprigs
½ teaspoon nutmeg
3-4 teaspoons chicken granules or chicken **Note, if using salted broth, reduce the amount of chicken granules used.
4 cups diced chicken – rotisserie chicken (cut into bite-size pieces) or 2-4 chicken breasts, (cooked & cut into bite-size pieces)
8 ounce package egg noodles - I use Neva's Old Fashion Homemade Egg Noodles, but Reames Egg Noodles (frozen) are also excellent.**
Instructions
Heat oil & butter in a heavy-bottomed soup pot or Dutch oven.
Once the oil/butter is hot, place carrots & celery in the skillet and sauté 3 minutes.
Add the onion and sauté until translucent.
Add garlic and sauté 30 seconds.
Add all other ingredients except the noodles.
Bring to a boil, then turn down the heat and simmer for 30-40 minutes.
**See notes if planning to freeze the soup.
Add the noodles and bring to a boil.
Turn down the heat and simmer for 20-25 minutes.
Remove bay leaves before serving.
Delicious served with crusty bread.
Enjoy!!
Notes
If freezing the soup, make the soup up to the point of adding the noodles. Freeze the soup without noodles added, then when ready to serve, add the noodles and simmer until noodles are cooked. This keeps the noodles from turning mushy.
7.6.8
2355
https://www.thecookierookie.com/homemade-chicken-noodle-soup/