Homemade Chicken Noodle Soup is the ultimate comfort food! This easy chicken noodle soup recipe is made right in your kitchen, and it tastes like home. Learning how to make chicken noodle soup is simple; so much easier than I thought! Make a pot of this soup to warm you up all winter long!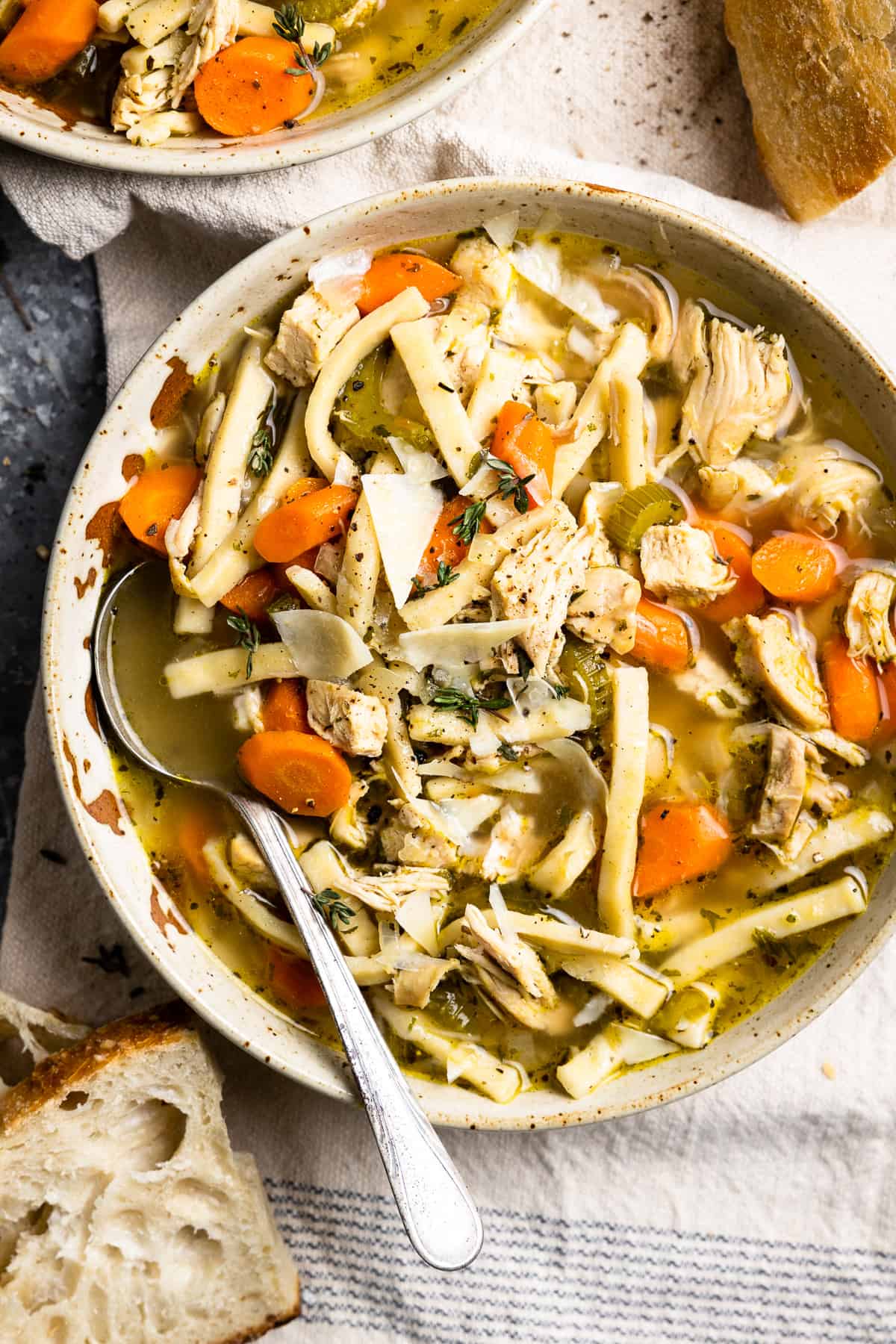 What's in this Chicken Noodle Soup Recipe?
This is Mom's homemade chicken noodle soup recipe, and anytime Mom makes something, you know it's good! A bowl of hot chicken noodle soup is such a classic, something we should all know how to make at home.
It's a simple thing to make, but it all starts with the ingredients. We need the best of the best to go into this recipe; all the right vegetables, all the right herbs. That's what makes it taste so good, obviously!
Olive Oil: Helps the veggies and butter to cook without burning. You can use canola, vegetable, or avocado oil instead.
Butter: Unsalted butter flavors the base of the soup.
Carrots: Add a sweet and earthy flavor. You'll need about 3-4 carrots.
Celery: Adds a sweet and herby flavor. You'll need 2 ribs.
Yellow Onion: Adds a sweet and slightly astringent flavor.
Garlic: Adds rich, earthy flavor.
Chicken Broth: Forms the base of the soup. I like unsalted chicken broth, like Swanson brand. You can also use homemade chicken broth or stock.
Dry Sherry: Adds a crisp, tangy, and slightly nutty flavor to the soup. If you're not a fan of wine, you can swap this out for more broth.
Ground Black Pepper: Adds a woody, spicy, warming flavor to the soup.
Parsley: Adds fresh herbal flavor. You can use dried or fresh.
Parisien Bonnes Herbs: A delicious blend of chives, dill, basil, French tarragon, chervil, and white pepper that deepens the flavor of this soup.
Bay Leaves: Add a subtle bitterness that enhances the other flavors of the soup and makes it less heavy.
Thyme: Adds an earthy and slightly minty flavor. You can use dried or fresh.
Nutmeg: Adds a sweet, nutty, warming flavor to this soup. You can leave it out if you're not a fan, but I love it.
Chicken Granules: A type of bouillon that adds great depth of flavor and richness to the soup. If you use salted chicken broth, reduce the amount of granules you add.
Chicken: I like diced cooked chicken, like rotisserie chicken. You can also use diced cooked chicken breasts.
Egg Noodles: I love egg noodles for their richness. They really stand up well to this soup. I use Neva's Old Fashion Homemade Egg Noodles, but Reames Egg Noodles (frozen) are also excellent.
Pro Tip: If freezing the soup, make the soup up to the point of adding the noodles. Freeze the soup without noodles added, then when ready to serve, add the noodles and simmer until noodles are cooked. This keeps the noodles from turning mushy.
Variations on Chicken Noodle Soup
There are quite a few ways to modify this recipe to make it more to your tastes. To make it vegetarian, simply omit the chicken and swap the chicken broth and granules for vegetable broth and granules.
You could add a can or two of chickpeas if you like for the protein. To make it gluten-free, swap the egg noodles for your favorite gluten-free noodles. For a spicier soup, add some crushed red pepper flakes. And for a creamier soup, stir in some heavy cream at the end of cooking.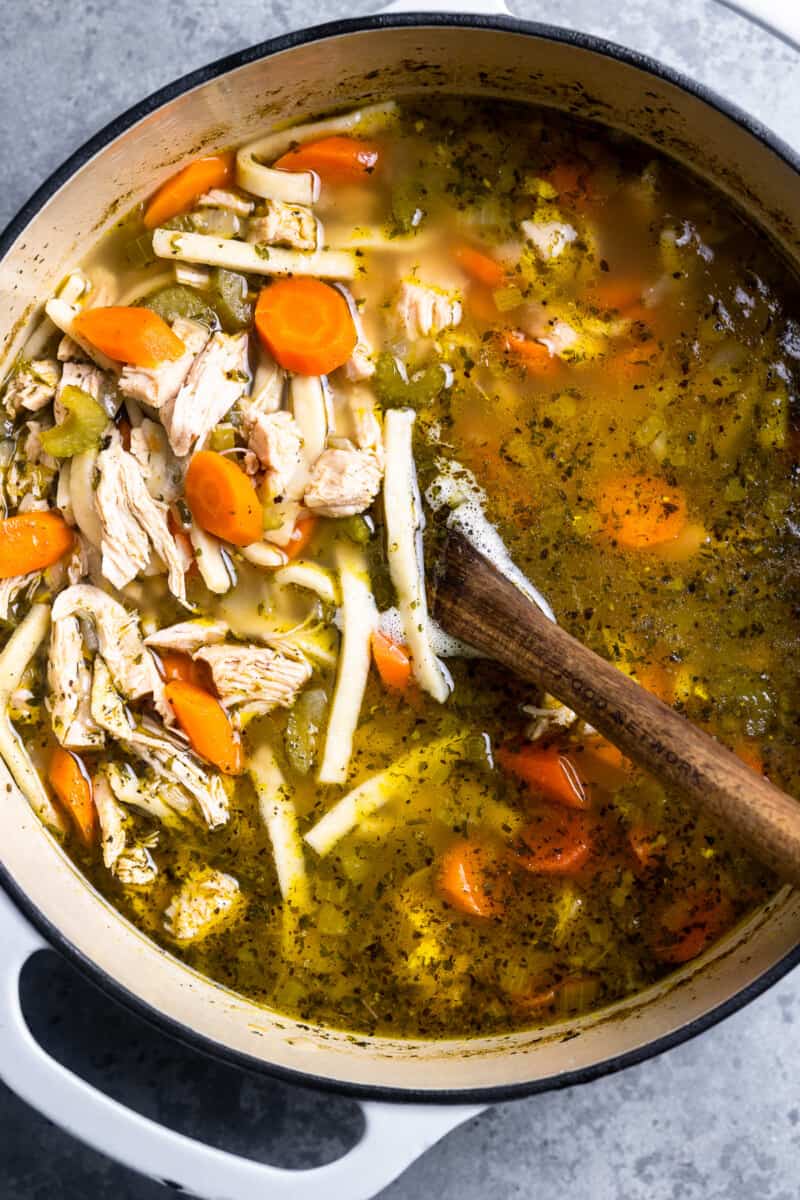 Is chicken noodle soup healthy?
Yes! Chicken noodle soup provides hydration and electrolytes like sodium, potassium, and magnesium. Chicken is a great source of protein, and the veggies are full of vitamins and minerals.
What are the best kind of noodles to use for chicken noodle soup?
I like egg noodles because they hold up well in the soup and soak up a lot of flavor. You could also use ditalini, orzo, or bowties.
Does chicken noodle soup help with a cold?
Absolutely! While chicken noodle soup is certainly not a cure for a cold, it can help you feel better by keeping you hydrated and sated and providing vitamins, minerals, and protein to help you recover.
Can dogs eat chicken noodle soup?
Dogs can only eat chicken noodle soup that is homemade, prepared with low-sodium broth, and free of harmful seasonings. Dogs cannot have onions, high-sodium foods, and many herbs and seasonings, including nutmeg. Therefore, this particular soup recipe is not safe for dogs.
Can you freeze chicken noodle soup?
Yes; however, I recommend making the soup without the noodles and then cooking and adding the noodles when you're ready to eat the soup. Follow the directions for cooking the noodles al dente, then stir them into the reheated soup and serve immediately.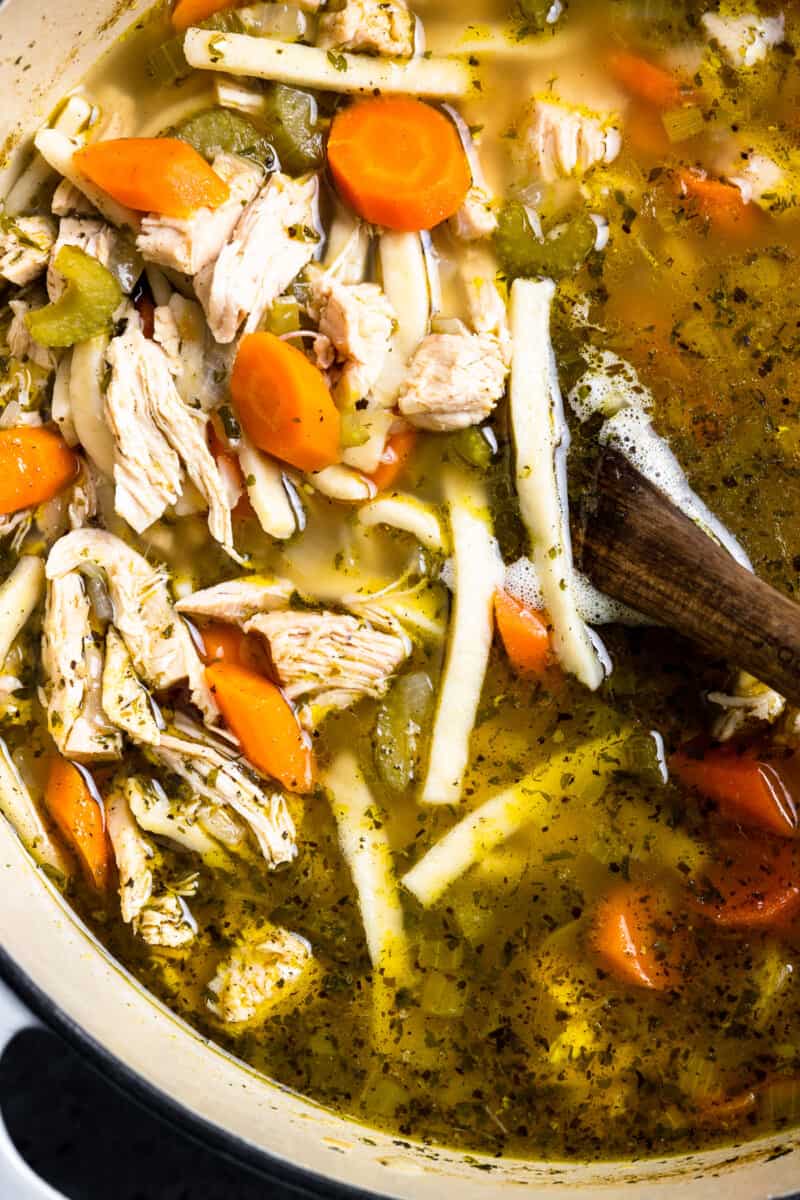 How to Store and Reheat Easy Chicken Noodle Soup
Store leftover homemade chicken noodle soup in an airtight container in the refrigerator for up to 3 days. Reheat in the microwave in 30-second increments until warmed through or on the stovetop over medium-low heat until warmed through.
How to Freeze Homemade Chicken Noodle Soup with Egg Noodles
To freeze homemade chicken noodle soup, make the soup up until the point where you would add the noodles (step 7). Do not add the noodles. Let the soup cool to room temperature, then freeze whole or in individual portions in airtight containers for up to 3 months. Let thaw overnight in the refrigerator before adding the noodles to the soup just before simmering.
What to Serve with Chicken Egg Noodle Soup
Hot, fresh chicken noodle soup is ready to serve! It tastes so good with some crusty bread, crumbled crackers, or cheddar bay biscuits. Serve smaller bowls of soup with a grilled cheese sandwich or BLT. It's also great with a healthy side salad!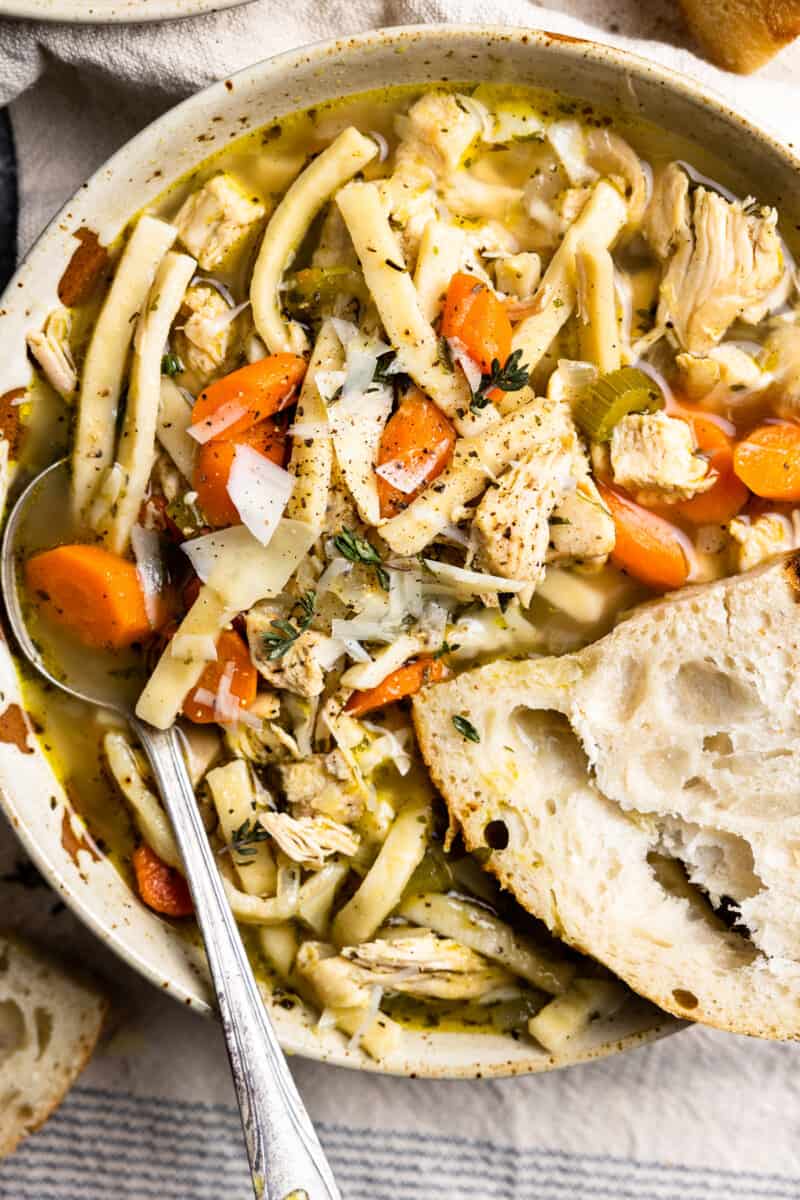 More Chicken Noodle Soup Recipes We Love