This delicious turkey noodle soup recipe is a great way of making the most of your Thanksgiving leftovers. Hearty and easy to make, this soup will warm your soul!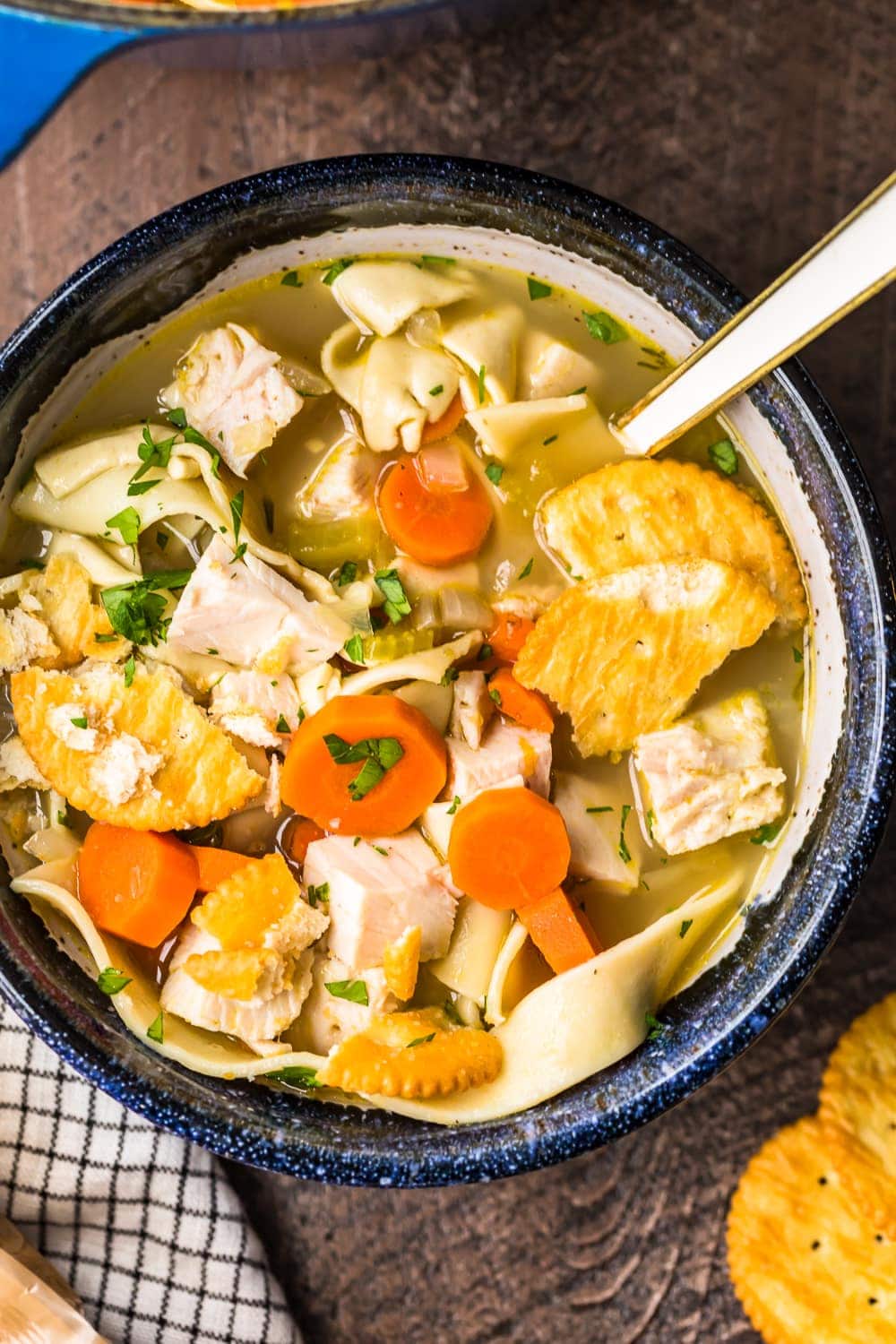 When I'm planning my Thanksgiving menu, I for sure am planning recipes for leftovers too – if there are any! This soup is super easy to make as well as being really hearty.
How to Make This Turkey Noodle Soup Recipe
Heat a large Dutch oven over medium-low heat and add the oil and butter. When the butter melts, add the onion, carrots, and celery. Cook the vegetables about 8 minutes or until softened. Add garlic and cook an additional 30 seconds, or until garlic blooms and is fragrant.

Add bay leaves, thyme, salt, and black pepper. Cook 1 minute, stirring continuously.

Add broth, wine and turkey, set heat to medium-high and bring to a boil.

Reduce heat to low and simmer, partially covered, 10 minutes.

After 10 minutes, taste and season, if needed, with additional salt & pepper.

Add noodles, return mixture to a boil and cook until noodles are just tender, about 10-12 minutes.

Add peas, if using and cook about 2 minutes or until softened.

Remove from heat, and discard the bay leaves and sage leaves.

Add parsley and stir.

Serve the turkey noodle soup with a crusty, fresh baguette or crackers, and…

Enjoy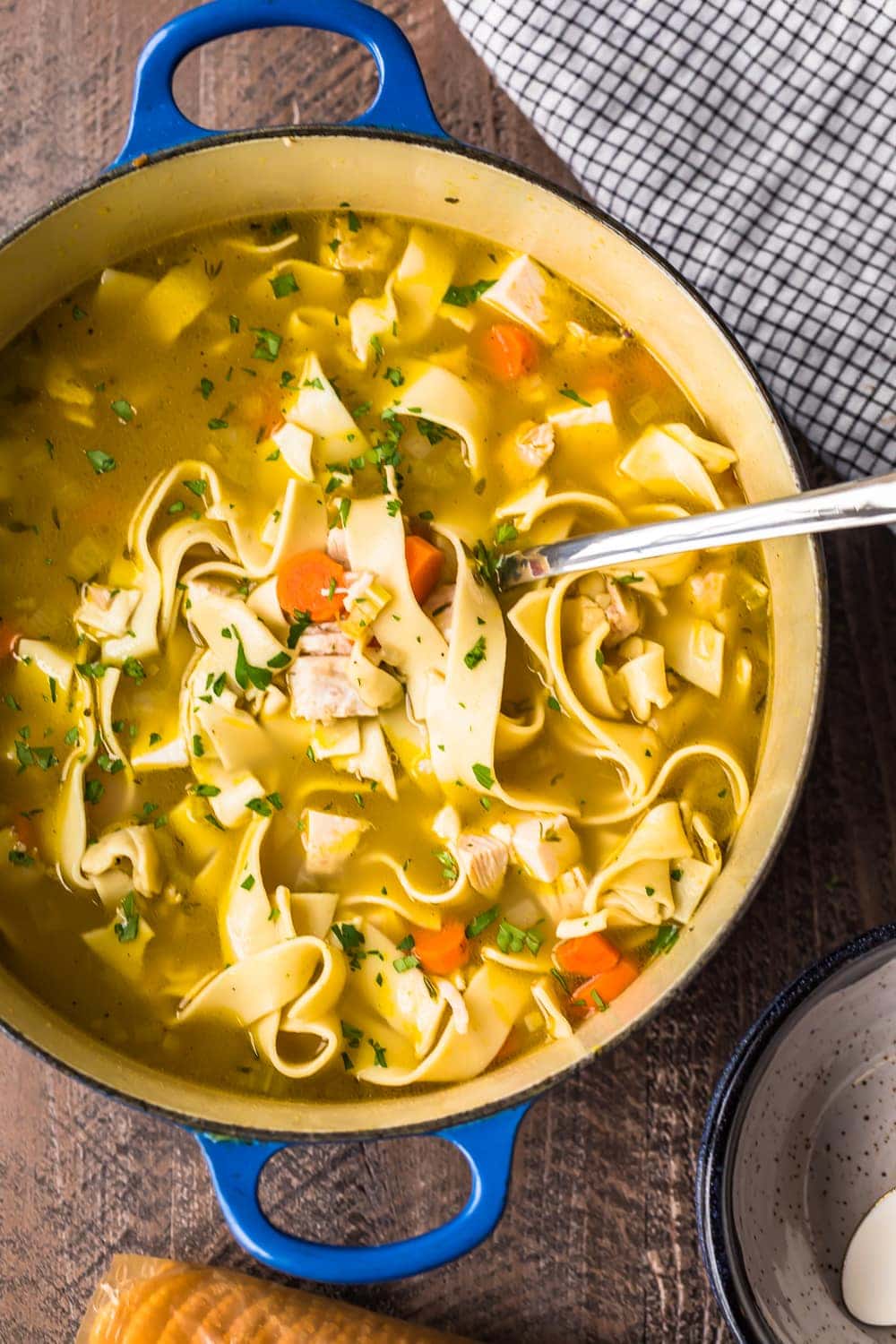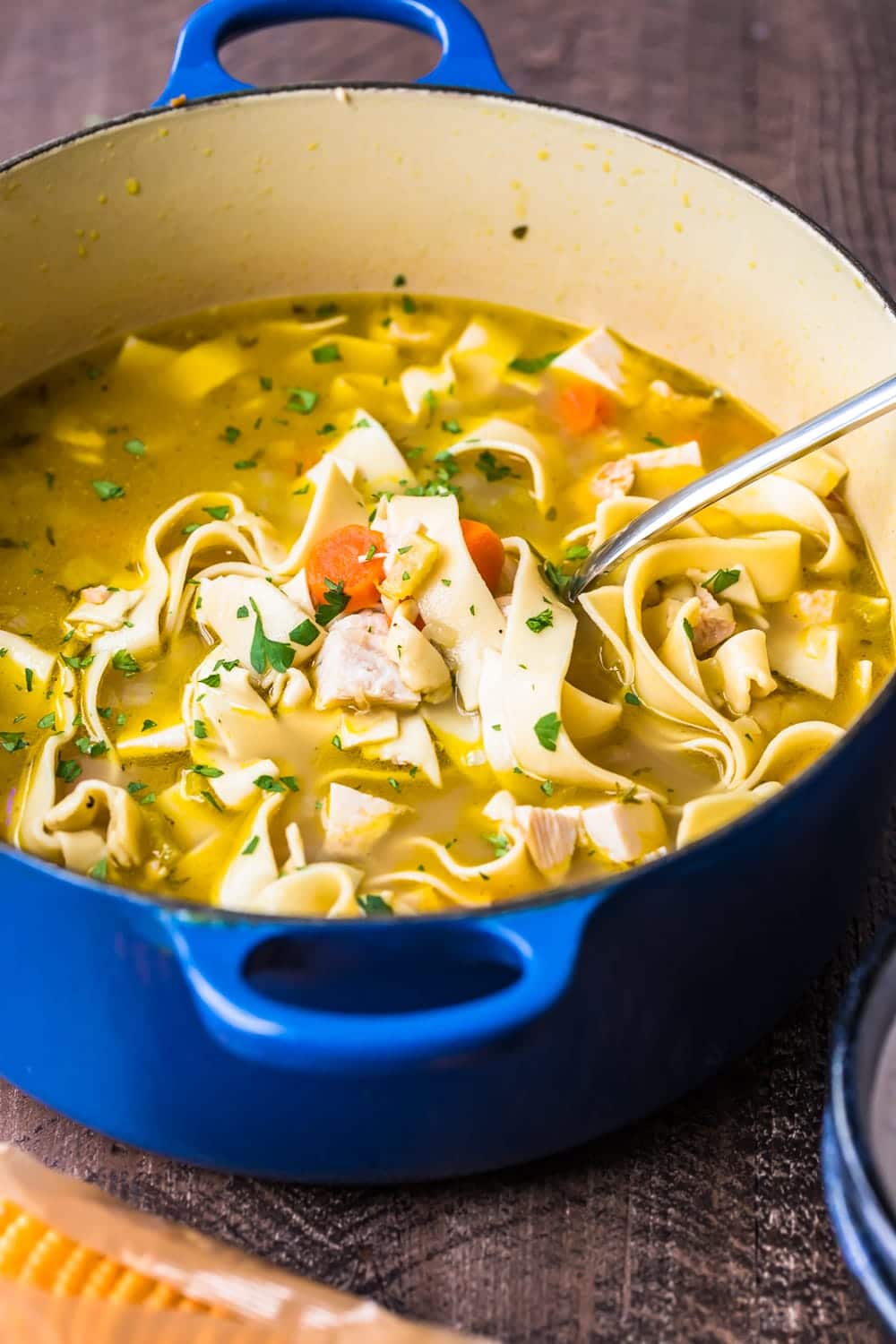 A Hearty Turkey Soup Recipe
This soup really is a big bowl of comfort! It's really hearty thanks to those egg noodles and there's a good helping of fresh veggies to make up for the Thanksgiving binge the day before! It's wonderfully flavored with herbs and it comes in at round 220 calories a serving, so it's a filling, nutritious and low calorie dish.
What do you serve with turkey noodle soup?
This soup really is good enough to serve by itself, either as an appetizer or a main. For a larger meal serve it with some homemade bread or a side salad. Try it with: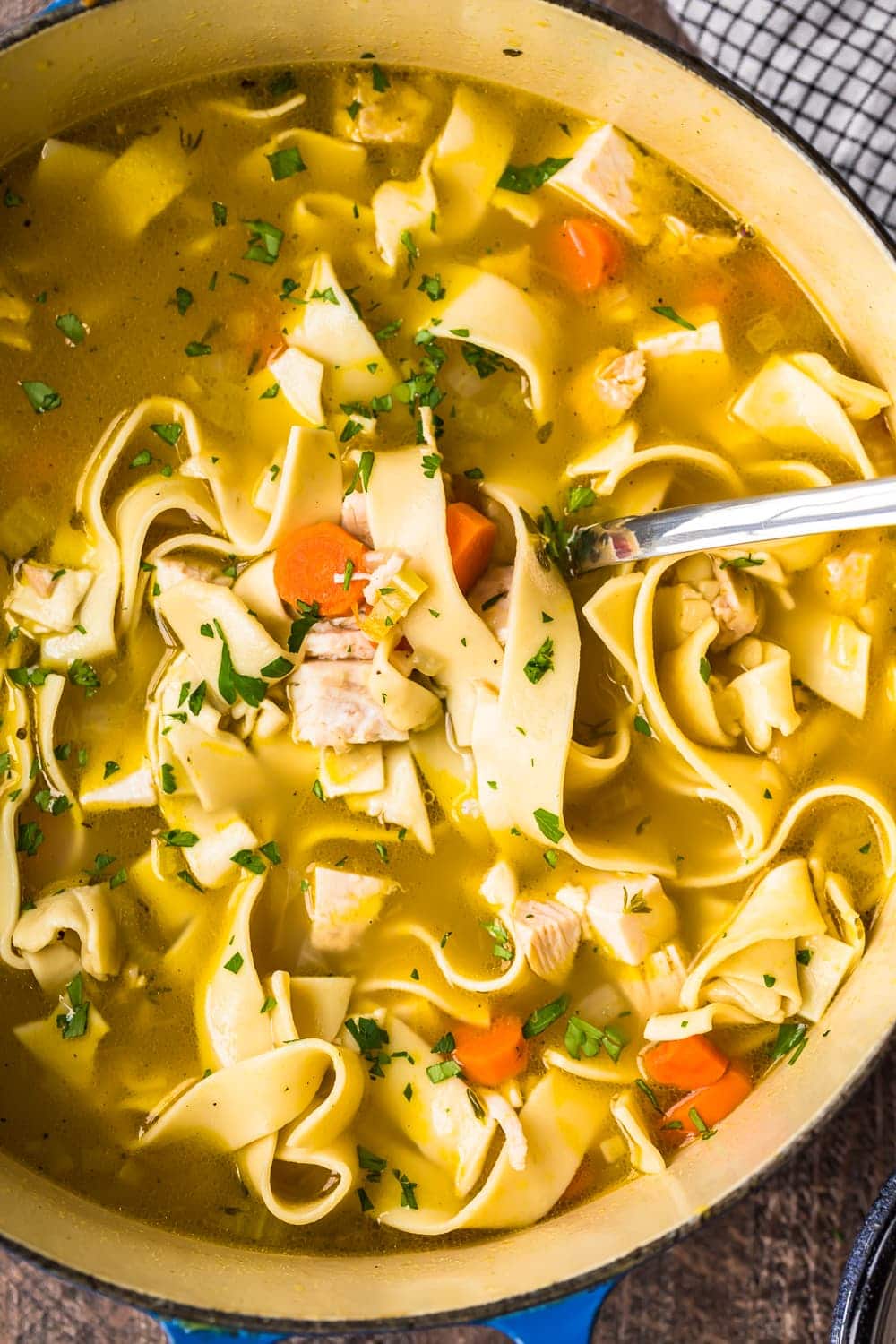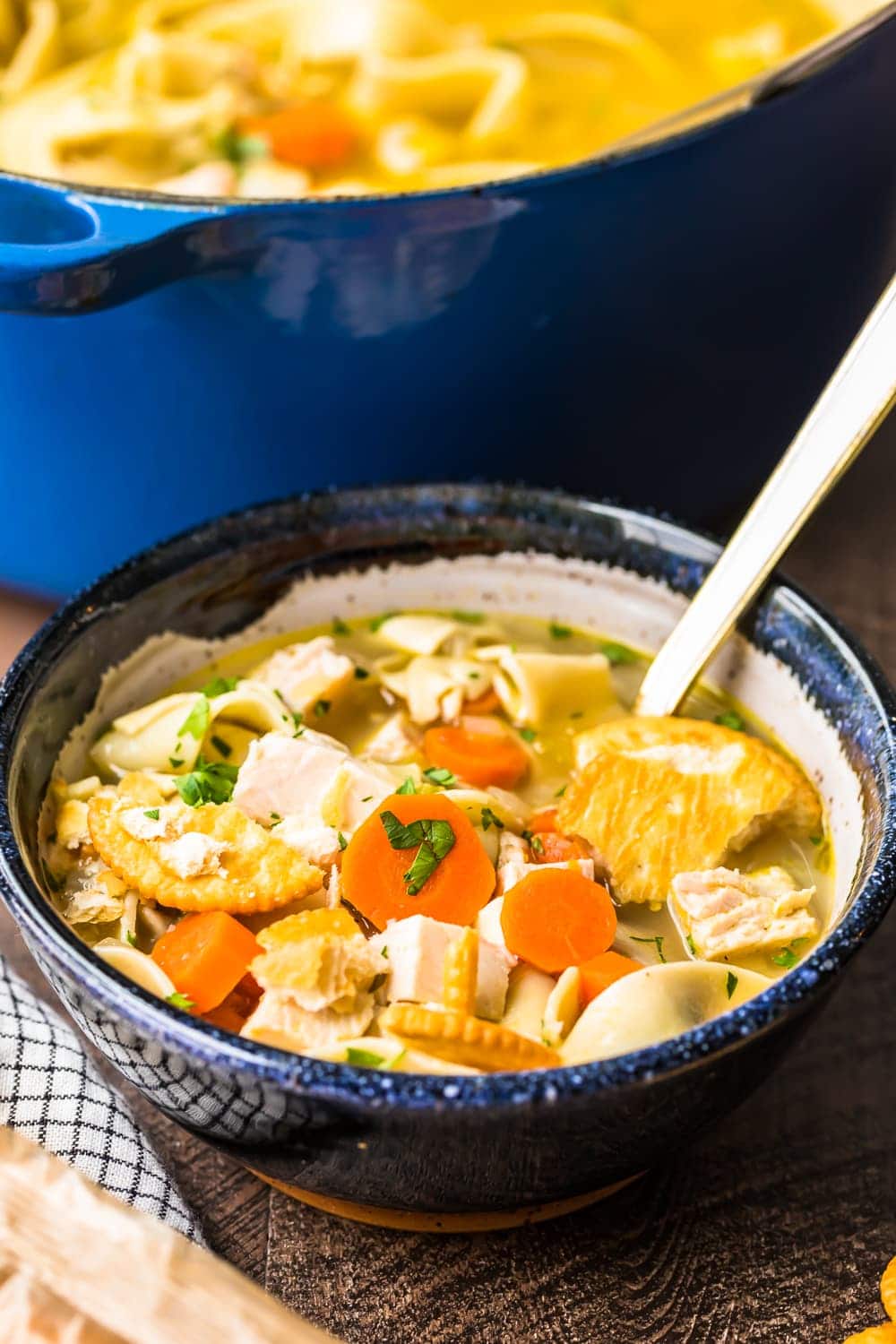 Can you make this soup ahead of time?
Soup is a great dish to make ahead of time for easy to grab meals in the coming days. Once the soup has cooled to room temperature, place it in the fridge in an airtight container and it will be good for 3 days.
Because this turkey soup has noodles in it, it's best not to freeze it as they can turn mushy. If you like, you can make the soup up to the point of adding the noodles and then freeze it. When ready to cook, reheat the soup and add the noodles.
Top Tips To Make This Turkey Noodle Soup Recipe
Use a low sodium broth for this recipe. If you don't, then decrease the amount of salt added.
You can substitute the leftover turkey in this recipe with cooked chicken.
Don't continue to cook the soup once the noodles are soft or they will become mushy.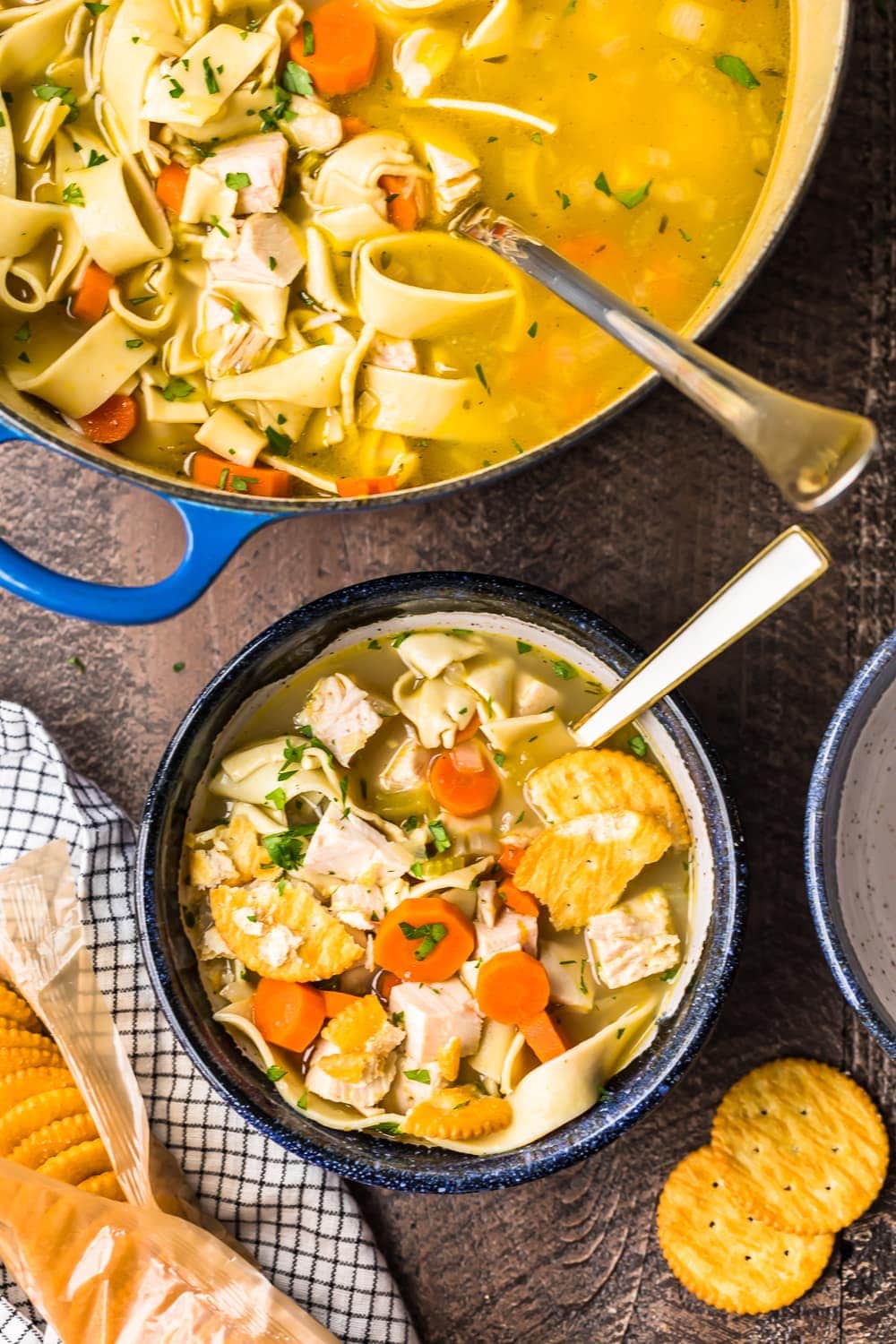 For more soup recipes: