Copycat McDonald's Strawberry and Cream Mini Pies are the perfect breakfast or sweet treat! Crispy,crumbly pastry encasing a fresh strawberry and cream cheese filling, so delicious!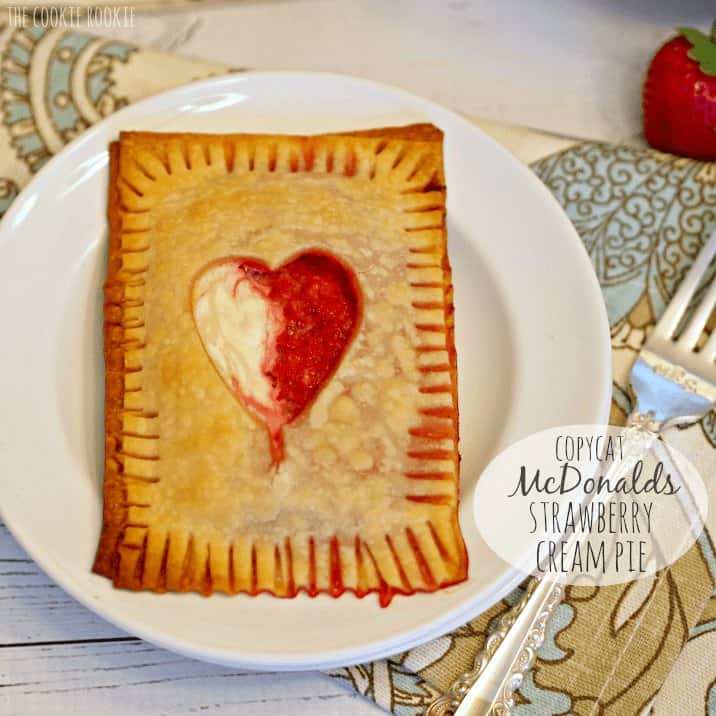 I'm not a huge McDonald's fan. Obviously I know its horrible for you, and when I eat there for lunch a stomach ache is almost sure to follow. That being said…I have two obsessions that I just can't live without. Egg White Delights and Strawberry Cream Mini Pies. This is my take on those addictive pies, better and healthier IMO! They make the most delicious desserts.
Why these Mini Pies are so good
A delicious copycat version of the Mcdonald's classic sweet treat.
An addictive cream cheese/fresh strawberry filling.
Easy to make, only 6 ingredients.
Great for dessert or breakfast.
Ingredients
Pre-made Pie Crust – I used Pillsbury, but you can make your own (see recipe card for homemade crust recipe)
Strawberries – hulled and chopped. You can use fresh or frozen.
Cream Cheese – I went for low fat, make sure it is softened.
Egg – or egg white. I love Just Egg Whites.
Vanilla Extract
Sugar -divided.
How to make these Mini Pies
Be sure to scroll to the bottom for the whole recipe
Process the strawberries and sugar in a food processor. Then, in a bowl mix the cream, egg, cheese, sugar and vanilla. Unroll your pie crust and cut into squares. Then, put a spoonful of the cream cheese and the strawberry mixtures onto half the pastry sheets and place the other half of the pastry sheets on top.
Bake for 10 mins.
Enjoy!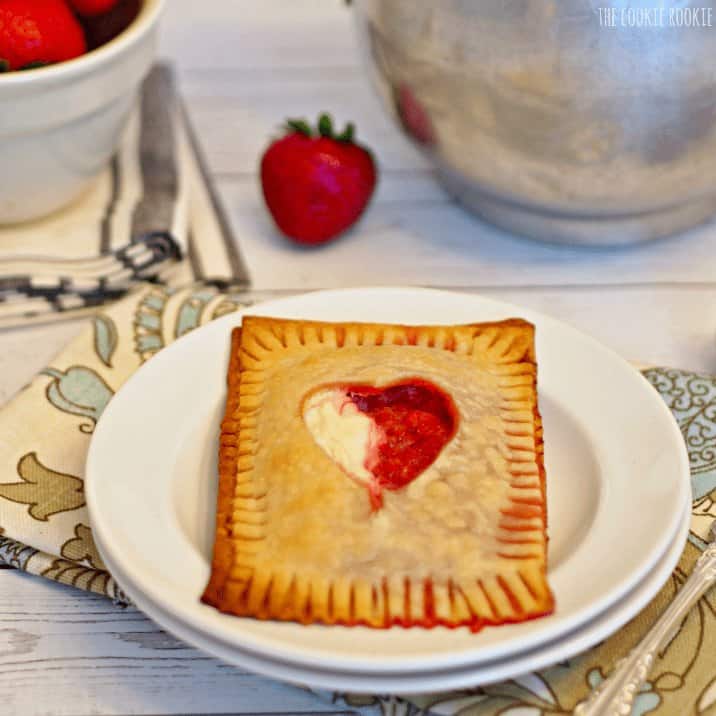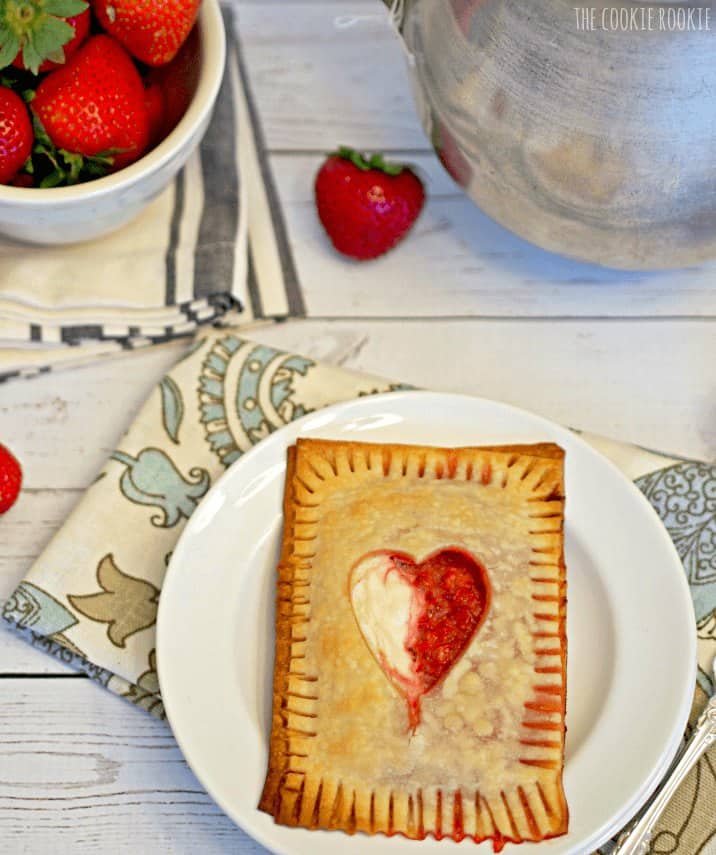 What is a McDonald's Strawberry and Cream Pie?
This sweet treat from the Golden Arches, is a hand pie, like a rarer cousin of the classic McDonald's Apple Pie. It features a layer of strawberry filling along side a layer of vanilla-flavored creme. The crust has a light layer of sugar baked on. and they are so addictive! Sweet, tangy, creamy, delicious.
But these pies are not available all the time, or in all locations – so I decided to make my own, and lo, they are awesome!
A delicious and easy pie filling
The filling is easy as pie–literally. You combine chopped strawberries with sugar and the whip of the cream cheese mix in a minute, this pie could not be easier. It's amazing and flavorful and what more could you ask for in summer especially when it's strawberry season?
Healthier Mini Pies
These little pies are so simple and delicious. They're relatively healthy, except for the sugar, but honestly they'd still probably be pretty tasty if you used less sugar. They're like a delicious adult poptart that I literally can't get enough of!
My friend Kelly has a total weakness for these too. Even on diet weeks, we can't help but say yes to one of these bad boys if we happen to drive by a dreaded McDonald's. But this recipe beats those cravings!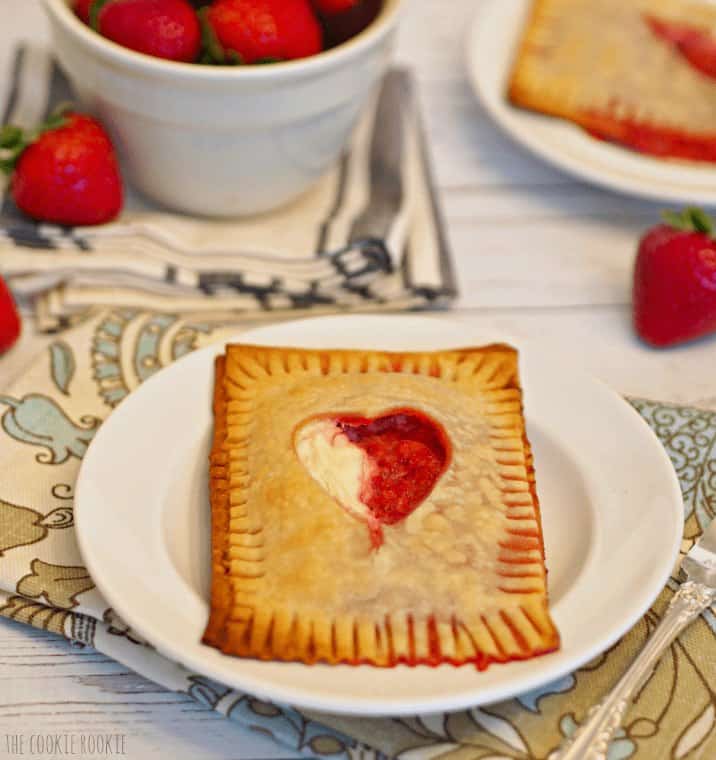 Top Tips
You can use store bought crust, works great!
Make sure you lightly flour the surface you're rolling your pastry on, to avoid sticking.
Use a fork to press down the top pastry layer into the bottom, and it makes a lovely rustic edging.
If you're looking to REALLY take them up a notch, top with some vanilla bean ice cream.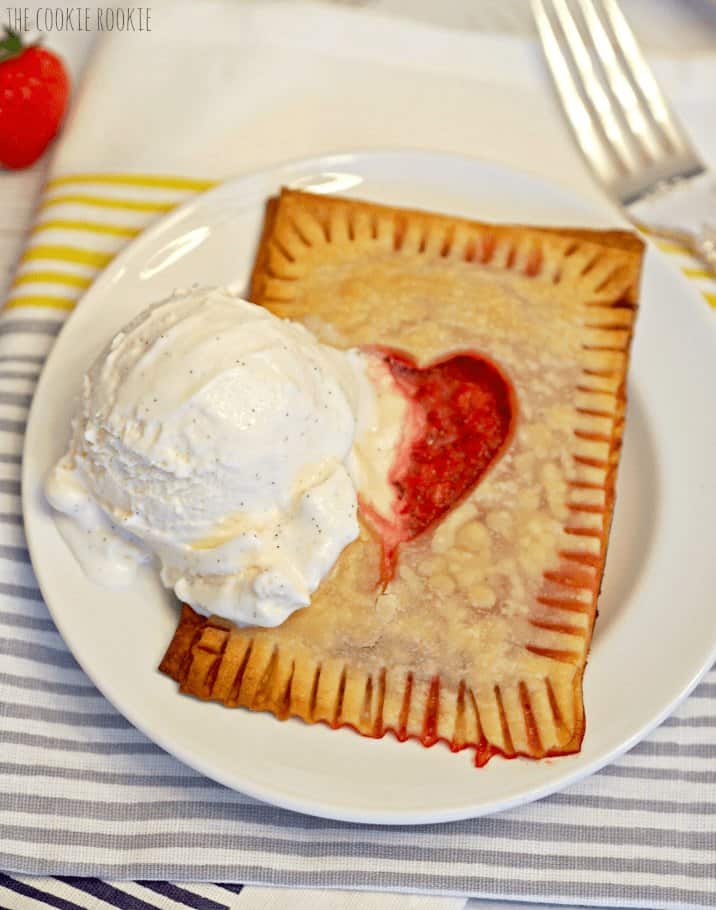 Check out these other sweet treats
Have you tried these Hand Pies? Feel free to leave a star rating and I'd love to hear from you in the comments below!