Copycat McDonald's Strawberry and Cream Mini Pies are the perfect breakfast or sweet treat! Crispy, crumbly pastry encasing a fresh strawberry and cream cheese filling makes a delicious combination.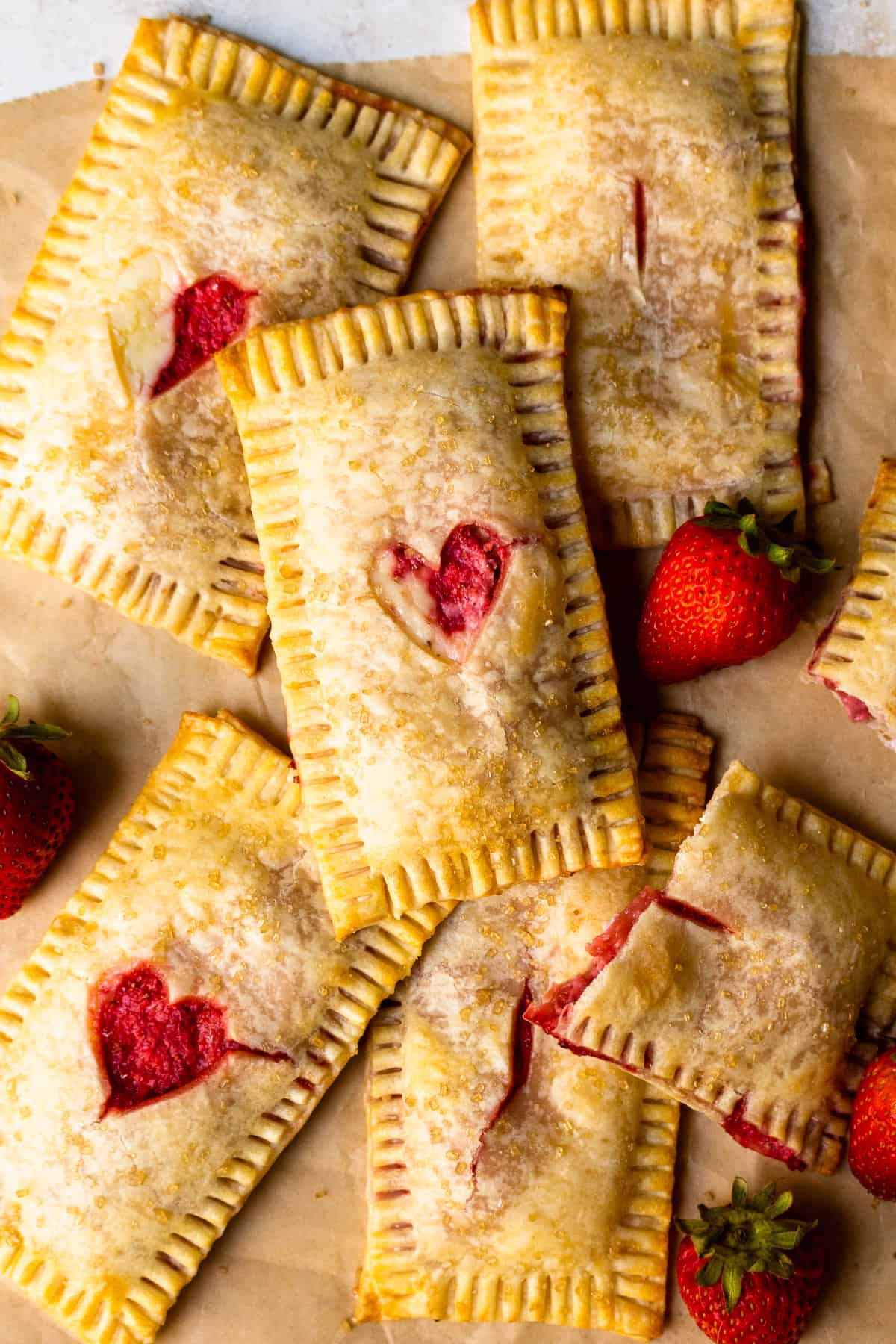 Strawberry Cream Cheese Hand Pies
I have a slight obsession with those Strawberry Cream Mini Pies from McDonald's. They're hot, flaky little pockets of strawberry and cream cheese. What's not to love?
Luckily, you can make them at home now with this recipe! This copycat version is my take on those addictive hand pies, and they came out tastier and healthier (if you ask me)!
They make the most fun and delicious desserts. The kids will LOVE being able to eat these at home, and you won't have to make a trip to the drive-thru.
Why you'll love this Strawberry and Cream Hand Pie Recipe:
TASTY: This delicious copycat version of the McDonald's pies is filled with strawberries and cream cheese. It is fruity and sweet!
EASY: Mini pies are so easy to make, with only six ingredients.
VERSATILE: These hand pies are great for dessert, a sweet breakfast, or even an after-school snack.
I love this strawberries and cream version, but these mini pies taste great with blueberries, apple, or cherry too!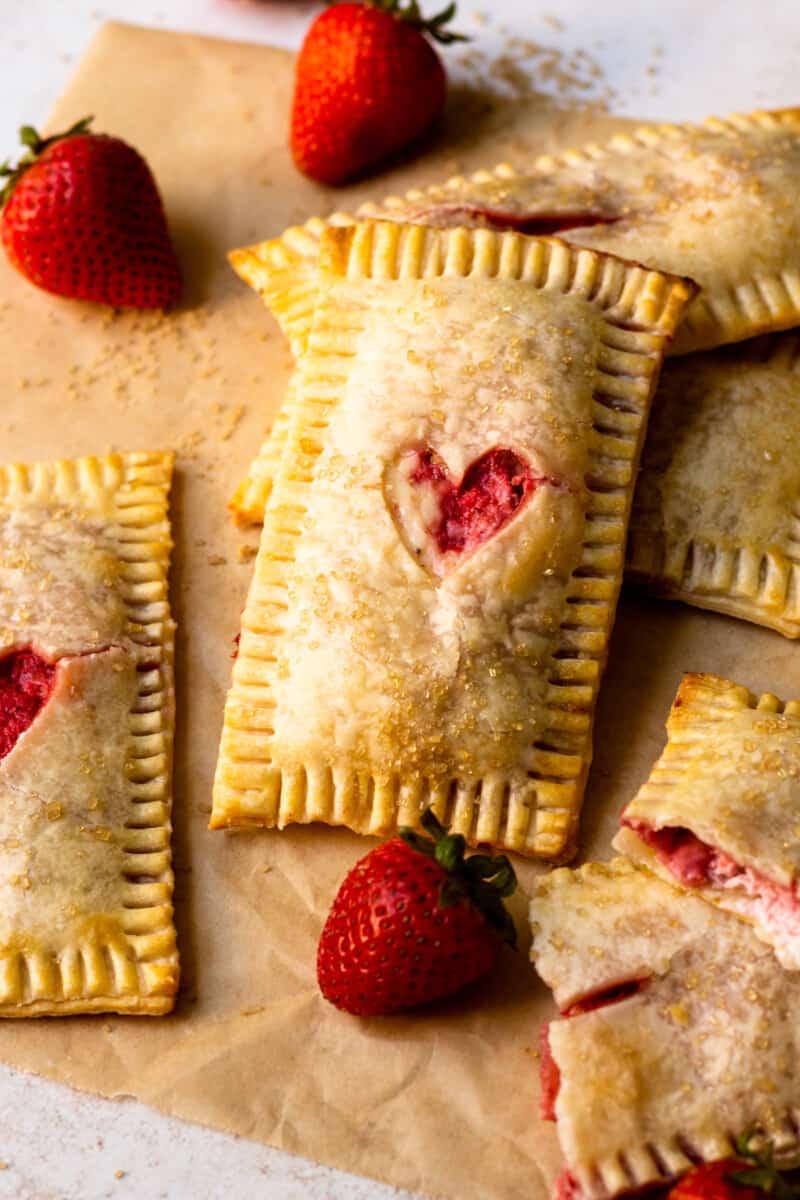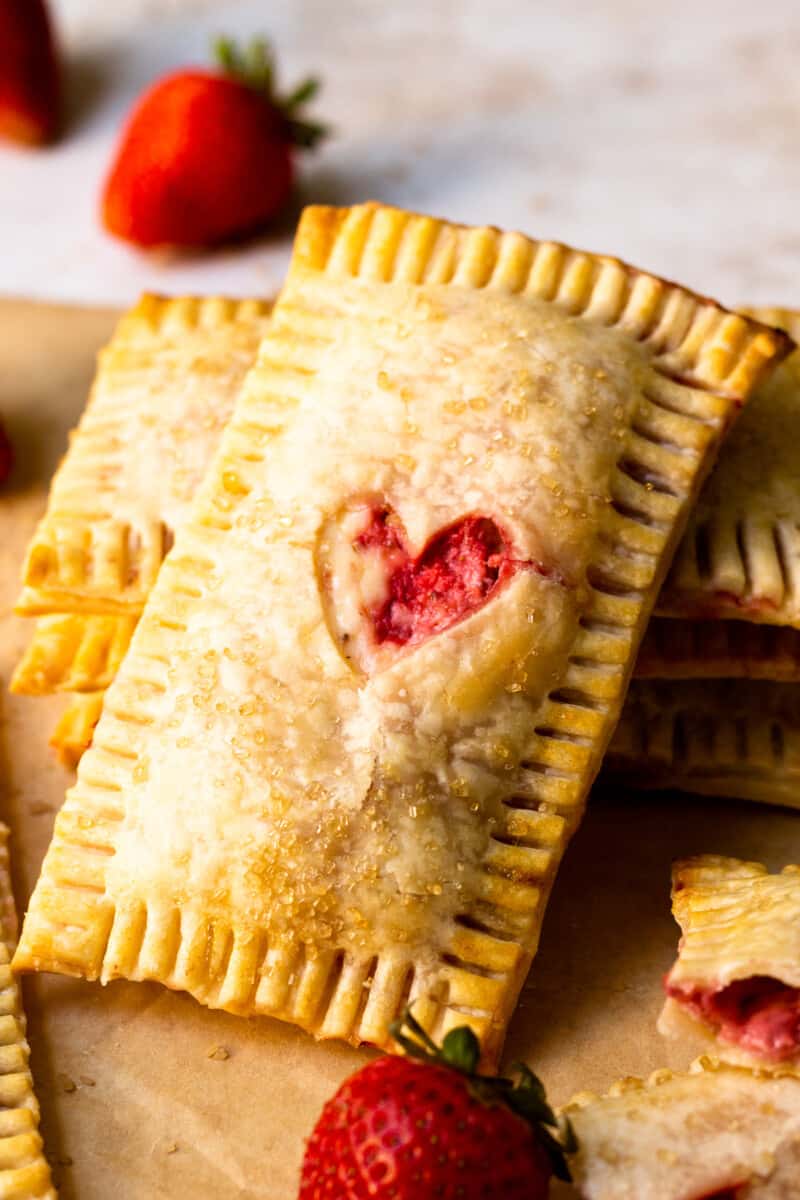 Ingredients
Pre-made Refrigerated Pie Crust: I used Pillsbury, but you can make your own (see recipe card for homemade crust recipe).
Strawberries: Hulled and chopped. You can use fresh or frozen.
Cream Cheese: I used a low-fat cream cheese. Make sure it is softened.
Egg: You can use a whole egg (with yolk) or just egg whites. I love Just Whites.
Vanilla Extract
Sugar: Divided
Trademark note: In the spirit of transparency, please note that some of these ingredients are trademarked products. McDonald's, Pillsbury, and Just Whites are proprietary brands that I want to acknowledge and give credit to.
How to Make Strawberry Cream Cheese Mini Pies
You can jump to the recipe card for full ingredients & instructions!
Blend the strawberries and sugar in a food processor.
Add to a bowl with cream cheese, egg, sugar, and vanilla.
Cut the pie crust into rectangles and add a spoonful of the berry mixture onto half of them.
Top with the remaining pastry rectangles and seal with a fork.
Bake and serve.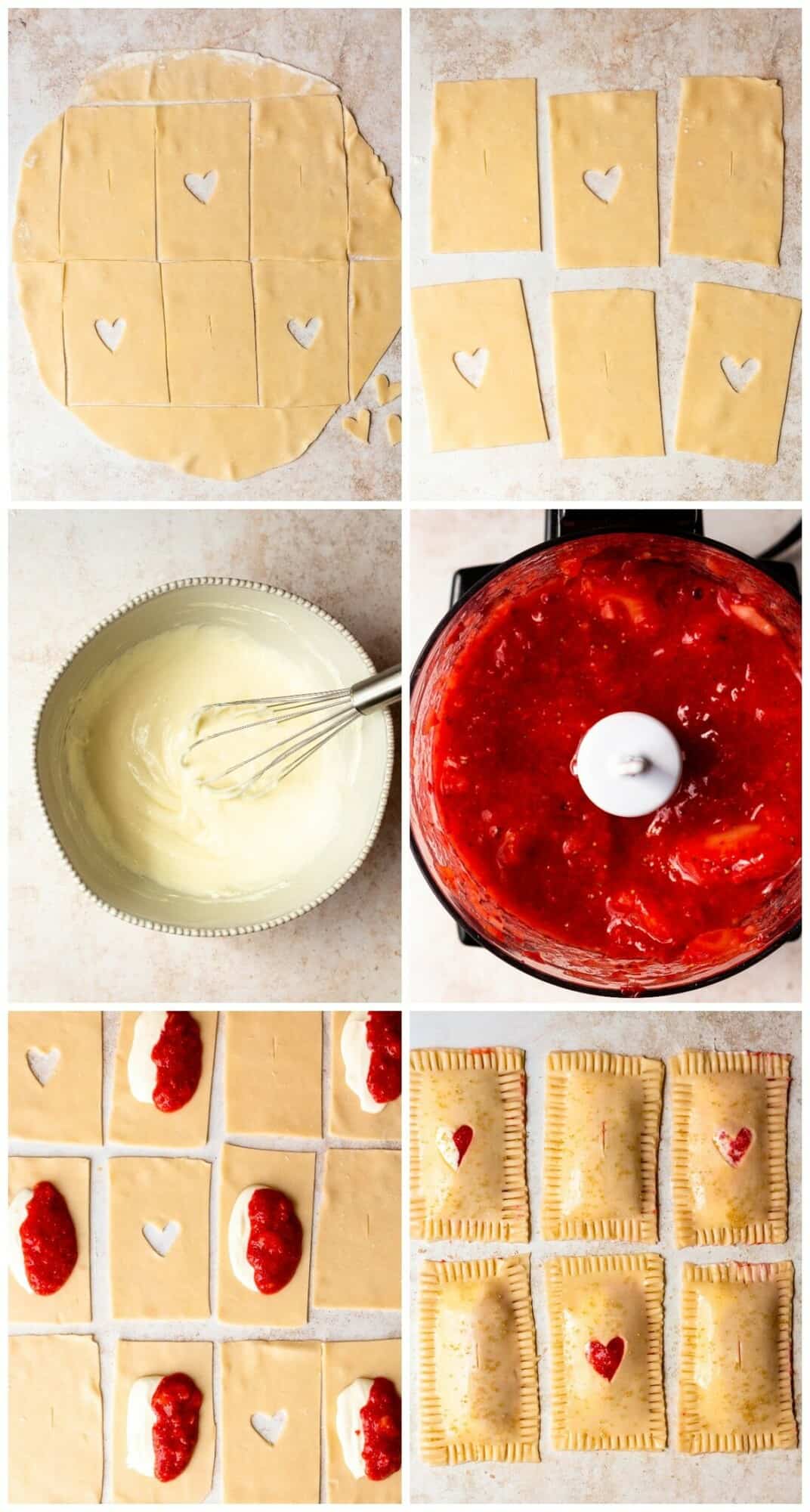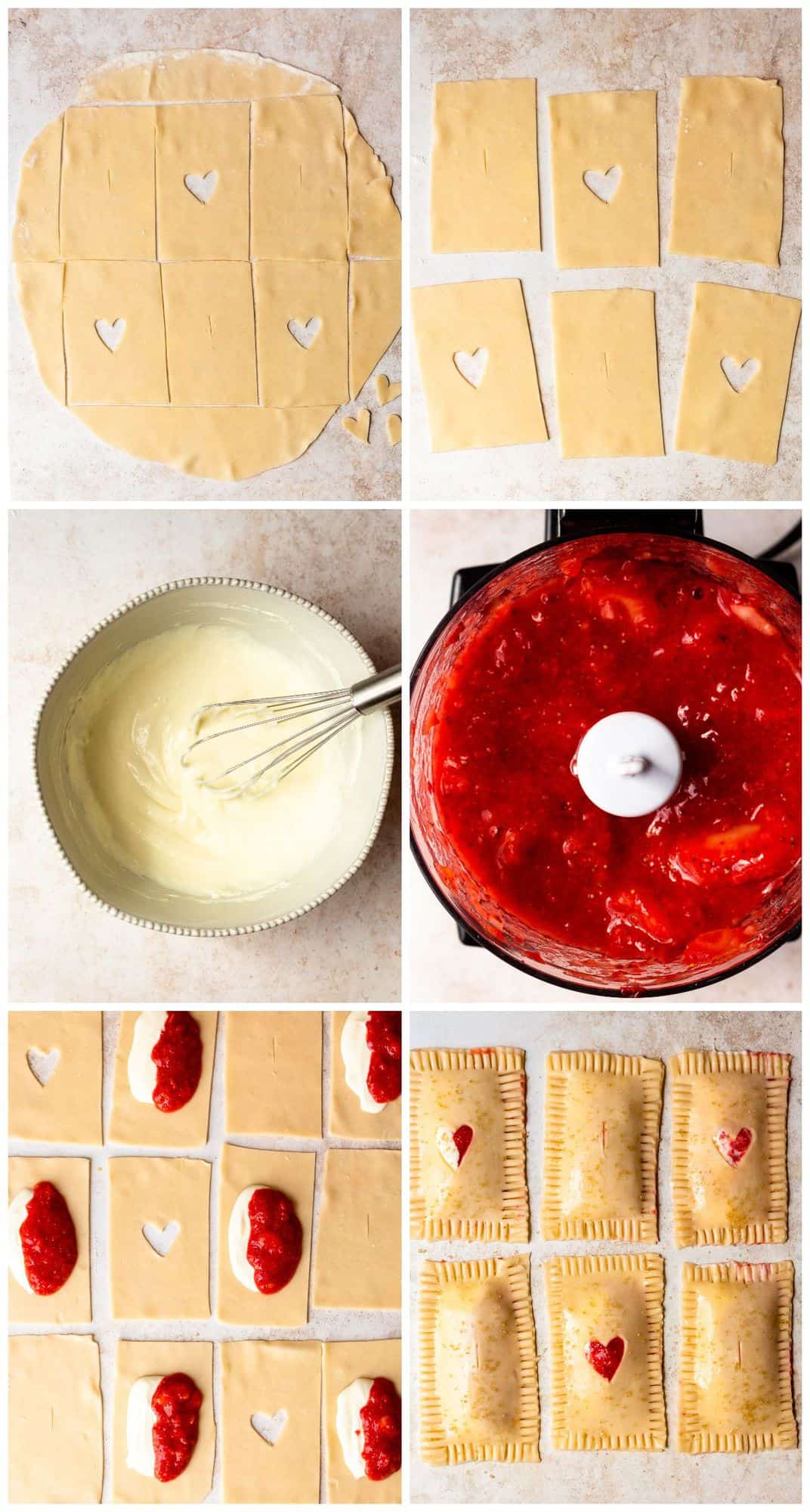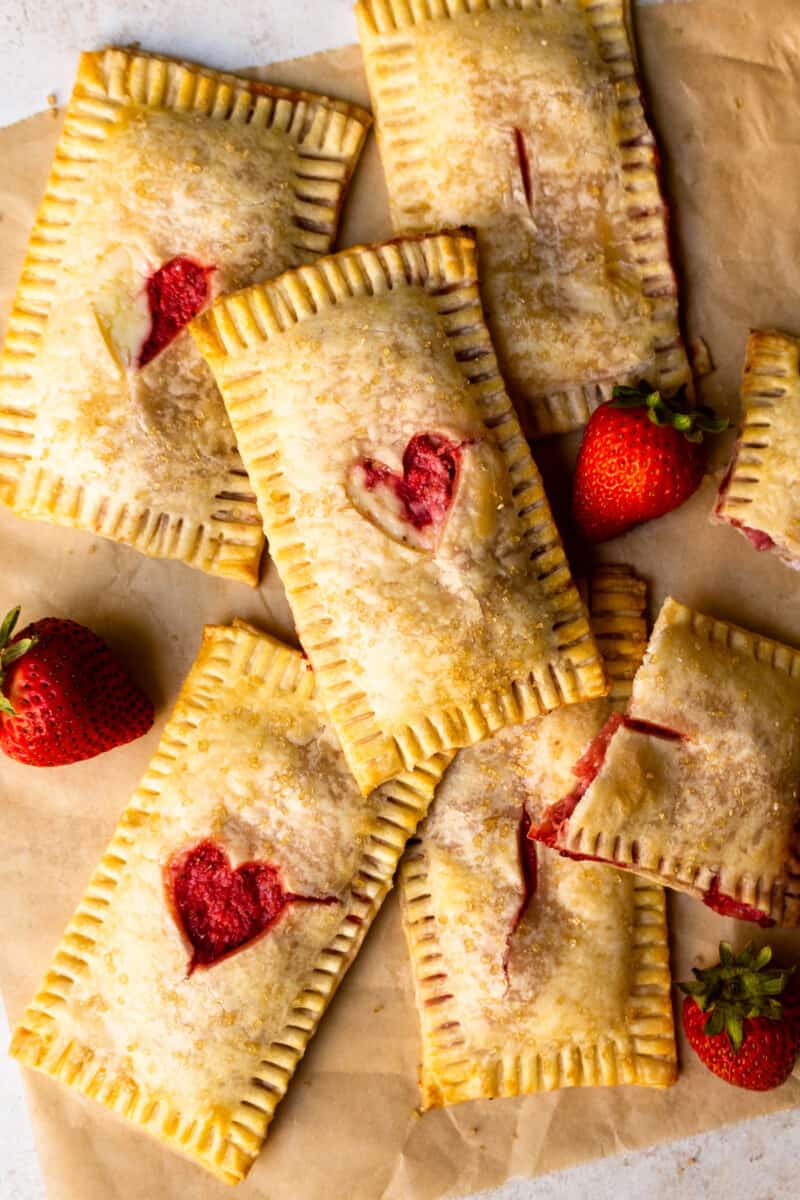 What is a McDonald's Strawberry and Cream Pie?
If you've never seen these mini pies, don't feel bad. They're not available all the time or in all McDonald's locations. This sweet treat from the Golden Arches, is a hand pie, a less-familiar cousin of the classic McDonald's Apple Pie.
It features a layer of strawberry filling alongside a layer of vanilla-flavored creme. The crust has a light layer of sugar baked on, and they are so addictively sweet, tangy, creamy, and delicious.
Since they can be hard to find, I decided to make my own, and they are awesome!
How Difficult Are These to Make?
The strawberry cream cheese filling is easy as pie! Just combine the filling ingredients and it's ready to load into the crust. It's so amazing and flavorful. What more could you ask for in summer, especially when strawberries are in season?
And with the pre-made pie dough, prep is super simple. Just assemble everything and bake!
Can I Use Store-Bought Crust?
You don't have to make the crust from scratch, though there is a recipe for homemade pie crust if you like. If you use a pre-made crust, go for a refrigerated one rather than a frozen one.
The frozen crust isn't designed to be removed from the package and rolled out as a pastry. It will crumble if you try to do that, so stick with the refrigerated type!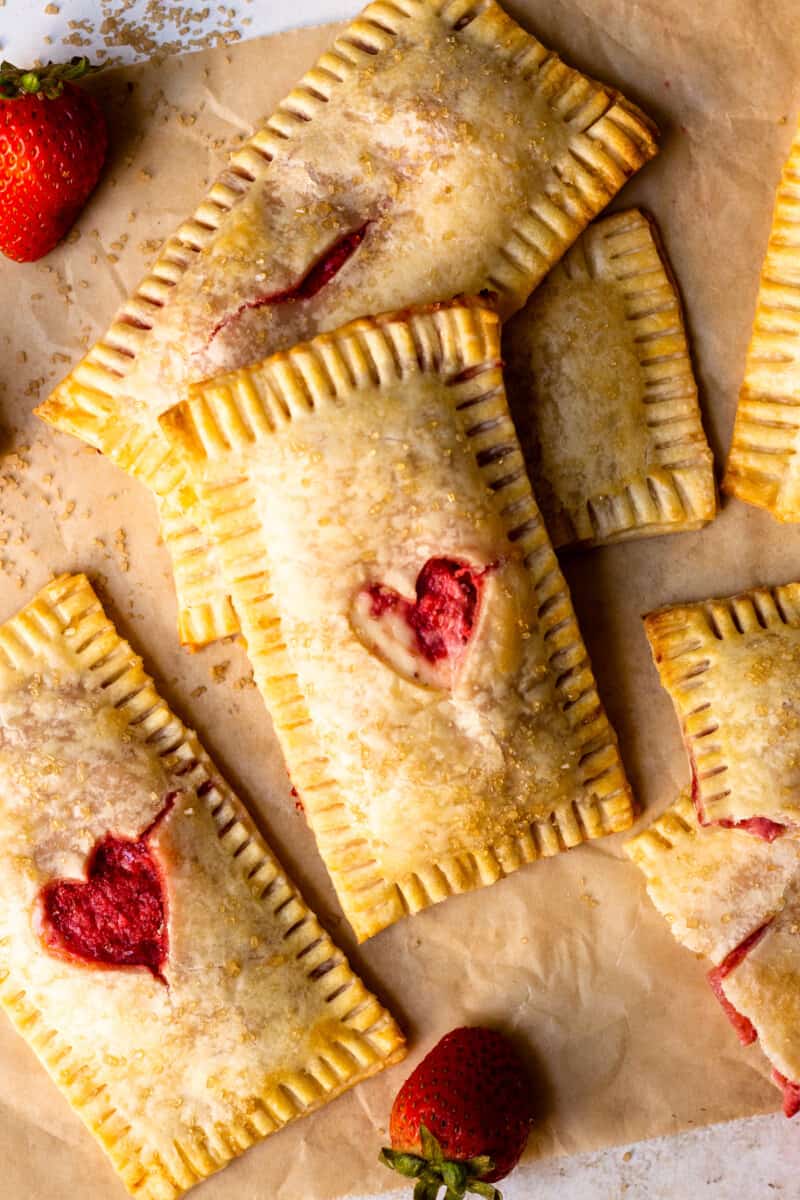 Serve these little strawberries and cream hand pies fresh and hot! Add a scoop of ice cream for an extra delicious dessert.
Tips!
Let the cream cheese sit on the counter for at least 15-30 minutes to let it soften.
Be sure to cut some sort of vent in the pastry dough. The hearts look really cut, but you can just cut slits if you prefer.
You can use different fruits to make different flavors! Try blueberries, cherries, or raspberries instead.
Serve them hot with a scoop of ice cream for a delicious dessert!
Use a fork to press the two rectangles together to seal the hand pies.
The egg wash helps to brown and crisp up the pie crust in the oven to create the deliciously flaky texture!
Be sure to try our copycat Egg White Delight too or copycat Egg White Bites!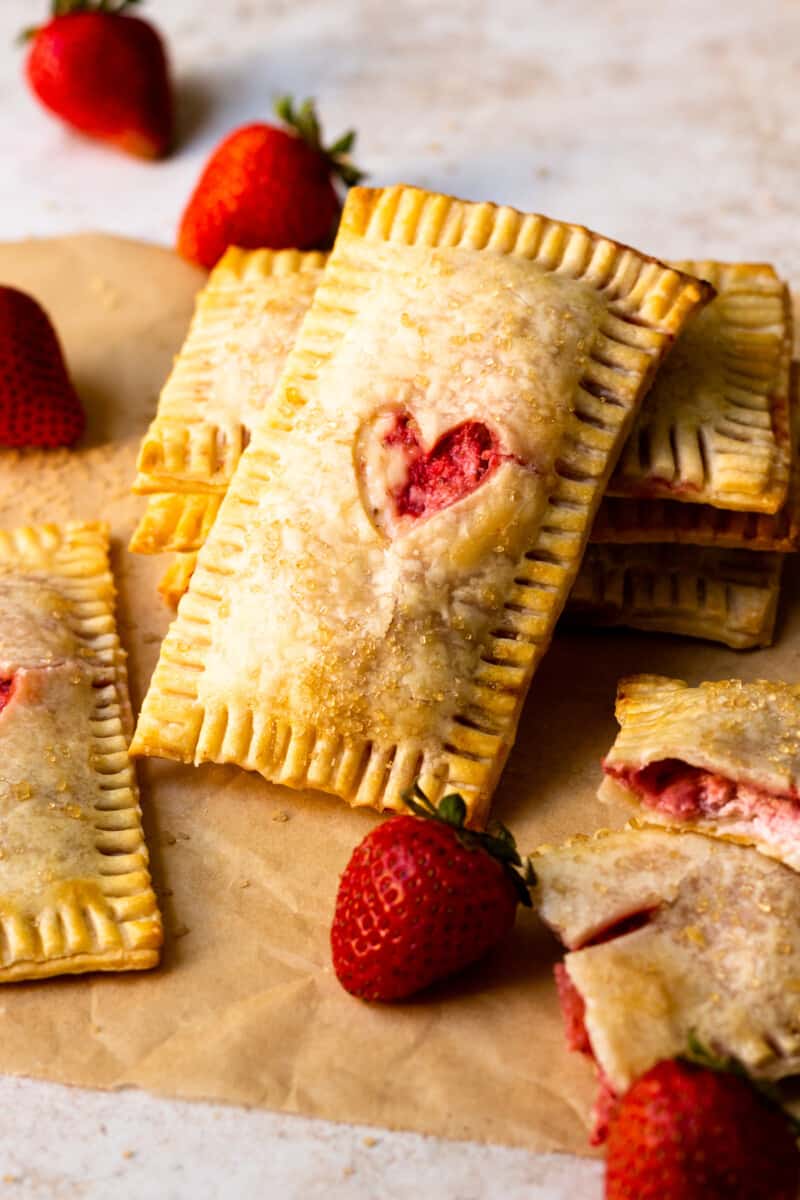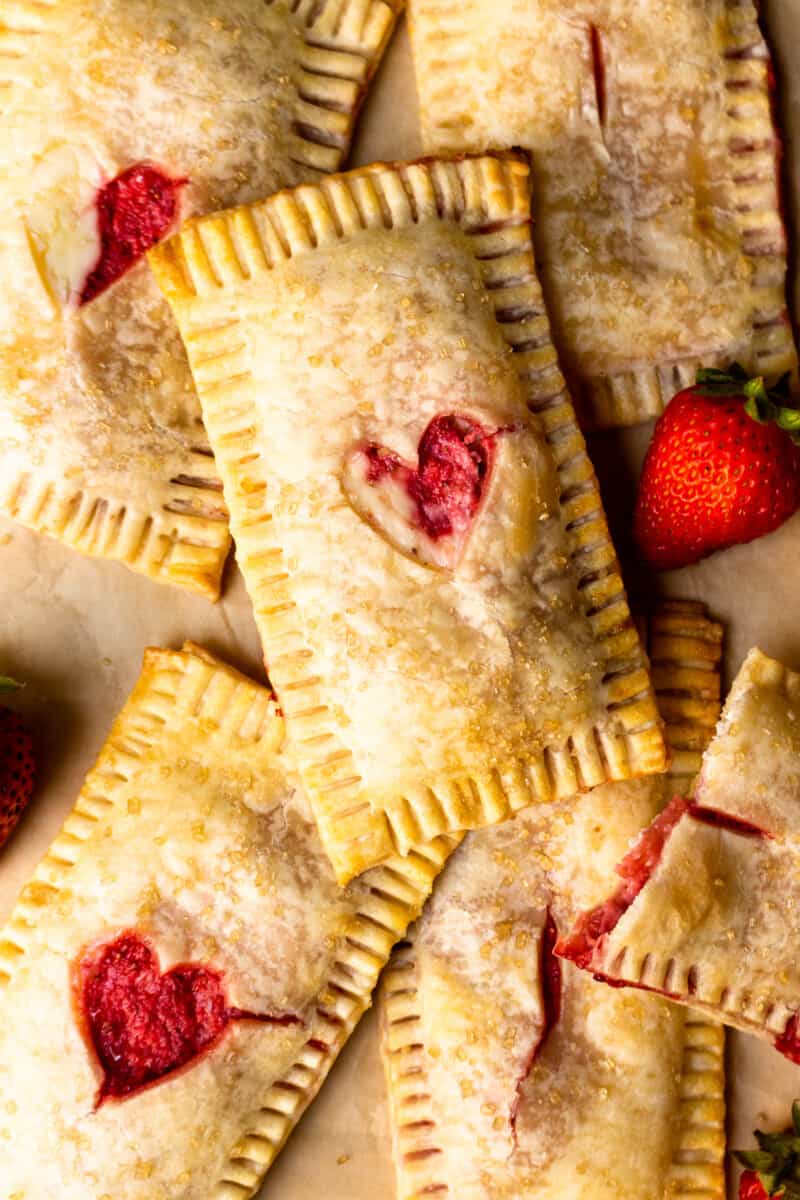 These strawberry cream cheese hand pies are just as good as (or maybe better) than the McDonald's pies. And baking these is almost as easy as going out to the drive-thru. The whole family is going to love these!
If you make this recipe be sure to upload a photo in the comment section below or leave a rating. Enjoy! You can also jump to recipe.