This strawberry jello pie is sure to satisfy your sweet tooth. Made with fresh strawberries, this simple fruit pie takes minutes to make and is bursting with flavor.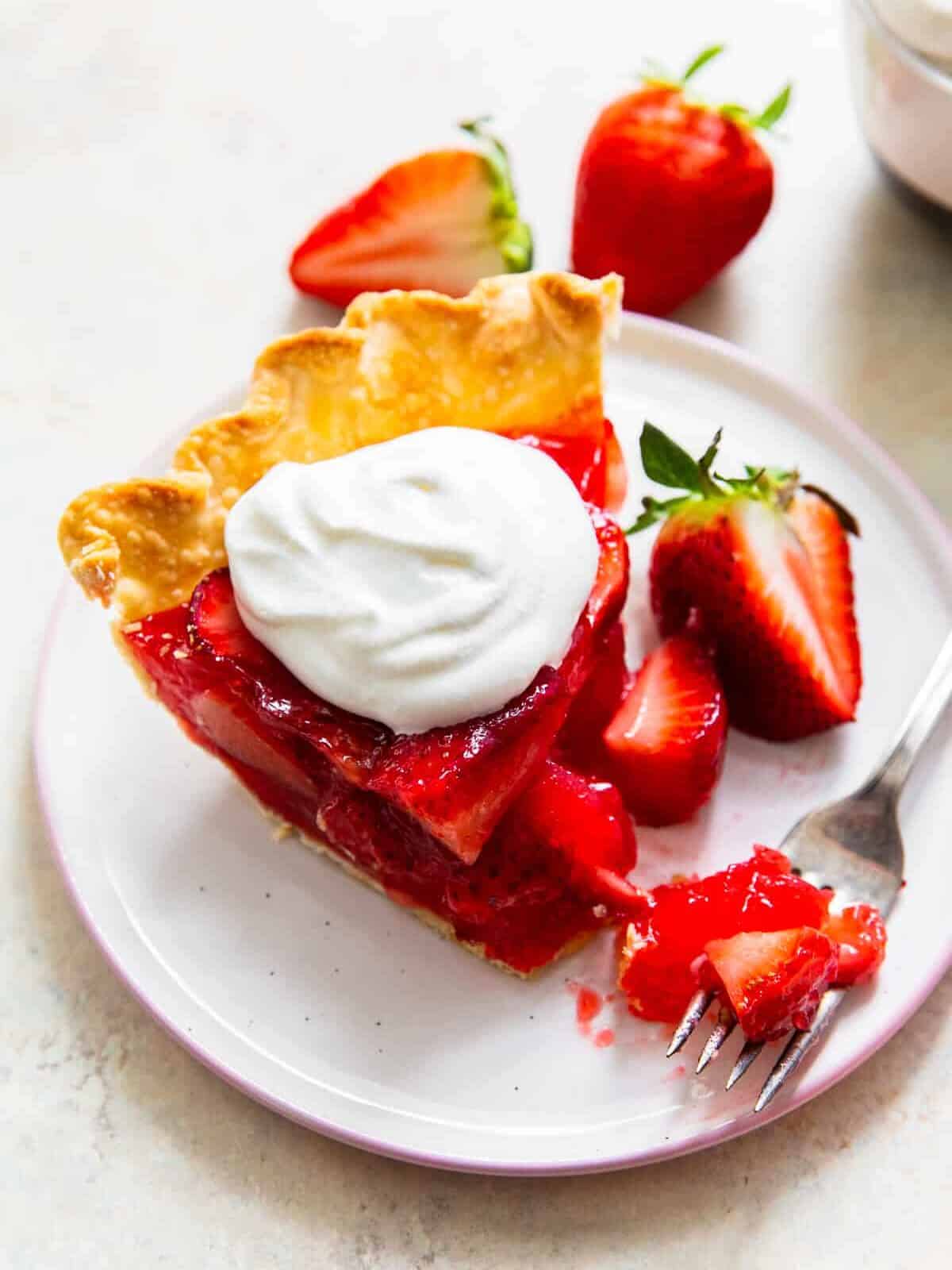 What's in this Recipe for Jello Strawberry Pie?
With just 5 ingredients (water and whipped cream don't count!) and 10 minutes of prep, this strawberry jello pie might just be the easiest summer desserts ever!
Water: You'll need water to hydrate the Jell-O and create a suspension for the strawberries.
Sugar: Granulated sugar helps to sweeten this pie. Start with a little and taste as you go. If you have tart strawberries, I'd suggest adding the full amount. For sweeter strawberries, add less.
Cornstarch: Strawberries are full of water, so adding some cornstarch helps absorb some of that free water, thickening this pie and preventing the filling from becoming too runny.
Strawberry Jell-O: The flavor base for this pie that gives it its signature jiggly texture.
Pie Crust: Store-bought pre-made pie crust is fine, or make your own pie crust!
Strawberries: Fresh strawberries add fresh fruity flavor and texture to this pie.
Pro Tip: Use fresh rather than frozen strawberries for this recipe. Frozen fruits are either likely to stay frozen, or, release too much liquid into the jello.
Variations on Strawberry Pie with Jello
This pie is pretty delicious as it is, but it's easy to use this base recipe to make any fruit jello pie you like. You can easily adapt this to use different fruits and flavored Jell-O. Raspberry and orange are both great choices. You can also swap out the pie crust for a graham cracker crust if you're feeling fancy!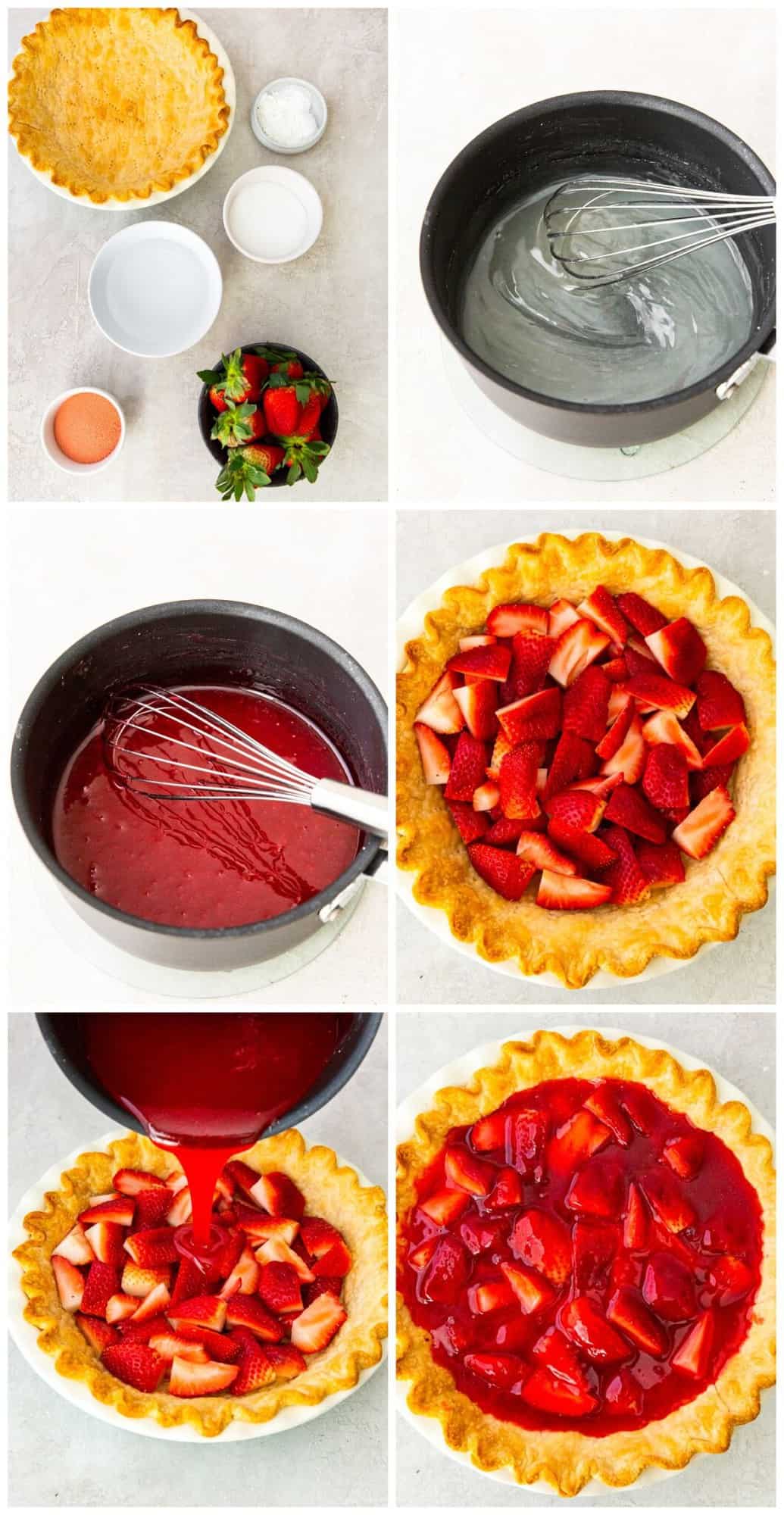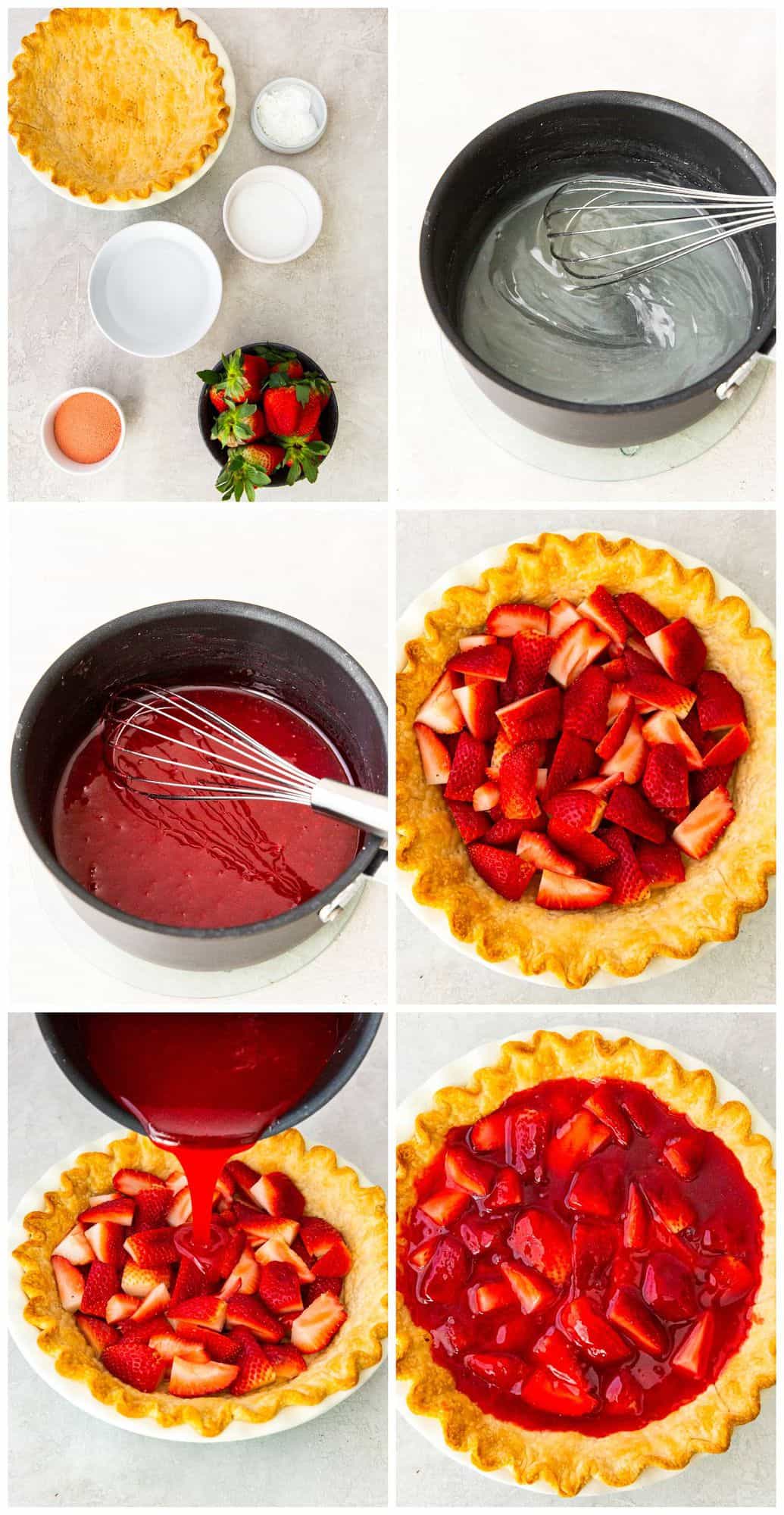 Trademark Note: In the spirit of transparency, I want to note that some of these ingredients are trademarked products. Jell-O is a proprietary brand that I want to acknowledge and give credit to.
Can I make strawberry jello pie with frozen strawberries?
Technically, yes, but it really won't be the same. Fresh berries have a firmer shape and are much more satisfying to bite into than thawed berries. Additionally, the previously frozen berries may or may not hold their shape in the jello pie. However, if you're unable to find any fresh berries, you can attempt to use frozen ones by allowing them to thaw first at room temperature for a few hours. Then, follow the instructions accordingly.
Can I make this pie with sugar free jello?
You sure can! You'll need about 0.4 ounces of sugar-free jello, which is a bit more than 1 box, so buy 2 just to be safe! You can also use a sugar-free baking sweetener (like Swerve) in place of the granulated sugar!
How long does it take jello to set?
You'll need at least 2-4 hours to let the gelatin fully set in the refrigerator. I recommend chilling it overnight for best results.
Why is my jello pie runny?
Making jello can feel like a science experiment! If you add too much or too little of an ingredient, it can throw the whole thing out of whack. If the jello is still thin and runny after cooling for 15-20 minutes, you might have added a bit too much water. Whenever I make this recipe, I always buy an extra jello box or 2 just in case this happens. If your mixture is too thin, start over with a new box and add less water.
How long will strawberry jello pie stay fresh?
Make sure to cover the pie dish with plastic wrap or aluminum foil so it stays fresh! Any other pie container with an airtight lid should also do the trick. Once it's in an airtight container or wrap, place the pie in the refrigerator, where it will stay fresh for up to 4 days.
Can you freeze jello pie?
Freezing and thawing gelatin will essentially ruin the texture, so it's not recommended that you freeze this jello pie.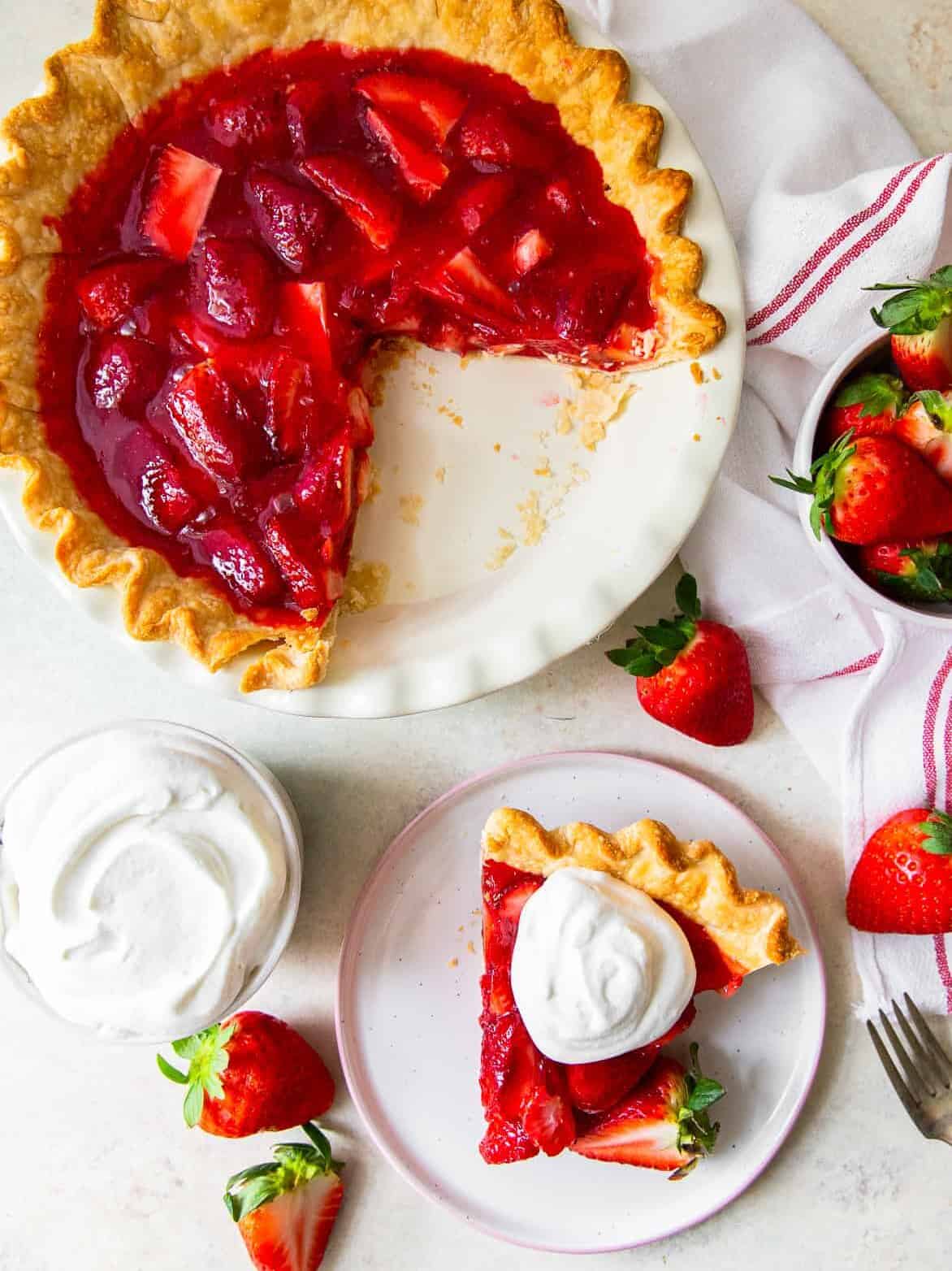 How to Make Ahead and Store Fresh Strawberry Pie with Jello
This is a great make-ahead dessert, perfect if you are planning to serve it as part of a big feast. Once the jello has set, cover the pie with plastic wrap and it will keep well for 4 days.
It's best not to freeze it, as the texture of the jello can change quite considerably once it is thawed.
What to Serve with Jello Strawberry Pie
This strawberry jello pie, in my humble opinion, is one of the best 4th of July desserts. It should be served with some fresh whipped cream and vanilla ice cream for the full effect. It's also never a bad idea to add a little grated chocolate to the top, if you like. If you're feeling adventurous, try topping yours with a drizzle of balsamic glaze or lemon sauce!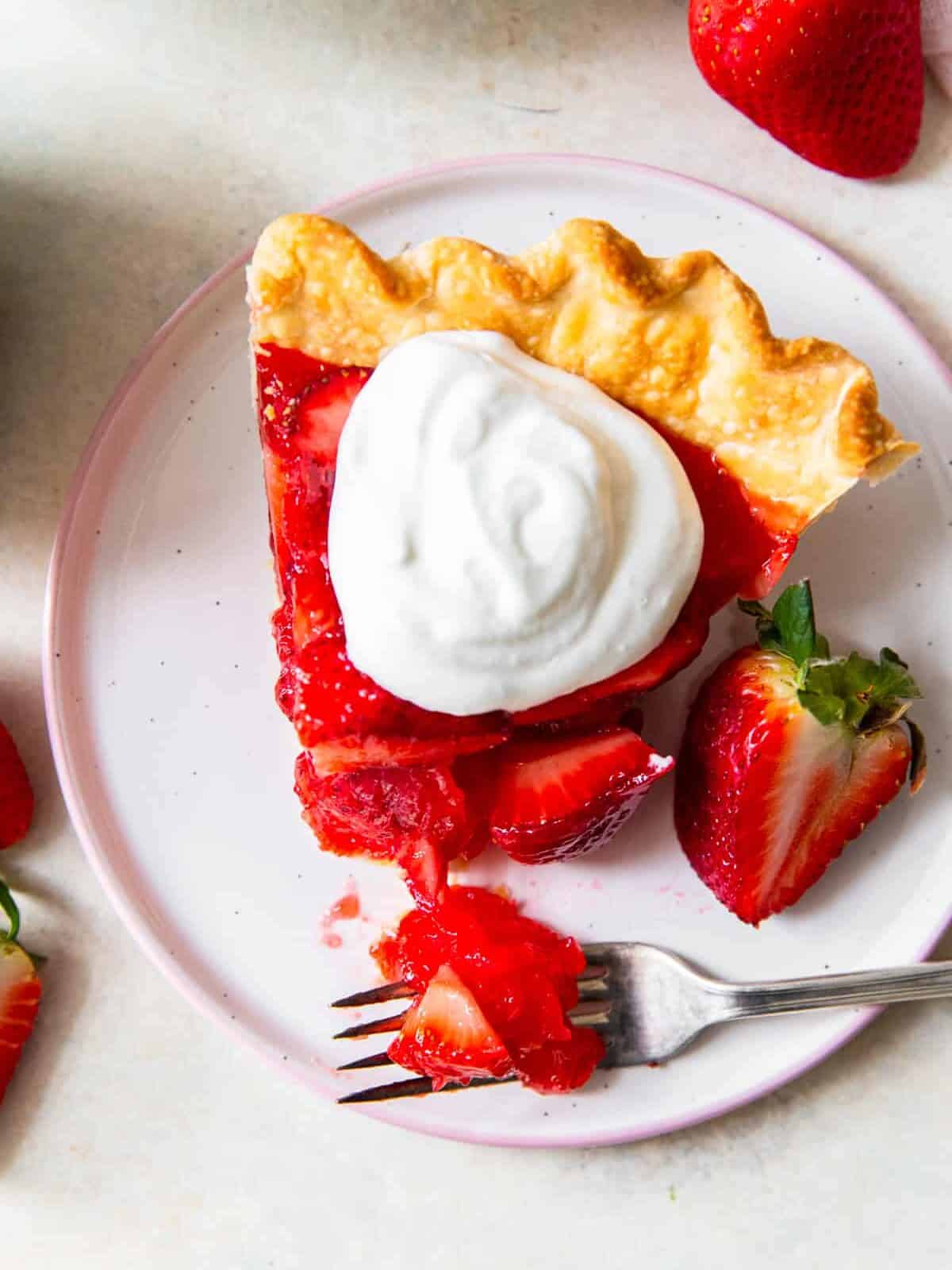 More Strawberry Pie Recipes we Love