Buffalo Chicken Enchiladas are SO EASY and delicious. This creamy chicken enchiladas recipe is the perfect balance of creamy and spicy. They're loaded with buffalo chicken and then topped with a celery and blue cheese cream cheese queso. A fun and easy chicken enchilada recipe!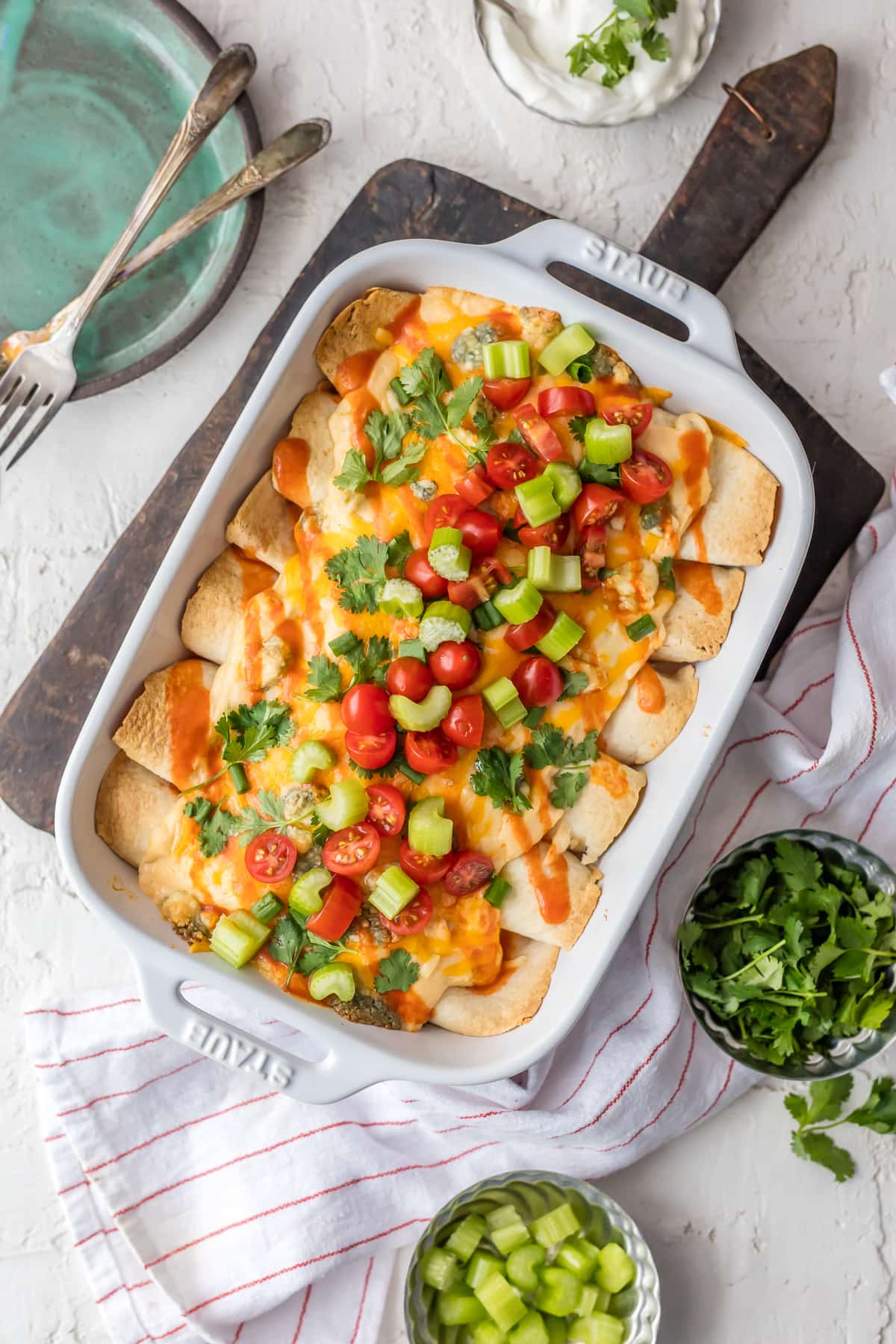 Buffalo Chicken Enchiladas
Buffalo Chicken Enchiladas are a spicy and delicious twist on a favorite dish. This creamy chicken enchilada recipe is sure to please the whole family!
This is not a drill. CREAMY BUFFALO CHICKEN ENCHILADAS covered in a CELERY & BLUE CHEESE CREAM CHEESE QUESO! Is this heaven? This creamy chicken enchiladas recipe is the perfect combination of creamy and spicy, sure to please both kids and adults alike! They're incredibly easy, quick, and perfect for any family dinner. So what are you waiting for? Get to cooking this easy chicken enchilada recipe!
Buffalo Chicken Enchiladas are spicy and creamy, super delicious, and so easy to make. You're going to love this creamy chicken enchiladas recipe!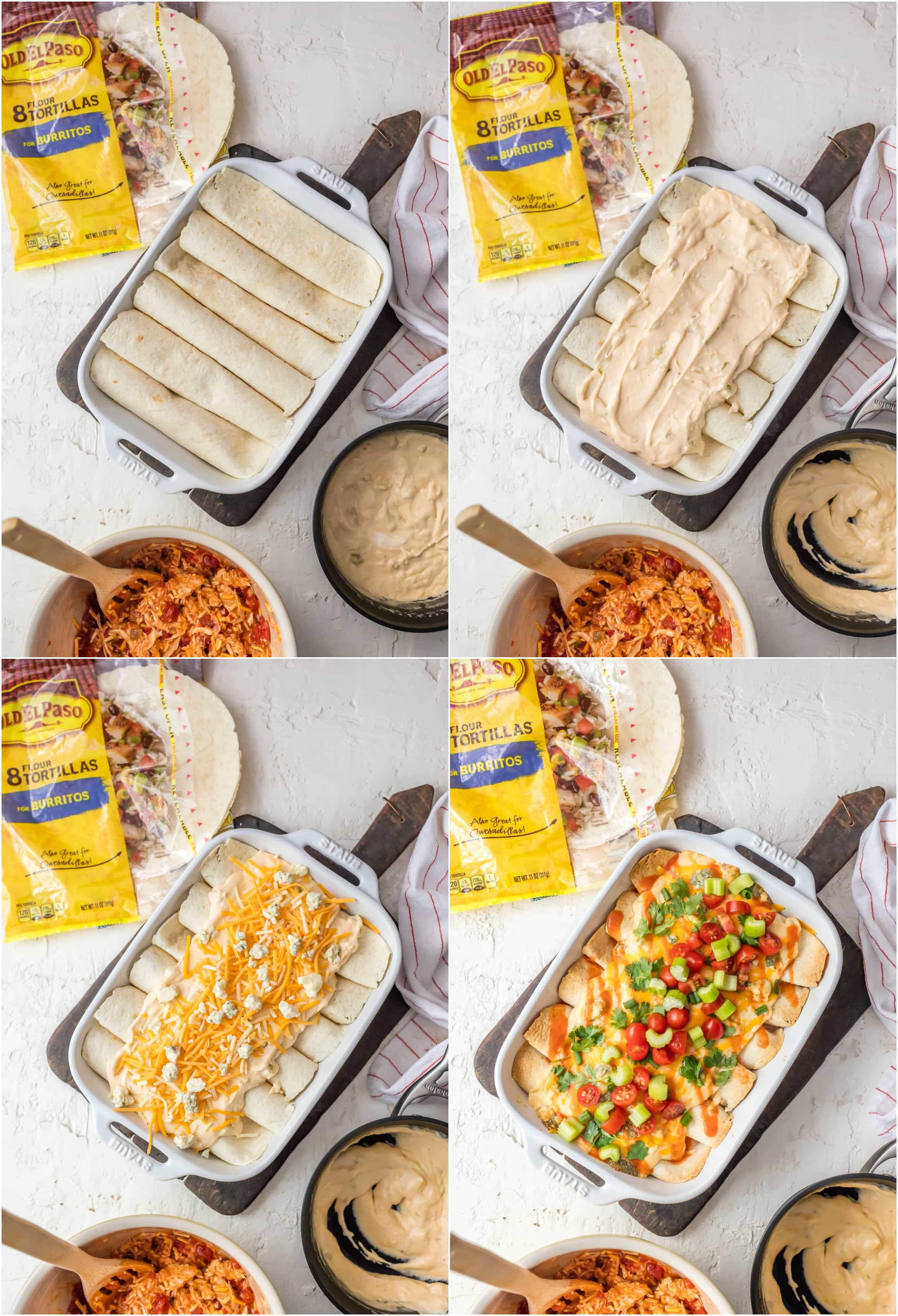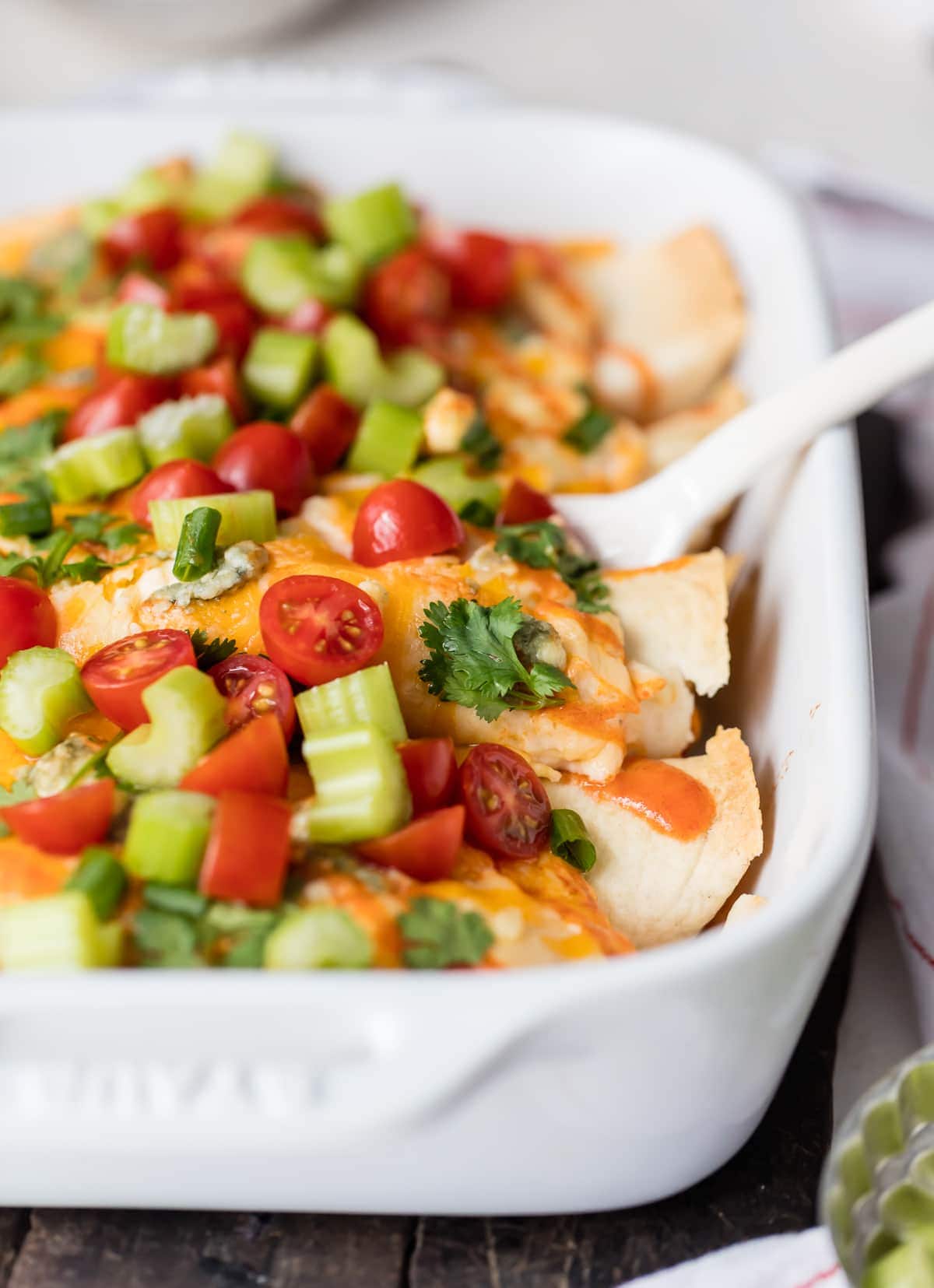 Creamy Chicken Enchiladas Ingredients
By now you guys know my love for Old El Paso. Their easy to use ingredients take dinner from drab to fab, and I'm a huge fan. For these Buffalo Chicken Enchiladas I used their 6″ Flour Tortillas (burrito size), and their Red Enchilada Sauce. It's almost too good to be true! Did you know their tortillas are only made with 3 ingredients?! Believe it. Love it. Eat it.
The secret to this amazing creamy chicken enchiladas recipe is definitely the Celery and Blue Cheese Cream Cheese Queso smothered all over the top. The more the better! It cuts the heat from the buffalo chicken and Rotel just enough. I know you'll be just as obsessed as we are!
How to Make Homemade Buffalo Sauce
I used my own buffalo sauce recipe for these easy chicken enchiladas. You better believe we've got you covered! You can always buy Buffalo Sauce at the store for this recipe, but it's just as easy to make your own! Here is our favorite Homemade Buffalo Sauce Recipe.
Use this sauce on some of our other favorite buffalo chicken recipes: Crispy Baked Buffalo Wings, Buffalo Chicken Meatballs, or Buffalo Shrimp Tacos!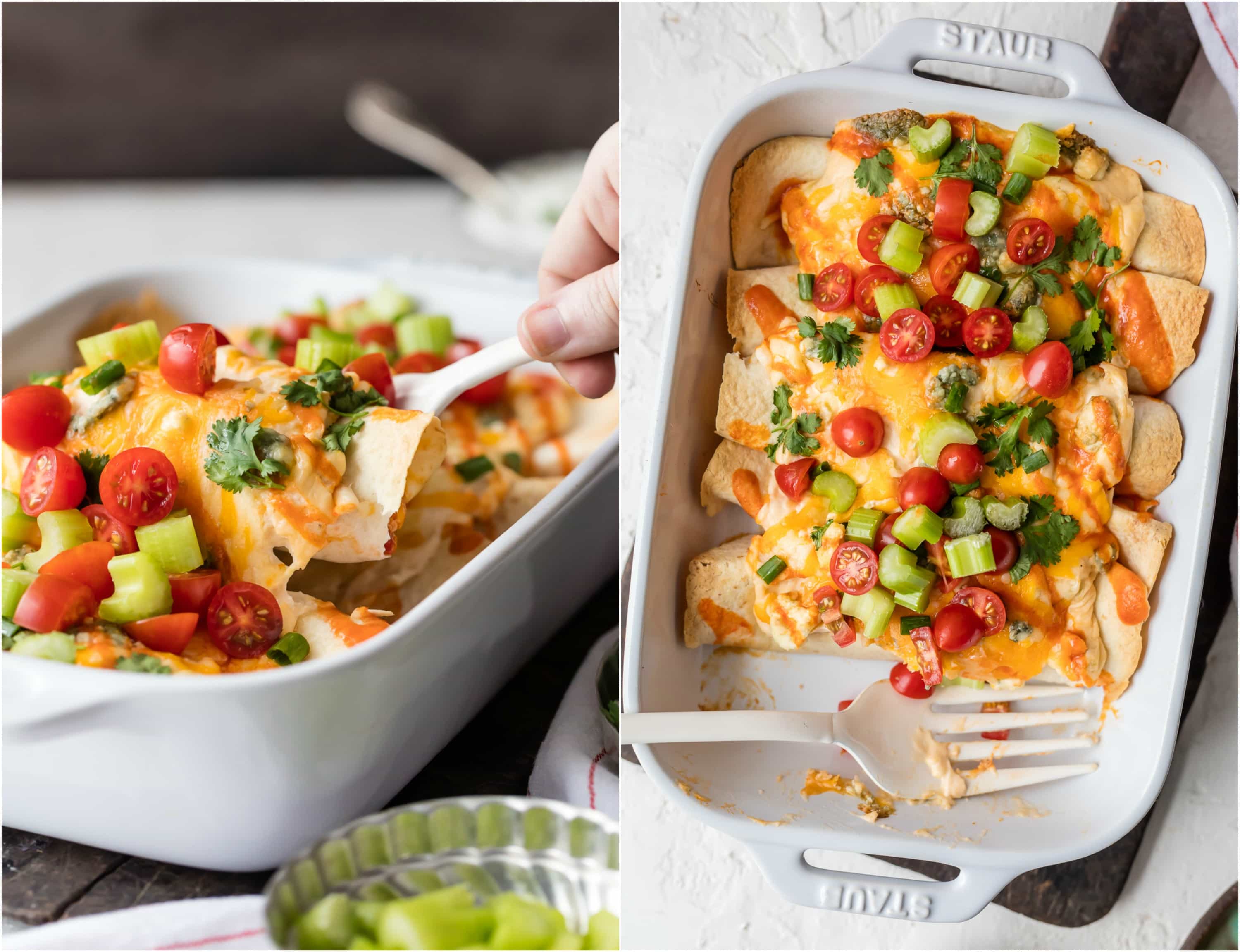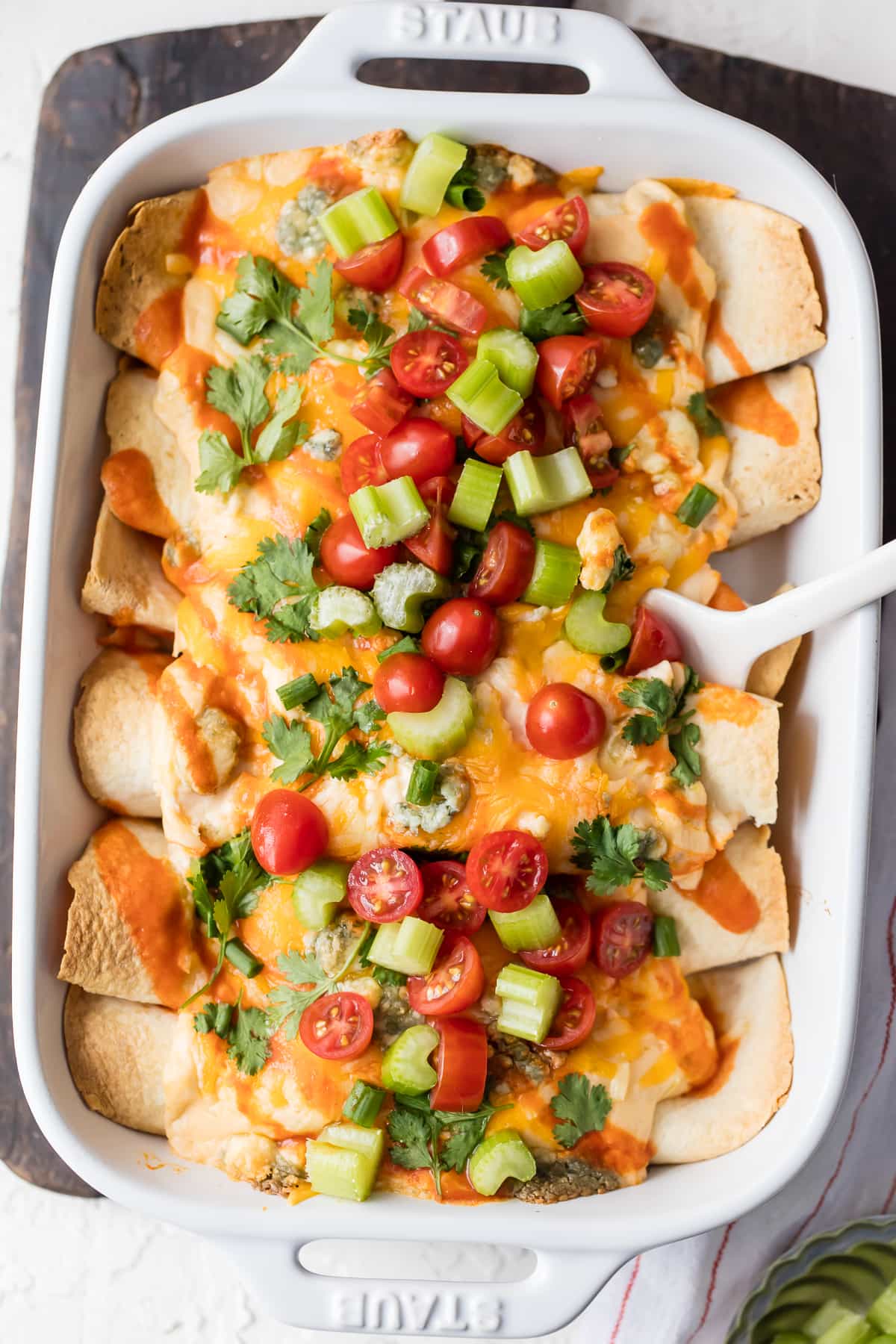 How to Make Creamy Buffalo Chicken Enchiladas
This easy chicken enchiladas recipe is so fun and delicious! I love the buffalo chicken flavor mixed in with the more traditional enchilada ingredients, and it's all so easy to make.
Combine cooked chicken, buffalo sauce, enchilada sauce, Rotel, and shredded cheese in a bowl.
In a saucepan, heat cream of celery soup and blue cheese dressing until it starts to bubble, then stir in cream cheese and shredded cheese. Remove from heat once cheese is melted.
Place 1/4 of the chicken mixture in each tortilla, roll it up, then place in the baking dish.
Pour cream cheese mixture over the enchiladas, then sprinkle shredded cheese on top.
Bake for 30 minutes at 350°F.
Top with tomatoes, celery, cilantro, more cheese, sour cream, or anything you want.
I love the creamy chicken enchiladas and the just spicy enough buffalo sauce flavor. These are just so good! See the recipe card below for detailed instructions.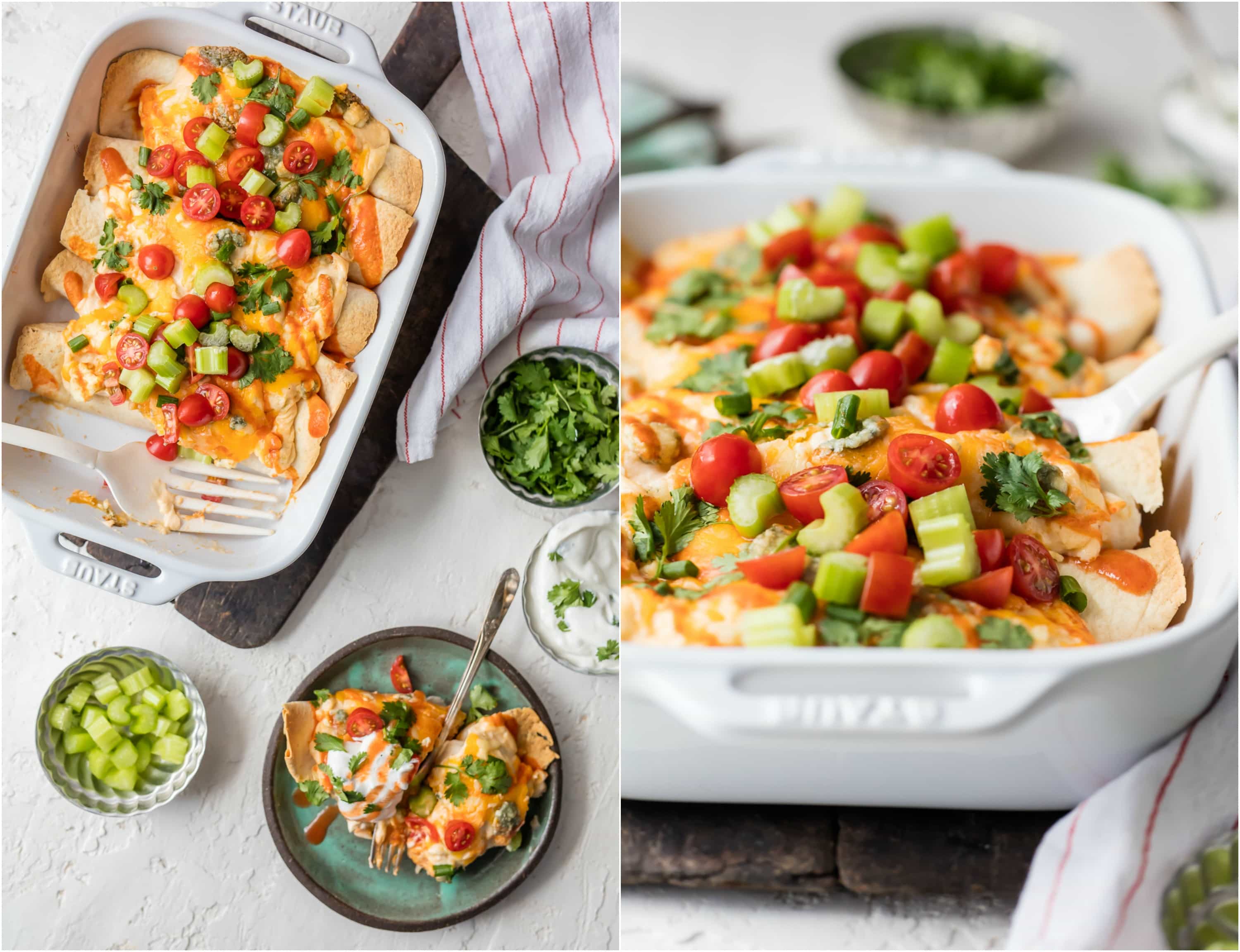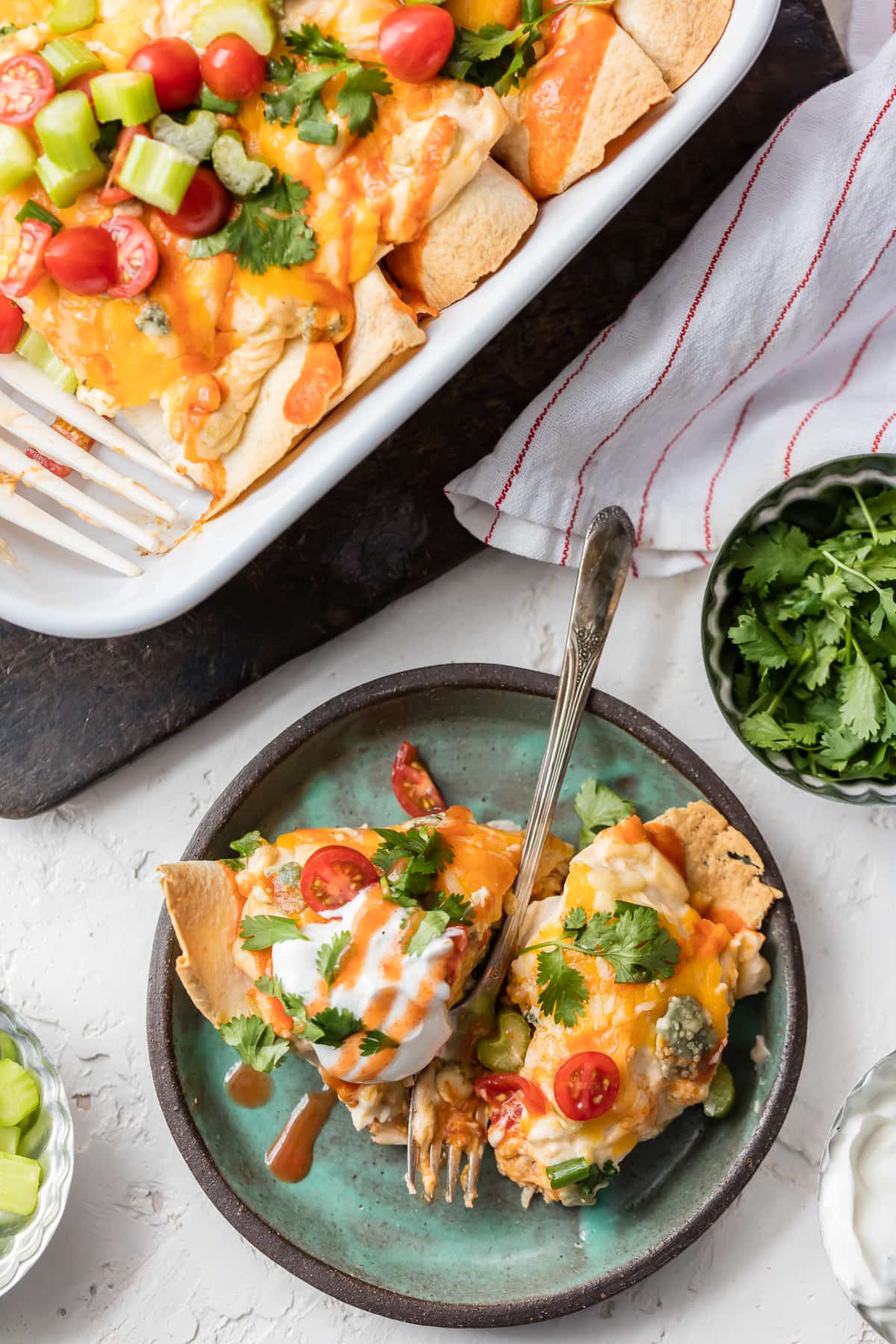 I wrote the recipe for 12 enchiladas, but only actually made it for 6 since it's just me and Pat eating all this food. BIG MISTAKE. I literally got to eat ONE of these creamy chicken enchiladas. He was all over these and they were gone in no time. I was a little heartbroken when there were none for lunch the next day, but I guess I also love that he gave them a huge approval. I hope you love them just as much!
See the recipe card below for details on how to make Creamy Buffalo Chicken Enchiladas. Enjoy!
If you like these creamy chicken enchiladas, you'll love our other enchilada inspired recipes: