Refried Beans are a must for any Tex-Mex meal. They add the perfect flavor and texture to other Mexican dishes, and mix so well with cheese, chicken, rice, tortillas, and more. This homemade refried beans recipe is so tasty, it goes with all of your favorite dishes, and it's easy to make ahead of time and refrigerate or freeze for future use.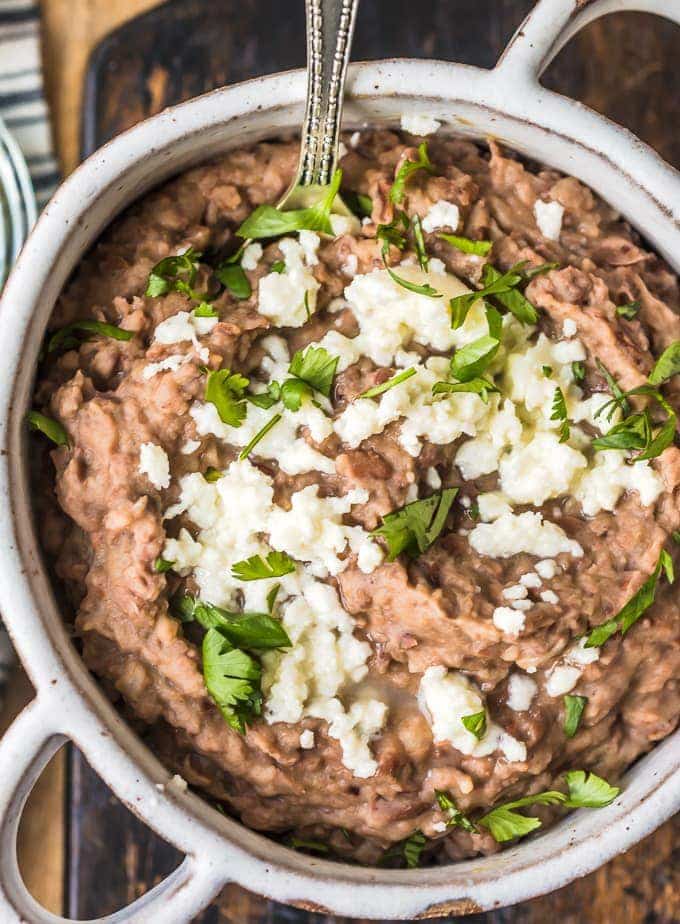 Refried Beans Recipe
This homemade refried beans recipe is so much tastier than canned versions. They have the best flavor, the best texture, and they go with all of your favorite Tex-Mex dishes!
Refried beans are a must for every Tex-Mex or Mexican meal. They add so much flavor to all of the classic dishes, and they are the absolute perfect side dish. Mix them with rice, eat them with chicken, spread them onto tacos, add them into your enchiladas, use them to make a dip, or use them as a topping on a taco salad.
However you use them, you're going to love this delicious homemade refried beans recipe! We're using pinto beans (cooked dry beans, NOT canned beans), and mixing in onion, cumin, and cilantro to add flavor. It's such a simple dish but it makes such a difference to any Tex-Mex meal.
Learn how to cook refried beans at home and make the most flavorful beans for all of your dishes.
This is the bet homemade refried beans recipe! The perfect texture, the perfect flavor, and the perfect side dish for every meal.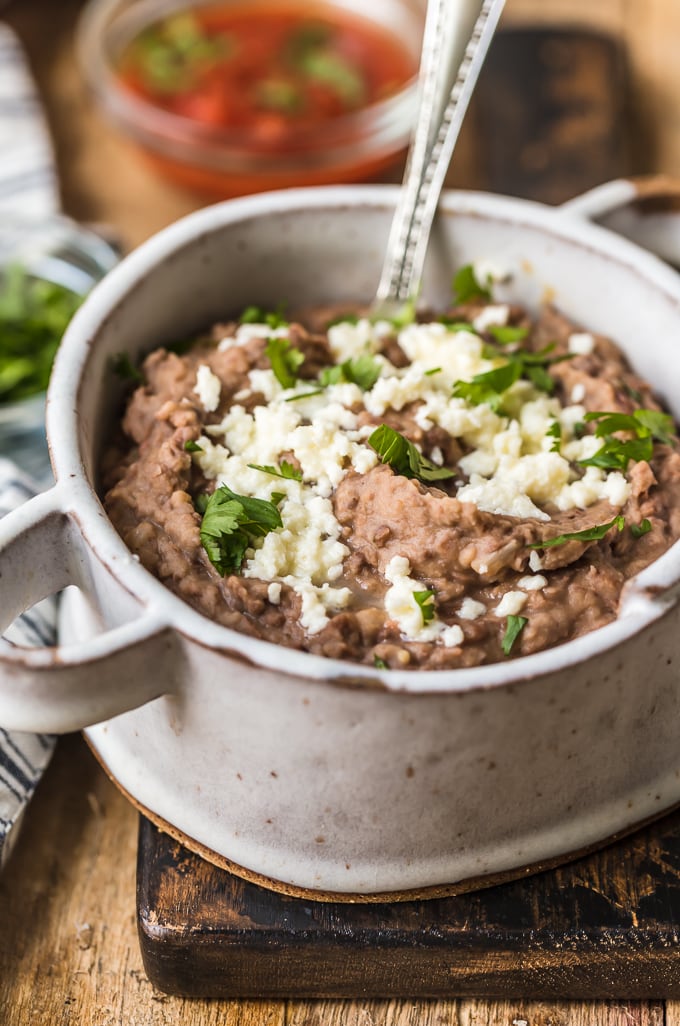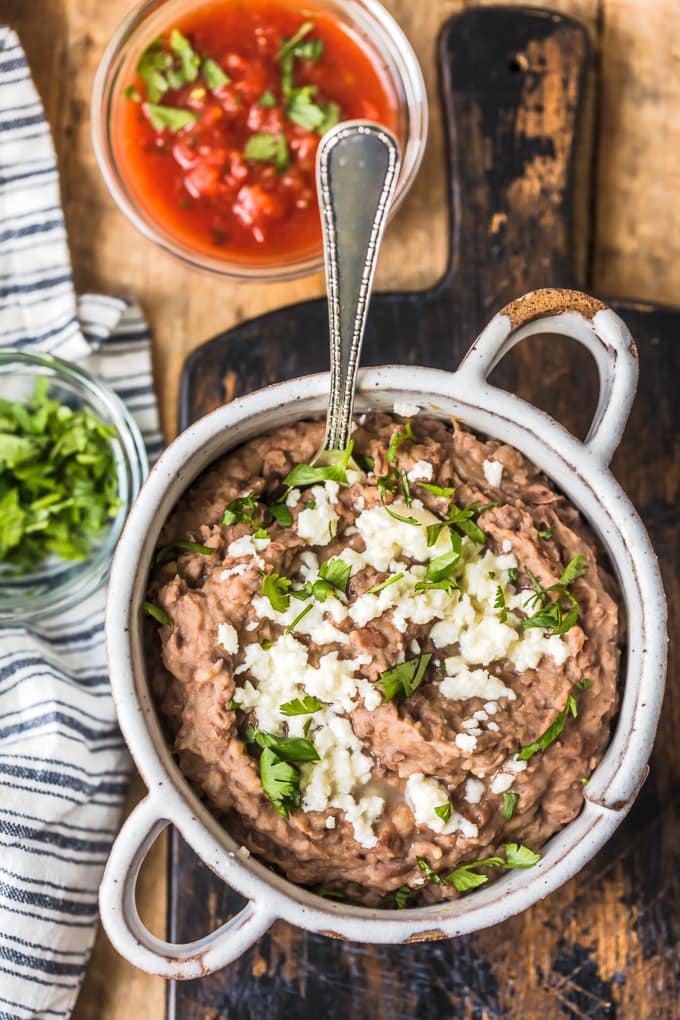 How to Make Refried Beans
Since we are starting with dried beans, this recipe does take some time. But most of it is just time for the beans to simmer and cook. Overall this recipe doesn't require much prep. So it really is quite simple despite the long cooking time!
How to make refried beans:
Start by rinsing & sorting the dried beans, then add them to a pot & cover with cold water.
Add cilantro, cumin, onion, garlic, salt & pepper and bring beans to a boil, then reduce heat & let simmer for 1 1/2 to 2 hours. Save the cooking liquid when you drain the beans.
Once the beans are cooked, you'll move to the skillet and briefly saute the onions, garlic, and beans in lard.
Then add in the liquid you saved from the beans, and mash the beans (you can use a potato masher) into the desired consistency.
See the recipe card for full details and instructions.
This is one of my favorite pantry recipes to throw together for Mexican dishes. If you prefer to use a slow cooker, try this Crockpot Refried Beans recipe instead.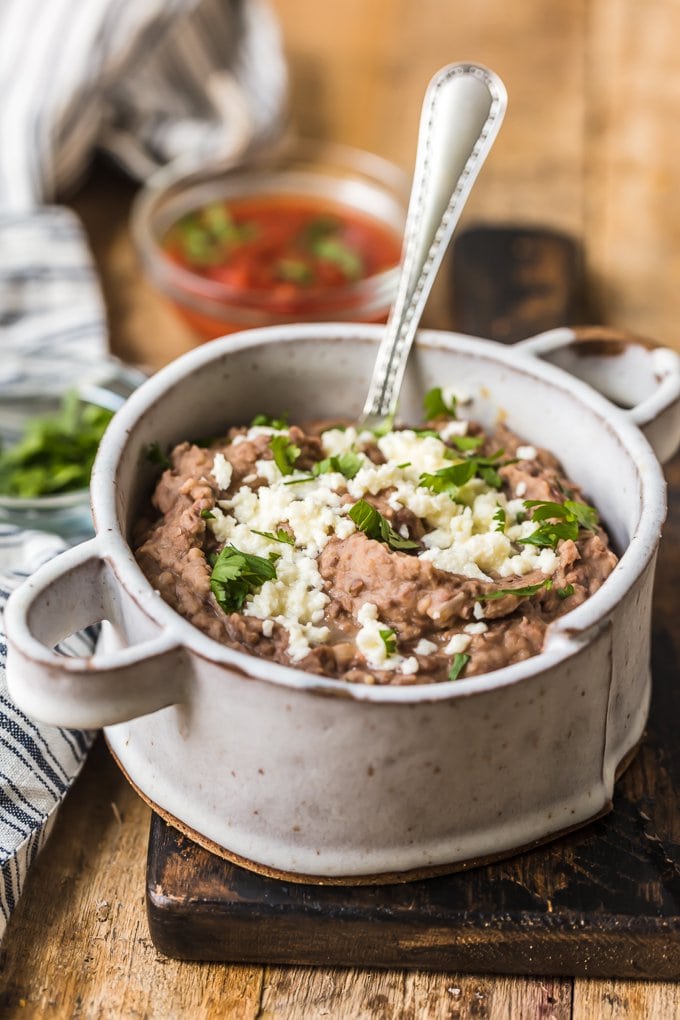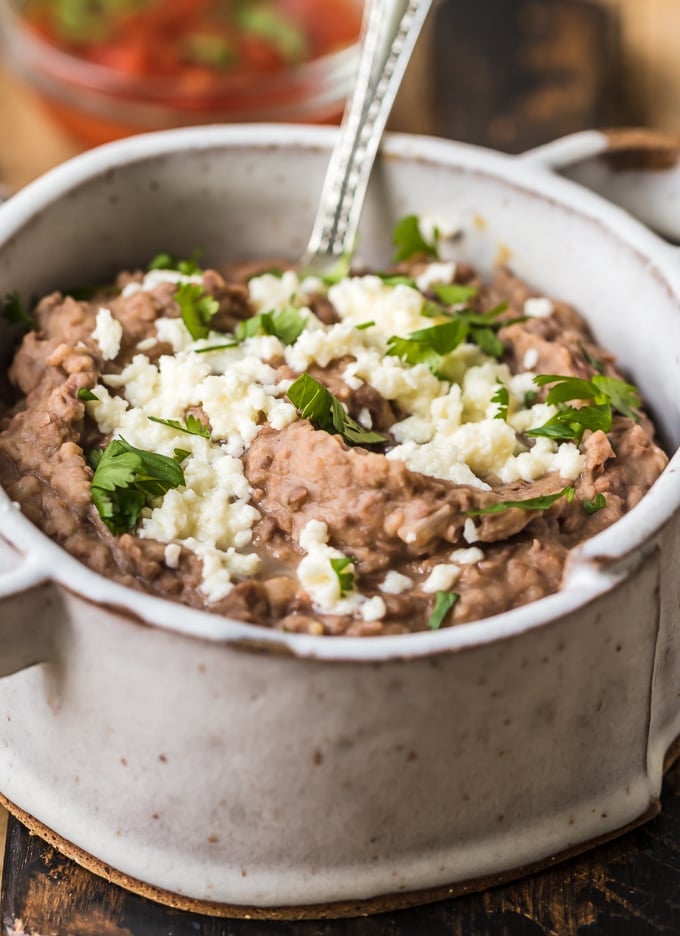 What kind of beans is used to make refried beans?
Pinto beans are the most popular choice for refried beans. They're a good size and texture for the recipe, and that's what I used here. Refried Black beans are another popular choice, but you can technically use any type of bean for this method (other beans won't taste quite the same though).
How long can you keep refried beans in the fridge?
Refried beans should keep in the refrigerator for up to 1 week. Any longer than that and you are better off freezing them for future use.
Can you freeze refried beans?
Yes! Refried beans freeze really well actually. Put them in a freezer safe container and you can store them for months. To reheat them, let them thaw in the refrigerator overnight and then heat them on the stove for the best results. Add a bit of water or oil while reheating if they seem dry.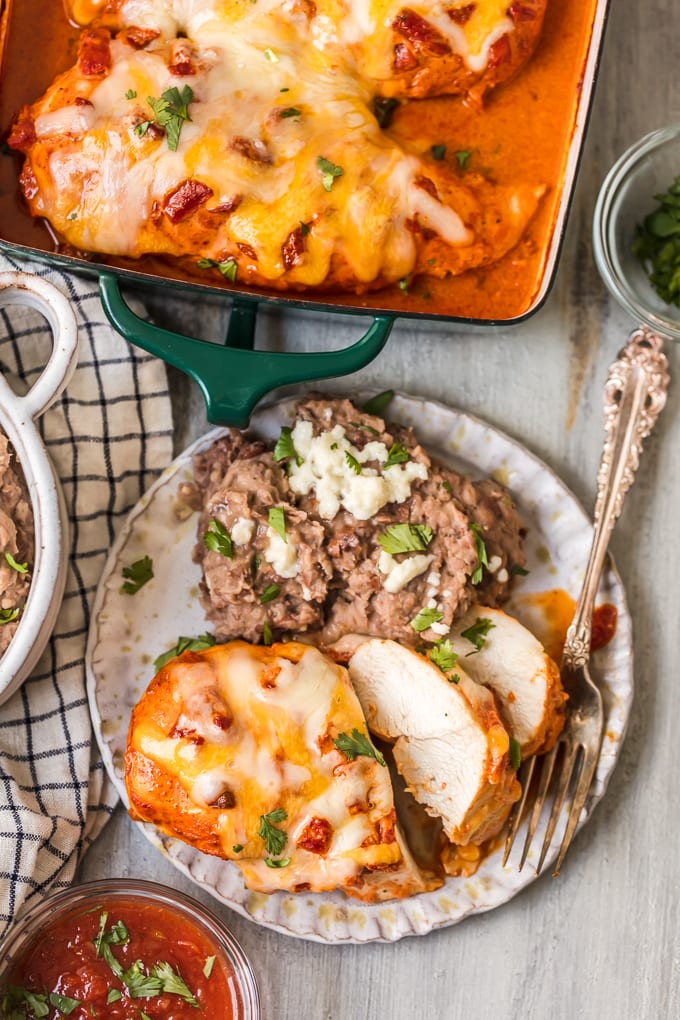 This easy homemade refried beans recipe is a must for your next Mexican inspired meal! It's the perfect side dish for tacos, enchiladas, baked chicken, and it's a great topping for nachos or taco salad. Make them from scratch for the best texture and flavor, and you can save them in the freezer for easy meal prep! We love them served alongside our Creamy Southwest Chicken Bake.
See the recipe card below for details on how to make refried beans. Enjoy!
Make these refried beans to go with some of these tasty recipes: