This creamy Chicken Spaghetti is a delicious and hearty baked spaghetti casserole. It's so simple to make, perfect for an easy weeknight meal. Made with simple ingredients and with a wonderfully crunchy, cheesy topping, this dish is pure comfort food.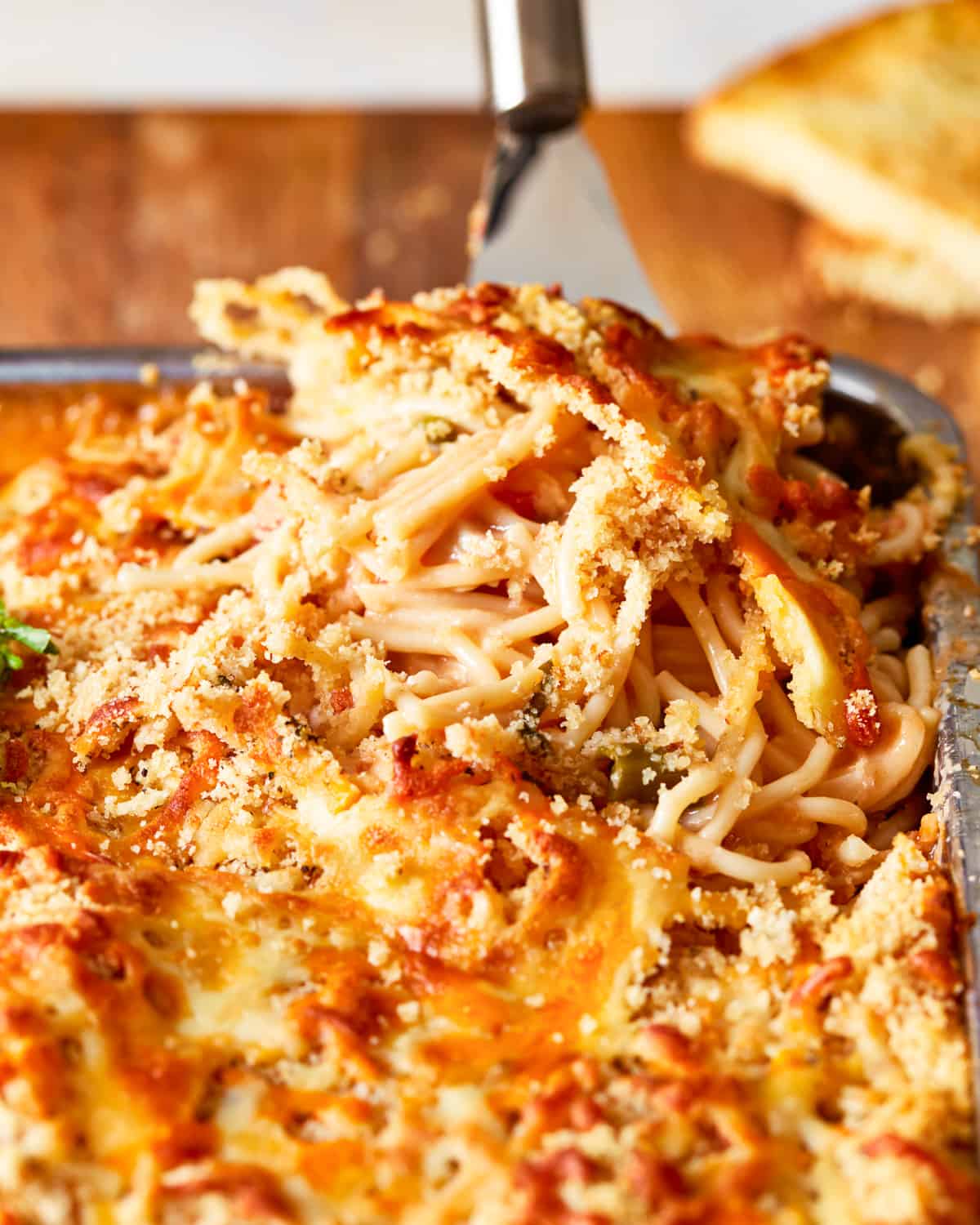 What's in this Chicken Spaghetti Recipe?
This Chicken Spaghetti will hit the spot any day of the week! It's a super satisfying main dish, and a breeze to whip up. Succulent chicken mixed with a creamy sauce, all topped with a layer crunchy cheesy goodness – so good! It's one of my family's favorite chicken casseroles!
Breadcrumbs: Make the topping crunchy. You can also use crushed crackers.
Unsalted Butter: Helps bind the topping together.
Dried Basil: Adds a pop of Italian flavor to the topping.
Kosher Salt: Enhances the natural flavor of both the topping and the casserole.
Cheese: Adds creaminess to the casserole and cheesiness to the topping.
Olive Oil: Helps the onion and garlic cook without burning.
Onion + Garlic: Add an earthy and sweet flavor to the casserole.
Chicken Broth: Adds moisture and flavor.
Water: Adds moisture without increasing the sodium or fat content further.
Black Pepper: Adds a slightly spicy flavor.
Spaghetti: Cut it into thirds so it's easier to scoop!
Fresh Basil: Adds a fresh flavor and a pop of color.
Diced Tomatoes and Green Chilies: Adds an acidic tomato flavor and makes this casserole a touch spicy.
Cream of Mushroom Soup: Adds richness, creaminess, and umami flavor.
Shredded Cooked Chicken: An easy way to use up leftovers from another meal!
Pro Tip: You can use wholewheat pasta. Just make sure you allow a bit of extra time for it to cook to make sure the pasta is done.
Variations on Chicken Spaghetti Casserole
It's easy to modify this casserole to suit your tastes. As is, it has a bit of a Mexican flair. If you'd like to make it more Italian-style, use an Italian cheese blend, and swap out the diced tomatoes and green chilies for regular diced tomatoes or fire-roasted diced tomatoes. This will also make the casserole less spicy.
For a spicier casserole, opt for a spicy cheese blend, like habanero cheddar, and add chopped jalapeños!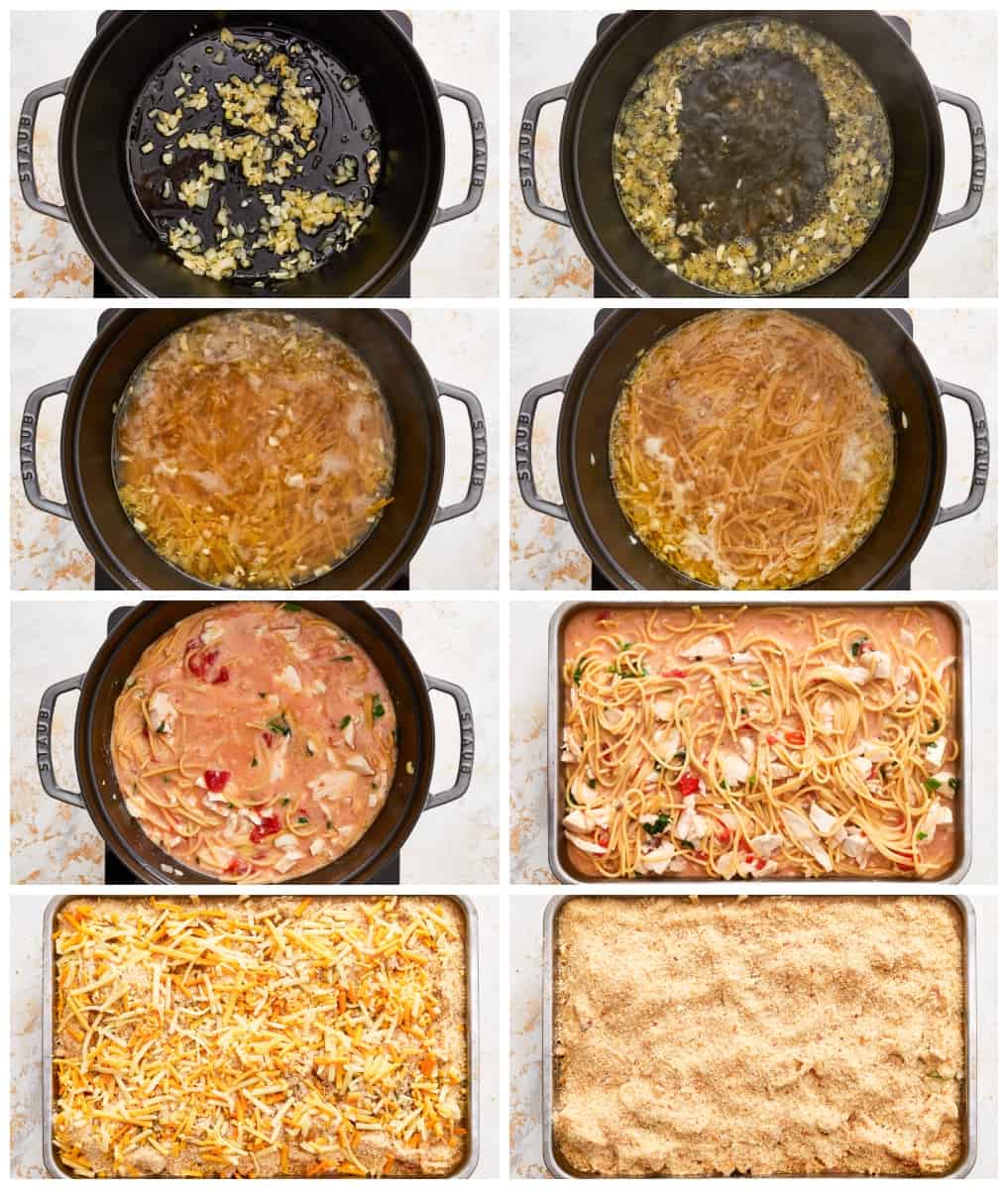 What is chicken spaghetti made of?
This creamy casserole is made from spaghetti cooked in chicken broth, cream of mushroom soup, diced tomatoes and green chilies, and spices mixed with cheese and chicken and topped with a crunchy breadcrumb topping.
What is the difference between chicken spaghetti and chicken tetrazzini?
While both dishes are casseroles, chicken tetrazzini uses fettuccini noodles instead of spaghetti and includes mushrooms, milk, cream, and a touch of nutmeg for warmth. It is creamier and does not have any tomatoes.
Can you freeze chicken spaghetti?
Yes! This casserole freezes well for up to 4 months!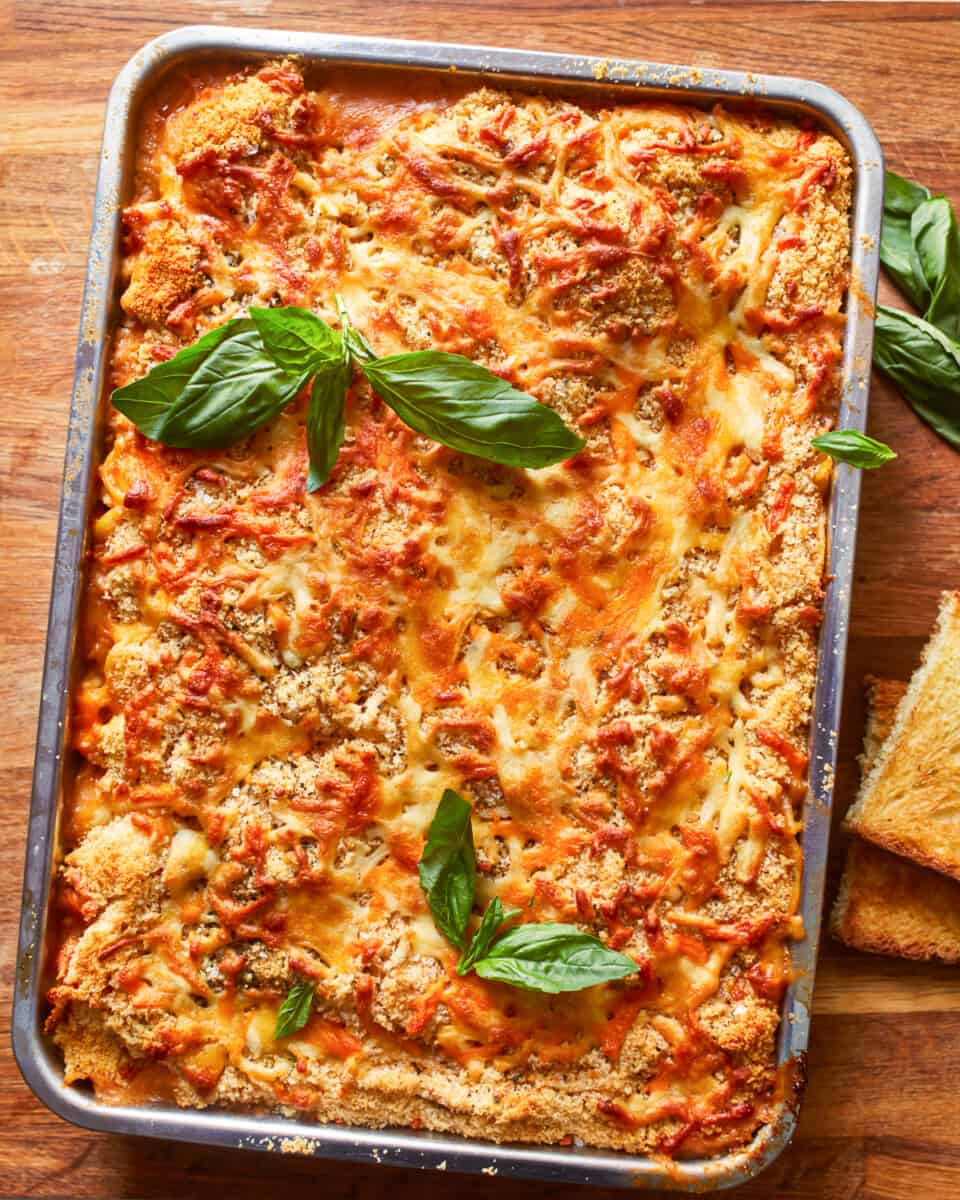 How to Store and Reheat
Store leftover chicken spaghetti tightly covered with aluminum foil in the refrigerator for up to 3 days. Reheat (covered) in a 350°F oven for 30-40 minutes, or until warmed through.
How to Freeze
Chicken spaghetti freezes exceptionally well, so go ahead and make it in advance. Once you place it in the casserole dish, you don't need to bake it first– just freeze for up to 4 months.
Line your dish with parchment paper and let it freeze solid, then transfer to a large freezer bag. That way you don't have to tie up your casserole dish for months. The chicken spaghetti is already pre-formed for the dish, so all you have to do is slide it back in when you're ready to reheat.
You can cook this directly from frozen (but be careful, most glass dishes cannot go from freezer to oven). Cover it in foil to prevent the cheese topping from overcooking. Cook at 350°F for about 1 hour, or until it is piping hot throughout!
Serving Suggestions
Baked chicken spaghetti is rich and super filling, so it doesn't need heavy side dishes. You with breadsticks or garlic bread, and a cucumber salad or green goddess salad.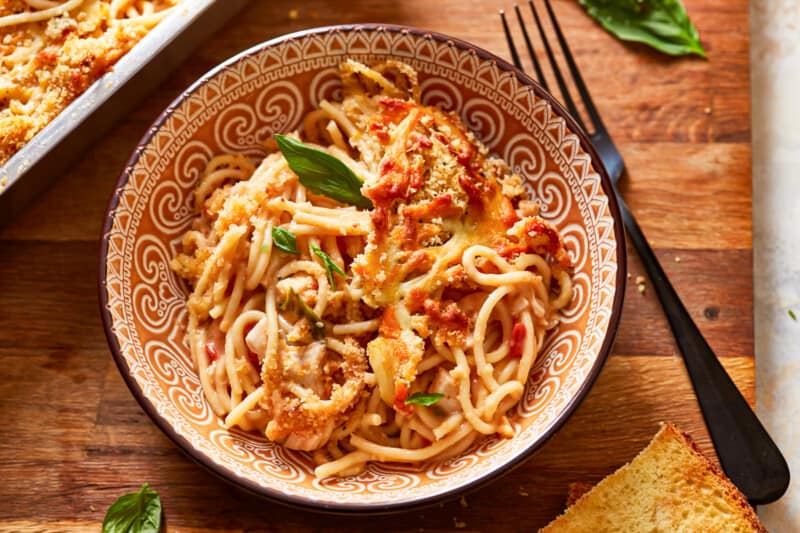 More Pasta Casseroles We Love