This Creamy Chicken Spaghetti is a delicious and hearty baked spaghetti casserole. It's so simple to make, perfect for an easy weeknight meal. Made with simple ingredients and with a wonderfully crunchy, cheesy topping, this dish is pure comfort food.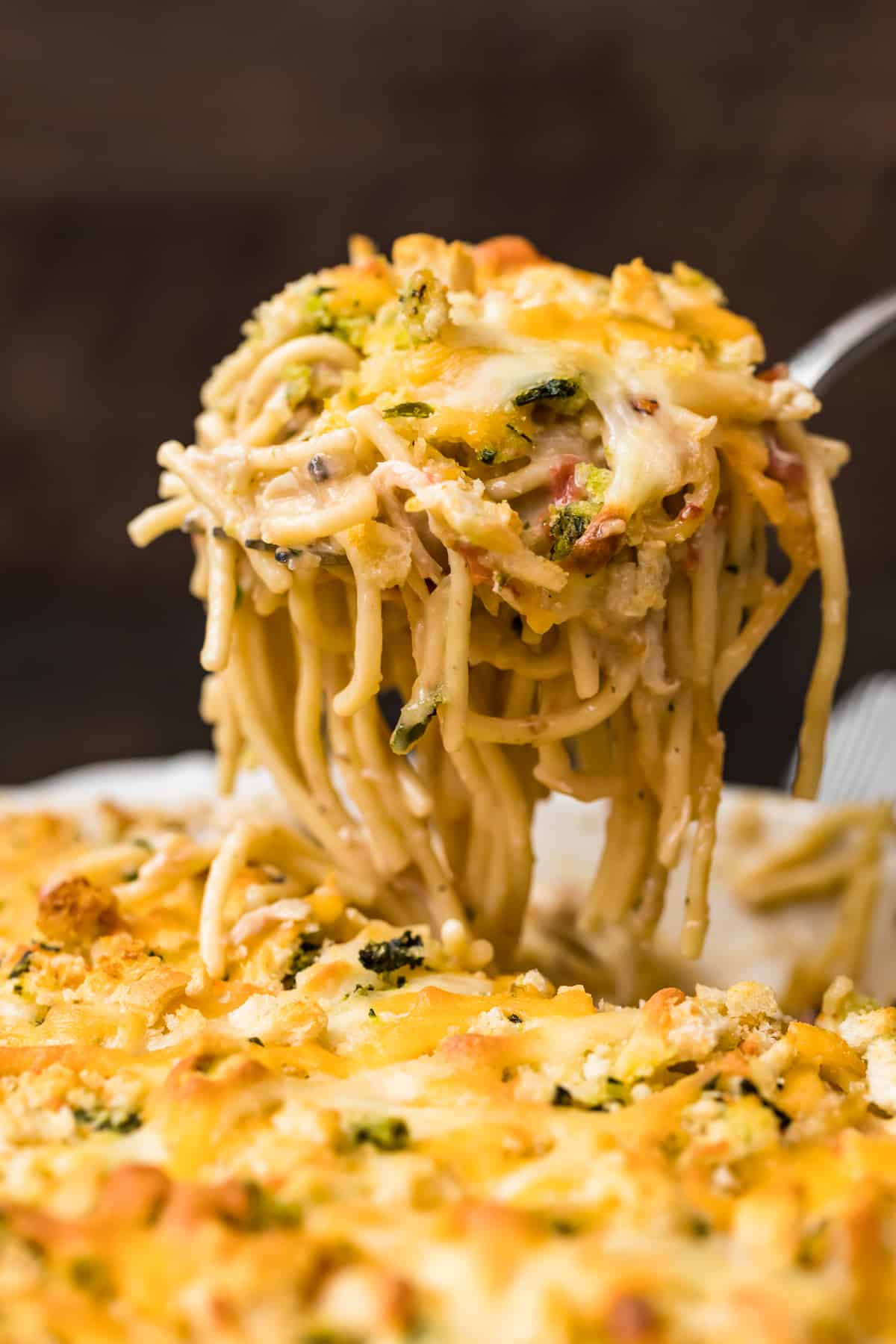 Creamy Chicken Spaghetti
This Creamy Chicken Spaghetti will hit the spot any day of the week! It's a super satisfying main dish, and a breeze to whip up. Succulent chicken mixed with a creamy sauce, all topped with a layer crunchy cheesy goodness – so good!
Why this is so good
A hearty weeknight meal that's rich, creamy and packed with flavor.
Makes big batch – serves 8 – perfect for a few nights or a big gathering!
An addictive crispy, cheesy topping.
Easy to make, with simple ingredients.
Ingredients
For The Topping
Fresh Breadcrumbs – or you can use crushed crackers.
Shredded Cheese – Mexican, Cheddar, Gruyere or a blend.
Basil – dried.
For The Casserole
Spaghetti – broken into thirds.
Tomatoes – diced, Ro-tel style.
Chicken – you can use rotisserie chicken.
Cream of Mushroom Soup – your favorite brand.
Shredded Cheese – Cheddar, Mexican, Gruyere or a blend.
Chicken Broth – or chicken stock.
Yellow Onions – diced.
Basil – fresh.
How to make Chicken Spaghetti
You can jump to the recipe card for full ingredients & instructions!
Cook the onions, garlic, chicken broth and spaghetti in a dutch oven, stirring. Then add in basil, tomatoes, cream of mushroom soup, chicken and cheese. Bring to a low boil.
Pour the chicken spaghetti into the prepared casserole and sprinkle the topping mixture evenly over the top.
Bake at 350°F for 30-40 minutes or until hot throughout and cheese is melted.
Transfer dish to a cooling rack and let rest 5 minutes before serving.
Garnish with fresh chopped basil and serve with fresh green salad and toasty bread.
Enjoy!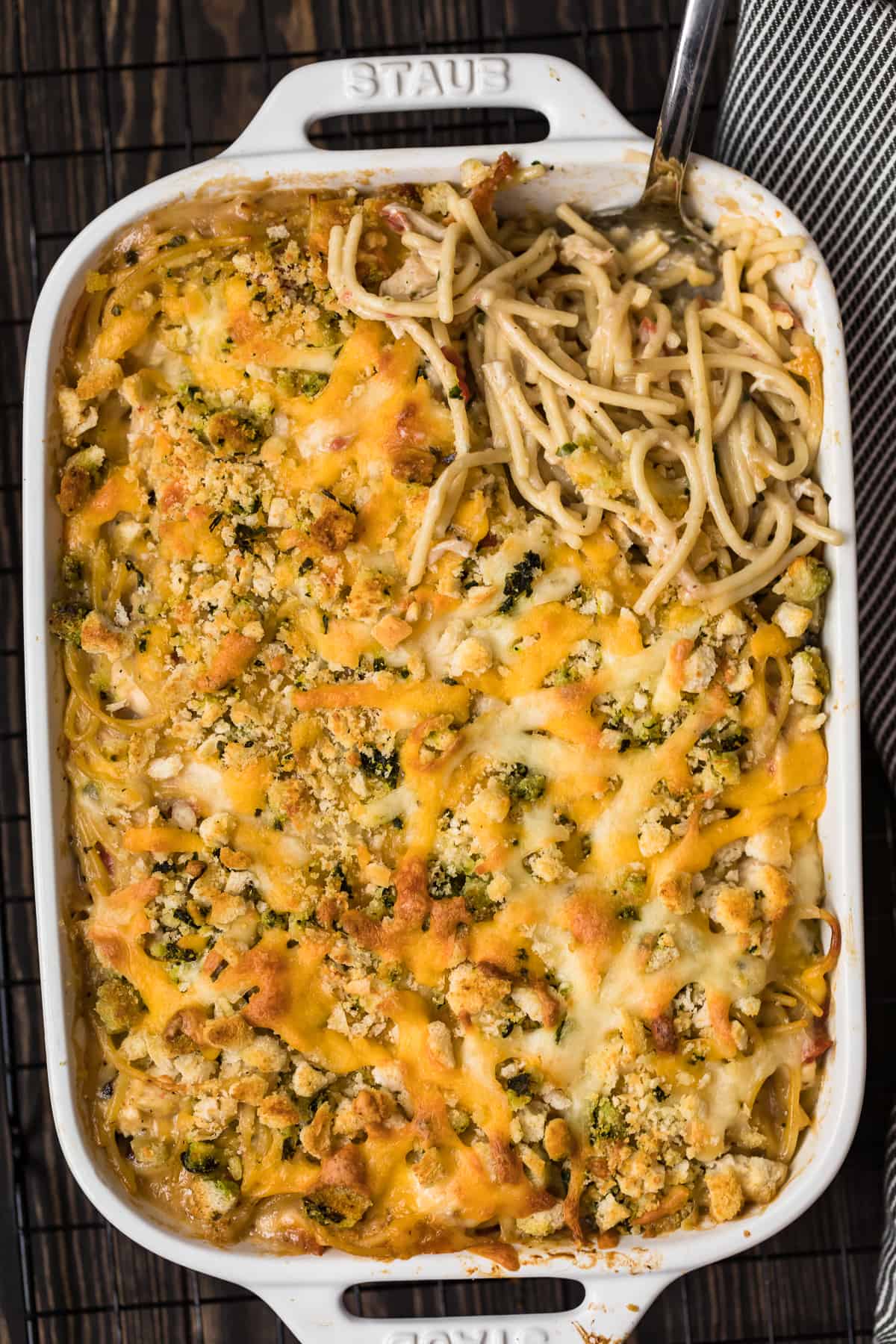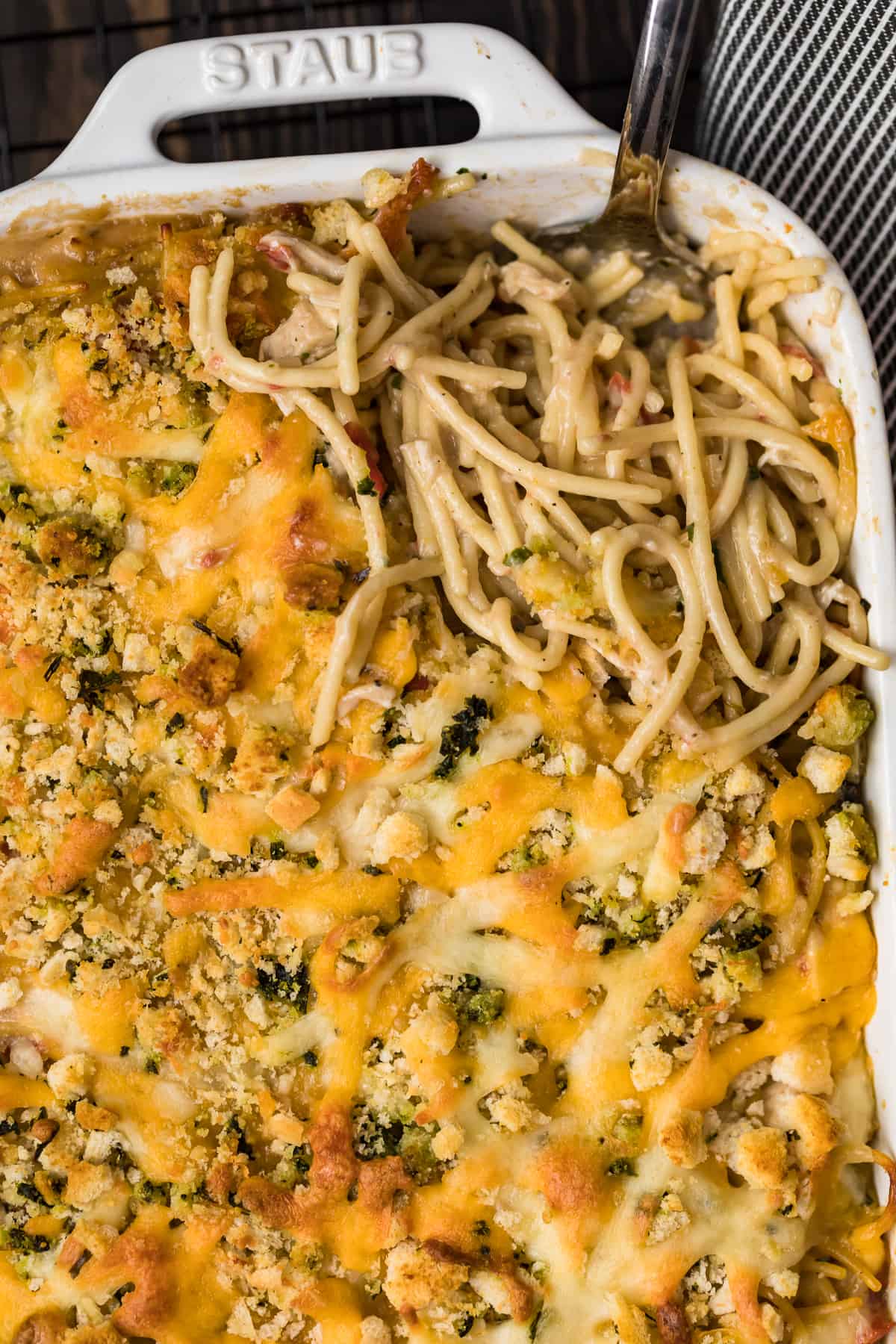 An easy weeknight meal
Comfort food is best when it's delicious AND easy to make! This is one of those dishes. The creamy casserole uses canned tomatoes and canned cream of mushroom soup.
You don't need to cook up chicken breasts, you can just opt for rotisserie chicken. So simple and so delicious!
What to serve with Creamy Chicken Spaghetti
Baked chicken spaghetti is rich and super filling, so it doesn't need heavy side dishes. You with bread sticks or garlic bread, and a cucumber salad or fresh green salad dressed with vinaigrette.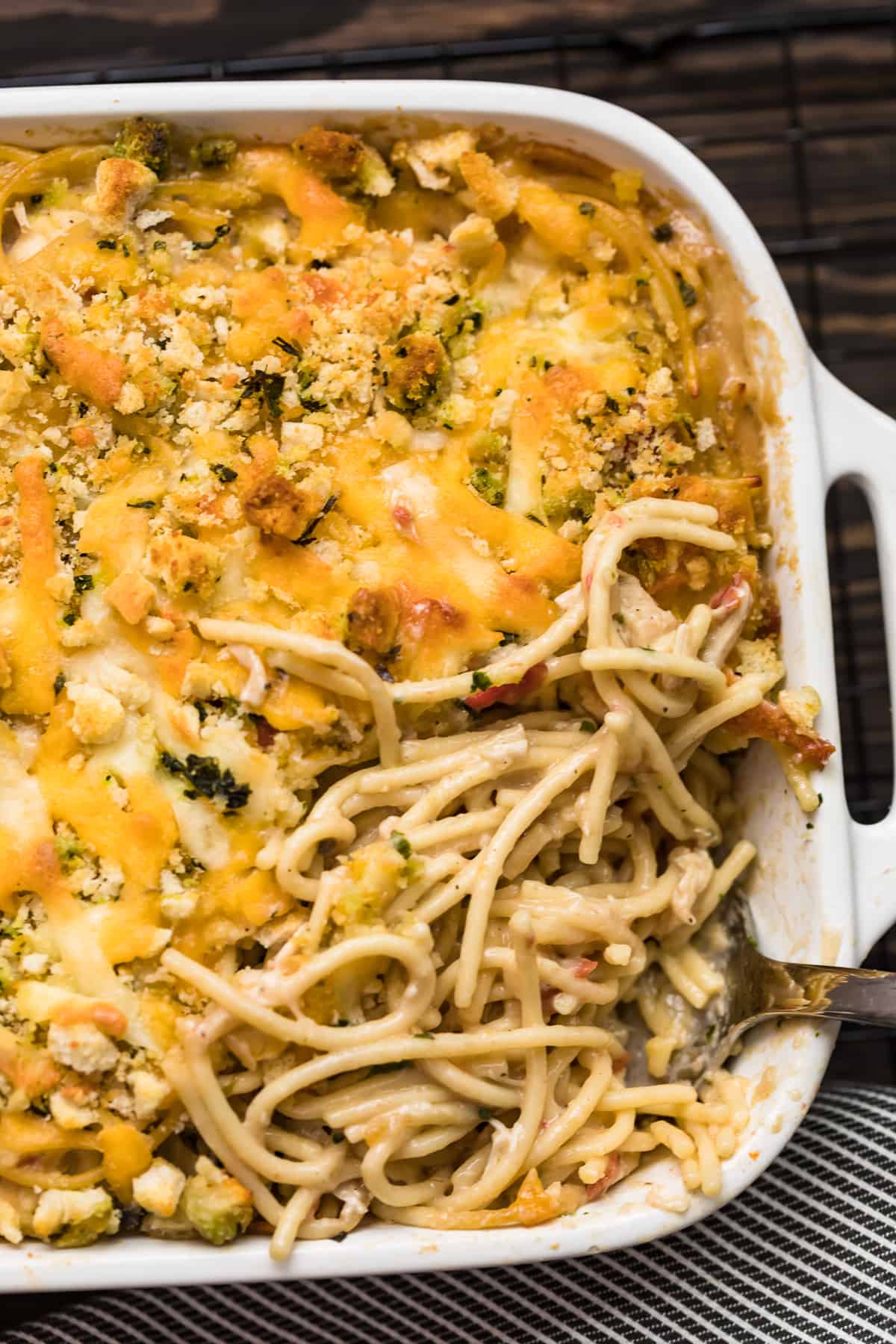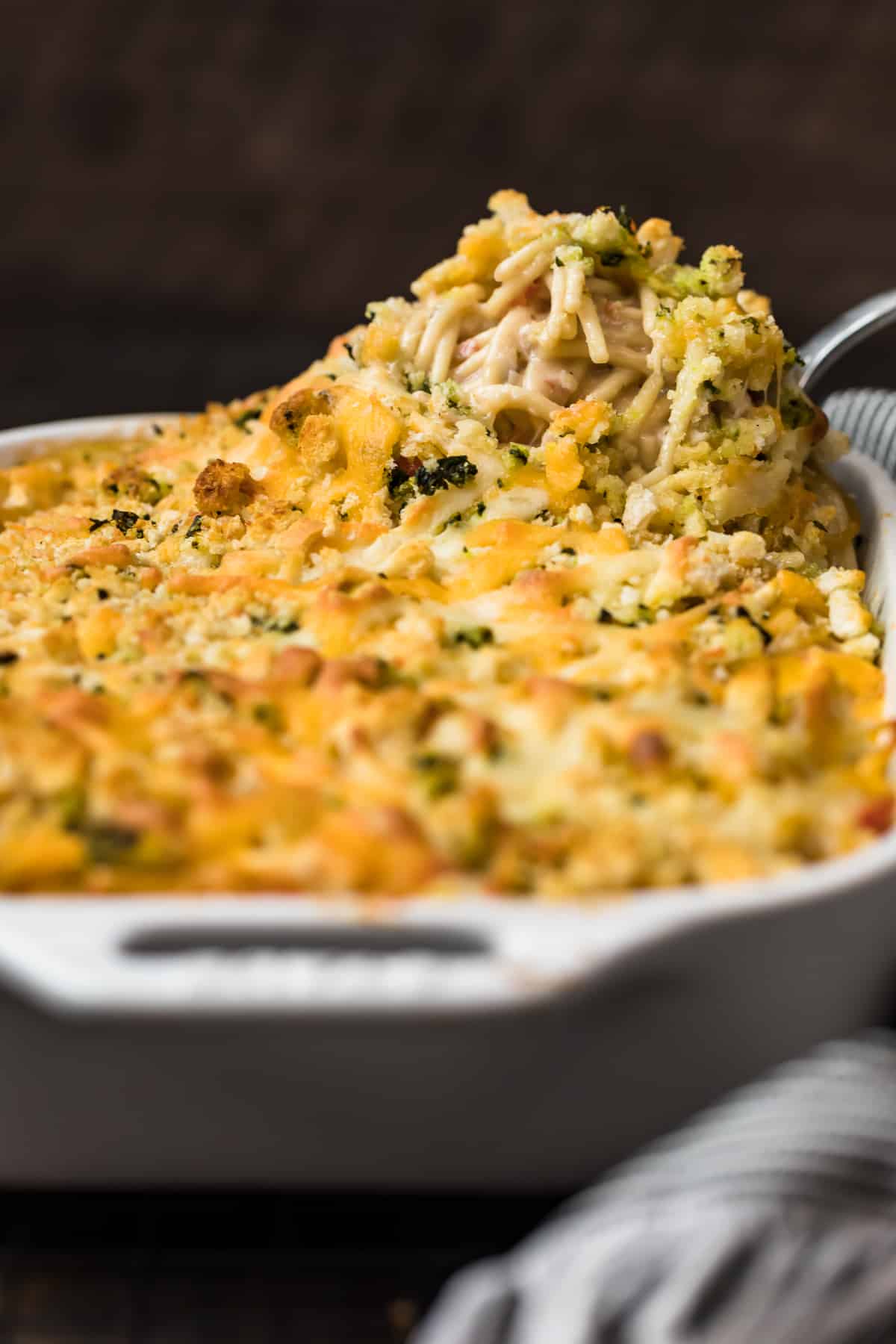 Can you freeze Creamy Chicken Spaghetti?
Chicken spaghetti freezes exceptionally well, so go ahead and make it in advance. Once you place it in the casserole dish, you don't need to bake it first, just freeze for up to four month.
Line your dish with parchment paper and let it freeze solid, then transfer to a large freezer bag. That way you don't have to tie up your casserole dish for months. The chicken spaghetti is already pre-formed for the dish, so all you have to do is slide it back in when you're ready to reheat.
You can cook this directly from frozen (but be careful, most glass dishes cannot go from freezer to oven). Cover it in foil to prevent the cheese topping from overcooking. Cook at 350°F for about an hour, or until it is piping hot throughout!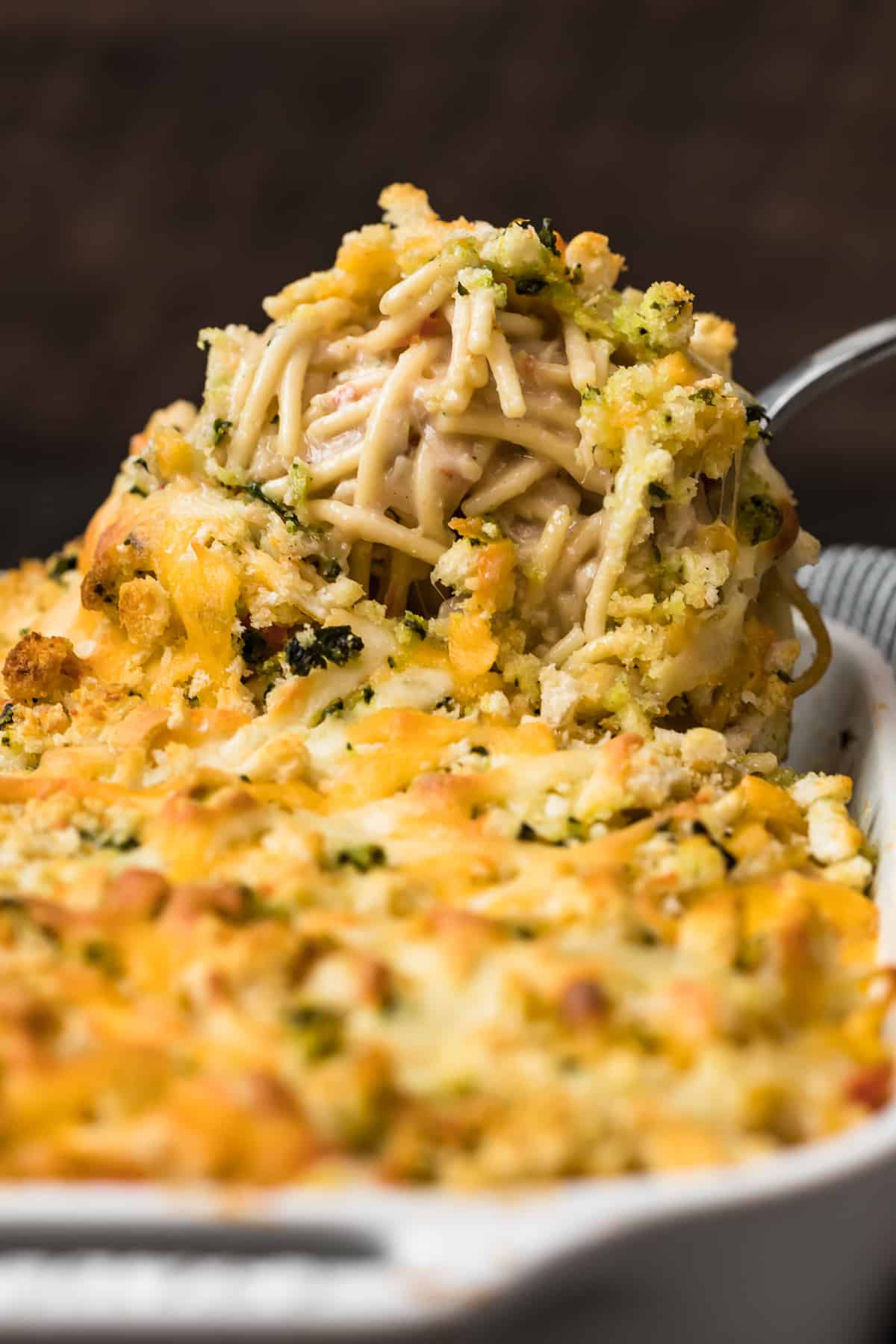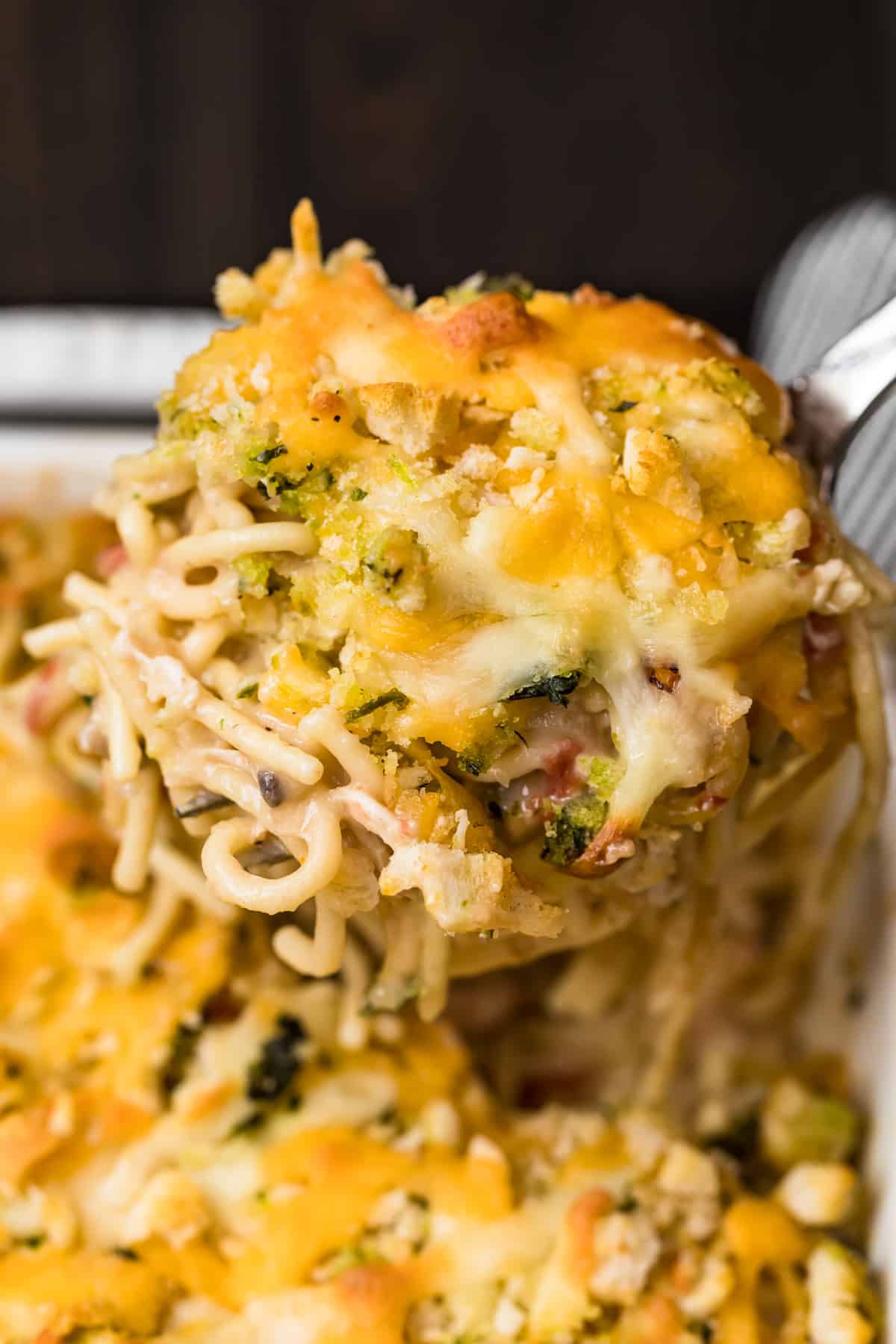 Tips!
You can use wholewheat pasta. Just make sure you allow a bit extra time for the cook, to make sure the pasta is done.
You can pretty much use any vegetable you want. You'll want to add harder vegetables (think root vegetables like carrots and parsnips) earlier on with the onions and bell peppers.
To add extra spice – use a spicy cheese blend like habanero cheddar.
If the casserole is browning too quickly – cover the casserole with tented aluminum foil.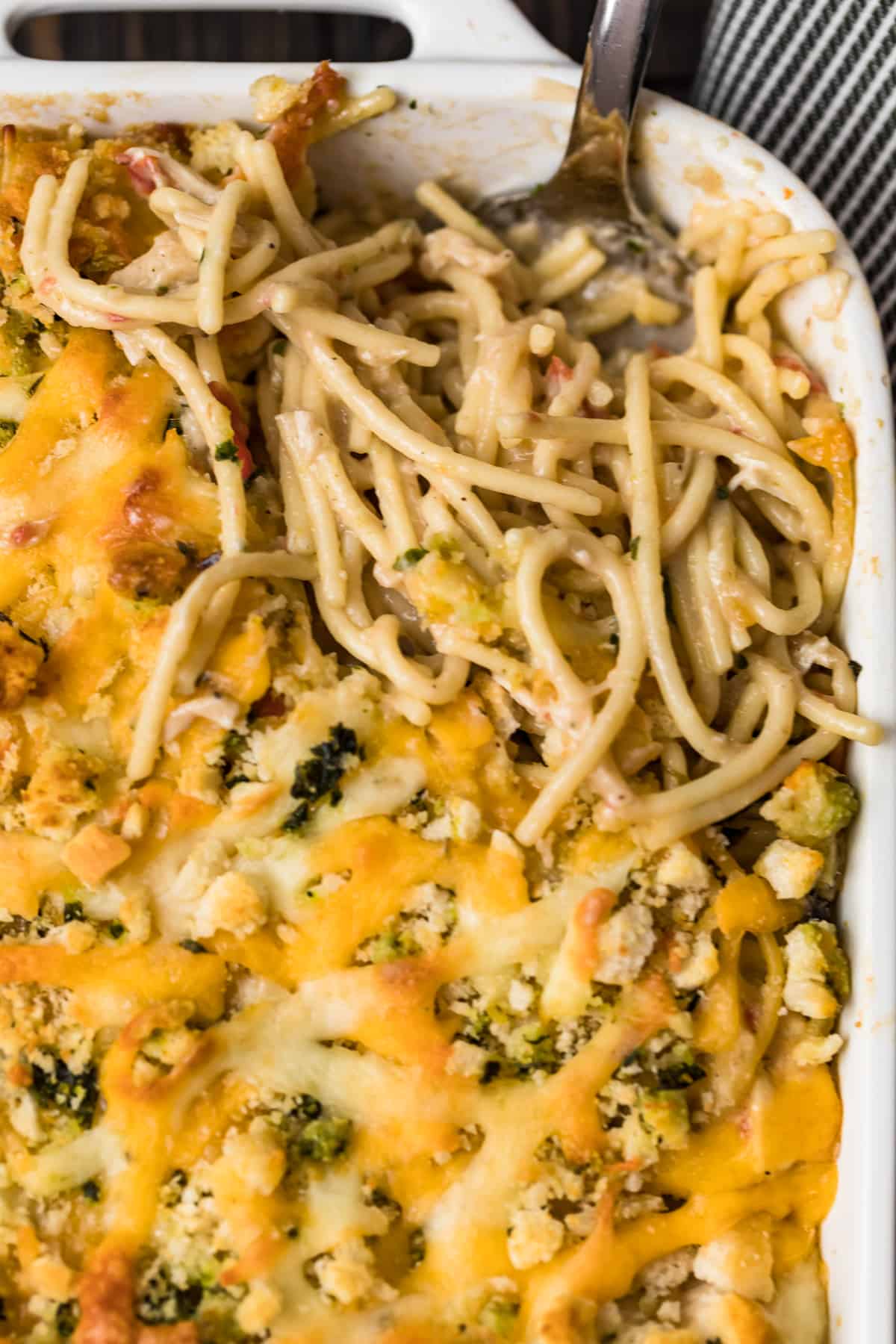 Have you tried this Creamy Chicken Spaghetti? Feel free to leave a star rating and I'd love to hear from you in the comments below!