This baked rigatoni recipe is perfect for a quick and easy weeknight meal. Simple and easy to make with just 4 ingredients, this dish is on the table in just 30 minutes. Packed full of flavor and a great comfort food dinner that the whole family will love.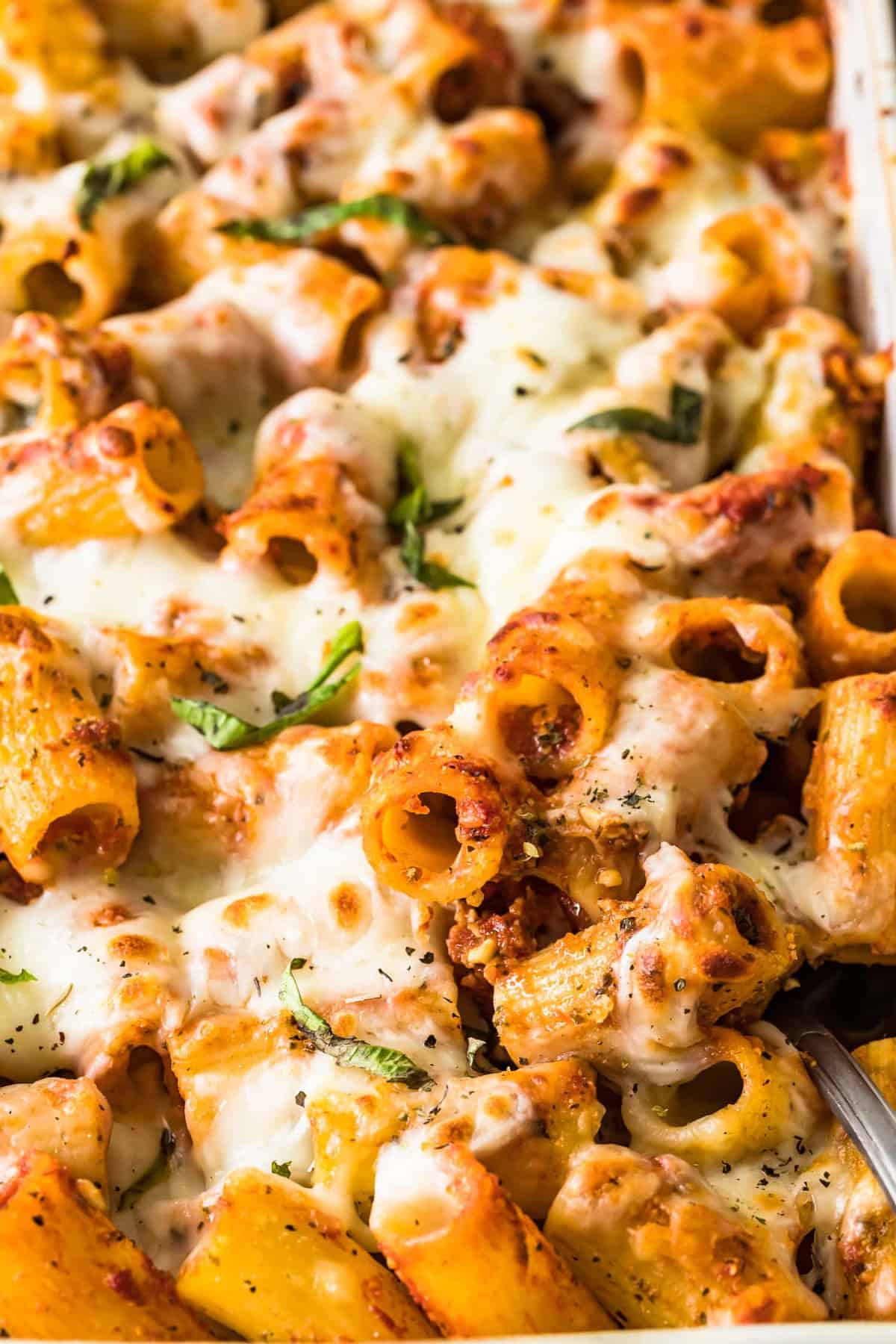 If you are looking for a weeknight dinner that's tasty and full of flavor but takes little time to prepare, you are in the right place! This baked pasta dish is quick to put together after a busy day and is a big bowl of comfort!
How to Make This 4 Ingredient Pesto Baked Rigatoni Recipe
Preheat oven to 400F.

Bring a large pot of salted water to a boil.

Cook the pasta according to package instructions.

Once al dente, remove from the water and drain, reserving 1/4 cup water.

Place in a large bowl while still hot and add the water (add enough to make it a bit saucy, but not too much), the pesto, and crushed tomatoes. Stir to combine.

Spray a 9×13 Baking dish with nonstick spray.

Layer half the pasta in the baking dish. Sprinkle with half the cheese. Repeat.

Bake for 20 minutes or until melty and bubbly.

Serve the baked rigatoni garnished with chopped basil.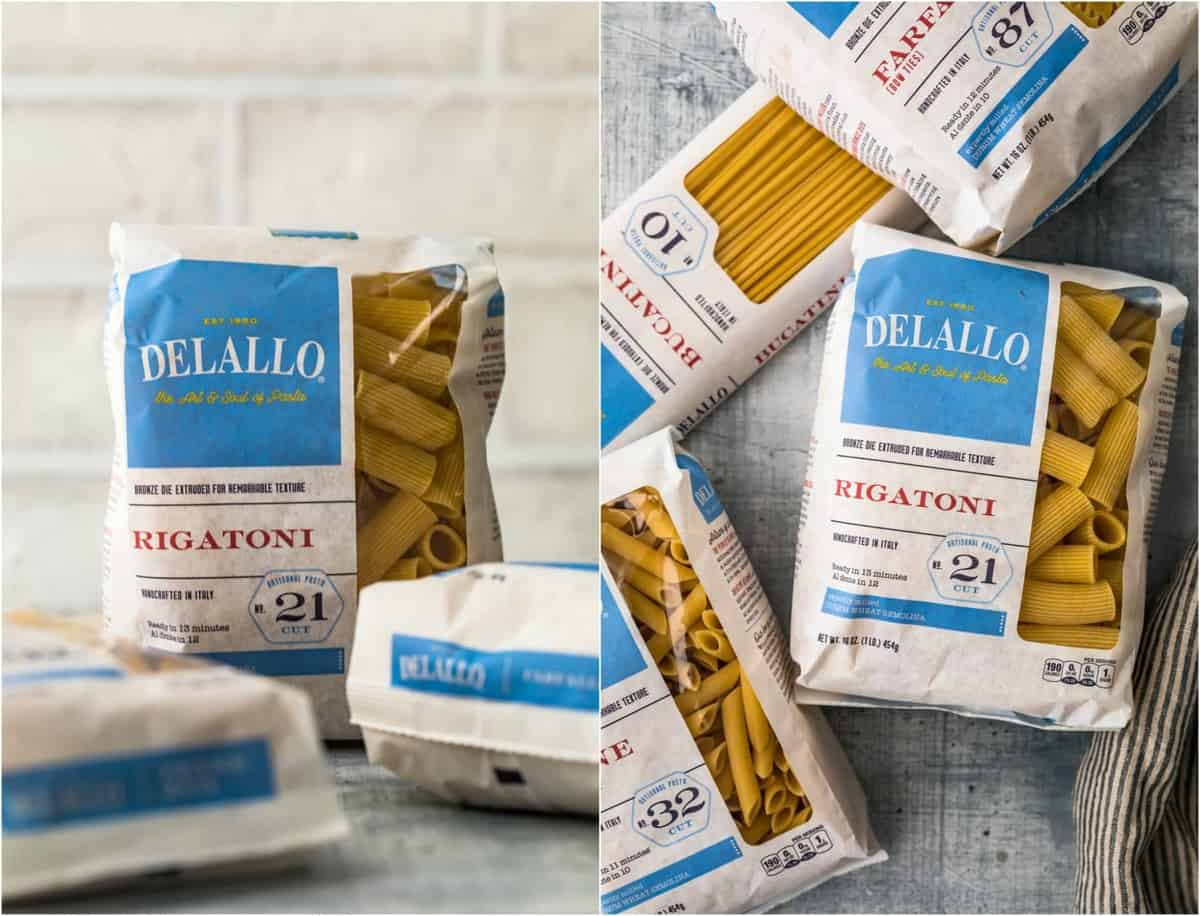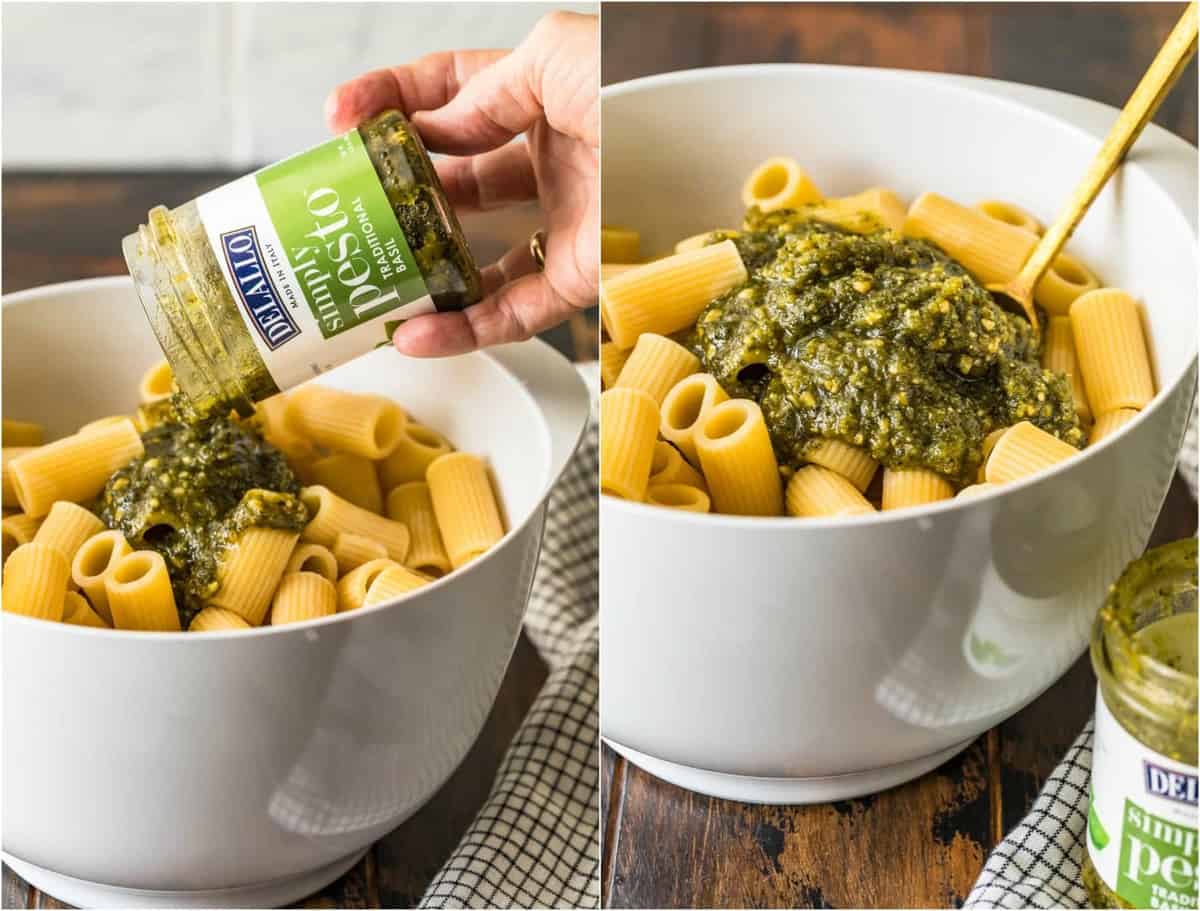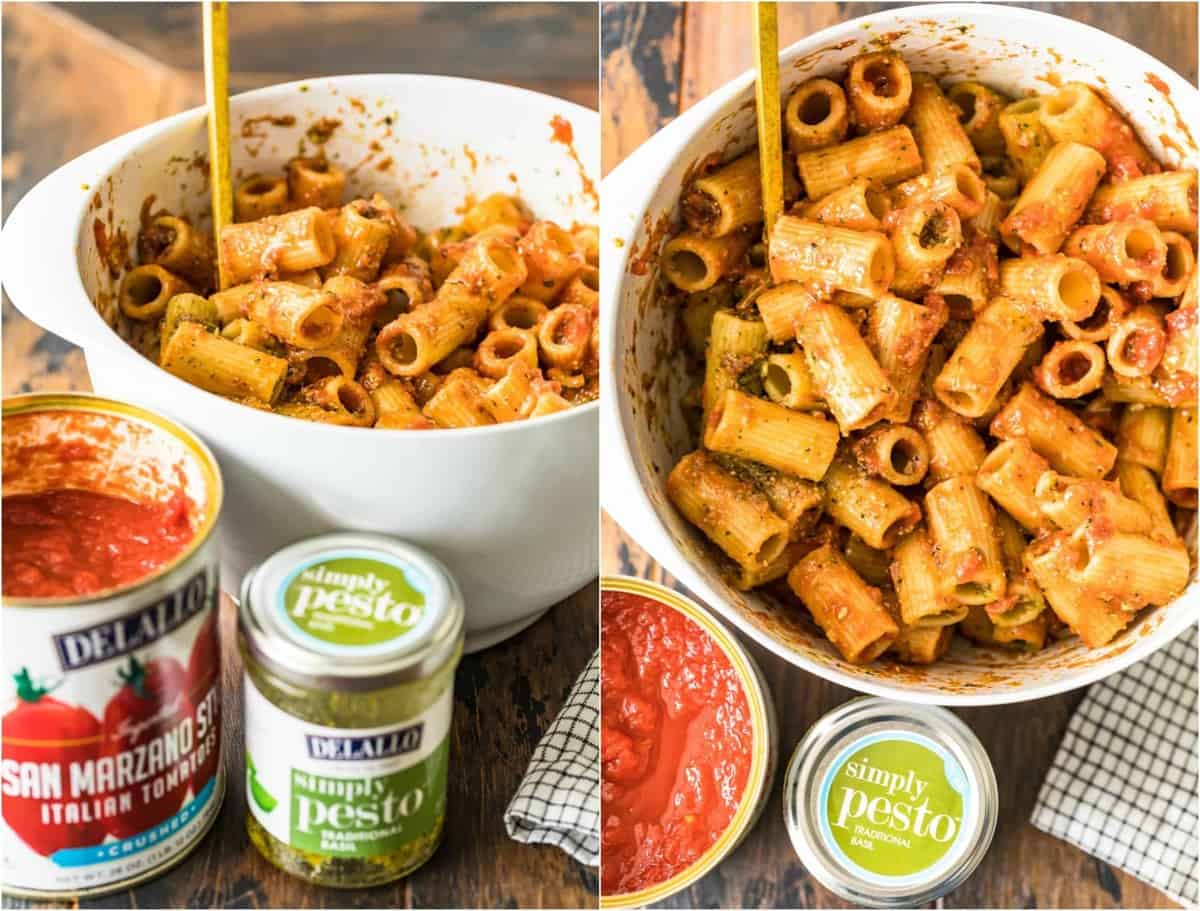 I'm literally obsessed with all things Delallo!!! Their fresh and quality ingredients ensure that when you make your favorite Italian dishes at home, they'll be restaurant quality each and every time. I'm so honored to be working with Delallo this year and I hope you'll check out their line of amazing products! For this recipe I used:
Delallo San Marzano Style Italian Tomatoes (Crushed): THE FLAVOR IS INSANE
Delallo Simply Pesto (Basil): This is my go-to pesto for everrrrrrrything. Pesto is life!
Delallo Rigatoni: Delallo Pasta is as close to homemade you can get without actually making it. It's just simply delicious, quality, and top notch.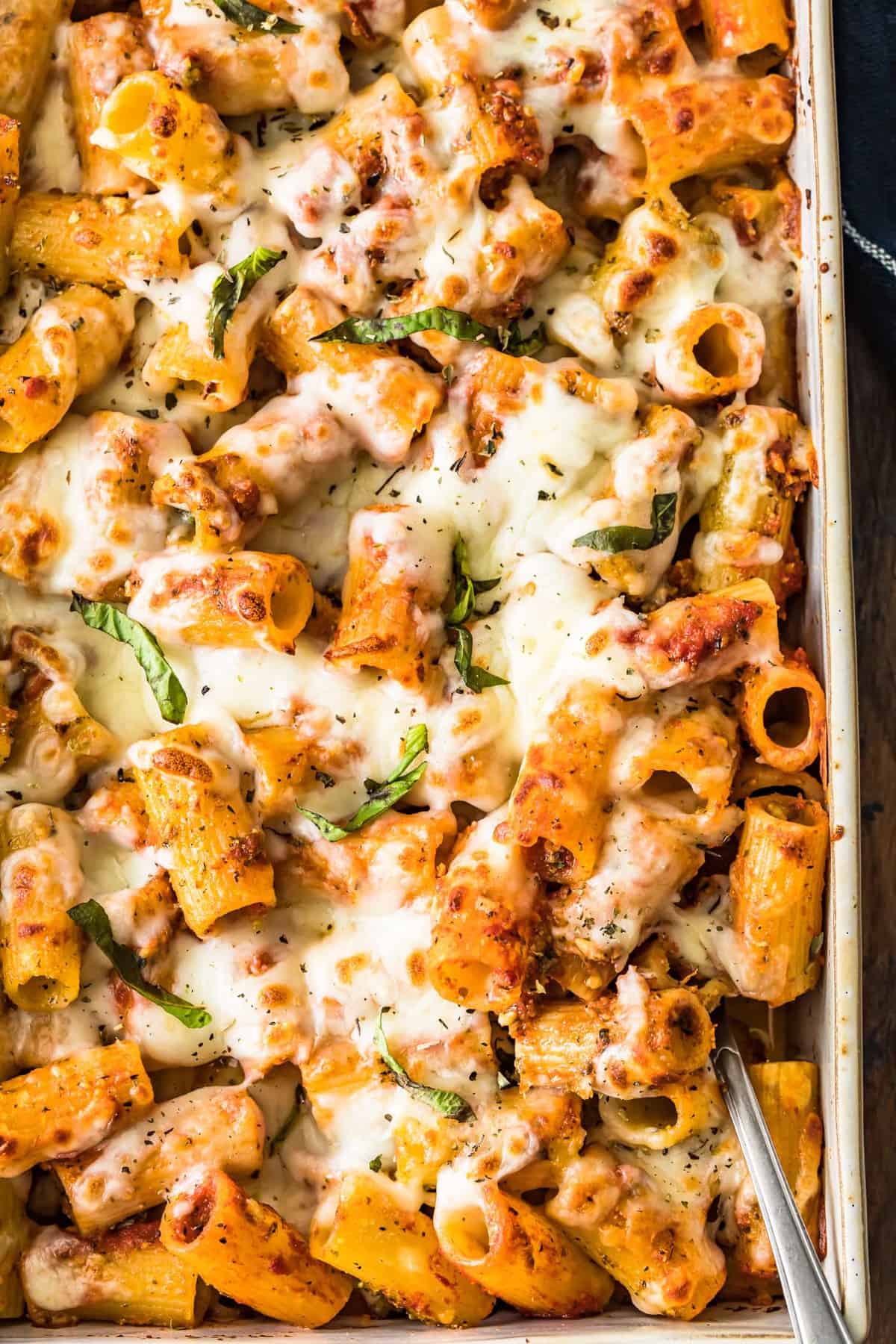 What is rigatoni pasta?
Rigatoni (pronounced rig-uh-TOE-nee) is a tube shaped pasta. It varies in size, but is larger than penne and ziti and has a slight curve to it. It has a ridged surface, which means that sauces and cheese cling to it, so every bite is flavorful. It originates from southern and central Italy and is very popular is Sicilian dishes.
What is in this Pesto Baked Rigatoni Recipe?
This deliciously flavorful dish only contains 4 ingredients so it's simple and straight forward to prep:
Rigatoni
Pesto
Crushed tomatoes
Mozzarella cheese
I also like to finish the pasta bake with some freshly chopped basil.
Use good quality ingredients and you will have an amazing tasty pasta bake on your hands in no time at all!
What do you serve with pesto baked rigatoni?
This pasta dish, by itself will be a hearty and tasteful meal, but you can also pair it with a fresh salad, vegetables or bread side dish. These recipes would pair perfectly with it:
Roasted Green Beans with Feta and Tomatoes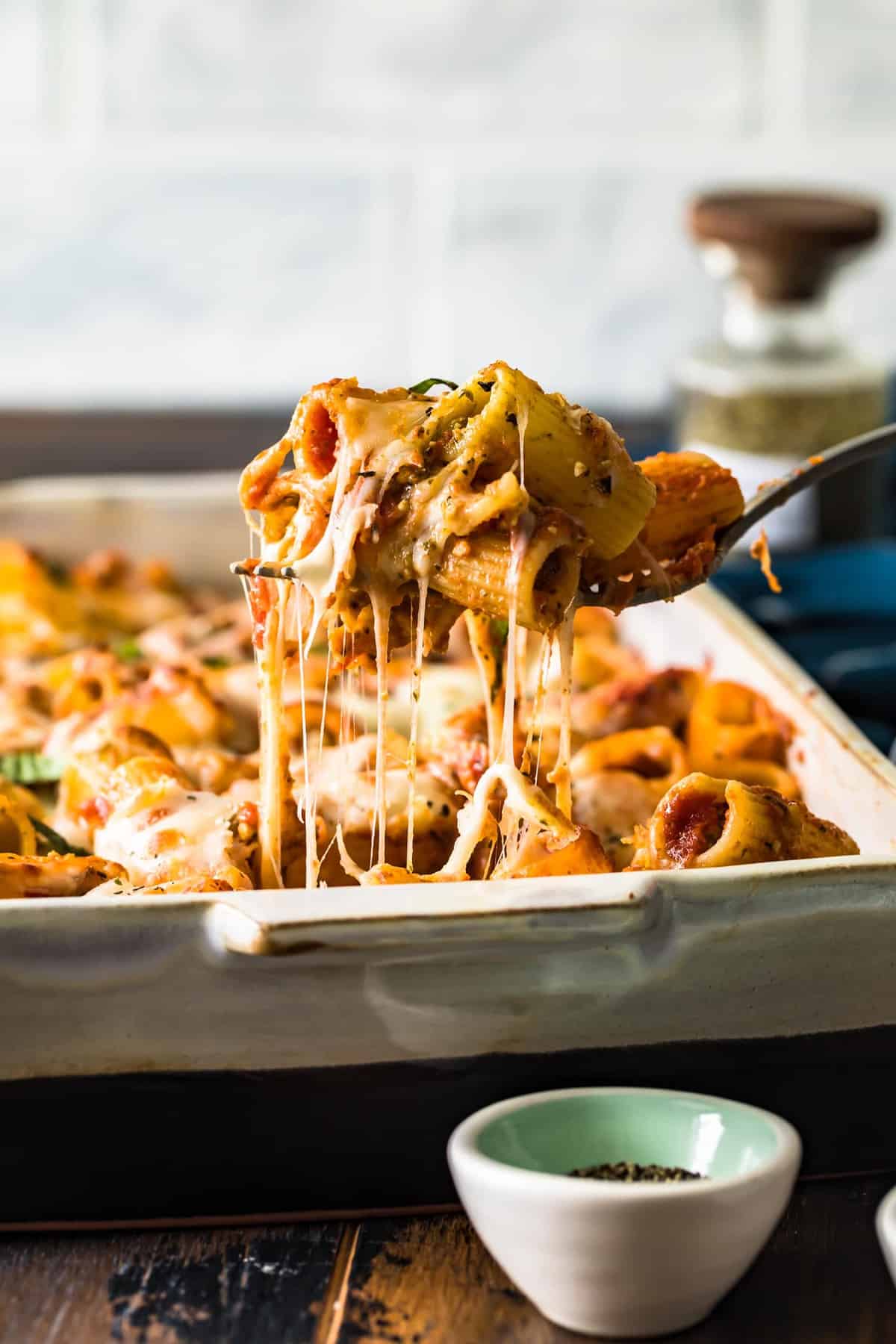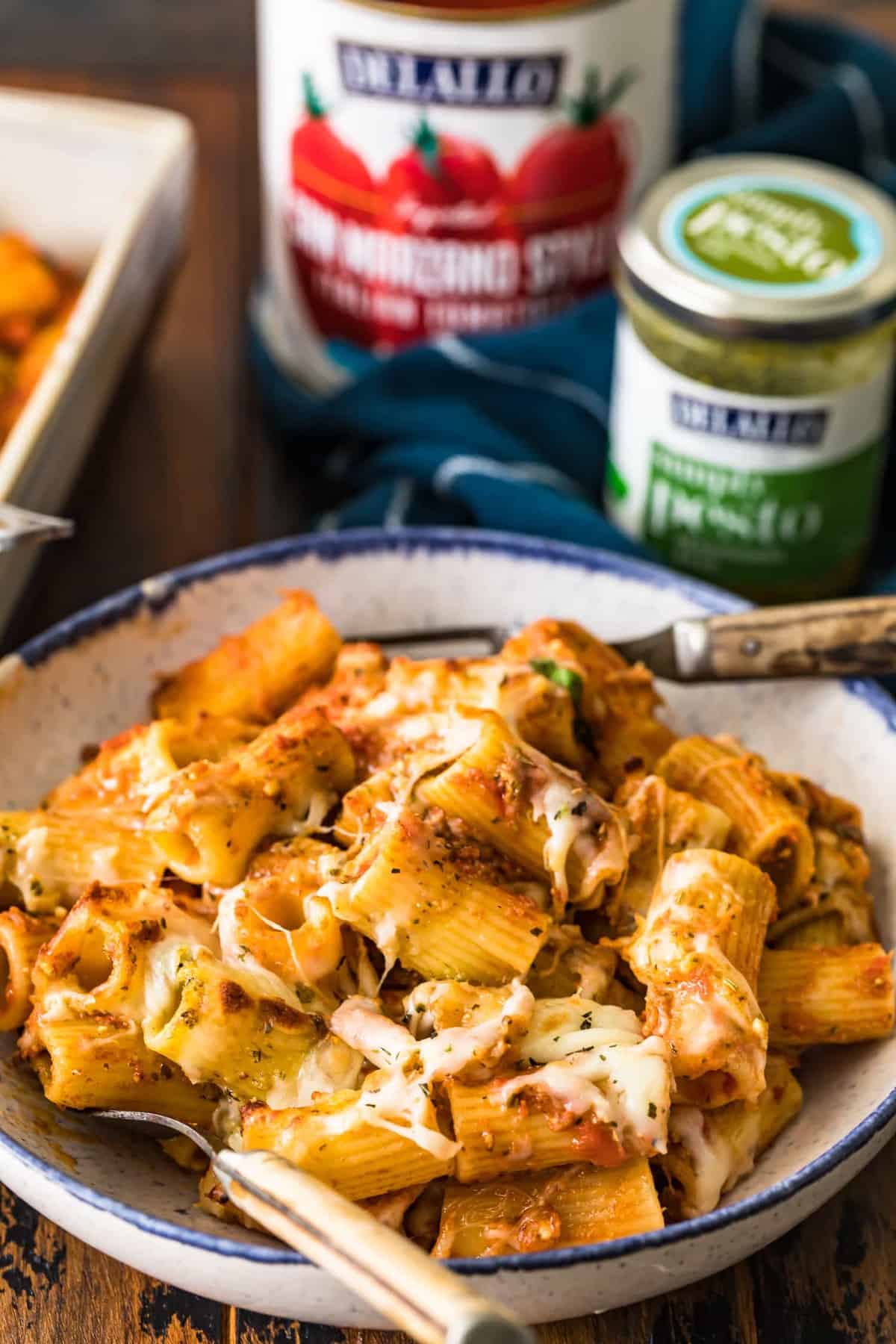 Can you make this meal ahead of time?
Pasta bakes are a great meal to prep ahead of time. You can prep the whole dish before baking it, then cover it and store in the fridge until you are ready to cook it.
Any leftovers will be good for about 3 or 4 days too, just keep them covered in the fridge. You can then reheat individual portions in a microwave or place the whole casserole back in the oven to reheat. If you recook it in the oven, cover it with foil so the top doesn't brown too much.
Top Tips to Make This Pesto Baked Rigatoni Recipe
Cook the pasta al-dente, don't over cook it or it will become too soft once baked.
Spray your casserole dish with non stick spray so for easy removal.
Bake the pasta in a pre-heated oven for the best results.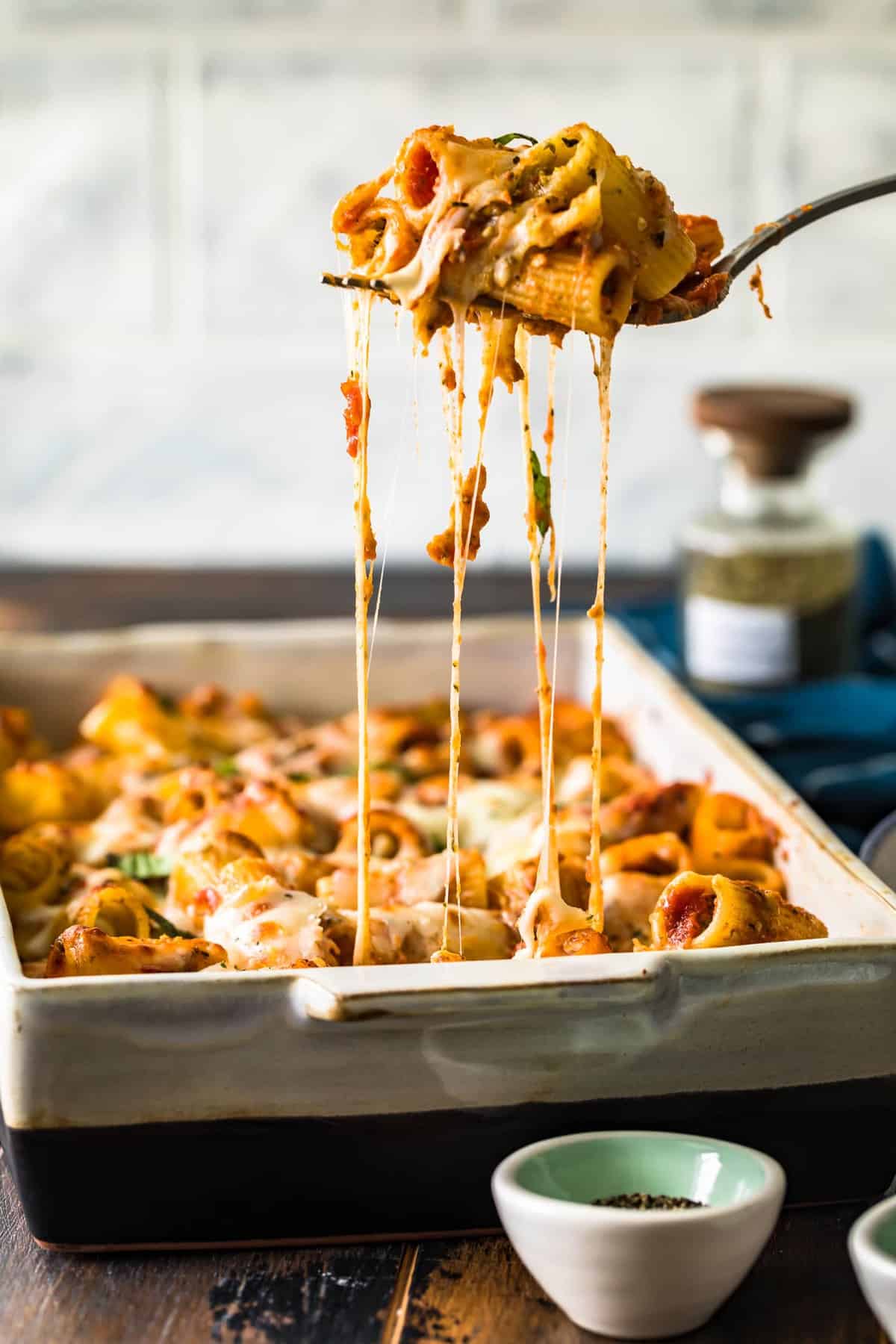 Be sure to check out these other quick and easy weeknight meals!