This Homemade Garlic Bread recipe is the absolute BEST we have ever tried! The butter melts deep into the bread, creating the ultimate garlicky, carb filled side dish. This recipe is baked and then broiled, making it crispy on the outside and buttery soft on the inside.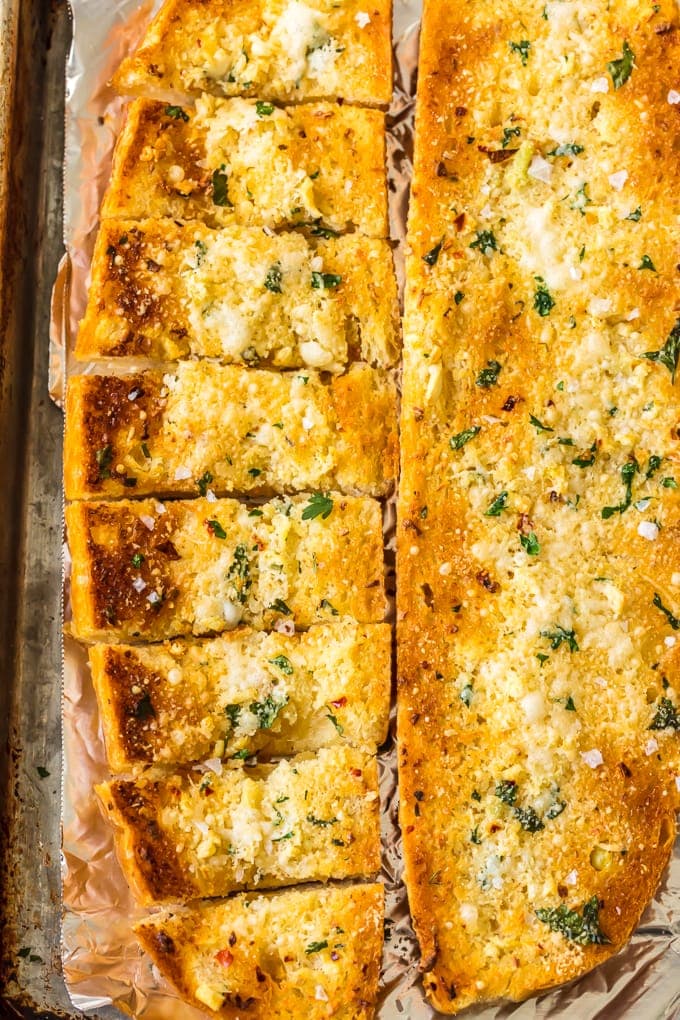 The Best Homemade Garlic Bread
This Garlicky Cheesy Bread is EVERYTHING I want in a side dish. This recipe is better than great, it's AMAZING! I don't have the proper words for it other than to say it's the ultimate and PERFECT recipe that you will make time and time again.
You can make this for Pizza Night, a movie date on the couch, or just a run of the mill Saturday spent with friends. We have discovered all the secrets of How to Make Garlic Bread and I can't wait to share them with you! This is the type of recipe that will make you famous!
This Homemade Garlic Bread Recipe is loaded with garlic butter, baked to perfection, and then broiled a bit to really take things over the top. PERFECTION!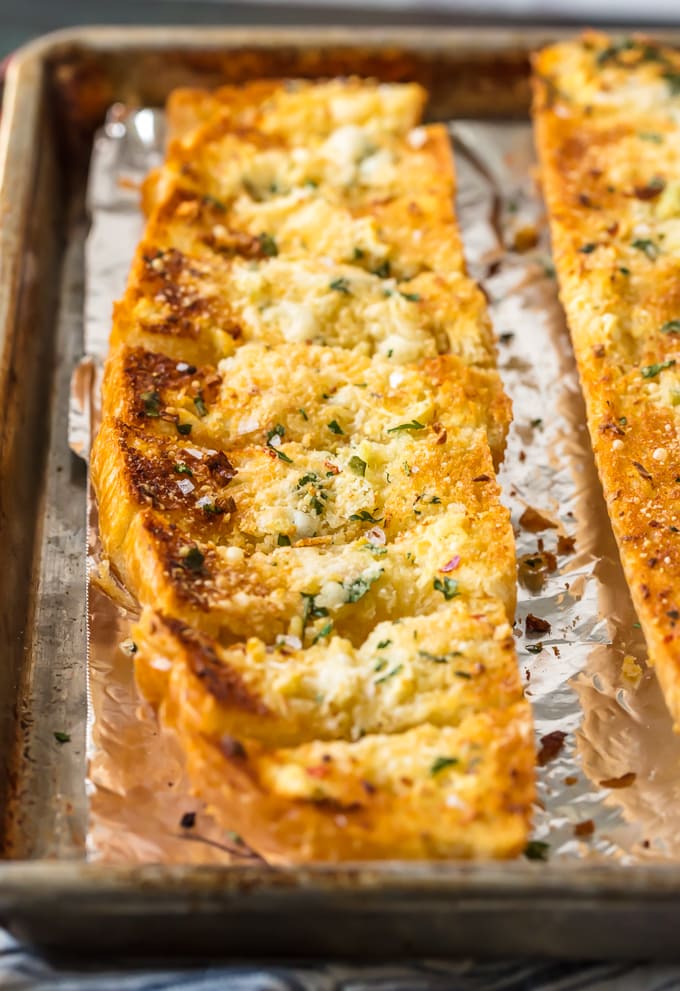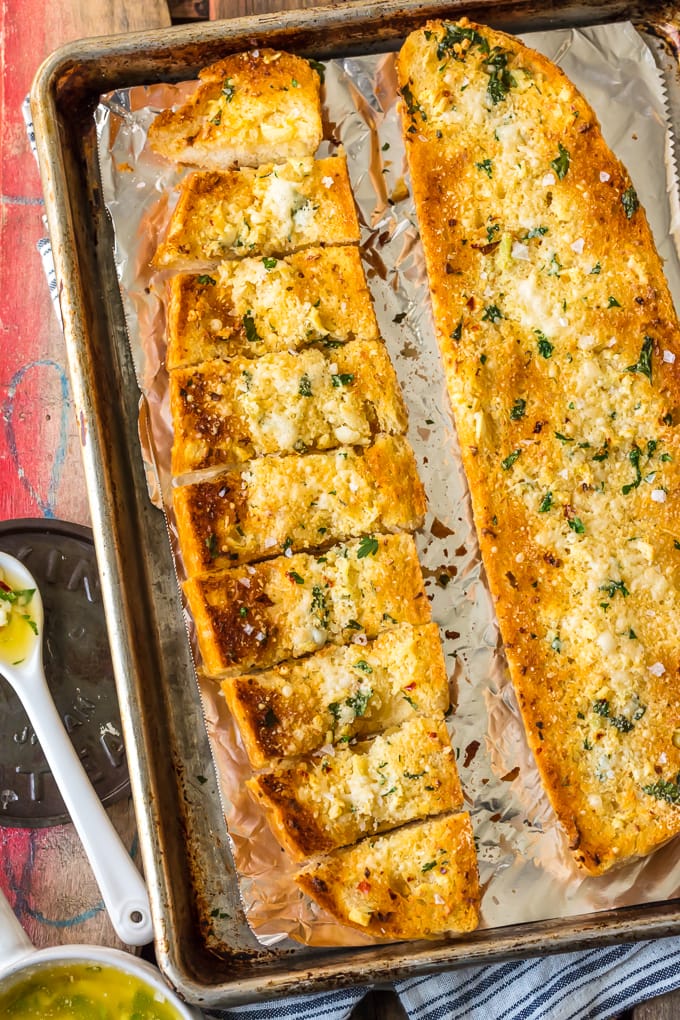 Tips for Making Homemade Garlic Bread
There are all sorts of recipes out there with tips and tricks for making the ultimate Garlic Bread. We feel like our recipe is truly the BEST out there, and I hope you test it and try it for yourselves! In the past, this is the kind of side dish I would have purchased frozen and not made from scratch, but we are taking baby steps here and can make it ourselves, right?
Use quality ingredients: Amazing French Bread, quality butter, and real garlic are the foundations of a great garlic bread recipe. Don't skimp on the ingredients that take this recipe from good to great!
We use SO MUCH butter: This is not the type of recipe that will be kind to your waist line. I don't recommend eating it every day, but once in a while won't hurt! The key to making this recipe special is the bread to butter ratio. We want the butter to really bake down deep into the bread, about half way down. You won't believe how delicious it is!
Bake, then Broil: Some recipes only bake, and some only broil…but we recommend doing both. The baking allows for the butter and garlic to melt deep into the bread while making things all hot and toasty, and the broiling creates an amazing crispy crust around it all. When I say perfection, I mean perfection!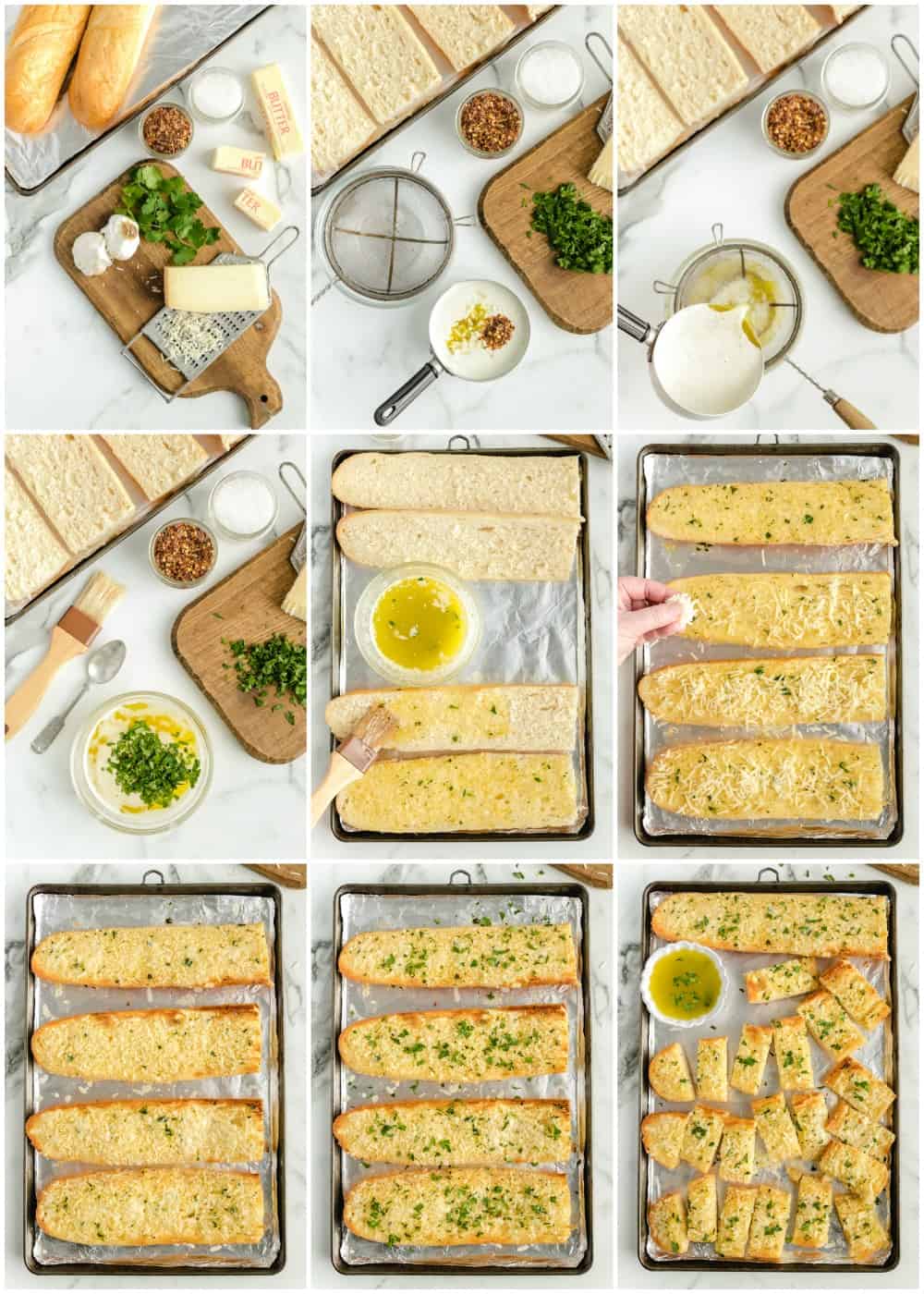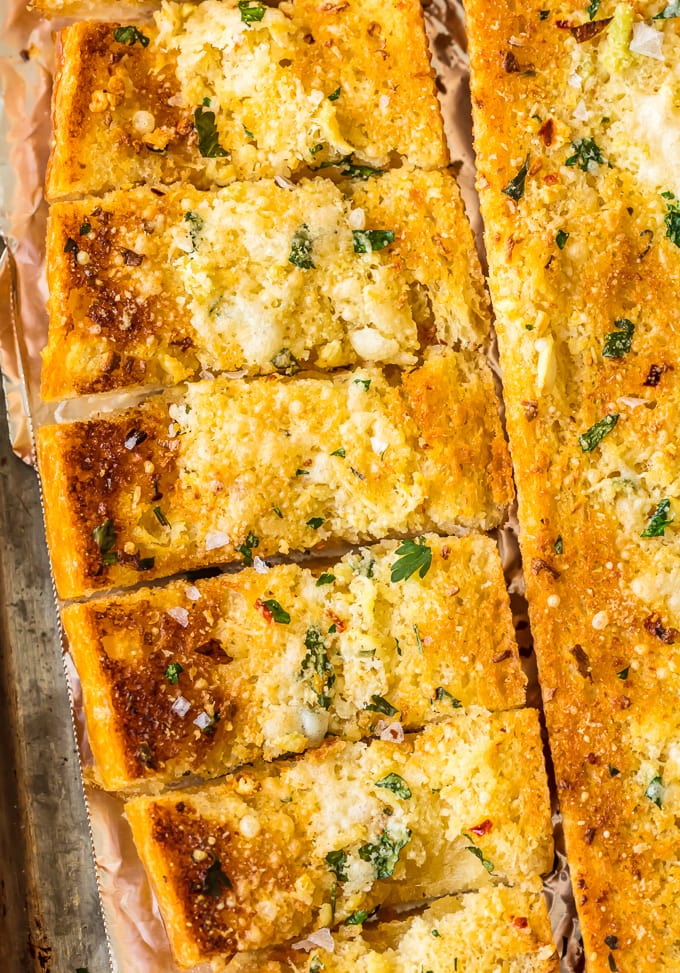 Do you bake in Foil?
We chose not to wrap our garlic bread recipe in foil, although you definitely can. Wrapping in foil will keep the outside from crisping quite so much. If you prefer your bread on the softer side, wrap in foil before baking and skip the broiling. We like the outside crispy, but not everyone does. The choice is yours!
What can you use instead of parsley?
If you're not a fan of parsley, or just want to change things up, you can use your favorite fresh herbs instead! You can use freshly chopped basil (YES!) or a mix of herbs like thyme, basil, and oregano. That would definitely give your bread more of an Italian flair! No matter what, promise me you'll use all of the butter and the garlic. That's the truly important part!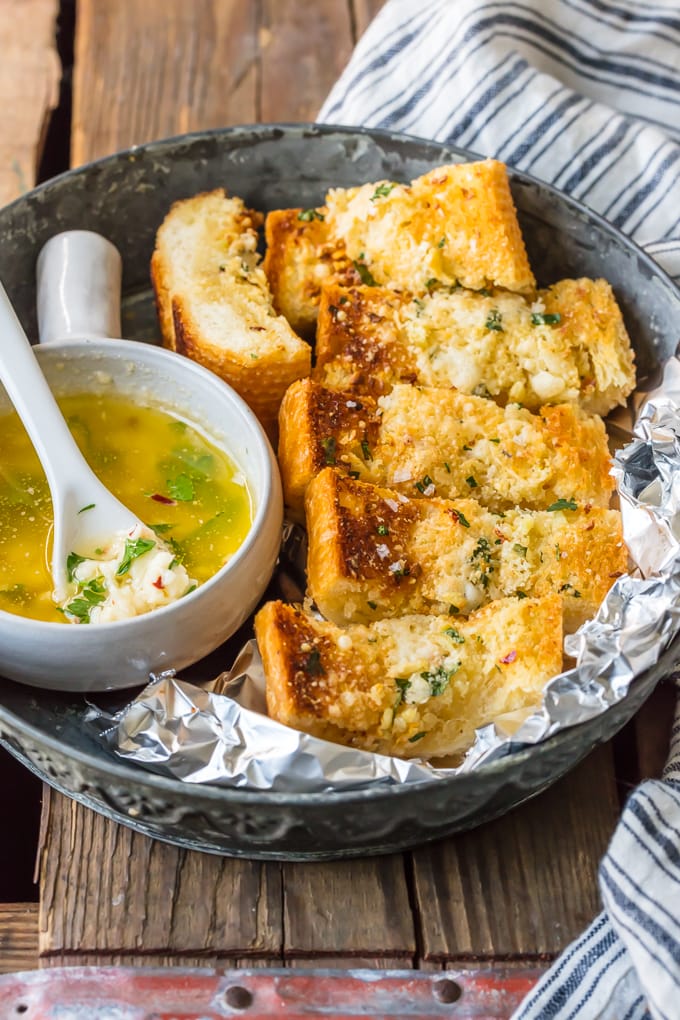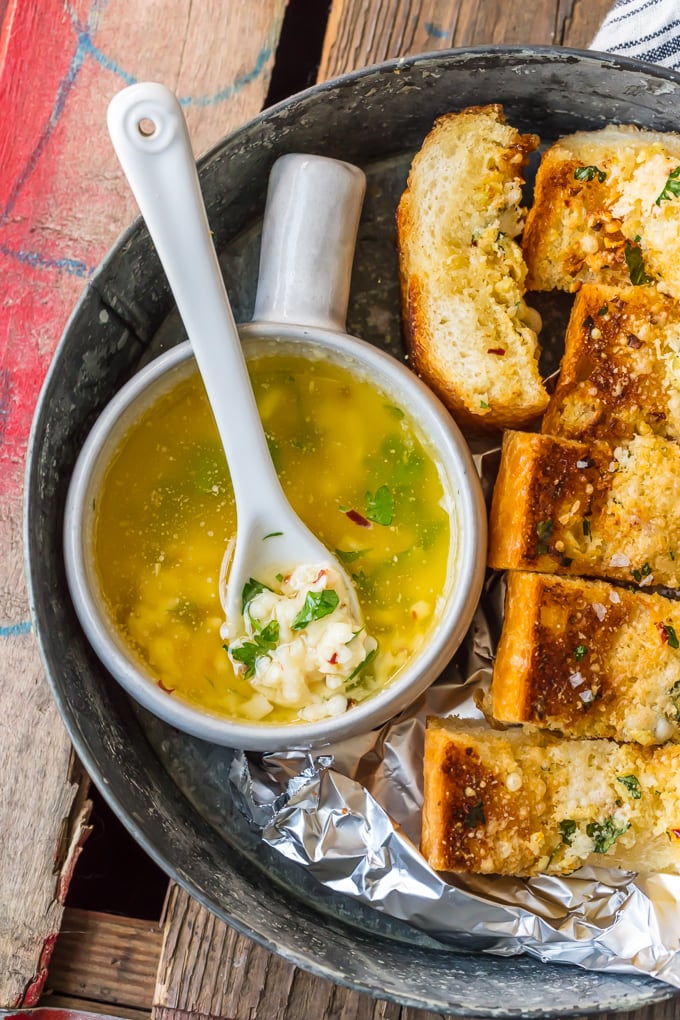 Serving Ideas:
If you're serving this amazing bread, you definitely need the perfect main course to go alongside. If you're going to have this cheesy bread on the table, don't skip the dinner part as well! The bread might steal the show, but we think you'll love these pairing options: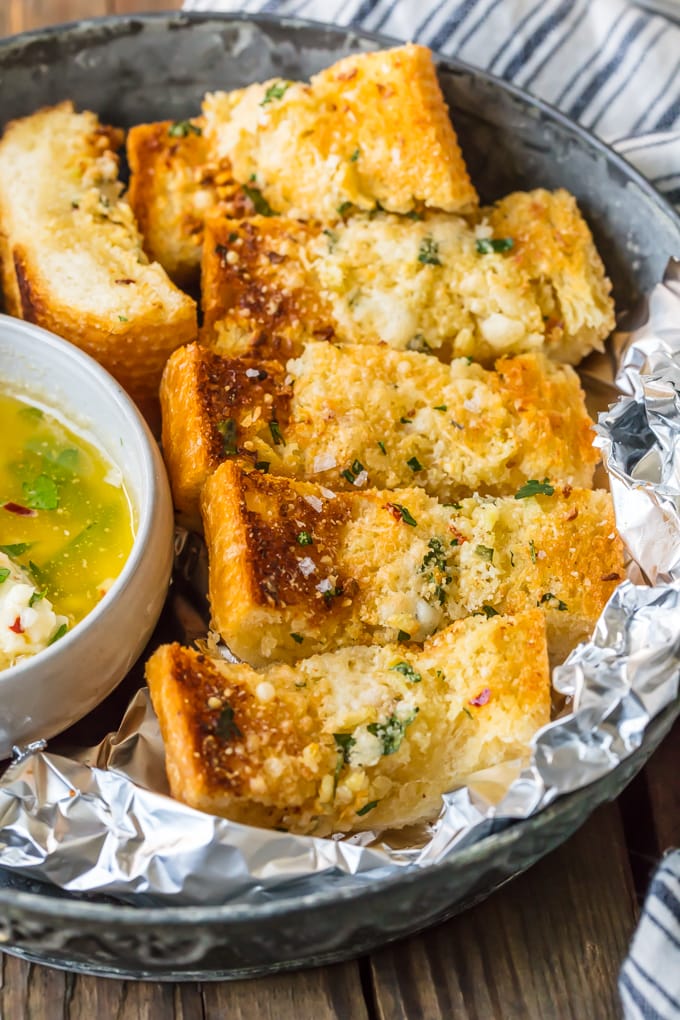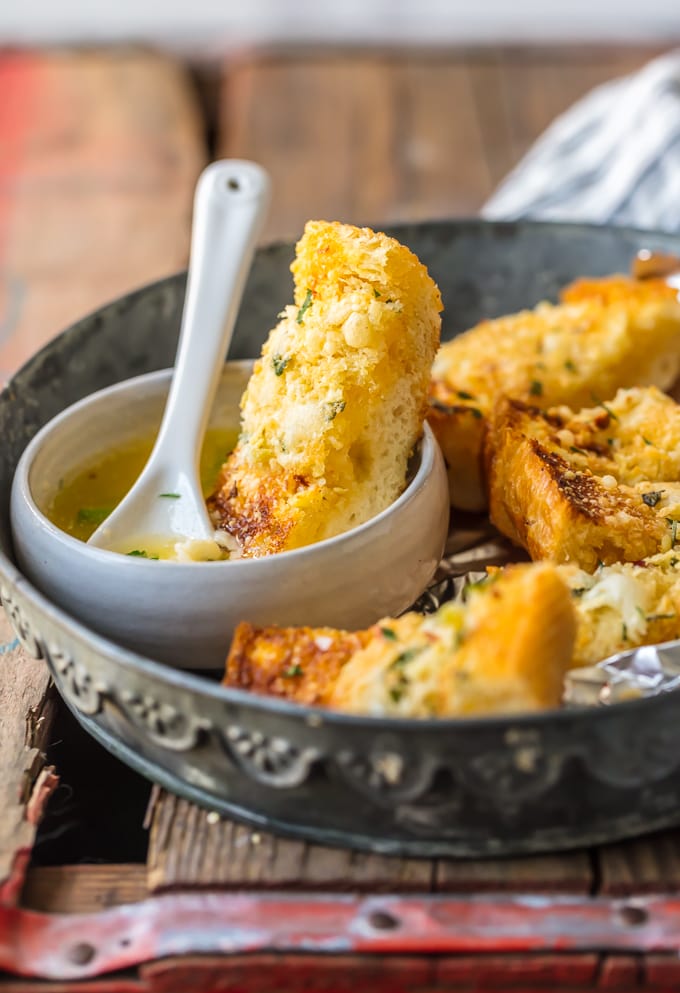 This ridiculously extravagant and EXTRAORDINARY recipe needs a place at your table the next time you're cooking Italian food! I'm so glad that I've finally found a recipe that I can stand behind as the BEST EVER and make time and time again. Let me know how you like it! We ate our weight in it the night we made it, and I regret NOTHING! :)
Watch the video or see the recipe card below for How to Make Homemade Garlic Bread. Enjoy!
Other favorite Easy Bread Recipes we love:
We love EASY recipes around here, and bread recipes are no exception! Try these out next time you're looking for CARBS but want the easy way out: