This easy chicken tetrazzini recipe is the ultimate in comfort food! A creamy and cheesy pasta bake that the whole family will love! Full of flavor and quick to prep.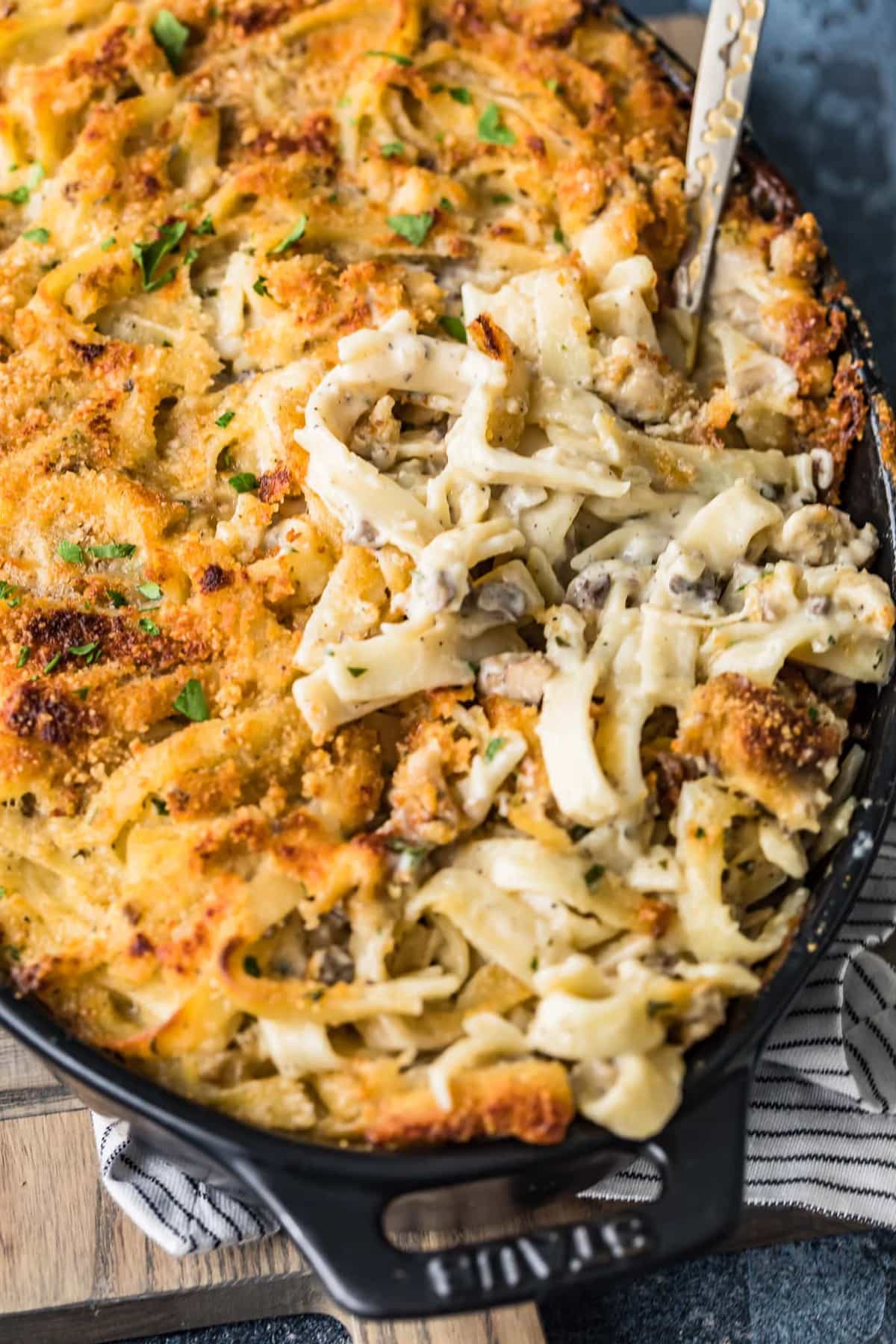 Chicken Tetrazzini Recipe
Chicken tetrazzini makes such a great weeknight dinner! Is there anything more comforting than a creamy pasta dish? I think not!
This casserole is such a great recipe for the whole family, and it's so easy to prep. It's so indulgent and tasty, so I know this will be a hit!
This is one of our favorite easy Italian recipes, and we find ourselves making it time and time again. It's truly loved by the entire family.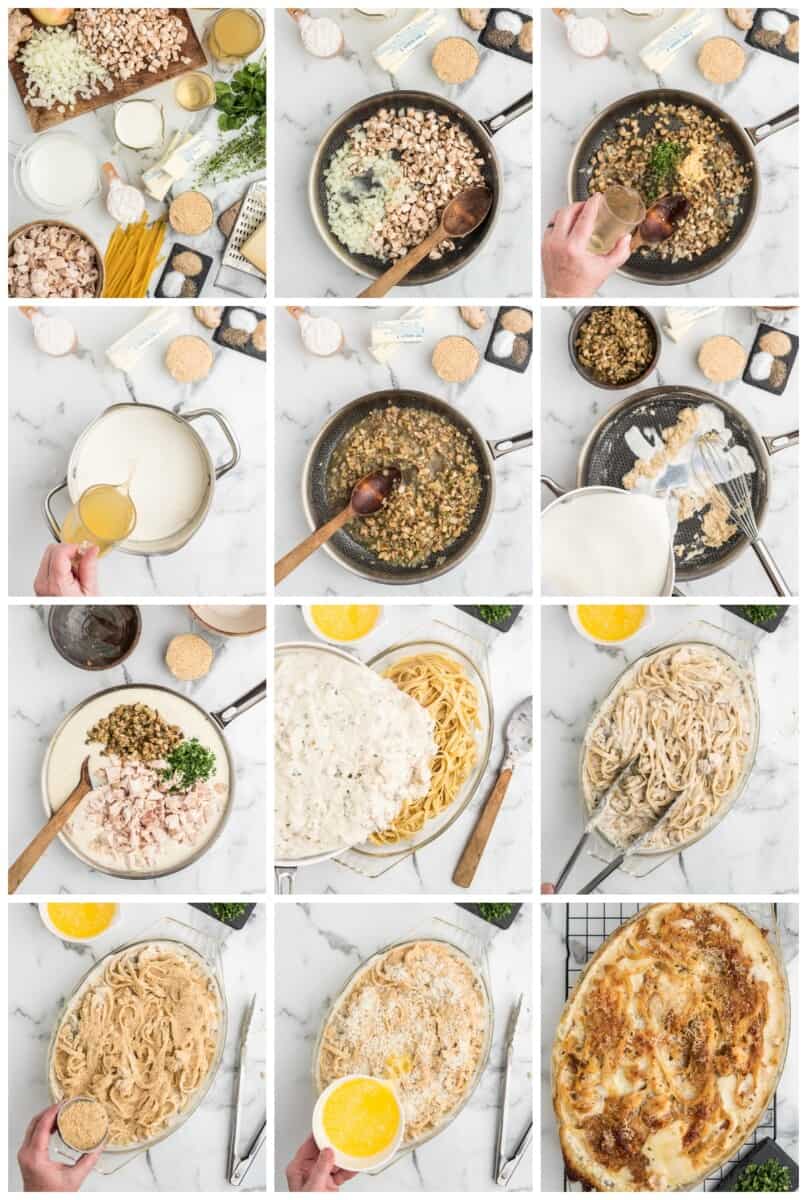 How to make Chicken Tetrazzini
You can jump to the recipe card for full ingredients & instructions!
Heat oven to 425°F and spray a large casserole dish with nonstick baking spray.
Cook the fettuccini in salted water, to al dente (per package directions), drain and rinse with cold water. Spread the noodles evenly onto a large baking sheet to dry; set aside.

While the fettuccini cooks, heat a large skillet over medium heat and add 2 tablespoons oil and 2 tablespoons butter. When the butter has melted, add mushrooms and onion; season lightly with salt and pepper. Sauté until onions are translucent and mushrooms are fragrant and have softened, about 5-7 minutes. Stir occasionally.

Add garlic, thyme and white wine; stir with a wooden spoon while scraping off any browned bits on the bottom. Cook an additional 2 minutes to reduce the mixture. Transfer the vegetable/wine mixture to a medium bowl; set aside. (Keep the sauté pan out for later use.)
In a medium saucepan, set over medium heat, bring the milk, cream and broth to just below a simmer (when you see steam coming off the top).
In the large sauté pan, melt 3 tablespoons butter over medium heat. While whisking, sprinkle the flour over the butter and continue whisking until the flour and butter incorporate and turn a light golden brown, about 2 minutes.
Continue whisking and slowly add the milk/cream/broth mixture. The mixture should be smooth with no lumps. Add nutmeg, seasoned salt, kosher salt and black pepper. While stirring, bring the mixture just to a boil and immediately reduce the heat to low. Cook, while whisking continuously, another 8-10 minutes, or until the sauce thickens. Remove the sauce from the heat once it thickens.
Add the chicken, mushroom/onion mixture and half of the parsley. Mix well.
Pour the mixture into the sprayed dish and sprinkle evenly with breadcrumbs and Parmesan.
Melt the remaining butter and pour it evenly over the top.
Bake at 425°F, for 30 minutes, or until the top is golden brown and the chicken tetrazzini is bubbly throughout. Remove from oven and let the tetrazzini rest 5-10 minutes before serving.
Garnish with the remaining parsley before serving.
Enjoy!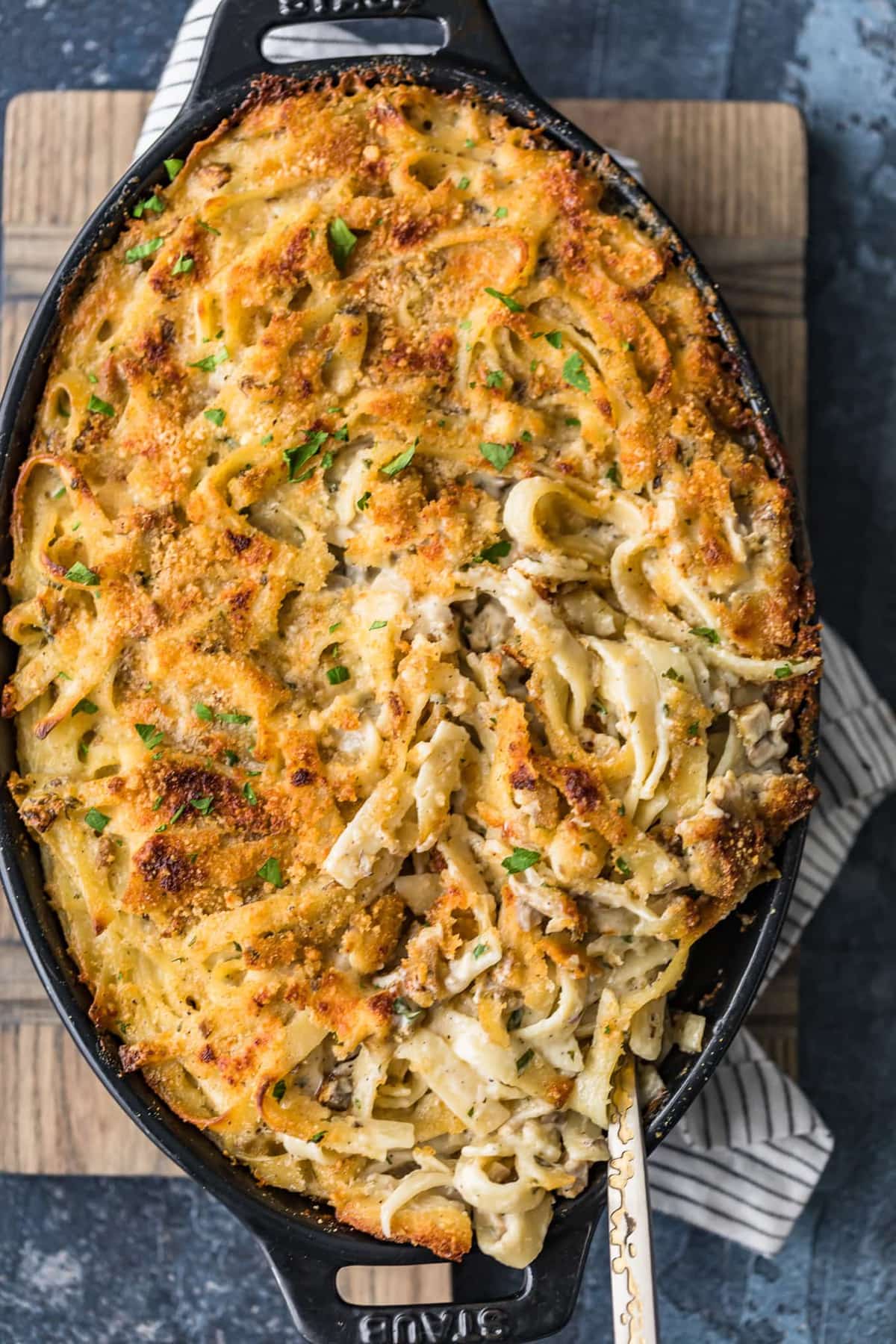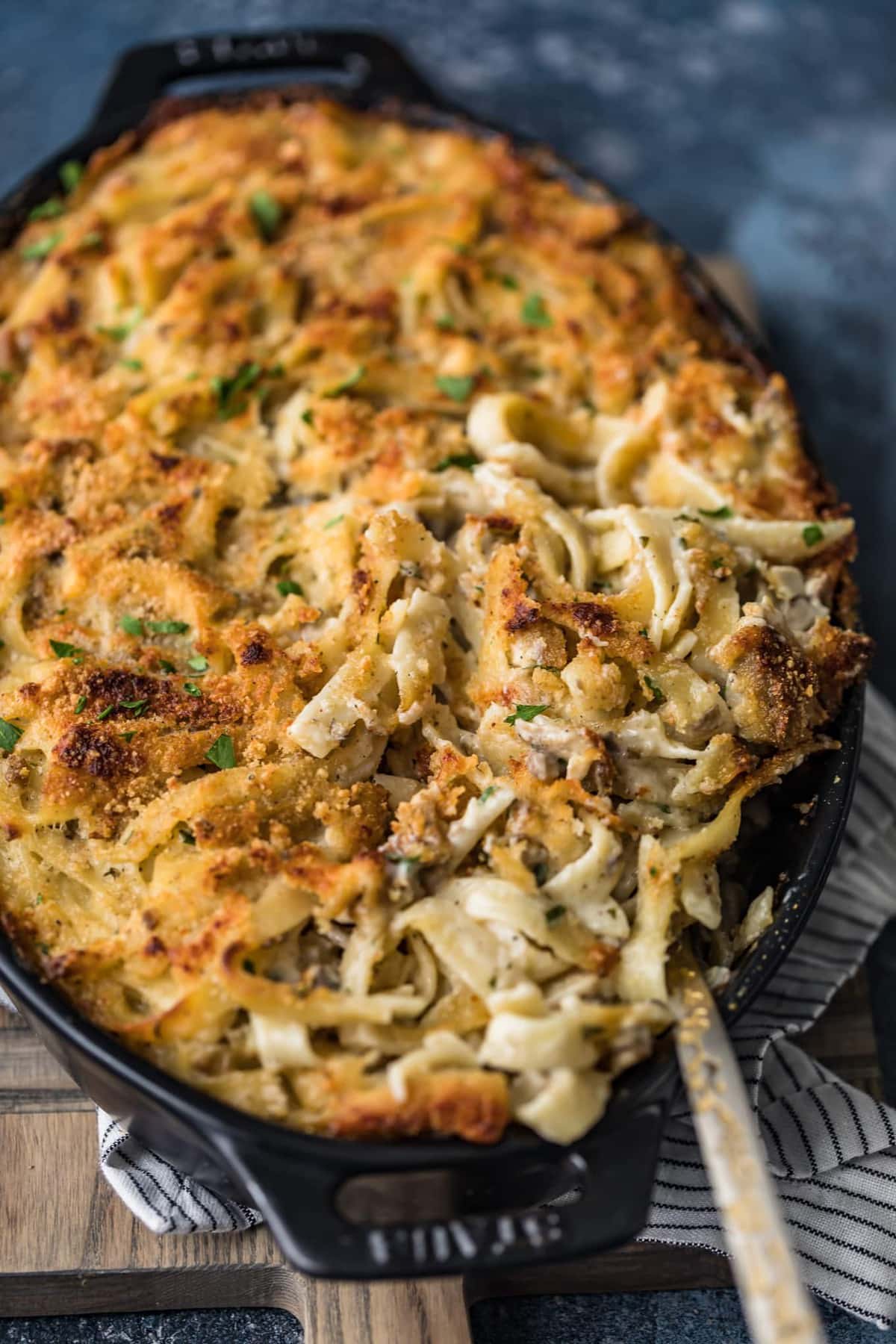 What is Tetrazzini?
Tetrazzini is a casserole dish consisting of diced poultry or seafood that is cooked in a creamy sauce with mushrooms and wine.
It's cooked in the oven with fettuccine for a delicious baked pasta dish. It's believed to have been invented in San Francisco in the early 1900s.
Chicken Tetrazzini made from scratch
There are a lot of recipes for chicken tetrazzini out there, but a lot use shortcuts, like using mushroom soup, to make it.
This is not a difficult dish to make from scratch, and when you do, it tastes so much better! It only takes around 15 minutes to prep this dish, and then you just pop it in the oven and let it do its thing. So skip the shortcuts and make this family meal from scratch!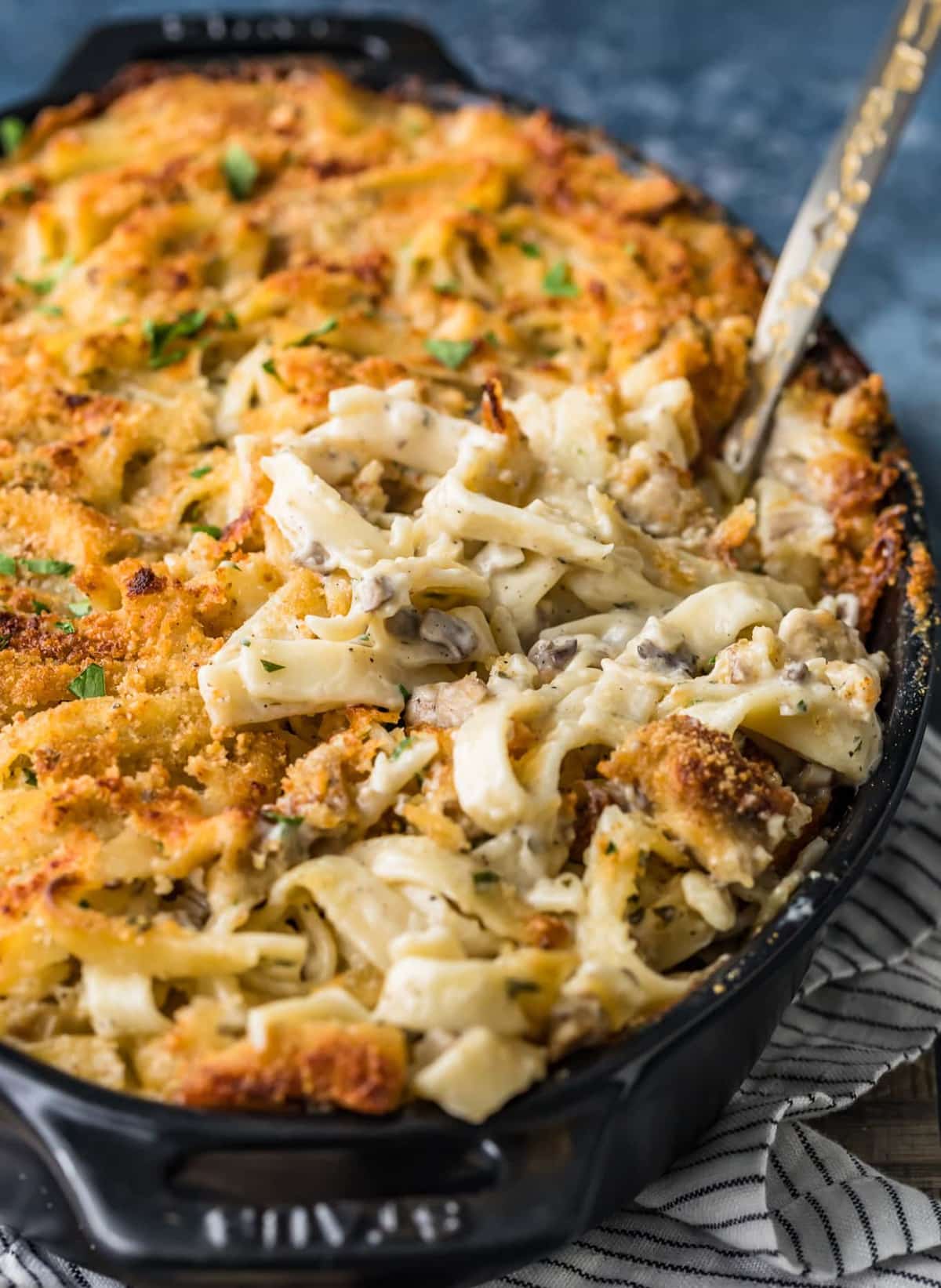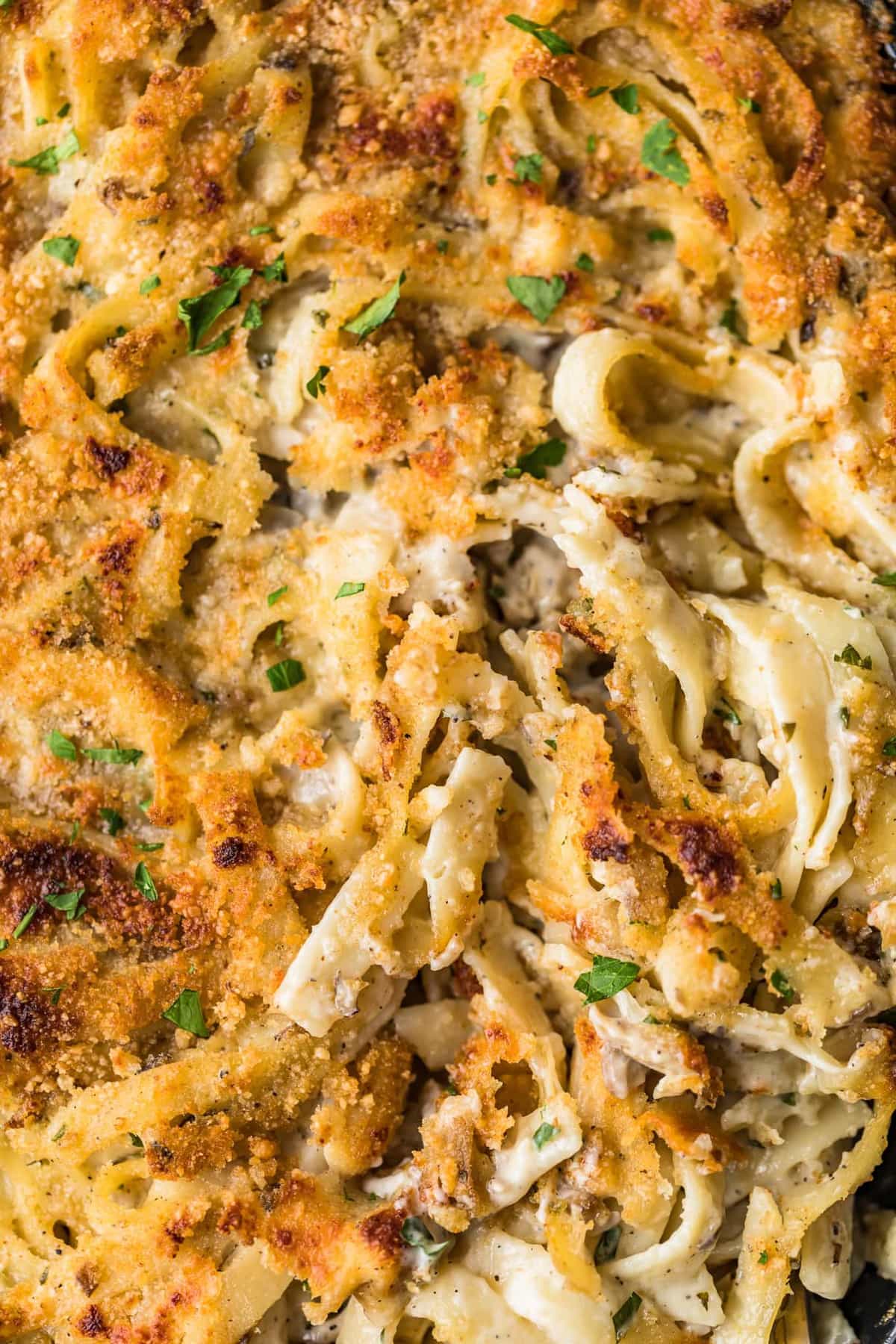 What to serve with easy chicken tetrazzini
This chicken tetrazzini recipe is a hearty dish all by itself, but it is great alongside a fresh green salad.
Feel free to serve it up with some crusty bread or some roasted or sautéed vegetables. Serve this dish hot and straight out of the oven.
Serving Suggestions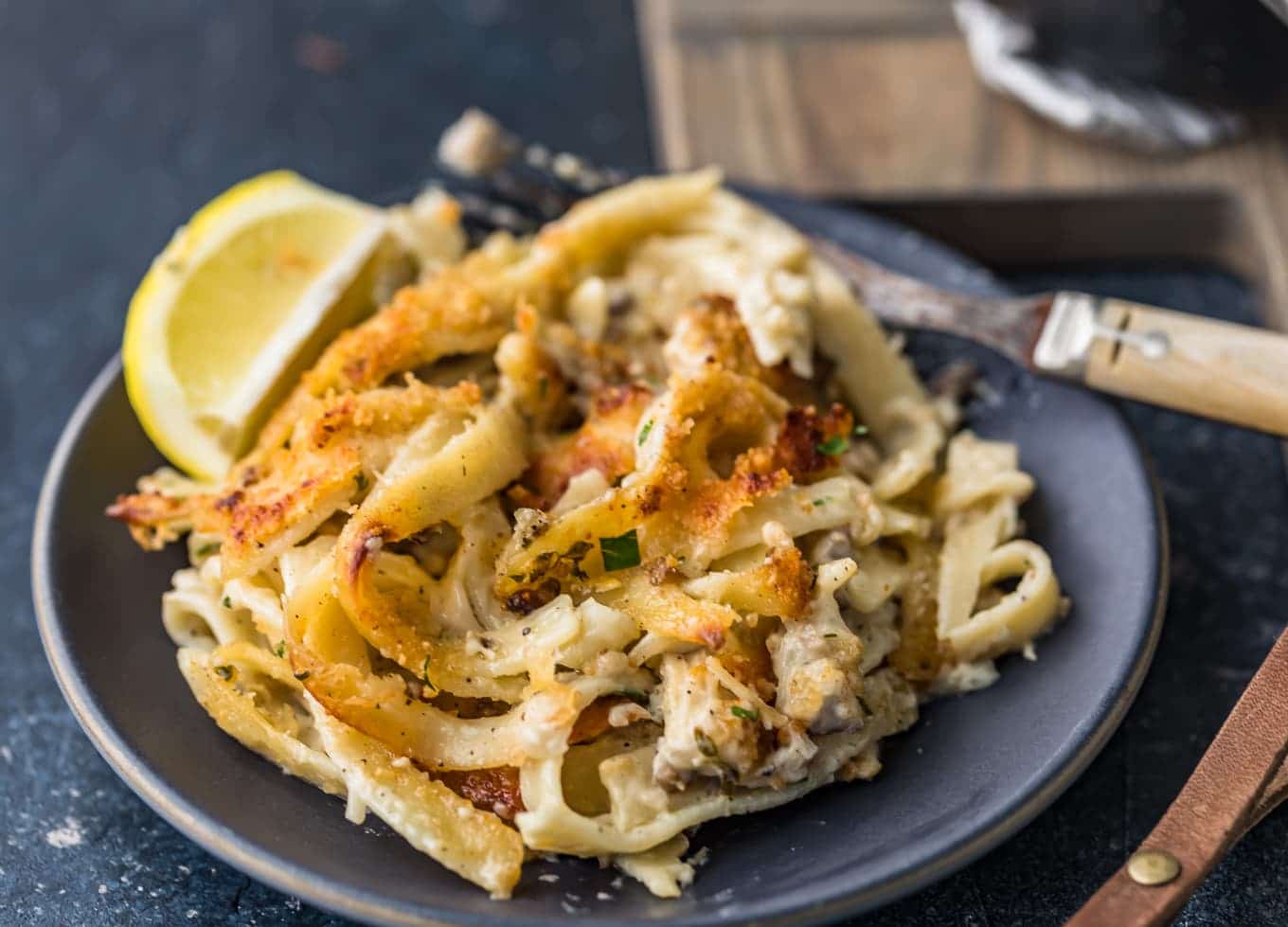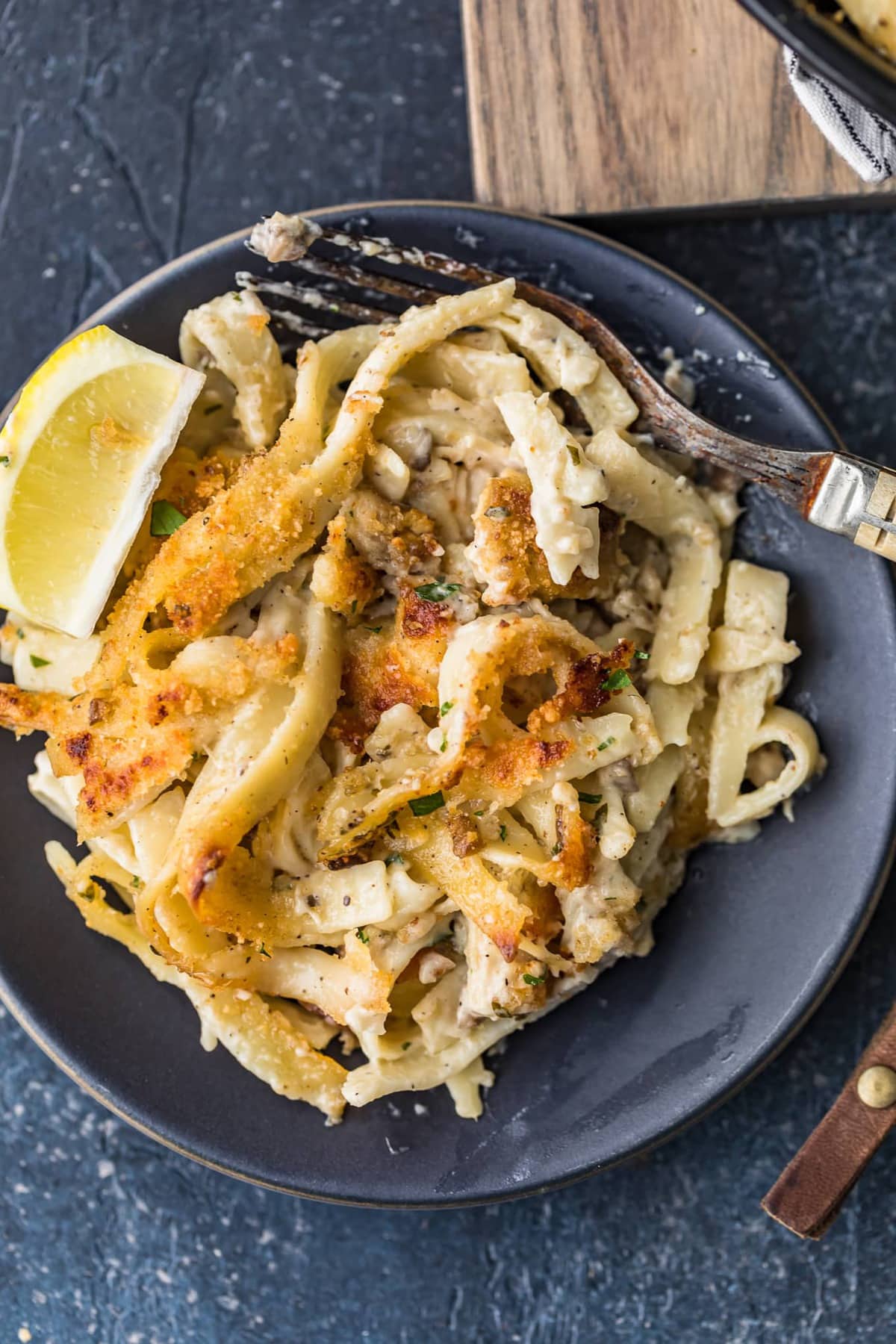 Tips!
Use a rotisserie chicken for ease in this recipe.
Cook the pasta al-dente before adding it to the casserole.
You can also use spaghetti in this recipe.
Garnish with fresh parsley.
Keep any leftovers in the fridge for about three days in an air tight container.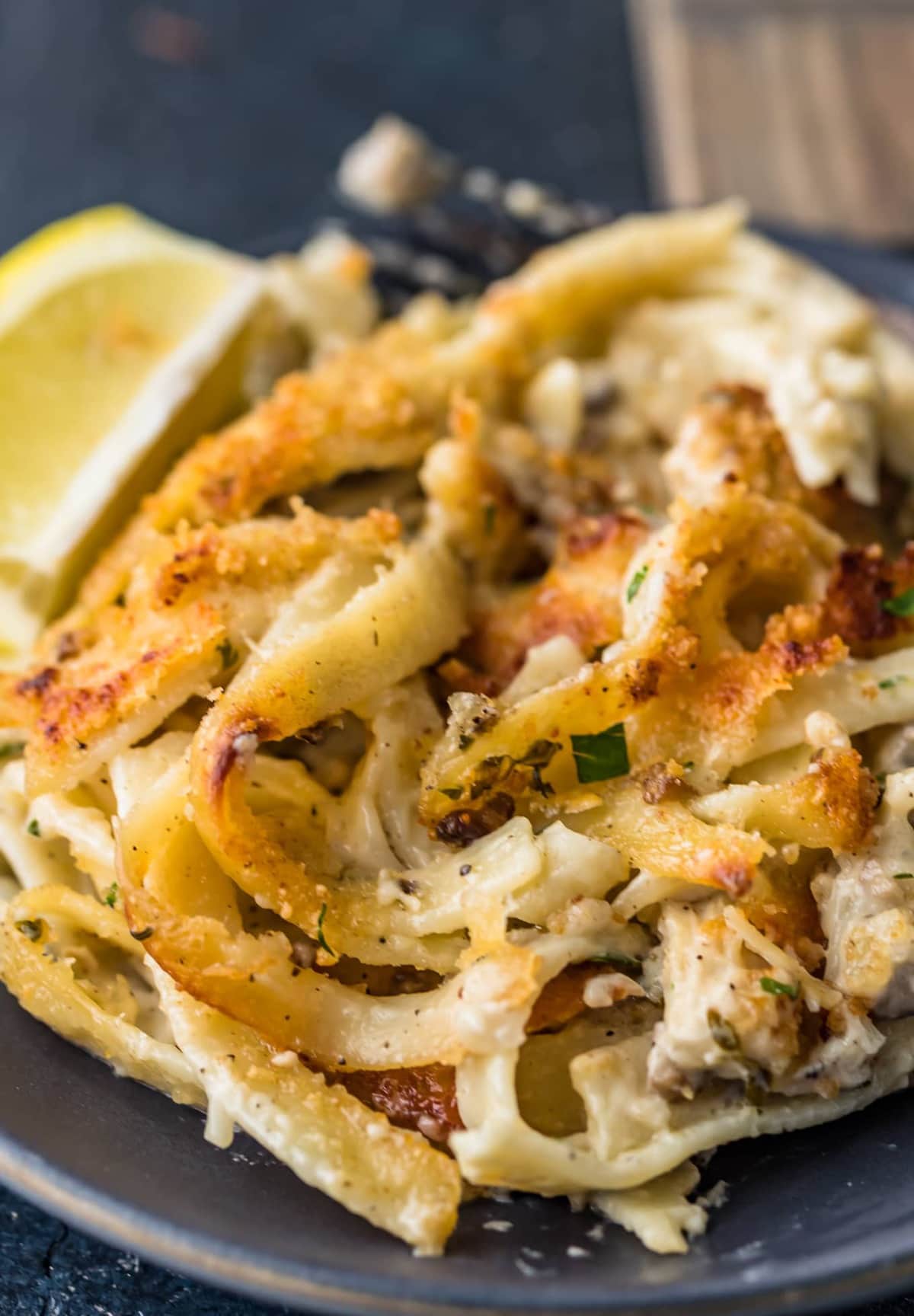 Be sure to try these other Family Chicken Recipes!
If you make this recipe be sure to upload a photo in the comment section below or leave a rating. Enjoy! You can also jump to recipe.