Biscuit dough rolled in cinnamon and drenched with caramel sauce. There's something super satisfying about tearing off a chunk of this soft and sticky, Easy Monkey Bread. Simple to make, perfect for an easy dessert or holiday treat!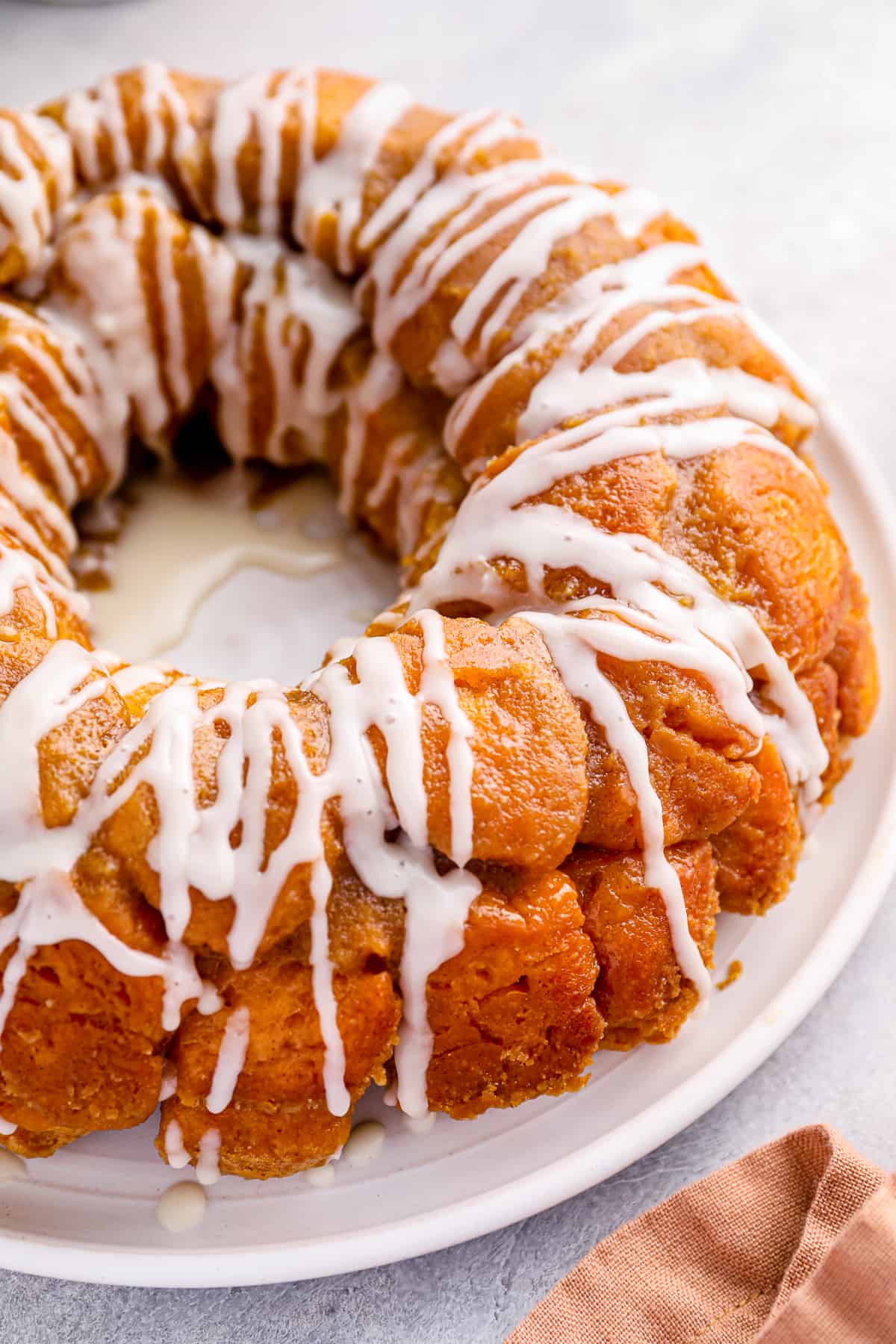 Monkey Bread with Biscuits
Moist and soft dough balls made with buttermilk biscuit mix, drenched in a finger licking, caramel cinnamon sauce – pure joy! Drizzle with icing, you'll be amazed to see how easily this comes together! It makes for an great dessert the kids will love, it's also perfect for Christmas or any holiday season really – who doesn't love monkey bread! Serve it up for breakfast and let all those wonderful scents greet everyone as they come into the kitchen.
Looking for more dessert recipes? Why not also try my Chocolate Lasagna and my Strawberry Brownies.
Why You'll Love This Pillsbury Monkey Bread Recipe:
AN EASY DESSERT: Made with biscuit mix, this comes together so easily with pantry staples. Simple to prep, then pop in the oven!
A CROWD PLEASER: This pull apart pastry is made for sharing, perfect for parties.
SWEET AND STICKY: A delicious caramel cinnamon sauce binds this monkey bread together, get stuck in!
Trademark Note: In the spirit of transparency, I want to note that some of these ingredients are trademarked products. Pillsbury Grands!™ Southern Homestyle Buttermilk Biscuits are a proprietary product that I want to acknowledge and give credit to.
Gooey cinnamon rolls formed into a bundt cake shape and smothered in caramel – utterly yummy!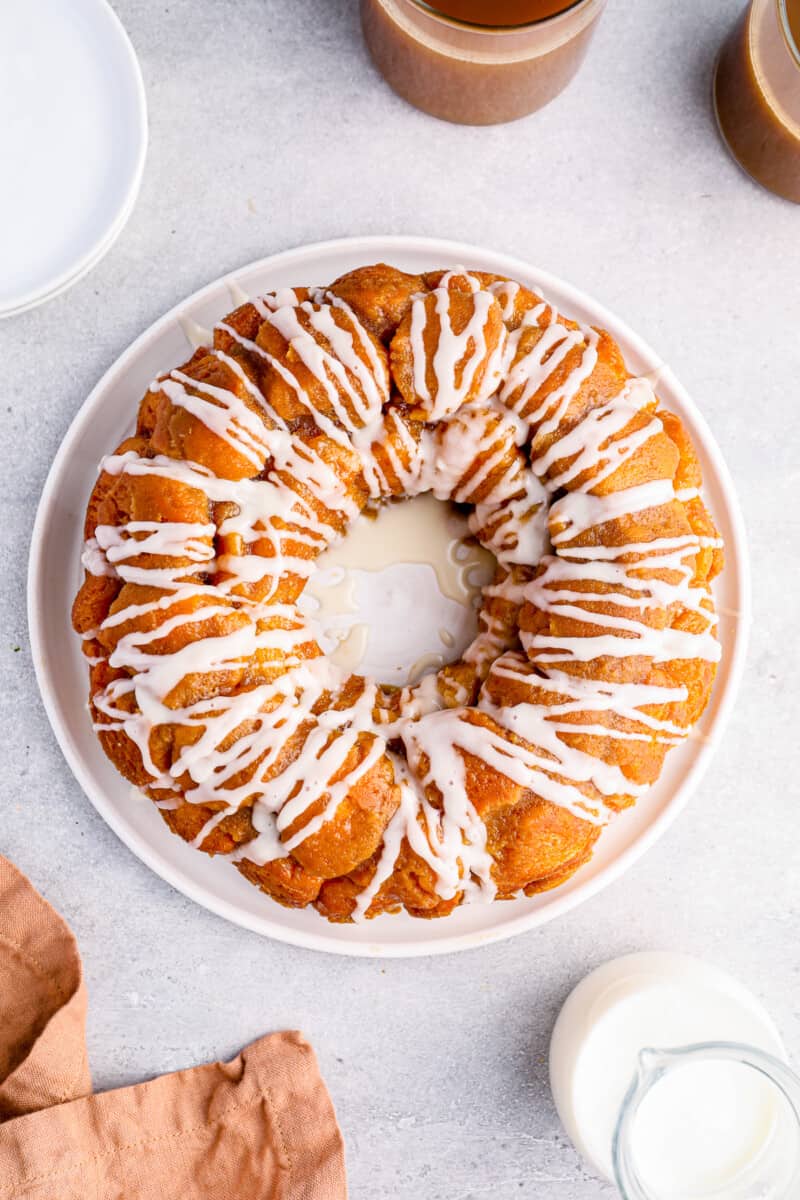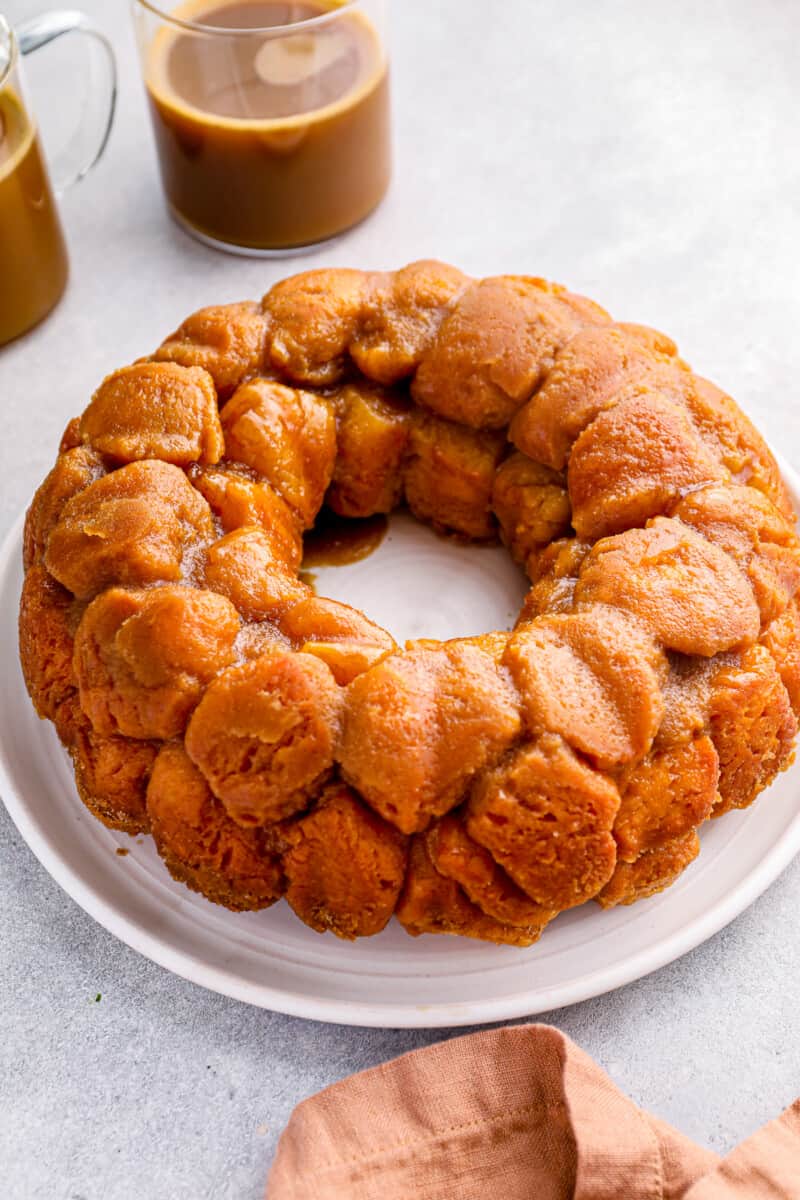 How to Make Easy Monkey Bread
You can jump to the recipe card for full ingredients & instructions!
In a medium bowl, mix your cinnamon sugar.
Open the cans of biscuits, cut each biscuit into quarters and roll into balls.
Coat your balls in the cinnamon mix and place into a prepared pan.
Make the caramel sauce in a saucepan and pour over the balls.
Bake until golden brown.
While the monkey bread bakes, combine your icing ingredients.
Let the monkey bread cool, remove from the pan and drizzle with icing.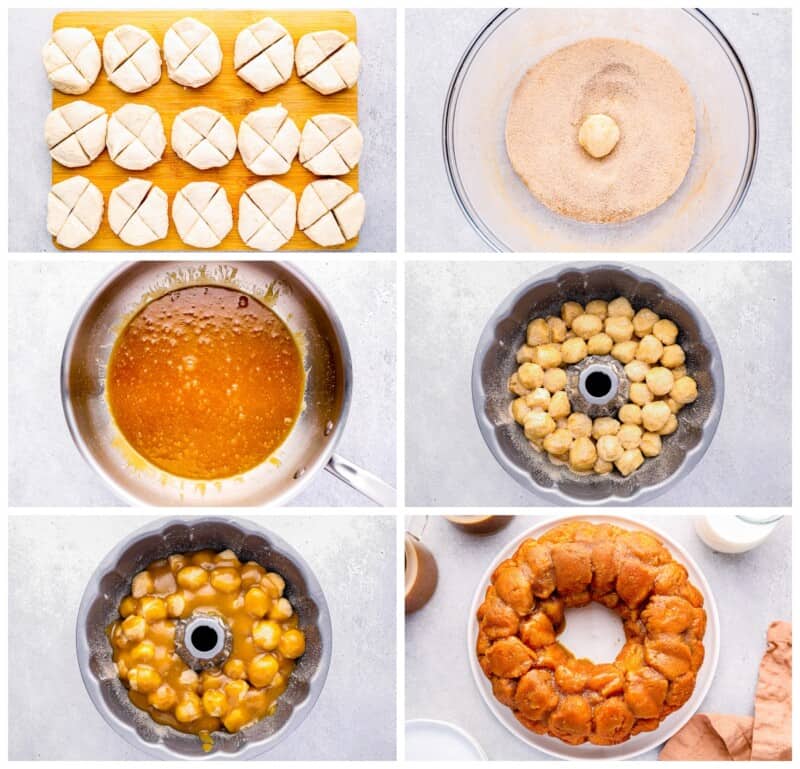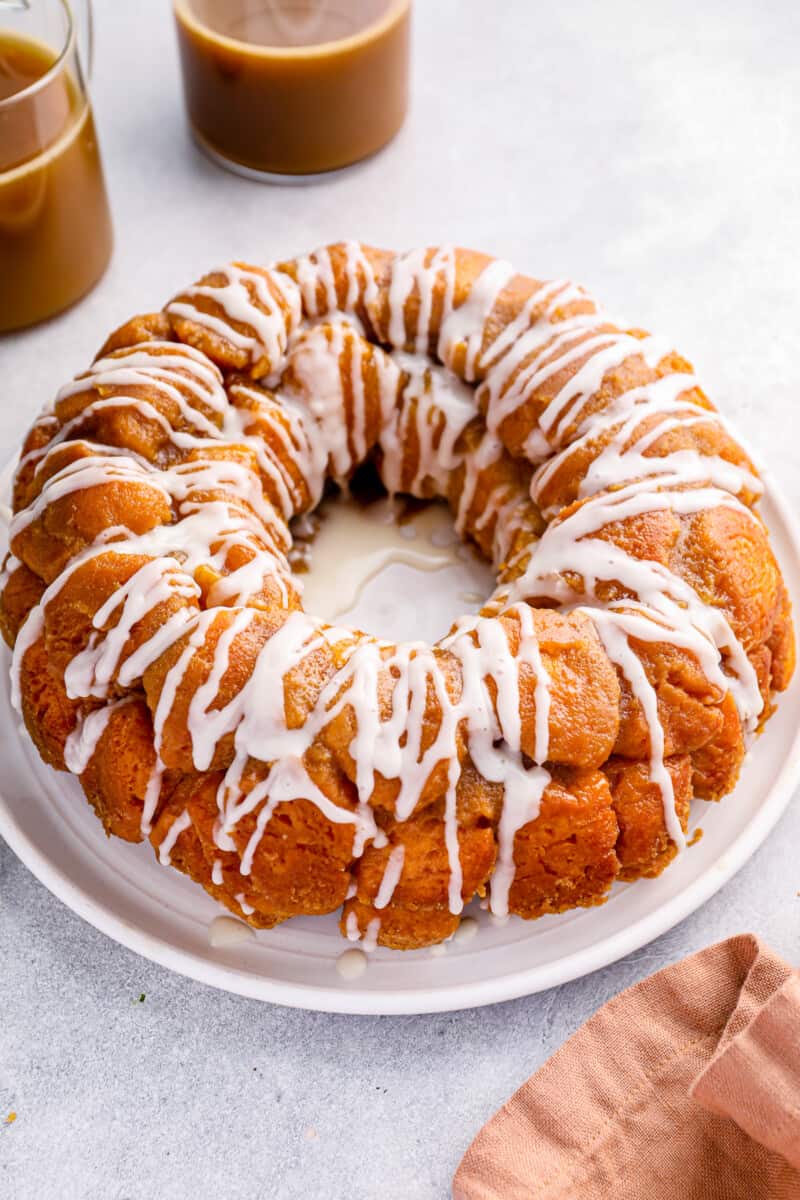 What is monkey bread?
Monkey bread is a soft, sticky, pull-apart breakfast pastry. It consists of balls of dough baked with a sticky cinnamon caramel sauce that are meant to be broken off by hand.
What kind of biscuits should I use to make monkey bread?
I recommend using 2 cans of Pillsbury Grands!™ Southern Homestyle Buttermilk Biscuits for this monkey bread recipe. Avoid the "flaky layers" option as the dough balls won't stay intact while the bread bakes.
Can I make easy monkey bread with homemade biscuits?
I don't recommend it. Canned biscuits make this recipe a lot easier, and homemade ones will likely be too flaky to hold together.
Can I make monkey bread ahead of time?
Yes! Prep the recipe through step 5, then wrap tightly with plastic wrap and store in the refrigerator overnight. In the morning, pop them into the oven and add an additional 5-10 minutes to compensate for the cold pan.
How do I know when monkey bread is cooked through?
Monkey bread is cooked through when the top is golden brown and the biscuits are no longer doughy. The internal temperature of fully-cooked monkey bread is 190°F.
Why is my monkey bread falling apart?
If your monkey bread is sticking to the Bundt pan and breaking apart, you likely did not grease the pan enough. Be sure to thoroughly grease the Bundt pan to prevent sticking, and don't wait more than 10 minutes to remove the monkey bread from the pan once baked.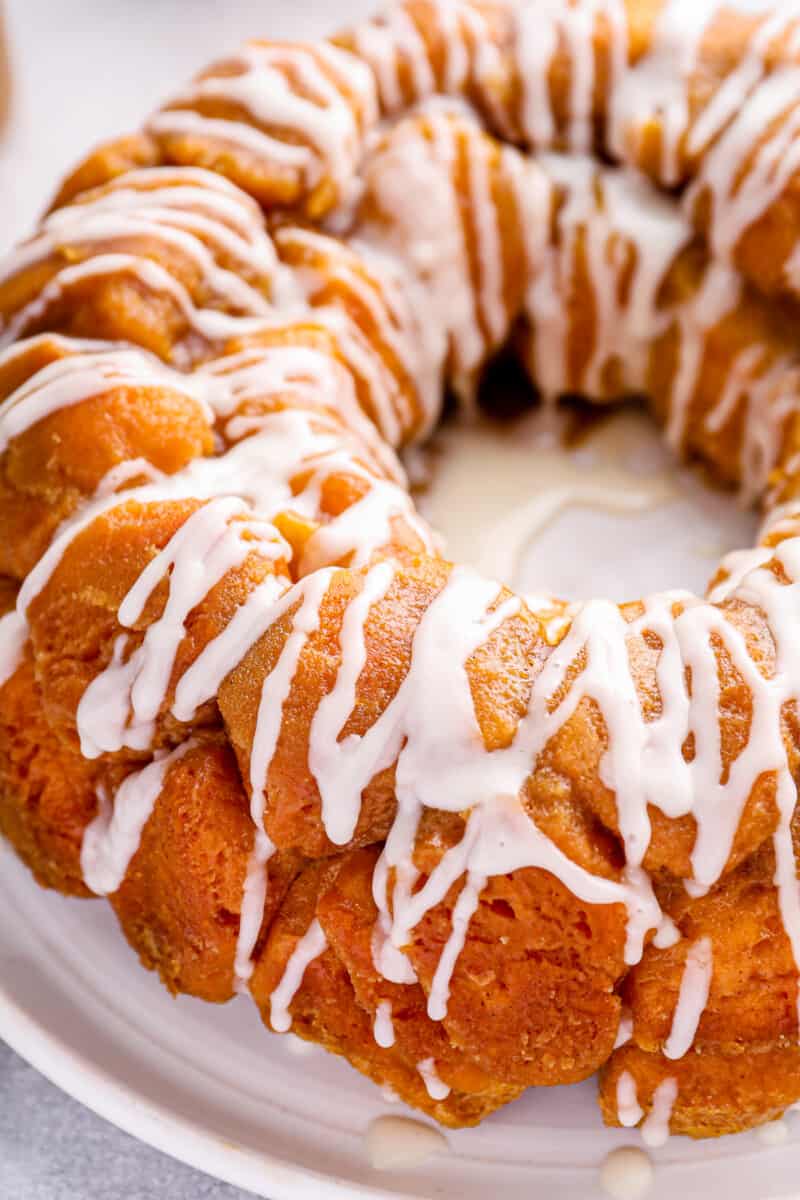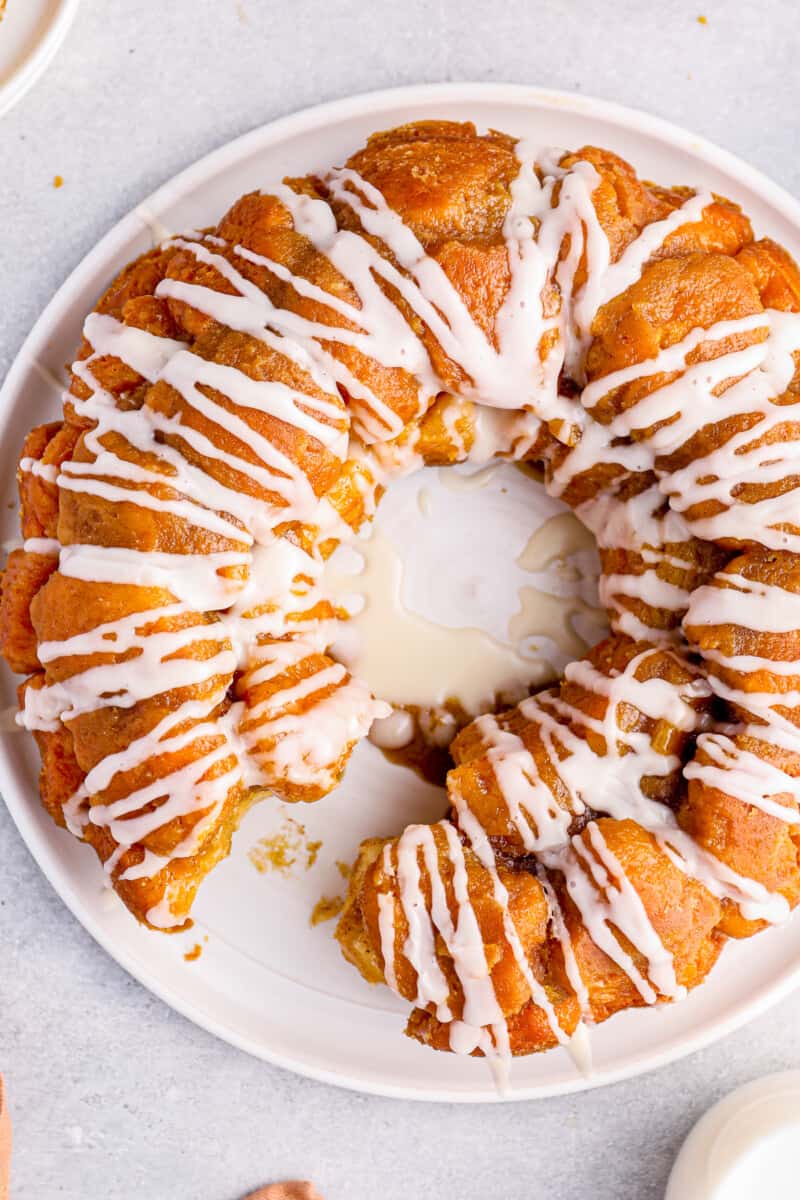 Storage Instructions
Monkey bread is best enjoyed the day it's made. Store leftover monkey bread in an airtight container at room temperature for up to 1 day. I do not recommend freezing monkey bread.
Half Batch
For a half batch of monkey bread, simply divide all of the ingredients in half. Follow the recipe as written and bake in a 9×5-inch greased loaf pan. Bake for 25-25 minutes at 350°F. Keep an eye on the monkey bread as it bakes. It's done when the top is golden brown and the biscuits are no longer doughy.
#1 Tip for Monkey Bread
Do not let the monkey bread cool for more than 10 minutes in the pan! As it cools, the caramel sauce becomes hard, making it very difficult to remove from the pan.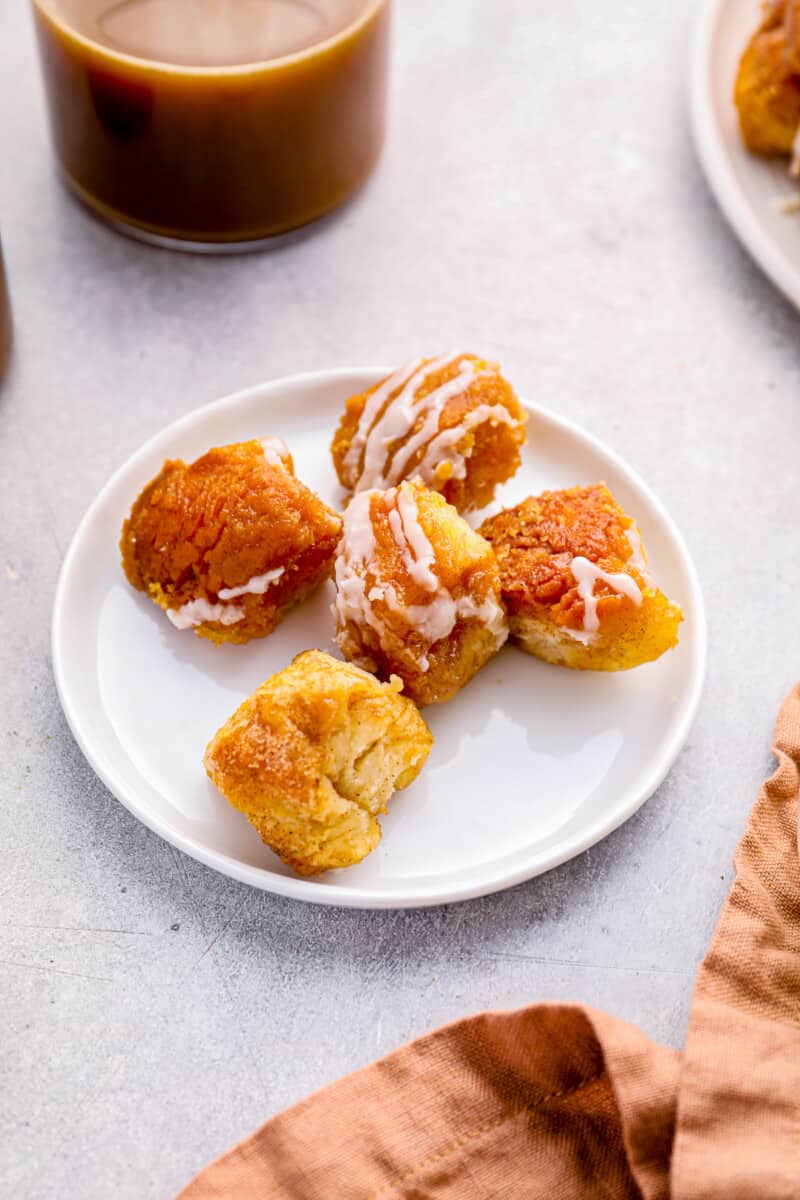 Whether it's for breakfast, dessert, a special occasion or an impromptu gathering – this easy monkey bread is perfect! So simple to make with canned biscuit dough and kitchen staples. Kids and adult will love to tear into this ooey, gooey sweet treat!
If you make this recipe be sure to upload a photo in the comment section below or leave a rating. Enjoy! You can also jump to recipe.