Who says you need to take a trip to your local donut shop to enjoy the taste of fresh, warm donuts with the perfect sweet touch? If you're looking for a way to save time and money while preparing something delicious for your loved ones to enjoy, be sure to follow this recipe for Air Fryer Donuts.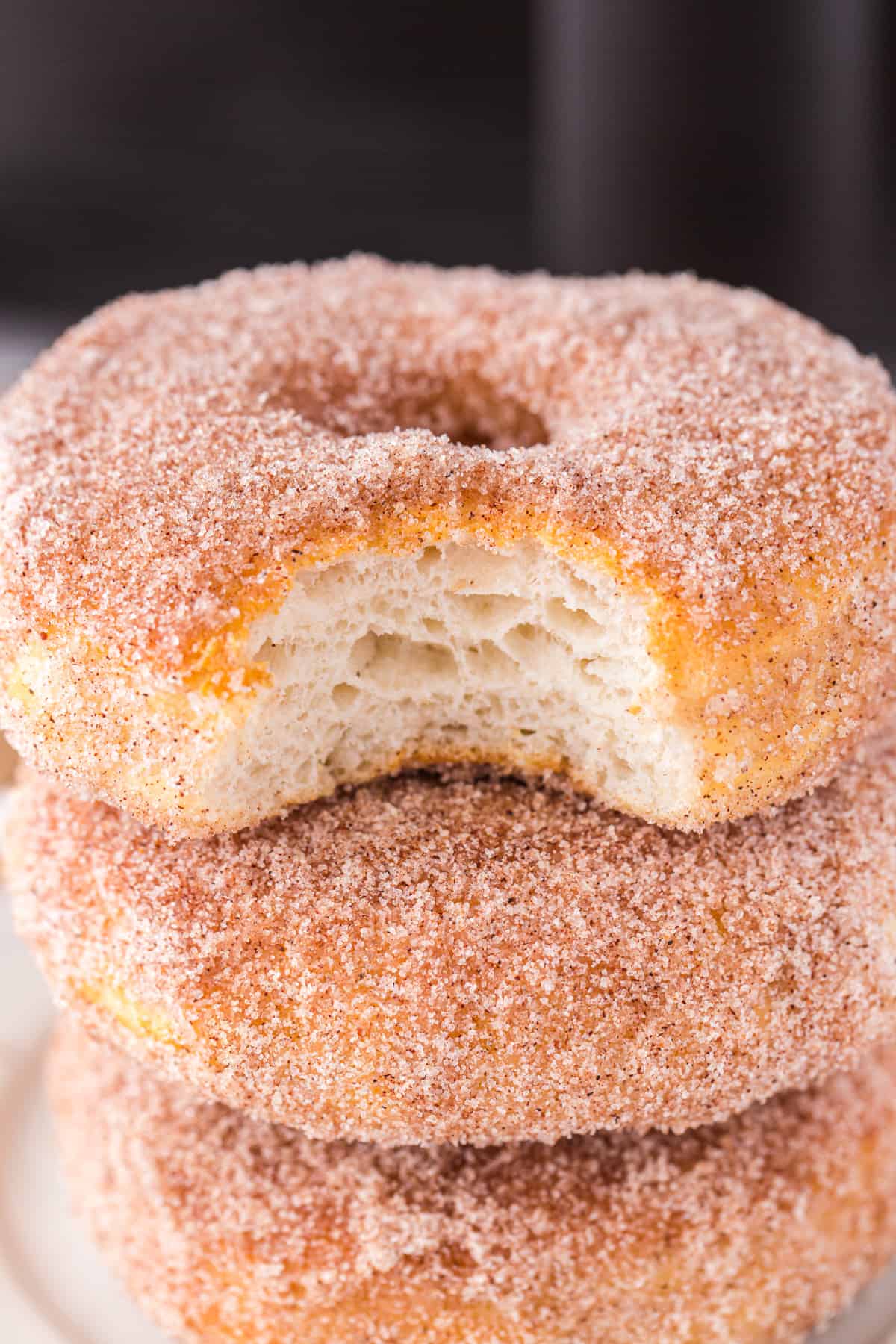 Easy Biscuit Donuts
Did you know it's possible to make donuts from biscuits? If not, this simple Air Fryer donuts recipe will blow you away, leaving you with soft, tasty donuts to enjoy as a snack or breakfast treat whenever you're in the mood for them.
Why You'll Love this Air Fryer Donut Recipe:
EASY: These donuts are so easy to make that you'll likely wonder why you haven't made them before!
DELICIOUS: When you'd like to make a simple and delicious treat, these donuts are such a great choice. They're full of flavor.
CUSTOMIZABLE: You can customize the donuts to your liking by adding different ingredients to them, including a homemade glaze or syrup if you want!
Enjoy these warm and delicious donuts that you can make using biscuit dough. The recipe is stress-free and easy enough for anyone to follow.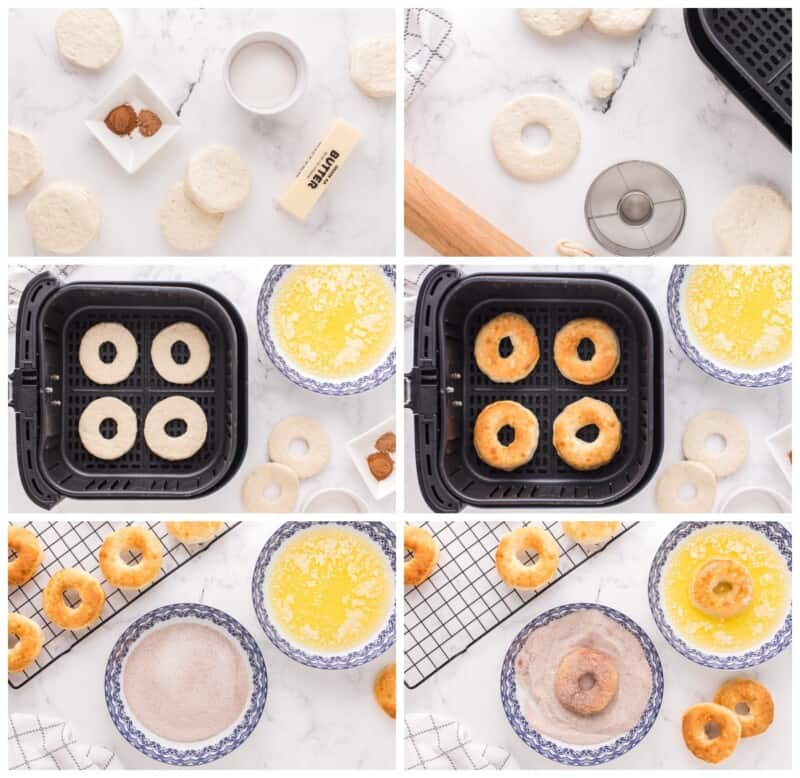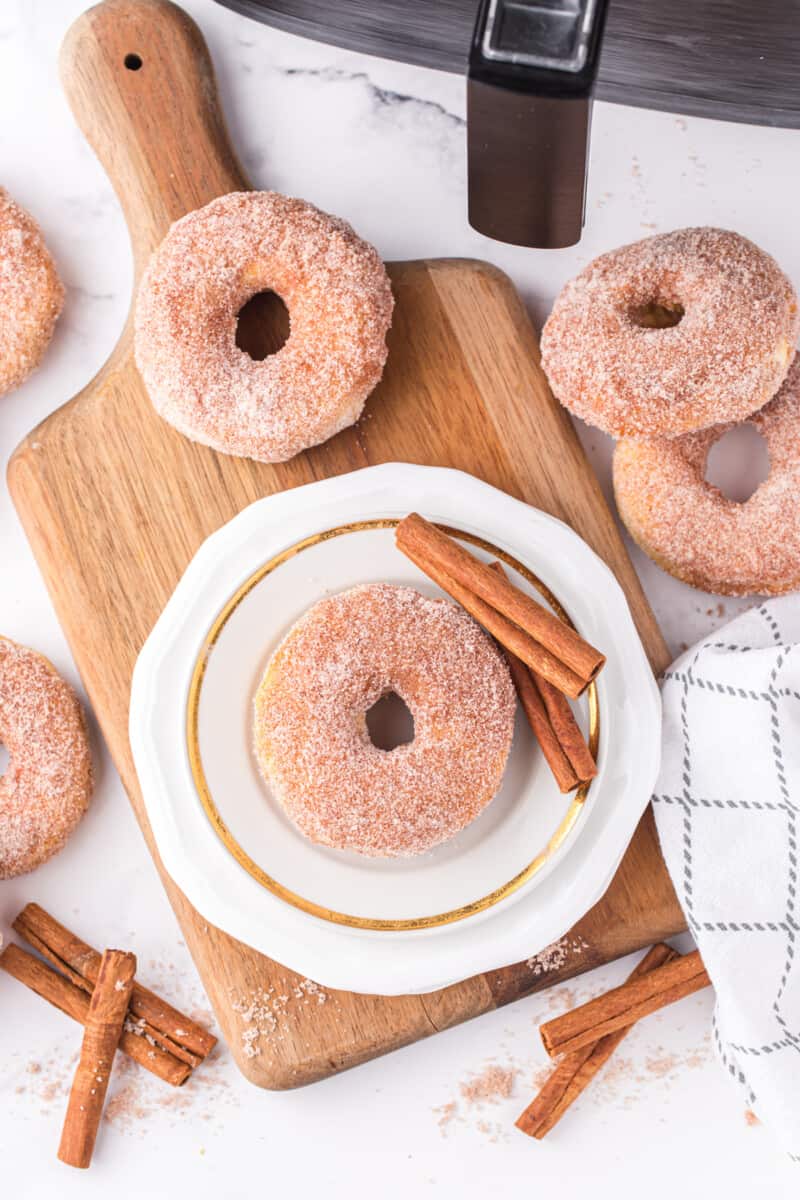 How to Make Air Fryer Donuts
You can jump to the recipe card for full ingredients & instructions!
Grab a shallow bowl and whisk your cinnamon with sugar and nutmeg.
Preheat your air fryer to 350°F and then separate your biscuit dough into individual biscuits, placing them on a clean spot.
Roll your biscuit dough out and then use a donut cutter for the dough.
Use the non-stick spray in your air fryer and then place your dough down in a single layer before cooking for up to five minutes.
While they're heating, grab a bowl and microwave your butter.
Remove your donuts from the air fryer, dip into the butter, and then coat in the sugar mixture.
Recipe Notes
If you don't like cinnamon sugar, you can dip these donuts in granulated or powdered sugar.
Feel free to prepare a glaze for this recipe using heavy cream with vanilla extract and a bit of water.
You can use any brand of biscuits that you prefer. However, be sure to get the jumbo ones!
These donuts taste great when served with a side of fresh fruit, such as sliced strawberries and fresh blueberries.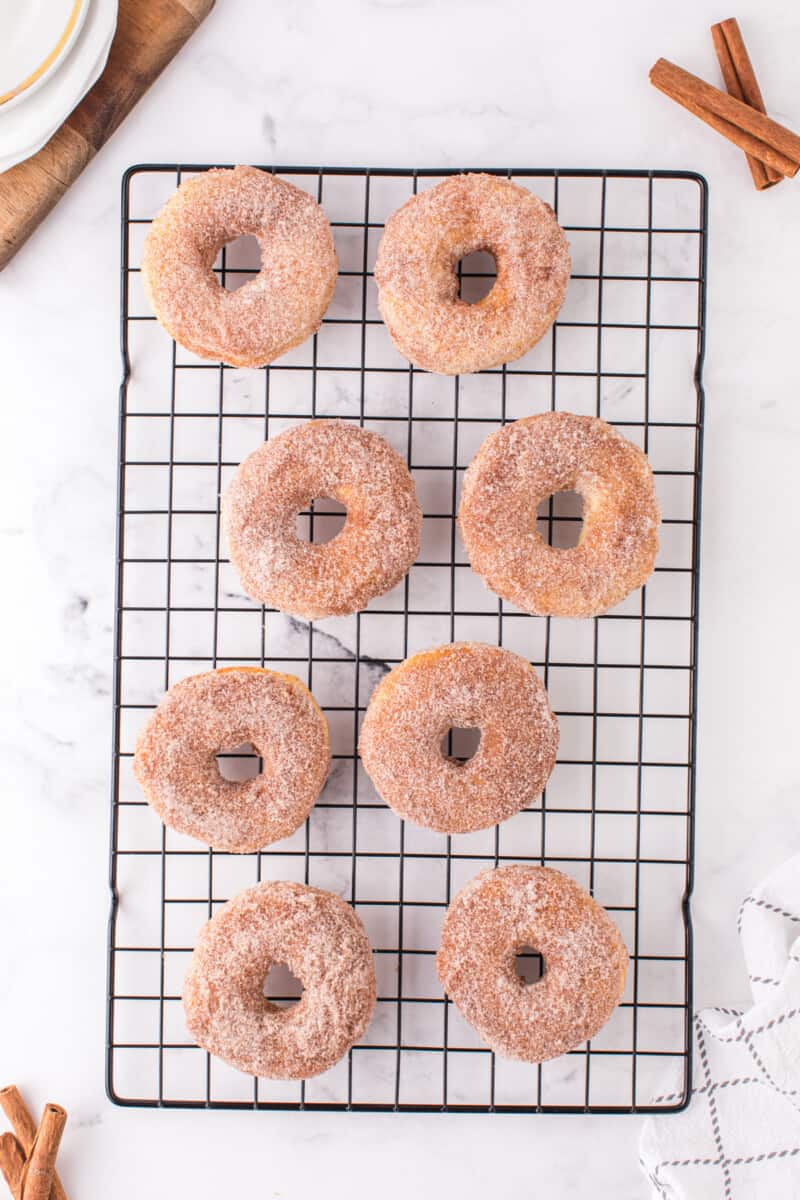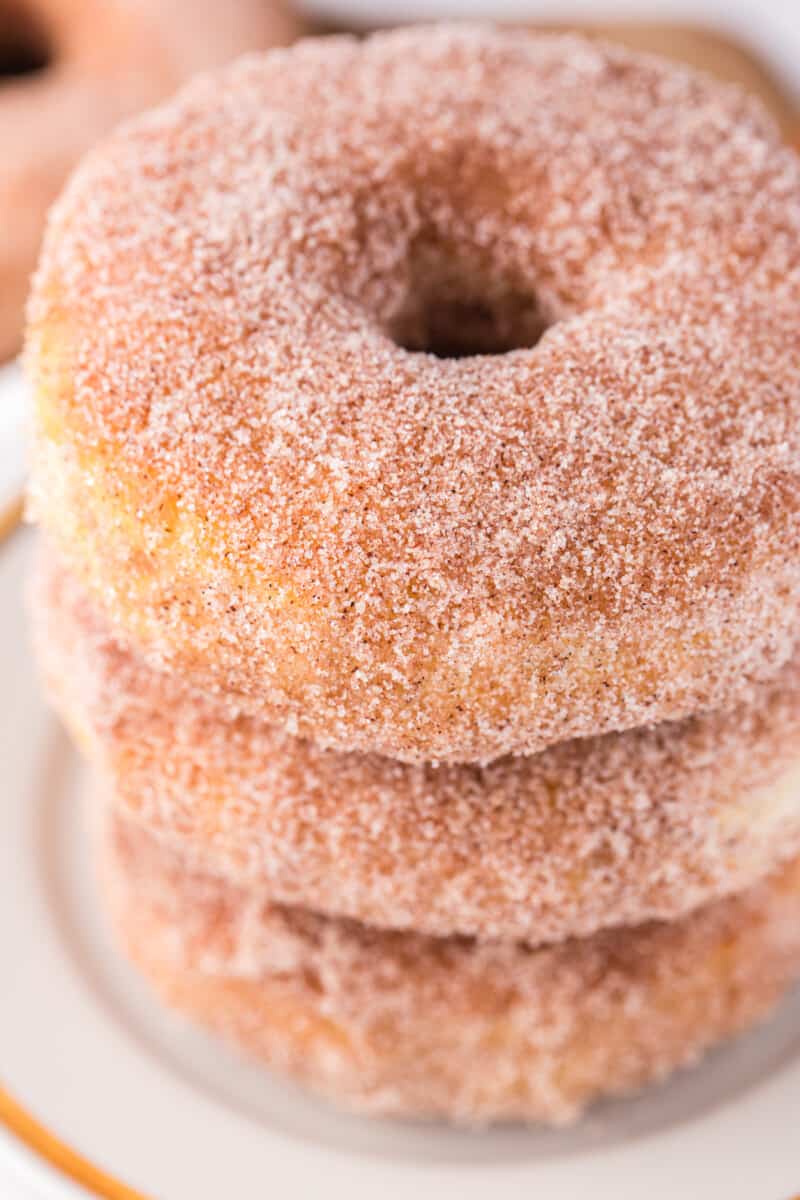 What kind of biscuit dough should I use?
Use your favorite kind of refrigerated dough for 8 jumbo biscuits. I like to use any variety of Pillsbury Grands or Annie's brands, just make sure it's a 12-ounce can of dough for 8 biscuits!
Can I use melted coconut oil instead?
Yes! Simply replace the melted butter with the same amount of melted coconut oil for the donut coating.
What can I do with the extra biscuit dough?
Make donut holes! Cook any extra biscuit dough in the air fryer for 2-3 minutes, dip into the melted butter, and coat in the cinnamon-sugar mixture.
How long do these donuts last?
Store donuts in an airtight container at room temperature for up to 2 days, in the refrigerator for up to 1 week, or in the freezer for up to 3 months. If freezing, let the donuts thaw to room temperature and reheat in the air fryer for a couple of minutes until warmed through.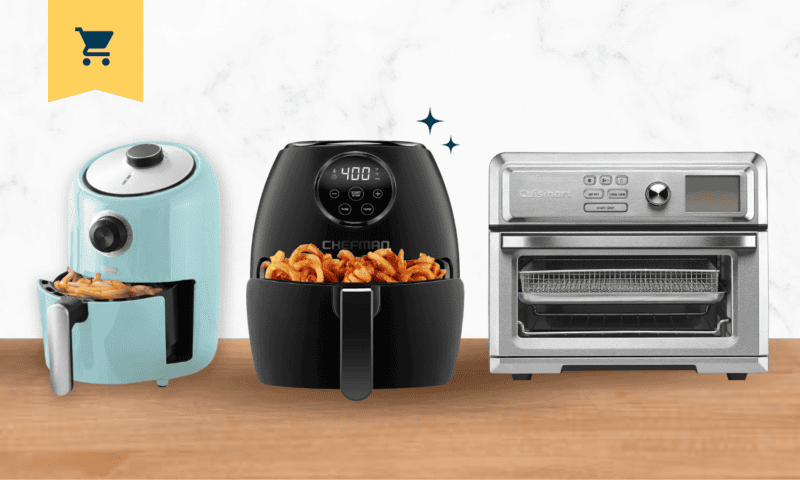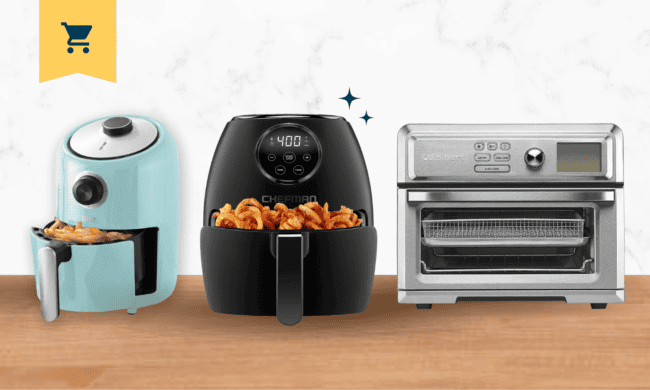 Best Small Air Fryers
We have reviewed our top 6 Small Air Fryers! Get reviews, pros, cons, and prices!
Top Small Air Fryers
These Air Fryer Donuts are the perfect after-school snack. They're also great for a quick and easy breakfast.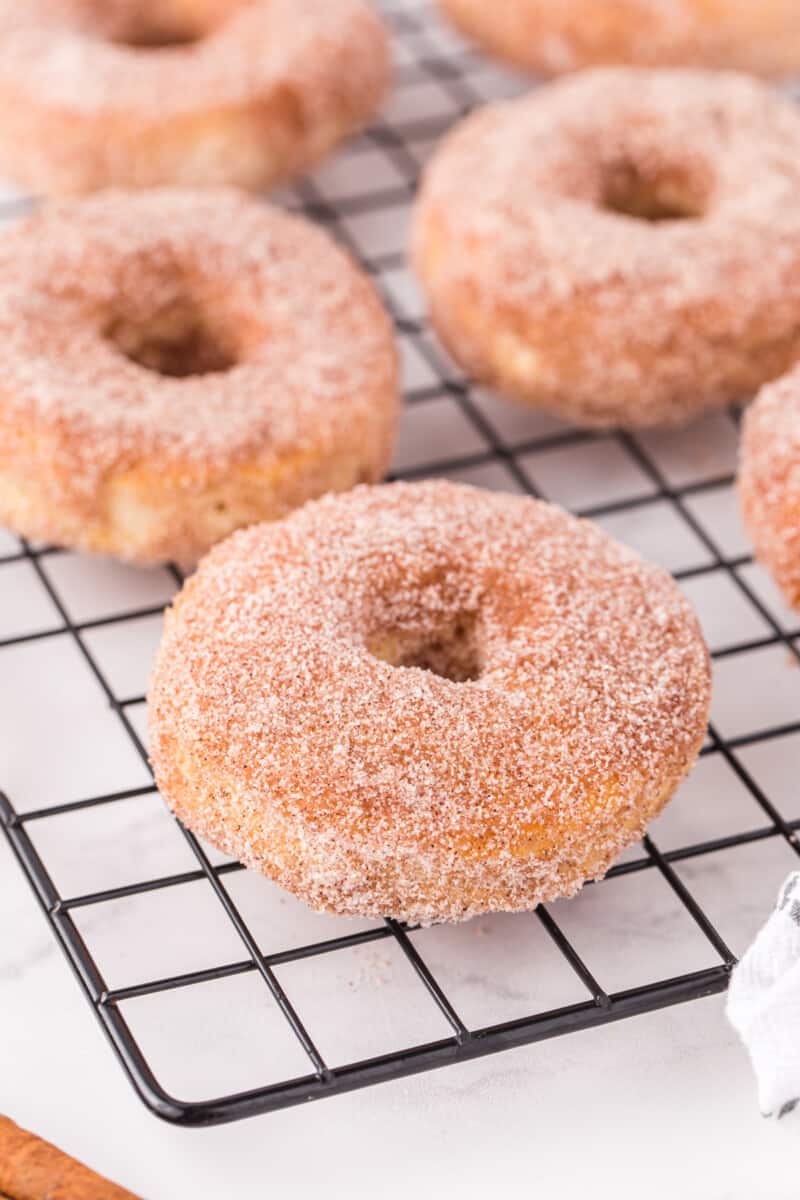 Tips!
Don't overcook your donuts. Be sure to check them at four minutes to make sure they're golden brown.
If you don't have butter, you can use melted margarine for this recipe.
Feel free to use different types of spices for different flavors, such as pumpkin pie spice and cocoa powder.
This recipe is as easy as it gets. Enjoy making something simple and tasty for the family!
Can I add other spices to the coating?
Definitely. Use any combination of your favorite baking spices like cinnamon, nutmeg, and allspice. Feel free to add ¼ teaspoon ground allspice to the cinnamon sugar mixture.
How long do Air Fryer donuts take to cook?
Because these donuts are made in the air fryer, they cook in just 4-5 minutes. Quick and easy!
Why did my donuts close up in the middle?
If your donuts end up with a closed-in donut hole, the hole in the middle isn't big enough. Next time, try cutting a 1½-inch hole in the center of each biscuit.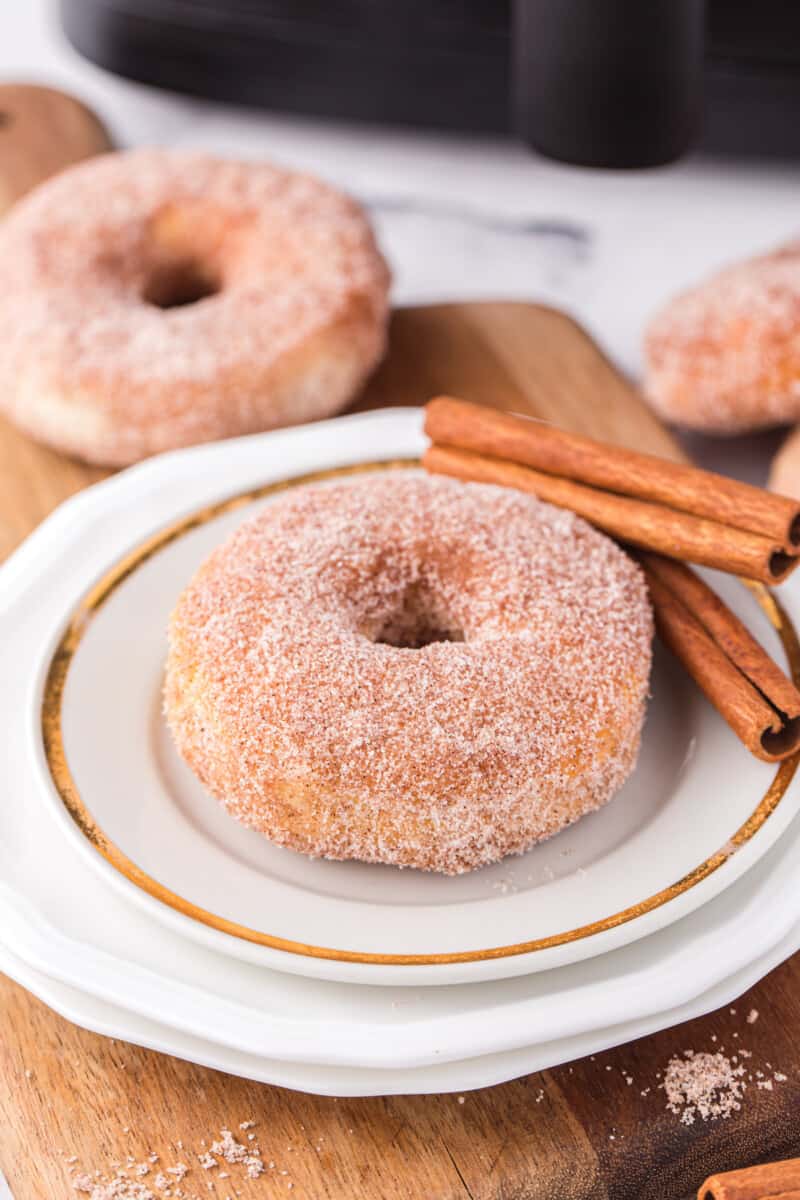 These Air Fryer Donuts are so quick and easy to make, and they come out perfectly delicious. These biscuit donuts will be your new go-to for a sweet breakfast or a warm dessert.
If you make this recipe be sure to upload a photo in the comment section below or leave a rating. Enjoy! You can also jump to recipe.