A healthy Crock-Pot Sweet and Sour chicken recipe that you can throw into your slow cooker, not worry about for a few hours, then come back to a delicious meal of succulent, sticky glazed chicken. Plus you only need 4 ingredients!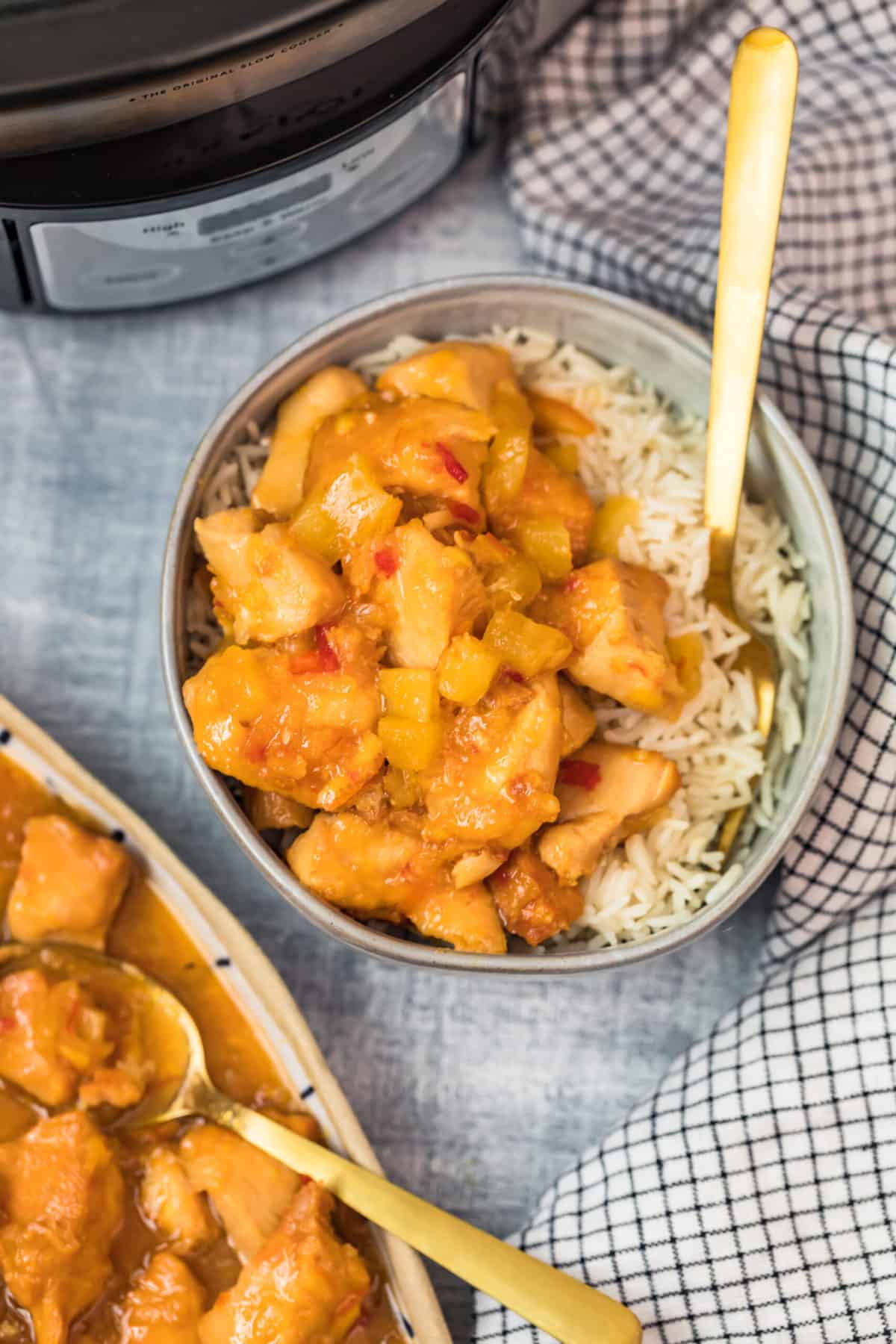 Slow Cooker Sweet and Sour Chicken
This Crock-Pot Sweet and Sour Chicken is so easy and BIG on flavor! The Crock-Pot makes it juicy and moist, serve over fluffy white rice for a dinner recipe that'll rival your favorite take away.
Why this is so good
Only 4 key ingredients!
Perfectly succulent chicken every time.
An addictive sweet and sour sauce.
A healthier version of the classic take out, and just as delicious.
Using a Crock-Pot means you can set it and forget it! More time with family.
Ingredients
Chicken – go for organic/free range. Skinless and boneless.
Jarred Sauces – orange marmalade and sweet chili sauce.
Pineapple – canned and crushed.
How to make this Crock-Pot Sweet and Sour Chicken
You can jump to the recipe card for full ingredients & instructions!
Place seasoned, cubed chicken in the Crock-Pot, then cover with the sauces. Toss and cook for 4 hours on high or 6 hours on high. Stir occasionally.
Serve over white rice.
Enjoy!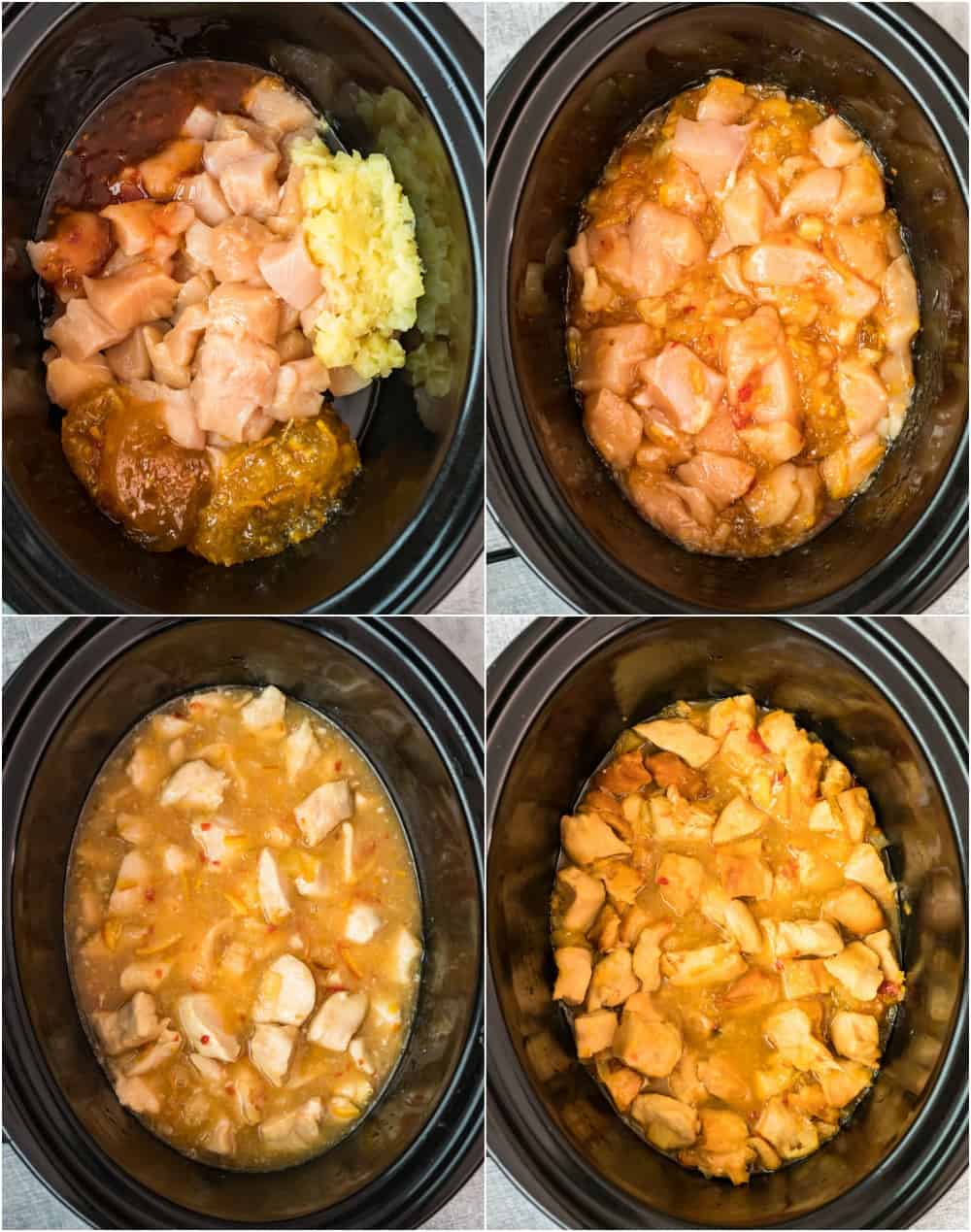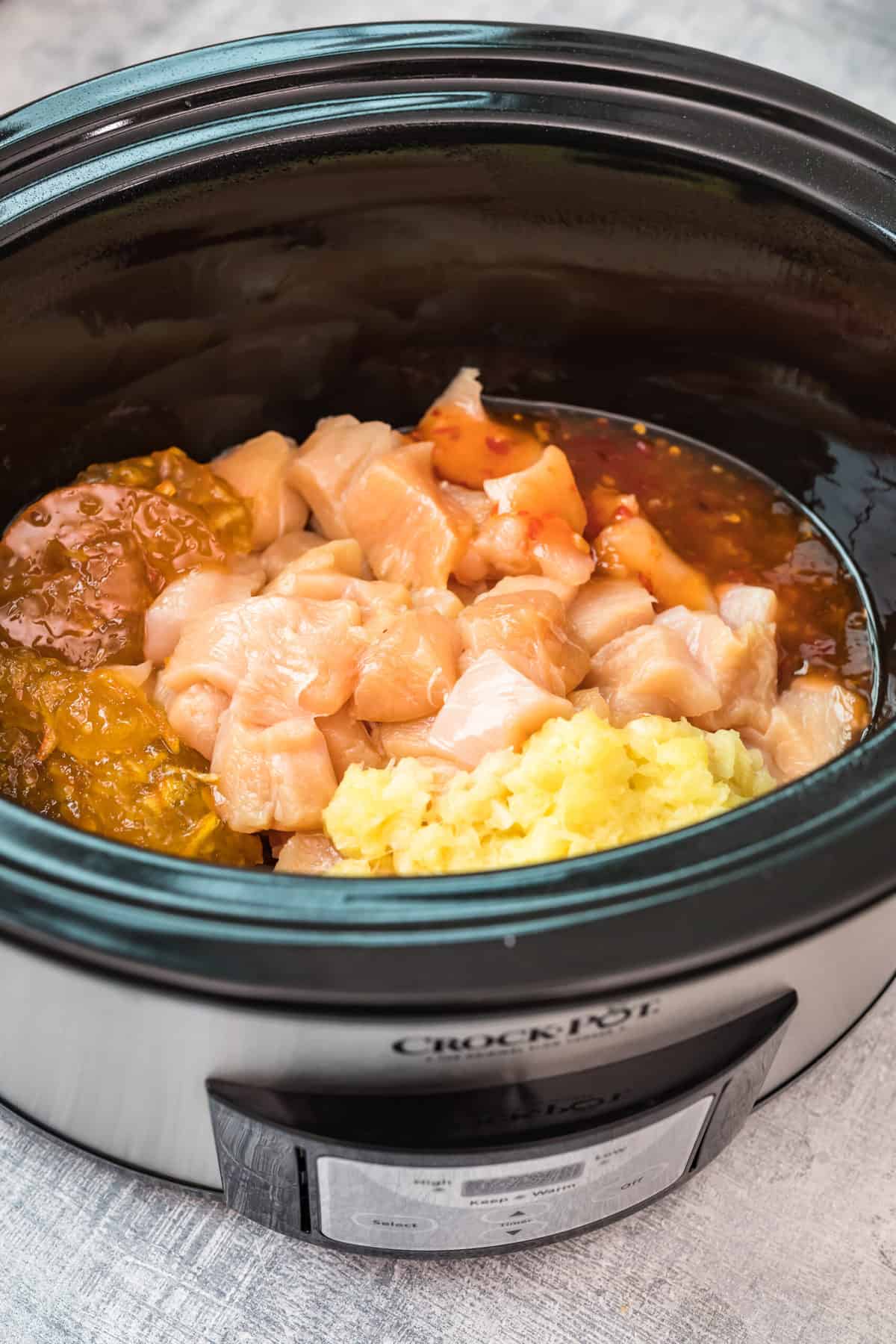 Favorite Crock-Pot for Cooking
I am literally in LOVE with my new Crock-Pot. I recently got the Crock-Pot 6 Qt. Programmable Cook & Carry Slow Cooker and it's simply perfect for family cooking.
Crock-Pot makes cooking while home or on the go SO easy. Set it and forget it. Spend more time with family. I've loved slow cookers for years and this is my favorite kind.
The Cook & Carry has a locking lid that makes sure your meal won't spill if you're on the go. It's vented to be sure everything still cooks in the same delicious way you've come to know and love from Crock-Pot. Click HERE to find the Crock-Pot Cook & Carry at Target!
4 Ingredient Crock-Pot Recipe
This simple Sweet & Sour Chicken only has 4 Ingredients. You heard that right!! It's so simple but still bursting with flavor.
I'd like to challenge you to make your own 4 Ingredient Crock-Pot recipes!! At a time when so many are at home, it's fun to experiment with cooking. I'm trying to come up with easy, pantry staple recipes to make the entire family smile. Join me!
Comment below with your 4 Ingredient Crock-Pot recipes! I can't wait to see!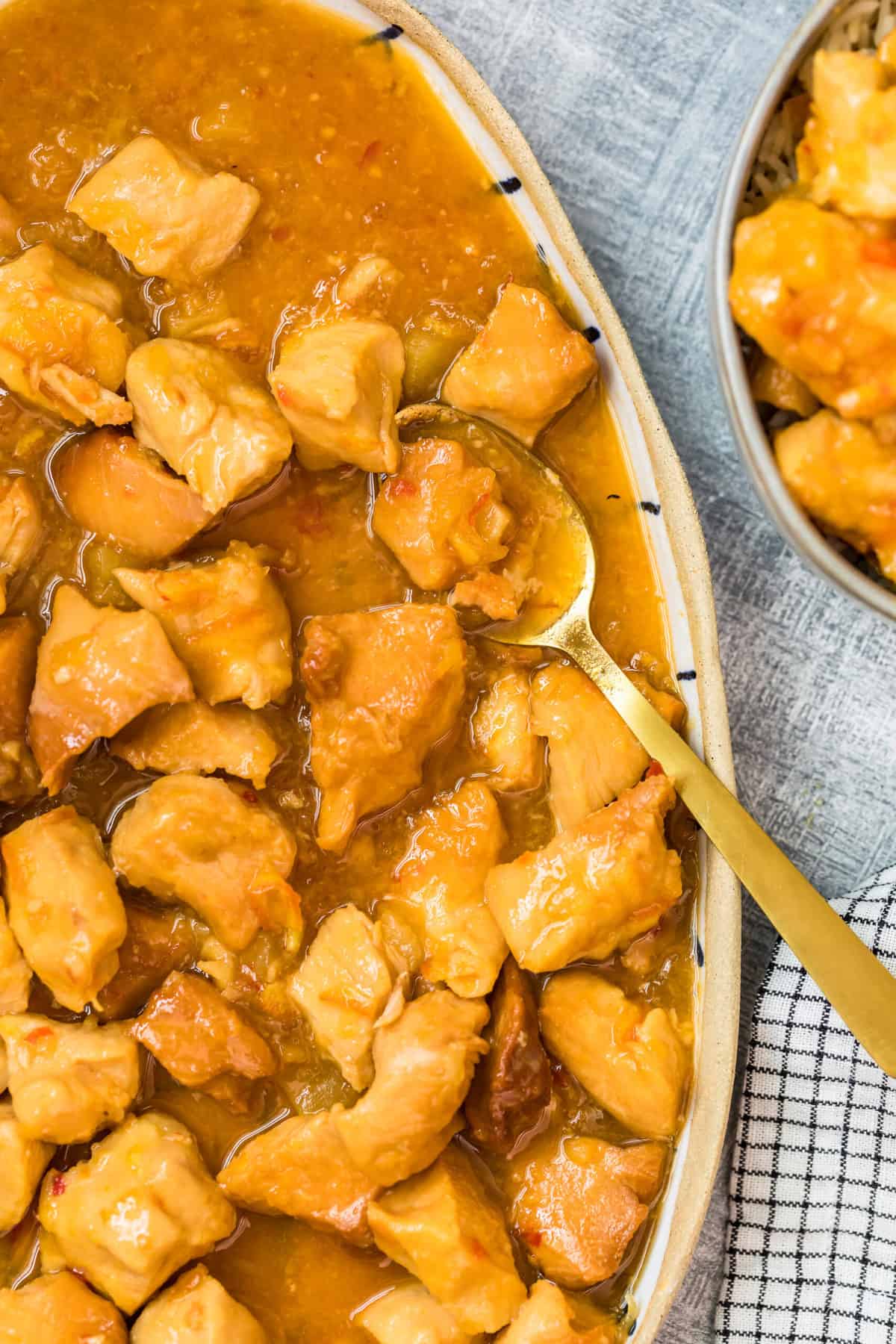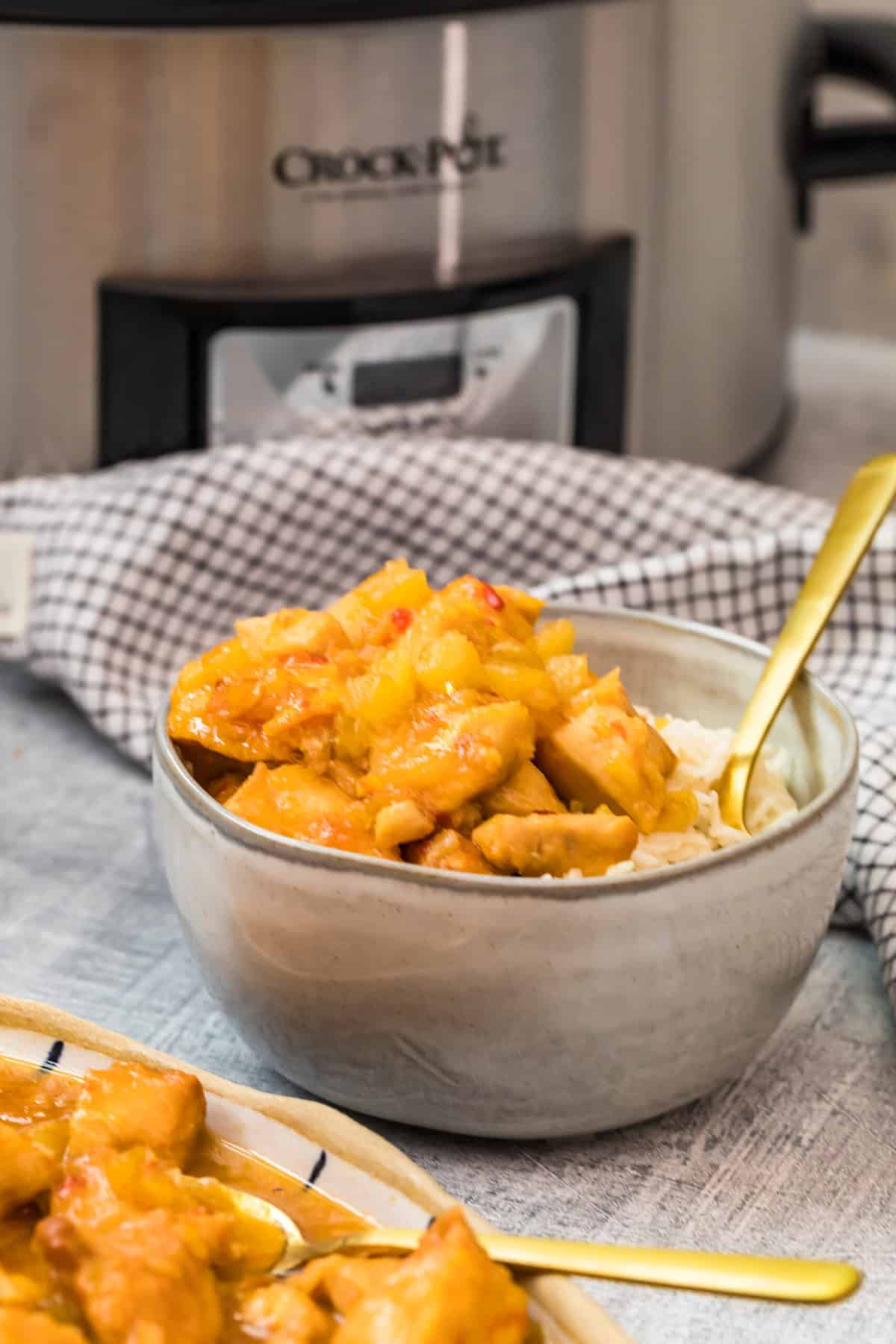 What to serve with Sweet and Sour Chicken
Fluffy white rice is the go to for this dish, but you can obviously opt for brown rice, the sauce works great on either. And of course there are noodles, simple and filling.
If rice or noodles are not your thing, you can go with some stir fried veggies or quickly steamed vegetables. Honestly, the sauce will work wonders with any side!
Better than take out
Slow cooking the chicken allows it to absorb the full flavors of the sauce. It also takes away any guesswork as to whether the chicken is fully cooked.
This Crock-Pot Sweet and Sour Chicken recipe is far superior to just ordering take out. In addition, it's less expensive, healthier, super simple to make (just cook and cover!), it really tastes better than anything you could order on any apps!
Storing Leftovers
To Store, place cooked and cooled leftovers in an airtight storage container in the refrigerator for up to 4 days.
If you want to make ahead and freeze, this a great recipe, or if you have any leftovers, store in an airtight freezer-safe storage container in the freezer for up to 3 months.
Let thaw overnight in the refrigerator before reheating.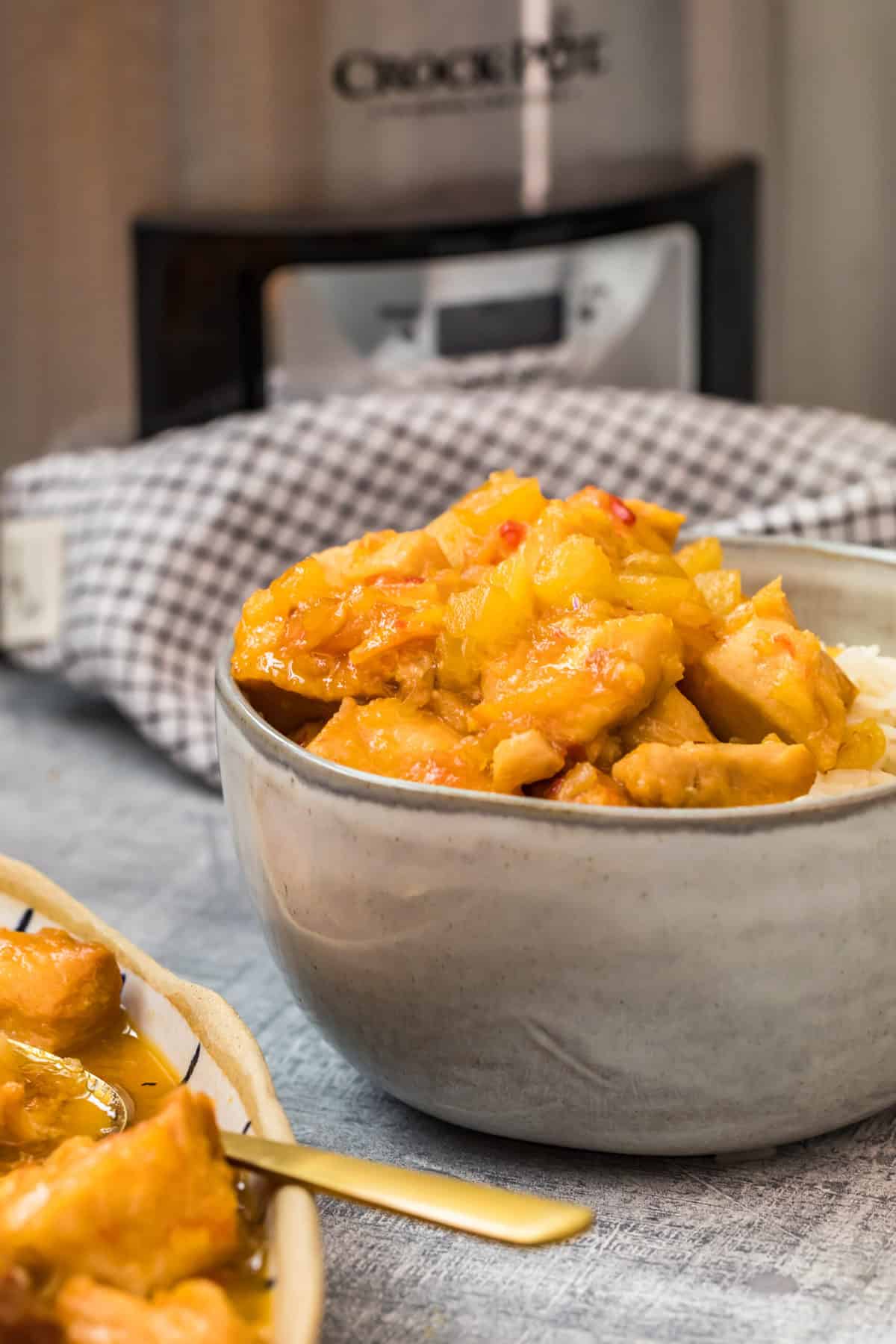 Tips!
For a faster cook, cut the chicken into bite sized pieces, if you want a longer cook, leave the chicken breasts whole.
Season the chicken to taste.
Serve with white rice, noodles or veggies.
Make sure to stir occasionally.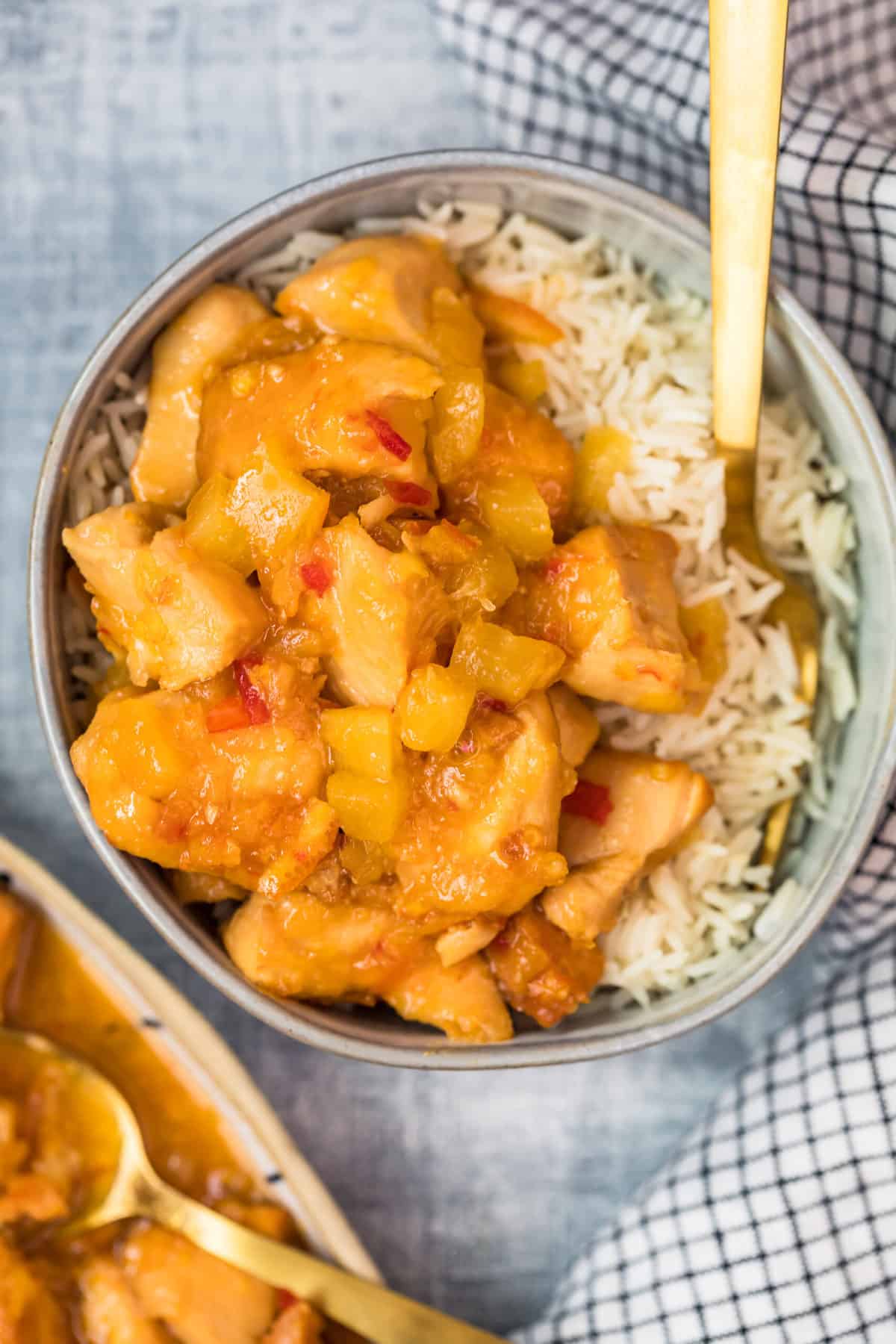 Check out these other delicious Crock-Pot recipes
And if you prefer pork, try our easy Sweet and Sour Pork recipe!
Have you tried this Crock-Pot Sweet and Sour Chicken recipe? Feel free to leave a star rating and I'd love to hear from you in the comments below! Be sure to tell me what 4 Ingredient Recipes you love to make in your Crock-Pot!