These Crock Pot Smothered Pork Chops are juicy and delicious pan-seared pork chops cooked in a rich onion gravy. A super easy dinner recipe, perfect for any night of the week!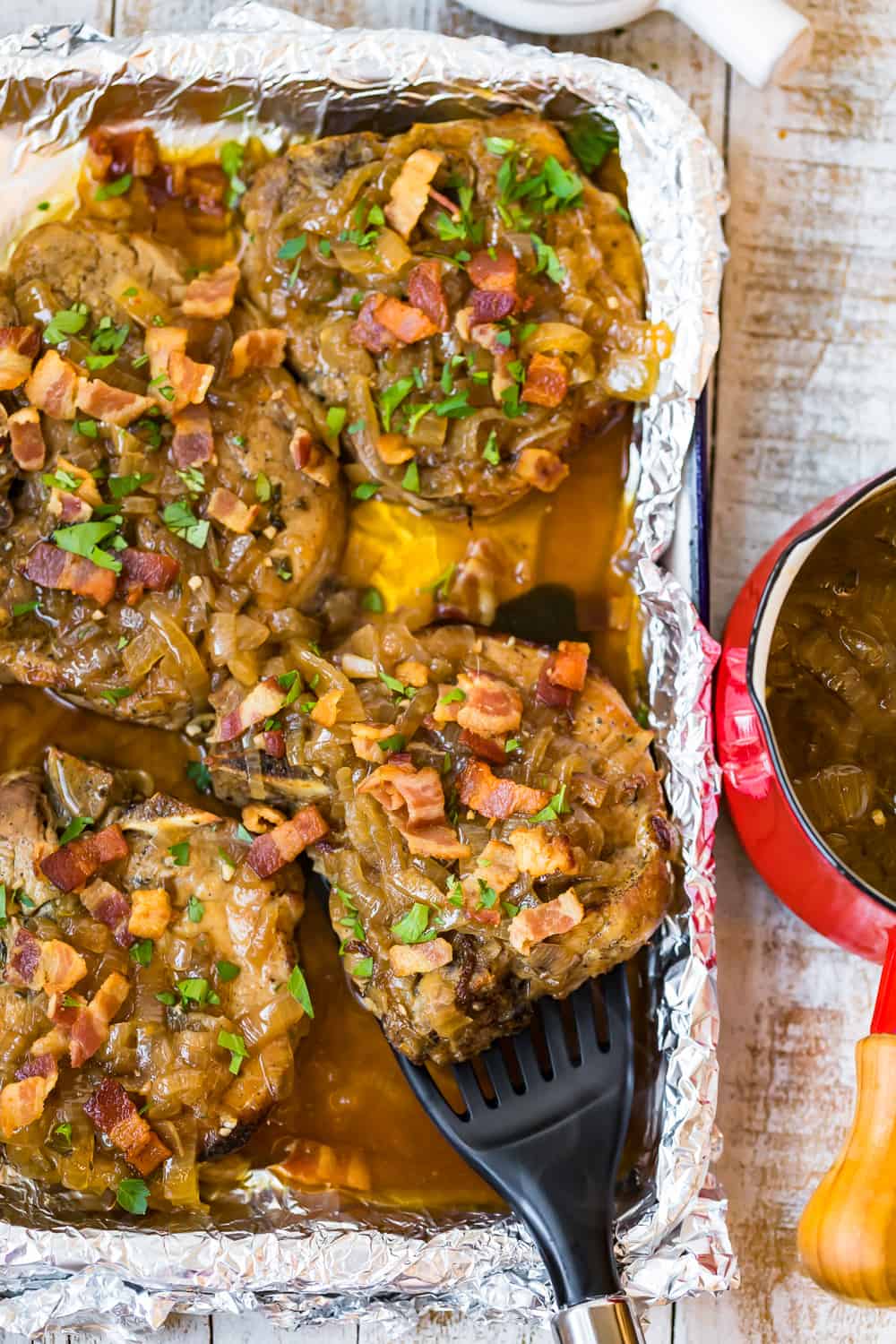 If you are a pork fan, you are going to LOVE this saucy pork chops recipe. Even if you're not a pork fan, this may change your mind! The juicy pork is smothered in a flavorful sauce, crispy bacon bits and melts in the mouth. The slow cooker makes this whole recipe so easy to pull together!
How To Make This Crock Pot Smothered Pork Chop Recipe
Place bacon in a skillet until it starts to crisp. Once crisp, transfer bacon, leaving fat in the pan, to a paper towel-lined plate and set aside.
In the slow cooker, add chicken broth, soy sauce, Worcestershire Sauce, bay leaves and brown sugar to the slow-cooker insert and cover with the lid.
Season pork chops with salt & pepper. Cook the chops until golden brown on both sides and transfer the chops to the slow-cooker.
Add onions, brown sugar, water, salt and black pepper to the skillet. Scrape any browned bits off the bottom of the pan and cook (stirring often), over medium heat, until onions soften. Then add the garlic and thyme.
Pour the onion mixture over the pork-chops in the slow-cooker. Cook until chops are tender (6-8 hours on LOW or 3-4 on HIGH).
Just before serving add the vinegar and parsley, season with salt and pepper and stir well.Spoon 1 cup of sauce over the chops and sprinkle with the bacon. Ladle the remaining sauce into a serving bowl and serve with the chops.
Enjoy!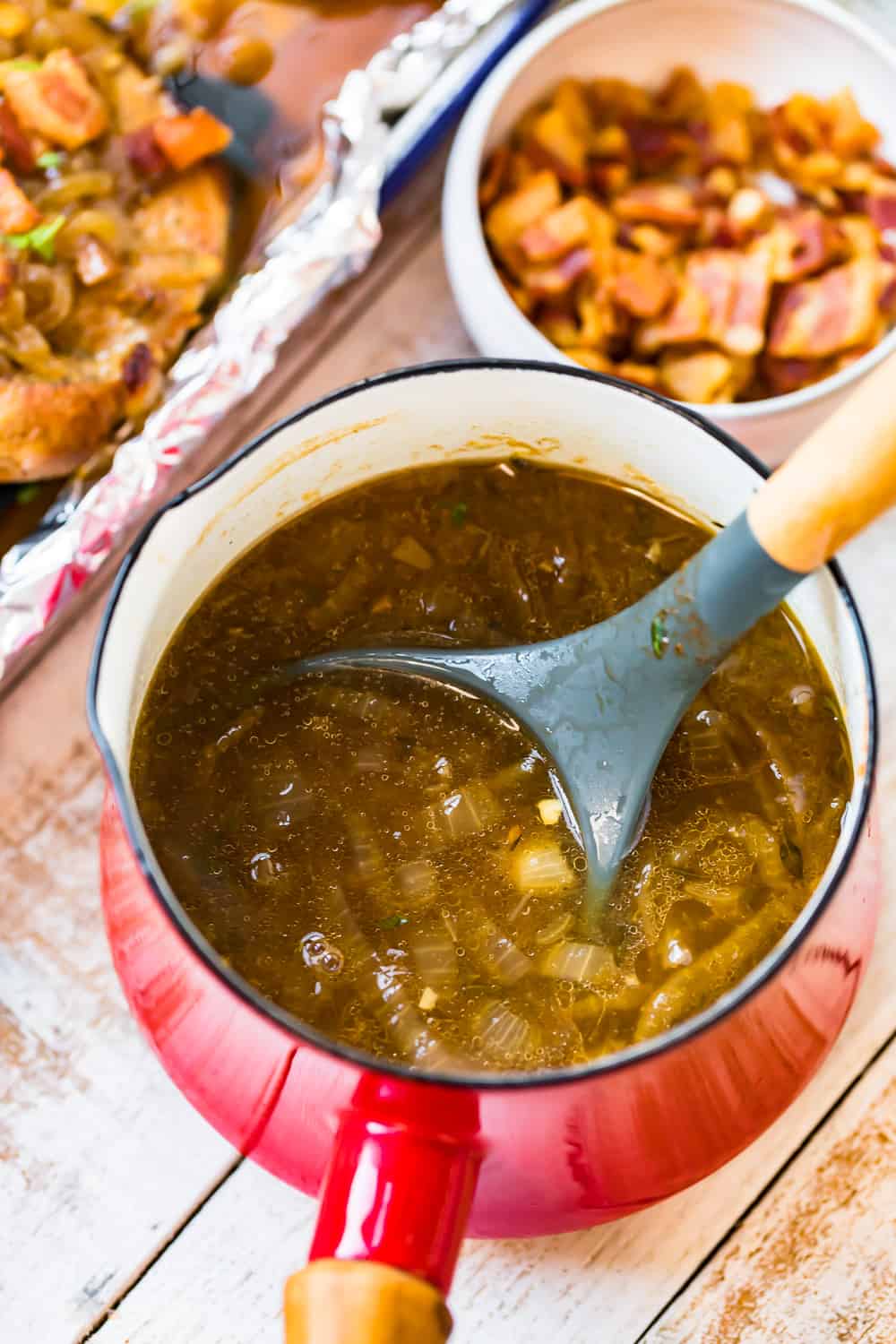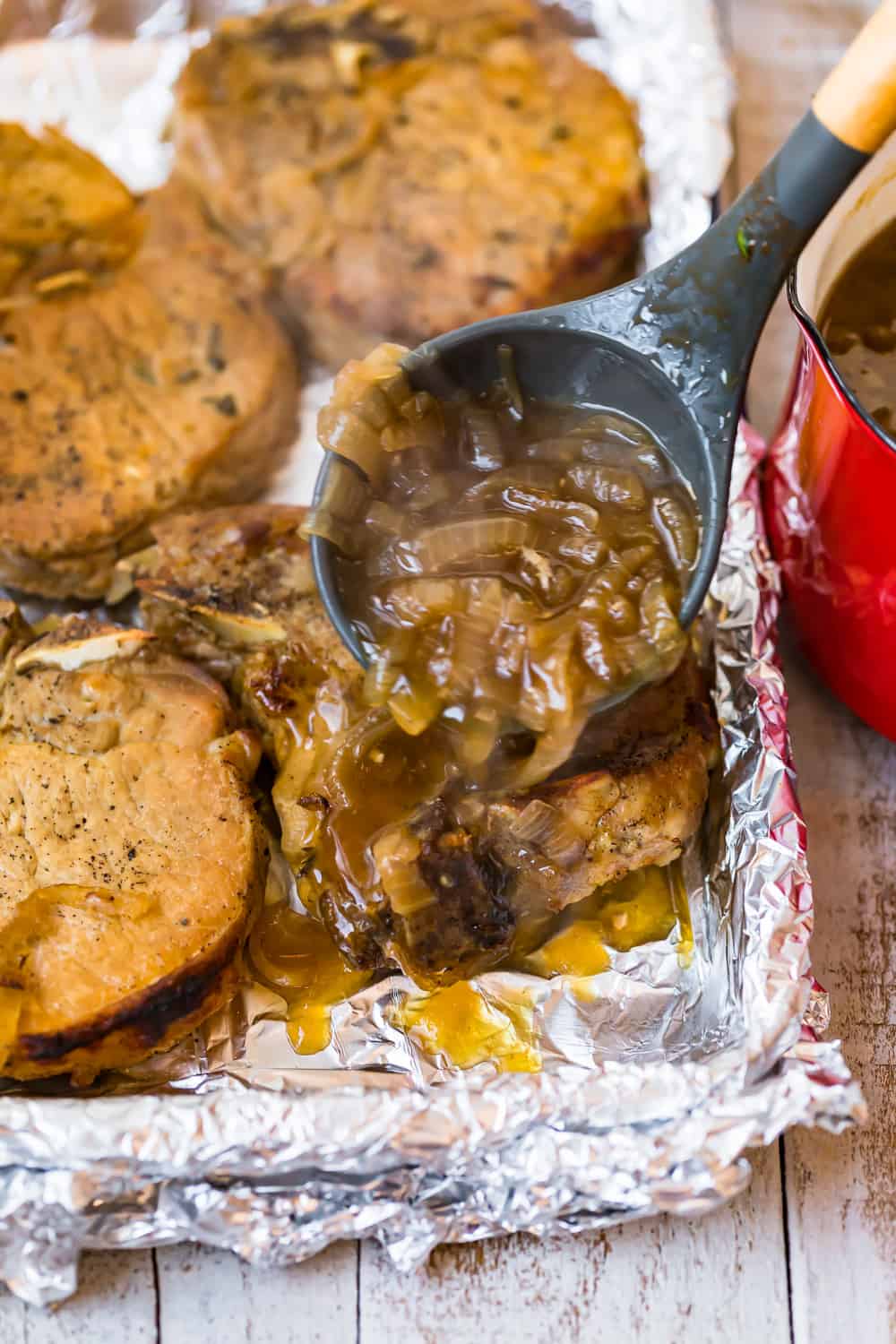 What Goes With Crock Pot Smothered Pork Chops
These Crock Pot Smothered Pork Chops are delicious served with: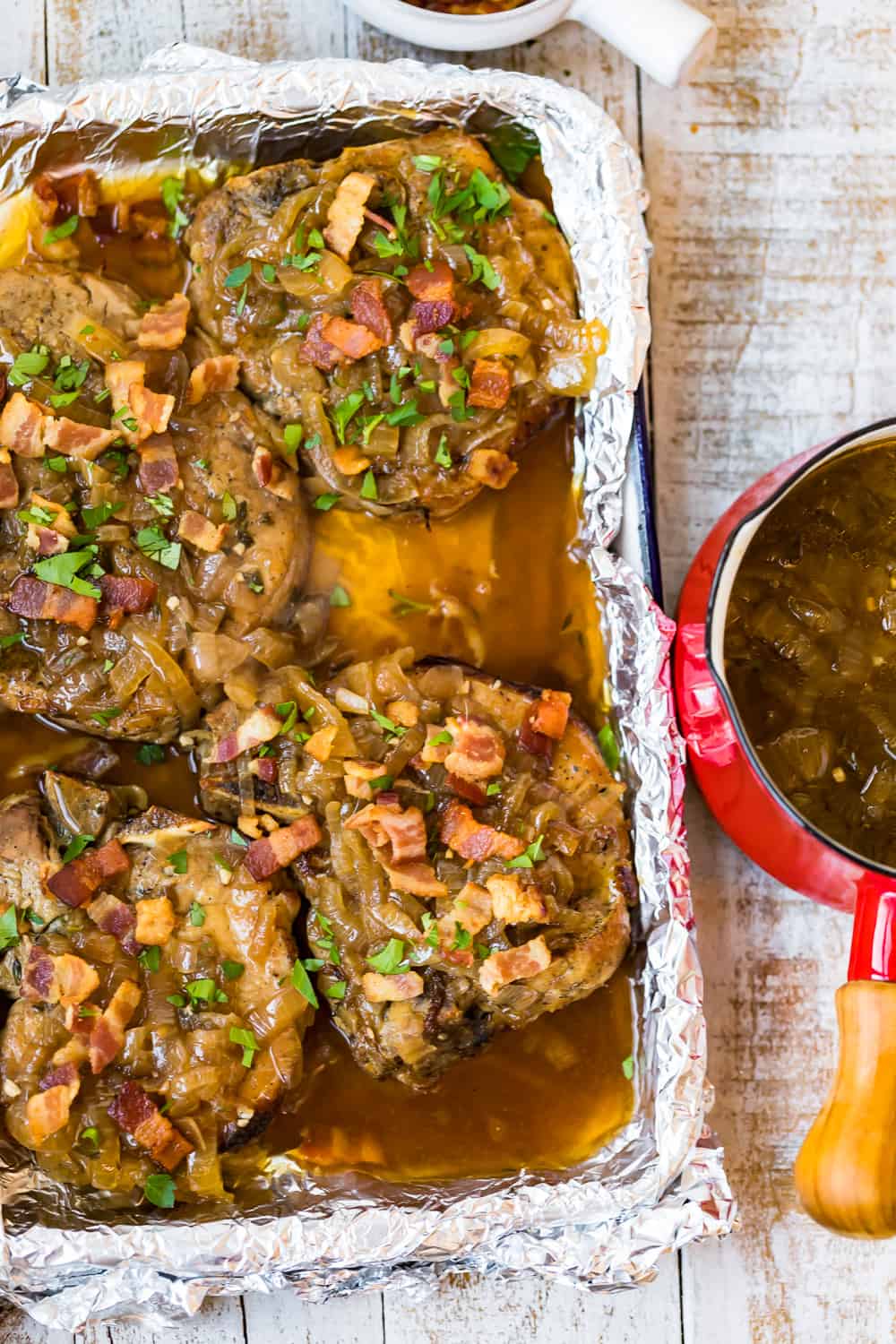 Best Cut Of Meat For Crock Pot Smothered Pork Chops
I use bone-in pork chops for this recipe. It really gives this dish a lot of flavor, but if you prefer boneless you can certainly do that. But do not use a thin cut pork chop. And be careful when taking them out when they are finished cooking. The meat will be very tender, a good way to take them out, is scoop them with a spatula.
Can You Cook Frozen Pork In The Slow Cooker?
It's not recommended to cook frozen meat in a slow cooker, as there's the risk of harmful bacteria contaminating the meat before it reaches a safe temperature. The best place to thaw your meat is in the refrigerator before cooking it in a slow cooker.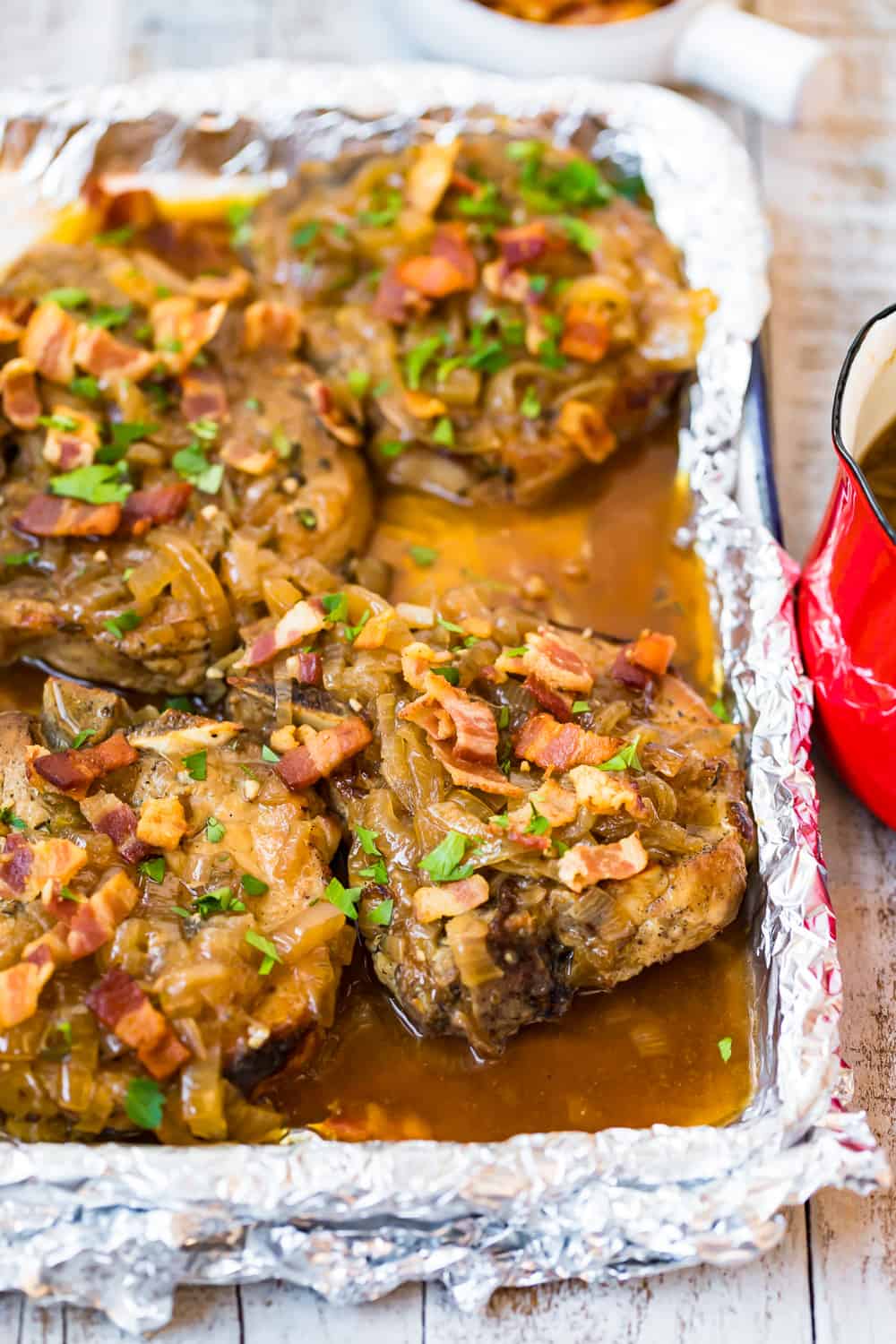 Top Tips For Crock Pot Smothered Pork Chops
Use blade cut pork steaks if pork chops aren't available.
Pat the pork dry with a paper towel before cooking and make sure to season with salt and pepper.
Make sure to remove the bay leaves and skim the fat from the top of the sauce.
You may be tempted to omit the vinegar, I highly recommend you keep it in, balances out the other flavors perfectly.
More Pork Recipes We Love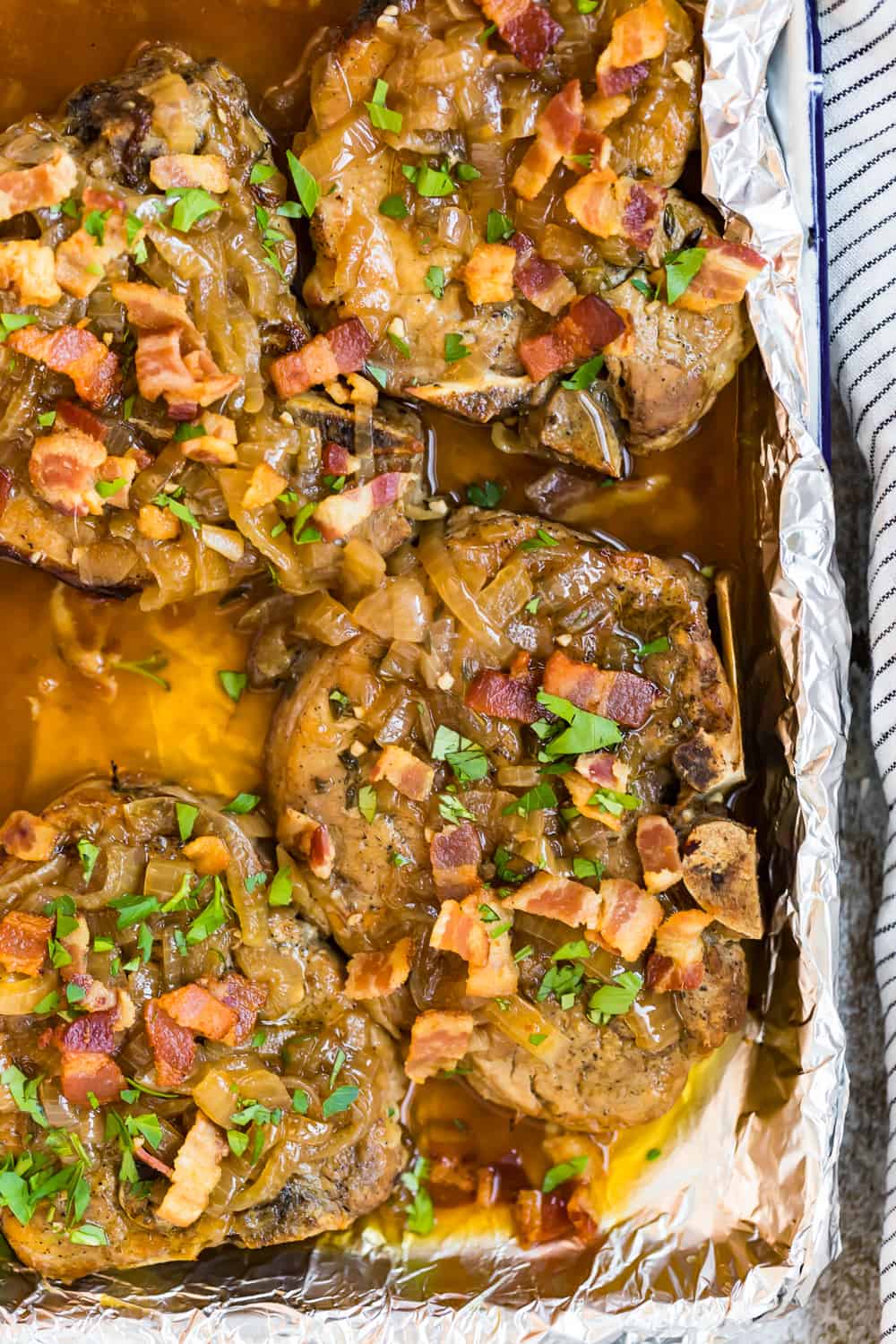 Check Out These Other Delicious Slow Cooker Recipes