This Crockpot Queso Cheese Dip is a real crowd pleaser. A mix of multiple cheeses and Velveeta, plus jalapeños, spices, and tomatoes for the perfect flavor. It's great for any gathering, from Cinco de Mayo to taco night. Slow Cooker Queso is easy to make and irresistible, this smooth and creamy cheese dip is perfect for your favorite chips, tacos, or nachos!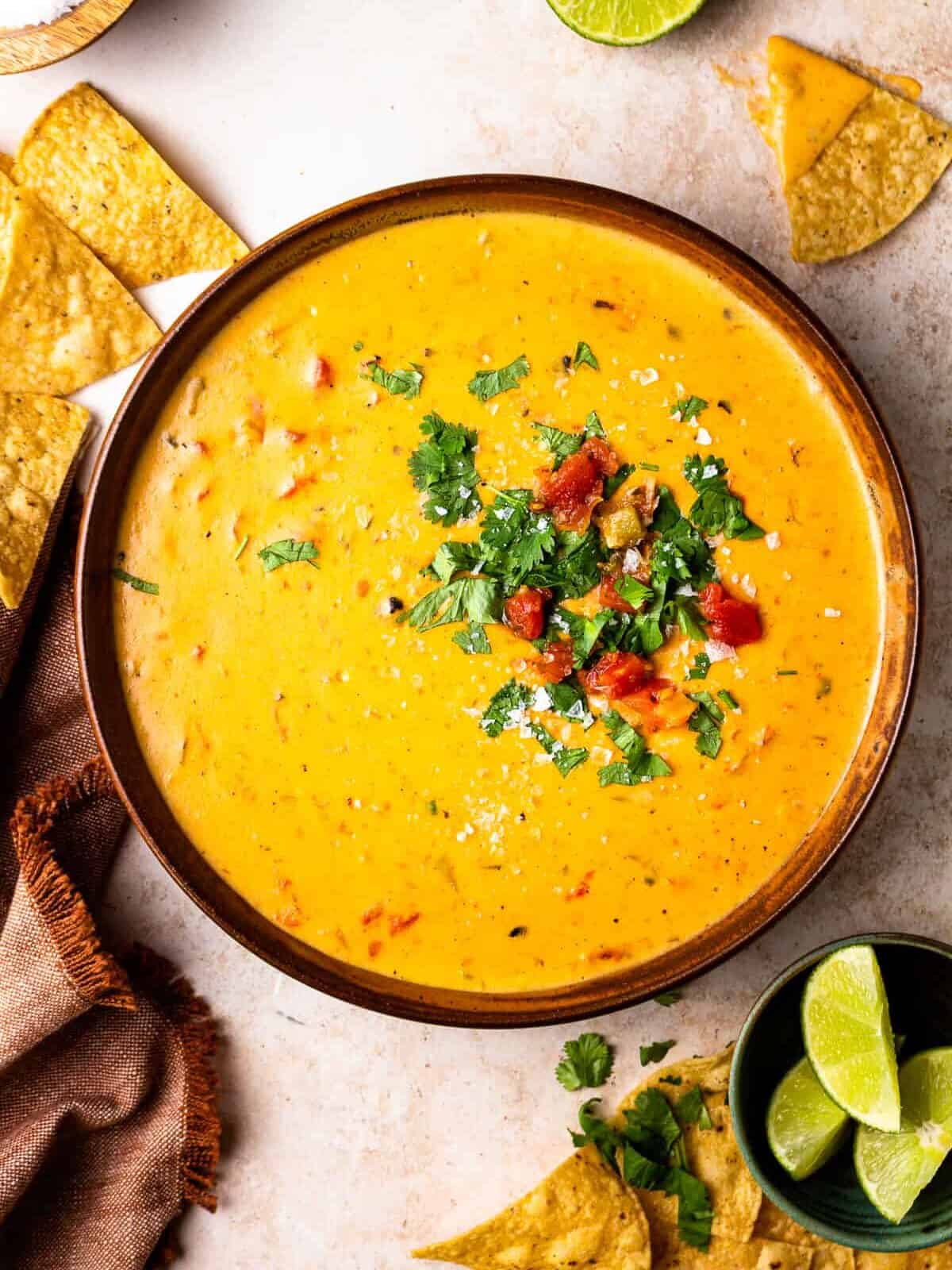 What's in Crockpot Queso
Any queso lover is going to love this flavorful cheese dip recipe, and it's so easy to make in a Crockpot. Be prepared for the best (most addicting) queso dip you've ever tasted!
Cheese: There's a mix of 3 different types of cheeses in this Crockpot queso! Blocks of both white and yellow American cheese create a sharp, cheesy taste. Plus shredded Mexican blend adds even more depth of flavor.
Velveeta: Use a block of Queso Blanco Velveeta, sliced into cubes. This creates that same smooth and creamy consistency that I love about my favorite Velveeta dip.
Tomatoes: A can of Rotel-style tomatoes with green chiles adds texture and delicious flavor. You can use a jar of chunky salsa instead.
Evaporated Milk: Whole fat evaporated milk helps to create a really creamy texture and get the right consistency.
Jalapenos: Jalapeno peppers add some heat, but be sure to remove the seeds if you don't want it to be overly spicy.
Onion: Diced yellow onion is a great aromatic to add to this dip.
Olive Oil: You'll need cooking oil to saute the onion and peppers.
Spices: I used a mix of cumin and red pepper flakes in my queso dip. You can also add chili powder for a little more spice! Feel free to use taco seasoning instead.
Lime Juice: A hint of lime juice adds acidity and brightness.
Cilantro: I love adding fresh cilantro, but you can skip it if you want. Parsley works too!
Pro Tip: If the cheese dip is getting too thick in the slow cooker, stir in a dash more evaporated milk to thin out the consistency.
Can I add meat to this Crockpot cheese dip?
If you'd like to add meat to this crockpot queso recipe, you can add ground beef, chorizo sausage, rotisserie or shredded chicken, or ground chicken, pork, or turkey. Be sure to use fully cooked chicken, or brown and drain ground meat before adding it in.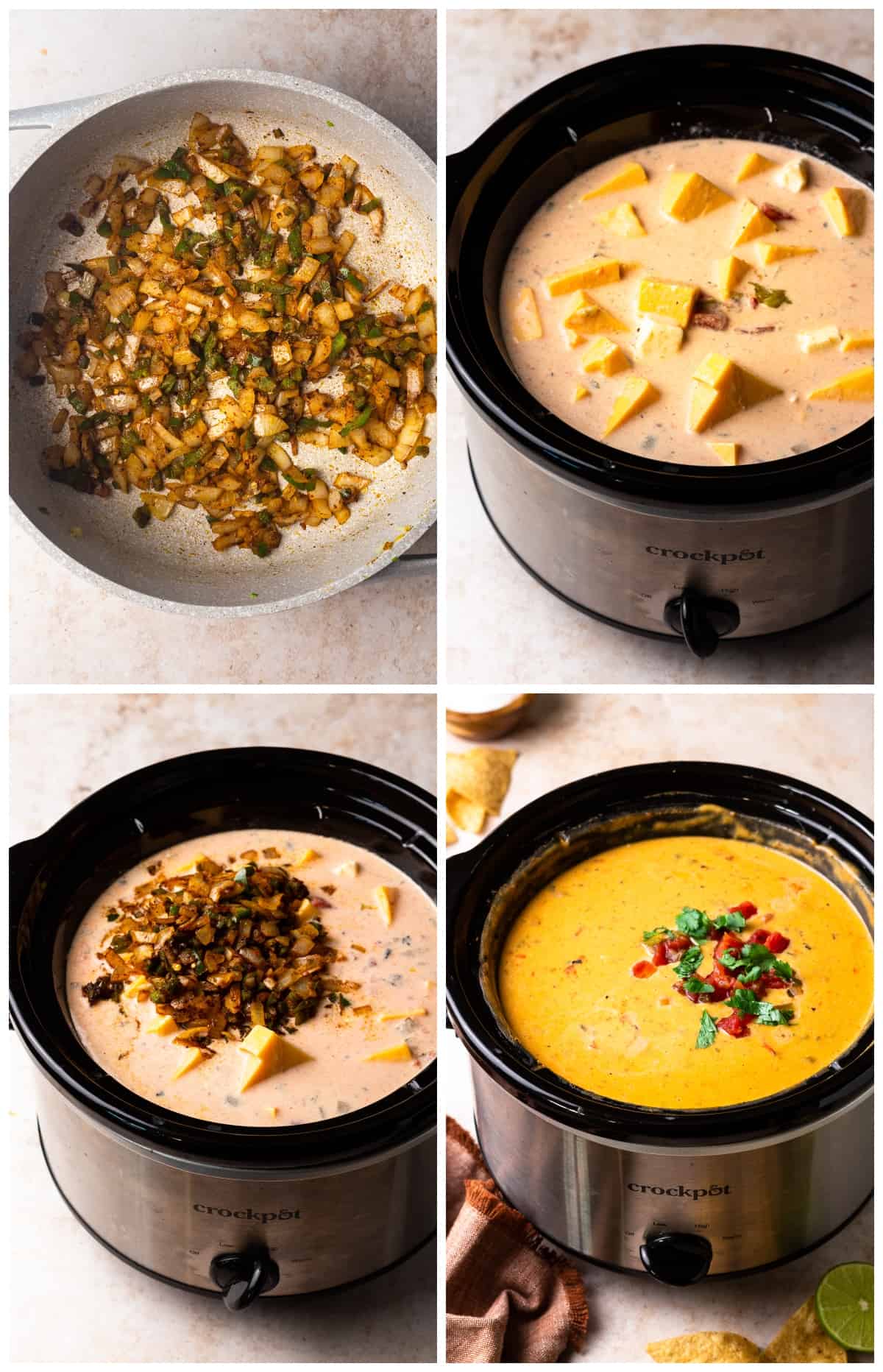 How do you keep queso warm in a crockpot?
Set the slow cooker to WARM setting, and be sure to stir it every 15 minutes to keep it liquidy and smooth. This is perfect for parties!
What cheese is best for queso dip?
I like to use a mix of cheeses for the best queso. I use Velveeta, American cheese, and a Mexican blend in this recipe. Queso blanco, pepper jack, and cheddar cheese can all be used depending on your preference.
How long does it take to make cheese dip in a slow cooker?
It only takes about 30-50 minutes to fully melt and heat queso in a Crockpot.
Why is my crockpot queso gritty?
If the texture is gritty, it's probably been overcooked. This typically happens from keeping it on the HIGH setting for too long. As soon as it's heated through, switch the setting to WARM or LOW while serving.
Is this crockpot queso dip spicy?
The jalapeños add a little bit of heat, but it's well-balanced by the rest of the ingredients. Skip the jalapeños completely if you don't want any spice. To make it spicier, keep the seeds in, add more jalapeños, or add chili powder.
How do you thicken velveeta cheese dip?
Stir in a dash of flour or cornstarch if the consistency becomes too thin, watery, or runny. It will thicken up the cheese with just a small amount.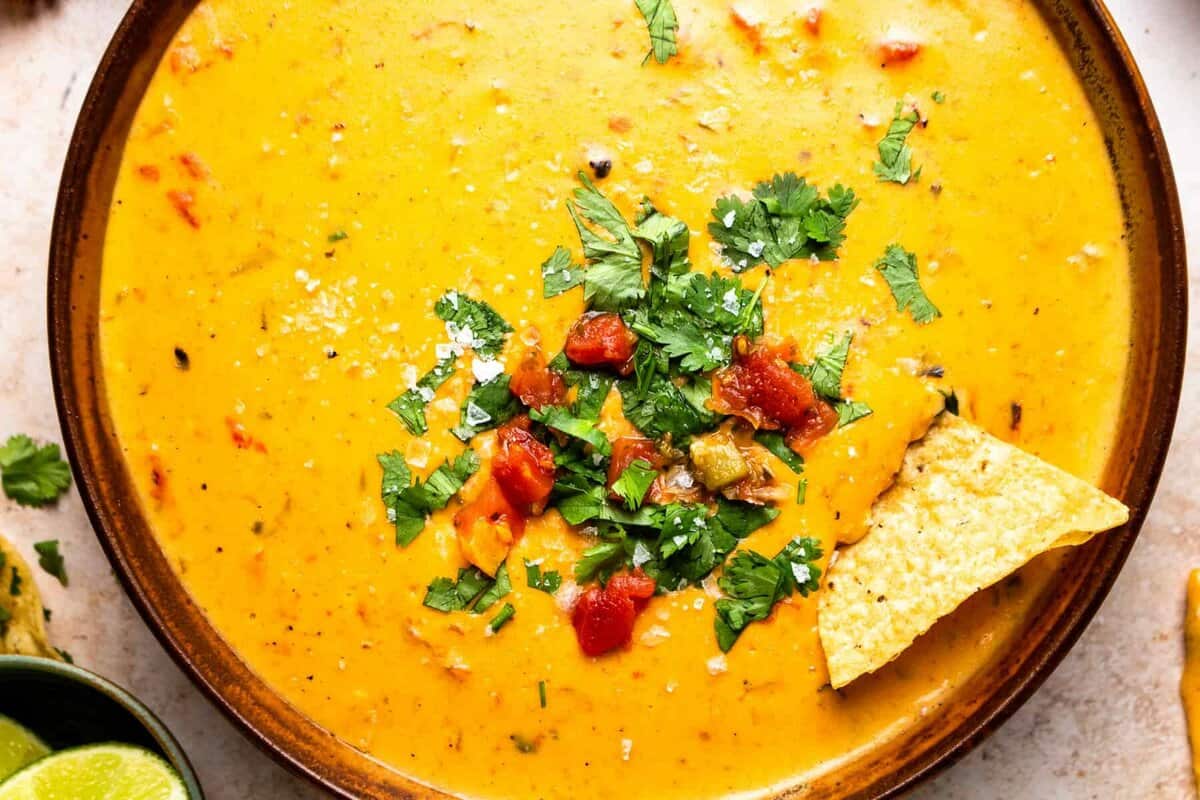 How to Store and Reheat
Store leftovers in an airtight container, and keep it in refrigerator up to 3 days. Reheat queso in a Crockpot on the low setting, stirring until it's fully warmed through. Stir in more evaporated milk if it's too thick. You can also reheat it in the microwave in 30-second intervals.
I don't recommend freezing cheese dips because the texture will not hold up well when frozen, thawed, and reheated.
What to Serve with Crockpot Queso Dip
This Crockpot queso cheese dip makes enough to serve a crowd, so I always serve it as my go-to Cinco de Mayo dip (along with lots of margaritas), but it's welcome at any party. You have to serve it with plenty of tortilla chips or your favorite dippers. And it makes a great cheese sauce for nachos, taco toppings, potato wedges, or any of your favorite Mexican dishes.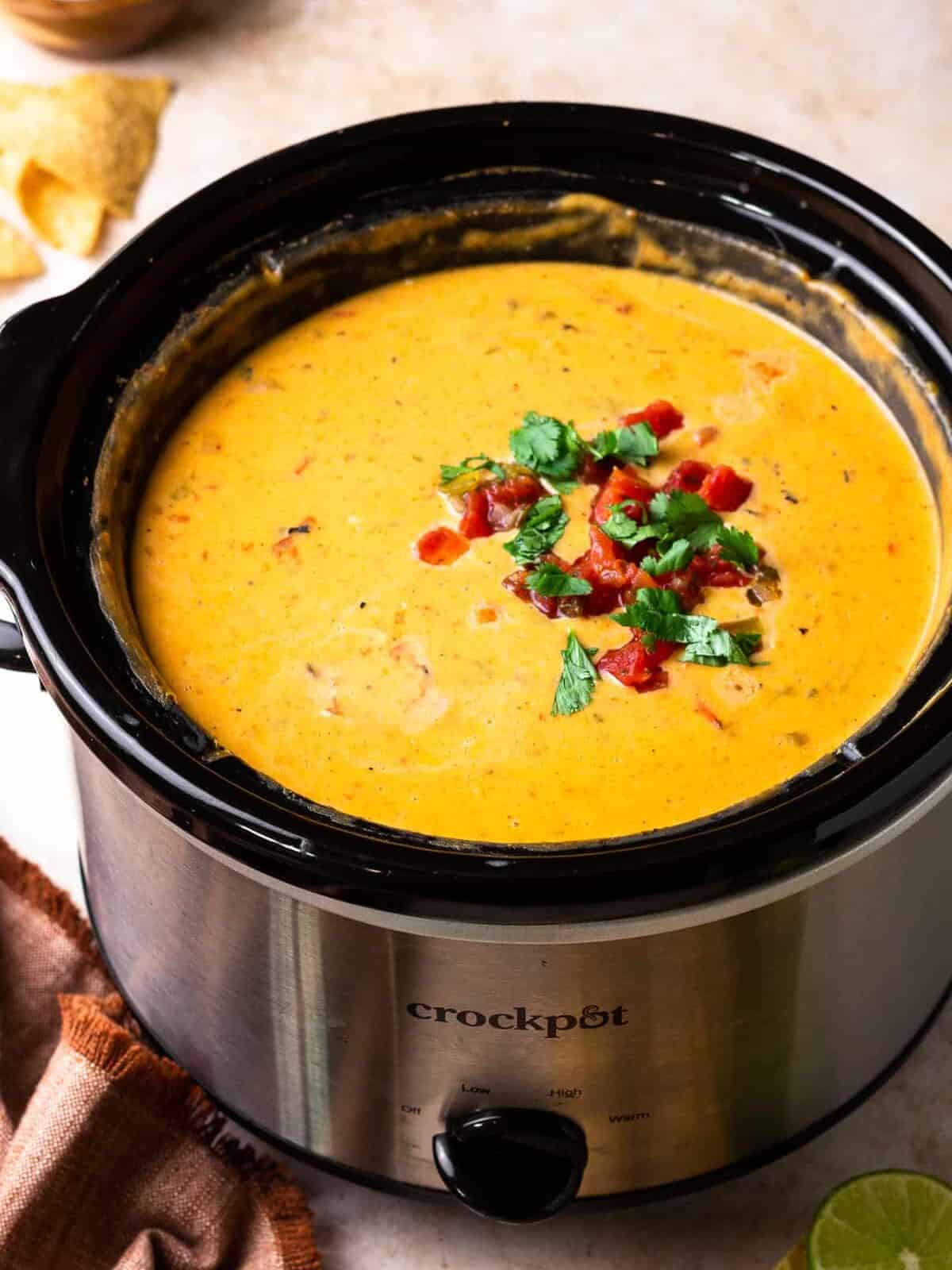 If you make this recipe be sure to upload a photo in the comment section below or leave a rating. Enjoy! You can also jump to recipe.
More Queso Recipes We Love