Crockpot Ribs are an easy way to make the most delicious pork ribs for any occasion. This slow cooker ribs recipe is so simple! You can cook these crockpot BBQ ribs stress-free, and they'll come out super tender and flavorful. Find out how to cook fall-off-the-bone ribs in a crockpot, and serve them on game day, at BBQs, or at any get-together that needs a delicious dish.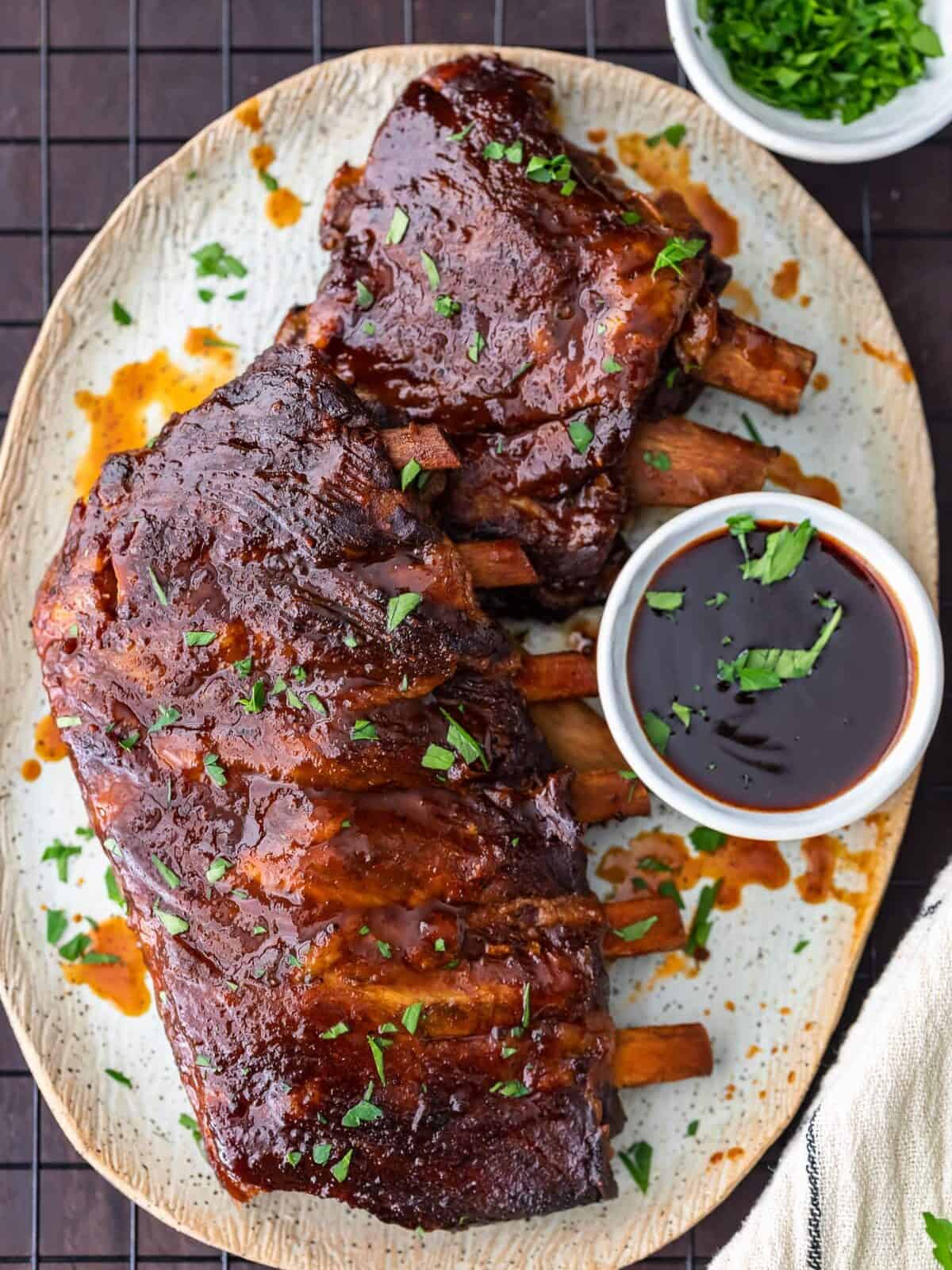 Slow Cooker Ribs
Versatile. This crockpot recipe works with both baby back ribs and spare ribs, bone-in or boneless, so the choice is up to you.
Easy. This method is a super easy way to slow cook ribs. Prep time is short, and the rest of the cooking time is totally hands-off. You can set it and forget it for most of the day.
Flavorful. We use a mix of paprika, brown sugar, red pepper flakes, and salt and pepper to make the dry rub seasoning for these ribs. Combine that with BBQ sauce and you've got some tasty ribs!
How to Make Crockpot Ribs
Here is a quick summary of how to make crockpot ribs. You can find details, tips, and ingredients in the recipe card below.
Set your crockpot to low and spray with nonstick spray.
Remove the silver membrane from the ribs.
Whisk together the spices to make the spice rub, then rub evenly over the ribs.
Brush the ribs with BBQ sauce and place them coiled sideways in the crockpot, then pour the remaining BBQ sauce over the ribs.
Cover and cook on low for 5-6 hours.
Serve with more BBQ sauce or cook down the remaining juices from the slow cooker in a saucepan to serve with the meat.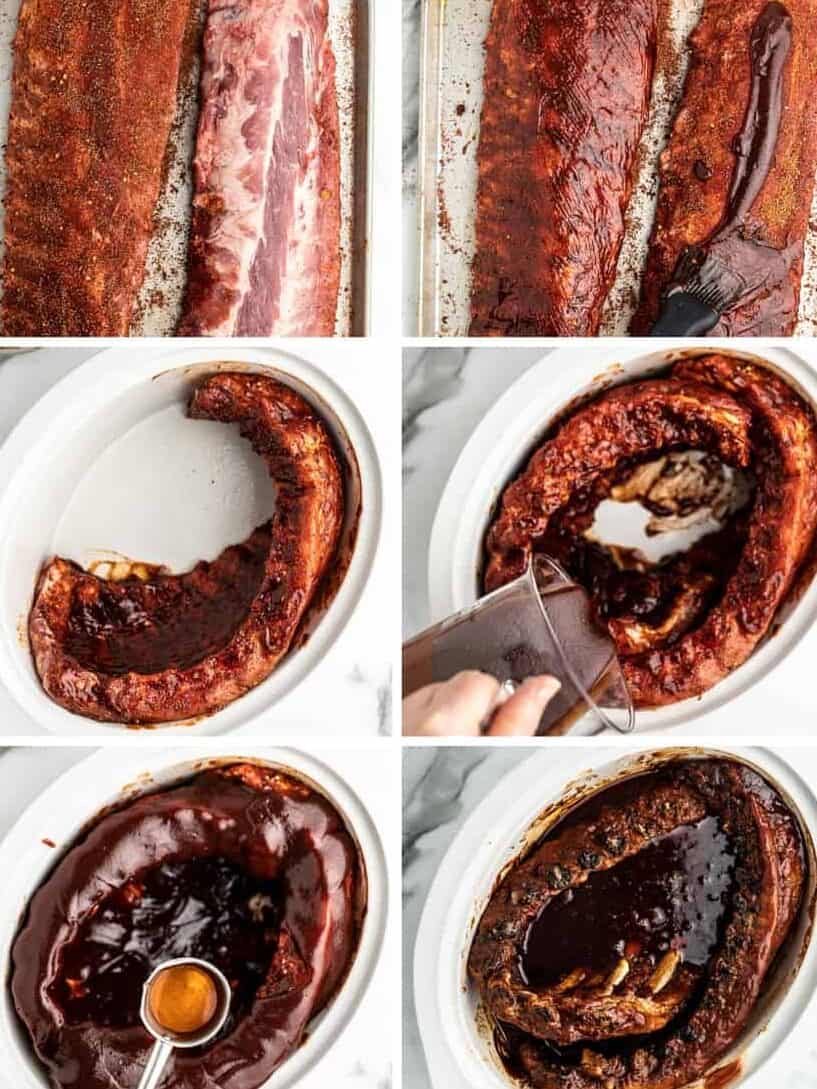 Variations on Slow Cooker Pork Ribs
You can use just about any kind of BBQ sauce in this recipe, from St. Louis to Carolina gold to Alabama white. If you're using a sweeter BBQ sauce, I recommend adding in some apple cider vinegar to help balance out the flavor. And if you're looking for a slightly different flavor, try my pork dry rub recipe!
Why do you need to remove the silverskin from the ribs?
The silver skin/membrane on the back of the ribs will make them super tough and rubbery when cooked. It also acts as a shield and will prevent seasonings from fully penetrating the meat (and we want them to be well-seasoned!). So you absolutely want to remove it.
How do you keep ribs from drying out in a slow cooker?
To keep these ribs from drying out, we cook them low and slow! I do not recommend attempting this recipe on high heat.
Can you cook ribs too long in a crockpot?
Yes, it is possible to overcook ribs, which would turn the meat into mush. Cooking them on the low setting is ideal to prevent this from happening. Just check on them regularly towards the end for doneness.
How to Store and Reheat
Store leftover crockpot ribs tightly wrapped in aluminum foil in an airtight container for up to 3 days. Reheat wrapped in foil in a pan in a 250°F oven until the ribs reach an internal temperature of 130-140°F.
How to Freeze
Freeze crockpot ribs tightly wrapped in aluminum foil in an airtight container for up to 3 months. Let thaw overnight in the refrigerator before reheating.
Serving Suggestions
No matter when you serve these, make sure you add in some Cheesy Texas Toast, BBQ Baked Beans, Creamy Homemade Coleslaw, Instant Pot Potato Salad, or a Perfect Baked Potato. You can't go wrong with some Cornbread either!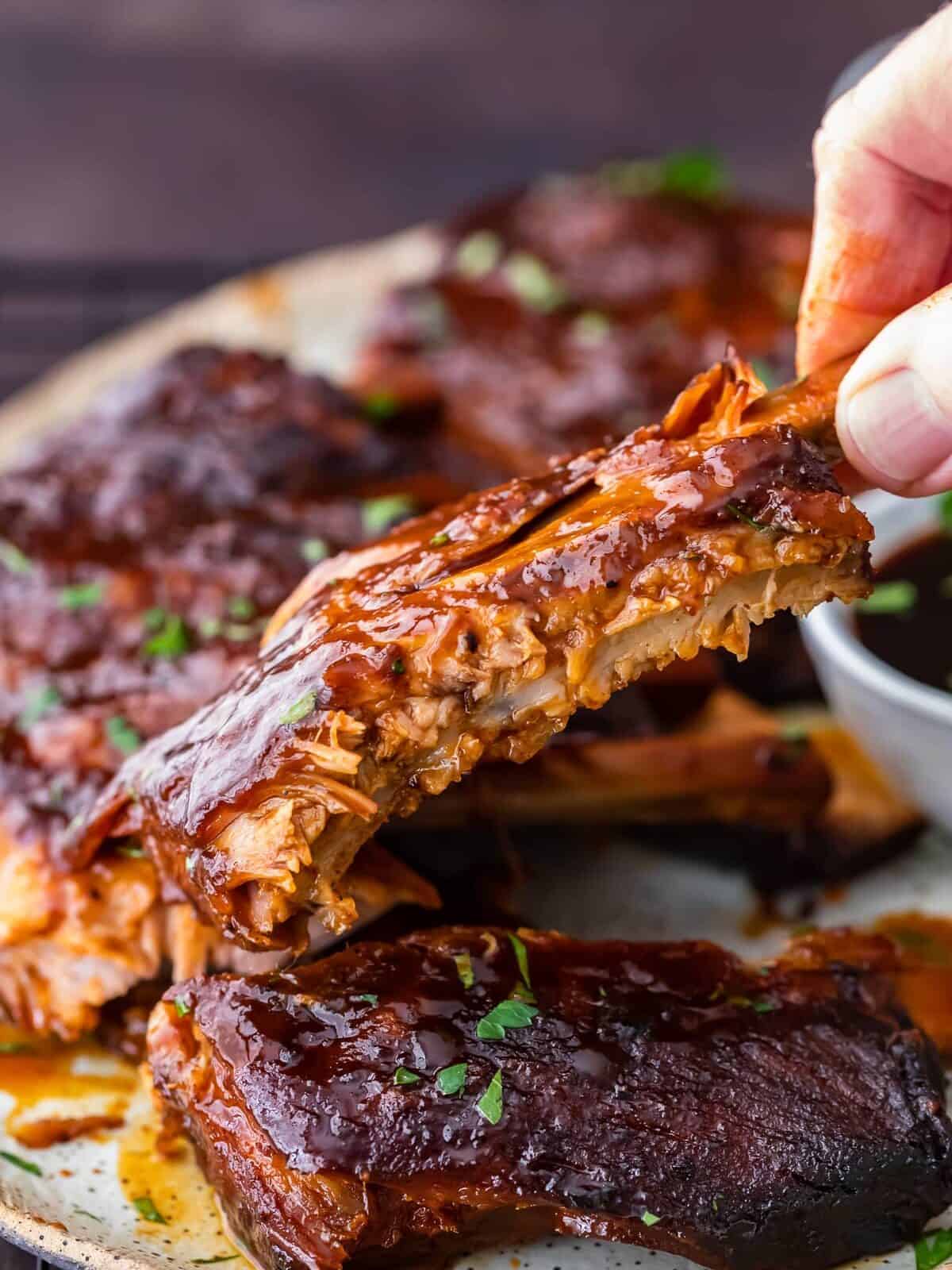 5-Star Review
"I stumbled across your recipes today & figured why not give it a try? These were not only amazing & melt in your mouth, but my new go-to fav!!" -Kayti Funken
More Rib Recipes We Love