Crockpot Salsa Chicken is a quick and easy chicken recipe that is full of Mexican-inspired flavors. This crockpot chicken is easy to prep and great for busy weeknights. Use it for tacos, nachos, and enchiladas or just serve it over rice and enjoy!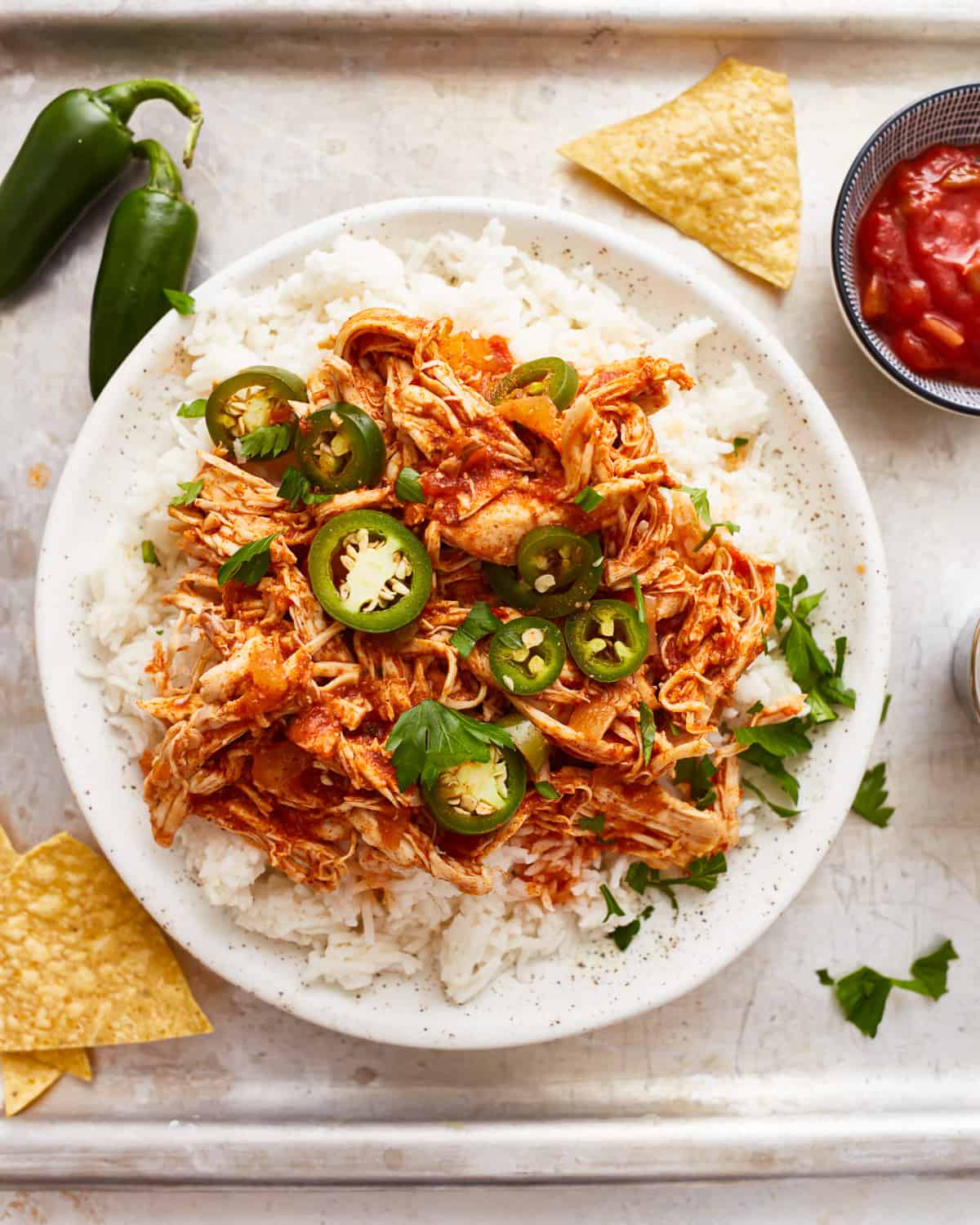 What's in this Crockpot Salsa Chicken Recipe?
If you are looking for a prep-and-go chicken dinner that will simmer to tender perfection in your slow cooker, this salsa chicken is what you need! You only need a handful of ingredients and a few minutes of prep.
Chicken Breasts: Boneless, skinless chicken breasts work best, but you could also use thighs. You'll need about 2 pounds total.
Salt + Pepper: Seasons the meat to bring out its natural flavor.
Salsa: Use your favorite store-bought or make your own. Mild, medium, or hot– the choice is yours!
Yellow Onion: Adds a touch of earthy sweetness.
Garlic: Adds an earthy flavor and a pungent aroma.
Chili Powder: Adds a bit of spice. Use more or less to your personal tastes.
Cumin: Adds a warm and earthy flavor.
Jalapeños: Add a pop of freshness, color, and heat! Leave them out for a less spicy dish.
Pro Tip: No extra liquid is needed for this recipe – the salsa helps keep the chicken moist.
Variations on Slow Cooker Salsa Chicken
This slow-cooked salsa chicken is a great base for endless variations. You can swap the spices for taco seasoning or fajita seasoning for a different flavor. Experiment and try different salsas, like salsa verde, chunky salsa, black bean and corn, avocado and corn salsa, tomatillo avocado salsa, mango salsa, or pico de gallo!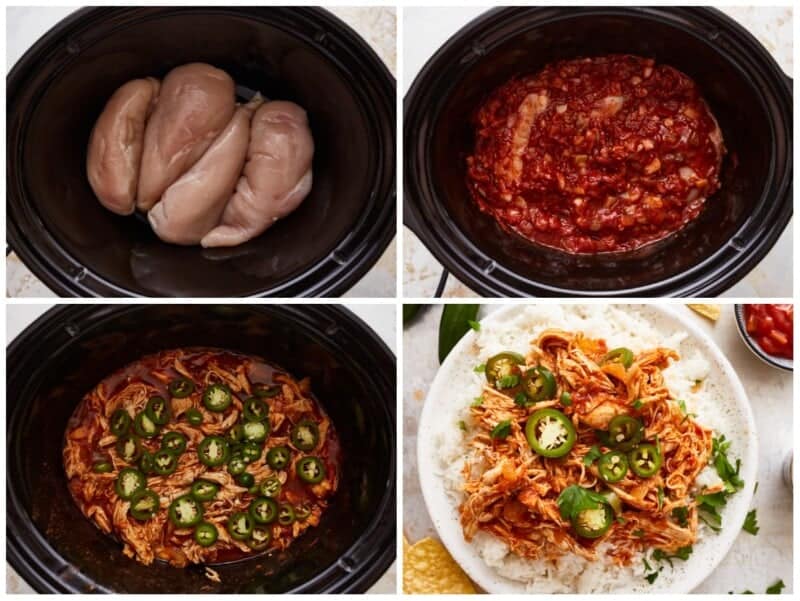 Do I need to brown of the chicken before it goes in the slow cooker?
There's no need to brown the chicken before cooking it! It's going to be tender and juicy all on its own.
Can I put frozen chicken in the crockpot?
I do not recommend cooking chicken from frozen in the crockpot, as it spends too much time in the "temperature danger zone", which could cause food poisoning.
What kind of salsa should I use?
This is where your personal tastes and preferences really come into play. It'll all depend on what kind of flavor you are going for and how much heat you want to bring to your salsa chicken dish.
Can I use jarred jalapeños?
Definitely. Reduce the cooking time by 30 minutes if using jarred/canned jalapeños.
Does chicken get more tender the longer you slow cook it?
Yes and no. Chicken does need to cook at a low temperature for quite a while to become tender, but it can also turn out overcooked and tough if you're not careful. Make sure to remove the chicken from the crockpot as soon as it reaches 165°F.
Why is my chicken in the crockpot still tough?
If your chicken is tough, it is either under- or overcooked. Undercooked chicken will not shred because it needs time for the muscle fibers to break down. Overcooked chicken will shred, but it will look dry and stringy. Make sure to use enough salsa to keep the chicken moist, and check the temperature if you're unsure if it's done.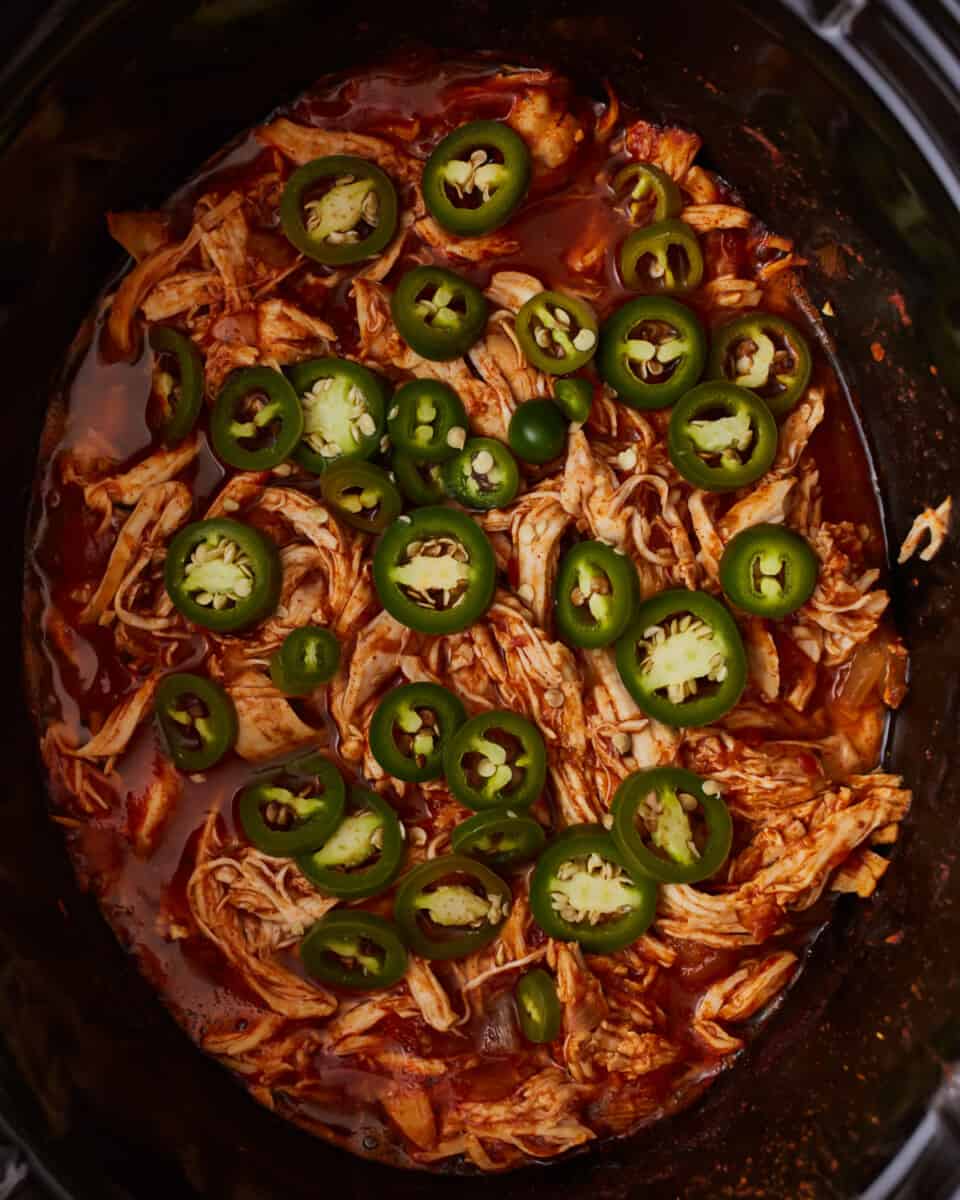 How to Store and Reheat
Store leftover crockpot salsa chicken in an airtight container in the refrigerator for up to 3 days. Reheat in a pot set over medium-low heat or in the microwave in 30-second increments until warmed through.
How to Freeze
Freeze crockpot salsa chicken in an airtight container or Ziplock bag for up to 3 months. Let thaw overnight in the refrigerator before reheating.
Serving Suggestions
This slow cooker salsa chicken is always great over a plate of cilantro lime rice. Top it with some extra salsa, guacamole, shredded cheese, and sour cream! You can also fold it up into tortillas to make chicken tacos.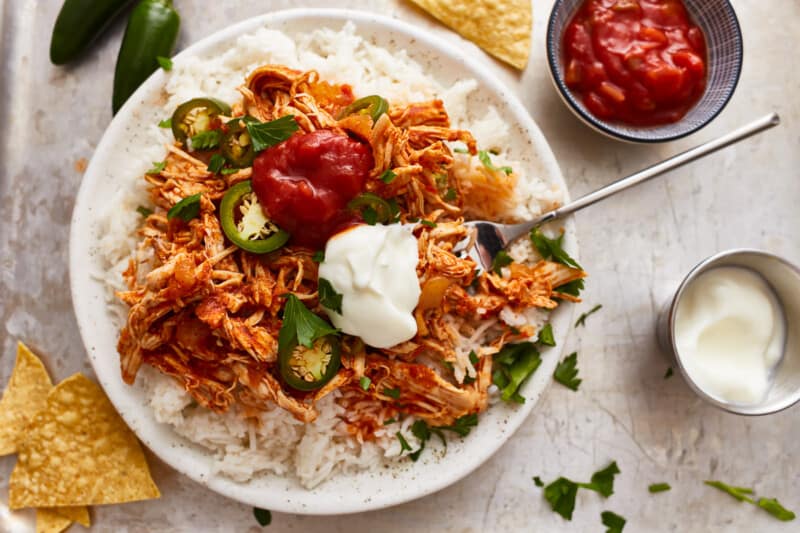 More Crockpot Shredded Chicken Recipes We Love