Featuring wholesome ingredients like applesauce, peanut butter, honey, eggs, and whole wheat flour, these dog cupcakes are the best sweet treats to make for your dog's birthday, holidays, or just to show how much you love them! This dog-friendly cupcake recipe is easy to make and the perfect snack for your furry friends!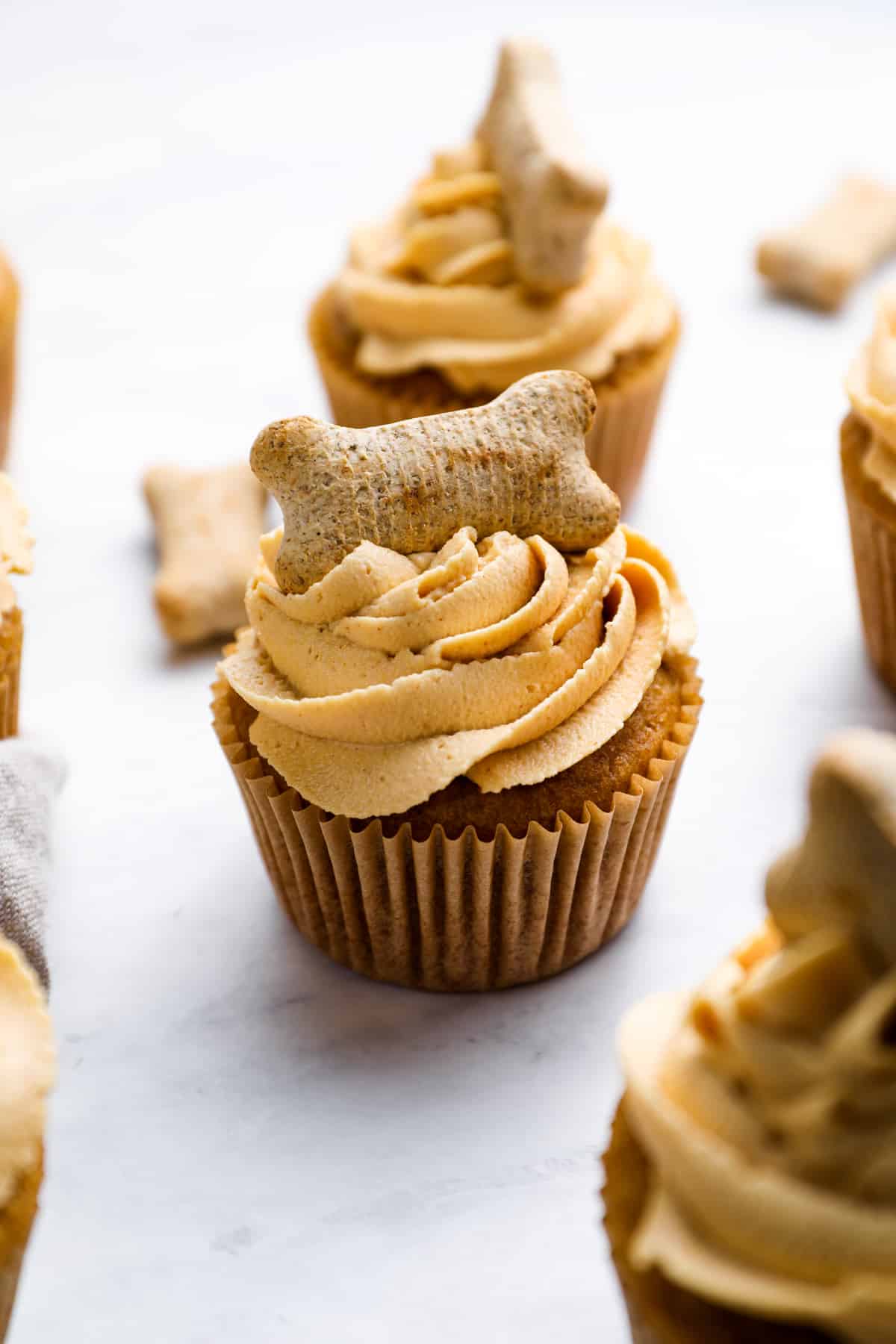 What's in Pupcakes?
These doggy cupcakes, or Pupcakes, contain less than 10 ingredients and take less than 30 minutes to make. This recipe also includes a creamy peanut butter frosting to put on top of the Pupcakes.
Unsweetened Applesauce: Adds moisture to the cupcakes without compromising nutrition. Use unsweetened to avoid unnecessary sugars. You can use pumpkin puree (make sure it's 100% pure pumpkin, not pumpkin pie filling!) or mashed bananas instead if you prefer.
Peanut Butter: Gives these cupcakes a great peanut butter flavor that dogs can't get enough of! Make sure to check the ingredients. I like peanut butter that is made from just peanuts and salt. Do not use peanut butter with xylitol, as it is toxic to dogs!
Honey: Adds a bit of sweetness to the cupcakes. Honey contains vitamins and minerals that are good for your pup! Do not feed honey to immunocompromised dogs or dogs under 1 year old!
Eggs: Bind the cupcakes together. Eggs are a great source of protein, fatty acids, and vitamins!
Coconut Oil: Adds moisture to the cupcakes. Coconut oil is considered safe for dogs, but some dogs may have allergies. You can also use sunflower oil, flaxseed oil, or olive oil. Vegetable oil also works, but it lacks many of the health benefits of other oils.
Water: Helps the batter come together without additional calories.
Whole Wheat Flour: Forms the base of the cupcakes. Whole wheat flour is nutritionally more complete for dogs than all-purpose flour, but all-purpose is still safe to use.
Baking Powder: Helps these cupcakes rise.
Cream Cheese: Forms the base of our frosting. Make sure to use plain, brick-style cream cheese and avoid cream cheese with flavorings added to it.
Milk Bones: An optional garnish for these cupcakes. I like to use the small ones, but you can use whatever size you normally give to your dog.
Pro Tip: Some dogs are allergic to flour/wheat. If you want to make these wheat free, you can use rice flour or coconut flour as a replacement. These alternate flours will work, but might change the consistency a bit.
Pupcake for One
This recipe makes enough cupcakes for a dog birthday party! If you're looking to make a smaller batch, you can halve the recipe or bake this in a mini cupcake tin to make smaller cupcakes.
For a single dog cupcake, use the following measurements:
1 tablespoon applesauce (16 grams)
2 teaspoons peanut butter (11 grams)
½ tablespoon honey (10 grams)
1 small egg yolk (8 grams)
1 teaspoon coconut oil (4 grams)
1 tablespoon water (14 grams)
⅛ cup whole wheat flour (14 grams)
Pinch baking powder (~1 gram)
Frosting: ⅔ ounce cream cheese (19 grams) + 2 teaspoons peanut butter (11 grams)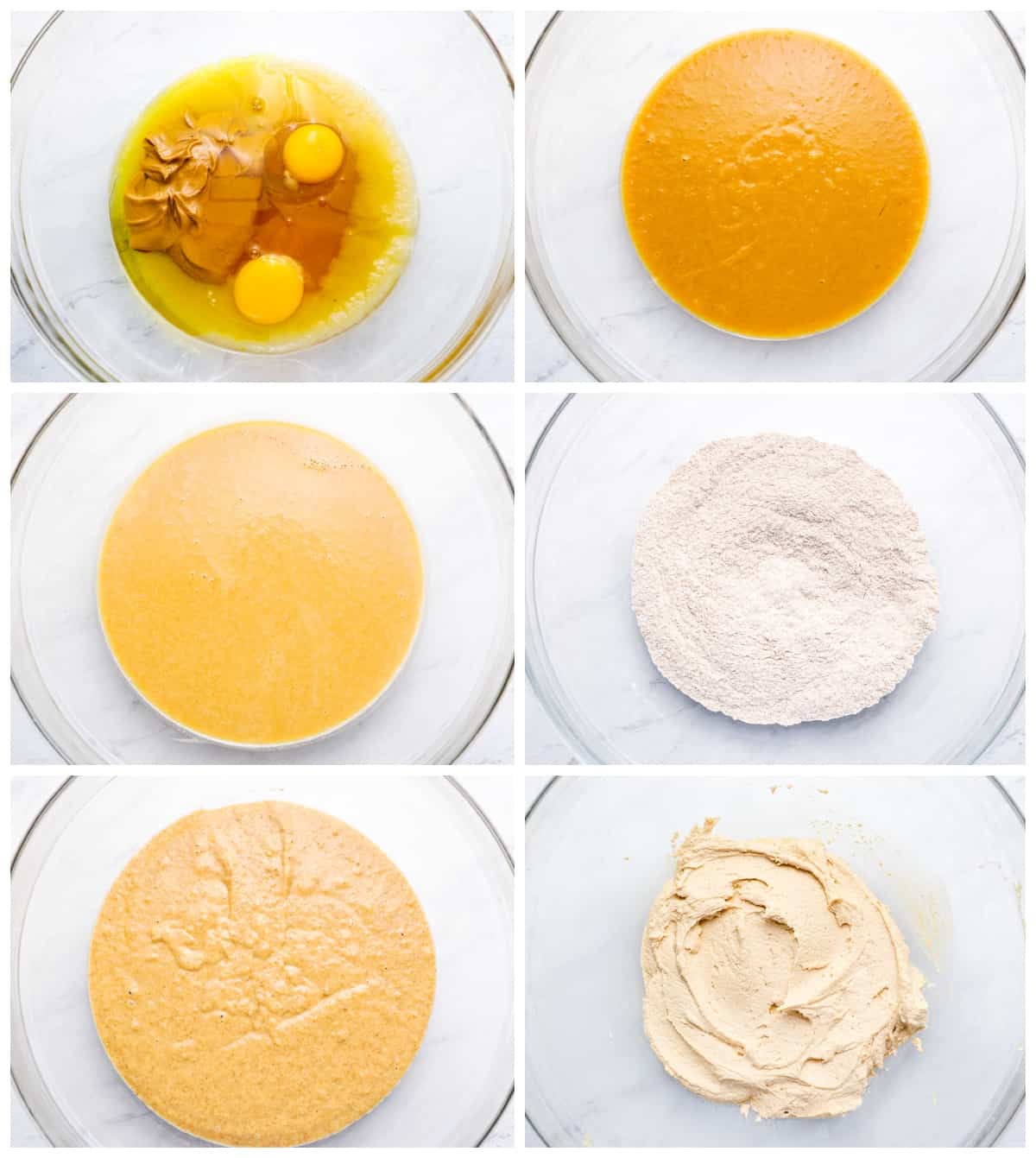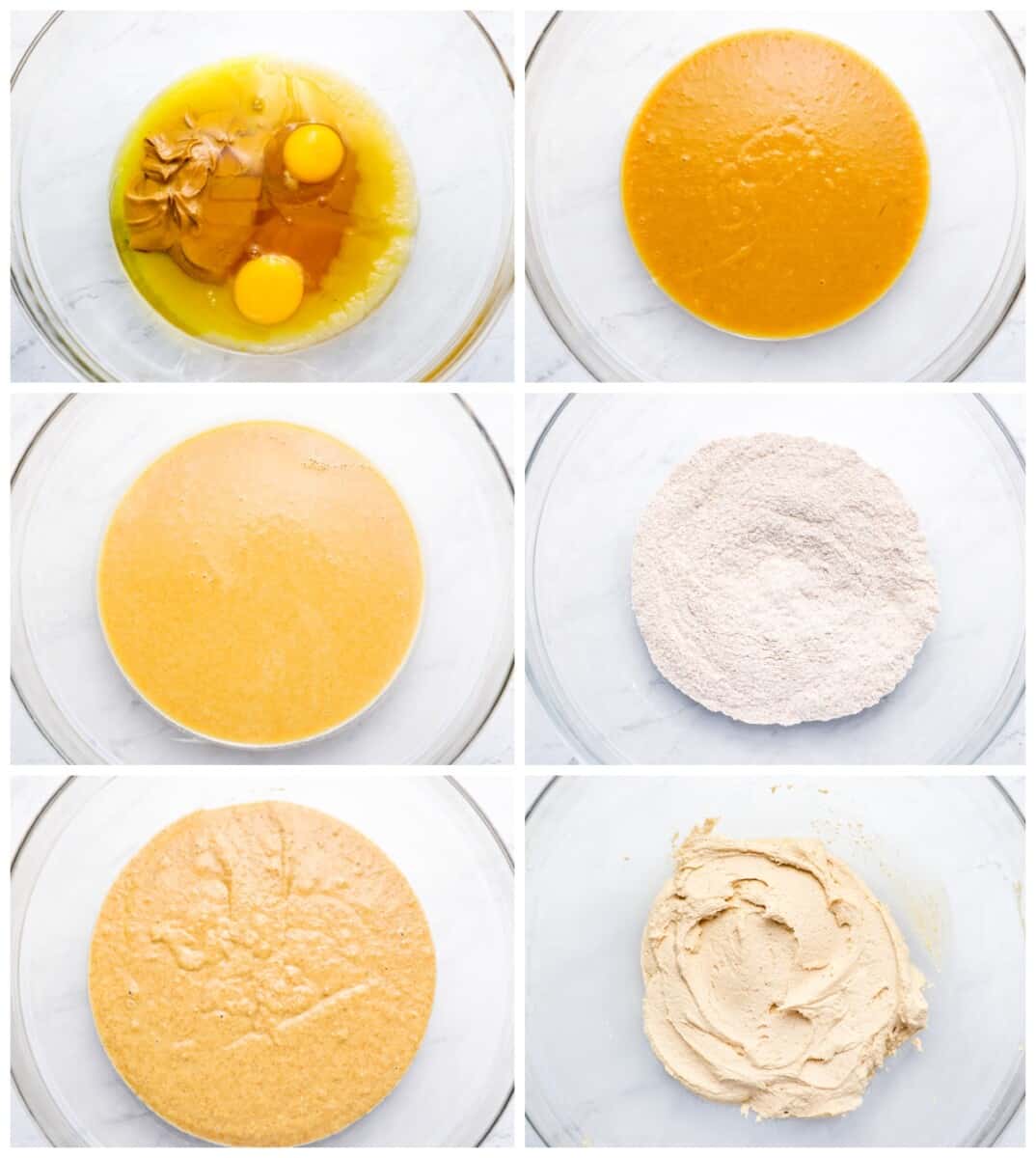 Trademark Note: In the spirit of transparency, I want to note that some of these ingredients are trademarked products. Milk Bone is a proprietary brand that I want to acknowledge and give credit to.
Can dogs eat cupcakes?
Generally speaking, no. The cupcakes you and I like to enjoy are too high in sugar and fat for dogs. That's why I've come up with this recipe. Dogs deserve their own special treat to celebrate birthdays!
Is peanut butter safe for dogs?
There has been some discussion on whether or not peanut butter is safe for dogs. Peanut butter is actually a healthy food for dogs, containing vitamins and healthy fats. Make sure to buy peanut butter that does not contain xylitol, as xylitol is highly toxic to dogs! Always take into account any allergies your dog has and avoid foods that cause a reaction.
Are dog cupcakes safe for humans to eat?
Yep! All of the ingredients in these cupcakes are safe for human consumption, although I can't speak to how good they'd taste to us!
Can I use all-purpose flour in dog cupcakes?
Yes, you can. Whole wheat flour has more nutrients than all-purpose, and it's always helpful to maximize the nutrition we give our dogs, but all-purpose flour is not harmful. You can also use rice flour or coconut flour if your dog has a wheat or gluten allergy. I always recommend letting your dog sample a small amount before giving them a whole cupcake, because dogs can be allergic to anything, just like people!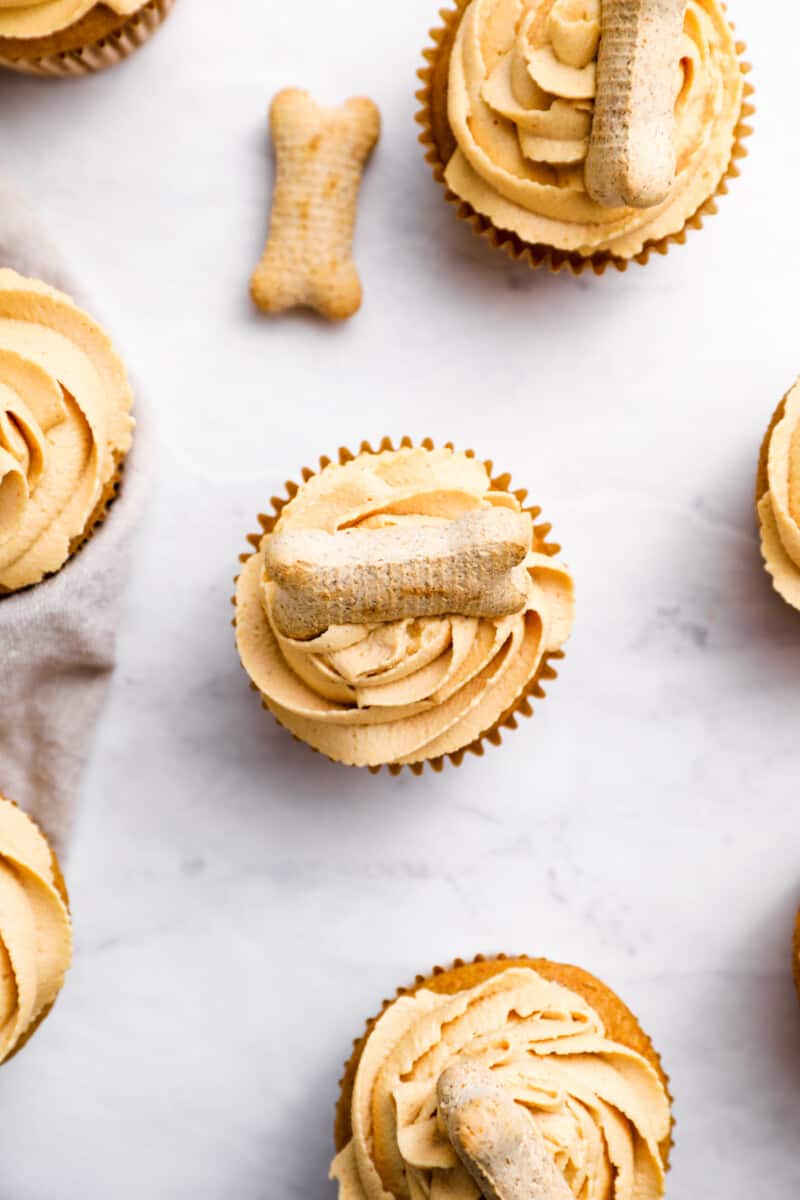 How to Make Ahead and Store Doggy Cupcakes
The cupcakes can be made up to 2 days in advance and stored in an airtight container at room temperature until ready to enjoy. The frosting can be made up to 3 days in advance and stored in an airtight container in the refrigerator until ready to use.
Store leftover dog cupcakes in an airtight container in the refrigerator for up to 3 days. Let your pup enjoy them cold or at room temperature.
How to Freeze Cupcakes for Dogs
Freeze dog cupcakes tightly wrapped in 2 layers of plastic wrap and 1 layer of aluminum foil for up to 1 month. Let thaw overnight in the refrigerator before serving to your dog.