This Easy Macaroni Salad is a delicious and simple side, perfect for BBQ's, pot lucks and parties. A cool and creamy pasta salad that'll knock your socks off!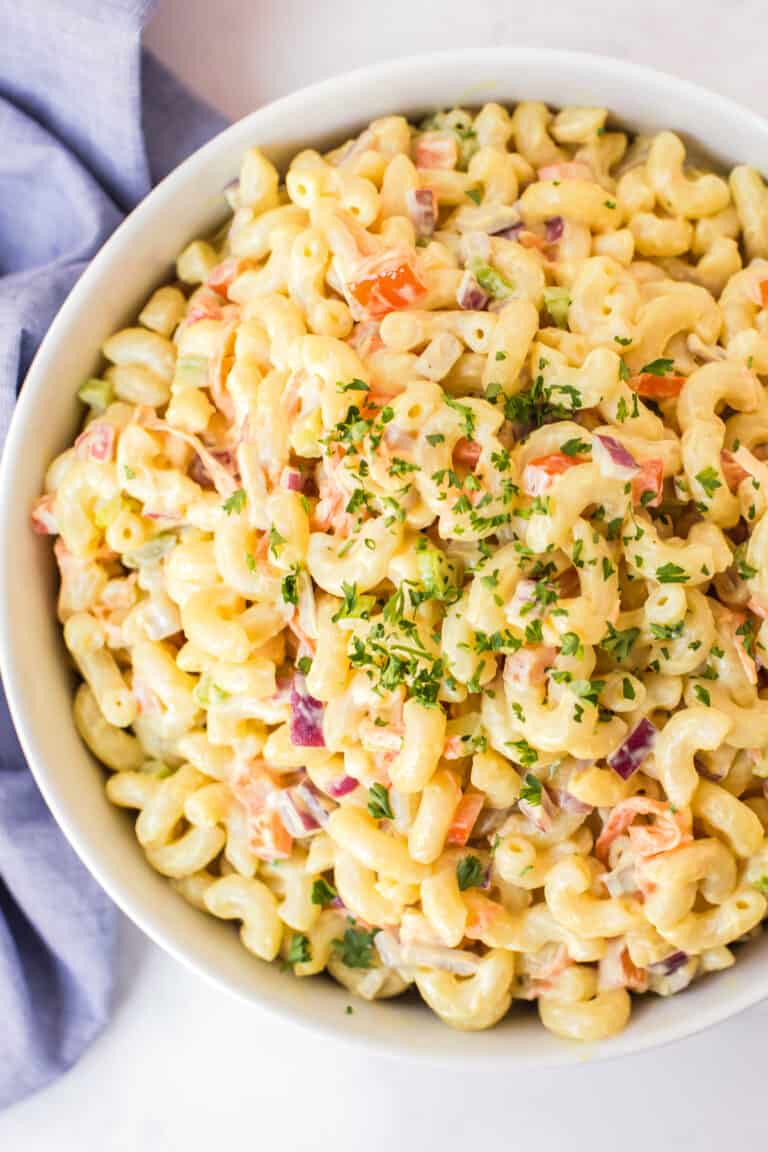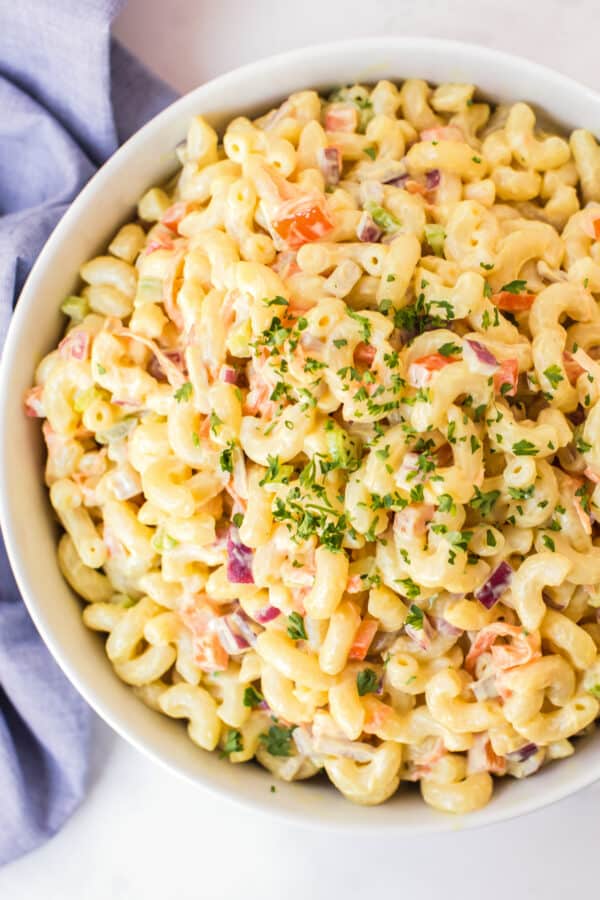 Easy Macaroni Salad
Pasta salad is such a popular summer side dish and for good reason. This Easy Macaroni Salad recipe was sent to me by one of my lovely readers and it's delicious!
Perfectly cooked pasta covered in a dreamy, creamy dressing and bejeweled with peppers, onions, carrots and celery – so good! You can even make a big batch the night before, it's the side that keeps on giving.
Why this is so good
An easy side dish. Ditch the store bought! This popular side dish is a breeze to whip up and you can make a big batch for parties.
Customize. This pasta salad has so many variations, you'll never be bored of serving it up.
A delicious and creamy dressing. Tangy mustard mixed with creamy mayo and vinegar, for a little bite. Simple and utterly addictive!
Ingredients
Elbow macaroni: Mac is the daddy here, but if you want another pasta, select a pasta with plenty of surface area and nooks and crannies to capture all that blissful dressing.
Mayonnaise: If you love miracle whip you can always replace the mayonnaise entirely with miracle whip or do 50% of each.
Vinegar: If you do not have apple cider vinegar available you can always use white wine vinegar or red wine vinegar. I have also heard that distilled vinegar works with this recipe as well.
Granulated sugar: I know that it sounds odd to add sugar into your pasta salad but I promise this is still a savory dish. The sugar just adds another depth of flavor into the pasta salad and helps combat the mayonnaise and vinegar ingredients.
Yellow mustard: You can substitute your yellow mustard for Dijon mustard.
Vegetables: Celery, bell pepper, carrot, red onion.
Salt
How to make this Easy Macaroni Salad
You can jump to the recipe card for full ingredients & instructions!
Cook pasta according to box instruction, until al dente, then drain and rinse.
As the mac cooks, make the dressing. In another bowl, stir the mayo, vinegar, sugar, mustard and salt. Then mix the pasta, dressing and diced veggies. Allow to chill for 1-2 hours before serving.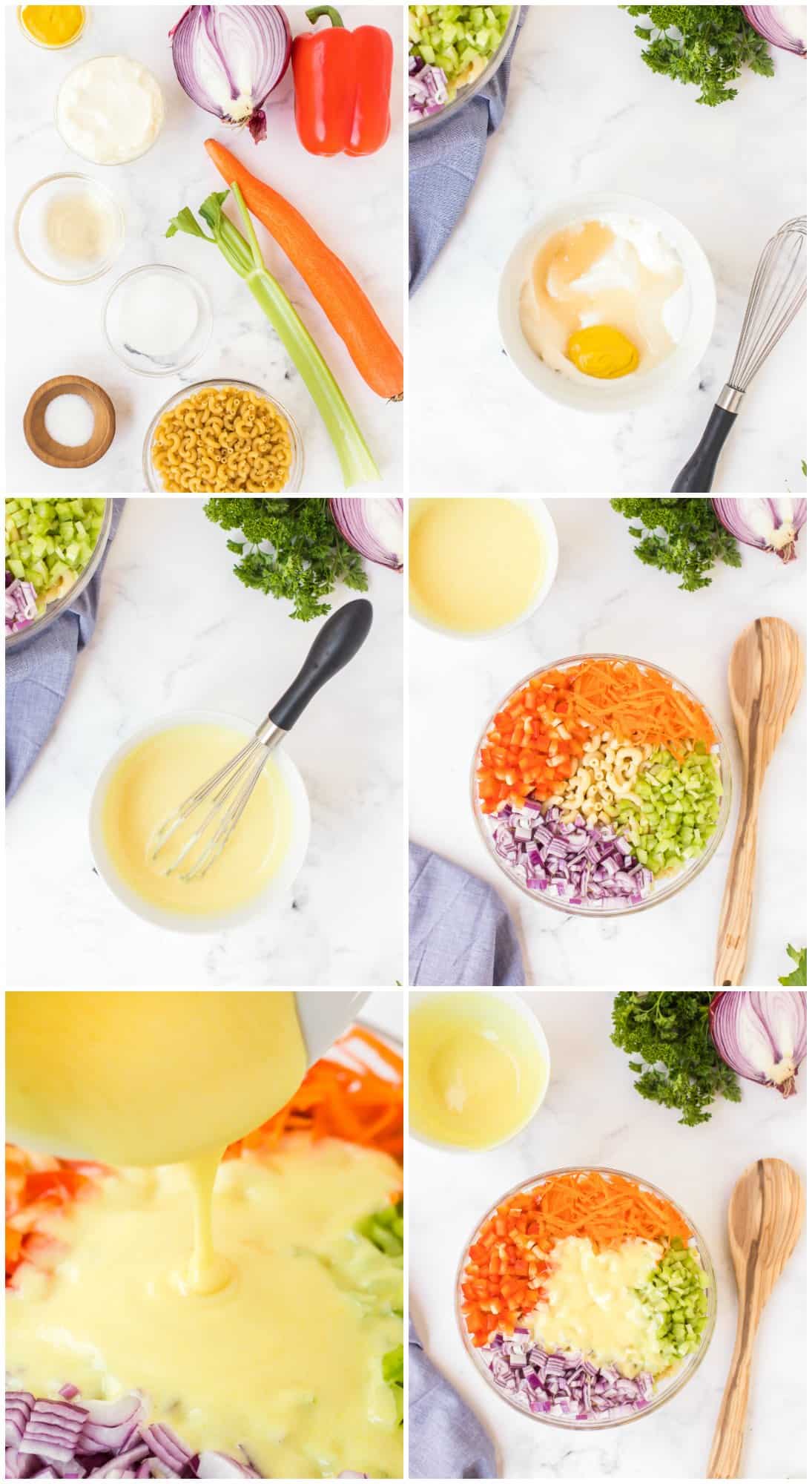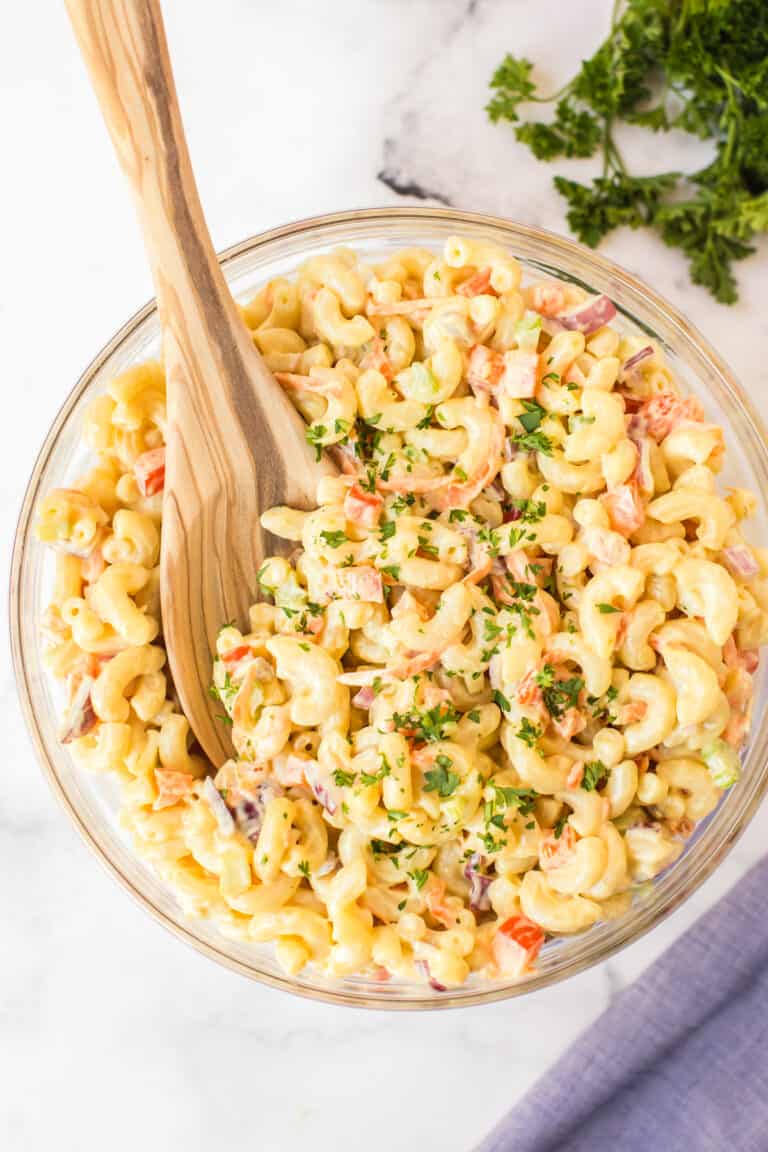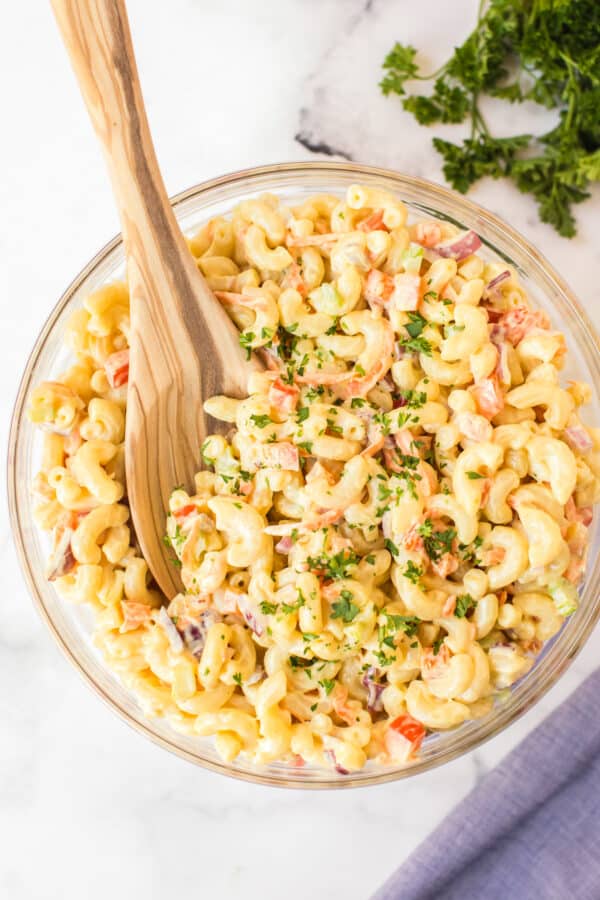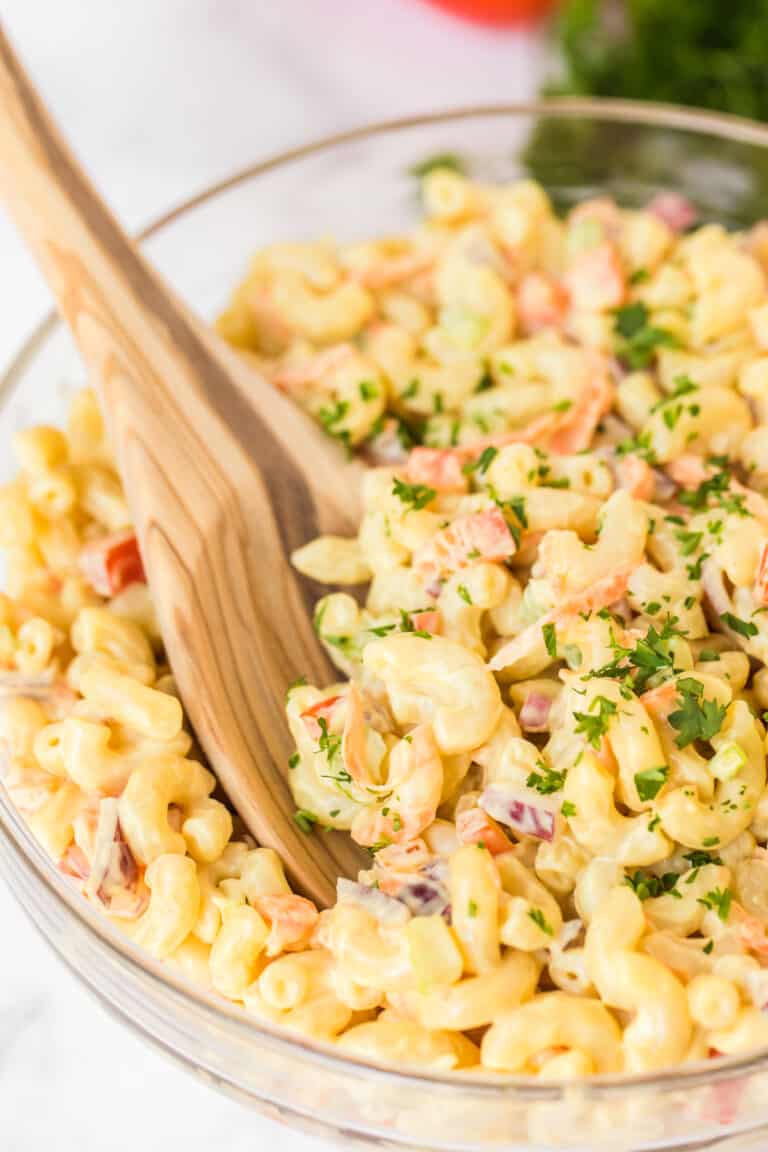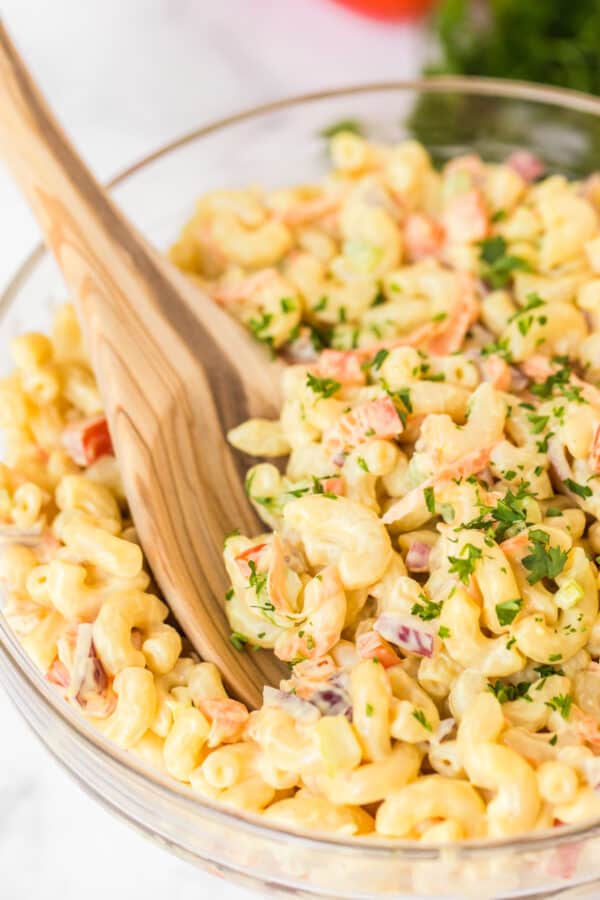 Can I add anything else to my macaroni salad?
Absolutely, this creamy pasta salad is divine on its own, but also serves as a great base for a variety of ingredients These are some of the variations that marry up with macaroni salad so well:
Green bell pepper
Pimento Peppers
Peas
Ham or salami
Cheese
Hardboiled egg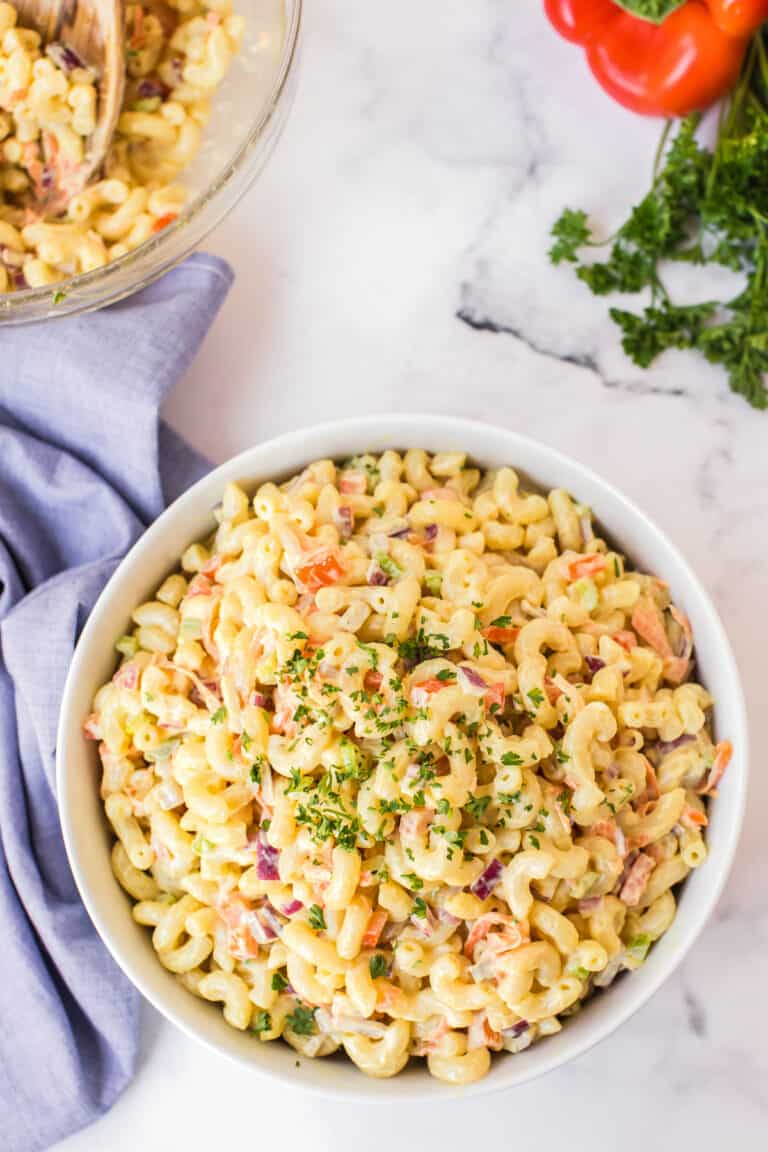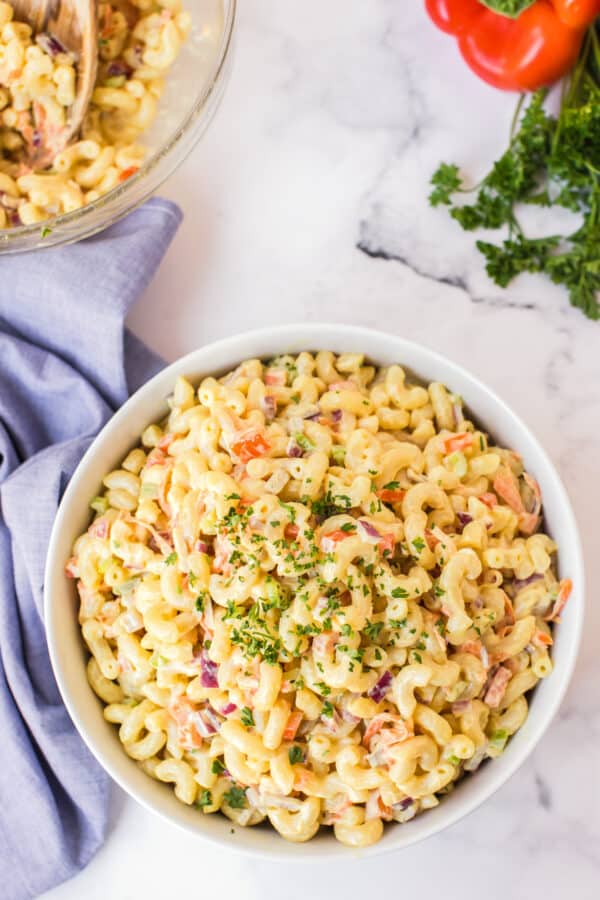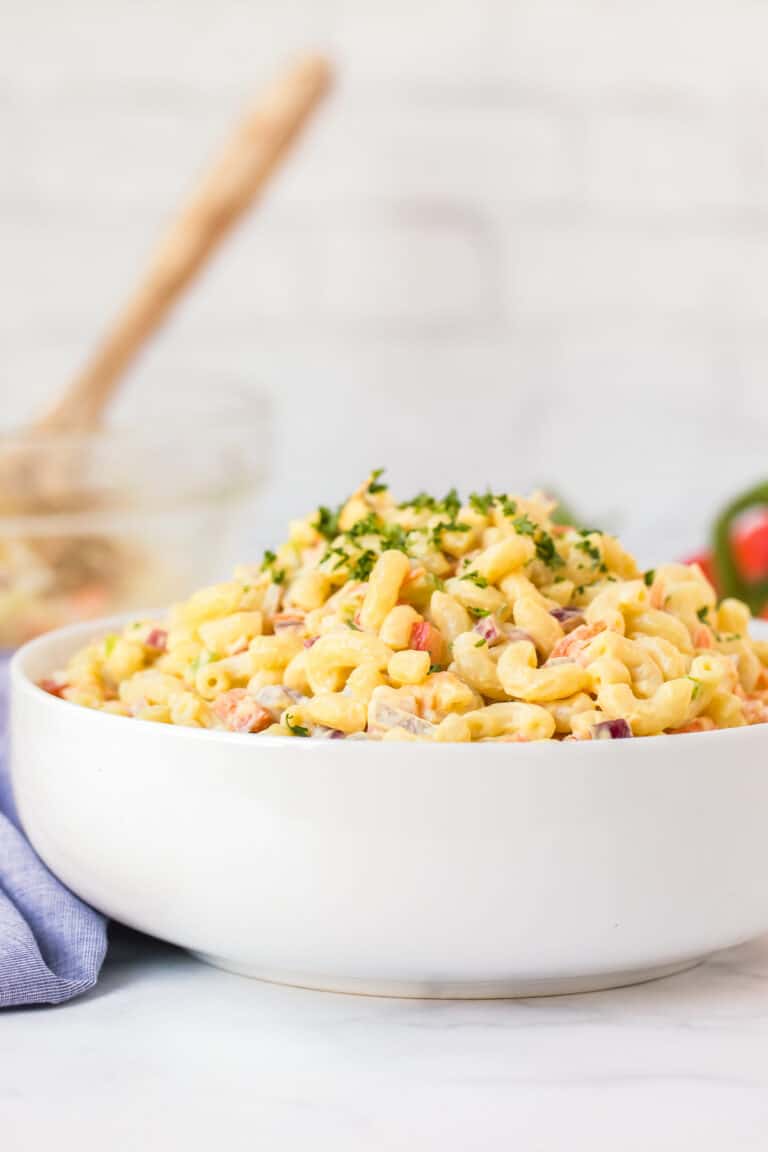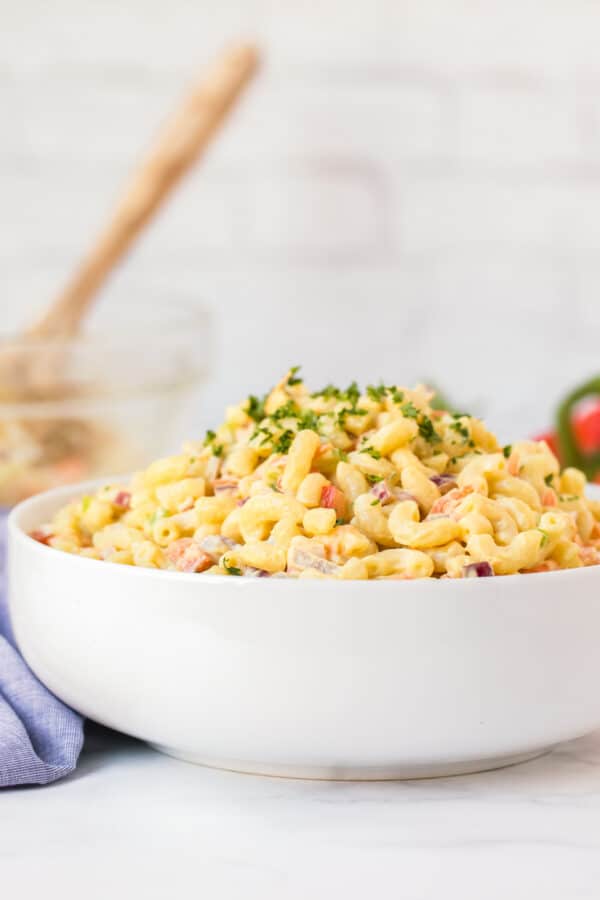 Can I make macaroni salad ahead of time?
You can make macaroni salad one day ahead of time. I recommend keeping the dressing and pasta separate and refrigerated until needed.
When you are ready, stir the dressing and pasta together and serve.
Can I eat macaroni salad warm or cold?
Macaroni salad tastes best when served and eaten cold. You will achieve the creamiest texture when it is served cold.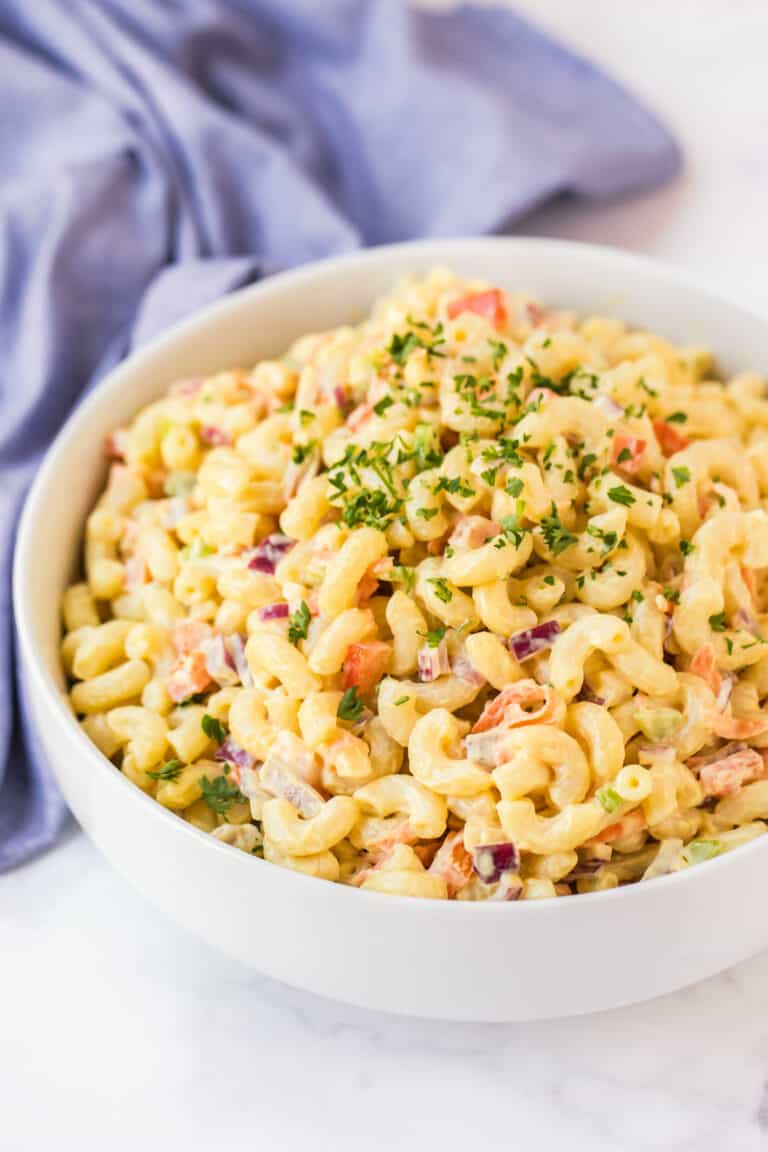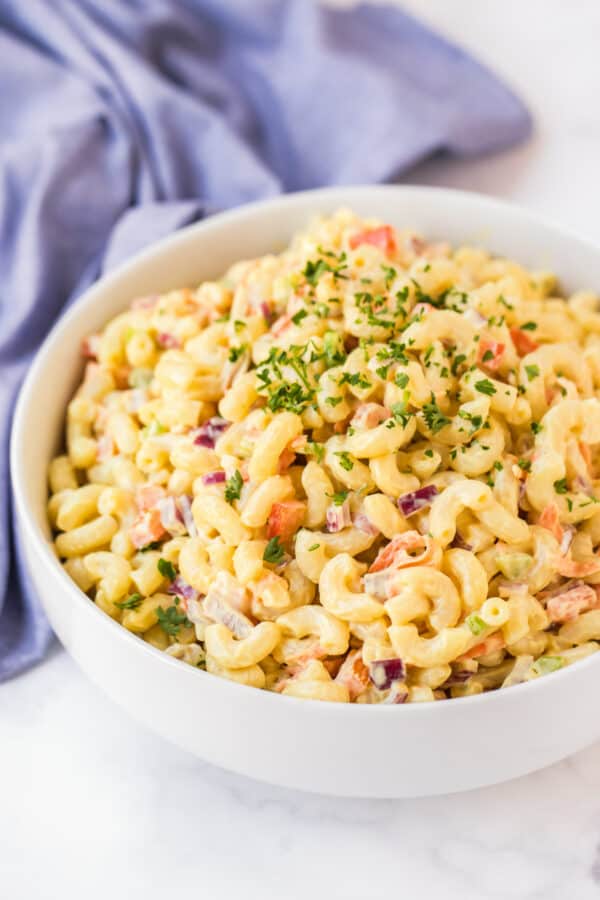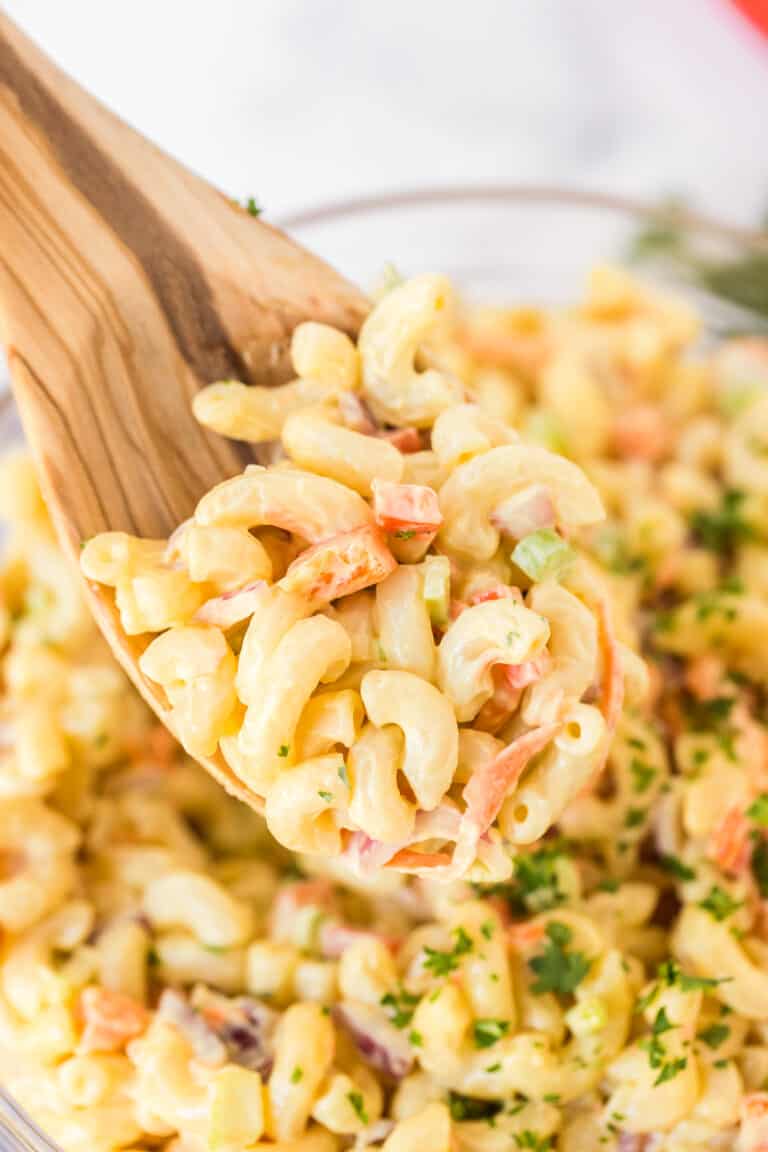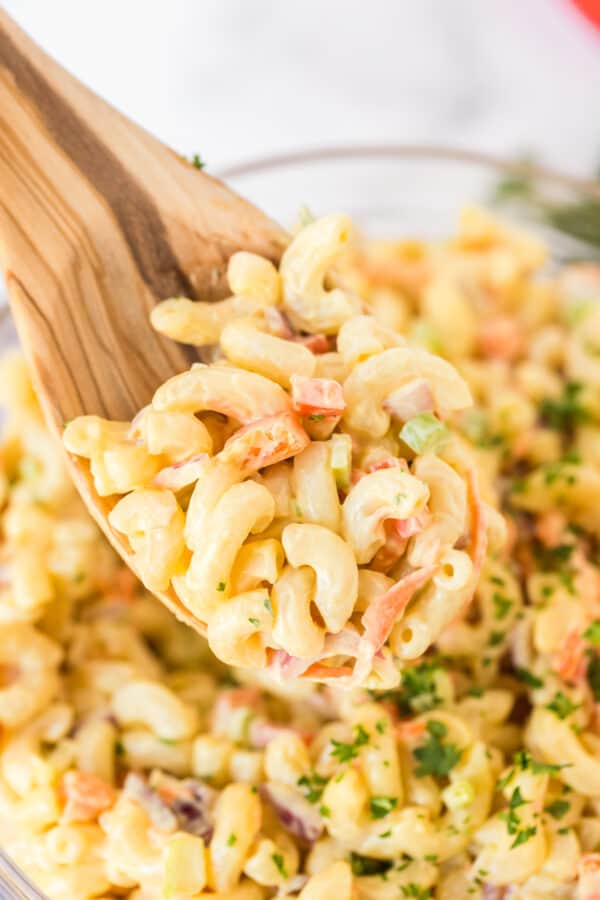 Storing this Easy Macaroni Salad
Although I recommend chilling your macaroni salad for 1-2 hours, the pasta tends to soak up most of the dressing when stored overnight.
You may want to set a little of the dressing aside if you don't feel that the macaroni salad will be eaten on the same day. That way you can combine the extra dressing with the noodles when you are ready to eat it and you will have a creamier texture.
Tips!
Thickening your dressing. When you first make your dressing, it may appear to be on the thin side. This is completely normal. Once the pasta and dressing are combined and chilled, the dressing will thicken up.
For a truly standout pasta salad, stick with dried pasta instead of fresh. It can be served chilled or at room temperature, and holds up well when tossed with dressing and other ingredients.
While it will stay good for a couple days, it's best to make pasta salad the day of or the day before you plan to eat it.
Use extra-salted water and the pasta will be well-seasoned by the time it's cooked. Be sure to taste and adjust the seasoning as necessary as you add the dressing and other ingredients.
More Macaroni Dishes We Love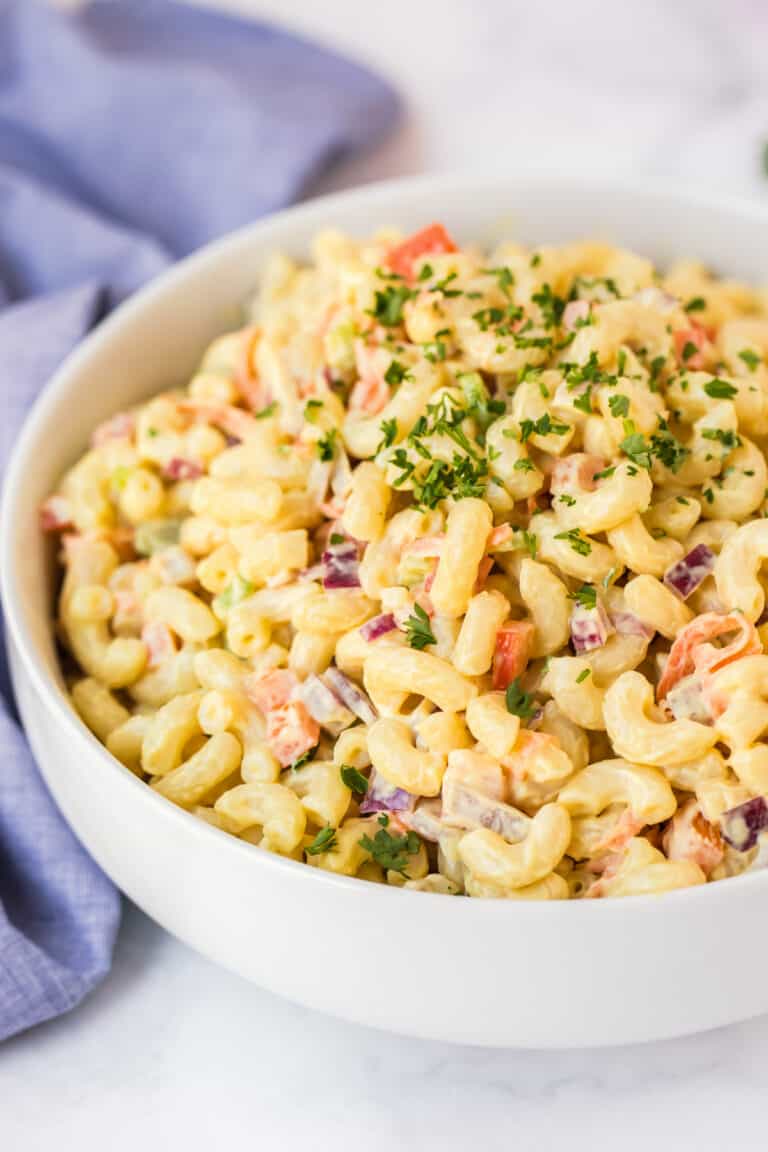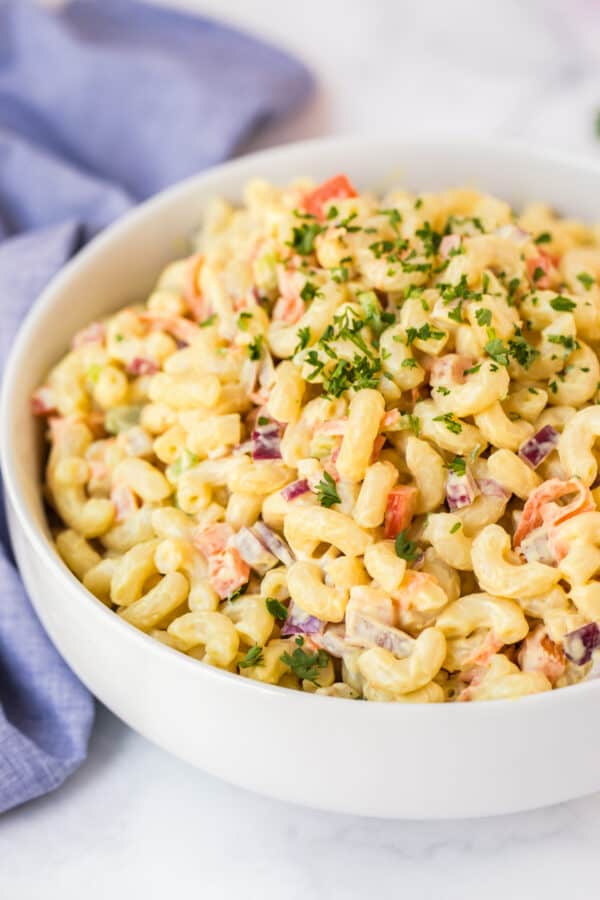 Other Delicious Salads
Have you tried this Easy Macaroni Salad? Feel free to leave a star rating and I'd love to hear from you in the comments below!