Delicious and hearty Loaded Chili Mac and Cheese is the perfect comfort food. It combines two incredible dishes in one, a hearty flavor-packed beef chili and creamy and cheesy mac and cheese plus it's super easy to make!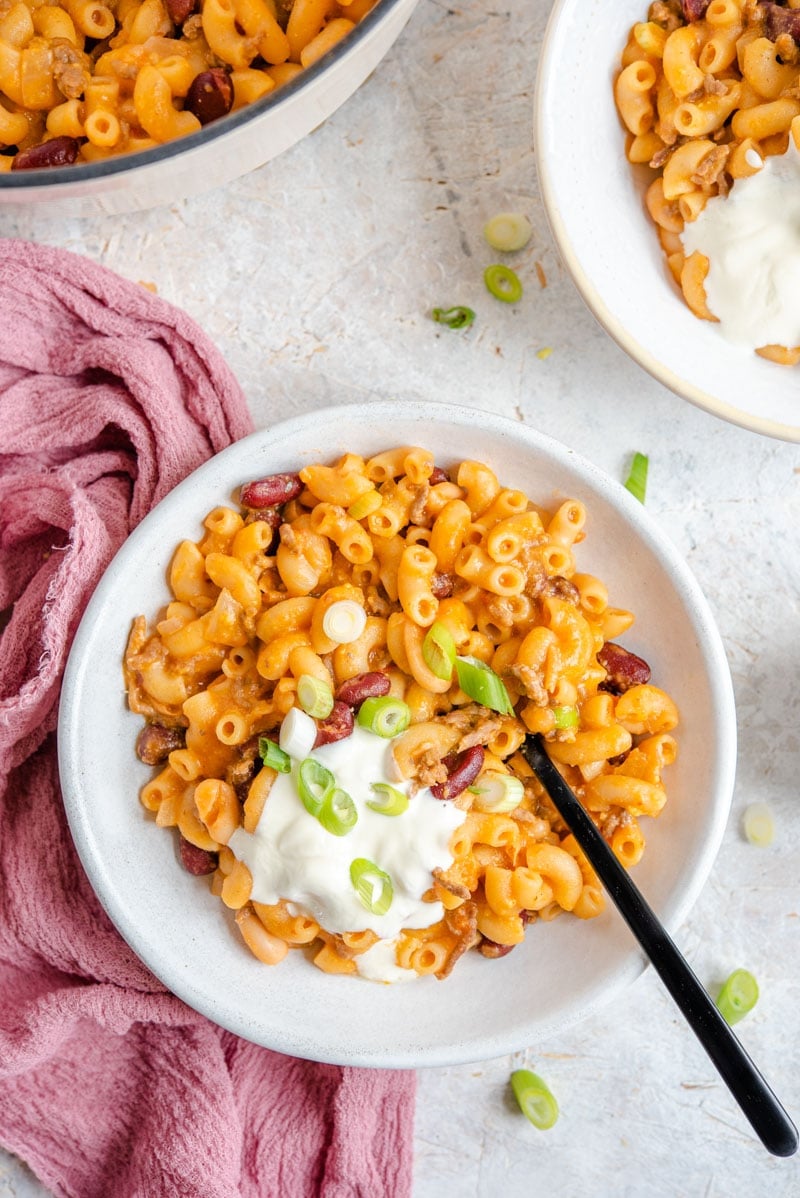 If you love beef chili and macaroni cheese then you are going to love this super comforting dinner!
Loaded Chili Mac and Cheese is the ultimate comfort food for a cold evening. Curl up with a bowl, top it the sour cream and scallions and dig in!
And if you're looking for a great chili recipe I have that too, check out my World's Best Chili Recipe Ever!
Why this is so good
So easy to make! Only 10 mins to prep, with simple ingredients from your pantry.
Ultimate comfort food. This delicious mac and cheese is hearty, warming and perfect for cozy winter nights.
Loaded with a delicious chili. Ground beef, perfectly browned, is seasoned with brown sugar, garlic and chili powder, marrying up beautifully with the cheesy mac!
Ingredients
Ground beef – I like to use lean but any will do just make sure to drain off any excess fat after browning.
Onion – white onion, diced
Garlic – fresh garlic for a strong and fresh flavor although you could substitute garlic powder.
Chili powder – add as little or as much as you like for a spicy kick.
Dark brown sugar – adds a little sweetness and caramelized flavor.
Diced tomatoes – try and use the best quality you can find for best flavor.
Chicken broth – homemade or store-bought (try and go for low sodium).
Kidney beans – I used a combination of white and red kidney beans for this recipe.
Elbow macaroni pasta – my favorite pasta for mac and cheese but any short pasta shape will do.
Cheese – use a sharp cheddar
How to Make Loaded Chili Mac and Cheese
First, add the onion, garlic and ground beef to a pan and brown.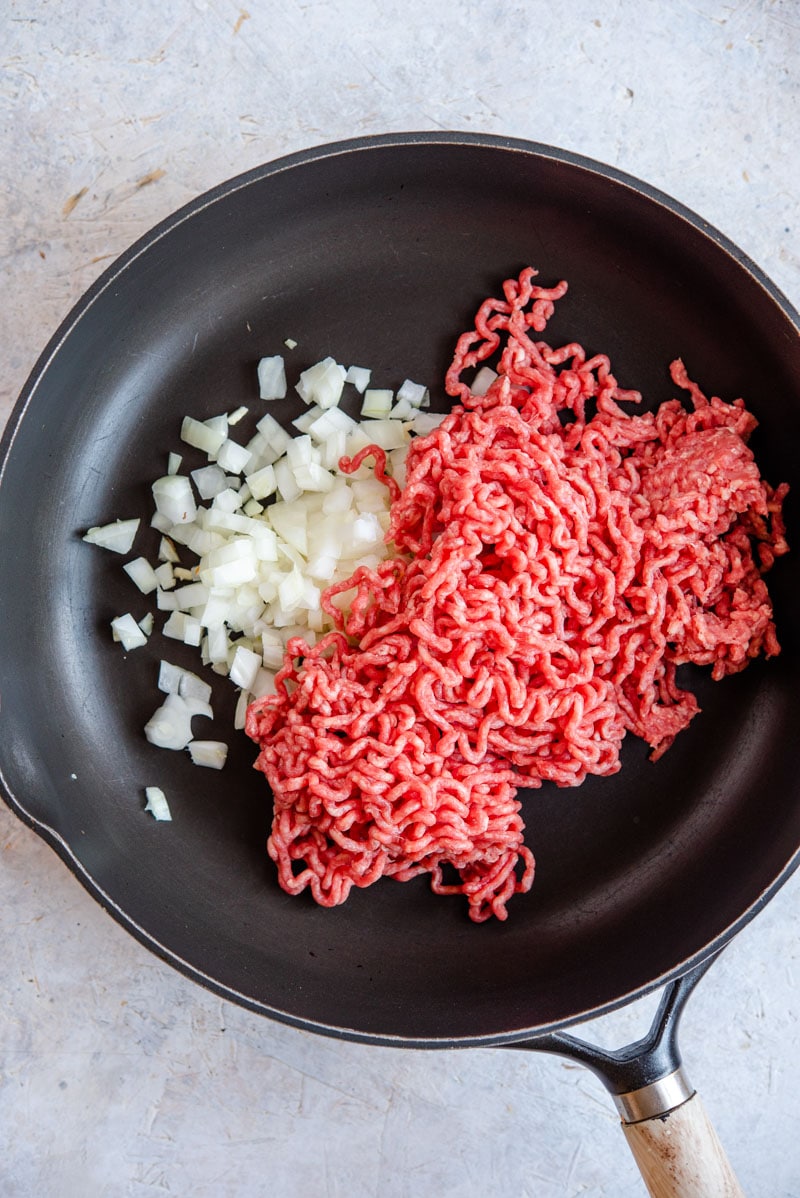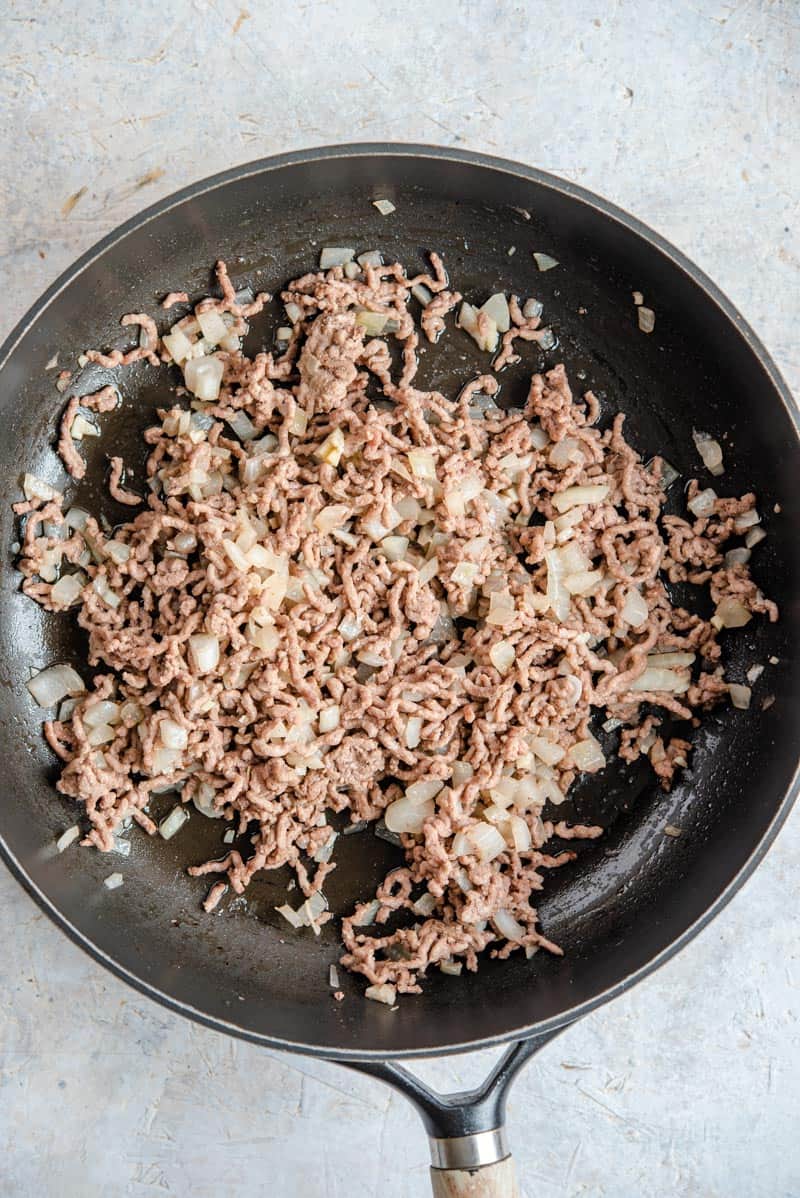 Once browned and the onions are soft, drain off any excess fat and add to a large pot alongside the kidney beans, tomatoes, and chicken broth.
Bring to a boil.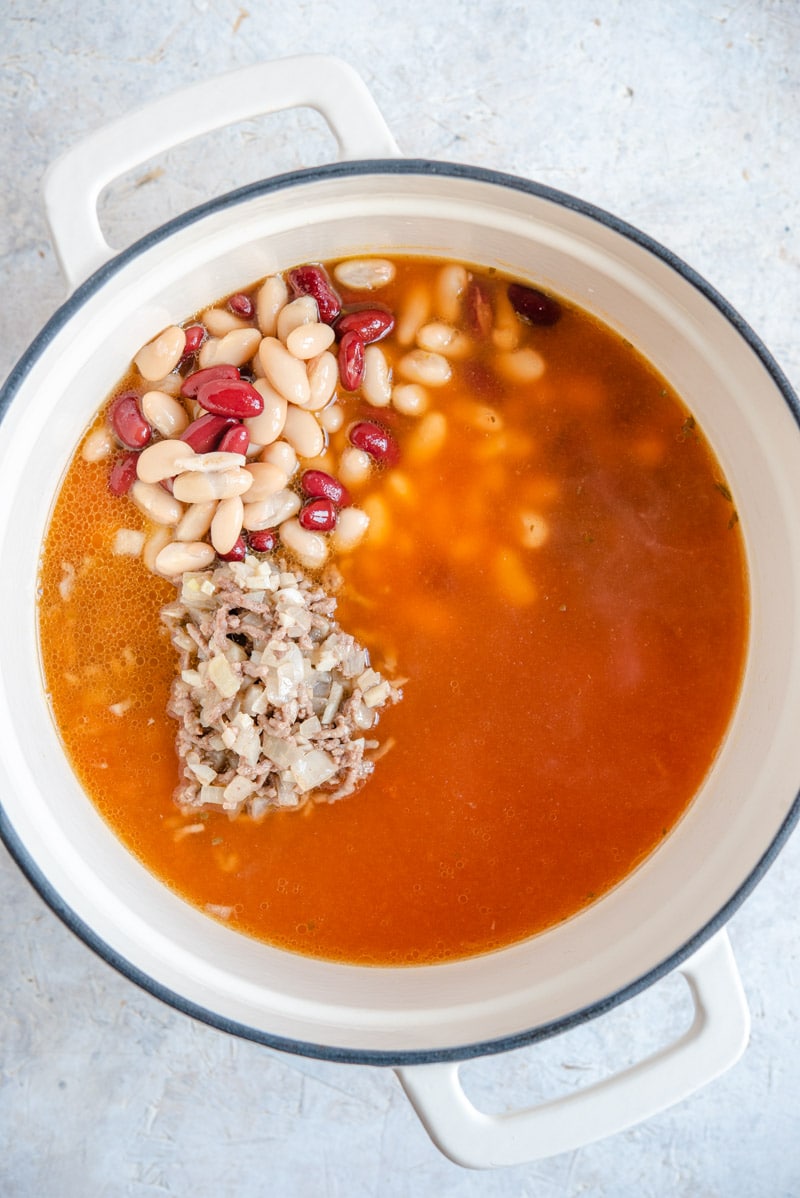 Add the elbow pasta and simmer again for another 12-15 minutes or until the pasta is cooked through.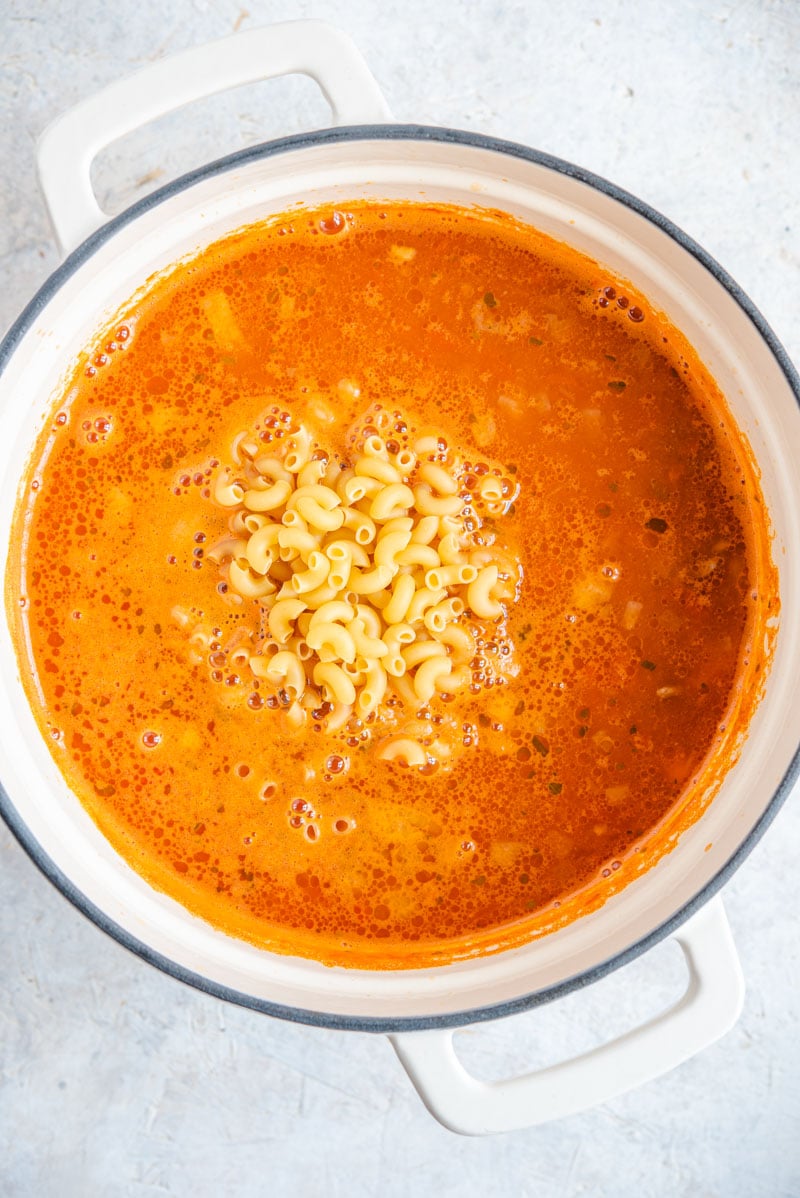 Stir in the cheese until it's melted and serve!
Chili Mac and Cheese Toppings
This meal is so hearty and comforting I only opt for a dollop of sour cream and freshly chopped scallions. It gives you the classic taste of beef chili only it's more indulgent!
You could also top the chili mac and cheese with extra cheddar for some freshly chopped tomatoes for a little freshness.
If you want it a touch more spicy, throw in a dash of hot sauce or you can use an habanero cheddar mix.

A Great Way to Use Up Leftover Veg
What I love about this dish is that you can use it to use up leftover veg to may have.
Zucchini, bell peppers even squash would all work really well in this recipe. Just cook them along with the onion in the first step!
You can also use different beans or add in things like carrots, peas, and sweetcorn.
The list and variations are endless and I can guarantee it will taste delicious!
How to Store Leftovers
Leftovers can be stored in the fridge for 2-3 days and eaten cold or reheated as needed.
You can also freeze leftover chili mac and cheese for up to 3 months in suitable containers. Make sure to thaw completely before reheating.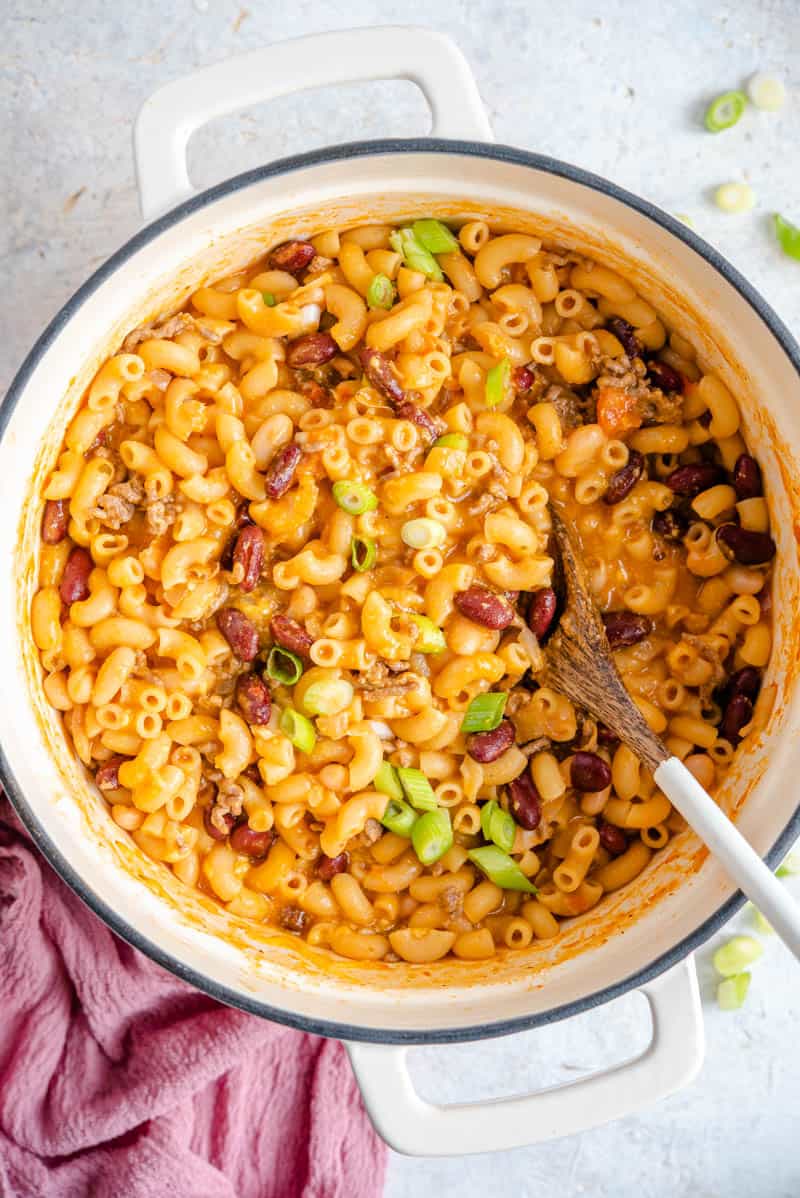 Top Tips for Making Loaded Chili Mac and Cheese
Make sure to drain any excess fat after browning the beef so the pasta isn't greasy.
You can add as much chili powder as you like and can even add in extras such as cayenne pepper or paprika for a spicy kick.
A sharp cheddar will give you the best flavor!
Although I love elbow macaroni for classic mac and cheese you can use any short pasta shape for this.
Top with sour cream and green onions for a classic chili taste.
More Mac and Cheese Recipes
Have you tried this Chili Mac and Cheese recipe? Feel free to leave a star rating and I'd love to hear from you in the comments below!