Loaded Chili Mac and Cheese is the perfect comfort food! It combines two family favorites, cheesy macaroni and hearty beef chili, into one dish. It's easy to make, delicious, and loaded with all of the best ingredients. This loaded macaroni and cheese recipe will make everyone smile!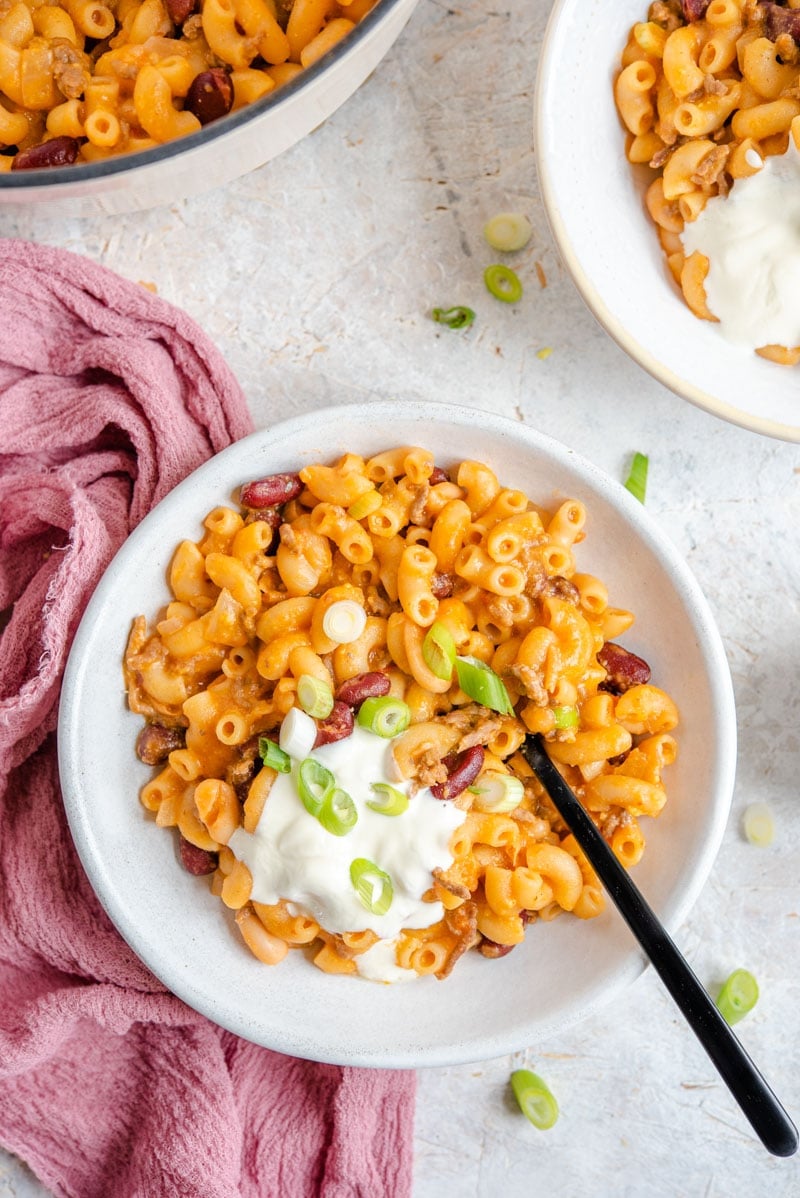 Chili Mac and Cheese
If you love beef chili and macaroni and cheese, then you are going to love this super-comforting recipe!
Loaded Chili Mac and Cheese is the ultimate comfort food for a cold evening. Curl up with a bowl, top it with sour cream and scallions, and dig in!
This is a simple dinner to make for weeknights, and the entire family will love it. Chili mac meets loaded macaroni in one cheesy, creamy bowl!
Why You'll Love this Loaded Mac and Cheese Recipe:
EASY: This recipe is so easy to make! You only need 10 minutes to prep, and some basic pantry ingredients.
COMFORT FOOD: Loaded macaroni and cheese with chili is the ultimate comfort food! It's hearty, warming, and perfect for cozy winter nights.
LOADED: Not only do you get chili and mac and cheese in one bowl, but you can load this up with even more toppings and ingredients to make the perfect meal.
Be sure to try this American Goulash recipe, or our Cincinnati Chili!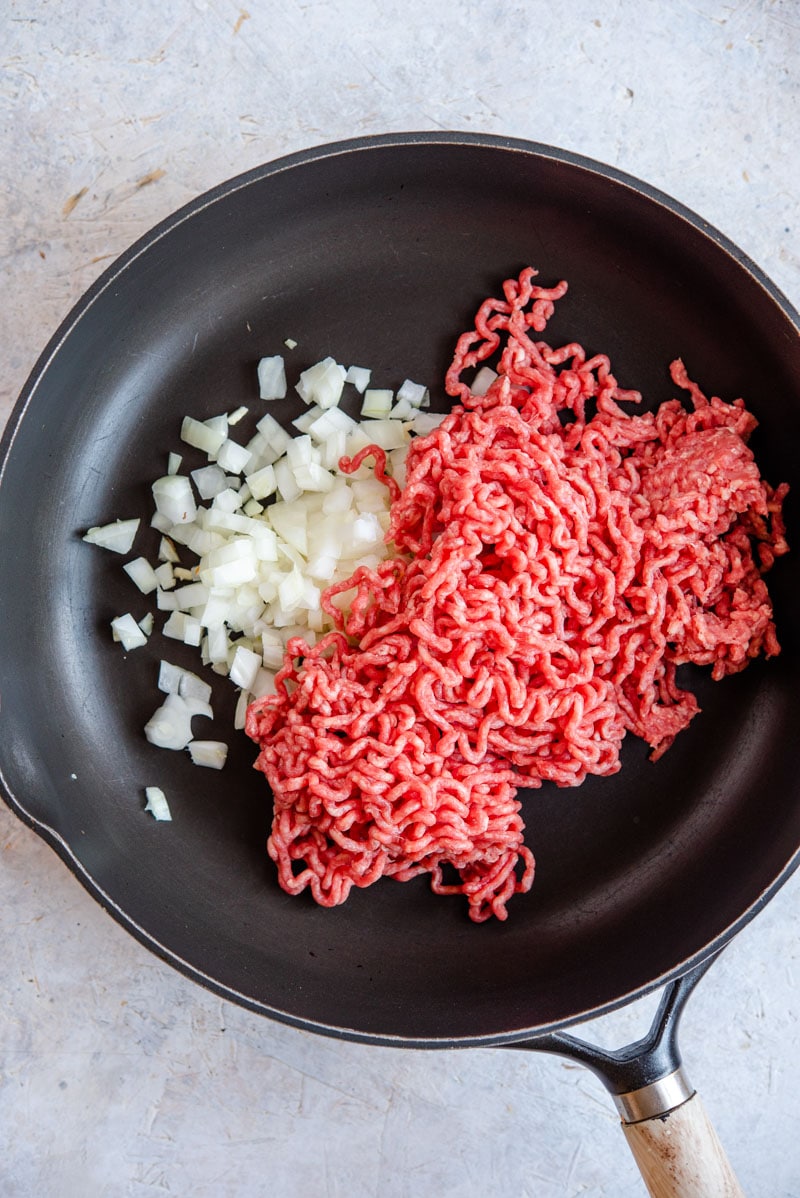 Ingredients
Ground beef: I like to use lean ground beef (90/10), but any type will do. Just make sure to drain off any excess fat after browning.
Onion: I recommend using white or yellow onions, although red onion would add a nice bite.
Garlic: Use fresh garlic for a strong and fresh flavor. If needed, you could substitute garlic powder.
Chili powder: Feel free to add as little or as much as you like, depending on your spice preference.
Dark brown sugar: This adds a little bit of sweetness and caramelized flavor.
Diced tomatoes: A regular can of diced tomatoes works great. You could substitute a chunkier tomato if you prefer.
Chicken broth: Use a homemade or store-bought broth. I recommend using a low-sodium option. You could also substitute veggie or beef broth if you prefer.
Kidney beans: I used a combination of white and red kidney beans for this recipe. Drain and rinse before adding them into the chili.
Elbow macaroni: Macaroni noodles are ideal for chili mac and cheese, of course, but any short pasta shape will do.
Cheese: Use shredded or freshly grated cheese. I like suing a sharp Cheddar or Cheddar jack.
How to Make Loaded Chili Mac and Cheese
Be sure to see the recipe card below for full ingredients & instructions!
Brown the onion, garlic, and ground beef. Drain excess fat, if necessary.
Add to a large pot with the kidney beans, tomatoes, and chicken broth. Bring to a boil.
Add the macaroni and simmer until it's cooked through.
Stir in the cheese until melted. Serve it up!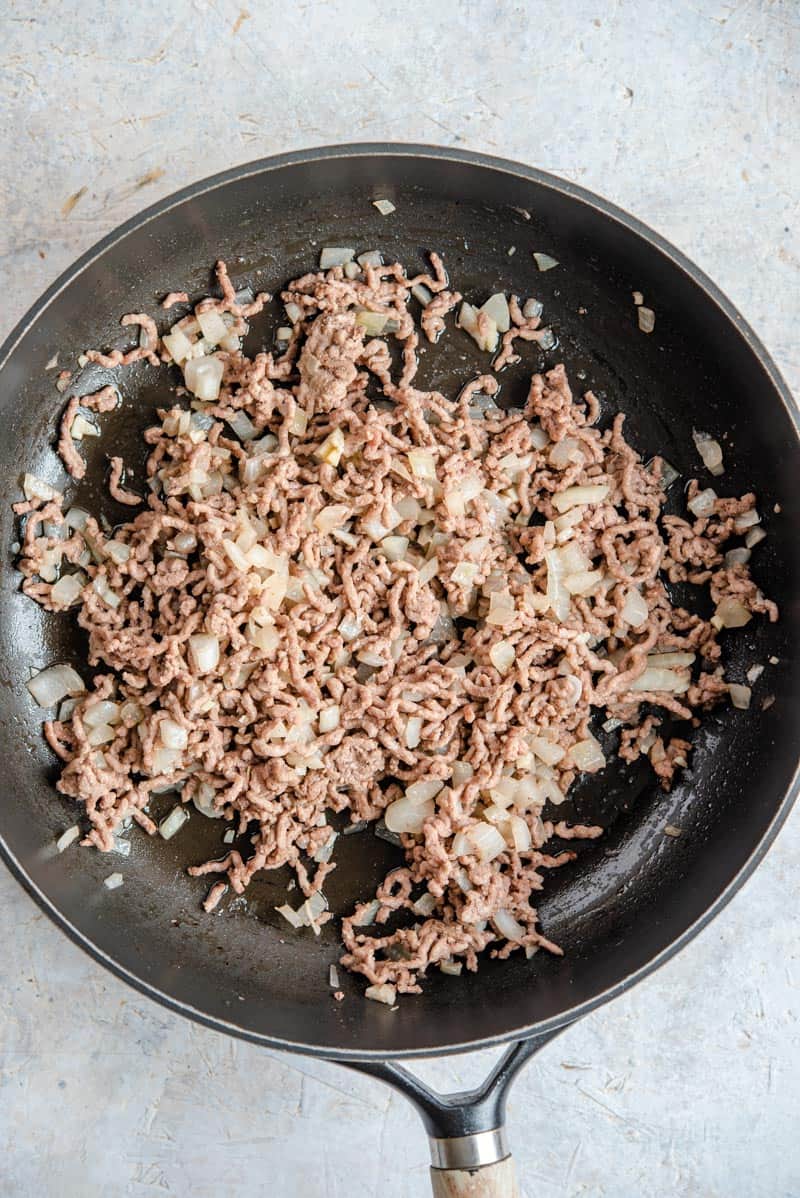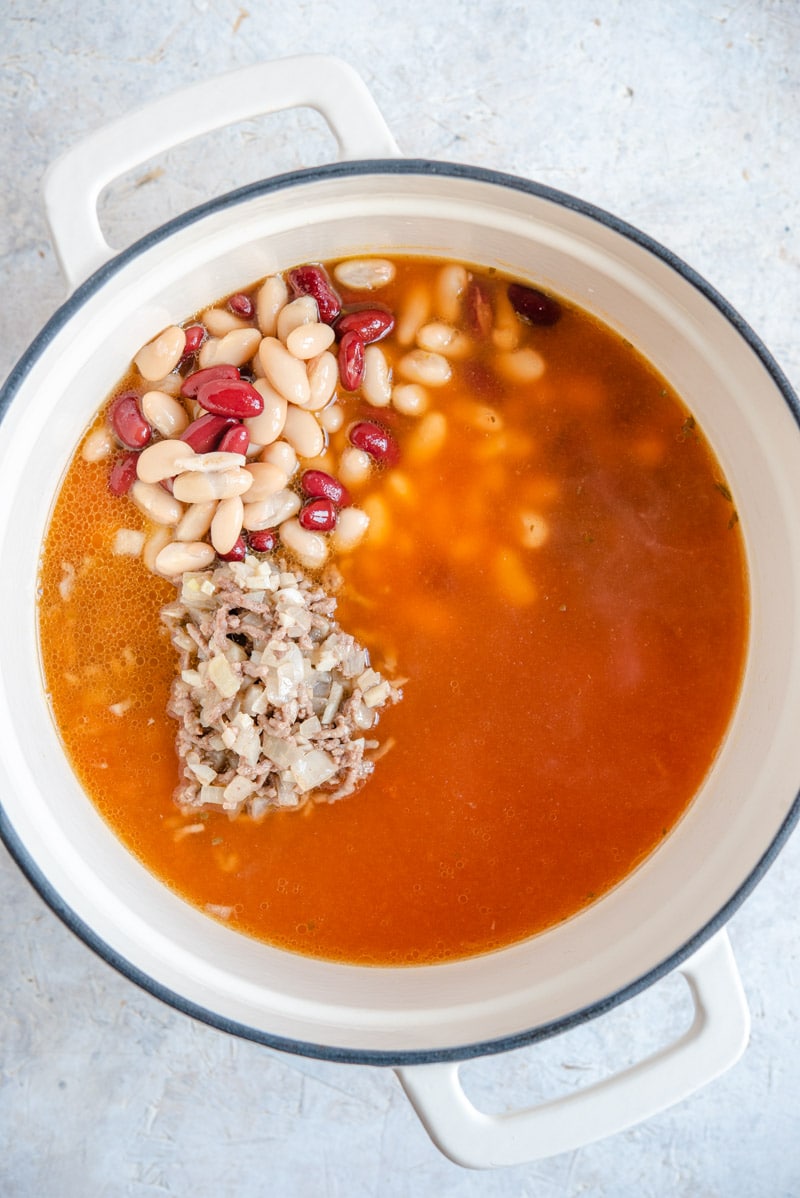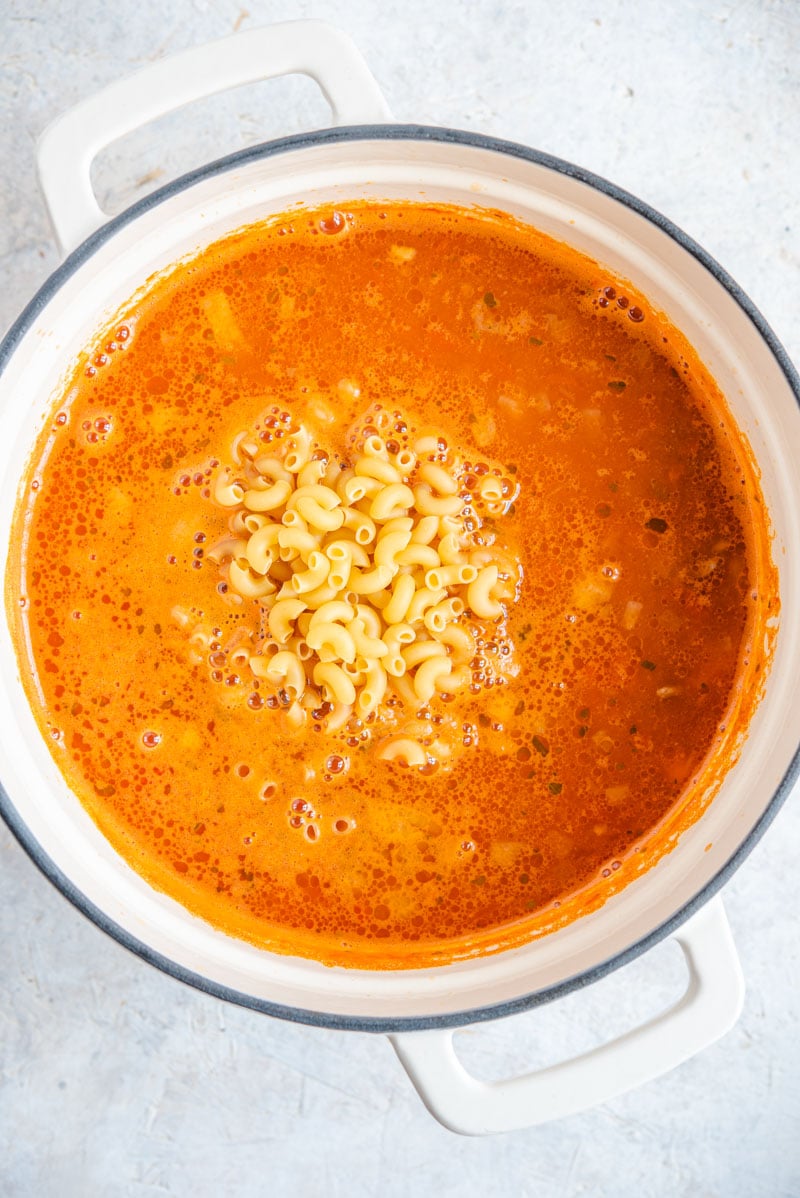 How do I make this chili mac and cheese spicier?
If you want a spicier version of this dish, you can simply add more chili powder. You could also add red pepper flakes or paprika. Another option is to add jalapenos, either directly into the chili mac, or as a topping. Pepper jack cheese can also spice it up a bit.
Can I use chicken instead of beef?
Absolutely! Beef chili with macaroni is a classic, but you can use ground chicken if you prefer. Or, mix in fully cooked shredded chicken.
Do I need to brown the beef first?
Yes. Browning the ground beef helps release more flavor, and it ensures the meat is fully cooked.
What's the best cheese for loaded mac and cheese?
I prefer Cheddar jack for this recipe, but a sharp Cheddar or any Cheddar blend works great.
What toppings should I add to Chili Mac and Cheese?
There are so many ingredients loaded into this mac and cheese with chili, so it doesn't need much else to top it off. I like to add a dollop of sour cream and some freshly chopped scallions, like a loaded baked potato!
However, you could also top off this chili mac with extra shredded cheese, bacon crumbles, or some freshly chopped tomatoes for a little freshness. If you want it a bit spicier, throw in a dash of hot sauce or you can use a habanero Cheddar mix.
Serving Suggestions
This hearty chili mac and cheese is loaded with ingredients, and makes a quick and filling meal. I love to serve it with some cornbread. It also pairs nicely with a fresh baked potato!

Tips!
Make sure to drain any excess fat after browning the beef, so the dish isn't greasy.
You can add as much chili powder as you like, and can even add in extras such as cayenne pepper or paprika for a spicy kick.
Although I love elbow macaroni for chili mac and cheese, you can use any short pasta shape for this.
Top with sour cream and green onions for a classic loaded chili flavor.
Recipe Variations
What I love about this loaded mac and cheese with chili is that you can easily change up the recipe as needed.
This is a great way to use up leftover veggies that you may have hanging around in the fridge. Dice up zucchini, bell peppers, or squash, and throw them in. Just cook them up along with the onion in the first step. You can also in add peas or corn.
You can also use different beans, like black beans. Make it vegetarian by leaving out the beef, or use ground chicken or turkey instead.
The list and variations are endless and I can guarantee it will taste delicious!
Can you keep leftover chili mac and cheese?
This loaded chili mac and cheese recipe makes great leftovers, so be sure to save anything you don't eat right away. You can keep it in the fridge or freezer, then reheat and eat!
Fridge: Store leftovers in an airtight container, and refrigerate for 2-3 days. Eat it cold or reheat in the microwave.
Freezer: You can also freeze leftovers for up to 3 months in freezer-safe containers. Make sure to thaw in the fridge before reheating.
More Mac and Cheese Recipes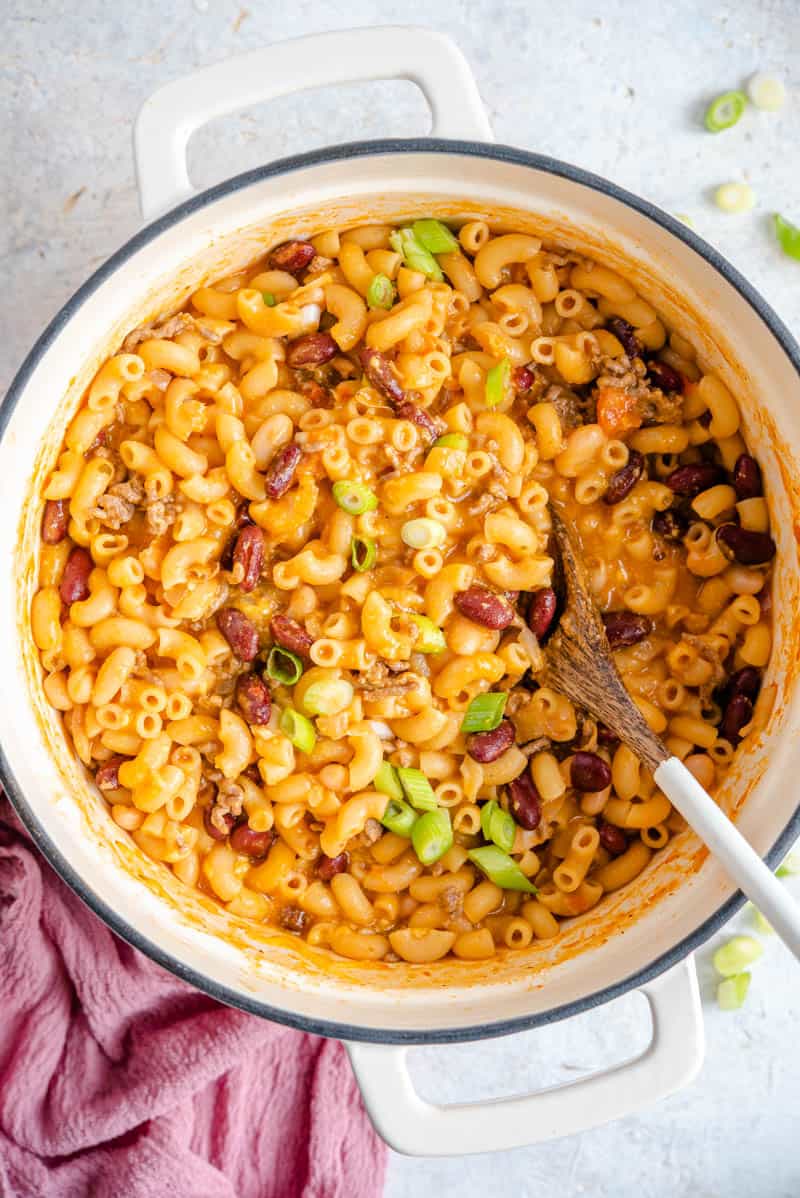 Chili mac is definitely one of my favorite comfort foods, and it's no exception here. This loaded mac and cheese recipe is so cheesy and delicious. And luckily my whole family is just as happy to eat it as I am!
If you make this recipe be sure to upload a photo in the comment section below or leave a rating. Enjoy!