Instant Pot Chili Mac will be your new go-to favorite comfort food! This amazing Chili Mac Recipe is loaded with beef, cheese, beans, tomatoes, and so much more. Kids and adults alike will be back for seconds. We love to top our pressure cooker chili mac with fritos, sour cream, and lots of cheese. There's nothing like a bowl of easy Chili Mac and Cheese on a chilly night.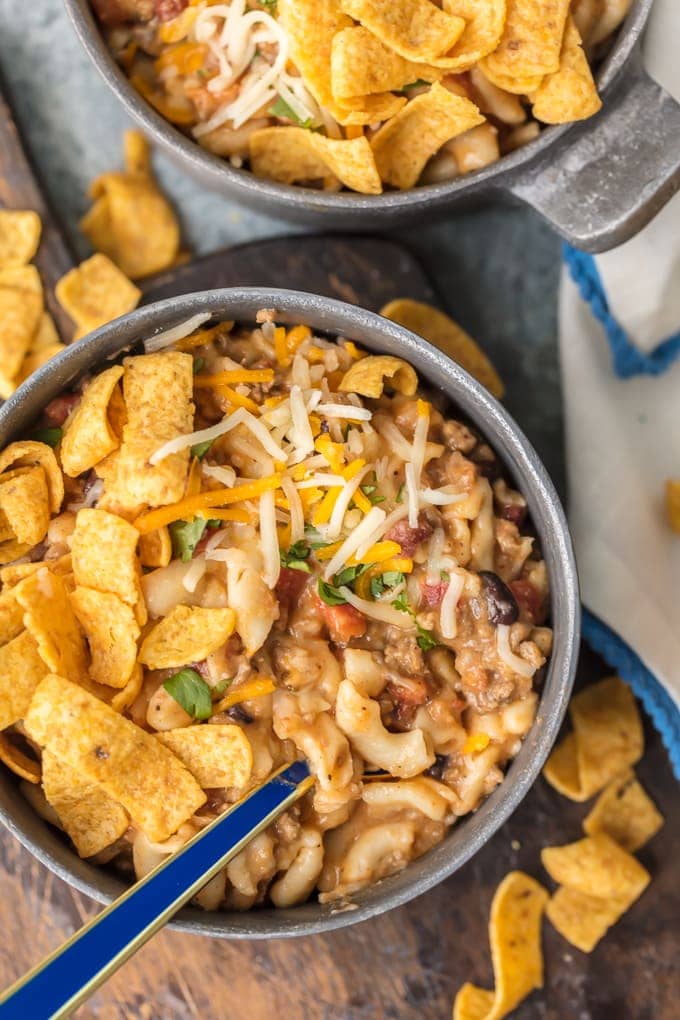 Instant Pot Chili Mac
Chili Mac is a classic comfort food, and making it in an instant pot makes it so easy to make. This pressure cooker chili mac recipe will be your go-to winter comfort meal!
I've always loved chili mac in the winter time, because nothing warms you up like a big bowl of chili combined with macaroni and a million delicious toppings. Just that sentence alone makes me feel so FULL of happiness, and that's what we all need in the dark days of winter.
This pressure cooker chili recipe is topped with lots of cheese, macaroni, frito's corn chips, and plenty of other good stuff. By far my favorite (and easiest) chili mac recipe.
This Instant Pot Chili Mac checks all the boxes…EASY, quick, comforting, and delicious. It's my kind of meal, so I hope that it's yours as well!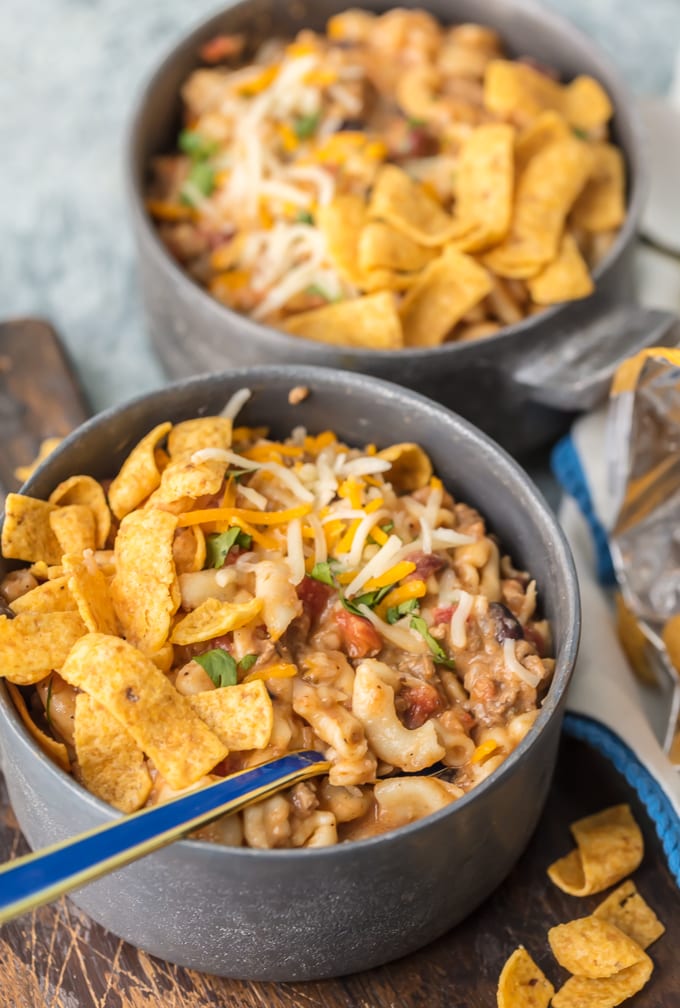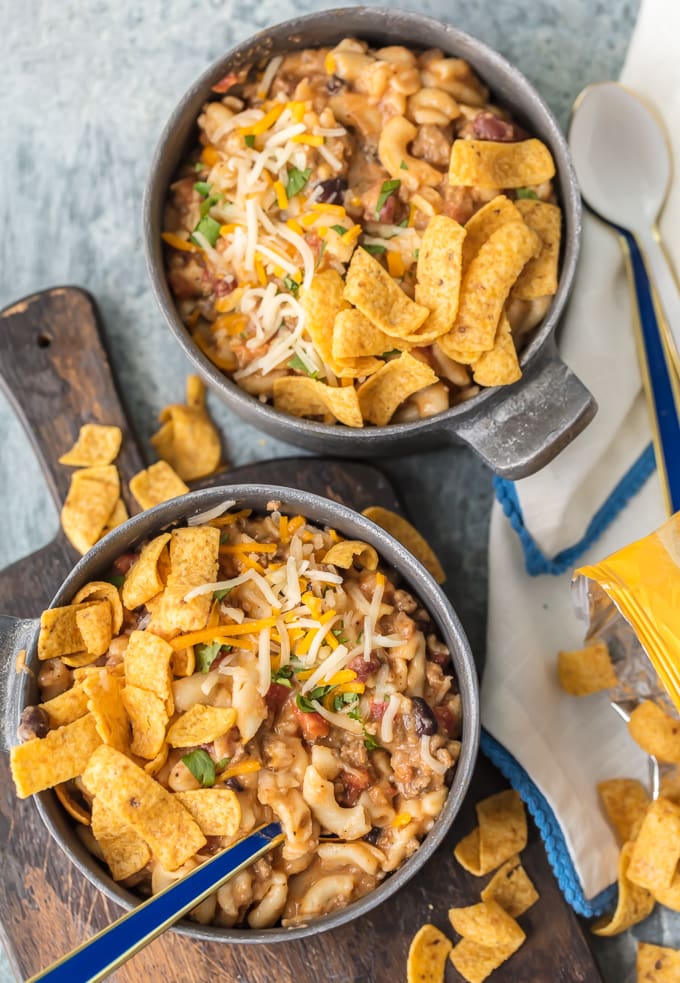 Pressure Cooker Chili Mac Recipe
We have been LOVING our Instant Pot and I hope you guys aren't tired of the new recipes by now! This Instant Pot Chili mac recipe is just our latest favorite.
If you don't have an Instant Pot (aka a pressure cooker), I do have an awesome Loaded Chili Macaroni and Cheese recipe that's made on the stove top. It's very similar, just made a little differently. Whichever way you go, you can't go wrong. This meal never gets old to us at our house.
If you're wanting to try out the Instant Pot and aren't sure which one to get, I recommend the 6 qt for families of 4, or the 8 qt if you're consistently serving a crowd.
Some of our other pressure cooker favorites include Classic Pot Roast, Honey Baked Ham, Chicken Tortilla Soup, and of course Zuppa Tuscana (I could eat that every dang day).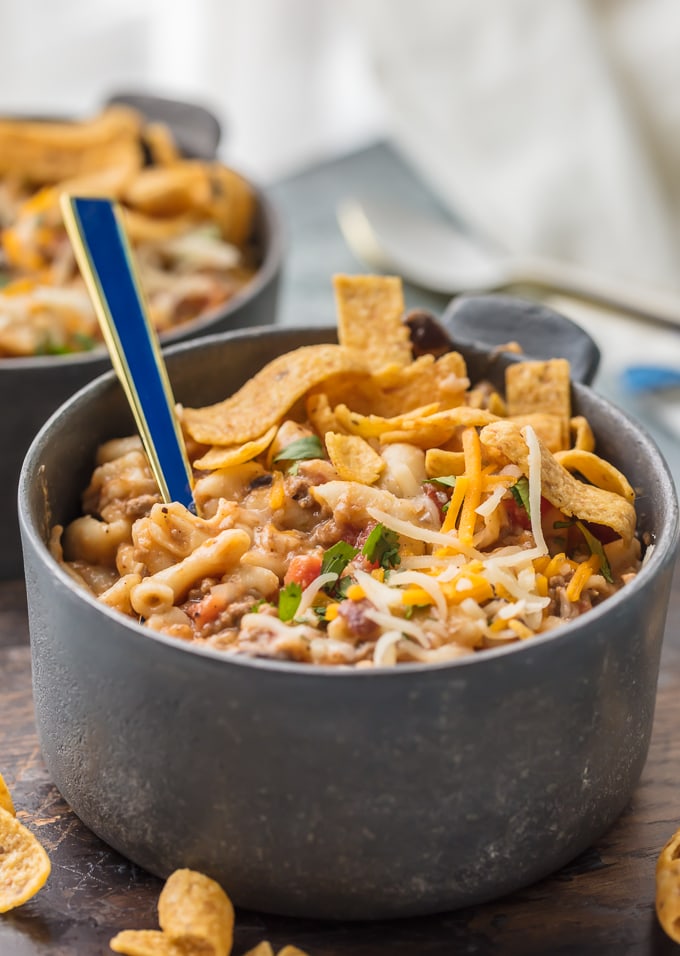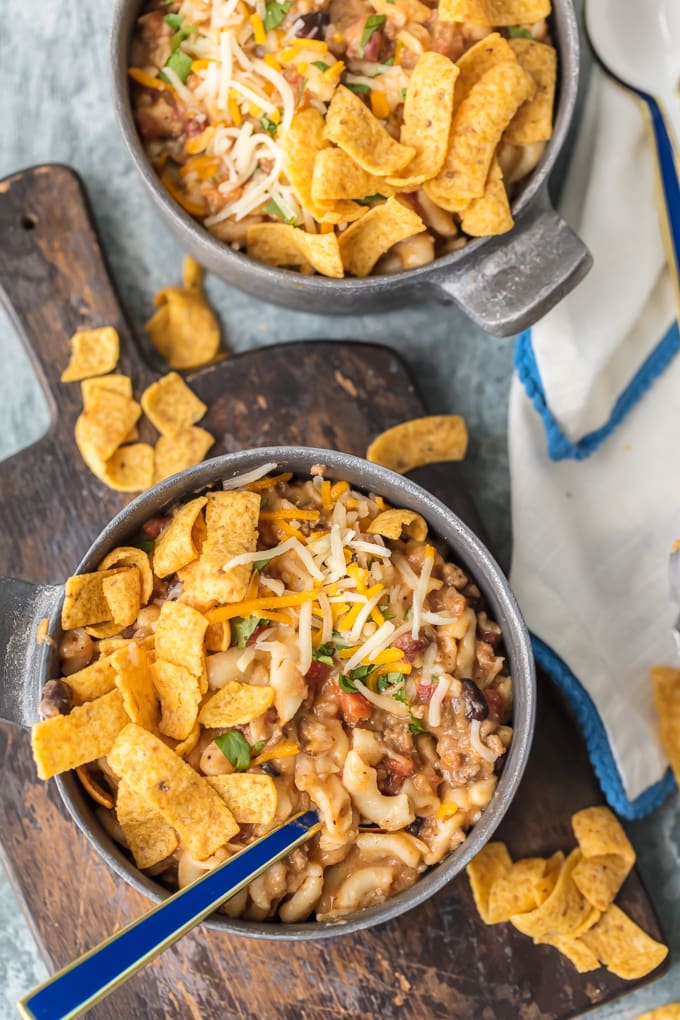 Loaded Chili Mac Recipe
Our Instant Pot Chili Mac is filled with so many good ingredients like cheese, beef, tomatoes, and more!
Chili Mac Ingredients:
Ground Beef
Yellow Onion
Garlic
Chili Powder
Cumin
Chicken Stick (low-sodium)
Diced Tomatoes with Green Chiles
Black Beans
Red or Kidney Beans
Elbow Pasta
Shredded Cheese
Butter
Oil
Salt & Pepper
Whole Milk
Parsley
Lots of delicious ingredients combined in one (instant) pot. How could you go wrong?
This combination of pressure cooker chili and mac and cheese is the most comforting food I can think of. I can't wait to make it for easy weeknight dinners and eat it all winter long!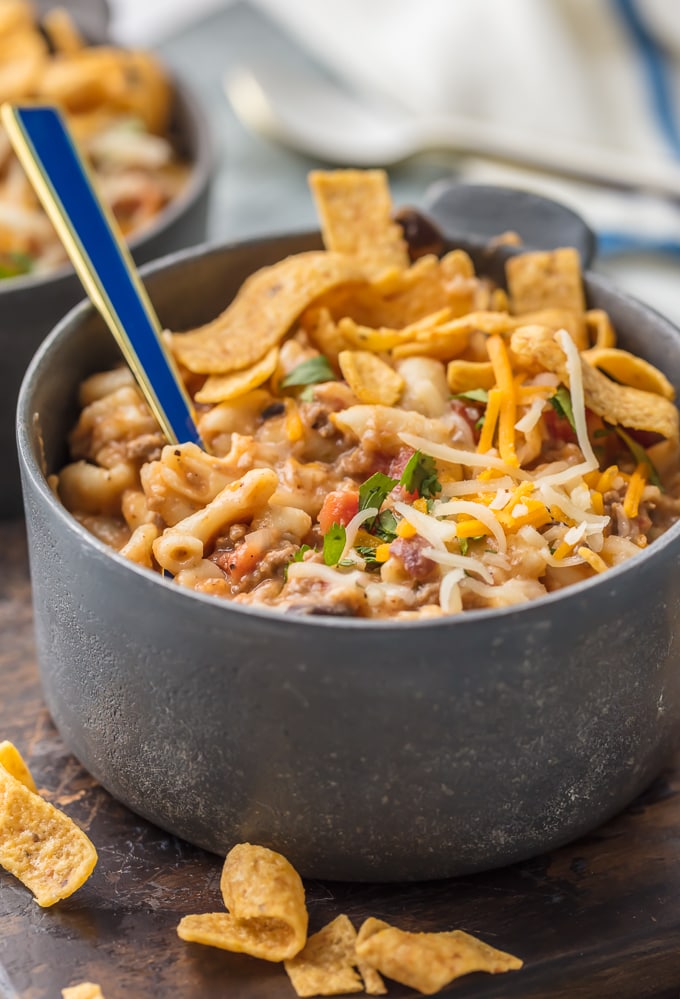 Easy Instant Pot Recipes
Check out our other favorite Instant Pot Recipes including:
I know you'll love these comfort food recipes too!
If you make this recipe be sure to upload a photo in the comment section below or leave a rating. Enjoy! You can also jump to recipe.