Frozen Vegetables are a necessity for busy families, especially if you're on a budget! They're easy to substitute in place of fresh vegetables, and they still taste great. Stock up your freezer with these veggies so you always have some on hand for quick meals, even when you don't have time to go to the grocery store. Then try these frozen vegetable recipes and find new ways to use them.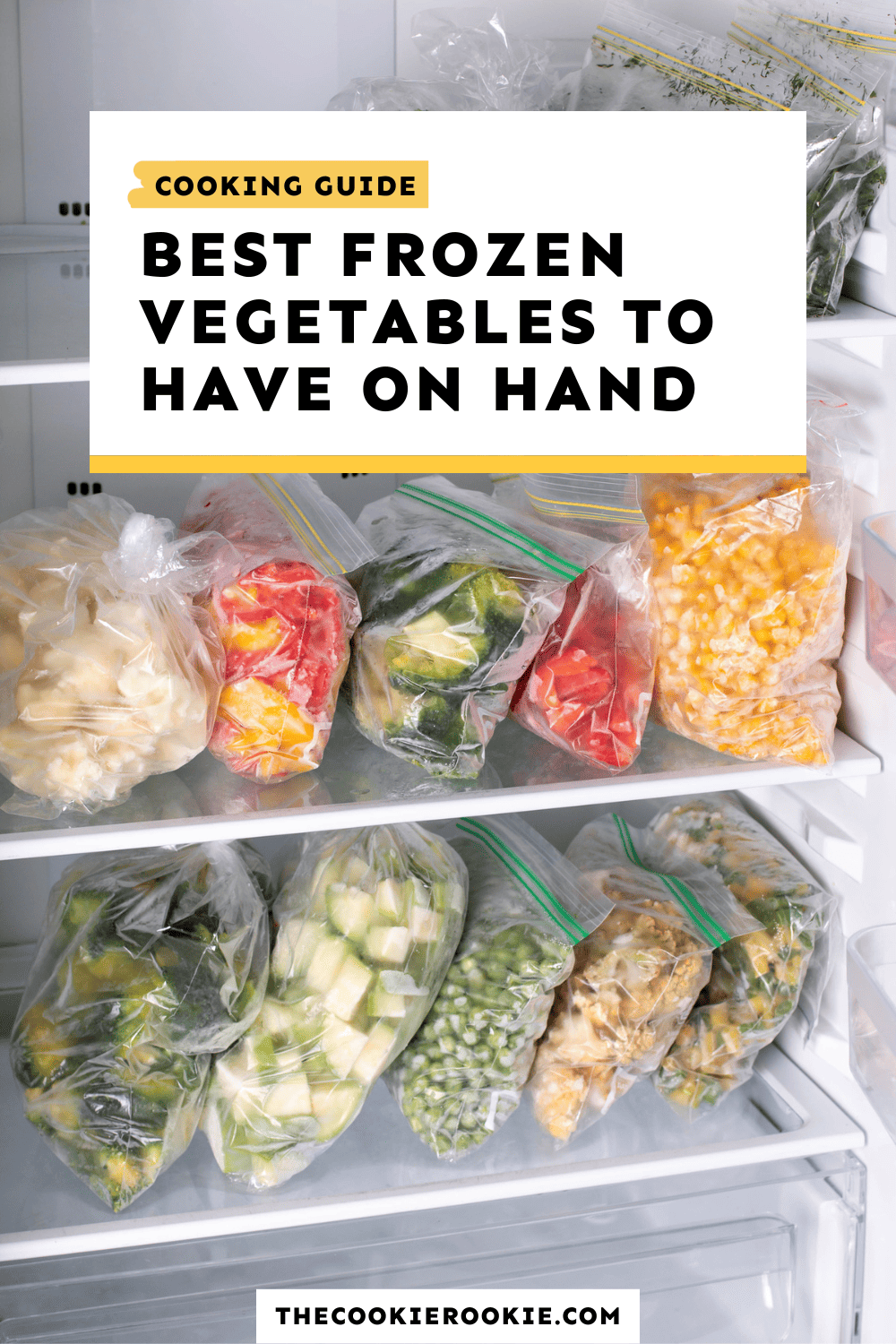 Stock Up Your Freezer with Veggies
Stocking up your freezer and pantry is a great way to avoid constant trips to the grocery store, which inevitably leads to spending more money than you meant to. Frozen vegetables are one of the foods I always keep on hand for quick, last-minute, and budget-friendly meals.
Frozen veggies tend to get a bad rap, but I'm here to put in a good word. Sure, having fresh produce all the time would be nice, but sometimes you just don't have it. It goes bad quickly, and weekly grocery trips aren't always possible.
I'm sharing some of the best frozen vegetables to stock up on, plus lots of frozen vegetable recipes and tips so you know what to do with them!
What are the benefits of using frozen vegetables?
Price: Frozen veggies tend to be less expensive than fresh, especially if you buy store-brand vs name-brand (they're just as good). Also consider how much fresh produce you end up throwing out–that's wasted money!
Long-term storage: Frozen produce will last in your freezer for months until you're ready to use it. Meanwhile, fresh veggies will go bad within a week or two.
Stock up/Bulk buy: Buying frozen allows you to stock up your freezer ahead of time, and take advantage of any good deals at the store. If you know you can't make regular grocery store trips, buy a little bit of fresh produce, and lots of frozen.
Easy: Overall, frozen vegetables are just more convenient. They're easy to store in your freezer, they're usually pre-cut, and they cook fast. If you need easy meals, this is your answer.
Are frozen veggies healthy?
The short answer: Yes, they are healthy. Some might have added salt, or other flavors and ingredients. But if you are buying plain frozen veggies, they will have the same nutrients as fresh. And of course, frozen veggies are always better than no veggies.
The long answer: All produce, once picked, starts to lose some nutritional value. During the time it takes to move produce from the farm to the store, and the time it sits in your fridge before you eat it, it continues to lose nutritional quality. However, most frozen vegetables are flash frozen shortly after being harvested in order to retain as much nutritional value as possible (they stop "degrading" as soon as they are frozen).
So overall, frozen veggies have the same nutritional value as the fresh produce you find at most large supermarkets.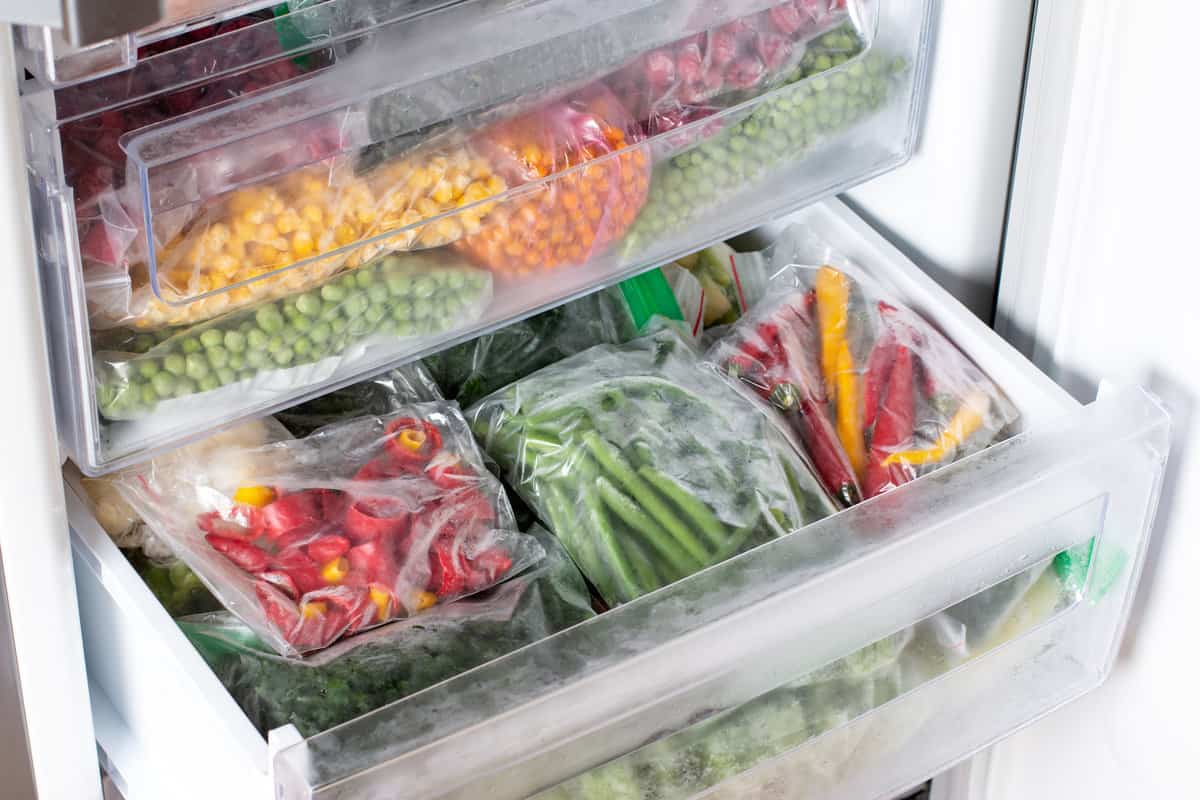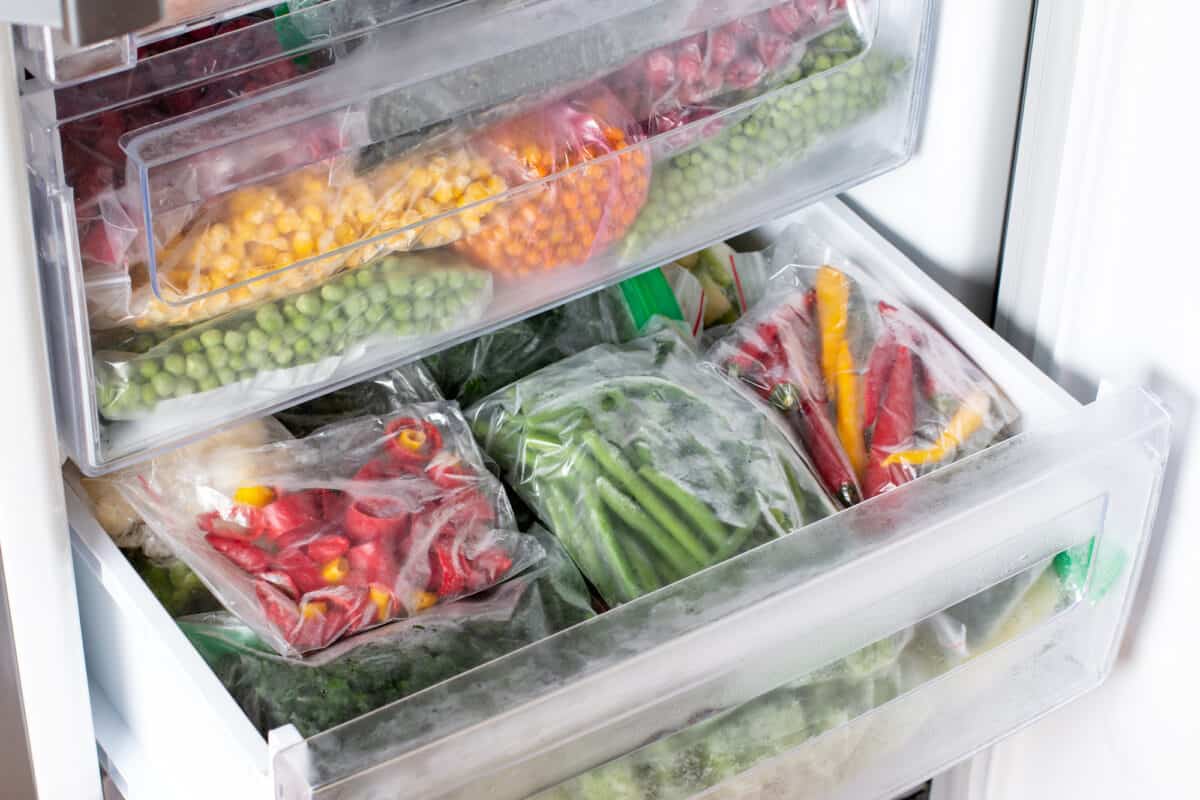 What are the best frozen vegetables to stock up on?
These are the frozen vegetables I recommend stocking up on. I like these because they all hold up well in the freezer, keep a good texture when cooking from frozen, and they're extremely convenient and easy to cook.
Broccoli: It's already cut into florets or smaller pieces, and the texture holds up well when cooking from frozen.
Cauliflower: Same as broccoli, it's cut and ready to cook. You can also find riced cauliflower in the frozen aisle, which makes a healthy grain alternative.
Brussels Sprouts: I recommend roasting or sautéing these to get the right texture, but overall the flavor and convenience of frozen brussels sprouts can't be beat.
Carrots: Carrots are sturdy enough to hold onto their texture after being frozen and cooked, so they're a great option to buy frozen.
Corn: Unless you're planning to eat corn on the cob, you're not going to want to buy it fresh. Frozen corn is much more convenient, ready to cook, and easy to add into all kinds of dishes.
Butternut Squash: Buying a whole squash, fresh and raw, can honestly be overwhelming. But buying it frozen means it's already chopped into cubes, which makes it easier to use for quick meals.
Spinach: If you're planning to cook spinach down, you might as well get it frozen. You don't have to worry about it sitting in your fridge too long (where it starts to get mushy fast), and it keeps its nutritional value.
Peas: Having a bag of frozen peas brings so many options for quick meals. This is the easiest way to buy and cook peas, and they are really easy to add into dishes.
Frozen Vegetable Recipes
Now that your freezer is stocked up with vegetables, here are some recipes, tips, and ideas on how to use them! Try these recipes and substitute frozen vegetables in place of fresh for an easy meal or side dish.
More Vegetable Recipes
What's the best way to cook frozen vegetables?
As you'll see on the packaging of your veggies, you can cook them by using the microwave, steaming them in a pot on the stove, or heating them up in a skillet. However, if you have the appliances, you can also cook them in a pressure cooker or Air Fryer.
One of the main complaints about frozen veggies is that they can get soggy or mushy after reheating them. This is because of all the water and moisture involved in the cooking process. There is a way to fix this though: Use dry heat methods to balance it out.
How to make frozen vegetables crispy
Cook them in the microwave or reheat them on the stove, according to package directions. But cook for 2-3 minutes less than directed. This will defrost them so that they're no longer frozen, but not fully heated through.
Then, you can either briefly roast them in the oven or saute them in a skillet to finish cooking. This will finish heating them all the way through, and also making them way crispier.
While you can roast straight from frozen, this tip will speed up the process with the same results.
Tips!
Lots of recipes call for fresh vegetables, but most of the time, you can easily substitute frozen.
When substituting with frozen, you might need to thaw/defrost them before adding them into a recipe.
How can I make frozen veggies taste better?
The other main complaint with frozen vegetables is flavor…or rather, the lack of flavor. Unfortunately, frozen are not as naturally flavorful as freshly picked veggies, and if you're grabbing plain frozen vegetables, they're not going to have any seasoning added to them either.
If you were cooking fresh produce, you wouldn't skip the seasoning step, so don't skip it here either. Here are a few ways to make those veggies taste better.
Roasting or cooking the veggies in a skillet actually brings out more flavor. You probably won't taste as much flavor with just the microwave, but the dry heat cooking helps a lot.
Add salt, herbs, and spices. These go a long way to making them taste better, so add plenty (either while they cook or immediately after).
Cook them with oil or butter while roasting or sauteeing.
Add a sauce. Whether it's a cheesy, creamy, or savory sauce, those simple frozen veggies will taste so much better cooked in or tossed with a sauce. Adding alfredo sauce or pesto will quickly upgrade them to a gourmet side dish.
Use any seasonings you want. You can keep it simple with salt and pepper, or get crazy with any flavor. Cayenne pepper will add a bit of heat; rosemary and thyme will add a fragrant savoriness; and ranch seasoning will make them truly addicting.
Now that you've got the recipes and tips, don't be afraid to stock up on frozen vegetables! They really do come in handy, especially when you're trying to feed a busy family.
More Guides
Need more help with stocking your kitchen and planning meals? Check out these info-packed guides!