Add these simple Grilled Vegetables to the side of your favorite summer meals! You can use the flavor-packed, sweet and savory marinade on any mix of veggies you like, but I used zucchini, bell peppers, mushrooms, and onions for a healthy summer mix. Veggies are quick to cook on the grill, and they pair well with any dish!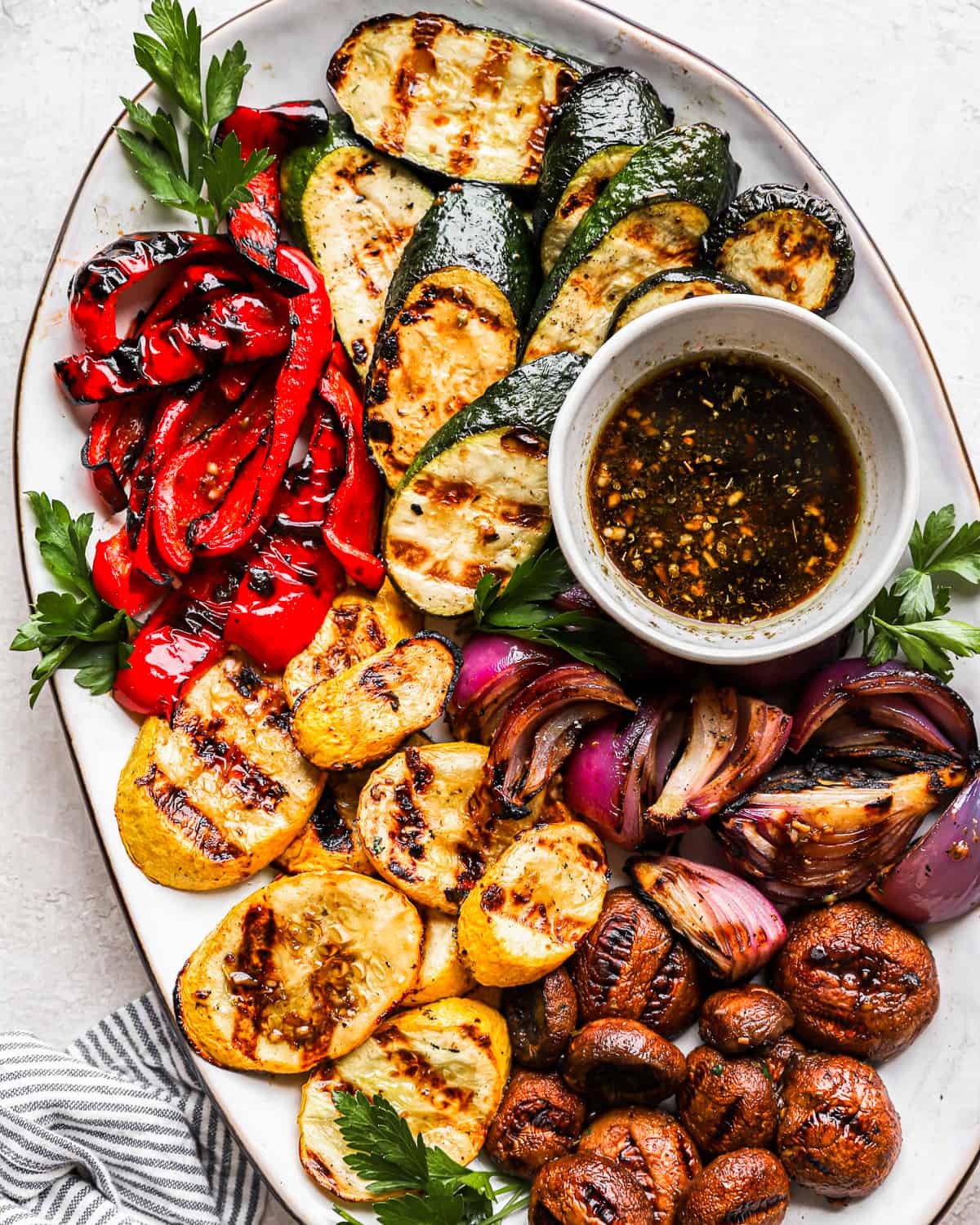 What's in Grilled Veggies?
Fresh vegetables are coated in a sweet-and-savory marinade and grilled to perfection in this simple recipe!
Olive Oil: Helps the vegetables to cook without burning.
Balsamic Vinegar: Adds a lovely sweet and acidic flavor to the marinade.
Soy Sauce: Adds saltiness and an umami flavor.
Maple Syrup: Adds a touch of sweetness to the vegetable marinade. You can use honey or agave instead.
Garlic: Adds a bit of earthiness and pungent flavor.
Seasonings: Onion powder, oregano, kosher salt, and ground black pepper add an Italian flavor.
Vegetables: Zucchini, summer squash, bell peppers, mushrooms, and onion all take about the same amount of time to cook, so they are a great blend!
Pro Tip: Try to slice all of your vegetables to the same thickness so they cook at the same rate.
What are the best vegetables to grill?
For this grilled vegetables recipe, I chose zucchini, bell peppers, mushrooms, and onion. They all take about 10 minutes to grill, so they work well together.
There are tons of other great veggies for grilling, but be sure to consider how long they take to cook. Add quicker-cooking veggies to the basket midway through grilling to ensure everything is cooked perfectly.
Here are some of my favorite veggies and how long they take to cook:
Artichokes: Boil first for 10-12 minutes, then quarter and grill for 4-6 minutes.
Asparagus: 6-8 minutes.
Broccoli or Cauliflower: 8-10 minutes.
Carrots: Boil first for 4-6 minutes, then grill for 3-5 minutes.
Corn: 15-20 minutes in husk.
Eggplant: 5-7 minutes.
Green onion: 3-4 minutes.
Tomato: 6-8 minutes, halved.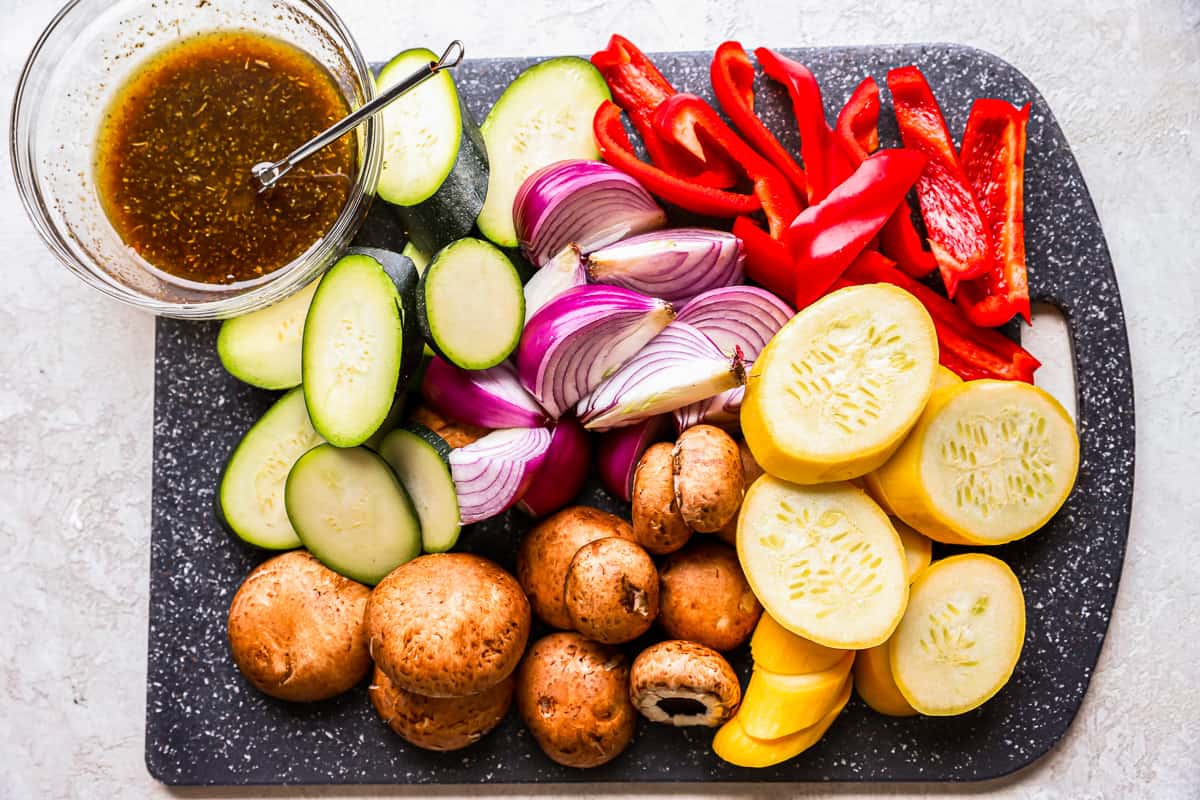 Which vegetables are suitable for grilling?
Pretty much any vegetable can be grilled. I chose zucchini, bell peppers, mushrooms, and onion, but artichokes, asparagus, broccoli, carrots, corn, eggplant, green onion, and tomatoes are also great options.
How long do you keep veggies on the grill?
That really depends on the type of vegetable and how thickly it is sliced. Denser vegetables like carrots and artichokes benefit from being boiled first to allow them to grill faster. Use the guide above to judge which vegetables grill best together!
Should you soak vegetables before grilling?
Nope! There's no need to soak your veggies before grilling. Plus, excess water may cause them to steam rather than grill. Certain vegetables like carrots and artichokes can benefit from being boiled first, though!
Can this recipe be used for vegetable kabobs?
Yes! Cut your veggies to around the same size, then skewer them and grill, turning a few times during the process!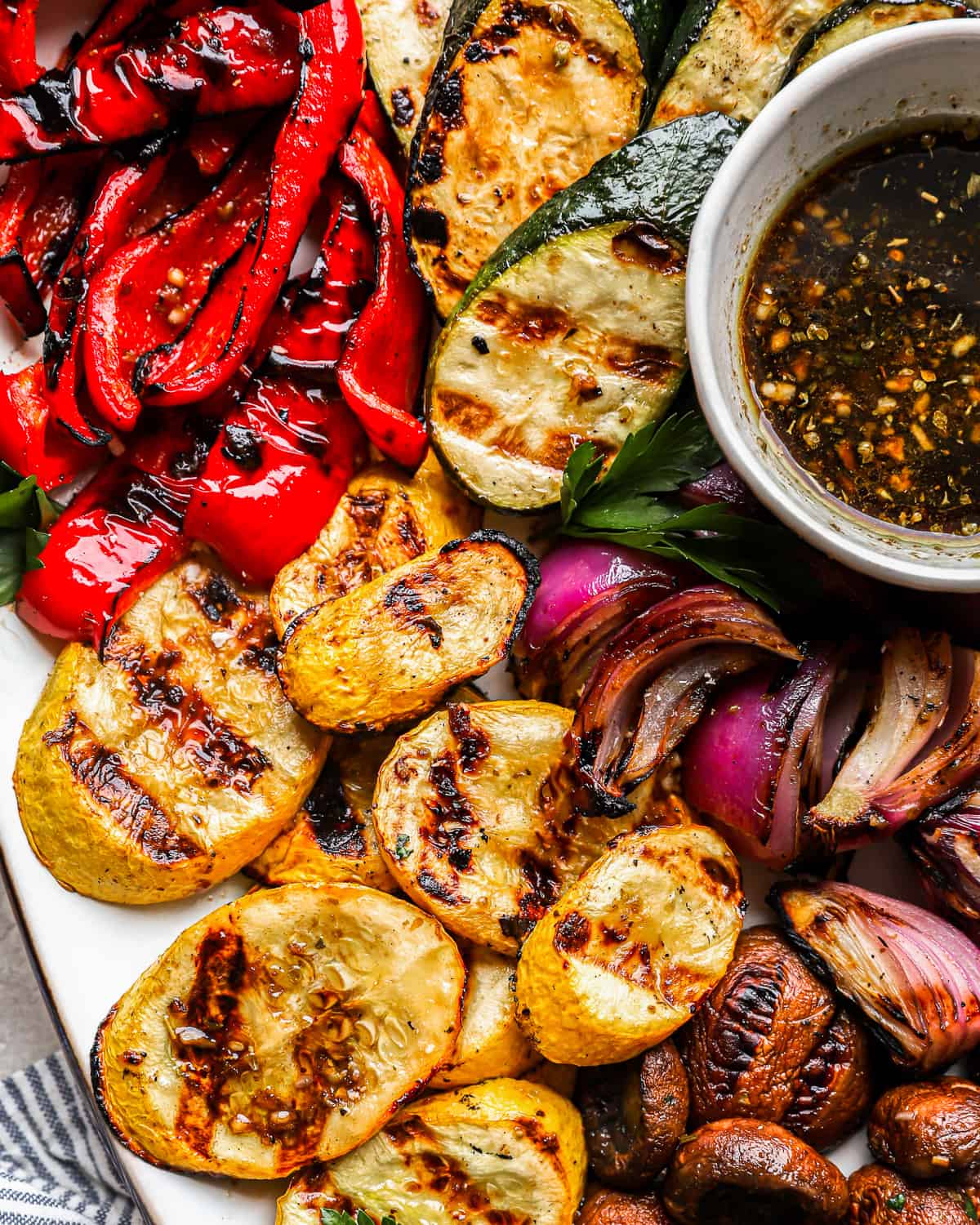 How to Store and Reheat
Store leftover marinated grilled vegetables in an airtight container in the refrigerator for up to 5 days. Reheat on a medium grill wrapped in foil or in a 350°F oven for 5-7 minutes, until warmed through.
How to Freeze
Freeze grilled veggies in an airtight container or Ziplock bag for up to 3 months. Let thaw overnight in the refrigerator before reheating.
Serving Suggestions
These grilled vegetables are the perfect healthy side dish to serve with any of your favorite grilled recipes. Pair them with grilled salmon, grilled ribeye, grilled pork chops, grilled ribs, marinated grilled chicken, pesto shrimp, grilled hamburgers, or garlic butter salmon. You can also add them to a chopped salad, pasta salad, chicken sandwich, or pizza.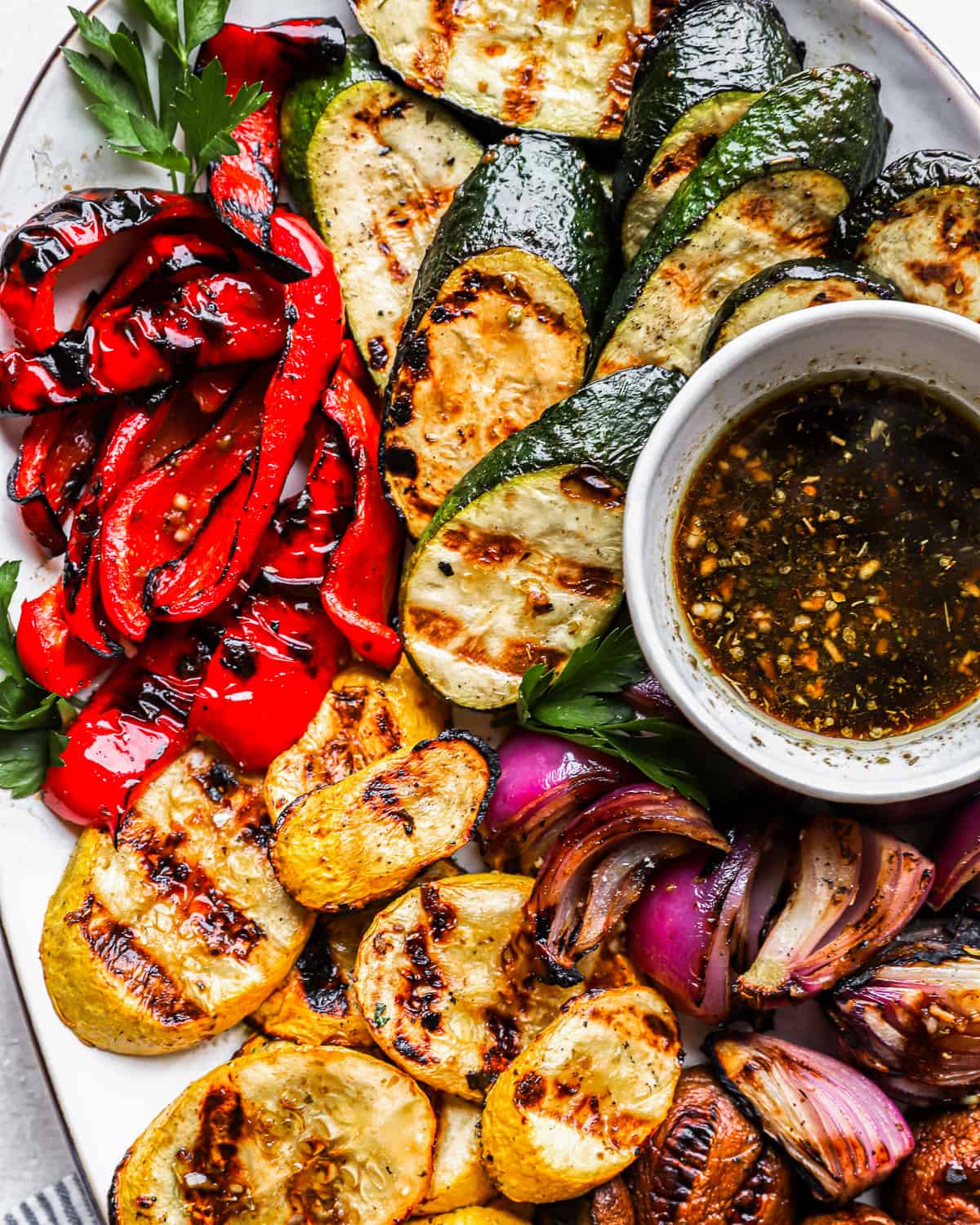 More Grilled Vegetable Recipes We Love
More Grilled Recipes to Try
We live for Summer Grilling! Be sure to check out these super popular Summer recipes that are sure to please!