Learn how to cook asparagus with these 10 easy asparagus recipes methods (roast, grill, saute, and more). Plus find out how to blanch it, trim it, and get all of my best tips and recipes!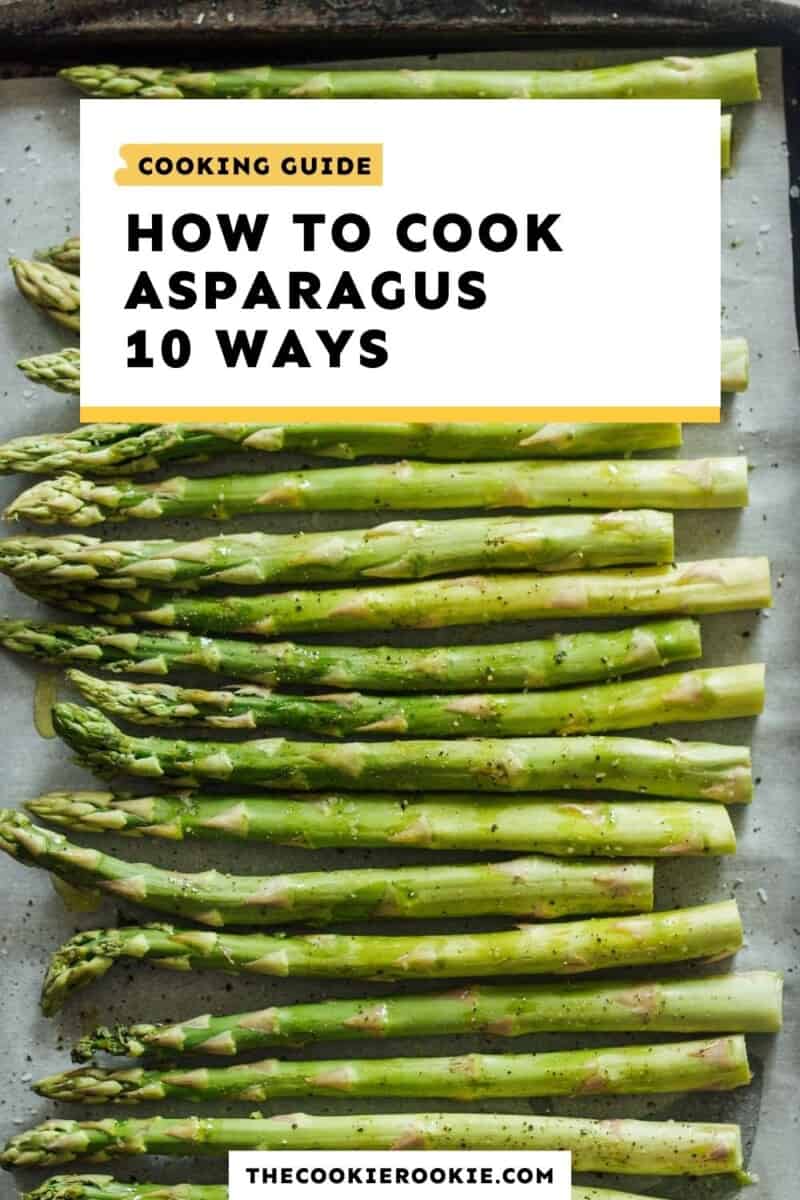 Guide to Cooking Asparagus Recipes
Asparagus is one of the first vegetables I think of when it comes to preparing a healthy and simple side dish. It's easy to cook, easy to flavor, and it goes well with so many dishes.
I'm showing you how to cook asparagus in as many ways as I can, so you can choose the best method for every meal or recipe. Grill it in the summertime, roast it for a crispy side, or even throw it in the pressure cooker!
I'm giving you the EASY step by step process for each of these methods:
Blanching
Roasting/Baking
Grilling
Boiling
Steamed
Microwaved
Sauteing
Broiling
With an Air Fryer
With an Instant Pot
Let's start with a few quick tips and frequently asked questions about asparagus, then I'll show you each cooking method, and end with some recipes to try out.
How to Cook Asparagus (FAQ)
When is asparagus in season?
It's a spring vegetable, so it's in-season between February and June.
Can you eat asparagus raw?
Yes, you can eat it raw, but because it's so fibrous, it can be tougher to chew and digest that way. Chopping it up into small pieces is a good way to break it up for easier eating, but it's best to cook it first.
Do you have to peel asparagus?
You don't have to, but you can for thicker stalks with a tougher outer skin. Use a vegetable peeler to remove the outer layer from the bottom of the stalk. You can usually avoid peeling by trimming it properly.
How long does asparagus last?
Fresh asparagus lasts 3-6 days in the refrigerator. After cooking, it lasts in the refrigerator around 3-4 days. Frozen, it can last up to a full year.
Is asparagus healthy?
Yes! It's low in calories but packed with vitamins and nutrients (like Vitamins K and E), plus it's a fibrous vegetable that can help with digestive health.
How can you tell if asparagus is bad?
The tips will get very dark; the tips or stalks will become mushy or slimy; the stalks become limp; or it has a noticeably bad smell.
Can dogs eat asparagus?
Yes they can! It's not toxic to dogs and is safe for them to eat. But it's best to let them eat cooked asparagus rather than raw, as they might have trouble digesting it.
How to Trim Asparagus
Be sure to trim asparagus before cooking. The ends of the stalks can be "woody", meaning they are thick, tough, and hard to digest. You should easily be able to feel where it goes from soft to tough (usually around an inch from the bottom).
The most accurate way to trim is to use a sharp knife to cut right where the woody ends begin.
A quick and easy way to trim asparagus (if you're not going for precision) is to just snap it off. Place your fingers at the end of the stalk and mid-stalk. Then bend it and it will snap off where it needs to.
To clean it up, use a sharp knife to cut off any tough parts that may have been left behind.
How to Rinse Asparagus
You should rinse asparagus before cooking and eating, but NOT before storing it fresh. (More info about storing asparagus can be found below).
To rinse, place it in a colander or mesh strainer and run it under cool water.
Give them a good shake to help them dry before cooking.
How to Blanch Asparagus
Blanching asparagus is a simple way to cook it for eating, but it's also a method used to pre-cook it before using other methods, or when adding it into other dishes.
You don't necessarily need to blanch it before every cooking method, but when cooking it at a high temperature (like grilling or searing) for a shorter period, you might end up with asparagus that seems done on the outside, but overall is still tough/undercooked.
As I outline each cooking method below, I'll mention blanching if it's recommended.
Another use for this method: You'll also need to blanch fresh asparagus before freezing it. I'm sharing more info about freezing and storage later in this post.
10 Ways to Cook Asparagus
There are so many easy ways to cook asparagus, and I'm going to give you the quick step by step for each method! These are my favorite base asparagus recipes.
We're sticking to the basics here when it comes to flavor, so we'll be using only salt, pepper, and oil to cook. But you can use the same methods and add your preferred seasonings.
I won't mention it every time, but be sure to rinse and trim asparagus before starting each cooking method.
How to blanch asparagus:
Fill a large bowl with ice and keep it chilled until just before the ice bath.
Bring a pot of generously-salted water to a boil (use a couple inches of water, or enough to submerge the asparagus).
Place asparagus into boiling water and cook for about 3 minutes (just until crisp-tender).
Use tongs to remove from the water and immediately place it in the bowl of ice for about 1 minute (this stops it from cooking further and helps it retain that bright green color).
Pat dry.
Once it's blanched, you can eat it, move onto the next step in cooking, add it to another recipe, or prepare it to freeze.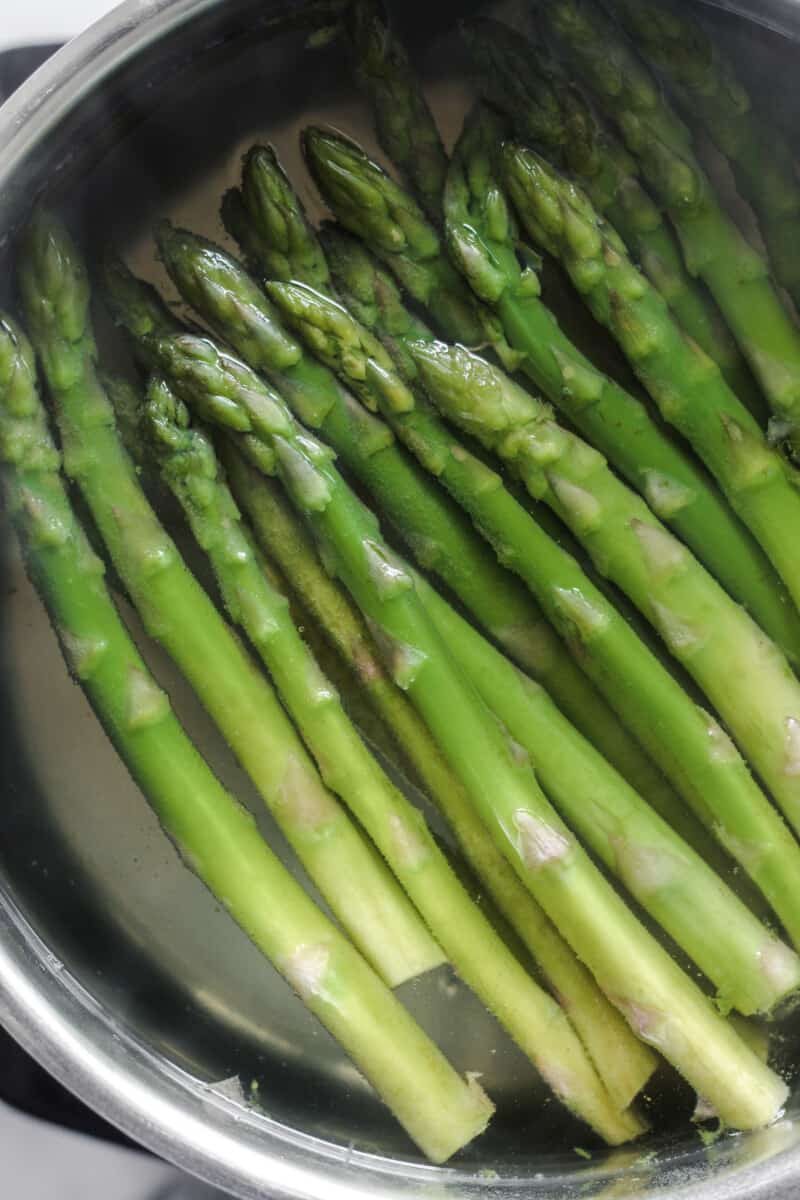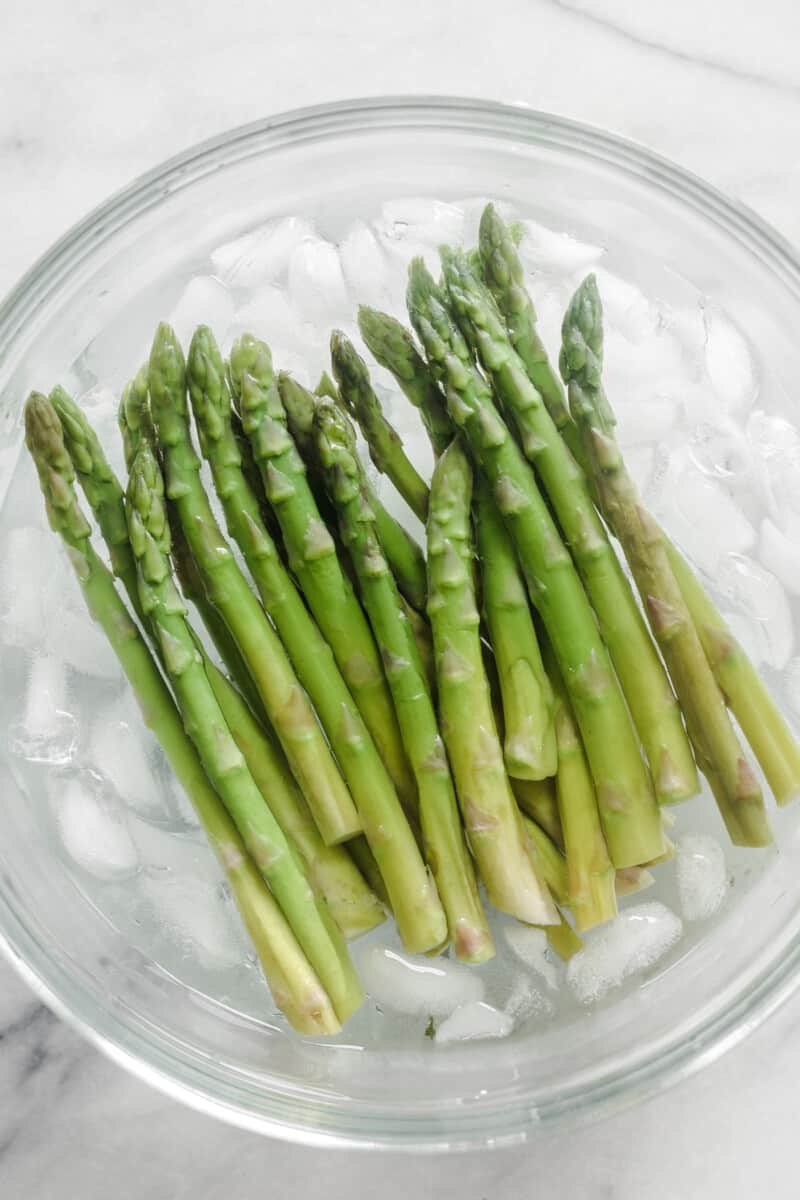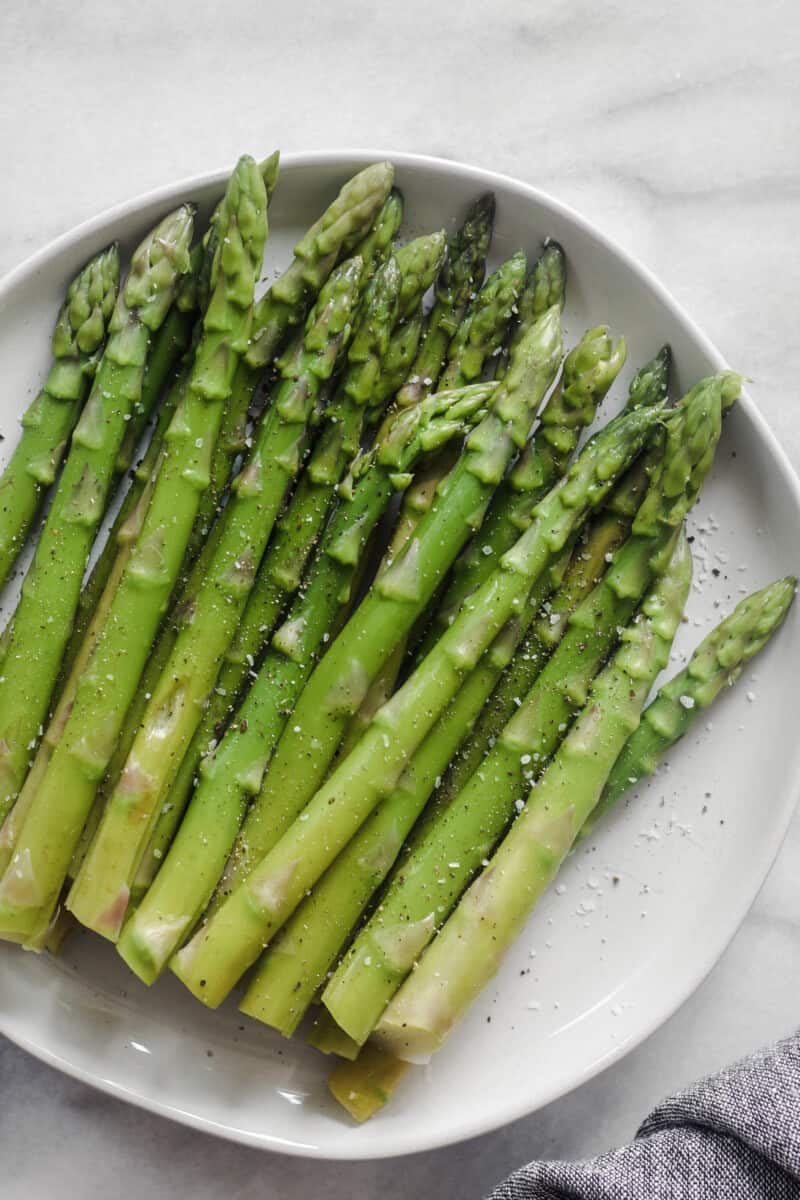 How to Roast Asparagus
Baked asparagus comes out crispy and flavorful! You can blanch before roasting, but it's not necessary in my opinion, as long as you cook long enough to tenderize the stalks.
Preheat oven to 400°F and arrange stalks of asparagus on a baking sheet (non-stick or lined with parchment) in a single layer.
Drizzle olive oil over the stalks and sprinkle with salt and pepper.
Roast between 12-20 minutes until tender. It will depend on the thickness and how crispy you want them.
Roasted Asparagus Recipe to try: Crispy Garlic Roasted Asparagus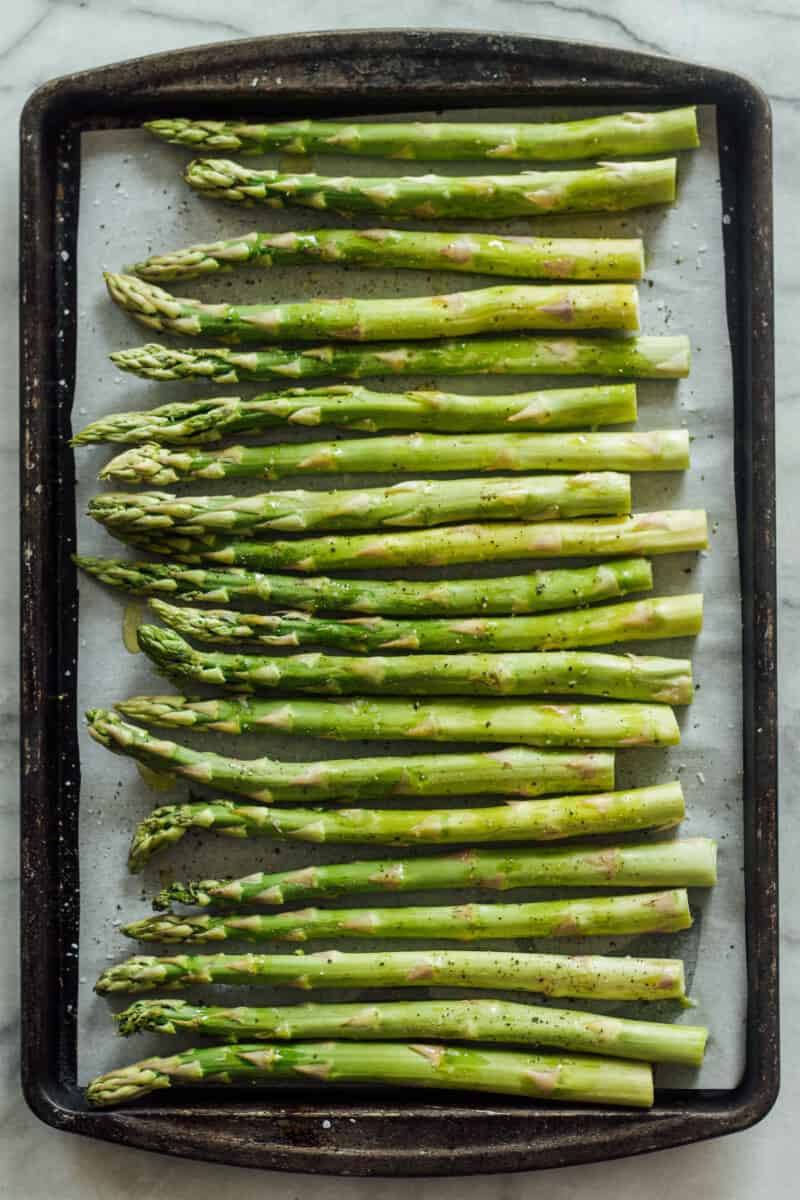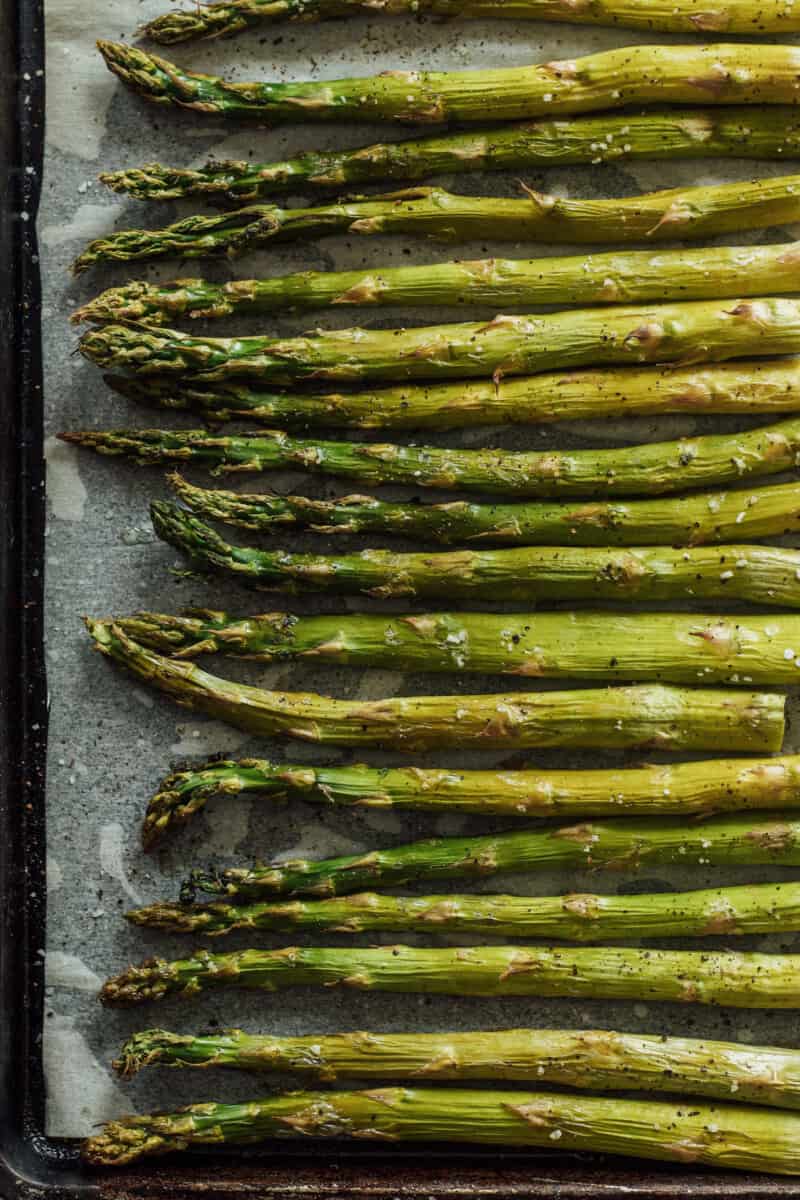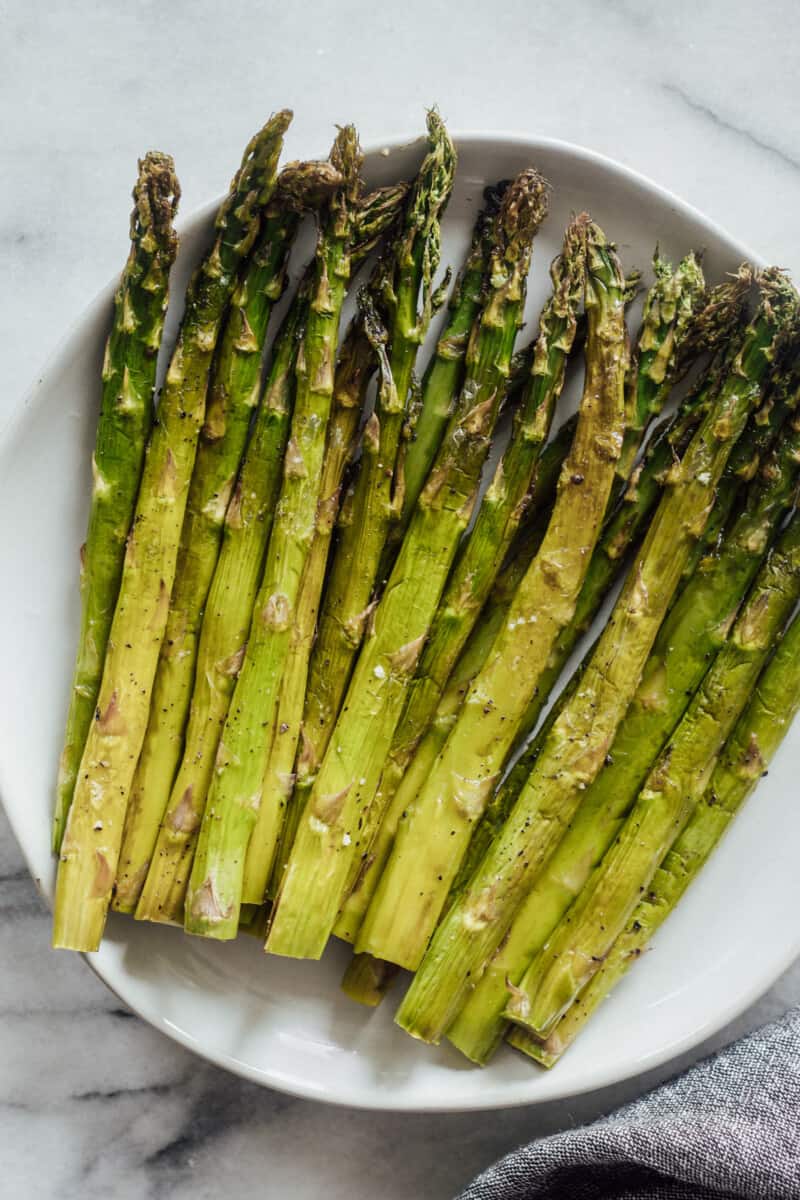 How to Grill Asparagus
Grilled asparagus cooks quickly and gives it a nice charred flavor that I absolutely love in the summertime. It's only going to be on the grill for a couple of minutes, so be sure to blanch before grilling to make sure it cooks fully.
After blanching, preheat grill (high heat).
Toss in oil, salt, and pepper.
Place on the grill and cook for just 3-5 minutes (or until tender and slightly charred to your liking).
Turn stalks as they cook to make sure all sides get some direct heat for charring.
Grilled Asparagus Recipe to Try: Lemon Butter Asparagus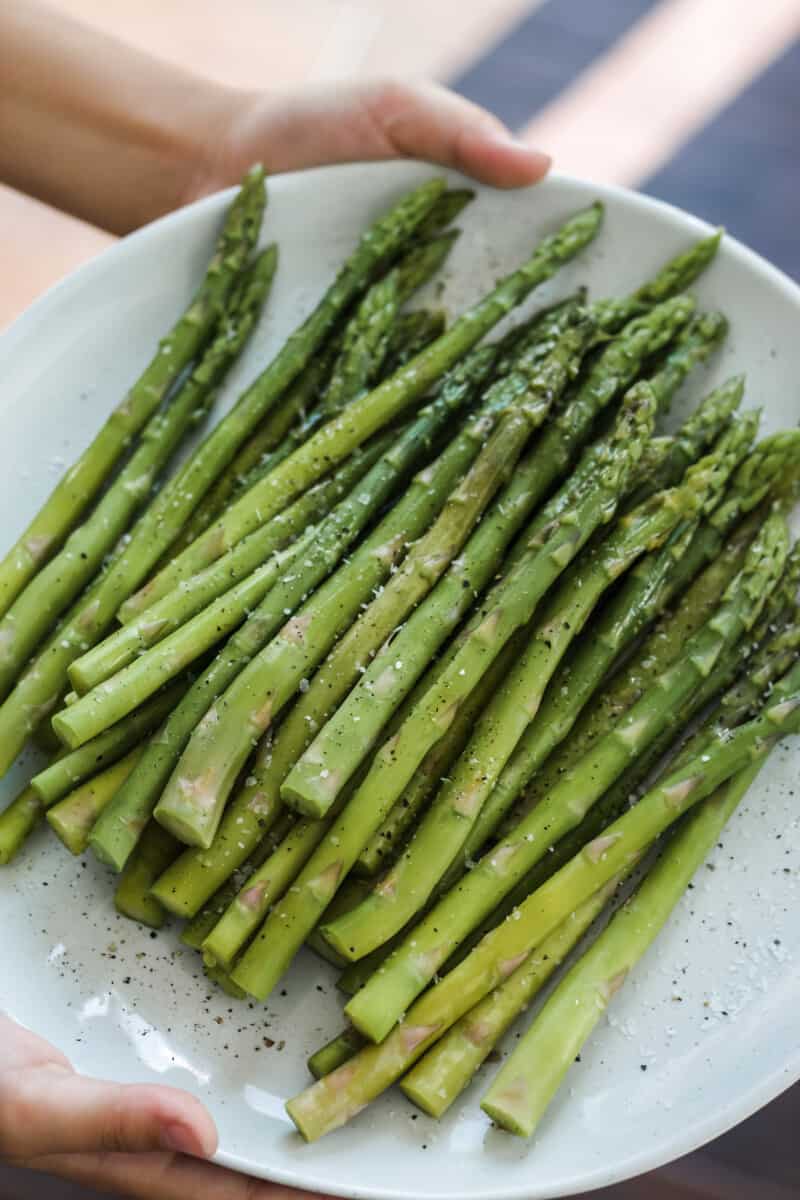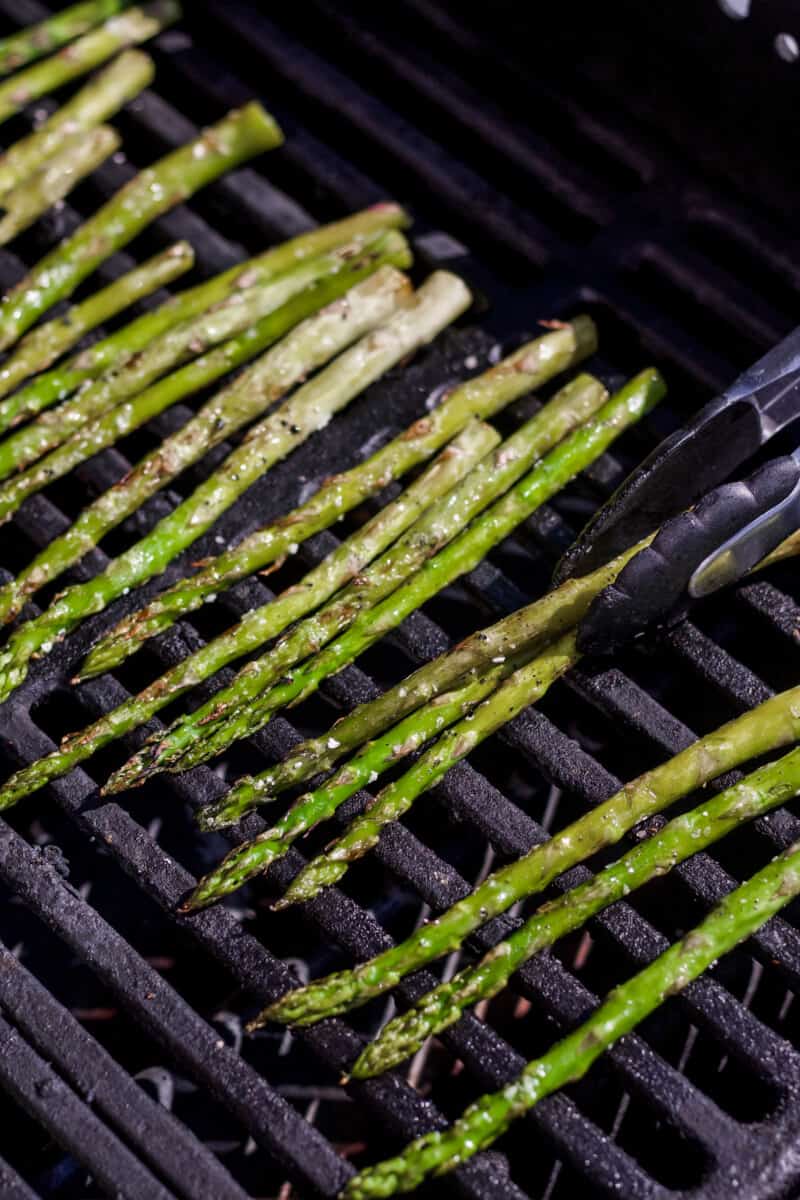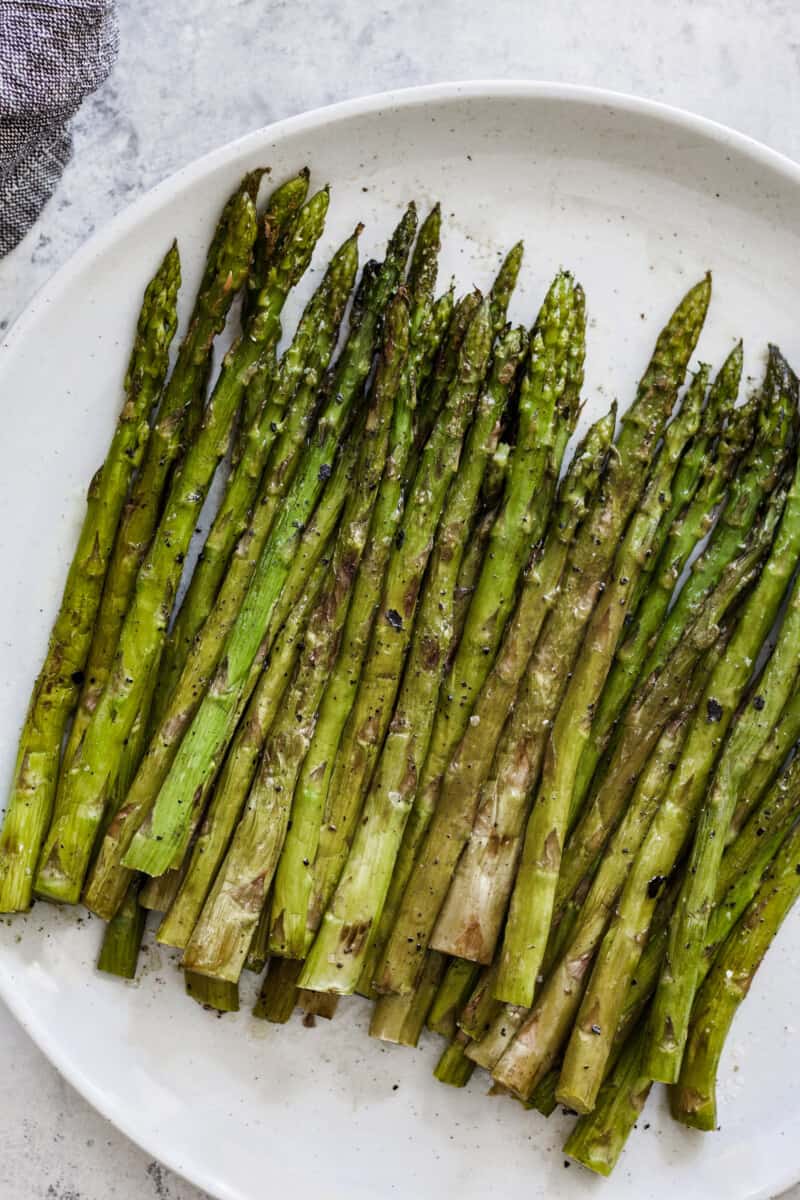 How to Boil Asparagus
Boiling is essentially the same process as blanching, just for a little bit longer so that it's fully cooked and tender.
Bring a large pot of salted water to a boil.
Add asparagus to boiling water, then reduce heat slightly and simmer 5-7 minutes (or until they become tender).
Remove asparagus, let it cool slightly, then toss in olive oil, salt and pepper, and serve.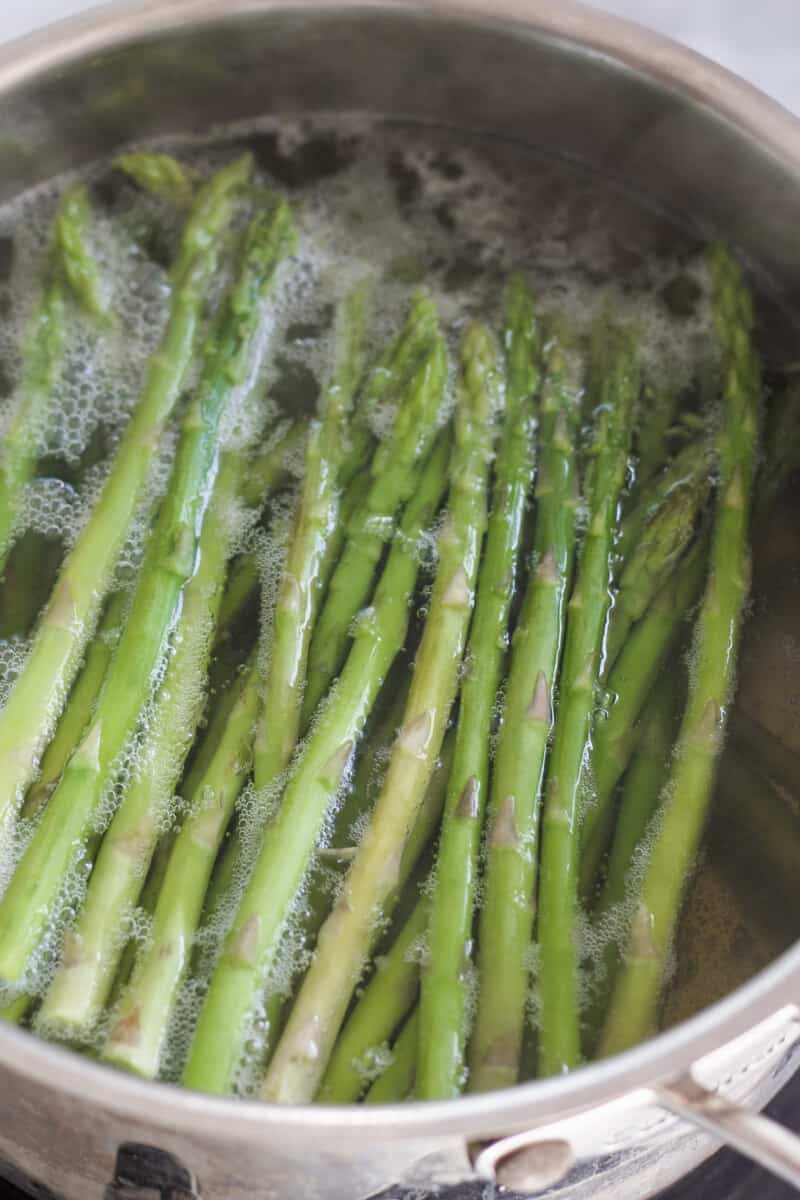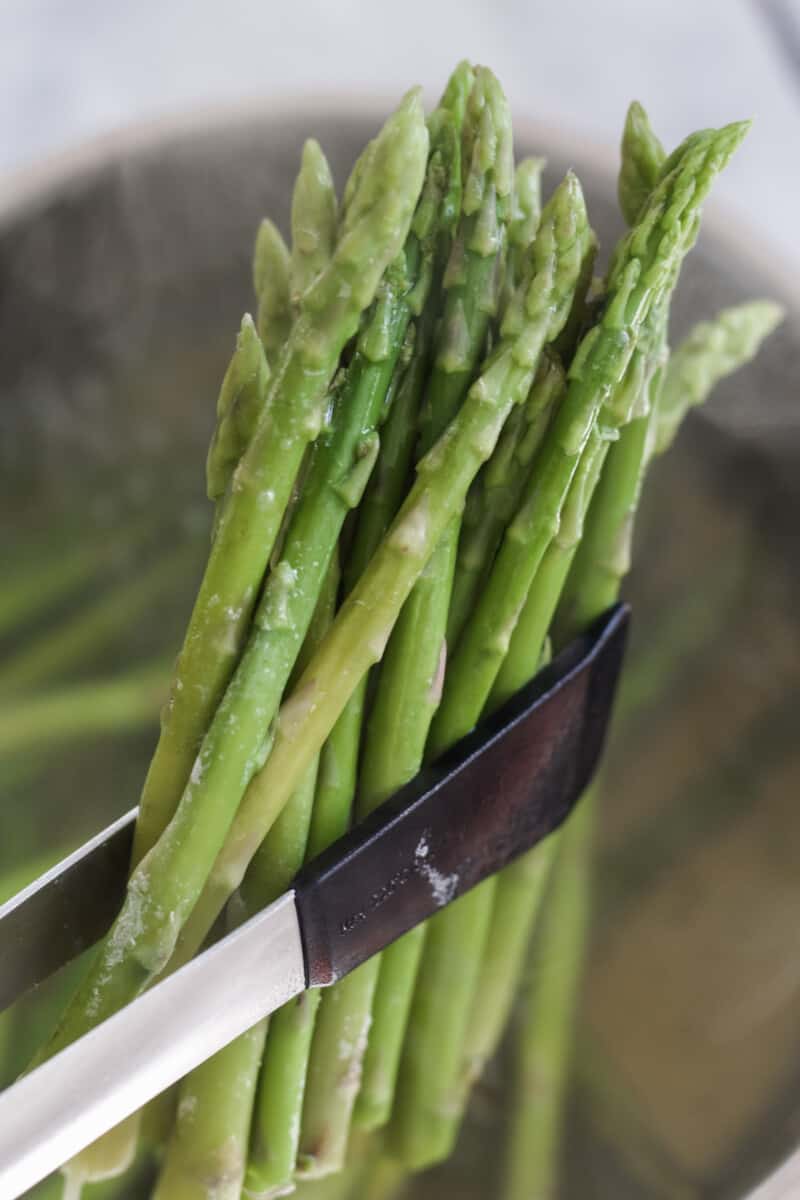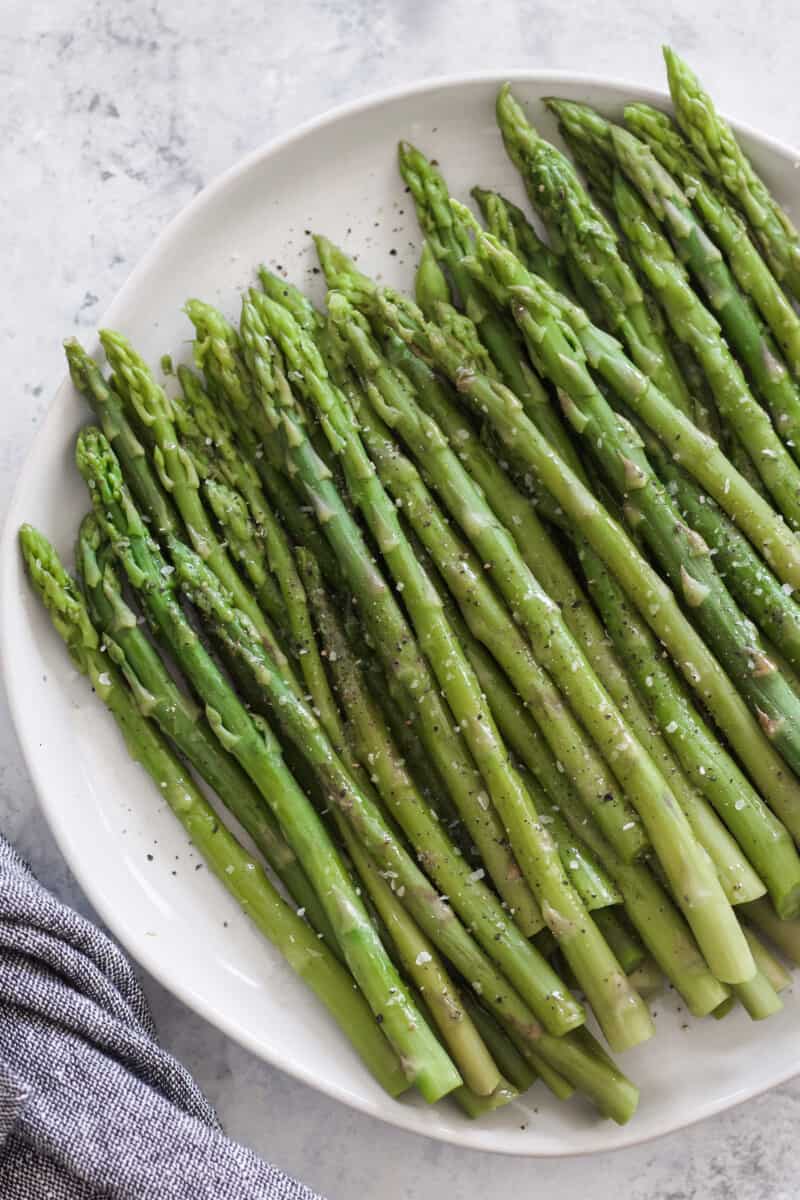 How to Steam Asparagus (Stovetop)
Steaming is an easy method and keeps your veggies light and bright.
Add water to a saucepan or pot and place a steamer basket on top. Bring water to a boil.
Place asparagus in the steamer, cover with a lid, and let it cook for 4-5 minutes.
Remove from pot and season with salt, pepper, and olive oil.
Note: if you don't have a steamer basket, place asparagus and a small amount of water in a large skillet, cover, and cook/simmer 4-5 minutes until tender.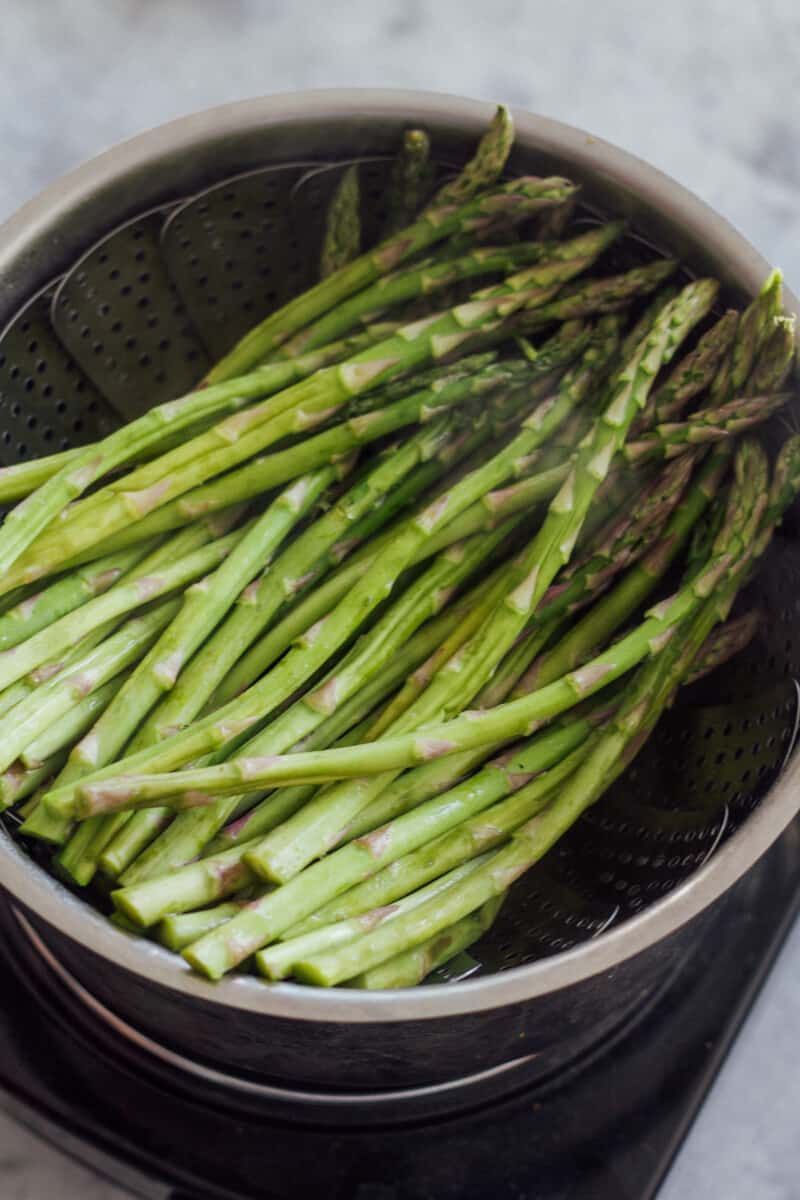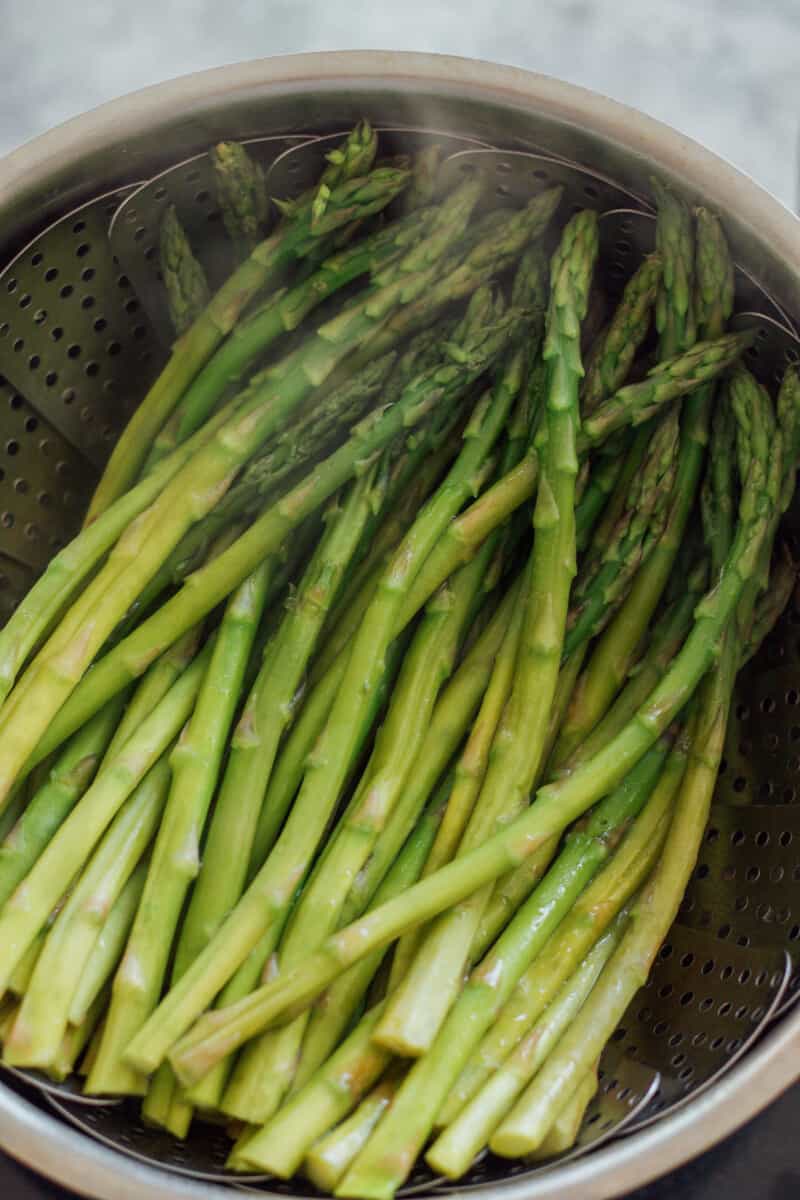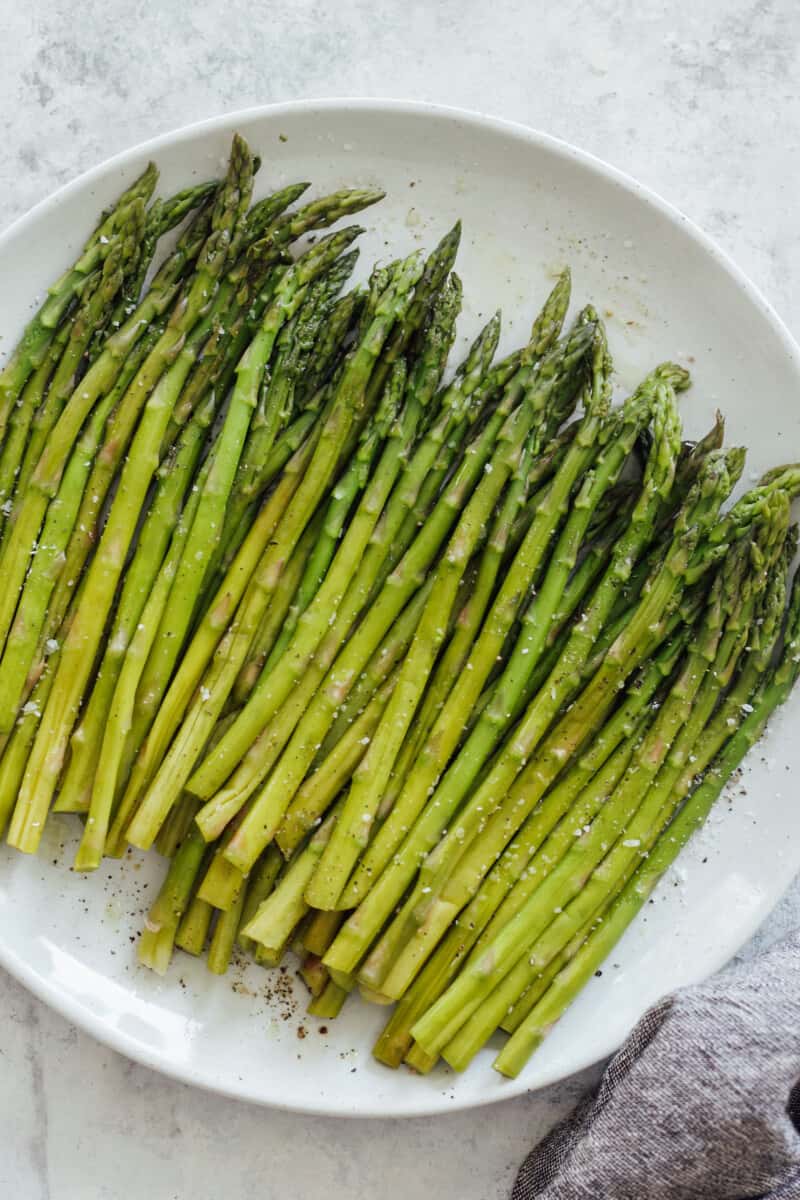 How to Saute Asparagus
Sauteing is the best way to get the perfect crisp-tender texture.
Heat oil (or melt butter) in a frying pan/skillet over medium heat.
You can leave stalks whole, or cut them into evenly-sized pieces.
Place asparagus in the skillet and cook 5-7 minutes, gently stirring or rotating stalks a couple of times.
They will turn a bright green as they cook, which will help you see when they're done.
Season to taste with salt and pepper, and serve.
Sauteed Asparagus Recipe to Try: Sauteed Asparagus with Pancetta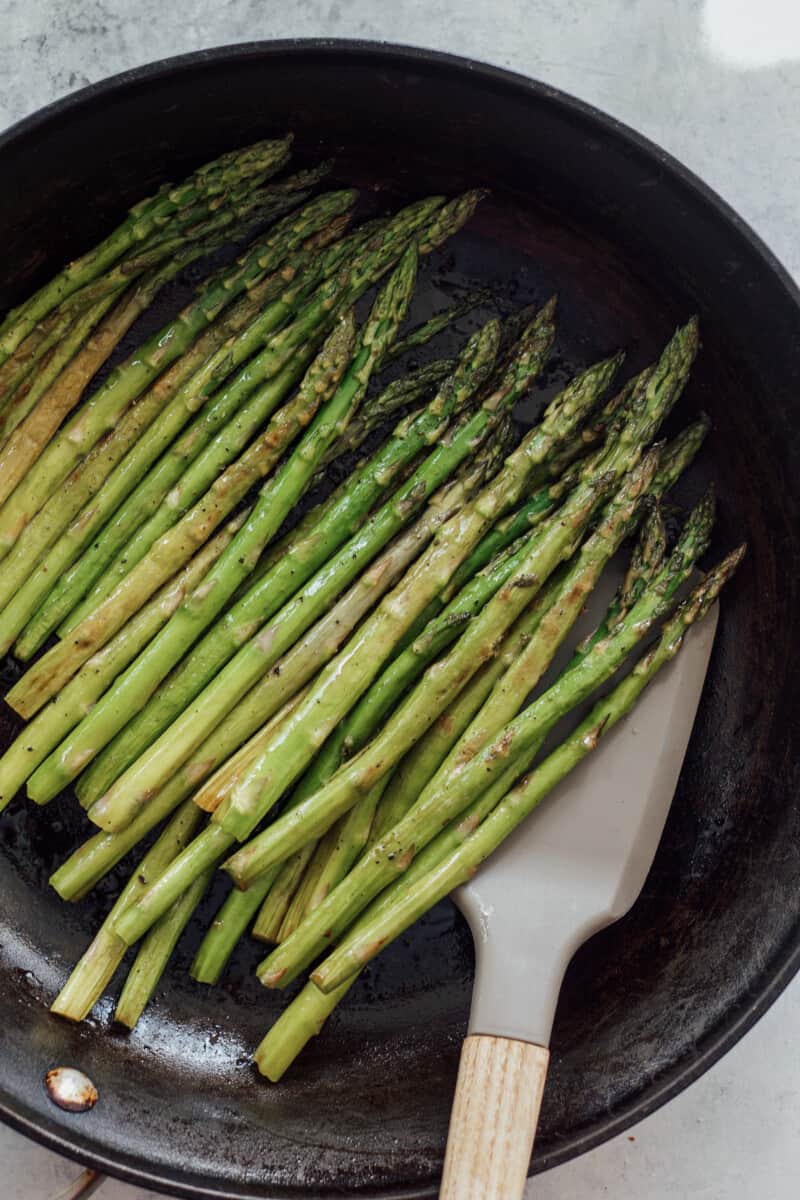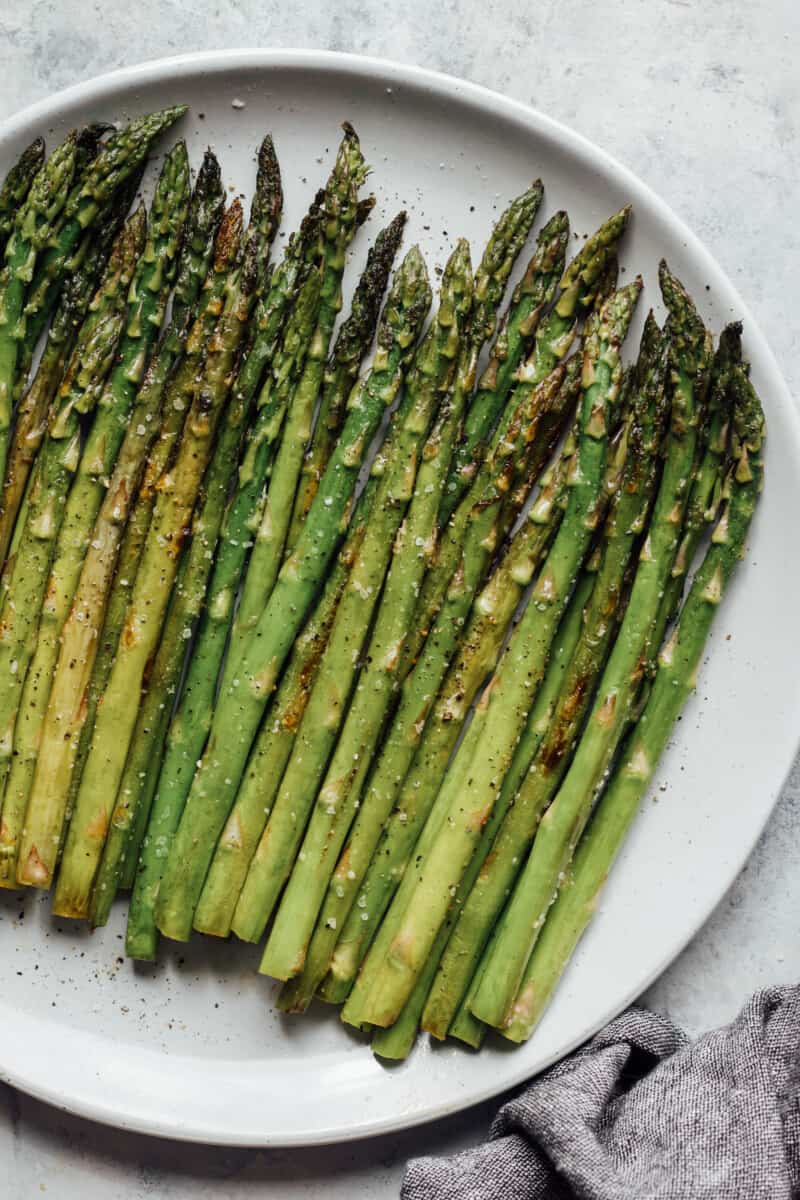 How to Broil Asparagus
Broiling is a lot like roasting, but it's much faster and gives asparagus a nice char that adds flavor and texture.
Turn on oven/broiler to high heat.
Toss asparagus with olive oil, salt and pepper and line up on a baking sheet.
Cook 4-6 minutes, or until crisp-tender and slightly charred.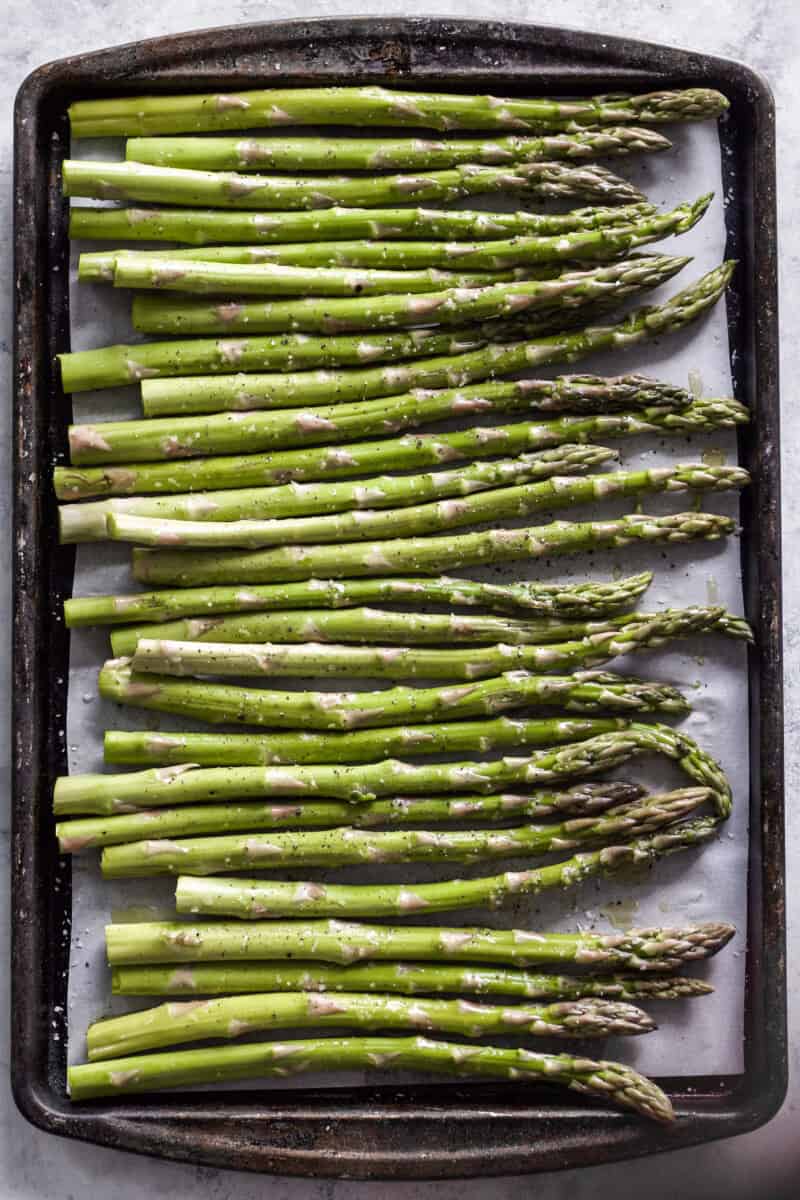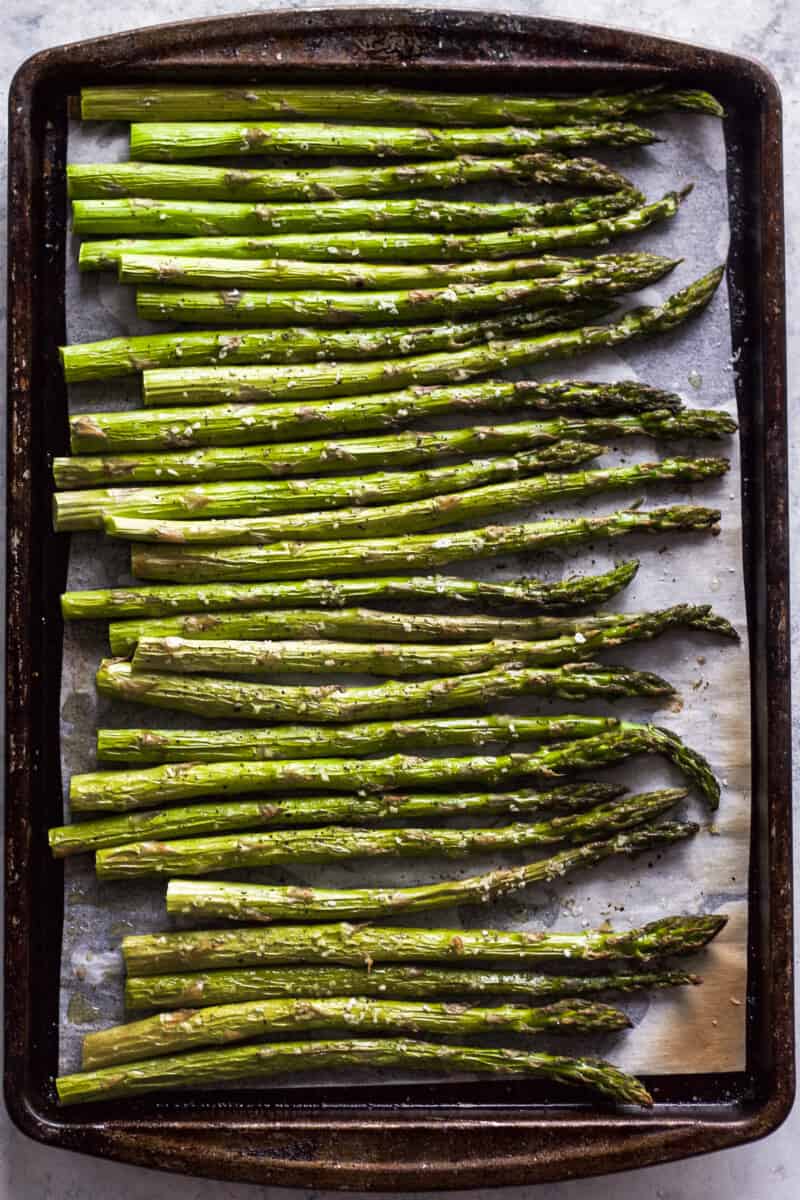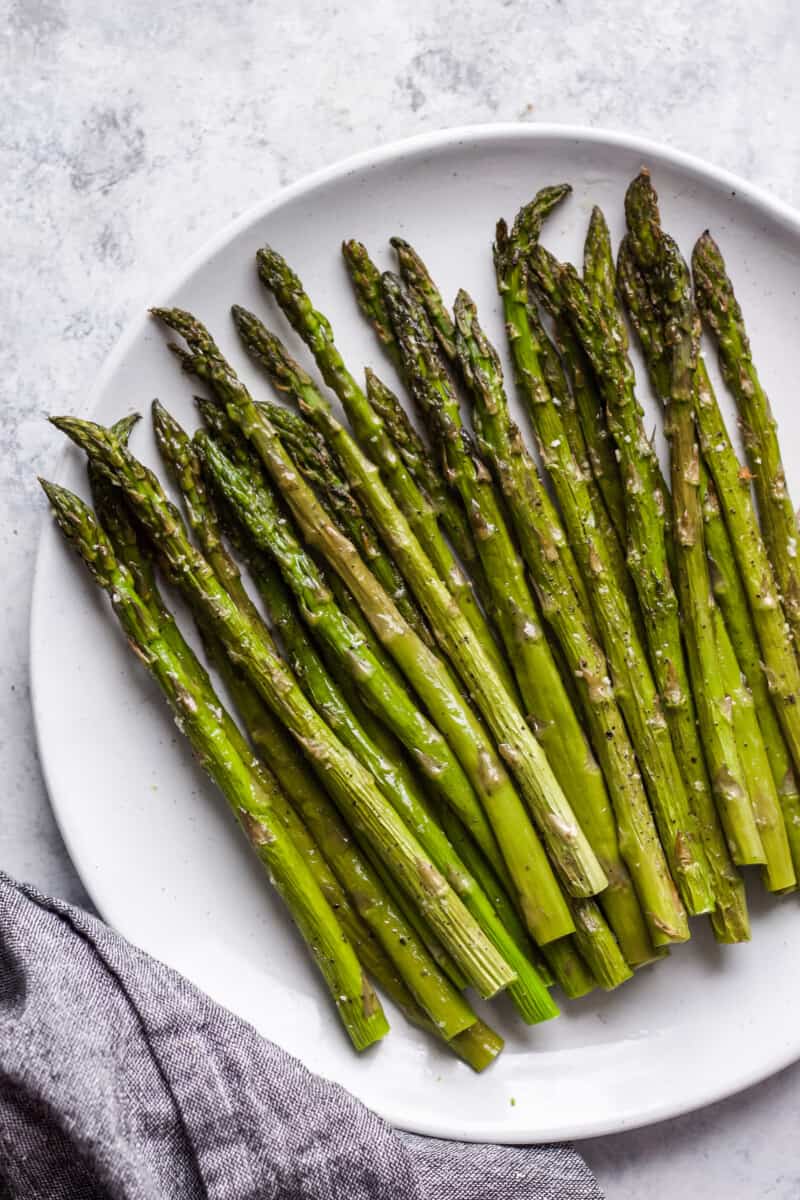 How to Cook Asparagus in an Air Fryer
Cooking in an Air Fryer gives you the crispy veggies you crave while keeping it light. I love this method for asparagus.
Heat Air Fryer to 375°F.
Toss asparagus in olive oil, salt and pepper, then place in Air Fryer basket.
Cook 7-10 minutes.
How to Cook Asparagus in an Instant Pot
Using a pressure cooker is so simple and quick. Just place the asparagus in and it does the work for you.
Put 1 cup of water into the Instant Pot and place the steaming rack on top.
Place stalks on the rack, lock the lid in place, and cook on high for 1 minute.
Let pressure release before opening and removing asparagus.
Season with olive oil, salt and pepper, and serve.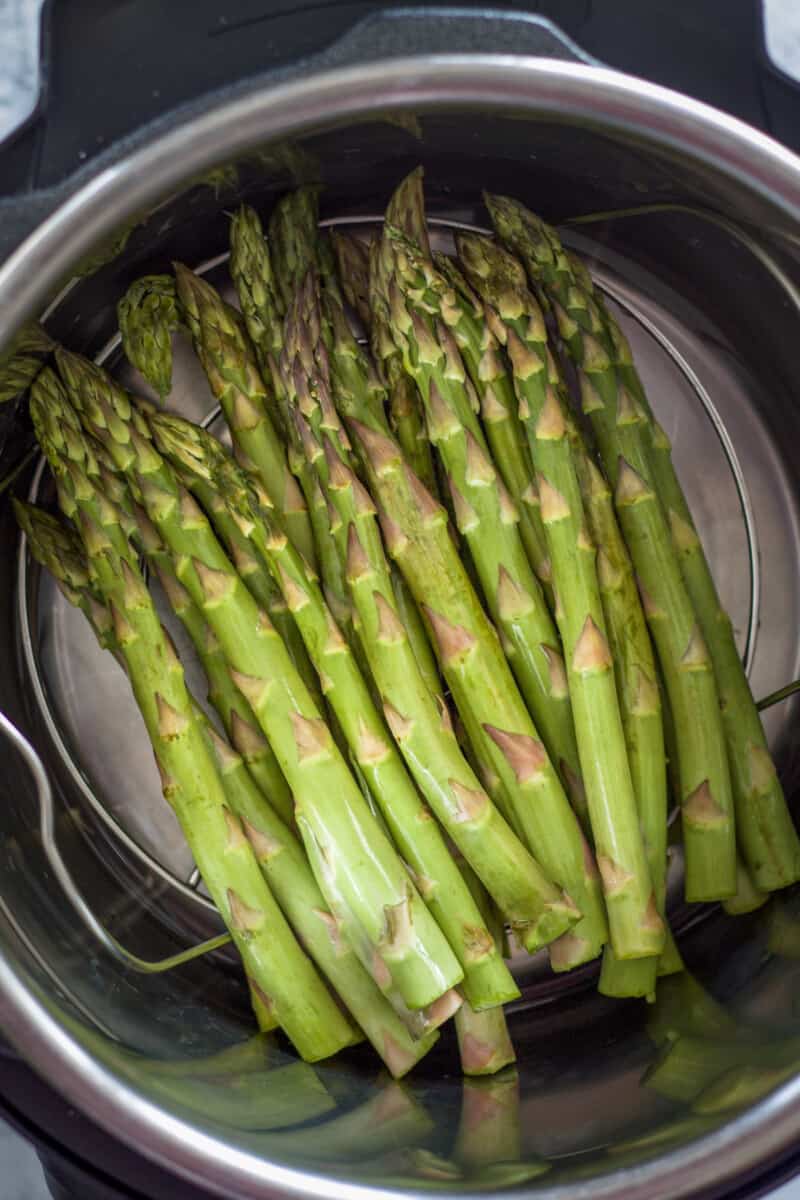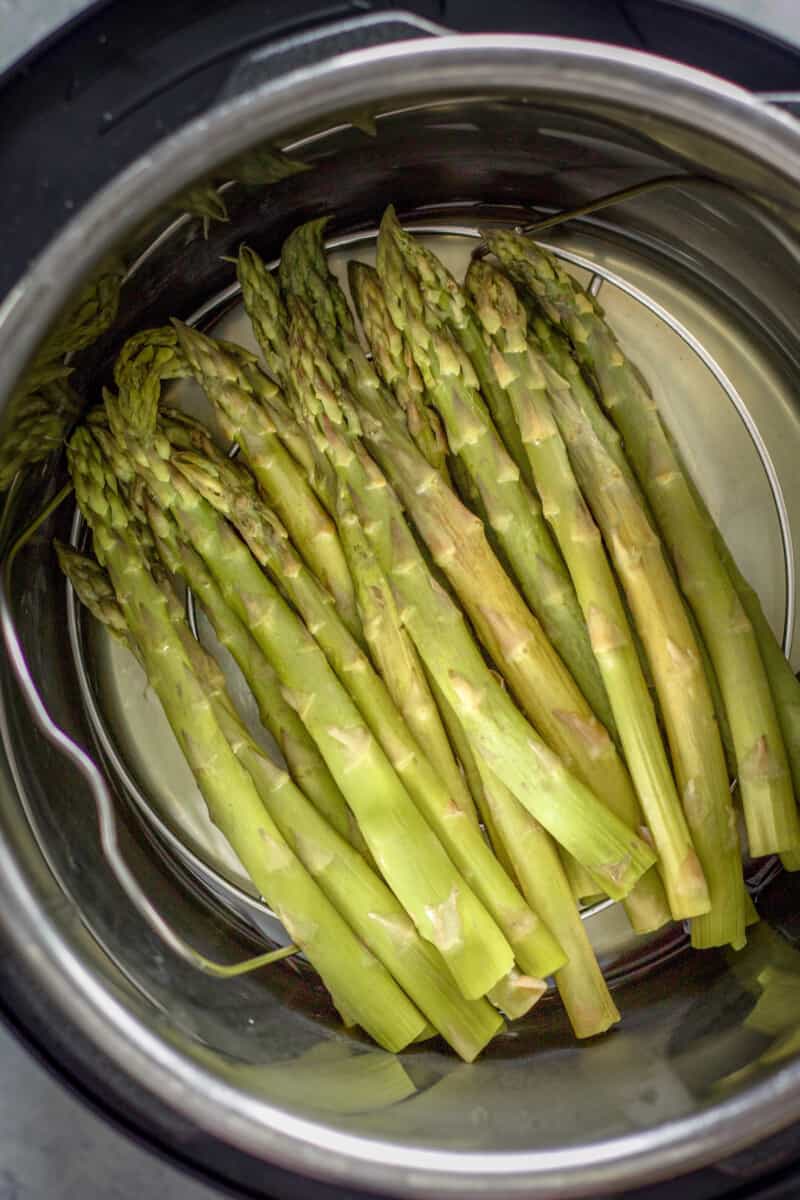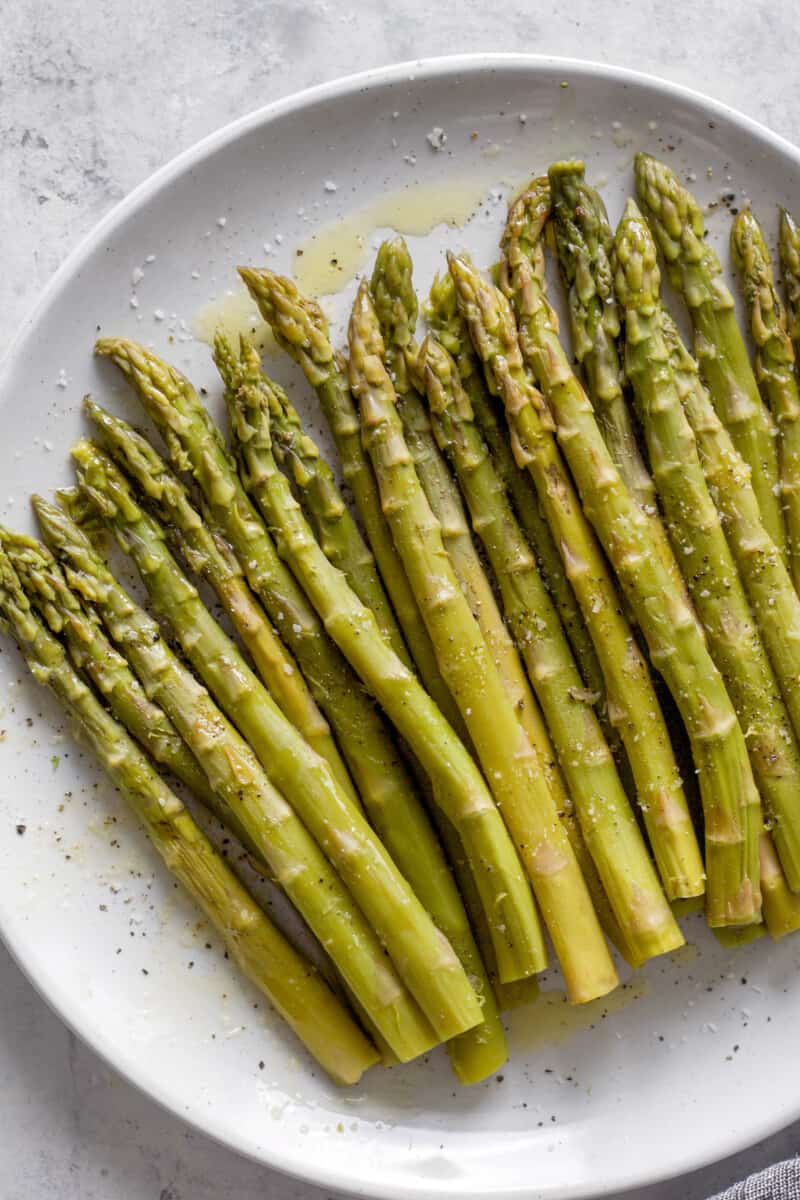 How to Steam Asparagus (Microwave)
This is such an easy way to cook asparagus without hassle. It's quick, you don't need a lot of equipment, and you don't need to fuss with heating up ovens/grills/etc.
Dampen 3-4 paper towels with water and place asparagus on top.
Roll up the paper towels with the bundle of asparagus inside (the damp paper towels create a barrier around the stalks so they can steam inside), and place in a microwave-safe dish.
Microwave on high about 3-4 minutes. Let sit for a minute then carefully remove dish from microwave.
Season with salt and pepper and serve.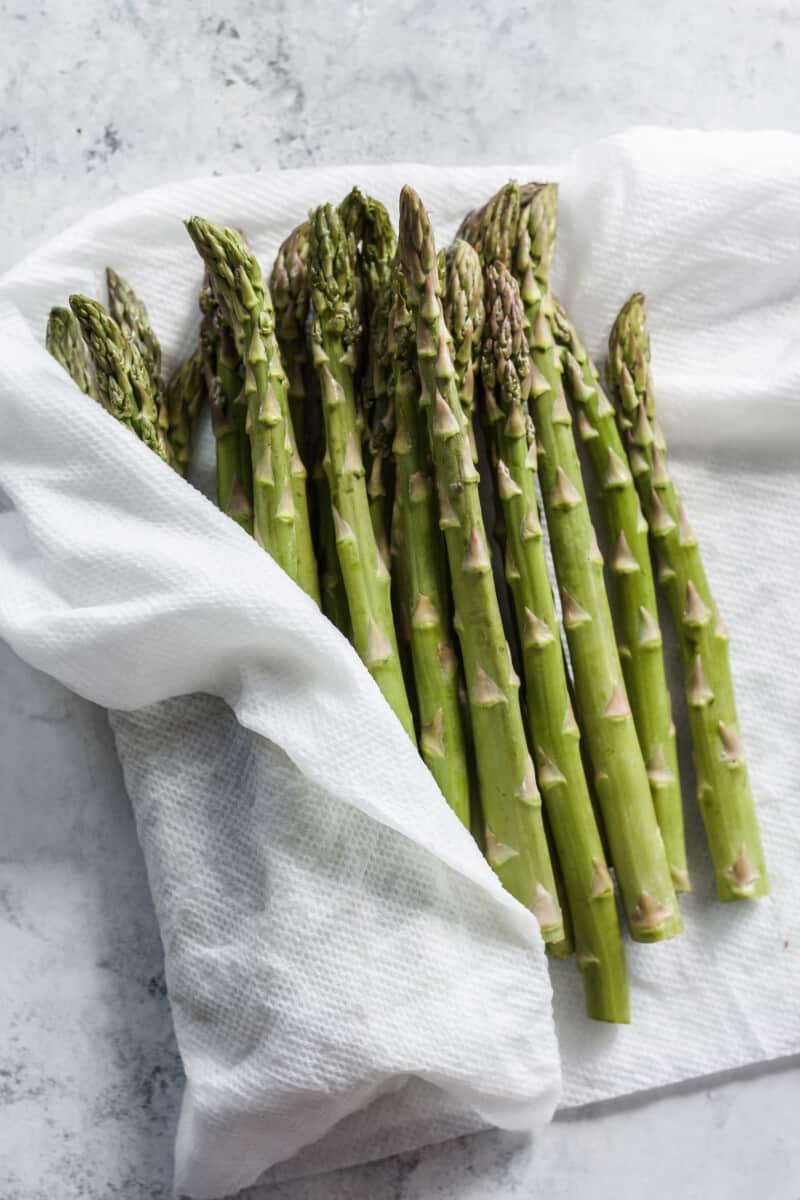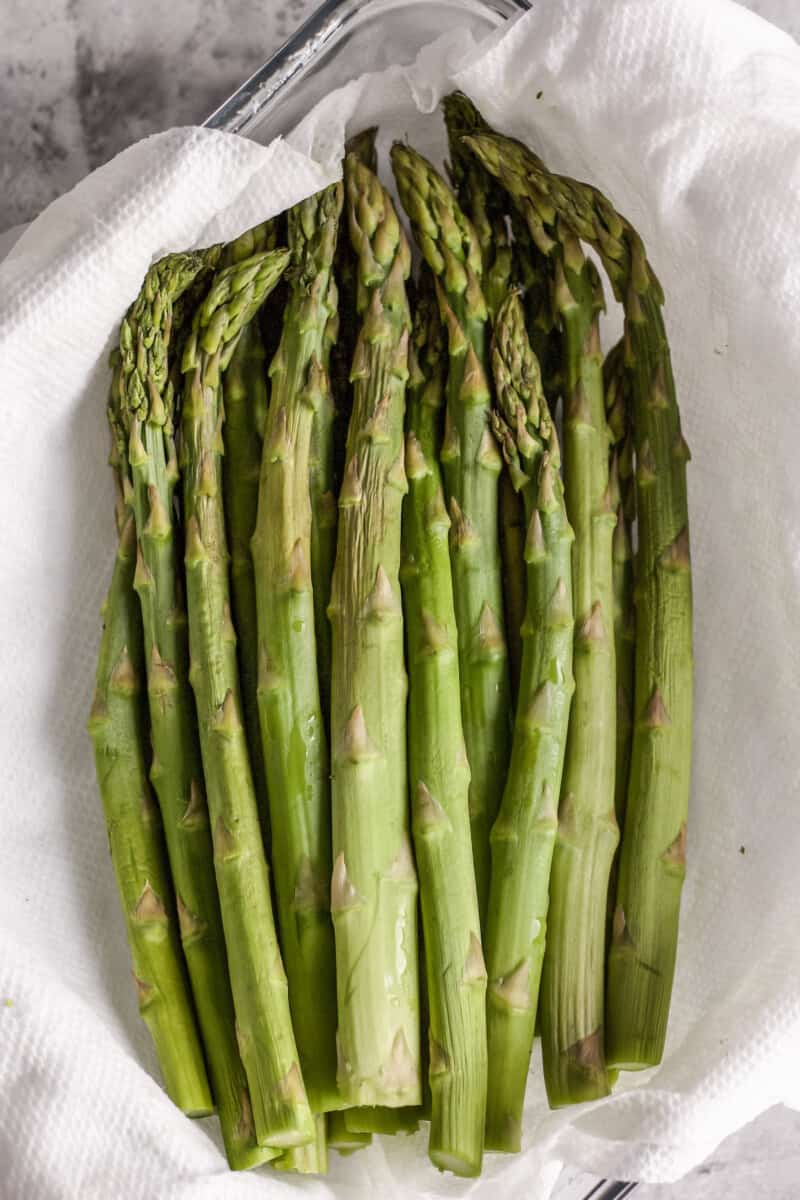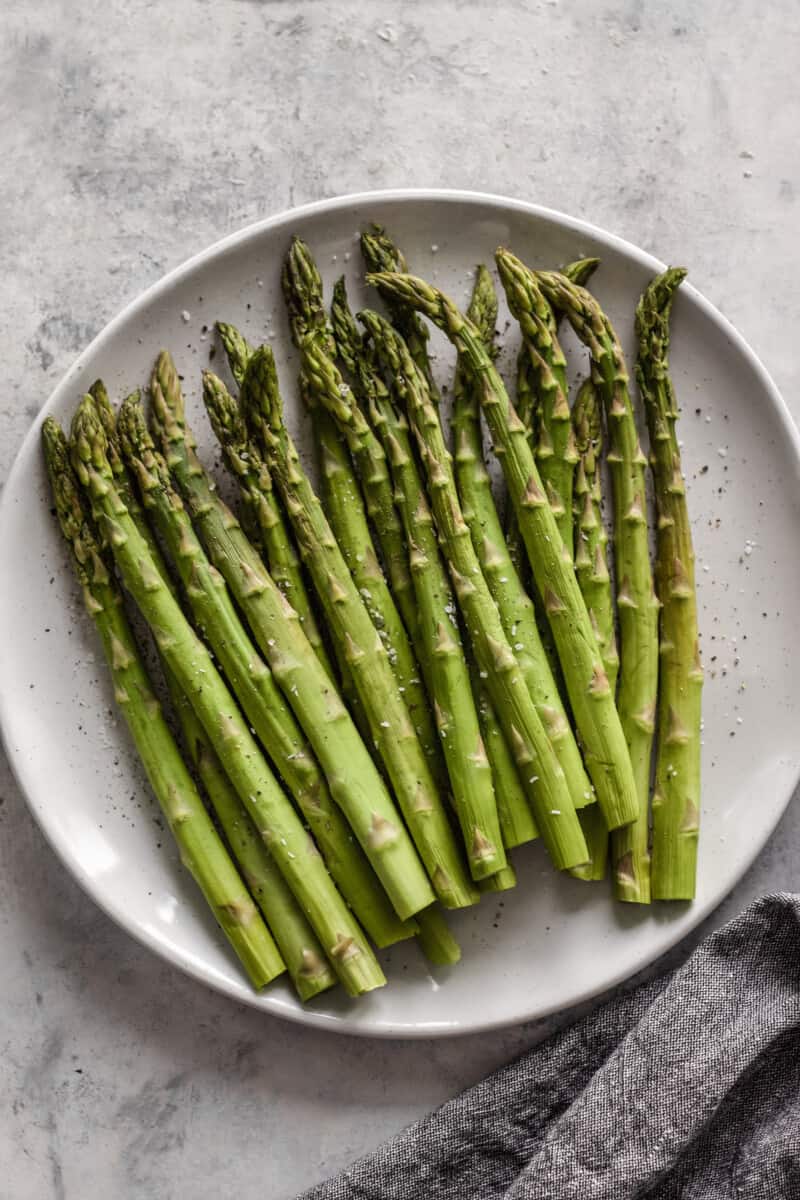 How to Store Asparagus
While it's Fresh:
Store fresh asparagus in the refrigerator. If you don't plan to cook it within a day or two, trim off the bottom (about ½ inch) and place the stalks in a glass/jar of water. Place the trimmed side down and fill the glass with about an inch of water. This will extend their freshness. It's best to use it within 3-6 days after buying.
After Cooking:
To store your cooked asparagus, place it in airtight containers or resealable bags and refrigerate. Eat within 3-4 days.
Freeze:
You can freeze fresh asparagus to save it for later cooking (great option if you want to get it while it's in season). First, blanch it (see above on how to do that). Place the stalks in a flat row inside a freezer-safe bag, and freeze flat. Once it's frozen, you don't need to keep the bag flat, so you can move it around however fits best in your freezer. Eat within 10-12 months.
Serving Suggestions
This vegetable is such a great side dish for so many things. I especially love serving it with salmon or steak. It also goes well with pasta, so I mix it in with noodles and a good sauce, or add it to pasta salad.
Asparagus pairs well with heavier, creamier sauces, so it's a good way to balance out recipes rich in flavor.
Easy Asparagus Recipes
Now that you know how to cook asparagus (in almost every way possible), you can do so much with it! Add it to other asparagus recipes or add seasonings and sauces to up the flavor. It's easy to add this veggie into your diet!
With all of these easy ways to cook asparagus, you can start adding more of it into your meals for a healthy side!