Simple Lemon Cake Pops get a festive makeover with these delicious Gold Glitter Cake Pops! Yum! These are so pretty and tasty; just perfect for any party!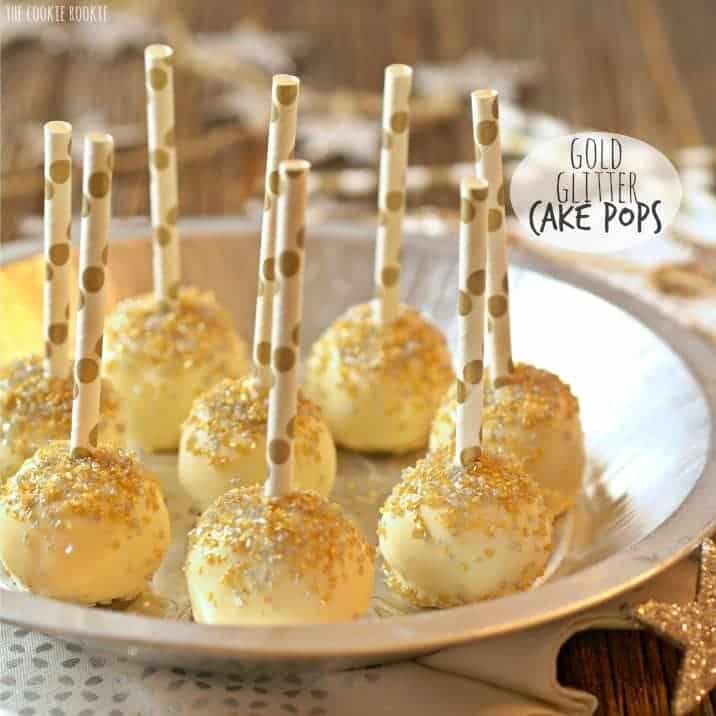 VERY VERY VERY exciting news around here.  I.  MADE. CAKEPOPS.  I know to most this seems meaningless, but I'm still a rookie folks.  I made cakepops and they were fantastic.  If I do say so myself.  Yes I used box cake mix and yes I used premade icing.  BUT…they were fantastic.  I'm not sorry.  I'm proud!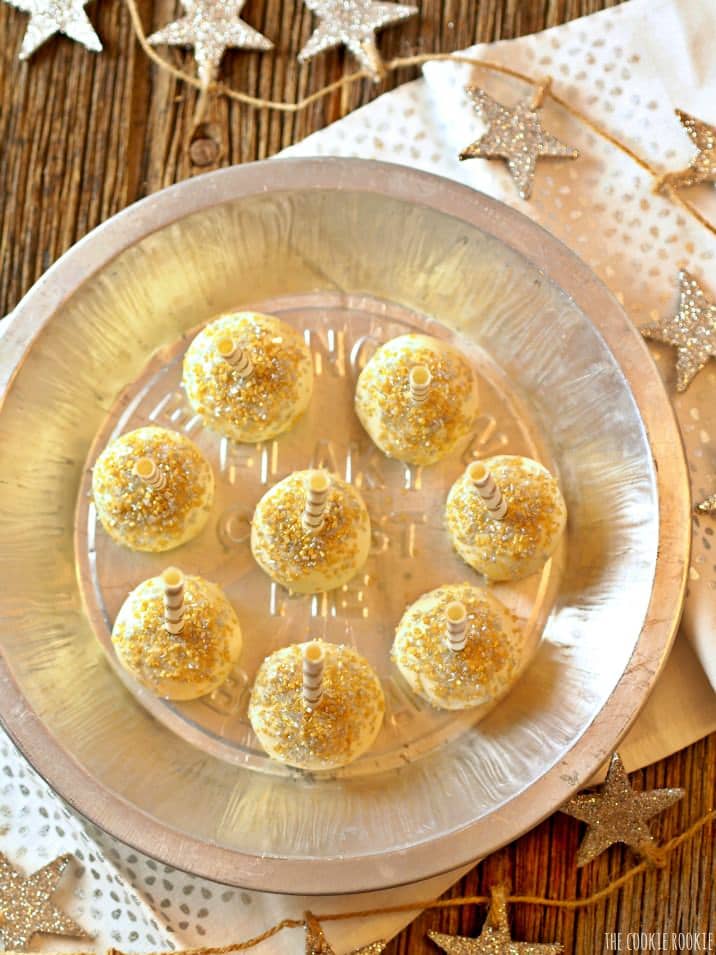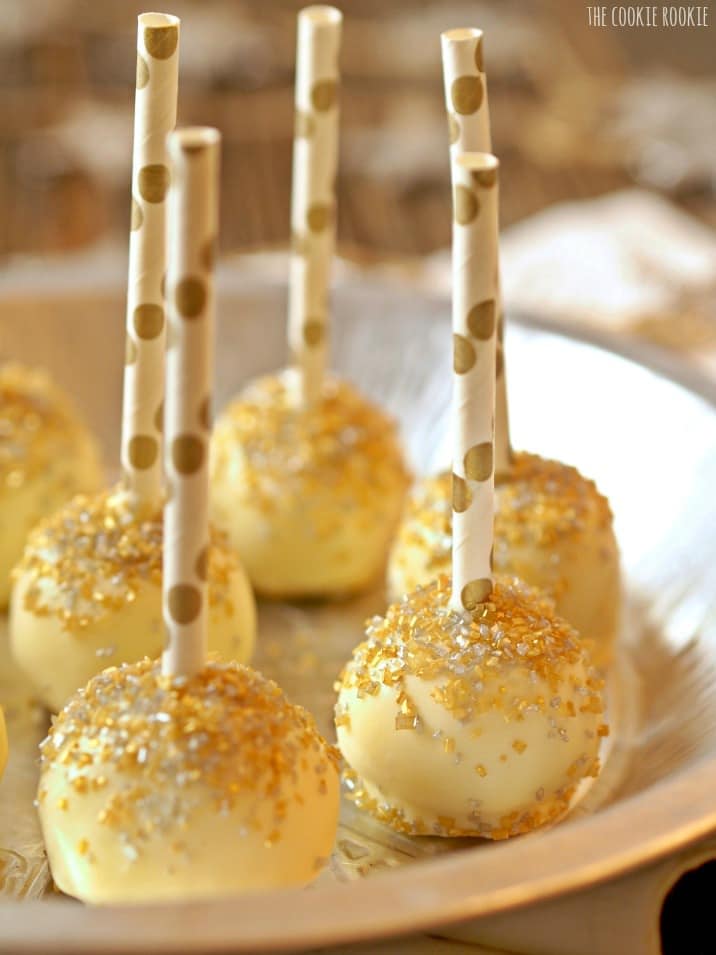 And because I wanted to give them a little flair, I made them gold and glittery.
Lemon flavored Gold Glitter Cake Pops.
Perfect for your Christmas or New Years Eve Party! (If I do say so myself) :)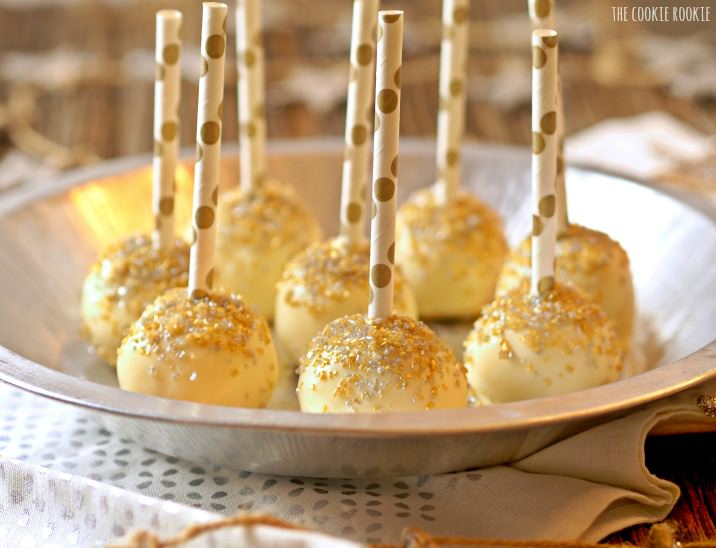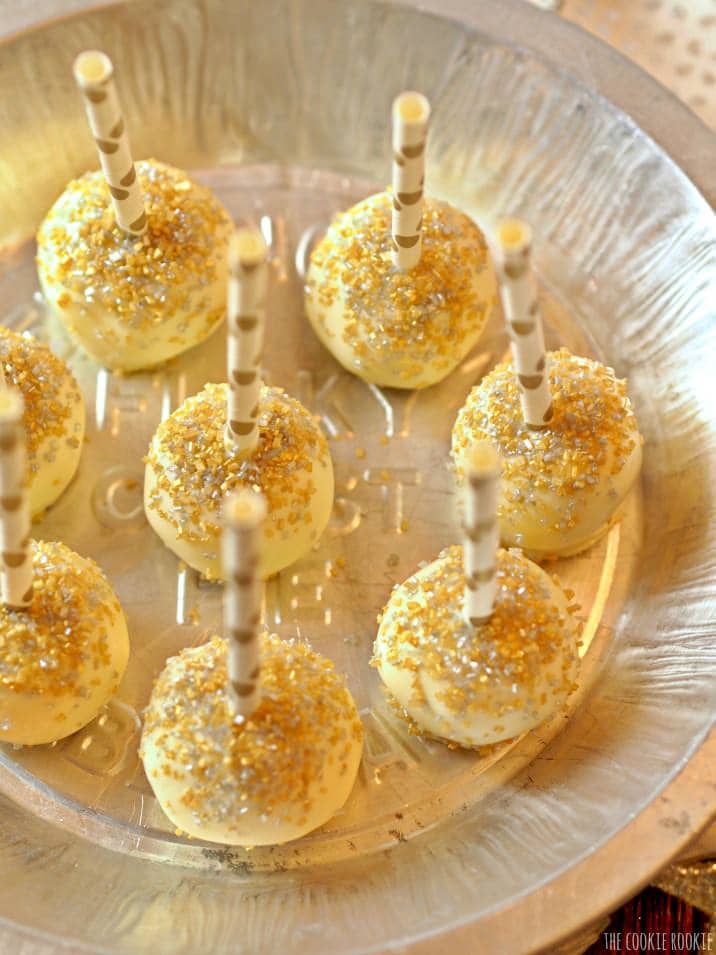 Since I had never made anything even close to a delicious cake pop, I consulted THE QUEEN OF CAKEPOPS, Bakerella.  She has an incredibly thorough and easy to understand basic cakepop recipe on her site.  The Cakepop Bible.  And then once you master that, check out her amazing cakepop creations.  Like, wow.  The creativity packed into that site is nothing short of inspiring!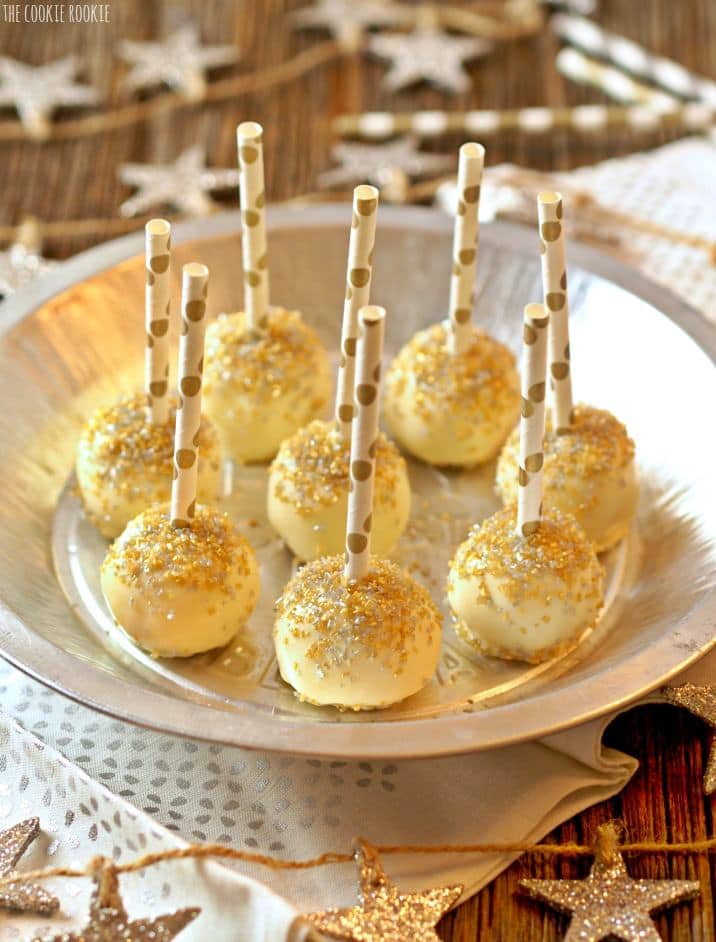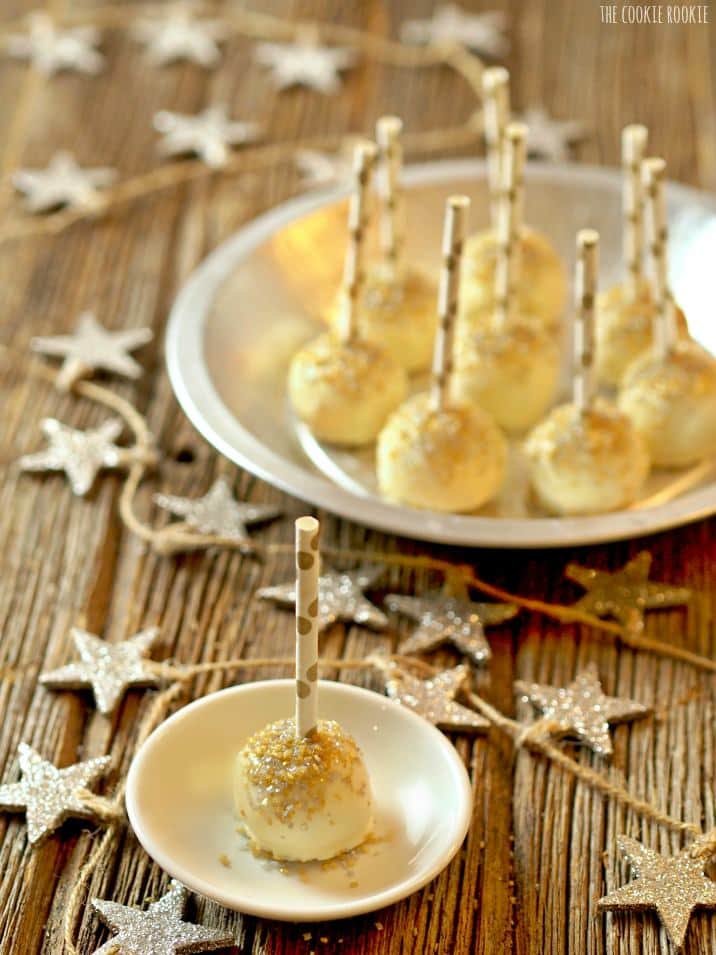 I'll tackle pops of the more amazing variety soon, but for now, I'm pretty proud of these beauties.  If I do say so myself!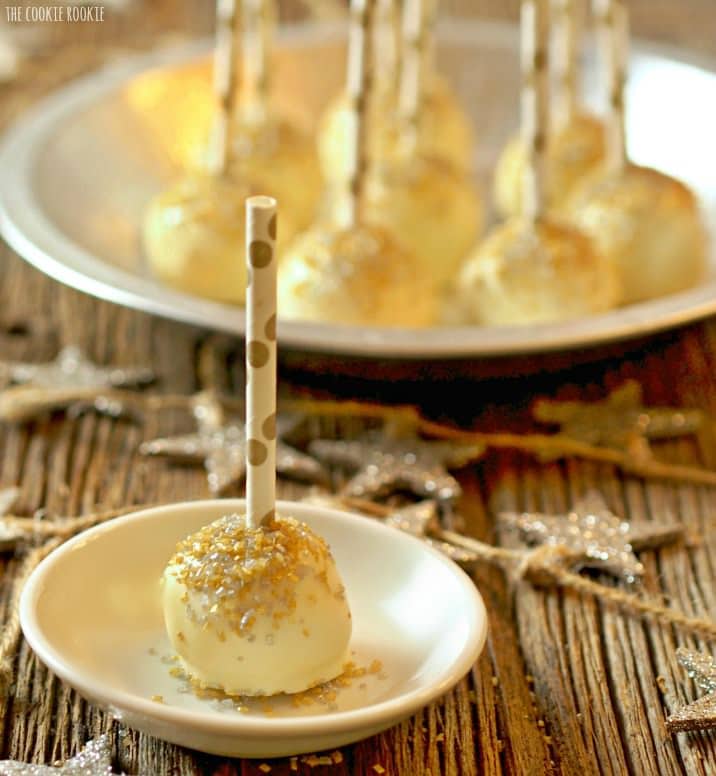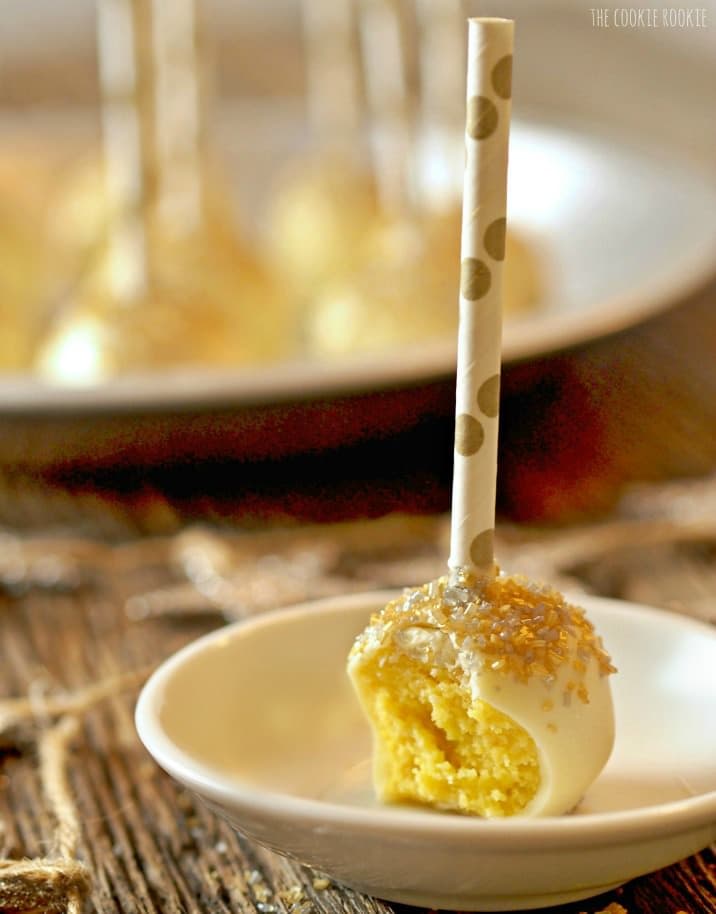 Enjoy!
Gold Glitter Cake Pops (Lemon Cake Pops)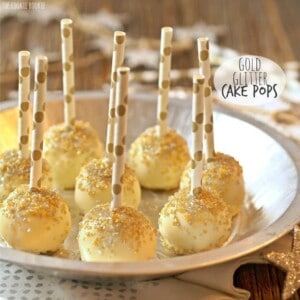 Ingredients
One 18.25-ounce Lemon flavor box cake mix
3/4 container 16-ounce ready-made lemon frosting
1 tablespoon lemon juice
48 ounces white chocolate wafers or candy coating
1 tablespoon vegetable oil
24 cake pop/lollipop sticks (I used decorative paper straws that I cut in half)
1 teaspoon gold pearl baking dust (optional)
Gold and silver sprinkles
Instructions
Bake the cake as directed in a 9x13 baking dish. Let cool for at least 2 hours, ideally overnight.
In a large bowl, crumble the cake using your hands. You want to crumble it to the smallest pieces possible.
Add the icing (3/4 of a ready made container) and mix together with the crumbled cake and the lemon juice. This is the most tedious part. At first it will seem like they won't mix together, but they will! Use a large spoon and continue to work until the icing is fully mixed into the cake. The batter should be dense enough to hold together when you roll the cake into balls.
Roll the cake ball batter into 24 balls and place on a wax paper or parchment lined baking sheet. Allow to cool in the fridge for 2 hours (or the freezer for about 20 minutes, just to cool them but not freeze them)
While cake is cooling, melt your chocolate wafers in the microwave in 30 second intervals, stirring in-between. Use a deep microwave safe bowl. It's much easier to coat the cake balls with a deep bowl rather than a large wide bowl (lesson learned!) After the chocolate is melted, add the vegetable oil and stir to combine. It will be easier to coat the cake balls if the chocolate is not quite as thick. Add the gold dust to the chocolate and stir. This is an optional step to make the cake balls shimmer a bit. It's not necessary, but is kinda fun!
If cake balls are in the freezer, take them out and place them in the fridge. Leave the cake balls you're not working on in the fridge while you work.
Take one cake ball out of the fridge at a time. First dip your lollipop stick or straw into the chocolate (about 1/2 inch) and then insert directly into the middle of the cake ball. This will help bond the stick to the cake ball. Immediately dip the cake pop into the chocolate and submerge completely. Lift out of the chocolate and allow the excess to drip off. Place the cake pop on another wax paper lined baking sheet. I chose to set them cake ball side down. If you would like them to be more like lollipops, you can place them right-side up in a Styrofoam block to let them dry.
While the chocolate is still wet, sprinkle the cake pop with gold and silver sprinkles however you like. This is the fun part. Go crazy! Allow the chocolate to dry completely (about 5 min) before serving. You can place in the fridge for 2 days before serving if necessary.
7.8.1.2
2089
https://www.thecookierookie.com/gold-glitter-cake-pops/