These Lemon Cake Pops are covered in gold and glitter to makes the most beautiful treat for parties (or just for fun!). Learn how to make cake pops with cake mix for the easiest recipe ever!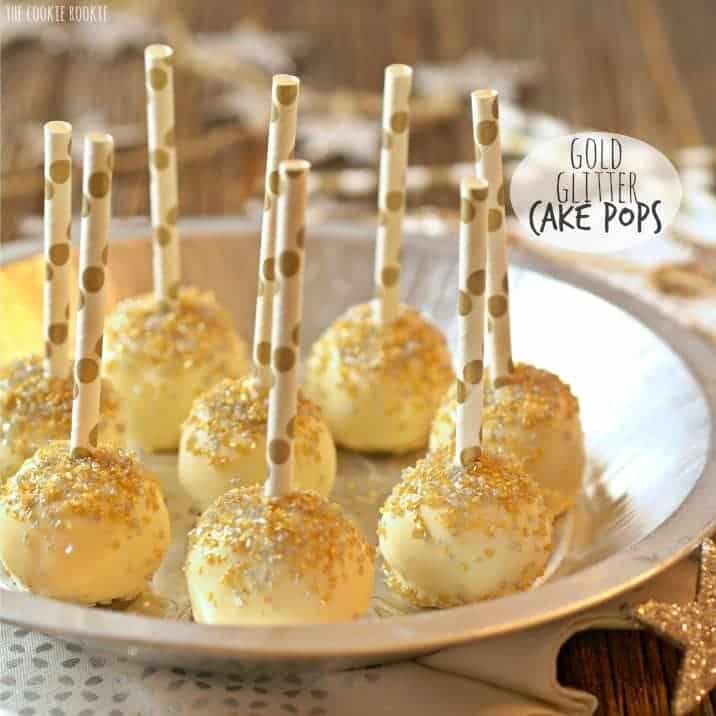 Cake pops are one of the cutest and funnest desserts to make for parties or special occasions (or just to celebrate a hard day at work). Who doesn't love bite-sized cake? This super easy recipe uses box cake mix and pre-made icing, and then I dipped them in gold to make them party-ready.
Why Make This Lemon Cake Pops Recipe
Easy – Learn how to make cake pops with cake mix so you can save some time (instead of making them 100% from scratch).
Treat Yourself – We all need a little treat now and then! These also make a great party food, and kids absolutely LOVE them.
Versatile – You can use this same basic recipe to make cake pops of any flavor, and decorate any way you want. Replace lemon cake with chocolate (or another flavor), and use different types of decorations to make them fit your party theme.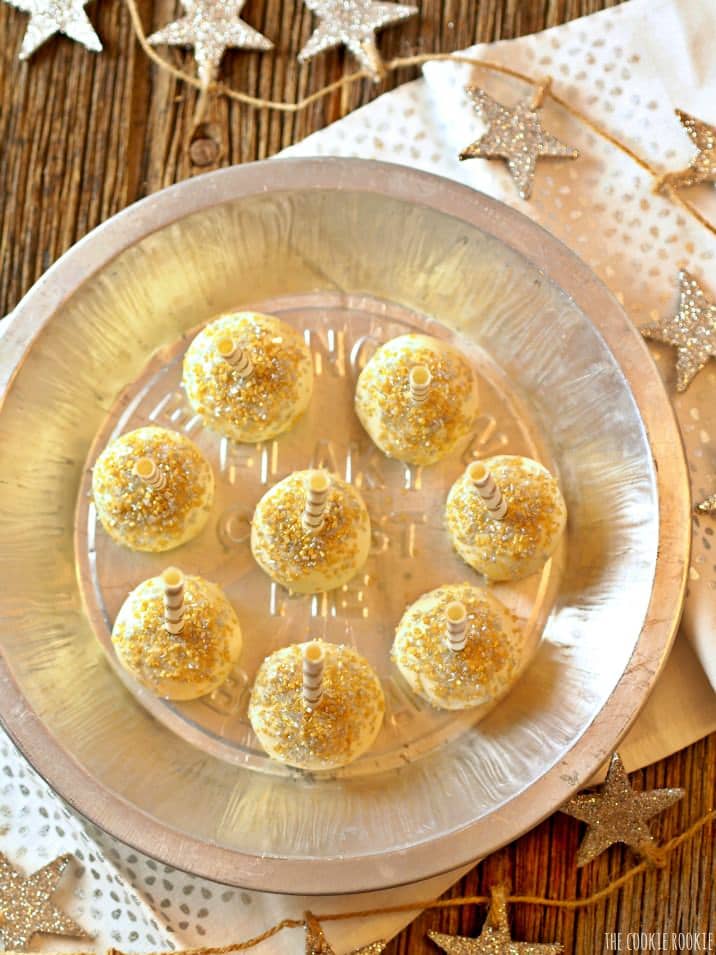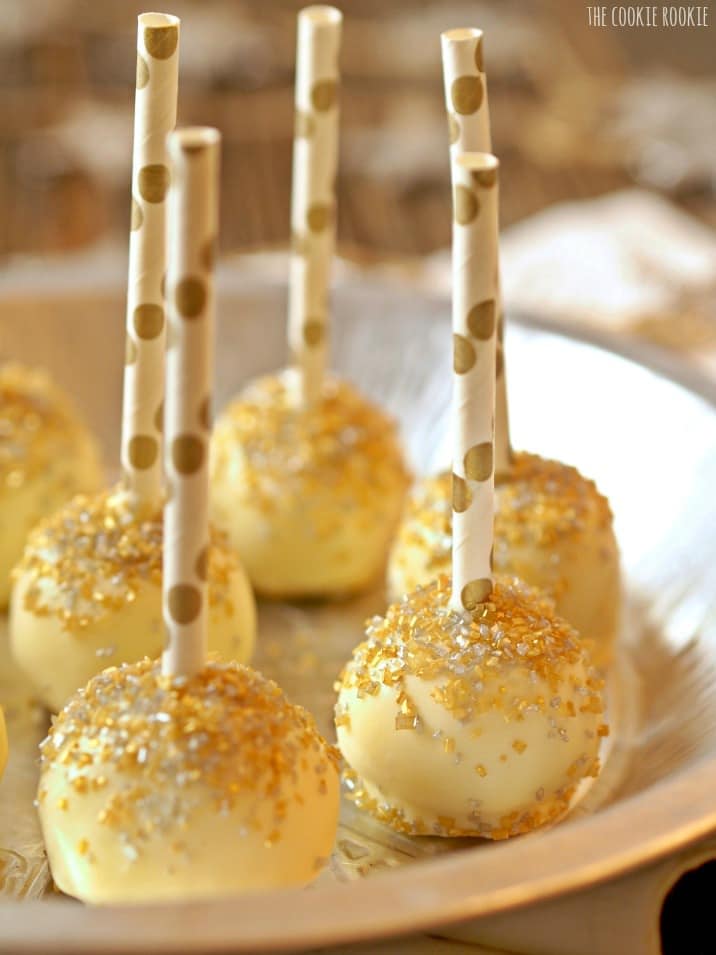 Ingredients List
Like I said before, we're making this cake pop recipe as easy as possible by starting with box cake mix and pre-made frosting. This means your ingredient list will be nice and short!
Cake Mix – grab any brand of lemon-flavored cake mix (and make sure you have the ingredients needed to bake it).
Frosting – grab a 16 oz. container of lemon frosting.
Lemon Juice – if you have a fresh lemon, it's easy to squeeze some fresh juice.
White Chocolate Wafers – for the chocolate coating.
Vegetable Oil
Decorations – I used gold baking dust, plus gold and silver sprinkles (these are optional but are super cute).
I got a little crafty for the cake pop sticks. Use decorative paper straws of your choice and cut them in half. They work great and look cute.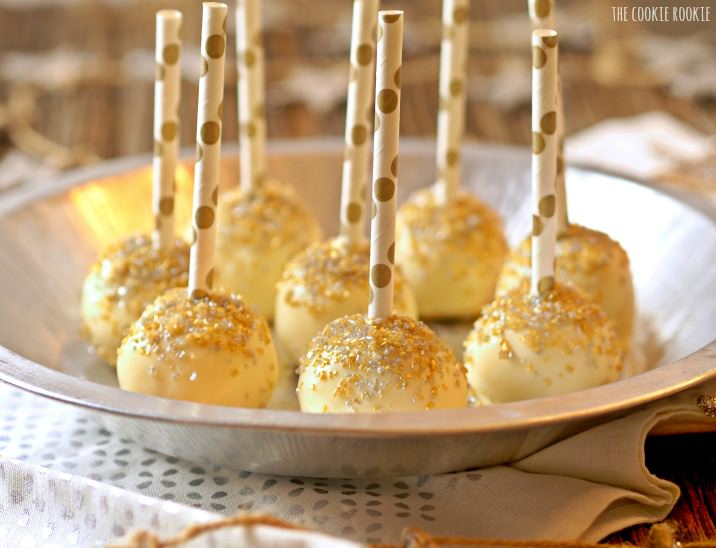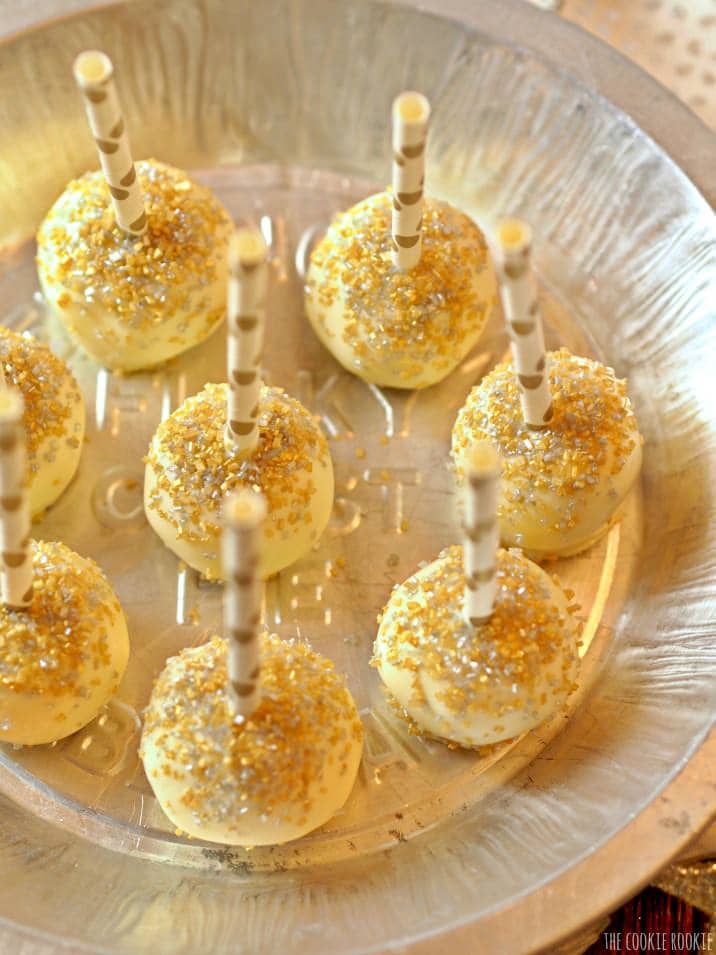 How to Make Cake Pops with Cake Mix (Step by Step)
Bake the cake – Start by baking the box cake according to the instructions. Let it cool for at least 2 hours (or overnight).
Make the cake pops – Crumble up the cake into small pieces (have fun with it!) and mix with the frosting and lemon juice. Then form 24 cake pops and refrigerate for 2 hours.
Coat with chocolate – Melt the chocolate in the microwave and mix with oil. Then place a stick in each cake ball and dip in chocolate. Tip: Coat one pop at a time and keep the rest in the fridge.
Finish them off – Cover them with sprinkles and then let the chocolate dry completely.
Be sure to check the recipe card below for the full details on how to make these Lemon Cake Pops!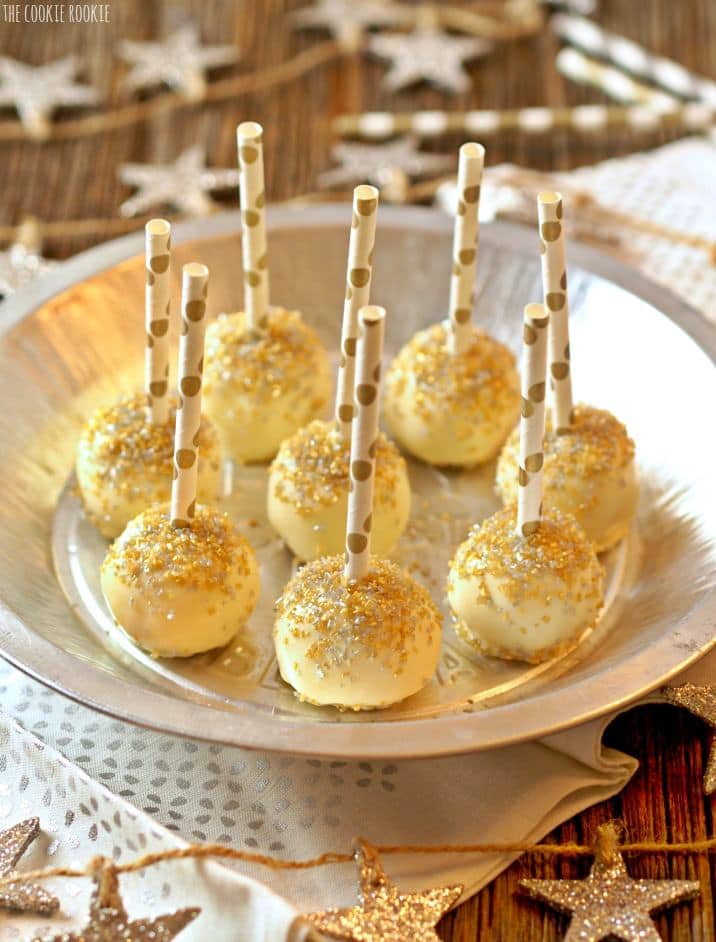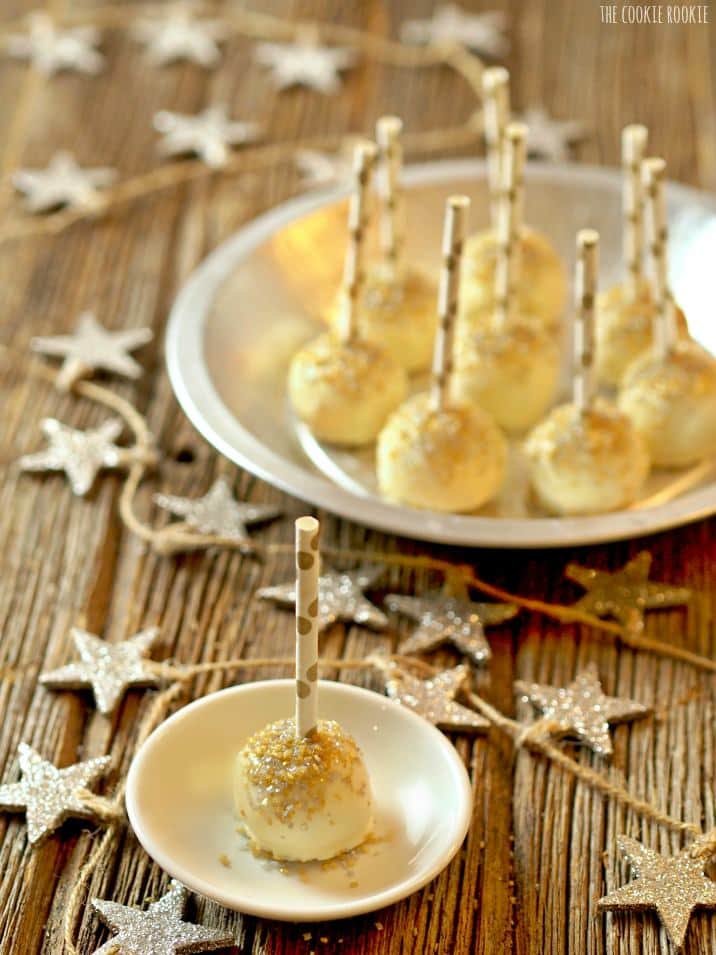 Can I make these ahead of time?
Yes! This is not really a last-minute kind of recipe, so be sure to plan a bit for this one. You will need to do a lot of chilling/resting between steps. Make sure you have enough time to bake the cake, let it cool, assemble the cake pops, and chill them after coating. All the details for timing is in the recipe card!
Because of all that, you can make these lemon cake pops up to 2 days ahead of time and keep them in the refrigerator until you're reading to serve.
How can I store homemade cake pops?
If you have leftovers or end up making them ahead of time, place them in an airtight container and refrigerate for up to 2 days.
You can also freeze them after the chocolate coating has fully cooled in the fridge. Freeze up to 6 weeks, then let them thaw in the fridge before serving.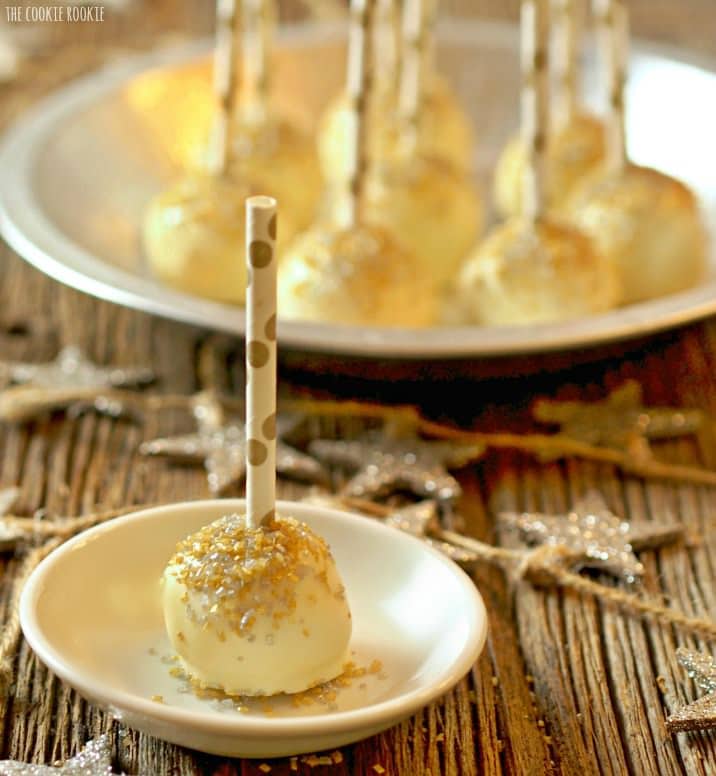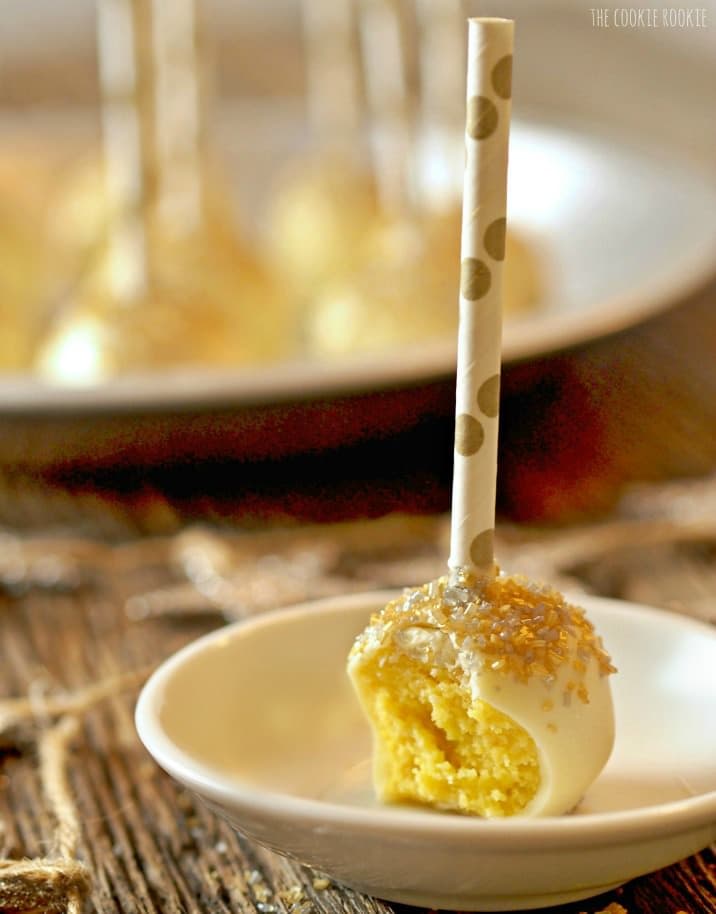 These homemade lemon cake pops make a great party treat. They are so much fun for kids birthday parties, and these glitter-covered ones are perfect for some sparkle on New Year's Eve. So skip the trip to Starbucks for your afternoon cake pops and make them at home yourself instead (although eating one per day might be tough!).
Try these other easy cake recipes too: