Nothing makes Sunday morning better than a warm cup of coffee and freshly made coffee cake covered in cinnamon sugar streusel topping. Sweeten your weekend with this yellow Cake Mix Coffee Cake and watch everyone clear their breakfast plates.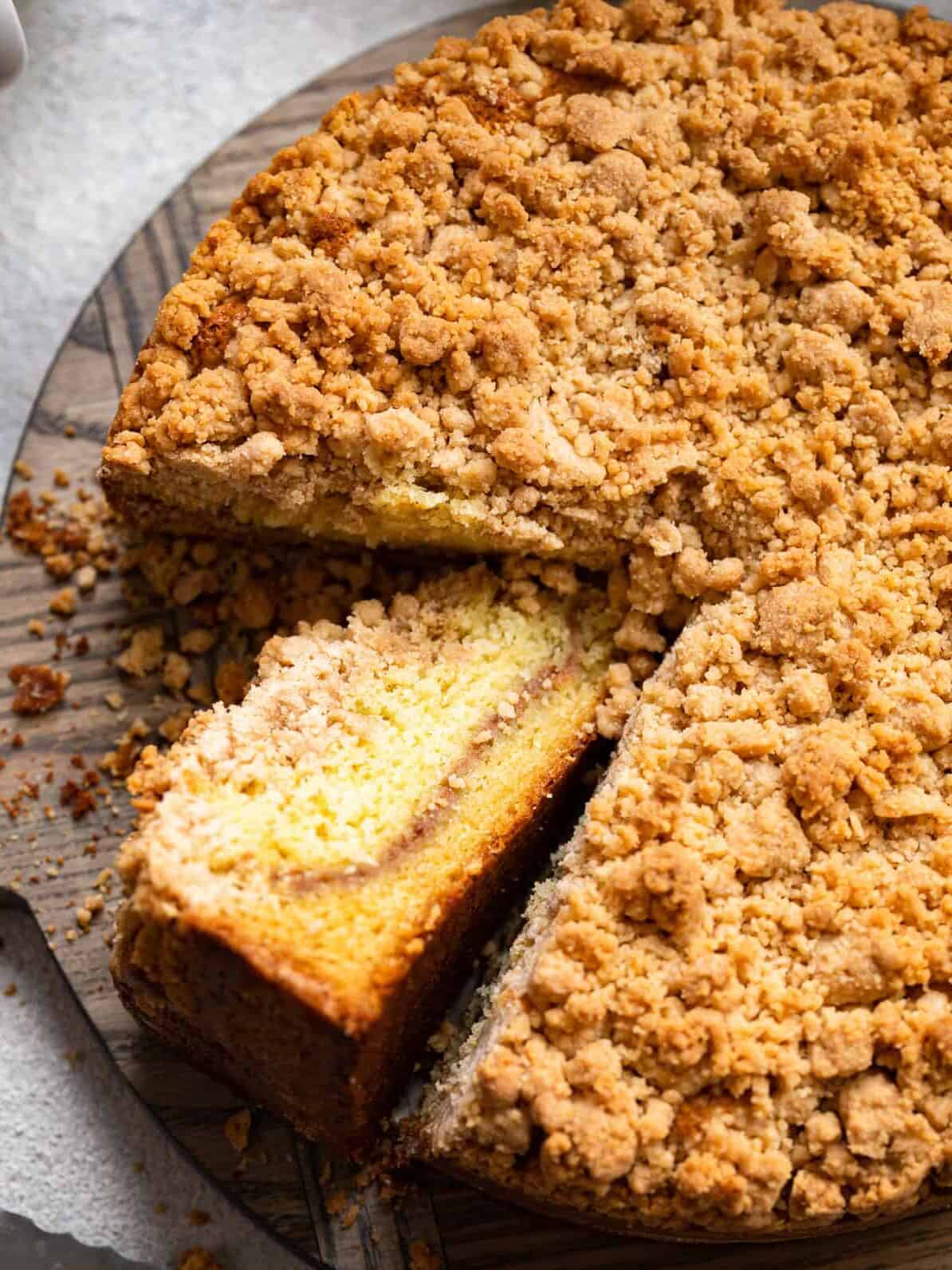 This crumb cake comes together quickly with simple ingredients like premade box cake mix and then topped with delicious crumbles made of sugared almonds, ground cinnamon, and brown sugar. This decadent treat is perfect to have on hand for a quick breakfast or a sweet treat.
Cake Mix: We're going with a classic yellow cake mix.
Instant Pudding Mix: Vanilla pudding adds a nice flavor and density.
Oil: Canola oil or whatever you have on hand.
7UP: That's right! This cake has a secret soda ingredient.
Vanilla: A dash of vanilla extract is necessary!
Eggs: Large eggs work best.
Brown Sugar: I'm using dark, but light works too!
Sugared Almonds: Slivered, crushed, or halved.
Cinnamon: No coffee cake is complete without it.
Top Tip:
Make sure your eggs and oil are at room temperature so they incorporate smoothly into your cake batter.
Add a little bit of melted butter to your crumble topping for extra richness.
Sprinkle powdered sugar on top before serving.
Variations on Coffee Cake
To make this easy coffee cake recipe gluten-free, swap the box of yellow cake mix for a gluten-free yellow cake mix. It's as easy as that!
Swap or add almond extract to the vanilla for a more nuanced flavor.
Turn this into a blueberry coffee cake by mixing fresh blueberries into your cake batter once all other ingredients are incorporated.
Make coffee cake muffins by using a muffin tin instead of a baking pan!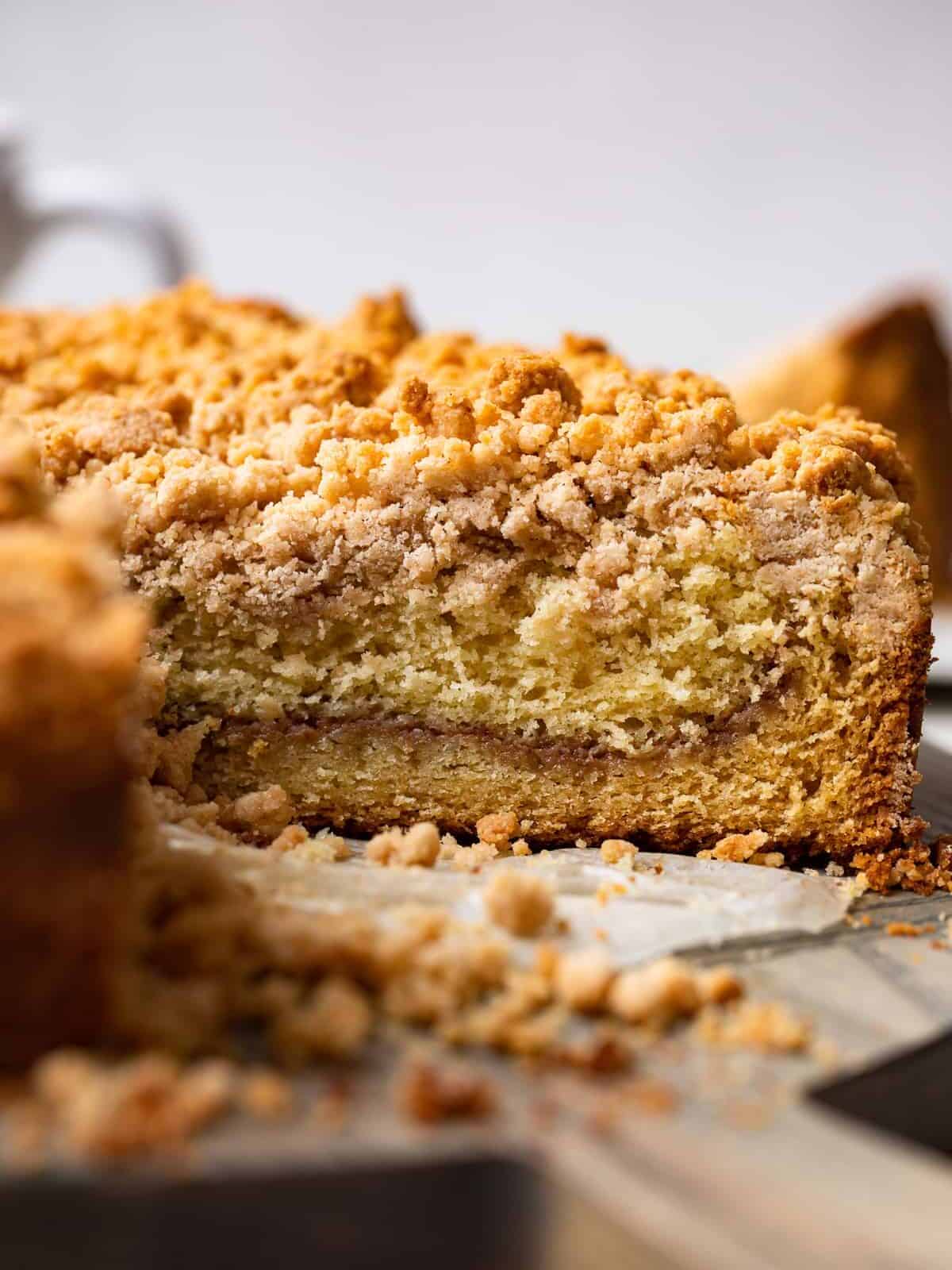 Trademark Note: In the spirit of transparency, I want to note that some of these ingredients are trademarked products. 7UP is a proprietary brand that I want to acknowledge and give credit to.
Does coffee cake have coffee in it?
Nope! In spite of its name, coffee cake doesn't actually contain any coffee. But it sure does go well with it!
Why is it called coffee cake?
Coffee cake gets its name from how it is served, not the ingredients inside it! Coffee cake is great alongside a warm cup of coffee or a creamy iced latte!
Why add pudding mix to cake?
Pudding mix adds flavor and moisture to this cake. It also helps to make the cake fluffier! I do not recommend leaving it out.
Can I make this coffee cake without cake mix?
Yes! Simply substitute the box of cake mix with a mixture of 2¼ cups (270 grams) all-purpose flour, 1½ cups (300 grams) granulated sugar, 3½ teaspoons (14 grams) baking powder, and 1 teaspoon (3 grams) kosher salt.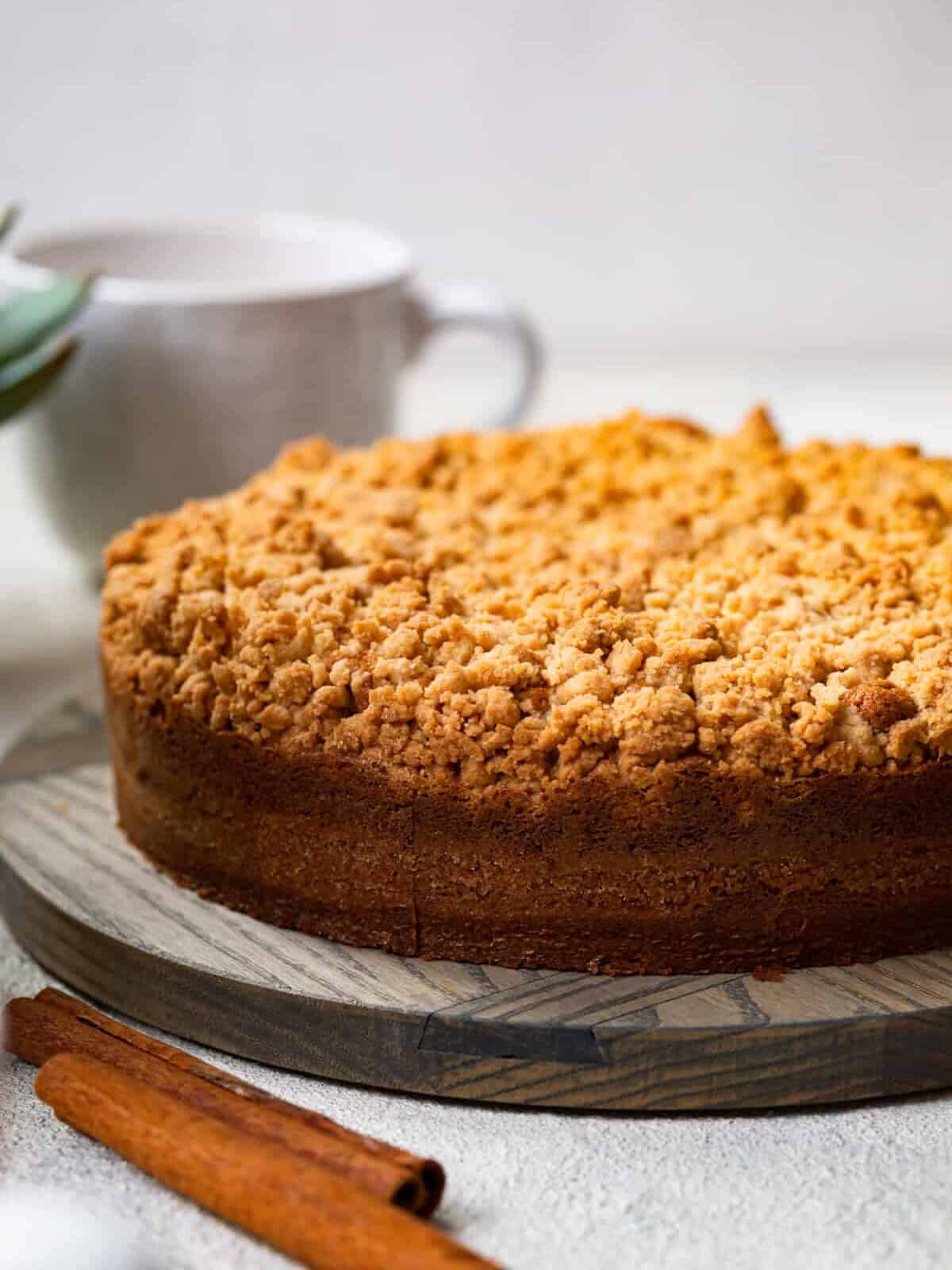 How to Store and Reheat Coffee Cake from Cake Mix
In my opinion, this cake only gets better as it sits, so make it the day before you plan to serve it for the best taste.
Store leftover cake mix coffee cake in an airtight container at room temperature for up to 2 days or in the refrigerator for up to 1 week. Enjoy room temperature or reheated in the microwave for 10-15 seconds.
How to Freeze Easy Coffee Cake
Freeze cake mix coffee cake whole or in individual slices tightly wrapped in 2 layers of plastic wrap and 1 layer of aluminum foil for up to 3 months. Let thaw in the refrigerator or on the countertop overnight before serving.
What to Serve with Coffee Cake with Yellow Cake Mix
This homemade coffee cake brings joy in every bite while a Bulletproof coffee will bring it in every sip. Warm up a slice of coffee cake and cool down with an Iced Espresso. Balance the sweetness with a slice of this delicious Ham and Cheese or Biscuit Breakfast Casserole.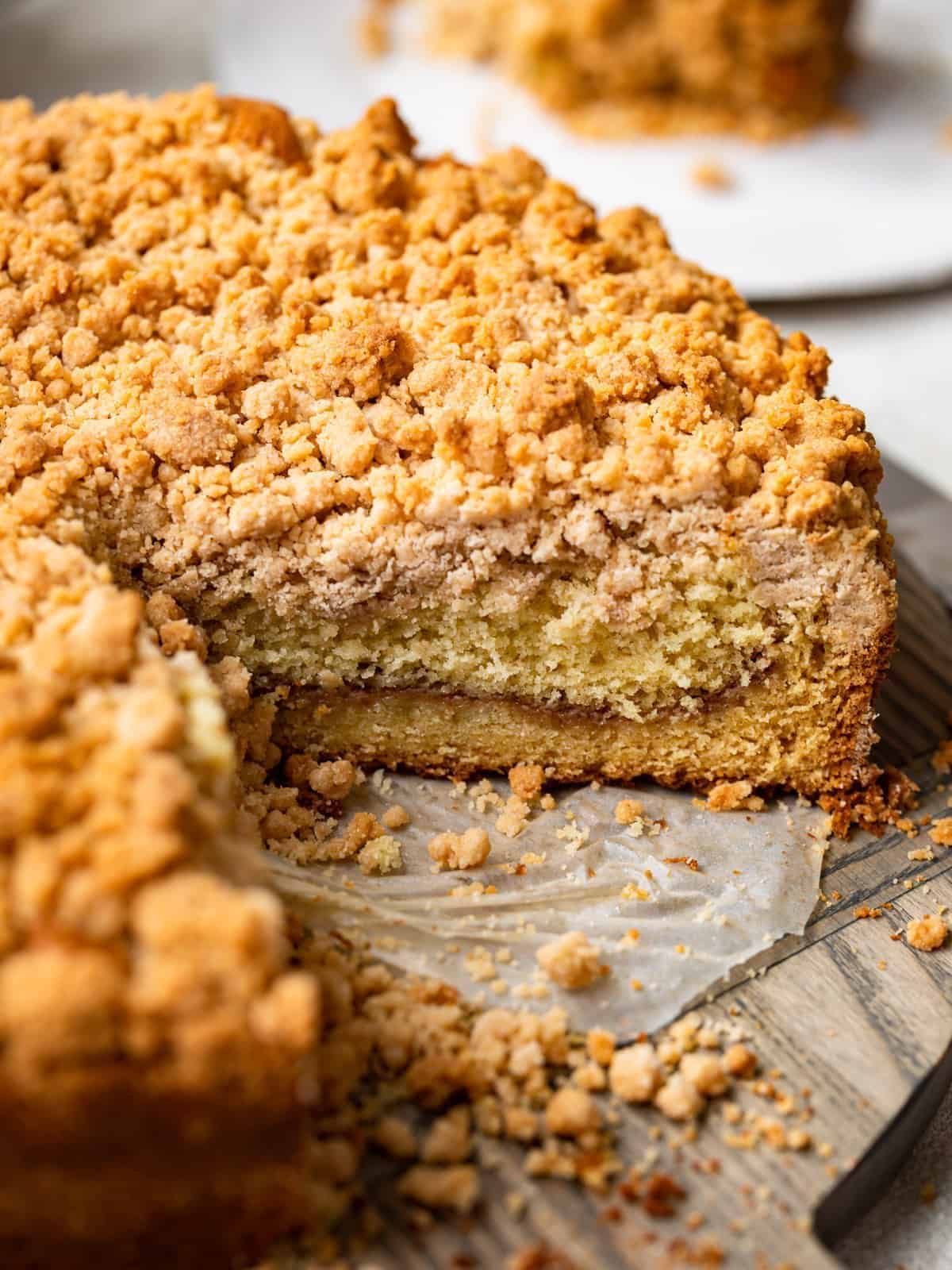 More Yellow Cake Mix Recipes We Love