Cake Mix Donuts are the easiest way to make donuts for a quick family breakfast! These strawberries and cream donuts are baked in the oven in no time, and then topped off with a delicious powdered sugar glaze.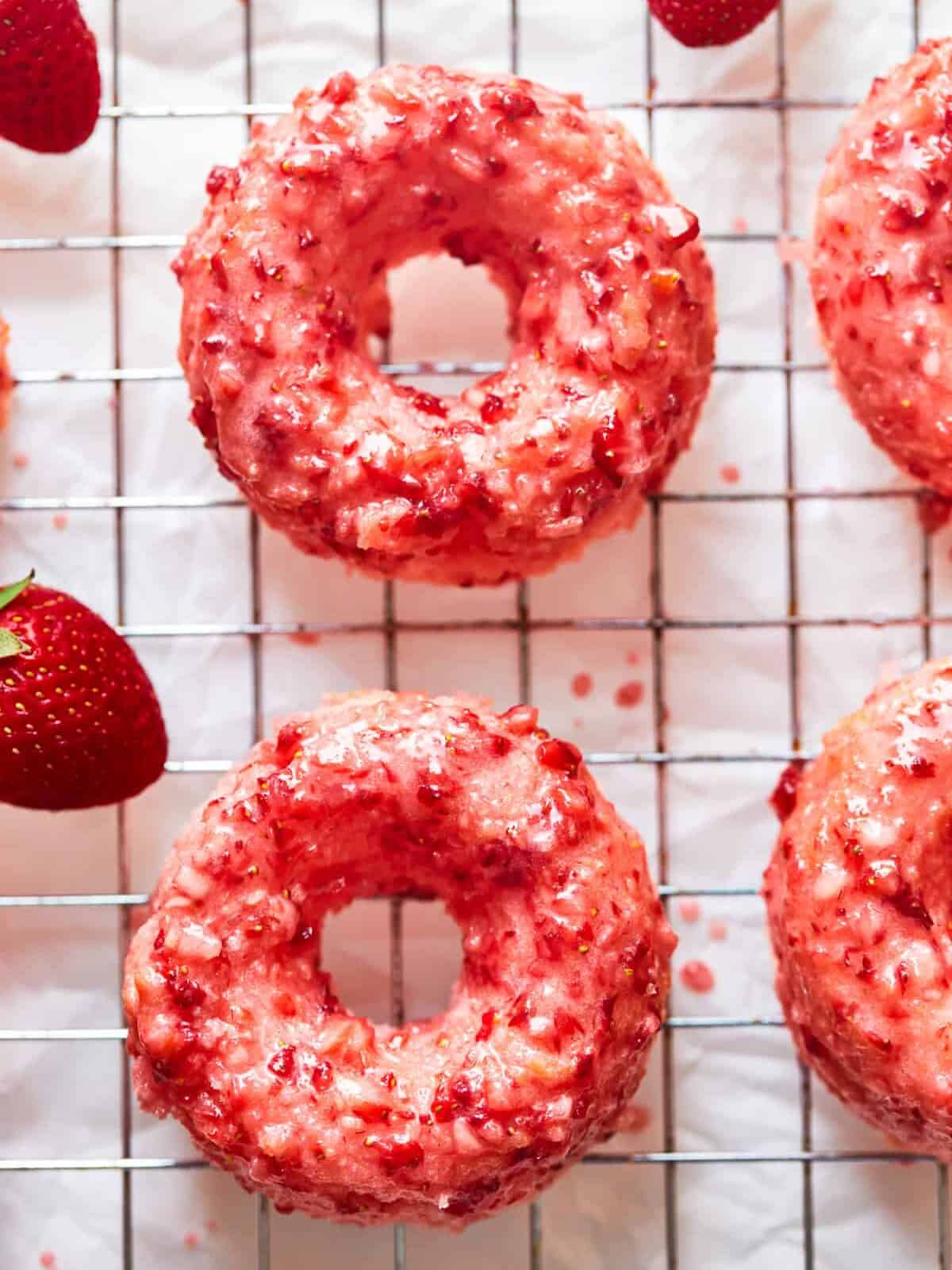 What's in a Strawberry Donut?
Turns out you can use cake mix to bake donuts at home. It's so easy and quick, much better than trying to fry them or make them from scratch!
Cake Mix: Grab a standard box of strawberry cake mix for these strawberry donuts.
Eggs: Bind the cake mix together to create a rich batter.
Butter: Unsalted butter adds fat and flavor to these donuts.
Heavy Cream: Adds moisture to these donuts.
Powdered Sugar: Mixed with more heavy cream to form the base of the icing.
Strawberries: Fresh strawberries give the icing delicious, fresh flavor!
Pro Tip: You can also use white or yellow cake mix for a subtler strawberry flavor.
Variations on Cake Mix Donuts
You could easily change this recipe into other flavors simply by switching out the cake mix. We're using strawberry here, but you could also buy vanilla, chocolate, or even birthday cake mix to make these donuts! That would be something fun to experiment with for family breakfasts.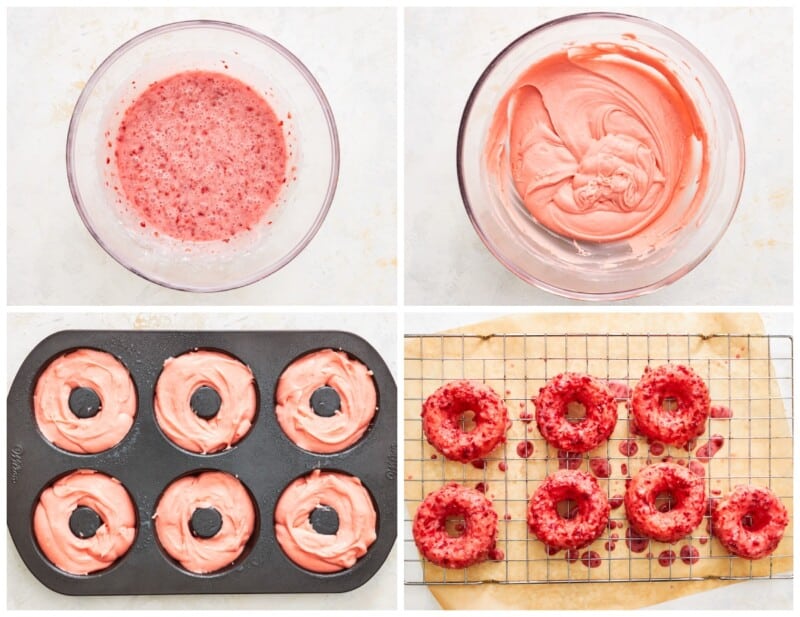 Do baked donuts taste the same as fried donuts?
Because baked donuts are made without yeast, they have more of a cake/muffin texture than a doughy, bread-like texture.
How can I make cake mix donuts gluten free?
To make these donuts gluten-free, simply use your favorite brand of gluten-free strawberry cake mix!
Do I have to use a donut tin?
I have only ever made these donuts in a donut tin, but I have heard of readers having success baking them in a muffin tin with a small ball of aluminum foil set in the middle. You'll need to spray extra well with nonstick spray, though!

Why are my donuts dry?
Sometimes, baked donuts have a tendency to be a little bit dry if cooked for too long. If you follow my recipe exactly, this should be easily avoided, but it can happen to even the best of us! Don't worry, though. You won't need to toss out the donuts. You can remedy their dryness by adding a little extra frosting on top!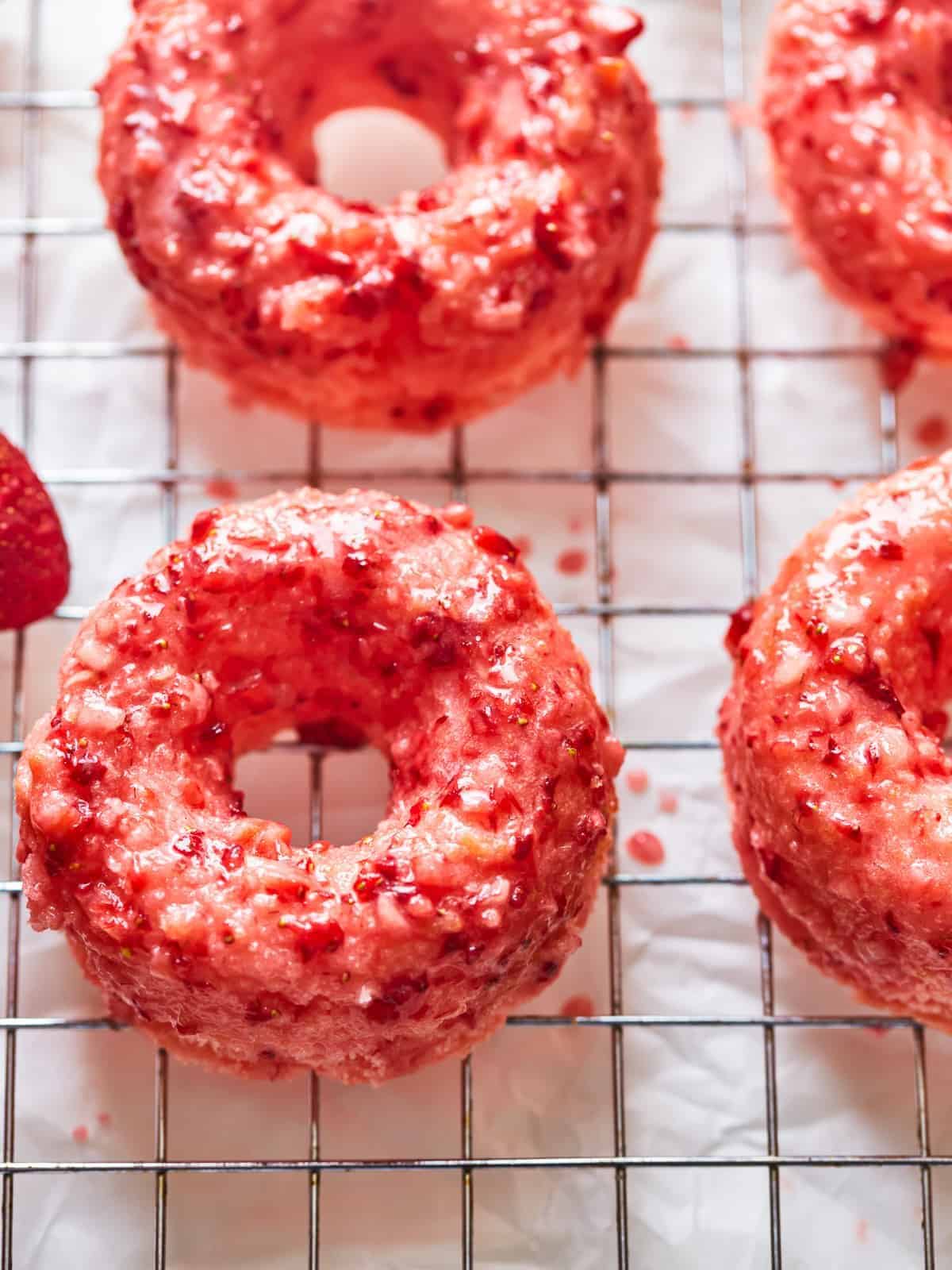 How to Store and Reheat Baked Donuts from Cake Mix
These cake donuts should be stored in an airtight container at room temperature. They'll last 3-4 days, but will be best if eaten in the first 2 days. Don't keep them anywhere too warm or the glaze will melt off. If you want to warm them up before eating, just pop them in the microwave for 10-20 seconds.
How to Freeze a Strawberry Frosted Donut
Freeze strawberry donuts in a single layer on a lined baking sheet until solid, about 1-2 hours. Transfer to an airtight container or Ziplock bag to store for up to 2 months. Let thaw overnight in the refrigerator before serving.
What to Serve with Donuts from Cake Mix
These strawberry cake mix donuts are the perfect breakfast treat! Serve them with a hot cup of coffee, an iced espresso, a chai tea latte, or a glass of oat milk. For a summery twist, enjoy them with a pineapple matcha or Starbucks pink drink!
These donuts make a great accompaniment to a hearty sausage breakfast casserole or a couple of Starbucks egg bites. Take one with a coffee smoothie on the go, or indulge in some PB&J overnight oats. Any way you serve them, these donuts are sure to be a hit!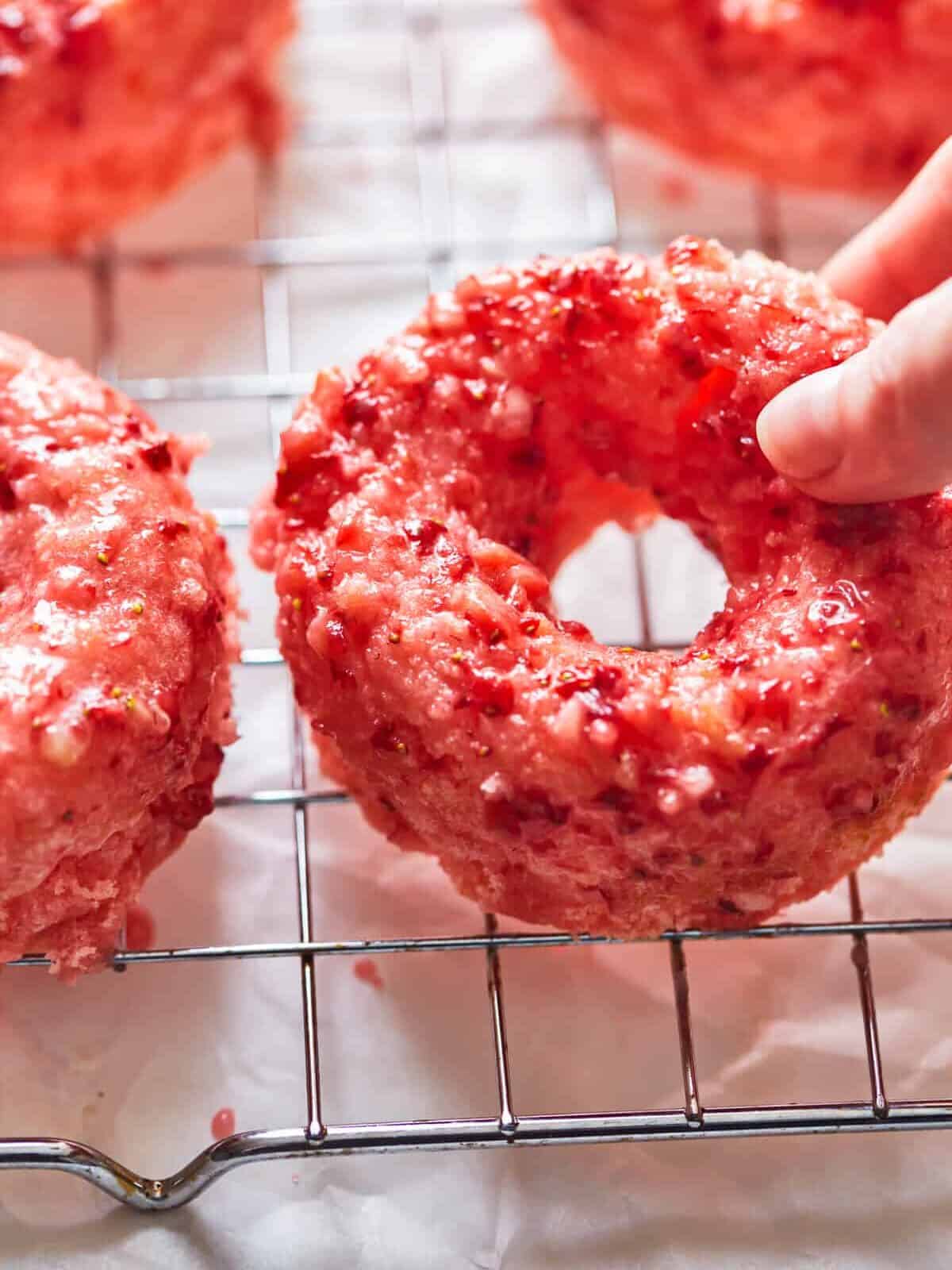 More Donut Recipes We Love