Pumpkin Gooey Butter Cake is a fall dessert recipe, but I like to make (and eat!) this ooey gooey cake year-round! If you don't know what gooey butter cake is, then you NEED to make this recipe ASAP. The combination of pumpkin and the gooey butter cake will blow your mind!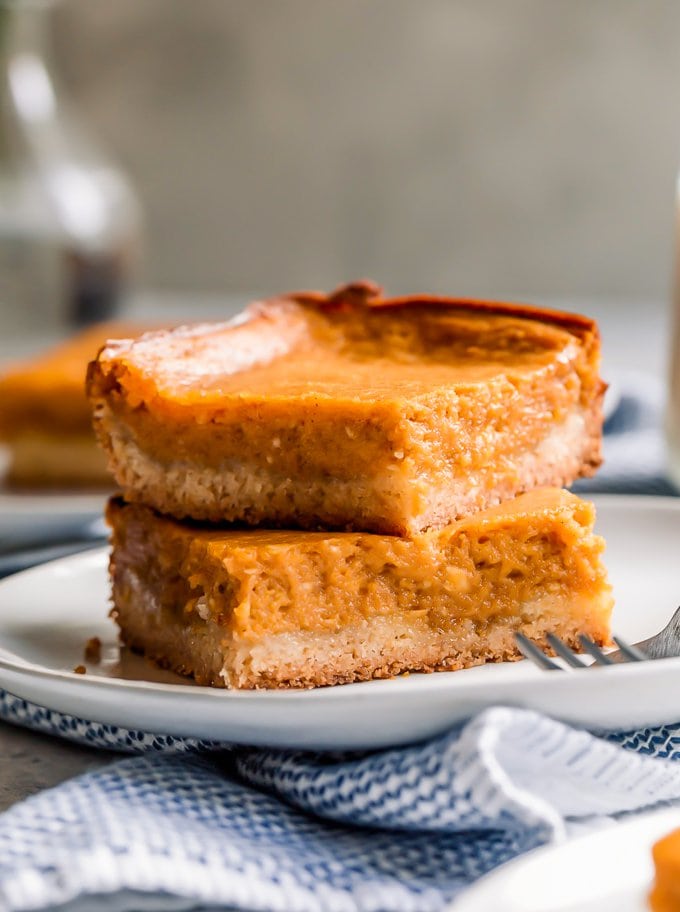 Pumpkin Gooey Butter Cake
Pumpkin Gooey Butter Cake is the perfect combination of two of my favorite desserts: gooey butter cake and pumpkin pie. It's the perfect fall dessert recipe!
For those of you who don't know what Gooey Butter Cake is, I'm about to change your life. It's a dense, moist, gooey cake that hails from St. Louis. It's a Midwest original and we are very proud of that! This cake is made from cake mix, butter, eggs, and cream cheese, creating one of the best cakes ever.
It comes out more like a layered cake bar rather than traditional cake, and it is so delicious. We had it at my bridesmaids lunch, and all the girls who aren't from the Midwest couldn't believe their taste buds. It's shockingly good, and I feel sorry for anyone that doesn't have this cake in their lives.
Of course, I had to combine this cake with another one of my favorite desserts to create the PERFECT fall dessert recipe: Pumpkin Pie! Autumn is nothing without pumpkin flavored everything, so this Pumpkin Gooey Butter Cake recipe was bound to happen eventually. I just added in some pumpkin to the gooey top layer and…well, this pumpkin dessert has quite possibly changed my life!
Serve this Pumpkin Gooey Butter Cake on Thanksgiving and your guests will be amazed, especially those that have no idea gooey butter cake even exists. Or just make it literally any time of year, because this recipe is too good to be limited to the fall season!
This Pumpkin Gooey Butter Cake recipe is a combination of gooey butter cake and pumpkin pie, aka the PERFECT fall dessert!
Be sure to also try our Gooey Butter Cookies, Chocolate Gooey Butter Cookies, and Gooey Butter Cake Martinis!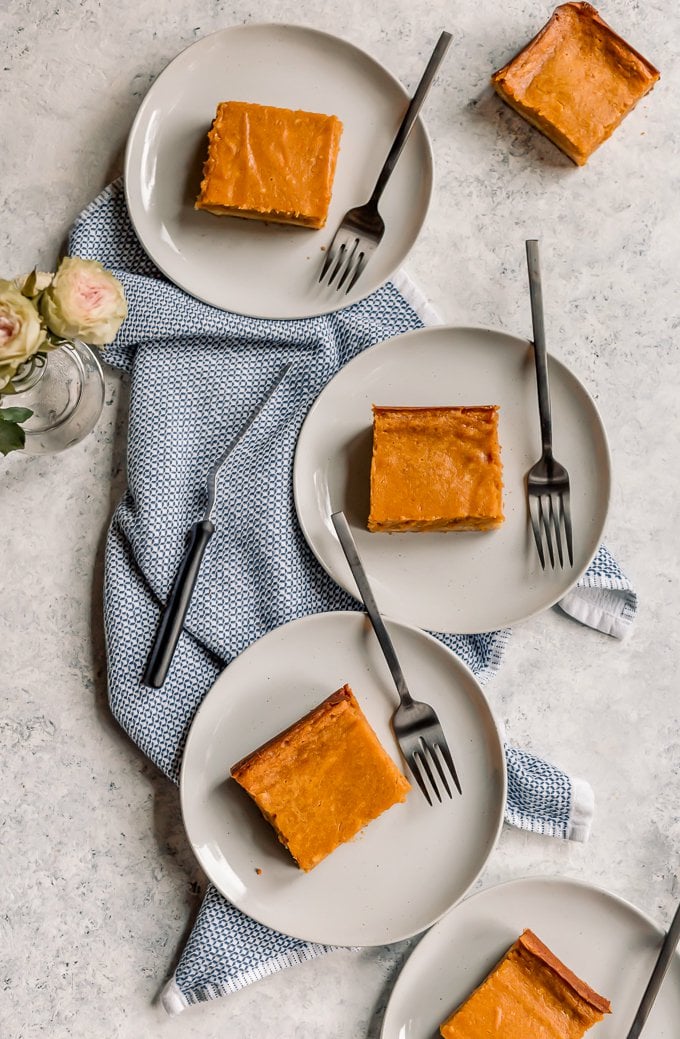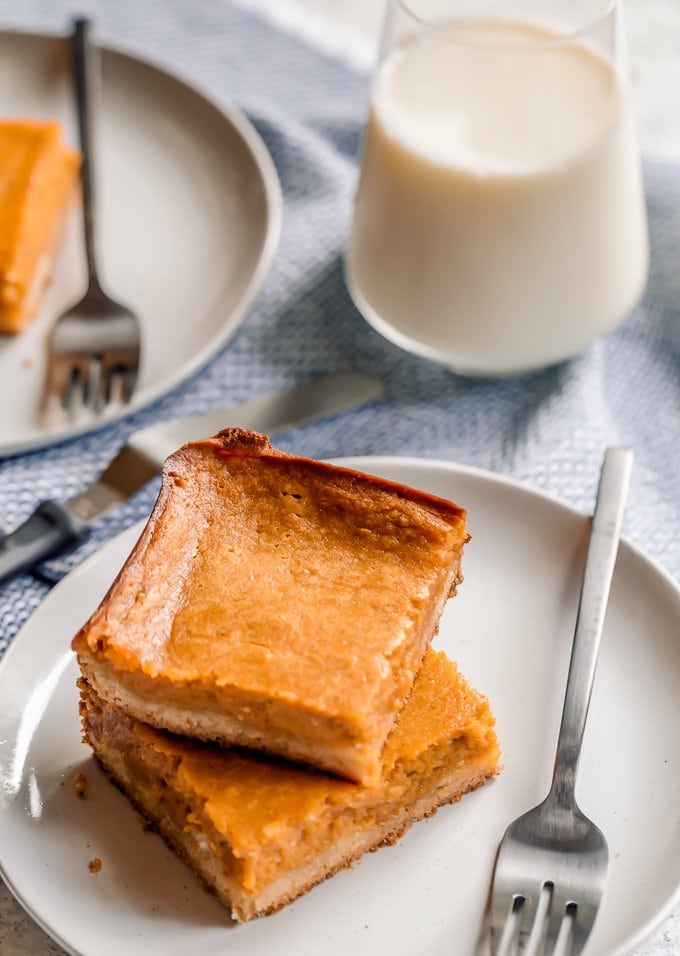 Pumpkin Dessert Recipes
I think I've made my love of pumpkin pretty clear around here. October and November should be nothing but pumpkin! I love coming up with new pumpkin recipes and pumpkin desserts to share, because I know you all love them just as much as I do. You have to get festive during the fall season and just give in to the pumpkin!
This Pumpkin Gooey Butter Cake might be my favorite pumpkin dessert, but there are so many great recipes that I can't really choose…and luckily I don't have to! I have plenty of time to eat them all.
Here are my other favorite pumpkin treats: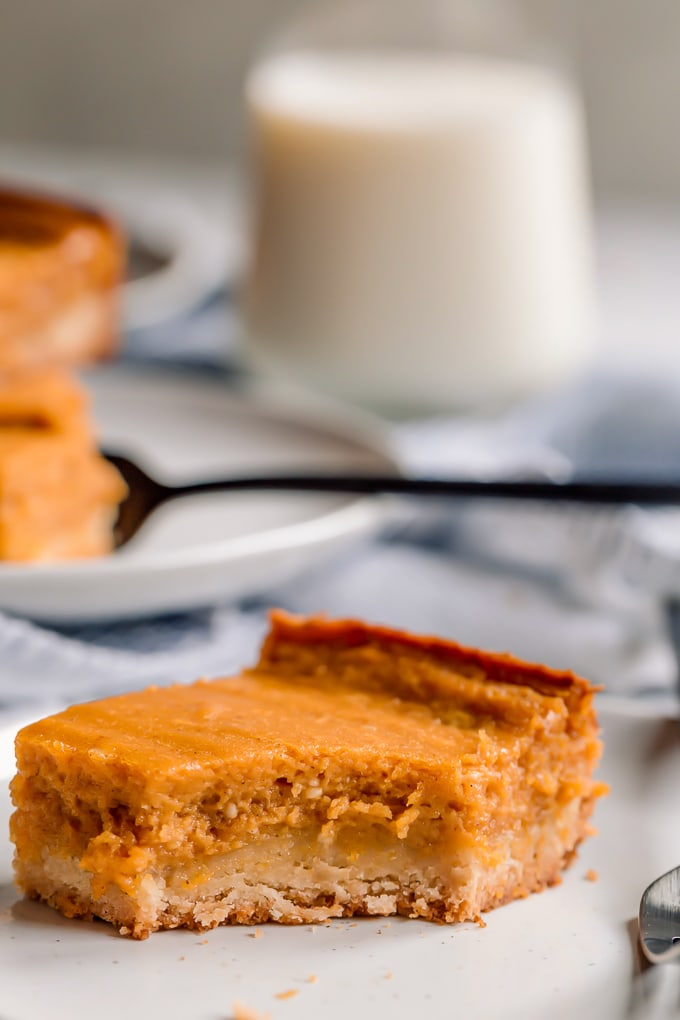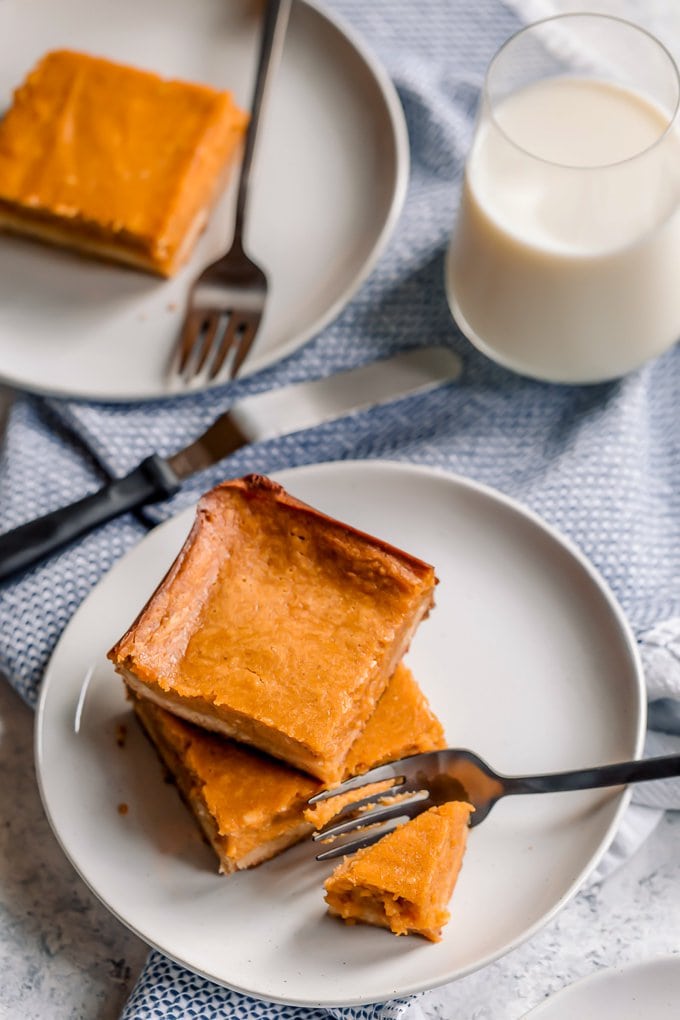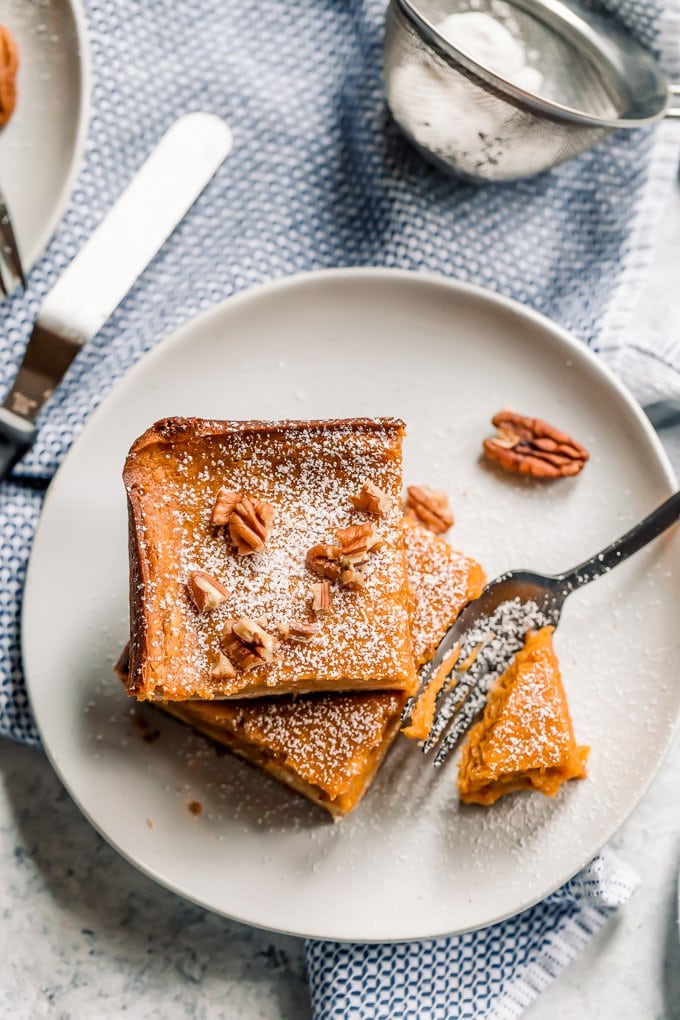 How to Make Pumpkin Gooey Butter Cake
This Pumpkin Gooey Butter Cake recipe is meant to be easy. Just use a boxed yellow cake mix for the base, and the ooey gooey layer is made from cream cheese, pumpkin, eggs, butter, powdered sugar, and some spices.
Combine cake mix, egg, and butter with an electric mixer.
Pat mixture into the bottom of a baking dish.
Beat together cream cheese and pumpkin puree, then add in eggs, vanilla, and butter.
Lastly, mix in the powdered sugar, cinnamon, and nutmeg.
Spread the pumpkin mixture in an even layer on top of the cake batter layer.
Bake for 40-50 minutes at 350°F. (Don't over bake; you want the middle to stay a bit gooey)
Once the pumpkin gooey butter cake is done and has cooled, cut it into squares and serve. You can eat it as is, put I definitely recommend sprinkling it with powdered sugar! You can also add pecans, whipped cream, or other toppings.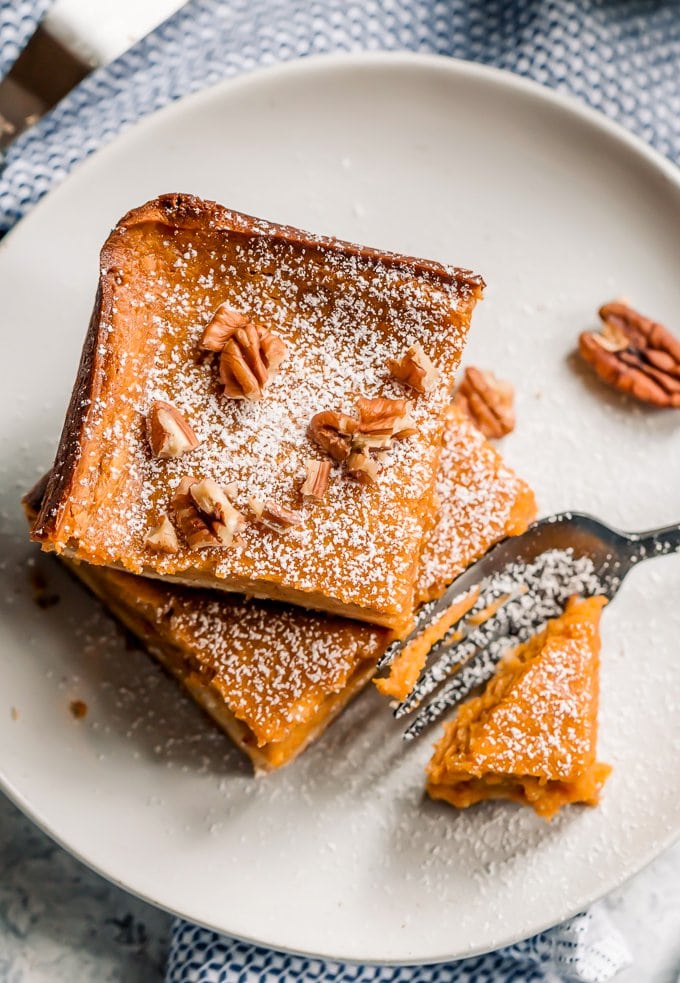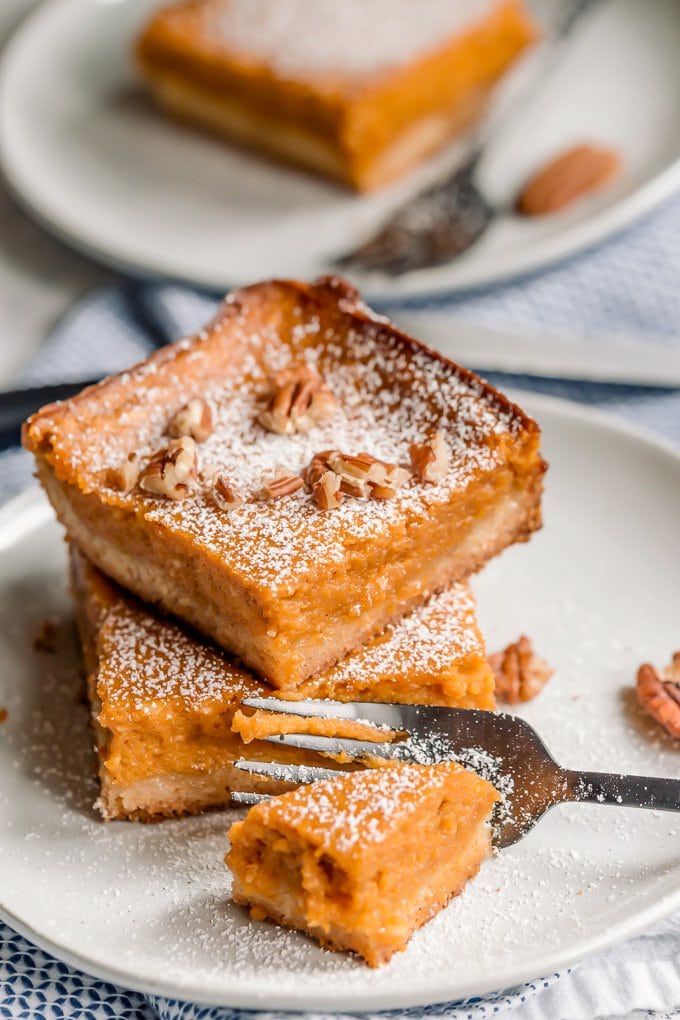 Does Gooey Butter Cake need to be refrigerated?
This pumpkin gooey butter cake does not to be refrigerated right away. You can wrap it in aluminum foil and leave it at room temperature for up to 2-3 days. Any longer than that, then you should keep it in the refrigerator (for up to 1 week).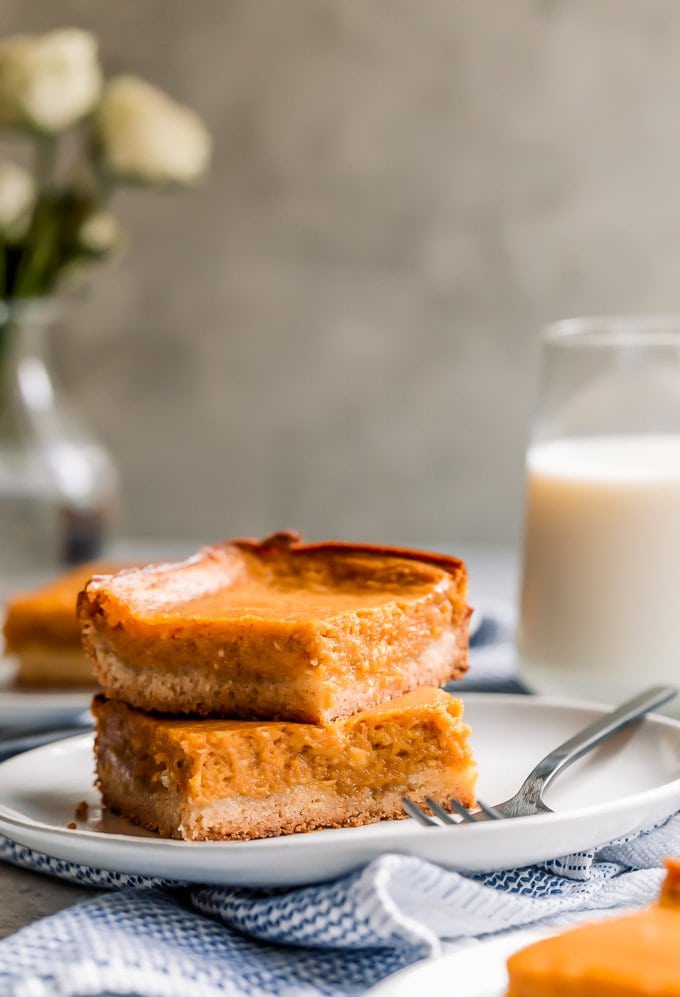 I'm so excited about this Pumpkin Gooey Butter Cake, and I really can't wait for you to try it. It's the perfect pumpkin dessert for the fall season, for Thanksgiving, or for any time of year!
See the recipe card below for details on how to make Pumpkin Gooey Butter Cake. Enjoy!
If you like this recipe, try these other easy dessert recipes: