Gingerbread Pudding Cake is such a delightful (and easy!) Christmas dessert recipe! This Gingerbread Cake is gooey on the inside, caramelized on the outside, and so full of spices and flavor. If you love gingerbread at the holidays, you will love this Gingerbread Pudding Cake Recipe!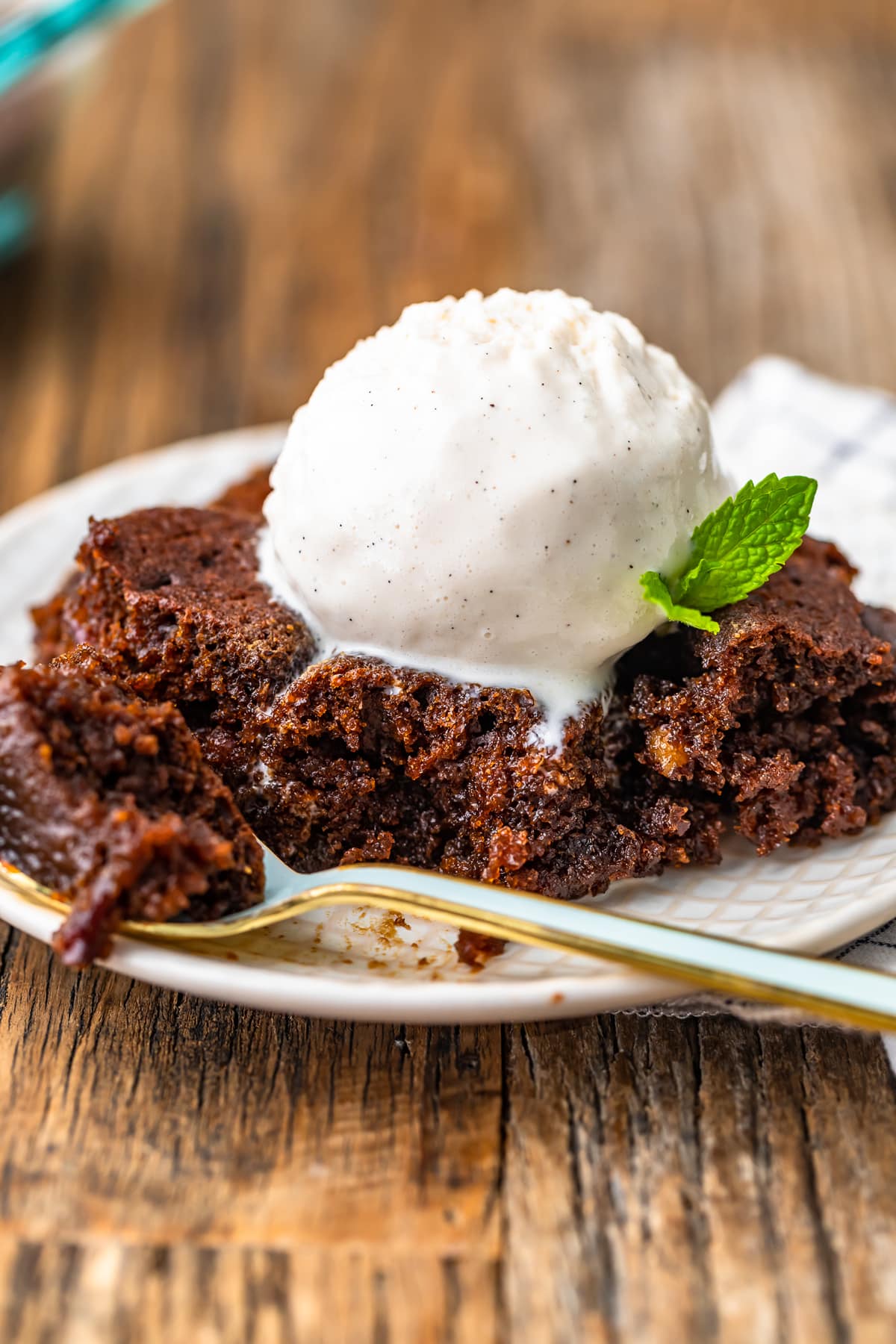 Gingerbread Pudding Cake Recipe
This Gingerbread Pudding Cake Recipe is the ultimate crowd pleaser!
Every Christmas party demands an amazing dessert, and this Gingerbread Cake is sure to please! We call it Gingerbread Pudding Cake because of its slightly gooey center, and it's truly to die for. The edges and top are basted in butter and brown sugar, so they caramelize as they cook, creating the most amazing texture and flavor.
This Gingerbread Cake Recipe is loaded with molasses, spices like cinnamon and nutmeg, and of course ground ginger. It just tastes like Christmas and is amazing, especially when served warm topped with Vanilla Bean Ice Cream. I've eaten the biggest slice tonight and I don't care who knows it!
Gingerbread Pudding Cake is the perfect addition to any family get together this Christmas!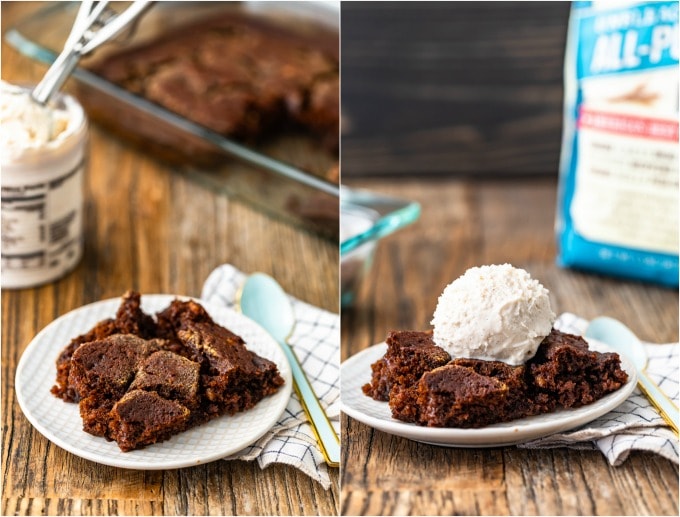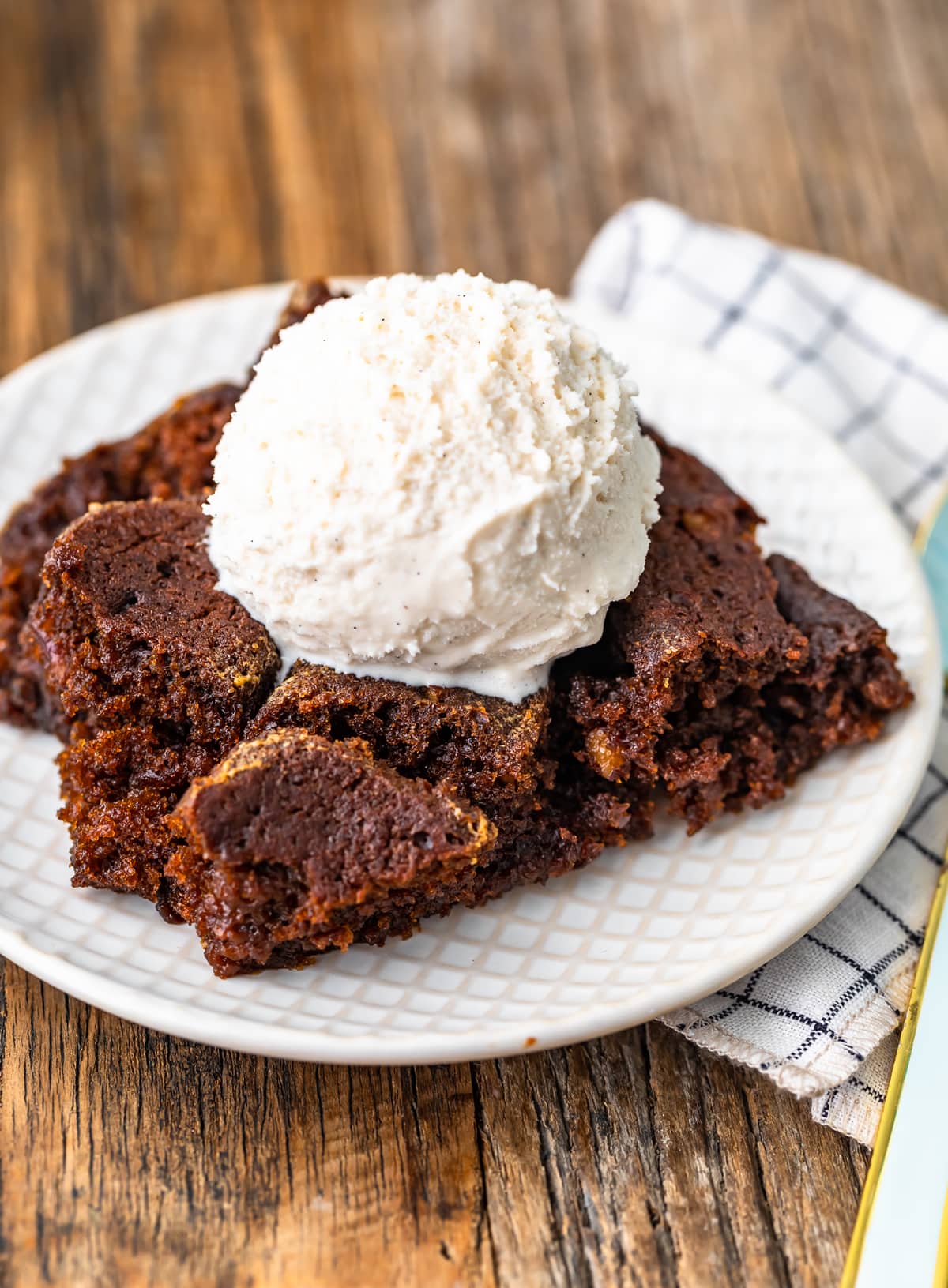 Gingerbread Pudding Cake Ingredients
I'm obsessed with the flavor combination in this Christmas Dessert Recipe. Here are some of the spices and ingredients that are tossed into this perfect holiday sweet treat:
molasses
sugar
vanilla
cinnamon
ginger
nutmeg
What's so important in a cake like this, especially a cake you might make for Christmas dinner, is QUALITY ingredients. Bob's Red Mill has so many varieties of flour, and I've loved every one I've tried. For this recipe, I used their Unbleached White All-Purpose Flour (which is DIVINE btw) but their Gluten Free 1:1 Baking Flour would also be perfect depending on your needs.
I'm just so honored to be working with Bob's Red Mill, where quality is always front and center. Click HERE to buy on Amazon, or HERE to see where to buy at a local store near you. I stock up with bags and bags of this flour around the holidays. It's my absolute FAVORITE! If you trust me on one thing, I hope you trust me on my love for Bob's Red Mill.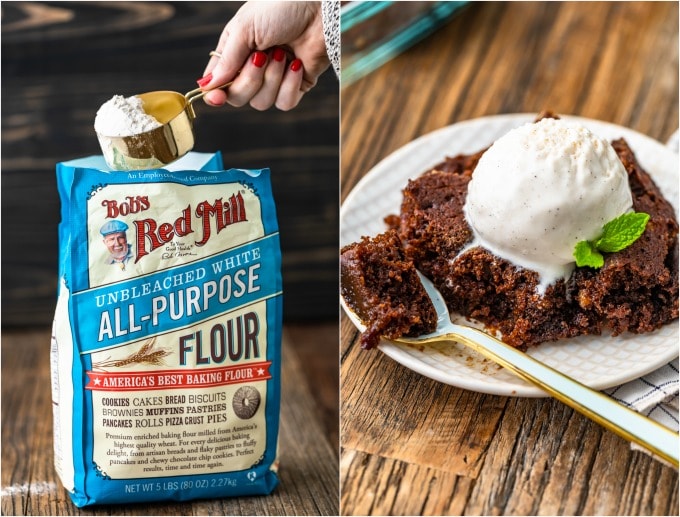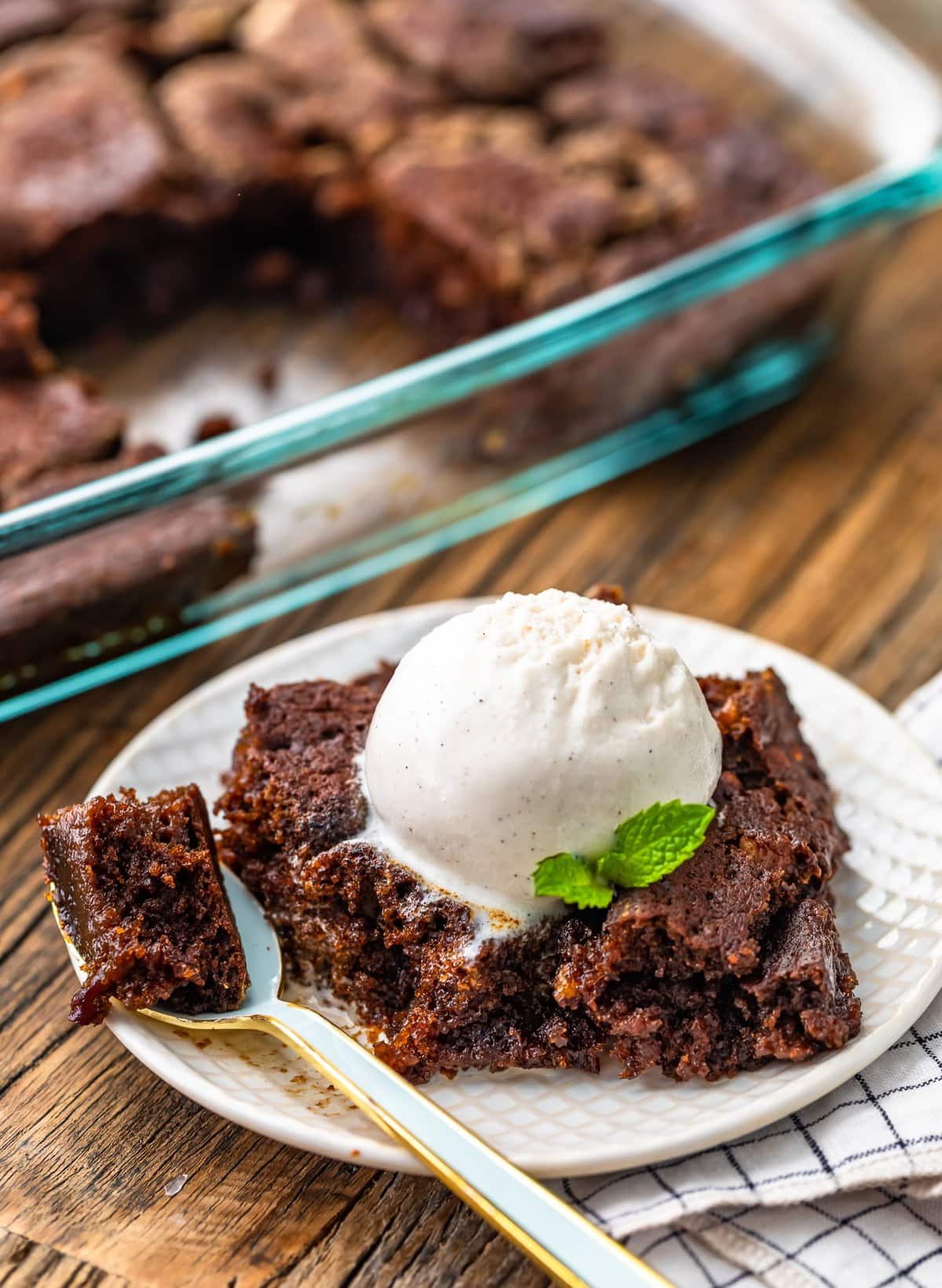 How to Make Gingerbread Pudding Cake
I hope by now you know that I love EASY recipes, and this Christmas Gingerbread Cake is no exception! You can mix it together in minutes, let that baby bake, and enjoy it right out of the oven! Here are the steps for making Gingerbread Pudding Cake.
Preheat oven to 350F and grease a 9×13 baking dish. Set aside.

Mix the molasses with the 1 cup water.

In a stand mixer, cream softened butter with the sugar for 1-2 minutes until light and fluffy. Add in the egg and vanilla until smooth. Pour in the molasses mixture and stir.

In a separate bowl, stir together the flour, baking soda, salt, and all spices.

Add the flour mixture into the molasses mixture, beating well to fully combine. Stir in the pecans.

Pour mixture into baking dish. Sprinkle with brown sugar.

Sprinkle lightly with course sea salt (just a little bit)

Mix hot water with melted butter with a fork. Pour over the cake batter, but do not stir.

Cook for 45-55 minutes or until cracked on top and toothpick inserted into the middle comes out clean.

Serve warm topped with vanilla bean ice cream. (A MUST!)
If that wasn't easy enough, you can also make this Christmas Cake in a slow cooker! THAT'S RIGHT! See the recipe card for full instructions. It's SO simple. If making in a slow cooker, I recommend serving like a crumble, in bowls. You should still 100% top with ice cream!!
Other Gingerbread Recipes
I'm on a serious Gingerbread kick this holiday season!! Be sure to also check out our other fave gingerbread recipes: Gingerbread House Chocolate Bark, Lemon Iced Gingerbread Loaf, Slow Cooker Gingerbread Latte, and Soft Gingerbread Cookies with Rum Glaze.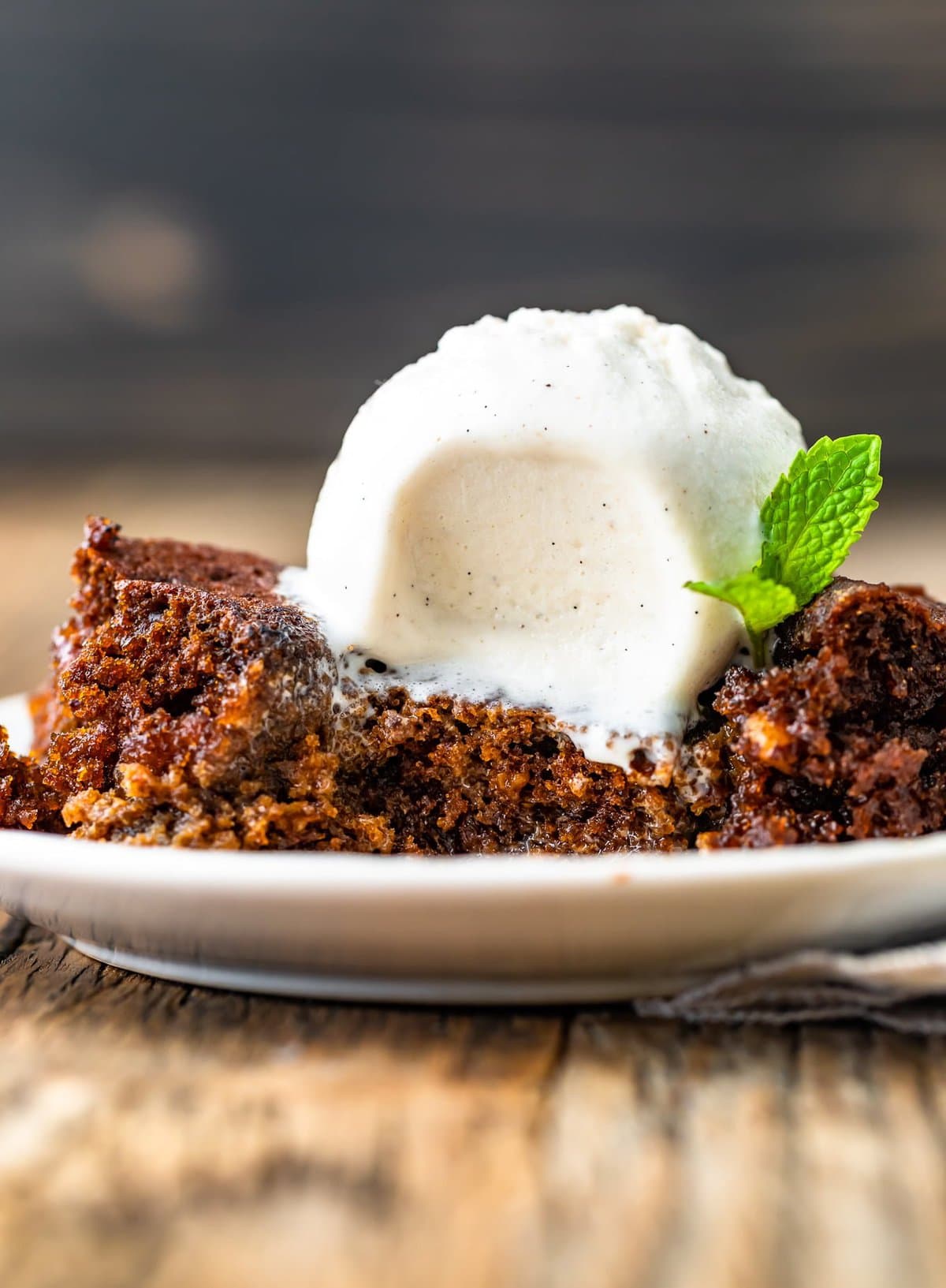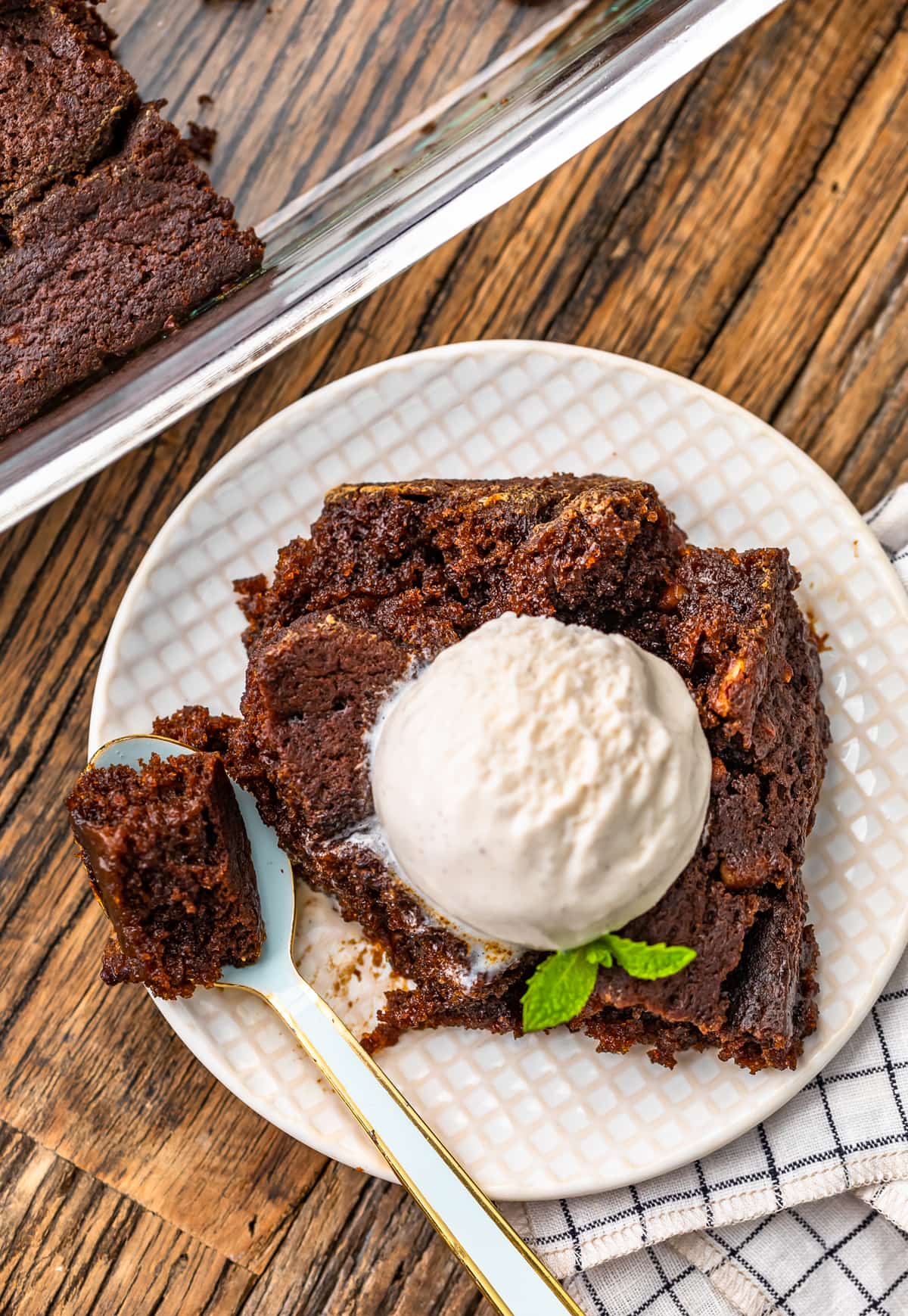 Baking Gingerbread Pudding Cake in the Oven
My favorite part of this Christmas Dessert Recipe is the craggly (is that a word??) top. The secret to the goodness is mixing melted butter with hot water and pouring over the cake batter, being careful not to stir. As it bakes, the butter gets into every nook and cranny and creates a cracked, caramelized top. It's my very favorite part. Well actually, the gooey center is my favorite part. No…the cracked top. Well, I can't decided. It's just all delicious!
To make sure your pudding cake is done, insert a toothpick into the center. If it comes out clean, it's done. For this recipe, I like it slightly underdone so that the center stays extra moist, but that's totally up to your preference. I say let it be a little gooey!!! It's CHRISTMAS!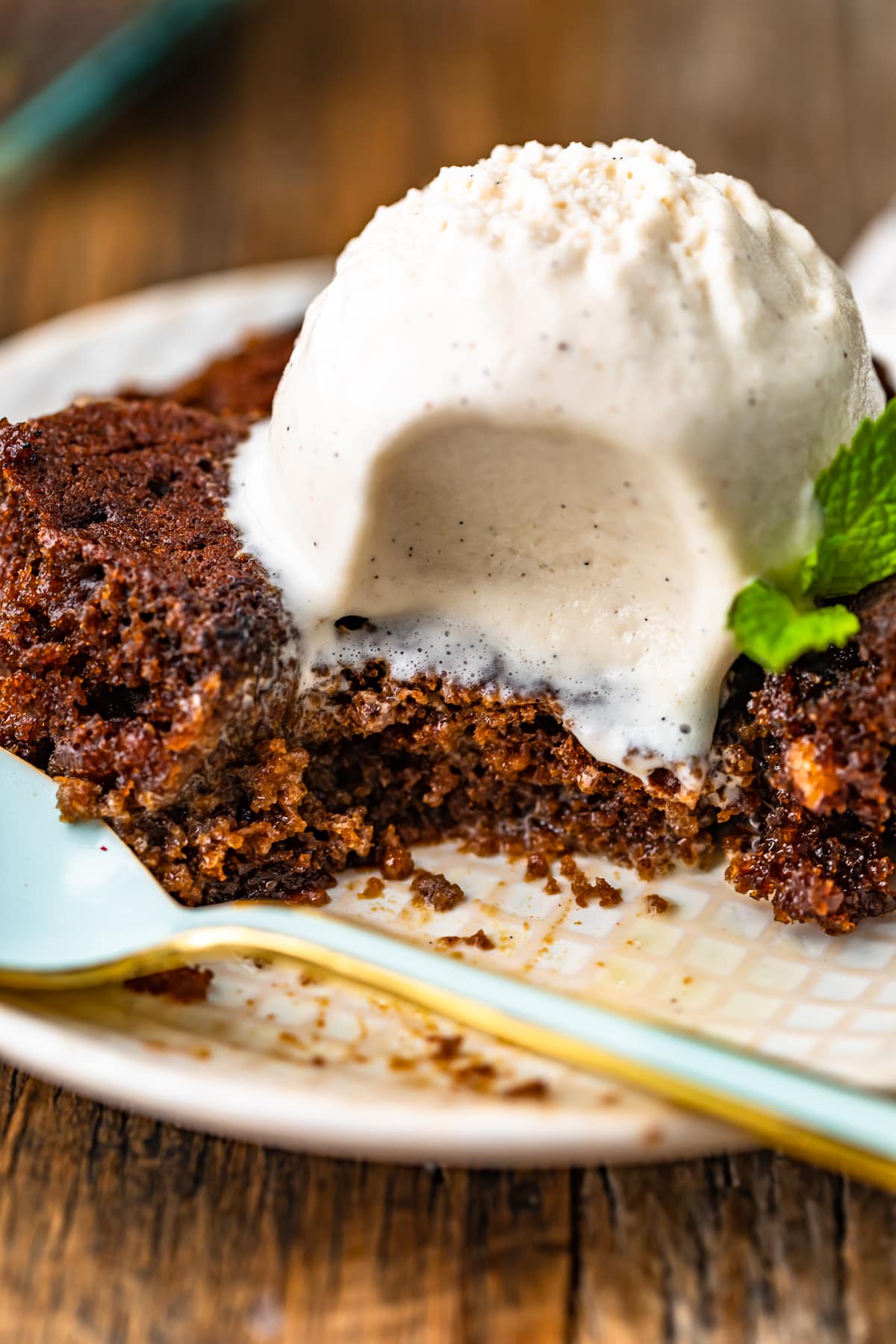 I hope you love this Gingerbread Pudding Cake as much as we do! If you try it, please let me know! Don't forget to top with your favorite ice cream and please don't forget to buy quality ingredients like Bob's Red Mill! It really does make all the difference.
See the recipe card for full instructions on how to make Gingerbread Pudding Cake!
If you love this festive cake recipe, here are some other holiday favorites you must try!