Hawaiian Pizza Grilled Cheese is my favorite Grilled Cheese Recipe for busy days and nights. Tips and tricks for how to make the PERFECT Grilled Cheese included in this delicious sandwich loaded with cheese, ham, and pineapple. This Pizza Grilled Cheese is a delicious twist on a classic recipe loved by both kids and adults!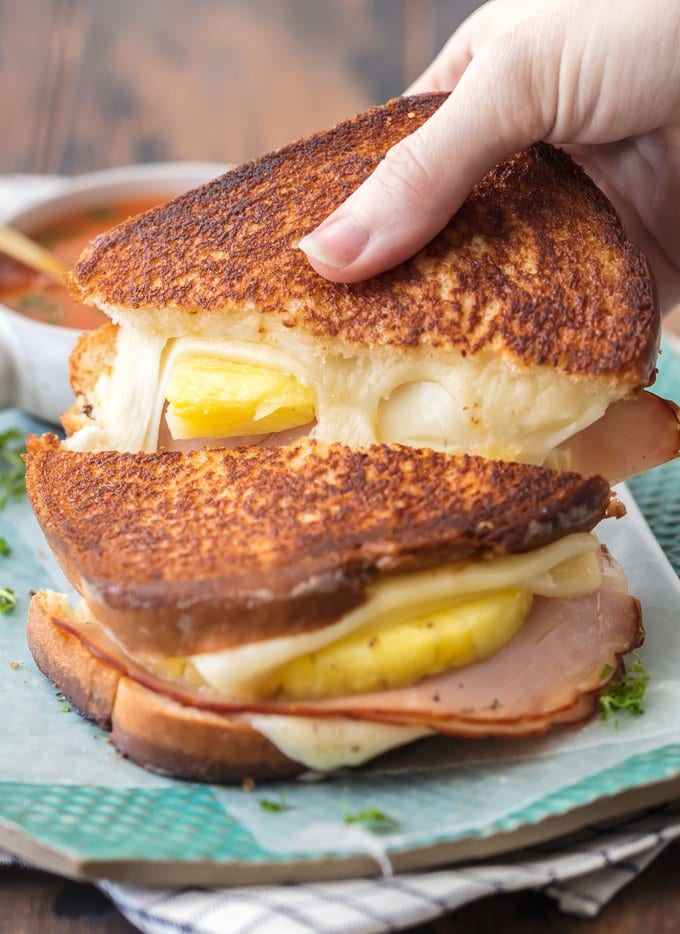 Pizza Grilled Cheese
Do you love Hawaiian Pizza? Then you'll LOVE this pizza grilled cheese recipe with pineapples and ham!
Hawaiian Pizza Grilled Cheese is my favorite twist on an absolute classic sandwich recipe. Growing up, my Grandma would always make me the best grilled cheese with ham. I can still taste it and envision her slicing it down the middle, the cheese oozing out from every side possible.
Those flavors also just so happen to make an amazing grilled cheese. I'm here to tell you how to make the best Grilled Cheese ever today…and if you want to add in Hawaiian Pizza toppings…I say DO IT!
As an adult, I'm absolutely obsessed with the flavors of Hawaiian Pizza…lots of cheese, ham, and pineapple. Hawaiian Pizza Grilled Cheese?? Heaven!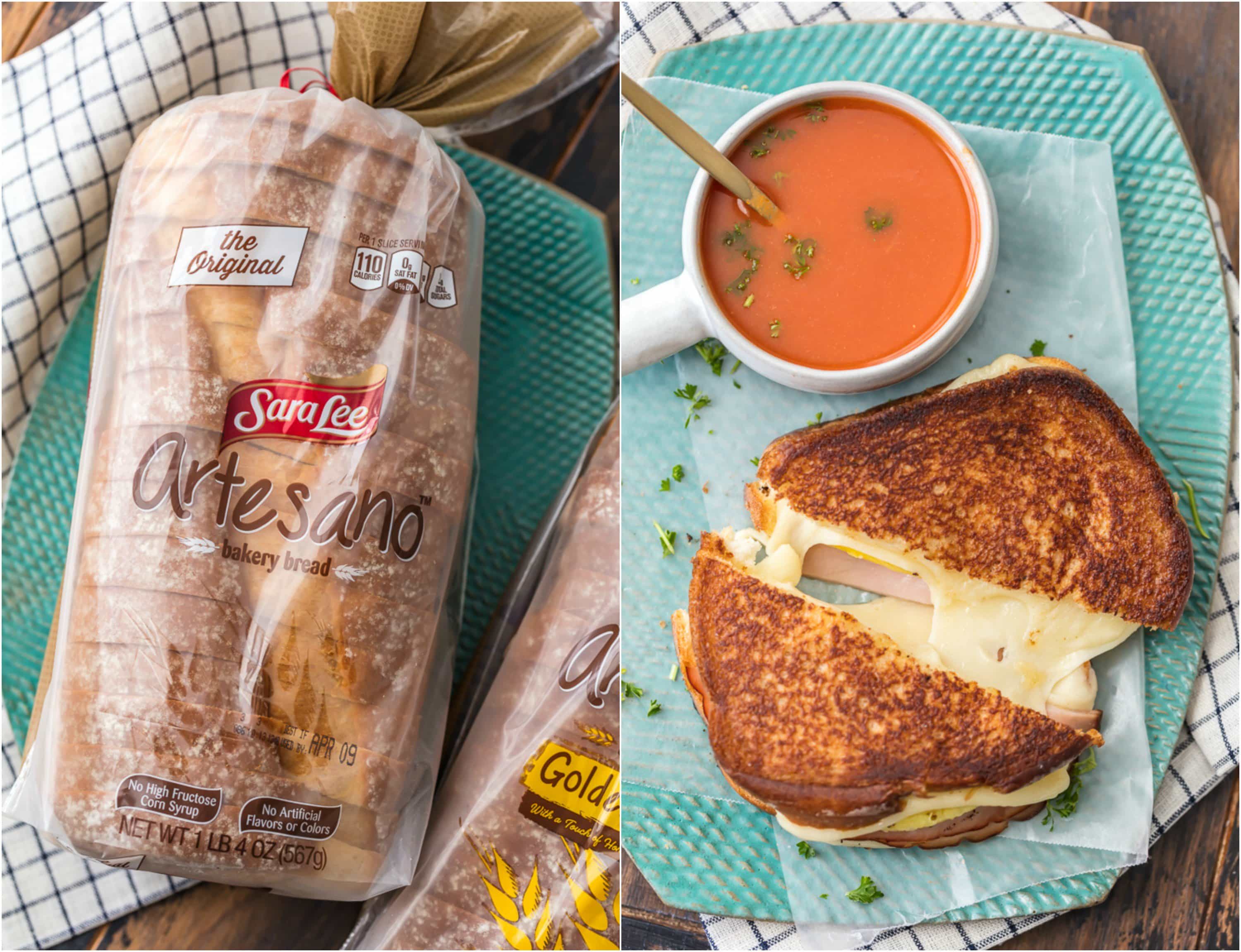 National Grilled Cheese Month
April is GRILLED CHEESE MONTH and that gives me an excuse to eat one of these Hawaiian Pizza Grilled Cheese Sandwiches all day every day (Not that I needed an excuse). I've been loving Sara Lee® Artesano™ Bread each and every time I make Grilled Cheese lately. It's SO good and is such a delicious bakery style bread at a better price point.
Sara Lee Artesano is thick sliced bread that comes in two flavors, Original and Golden Wheat. Both are thick sliced (perfect) bread with No artificial colors or preservatives and NO high fructose corn syrup! I love feeding Henry this bread. It's the perfect Grilled Cheese Bread!
To celebrate National Grilled Cheese month, Sara Lee Bread is hosting a "Grilled Cheese Worth Celebrating Photo Sweepstakes". You could win $1,000 OR a year supply of Sara Lee Artesano Bread. Sounds like an awesome opportunity to me!!! To enter, post a photo on Instagram with the hashtags #ArtesanoBread and #Sweepstakes or enter via the form HERE.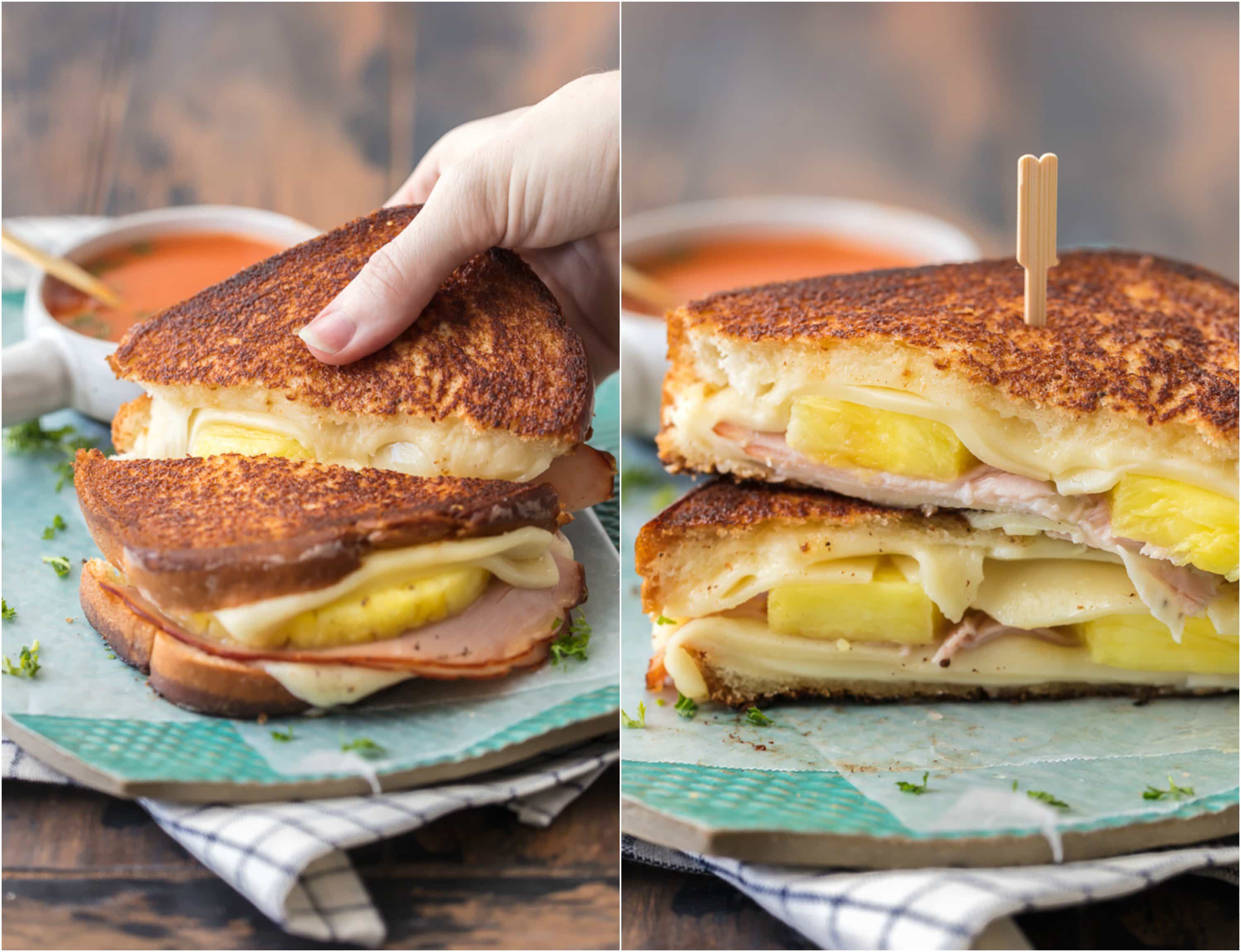 How to Make the PERFECT Grilled Cheese Sandwich
Making the BEST Grilled Cheese is quite the art form. I have burned many a grilled cheese attempts in my lifetime. I did a lot of research for this recipe (hello, GRILLED CHEESE MONTH) and here are the best tips I have for you. You too can make a delicious and perfect Grilled Cheese Sandwich each and every time!
Always use REAL mayonnaise on the outside of your bread. This is one time that using homemade is not best! Just trust me.
Use a nonstick skillet or griddle over medium/low heat. You have to allow the cheese time to melt while at the same time not burning the bread. A tricky feat! You can do it!
I always add 1/2 tablespoon of butter onto my skillet per side of bread. Once it melts over medium/low heat, I know it's time to add my bread/sandwich. You'll hear a slight sizzle while the bread toasts, but remember we aren't on a high heat. I let my grilled cheese cook for 3-4 minutes per side and I have found that's just about perfect.
Get creative with ingredients! This Hawaiian Pizza Grilled Cheese is an example of how fun add-ons can take a classic from good to great! Another great way to punch up the flavor is to use jellies or spreads like mustard, jam, and more to create an intense and unique flavor.
ALWAYS serve with tomato soup. :)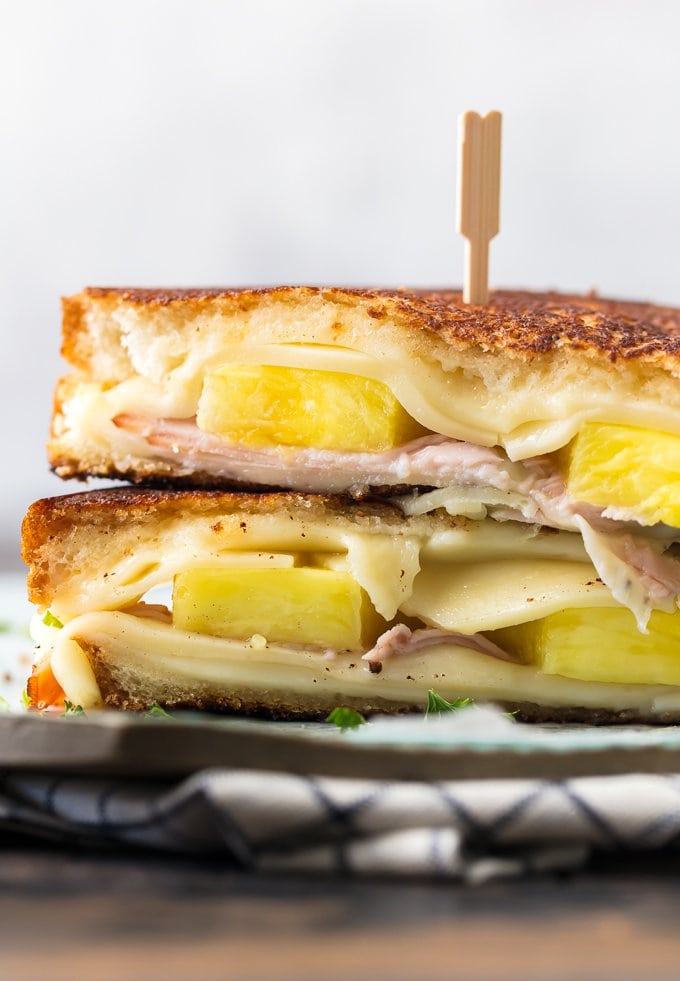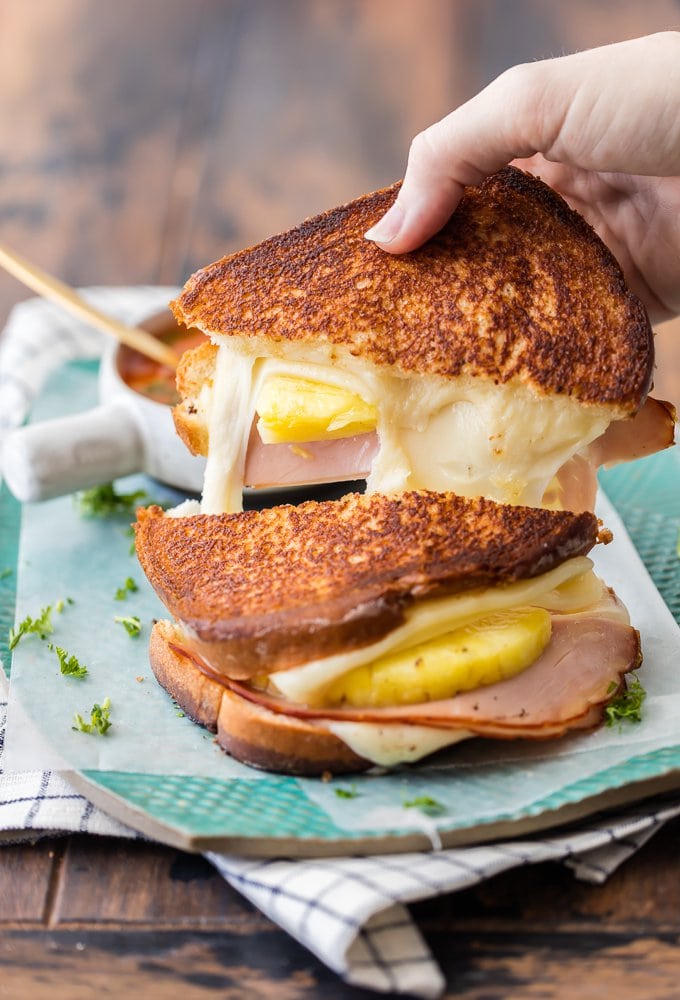 Healthy Side Dish Ideas
We love to serve our Pizza Grilled Cheese with Sweet Potato Chips (doesn't that make the entire meal healthy??), Shoestring Fries, Sweet Potato Fries, and of course tomato soup. That's a given. This is such a versatile recipe that goes with so many side dishes. A good sandwich recipe is always in style!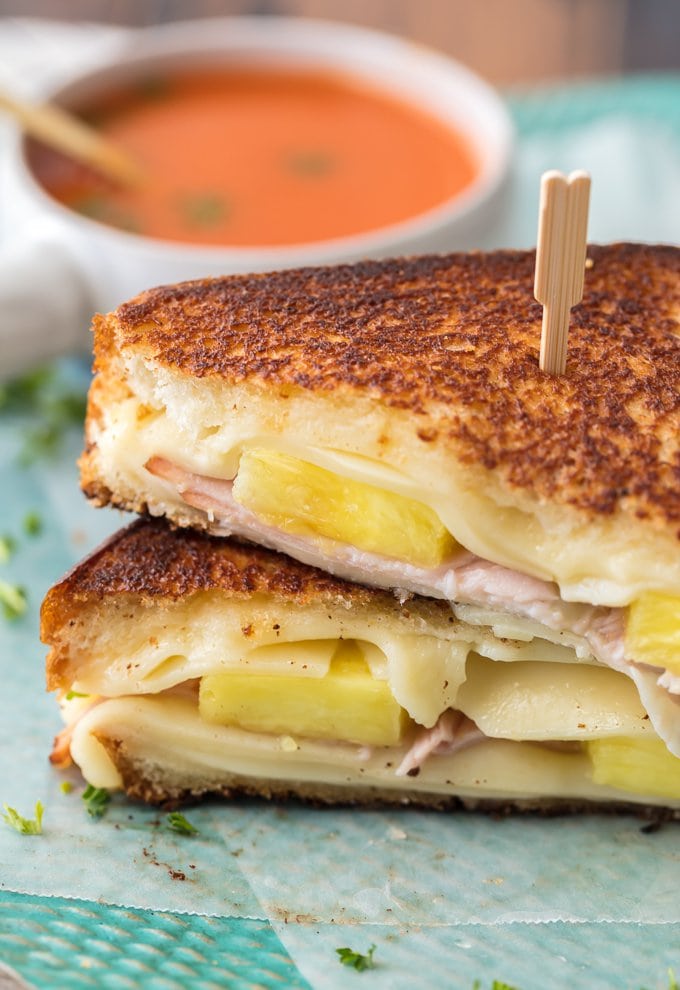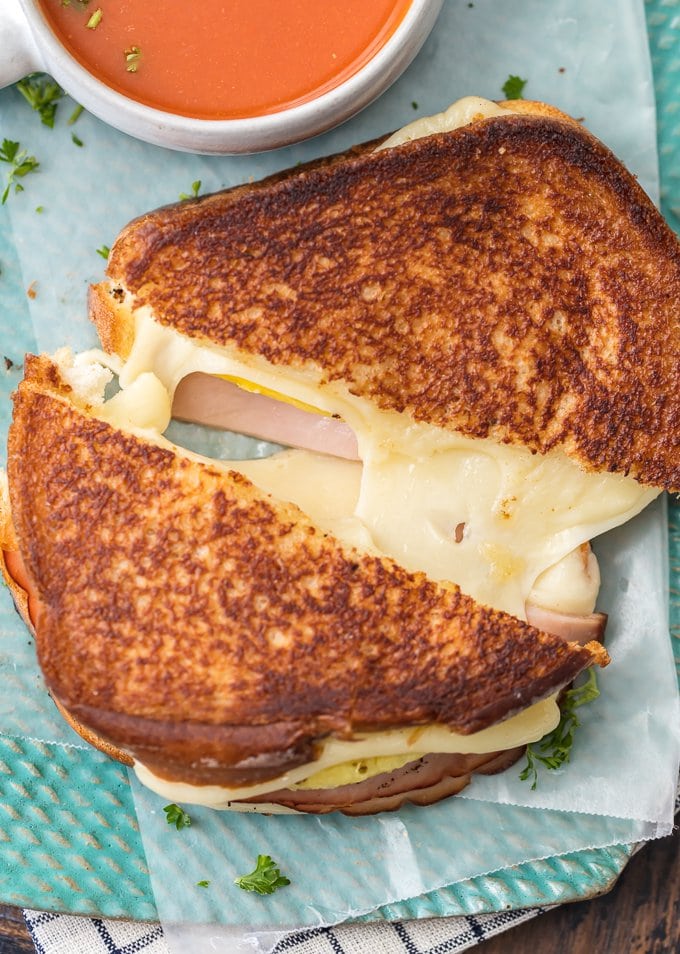 I hope this Hawaiian Pizza Grilled Cheese Recipe makes an appearance on your table during Grilled Cheese Month. May you all make AMAZING grilled cheese sandwiches that make you family famous.
See the recipe card below for full details on how to make Grilled Cheese. Enjoy!
If you're looking for the perfect Grilled Cheese Recipe but this just isn't quite it, check these out: