Waffle Sandwich? Yes! This fun and easy Apple Cheddar Waffle Grilled Cheese recipe is so delicious and only has 5 ingredients! The simple flavors of the maple dijon sauce blend perfectly with the creamy cheddar, crisp apples, and sweet waffles. This is such an awesome lunch or dinner recipe that everyone in the family will crave again and again. Cheese lovers unite!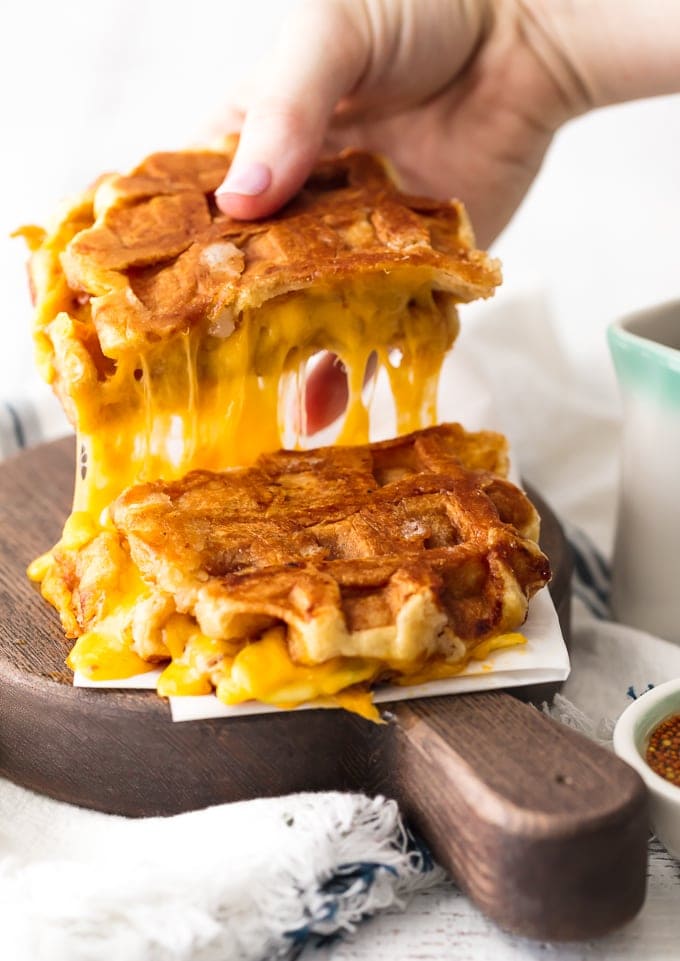 Waffle Sandwich
A WAFFLE sandwich? Yes! This amazing dish really exists, and it's really good! Apple and cheddar combine into a warm and gooey waffle grilled cheese that everyone will love.
This Apple Cheddar Waffle Sandwich with Maple Dijon Sauce is so easy, cheesy, and delicious. I love a simple dinner recipe that can be thrown together in minutes and is loved by all. Even better, this amazing sandwich uses only 5 ingredients!
You can use leftover homemade waffles for this recipe, or just grab some frozen waffles. The flavor of this creative grilled cheese will blow you away. Who would have thought that just cheese, waffles, apple, and a simple two ingredient sauce could taste SO GOOD? I'm so excited for you to try this!
Take your grilled cheese sandwich to a new level by using WAFFLES instead of bread!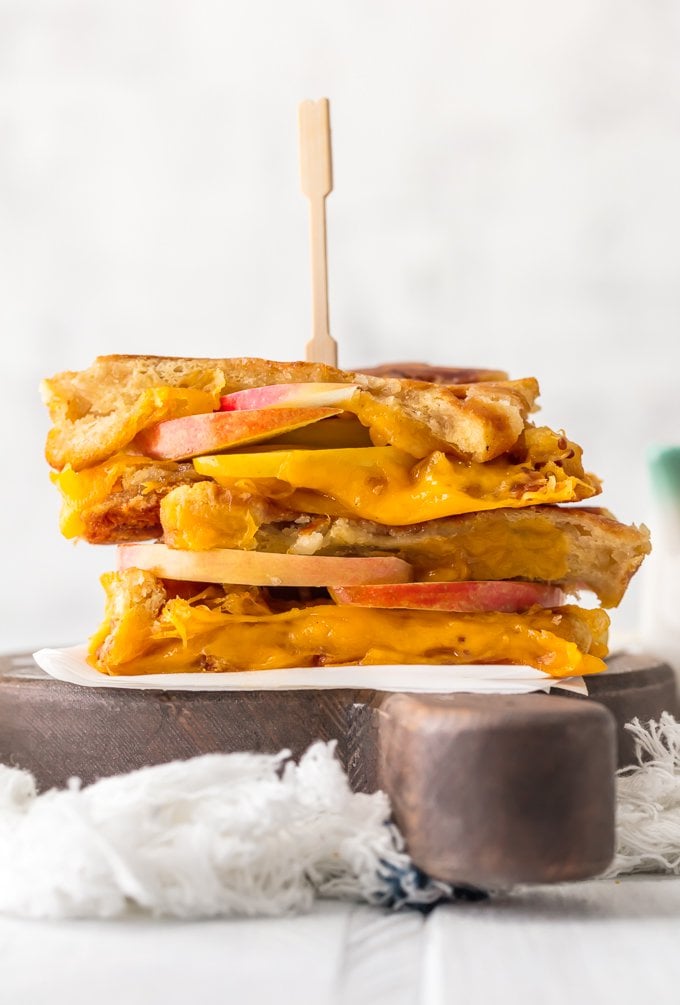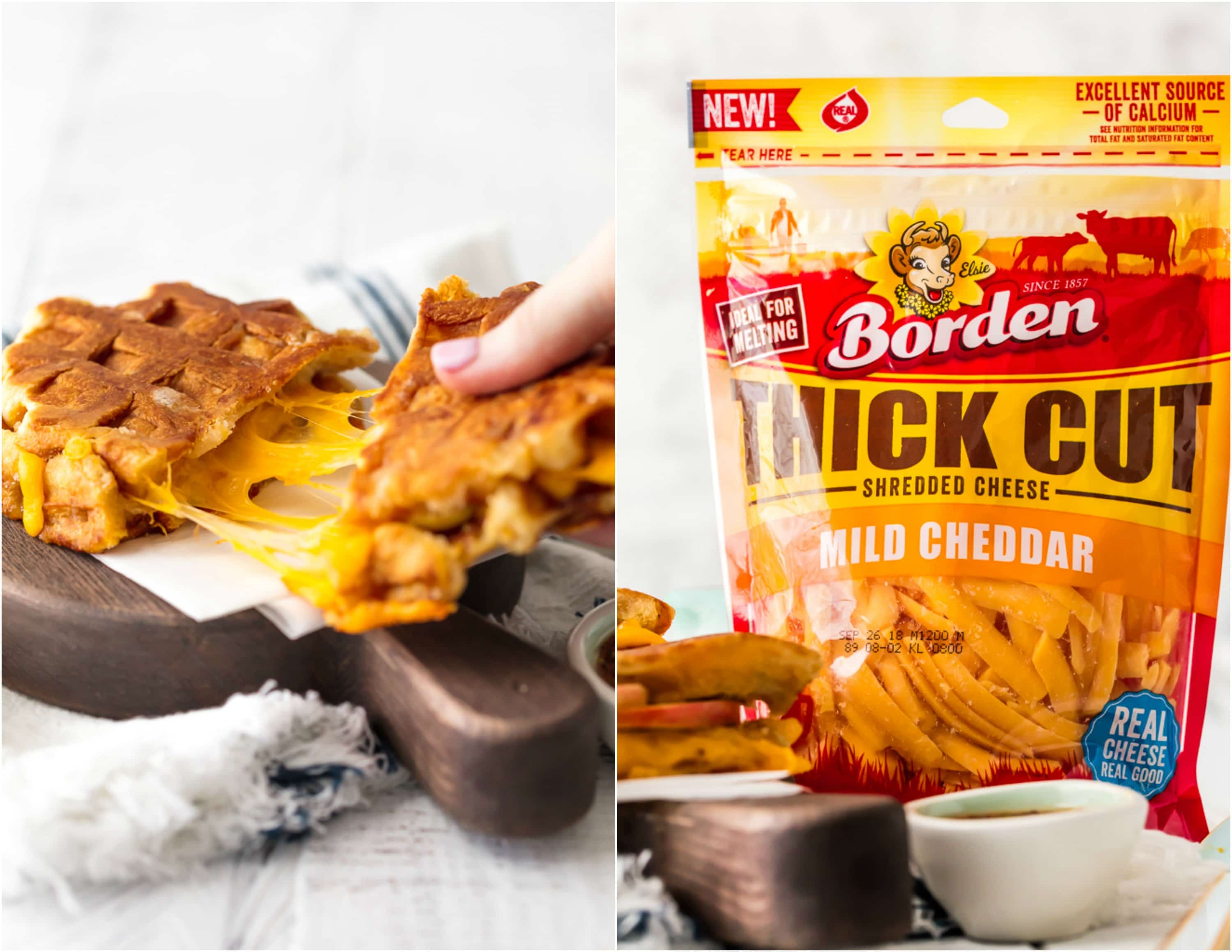 How to Make This Waffle Sandwich Healthy
Lately I have been LOVING making new foods for Henry to try. So far we haven't found much that he doesn't like, which makes me so happy as a foodie Mama. He has scarfed down everything from avocado to chili dogs (everything in moderation, right?). This little boy LOVES CHEESE; like mother like son! I have a feeling in a few months these Apple Cheddar Waffle Sandwiches will be his all-time favorite dinner recipe!
Every time I cook a recipe that is reliant on delicious cheese, Borden® Cheese is my go-to. I have always loved their cheeses, using them in such favorite recipes as our Cheesy Pigs in a Blanket and Warm Crab Artichoke Dip. Their new Thick Cut Shreds are INSANELY good and unique…perfect for melting on sandwiches like this Waffle Grilled Cheese.
Each serving of Borden® Cheese Thick Cut Shreds is loaded with 7 grams of protein and 20% of your daily calcium, making this a guilt-free, QUICK dinner to make for your family.
Finding nutritious, easy to make weeknight meals can be quite the challenge. While experimenting in the kitchen with a new recipe is fun, it's difficult to find the time between life's busy schedule.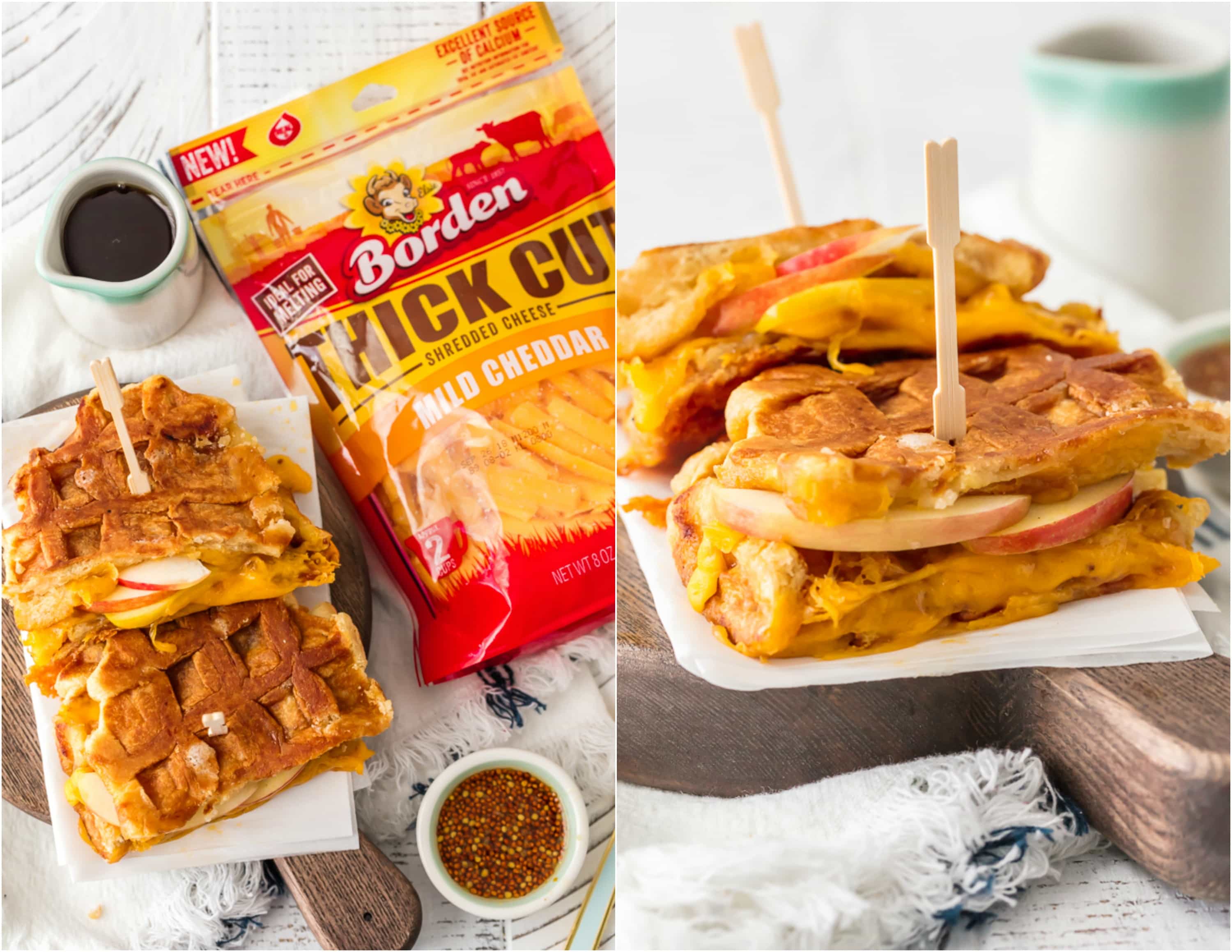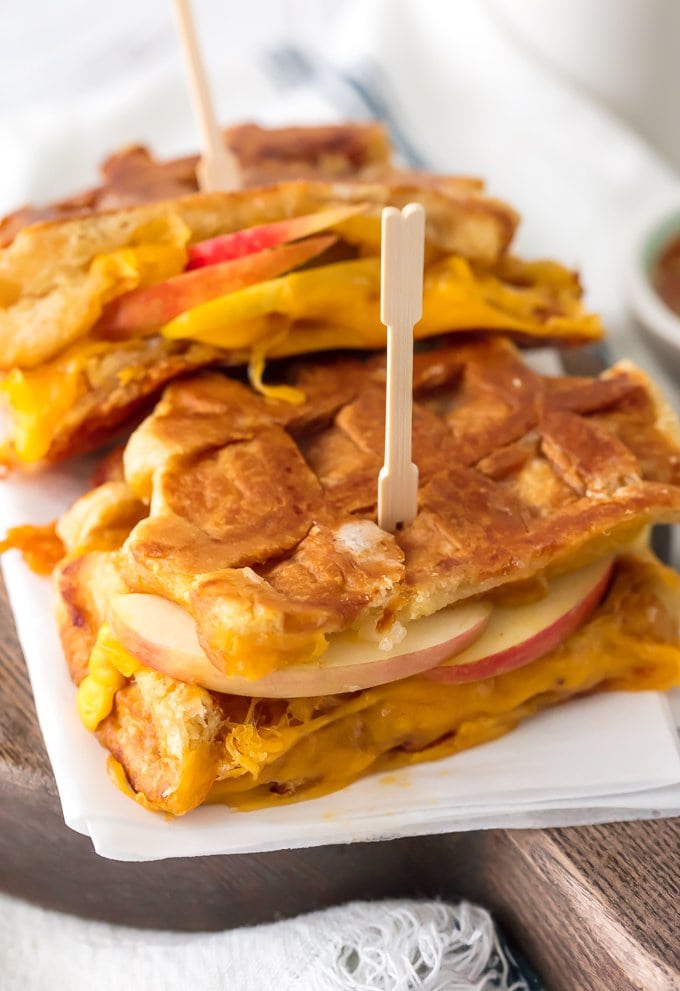 Apple Cheddar Waffle Grilled Cheese
I love a unique flavor combination…and this Apple Cheddar Waffle Sandwich with Maple Dijon is a flavor match made in heaven. You'll find apples and cheddar on almost any cheese board…so why haven't I thought to match the two together in a recipe before? The flavor is simply out of this world!
I love the savory flavor of this grilled cheese sandwich. The crispy apples give it just a bit of freshness, the cheese is sooo gooey, and the maple dijon sauce adds a sweet and smokey flavor.
You only need FIVE ingredients to make this sandwich:
Waffles
Cheddar Cheese
Apple Slices
Dijon Mustard
Maple Syrup
It's so simple to put this waffle sandwich together for a quick lunch or dinner, and it's a unique way to use fresh apples.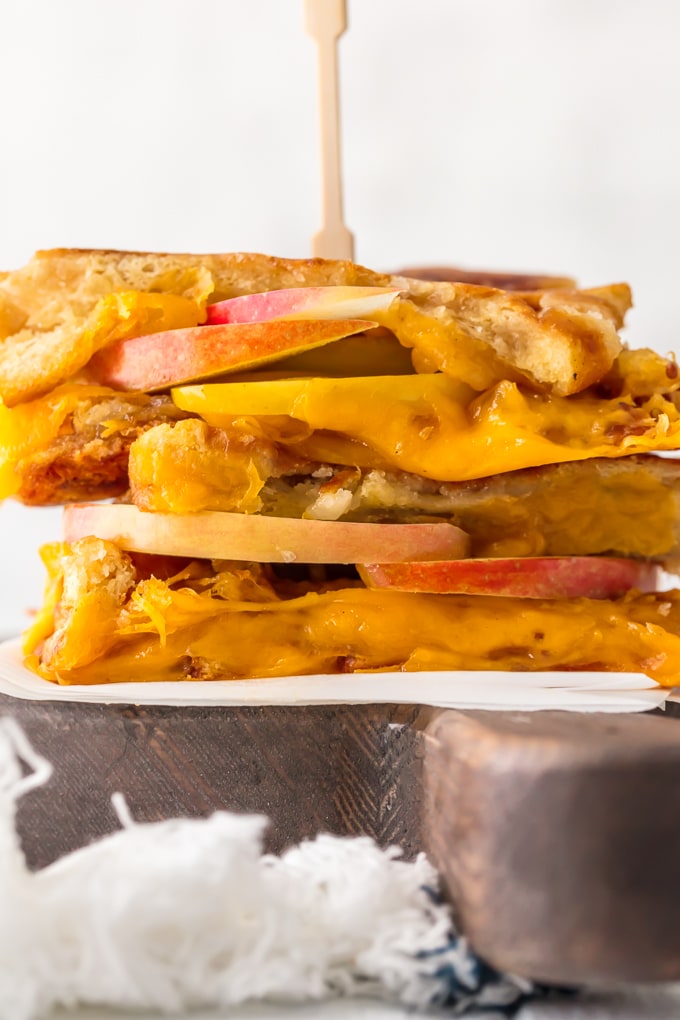 Easy Sandwich Recipe
Make your family extra happy this week and make them a delicious Apple Cheddar Waffle Sandwich! I have a feeling you'll be making them again and again once they taste the simple flavors.
Being a busy mom has made me appreciate EASY recipes with only a few ingredients for the weeknight meals. This Apple Cheddar Panini is just perfect. I can throw it on the panini press, have it made in under 10 minutes, and feel good about what I'm serving my family!
Serving Suggestions
The combination of (lots of) cheese, waffles, and that maple dijon makes this sandwich pretty rich and filling on its own. But no sandwich is really complete without a little something else to chomp on.
Serving this along with some more fresh apple slices (or any fresh fruit) on the side is just perfect for kids. I also love serving sandwiches with these sweet potato chips or shoestring fries. And of course, the ultimate grilled cheese pairing is tomato soup!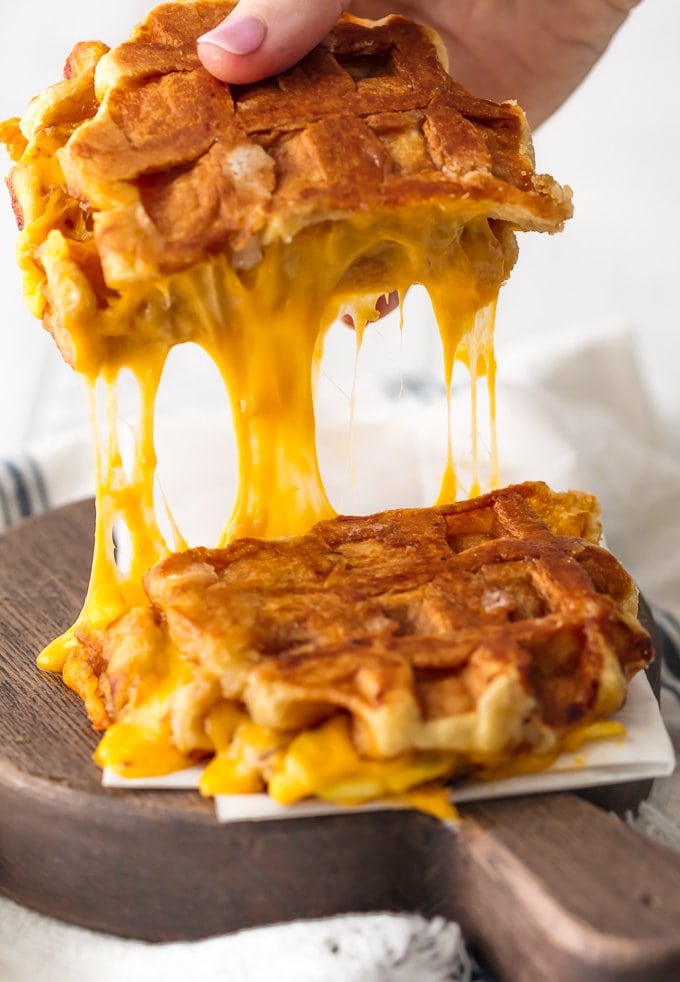 Make your next grilled cheese a little more gourmet by making this apple cheddar waffle sandwich. You won't regret it, and the kids will love eating this for dinner!
See the recipe card below for details on How to Make a Waffle Sandwich. Enjoy!
Try some of our other fave sandwiches: