This Pulled Pork Grilled Cheese sandwich combines two of the tastiest things in the world: pulled pork and grilled cheese! Sweet and smoky pork with creamy cheese in a sandwich -it doesn't get more satisfying than this! We've used Sara Lee®Artesano™Brioche Bakery Bread to add a hint of sweetness and the perfect thickness!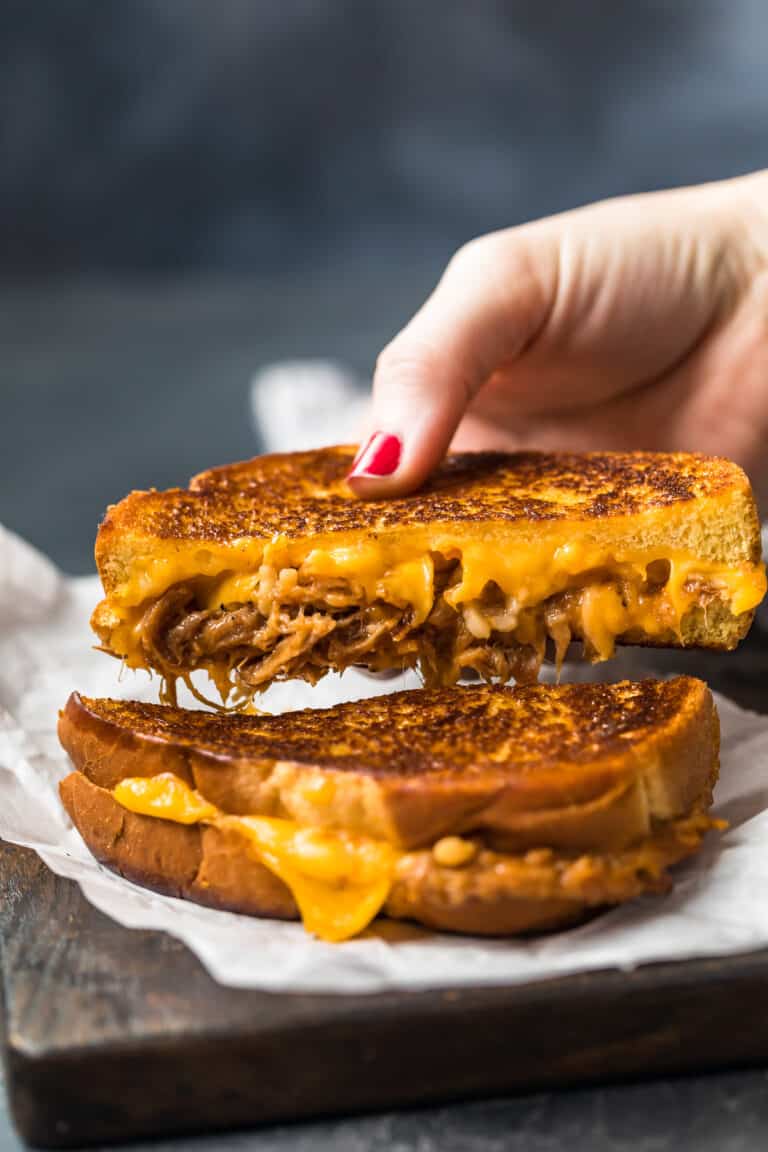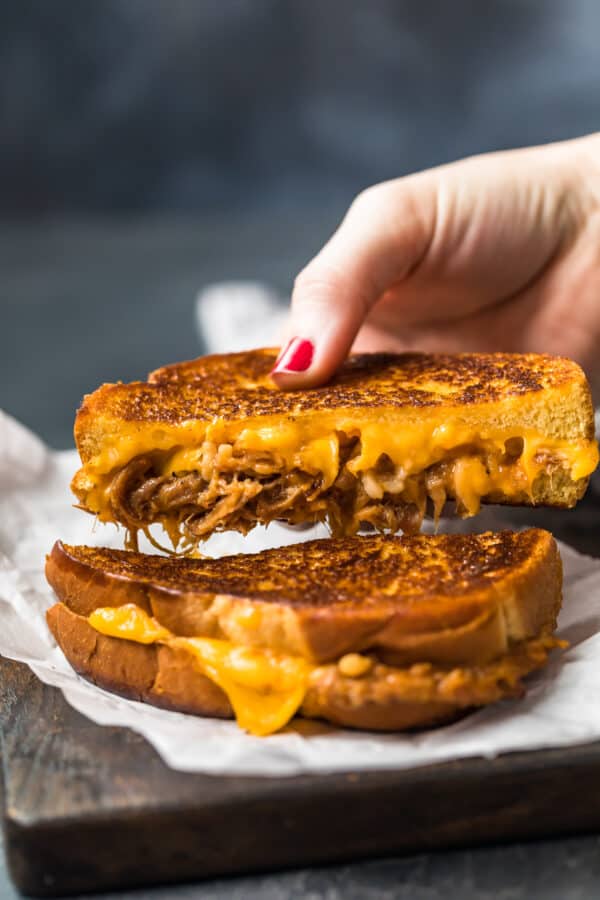 This BBQ Grilled Cheese is inspired by our home town of St. Louis, Missouri. We love our BBQ pulled pork, so adding it to a classic grilled cheese sandwich featuring Sara Lee® Artesano™ Brioche Bakery Bread was a no brainer!
Sometimes marrying up two beloved dishes doesn't end well, but sometimes it creates a thing of beauty. This Pulled Pork Grilled Cheese Sandwich is definitely the latter!
Succulent pulled pork is slathered in a finger licking BBQ sauce, topped with bubbly cheddar cheese and crispy onion straws, all nestled between layers of gently sweet brioche. This is the ultimate grilled cheese sandwich!
How To Make This Pulled Pork Grilled Cheese Sandwich – Step by Step
Heat 1 tablespoon olive oil in a large nonstick skillet over medium heat, then add the garlic and cook until fragrant.
Add in the pulled pork and BBQ sauce and toss to combine. Cook until just heated through and fully combined. Remove from the heat.
Layer 4 slices of Artesano Brioche Bakery Bread with the sliced American, onion straws, pulled pork, one more slice American, and bread. Spread the outside of both slices of bread with mayonnaise.
Heat another large nonstick skillet over medium low heat. Allow the skillet to get hot.
Toast sandwiches in batches, cooking undisturbed for 2-3 minutes per side until browned to your liking.
Serve with onion rings, french fries, or coleslaw. Enjoy!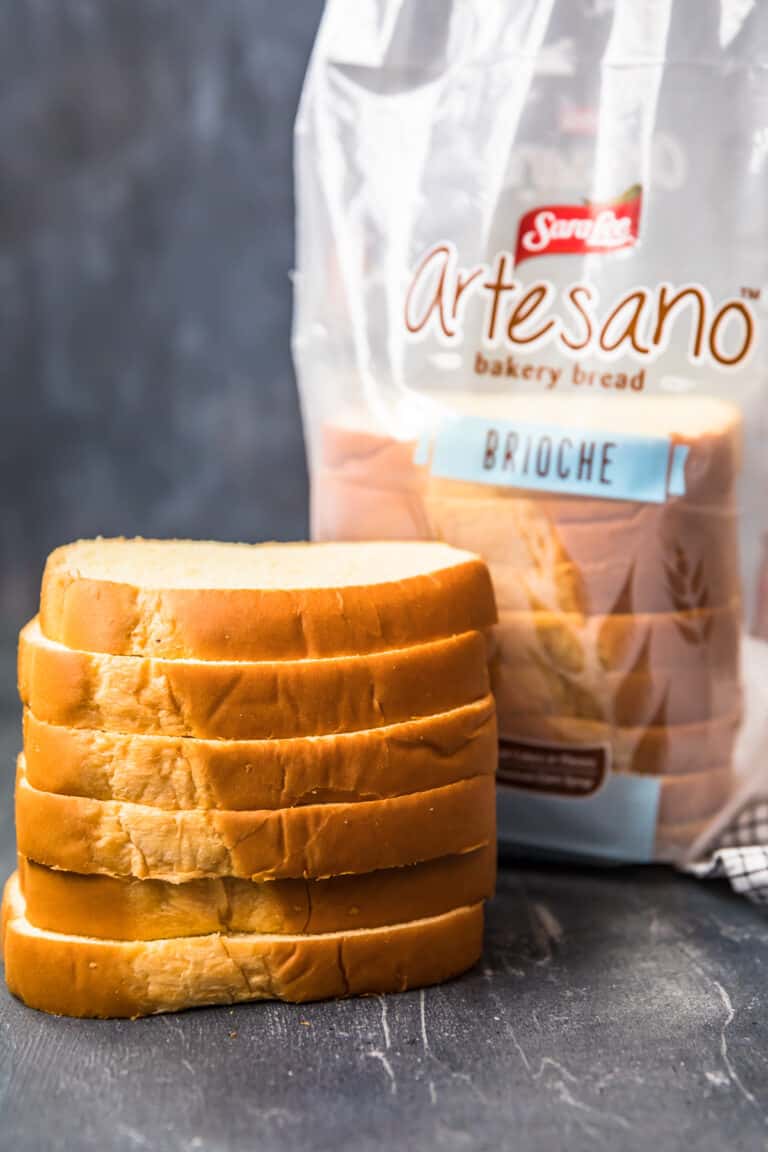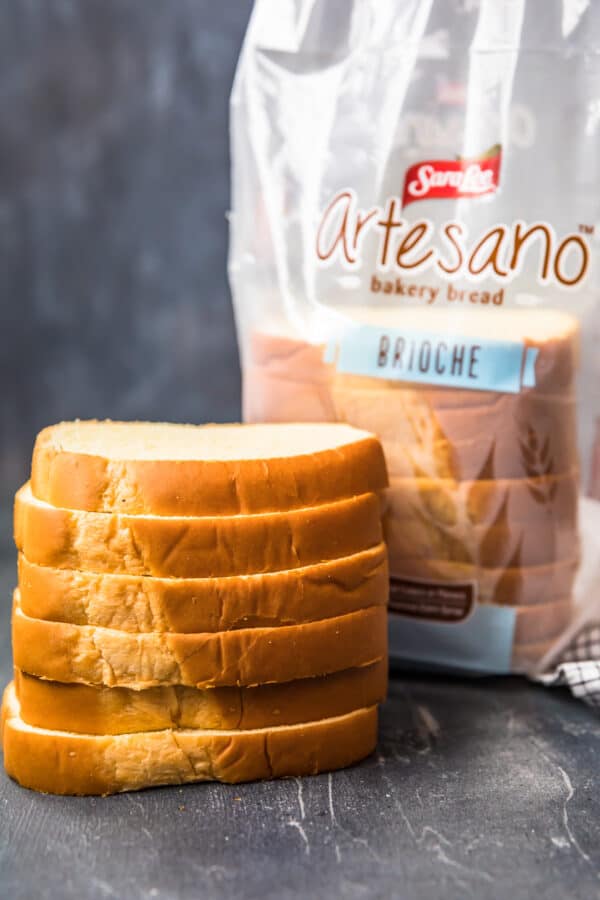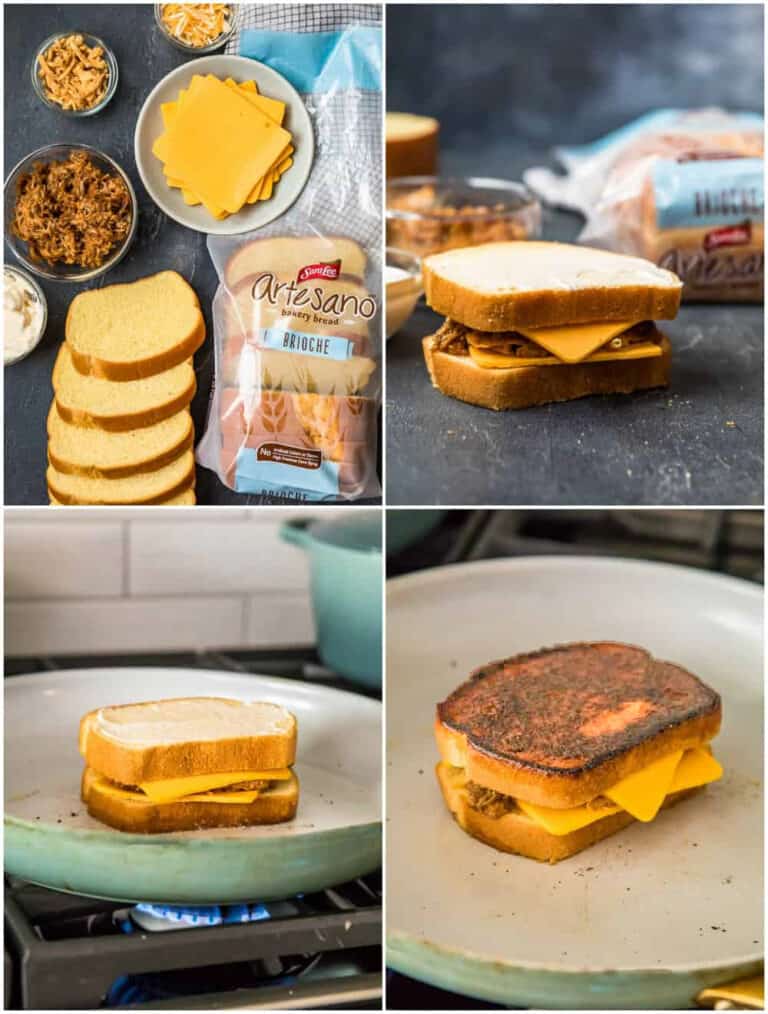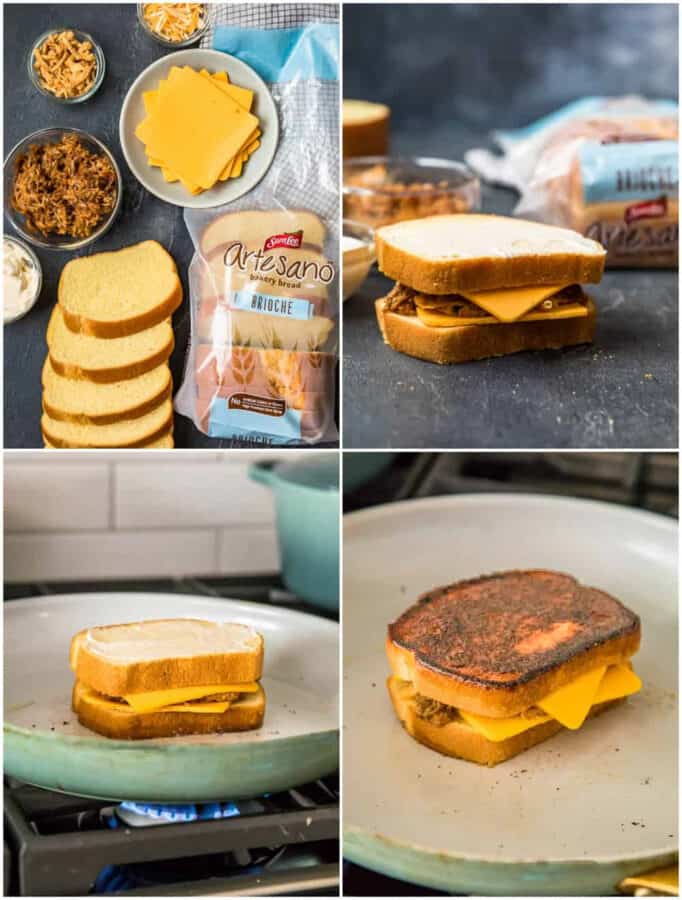 Grilled Cheese Month with Sara Lee Artesano
This St. Louis Style Grilled Cheese Sandwich is made absolutely perfect because of Sara Lee® Artesano™ Brioche Bakery Bread. I LOVE THIS BREAD! Its thick slices of bread bursting with flavor; made with real butter, sea salt, and a touch of milk. It's got a hint of sweetness that pairs beautifully with the cheese and pulled pork. Perfection.
I've loved Sara Lee Artesano since I first made Henry toast with Artesano Golden Wheat. I've never been one to pick wheat over white, but that all changed when I tasted their Golden Wheat Bread. Henry is obsessed. When this Brioche Bakery Bread hit the shelves I knew I had a new favorite. It's literally delicious and ideal for grilled cheese.
Sara Lee Artesano Bread has:
No high fructose corn syrup
No artificial flavors
No artificial colors
It's just like if you made fresh bread at home, but with the convenience of buying it already baked to perfection.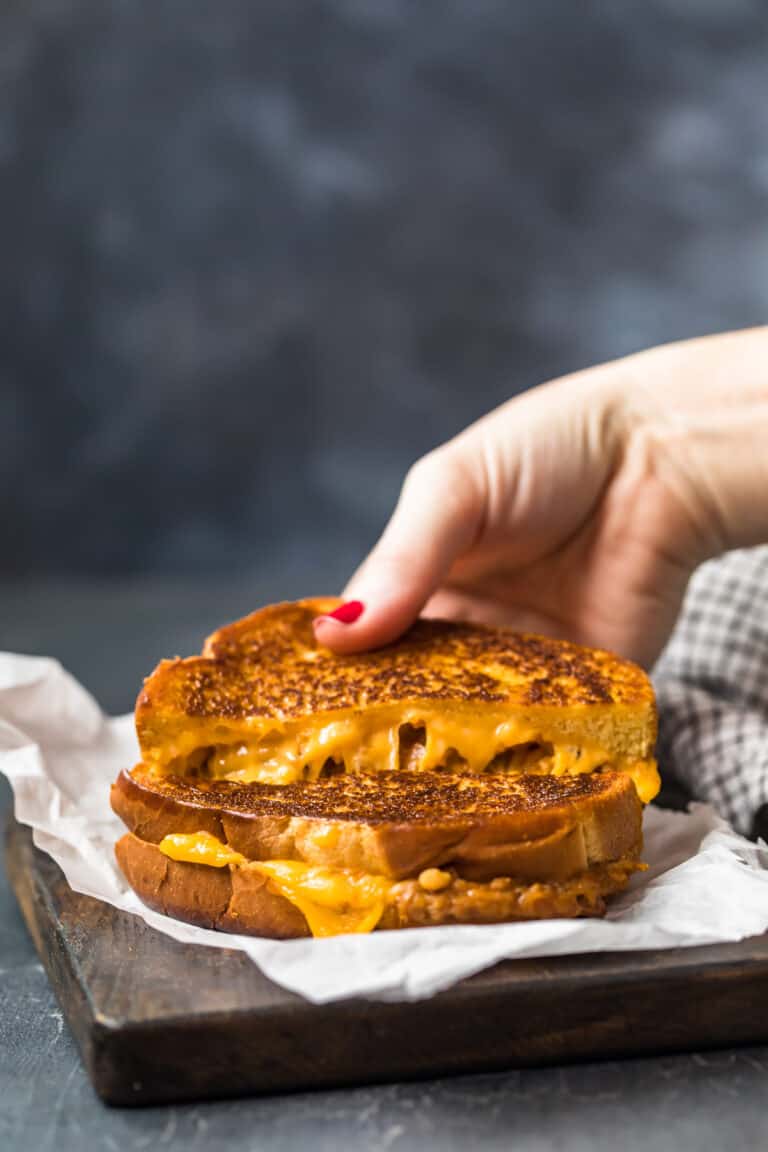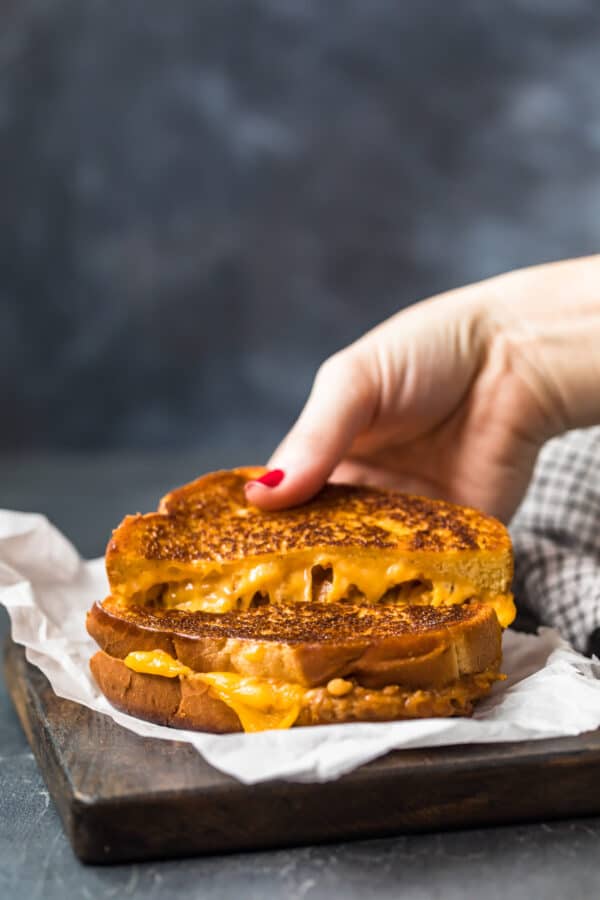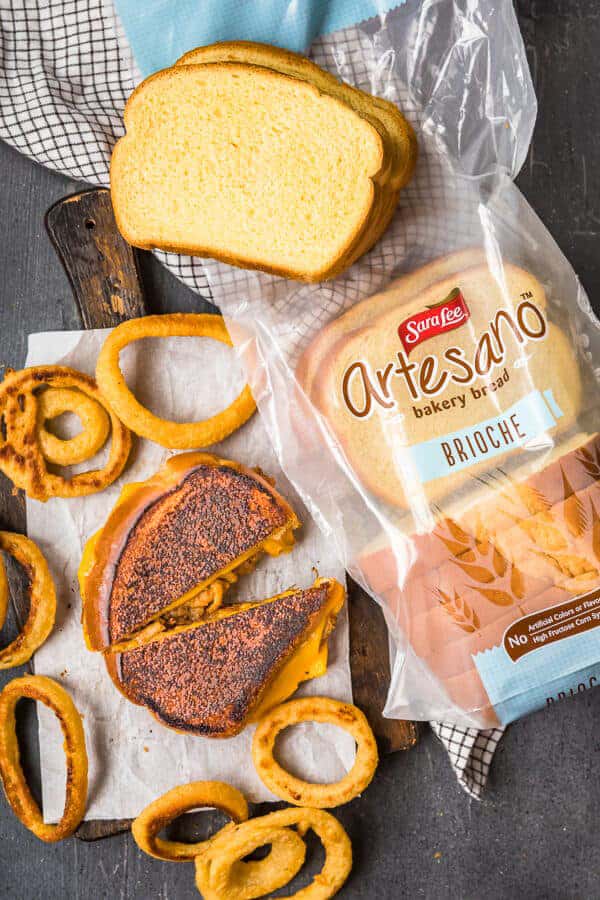 What Cut Of Pork Is Best For A Pulled Pork Sandwich?
Pork leg or pork shoulder (butt) are both perfect for making pulled pork. You want to make sure you use a cut of pork that shreds easily and has a good ratio of meat to fat to keep the meat juicy without being overly greasy.
The Ultimate Grilled Cheese Sandwich
You really can't go wrong combining tender pulled pork in a sweet, tangy and spicy BBQ sauce and then smothering it in ooey gooey melted cheese! Call it a pulled pork sandwich, call it a grilled cheese sandwich, call it whatever you like, just make it, you won't be disappointed!
The next time you make some pulled pork, make a lot to ensure that you have some leftovers for these BBQ pulled pork grilled cheese sandwiches!
Be sure to use Sara Lee Artesano Brioche Bakery Bread to take things up a notch.
What To Serve With This Pulled Pork Grilled Cheese Sandwich
Pulled pork often served with the addition of a cool and creamy coleslaw. You can have it on the side, or put a cheeky bit in the sandwich, though it does make for a slightly messier sandwich!
In terms of other sides, classic fries or onions rings are always welcome. If you after a bit of green then you can go for a something like this Easy Cucumber salad or this BBQ lovin' Grilled Corn Salad.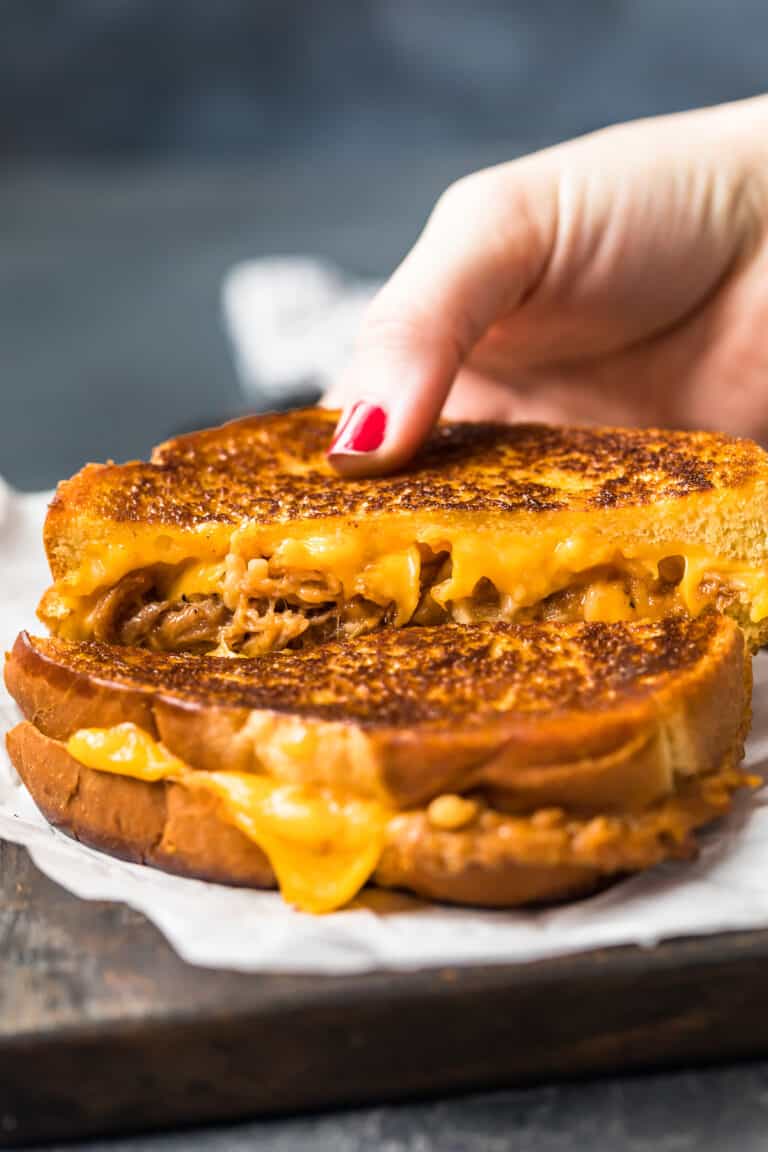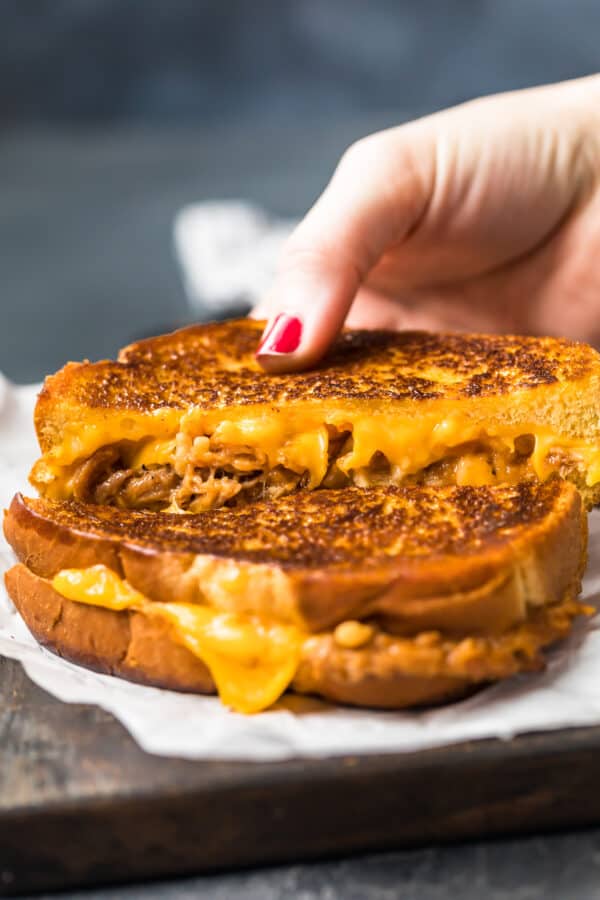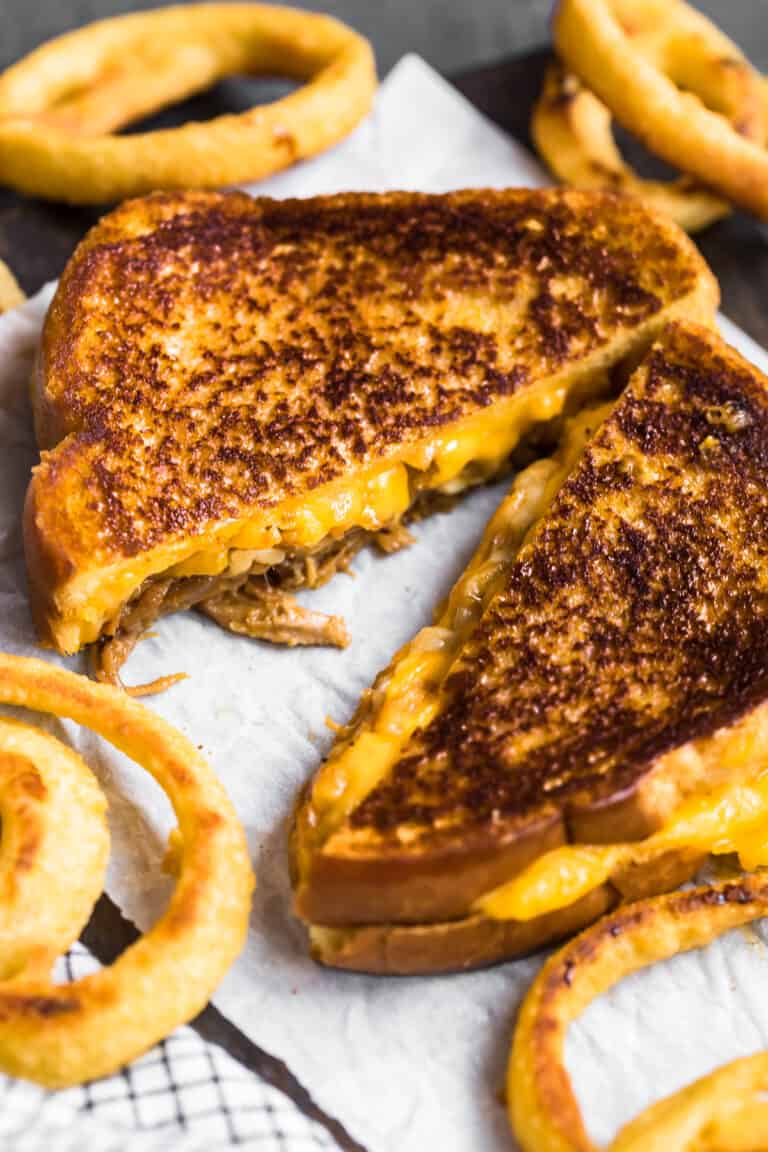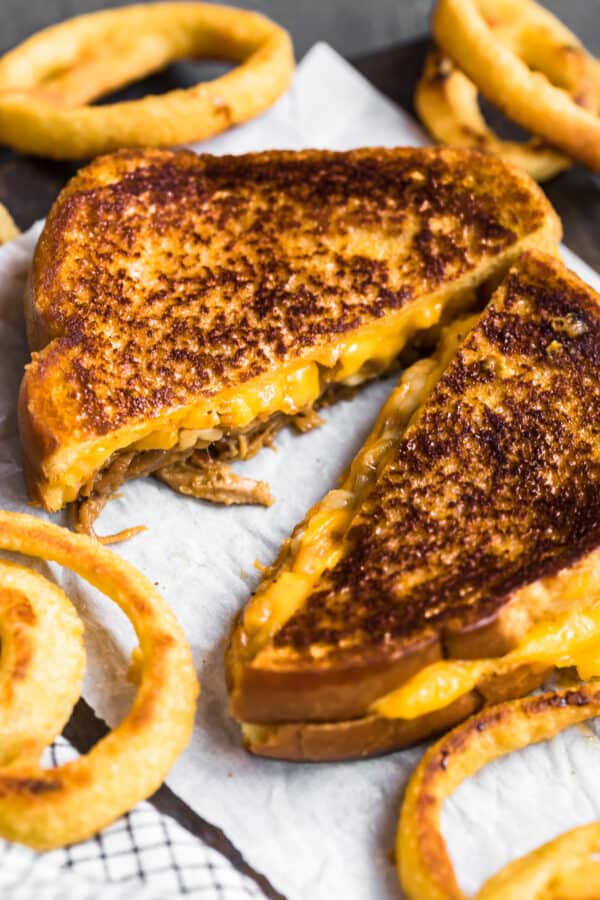 Tips!
Don't skip on the mayo for the bread! Spread a thin layer of mayonnaise on the outside of the bread, before it hits the pan. The Mayo does everything butter does, but better — it's surprisingly good for browning the bread. Plus, mayonnaise adds just a hint of tanginess, which cuts some of the richness of the classic bread and cheese combo.
Fresh cheeses like feta and aged cheeses like Parmesan won't really melt, but are a great way to add more flavor; just be sure to combine them with enough melting cheese that you still get that satisfying grilled cheese experience.
When it comes to cheese, thin slices are better than thick, while shredded cheese is especially good for melting.
Keep the heat in the medium to medium-low range and adjust it as you cook, ensuring that the bread toasts at the same rate that the cheese melts.
Don't over-stuff your sandwich. It will flip easier and melt together better if you keep it relatively thin. That just means you can eat two if you so please!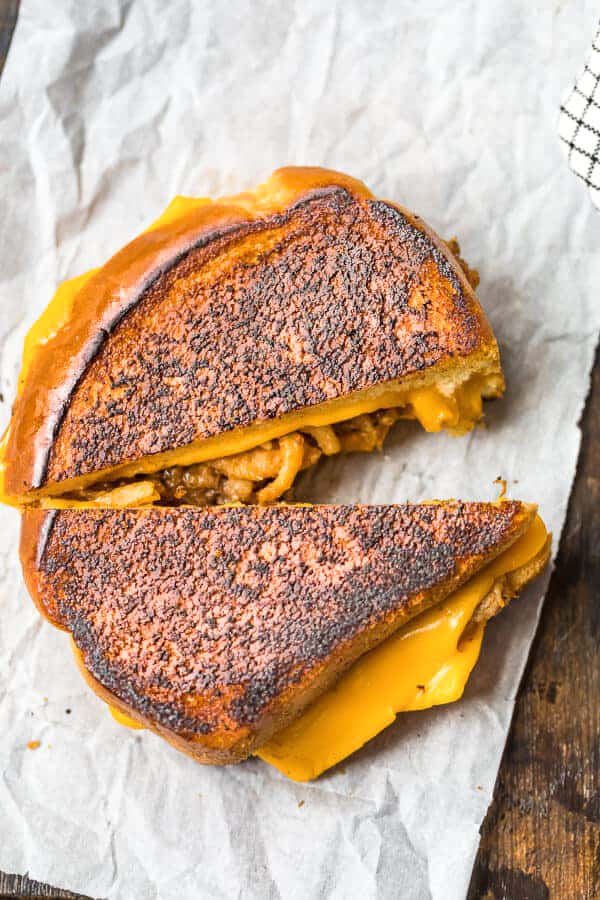 Have you tried this Pulled Pork Grilled Cheese Sandwich? Feel free to leave a star rating and I'd love to hear from you in the comments below!