Shoestring Fries are the perfect side for sandwiches to bbq to so much more! We love these fun Shoestring Potatoes that are super thin and deep fried. They're crispy, customizable, and delicious. Once we show you how to make shoestring fries you'll never make fries the same way again. We love to make ours Garlic Parmesan Fries! So delicious and fun.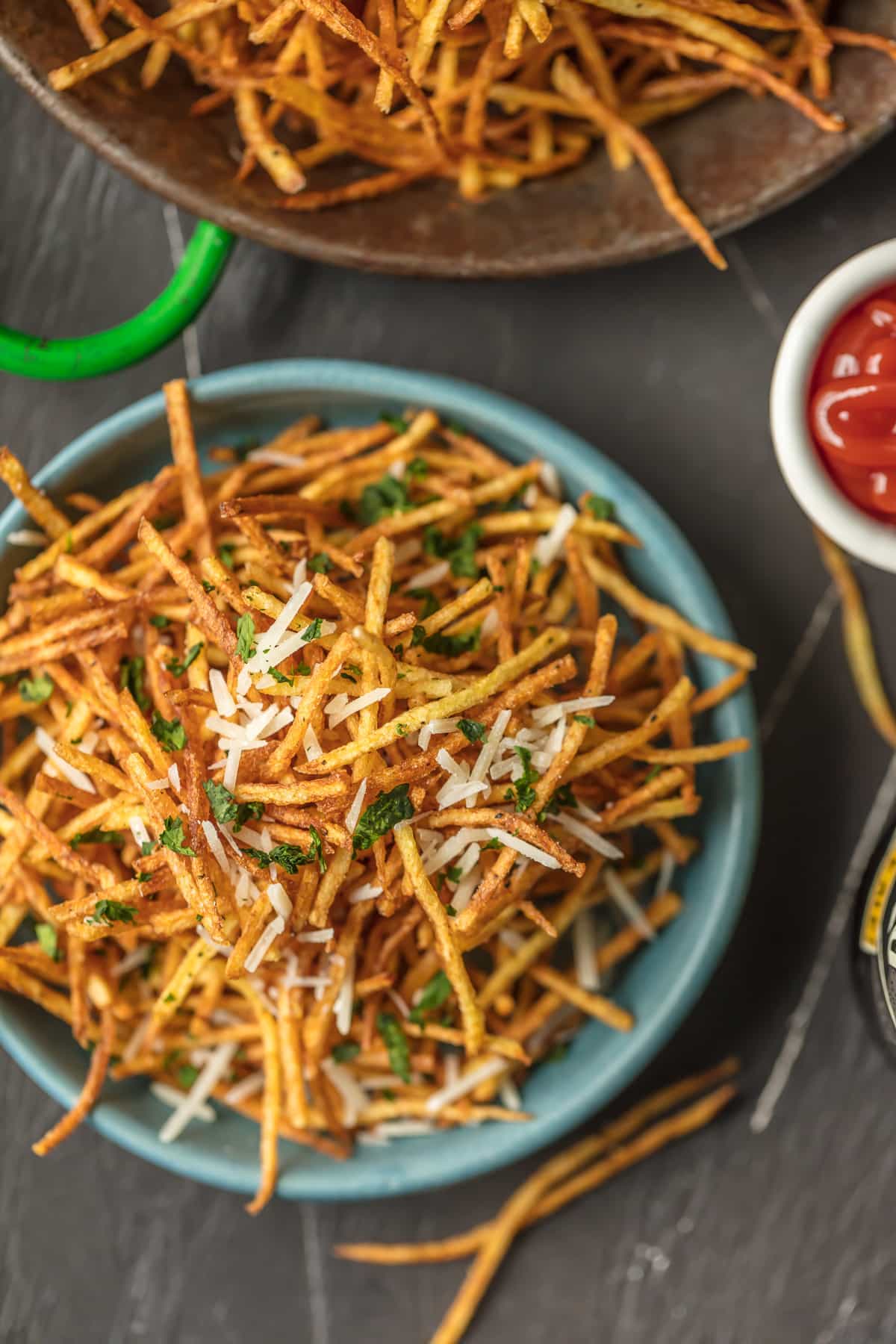 Shoestring Fries, aka Shoestring Potatoes
Today's post is short and sweet perfection…SHOESTRING FRIES! These skinny fried potatoes are one of our favorite side dishes for almost any meal out there. With warmer weather coming to us sooner rather than later, my mind is already on BBQ and all things Summer. I'm so ready for the temps to rise and I want to eat these Shoestring Potatoes all.summer.long!
These Shoestring Fries are the ultimate complement to Stovetop Burgers, Best Chili Dogs, Grilled Cheese, Chicken Sandwiches, and so much more! They're thin enough that they're great for leftovers or even grab and go snacking. You must try these!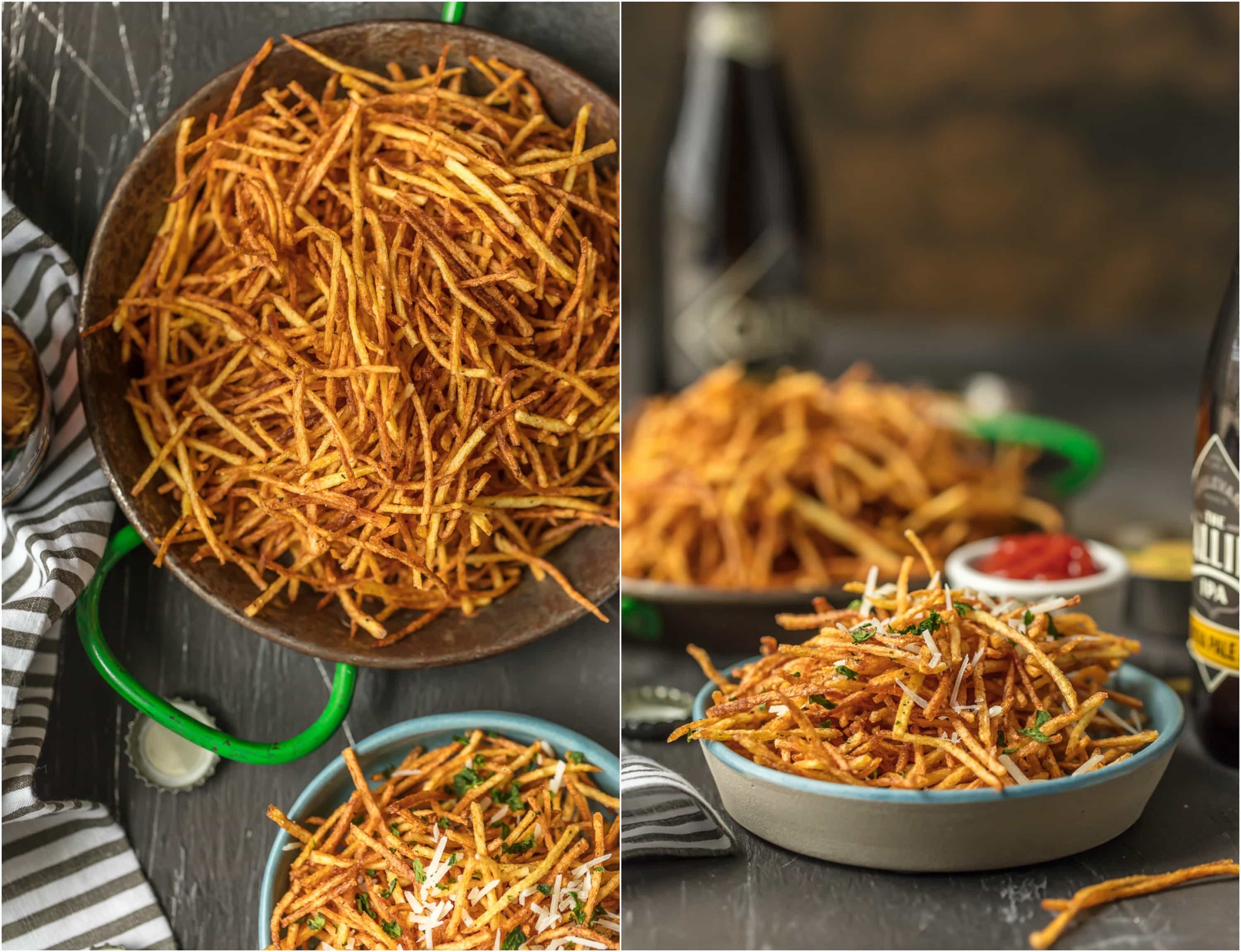 Tips for safely making Shoestring Fries:
The first time Mom and I tried to make Shoestring Fries and we almost burned our faces off when oil splashed up as we dropped the fries in. BE CAREFUL anytime you're frying food. We just weren't paying attention and it was so scary. We ended up laughing about it after we were done screaming and then mopping up hot oil. Scary!
Be sure you use a deep enough pot and use extreme caution. Hot oil is no joke! Made properly this recipe is totally safe and completely delicious. Just be aware of your surroundings and careful every time you use boiling oil. xoxo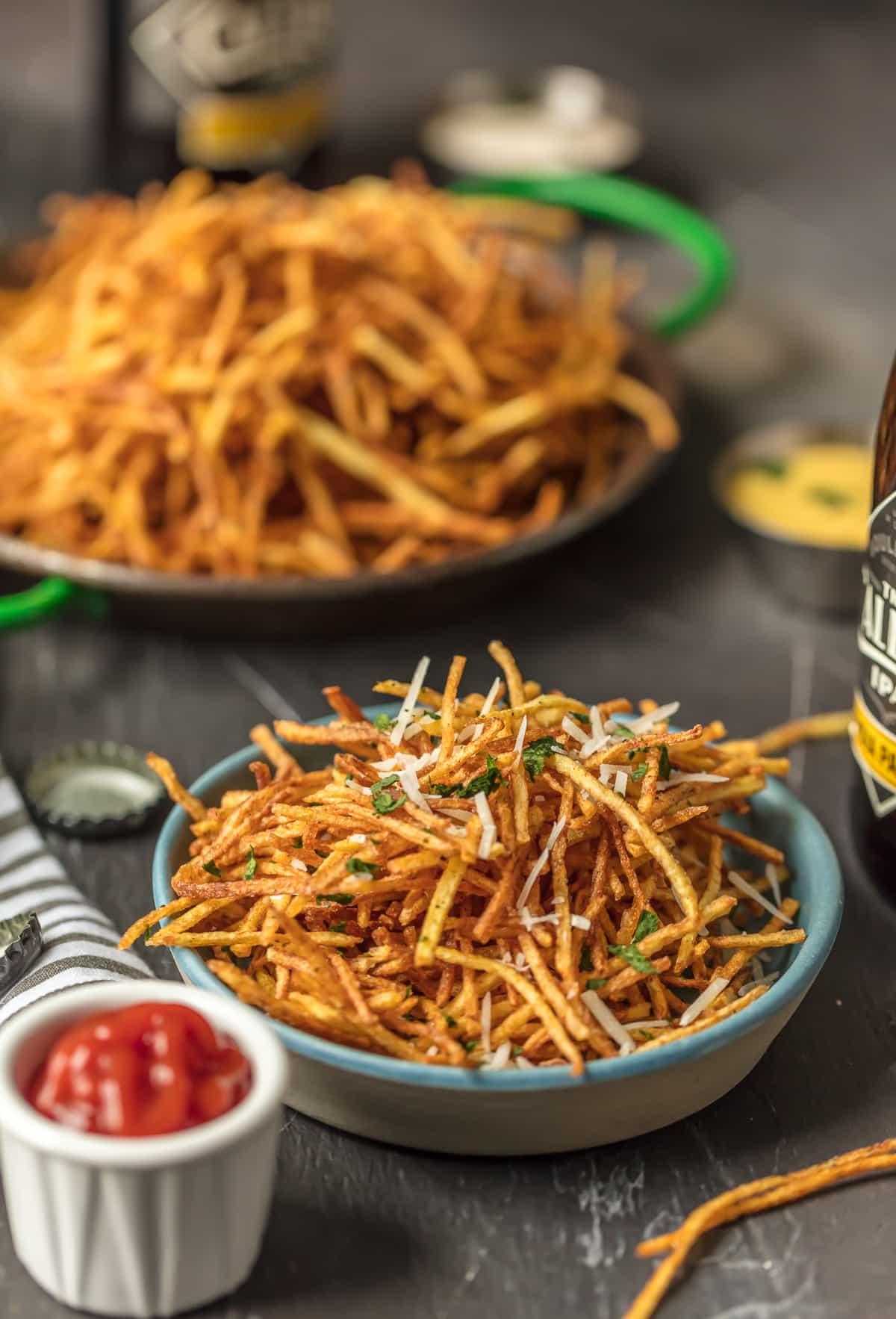 How to make Shoestring Fries in different flavors:
I love that these Shoestring Fries can be customized however you like them. I love to sprinkle on garlic salt and shredded parmesan for garlic parmesan fries, or rosemary and other herbs for classy dressy fries. They're awesome dipped in ketchup, honey mustard, ranch…the sky is the limit. I listed all of my favorite garnishes and different ways to season them in the recipe card, so be sure to check that out. And you just HAVE to dip them in our amazing fry sauce!
I love to eat them by the handful and even stack them on burgers as a garnish. I think you're gonna be a huge fan. And I'm always right. As my husband…I've only been wrong once. And that was when I thought I was wrong…but actually wasn't. ;)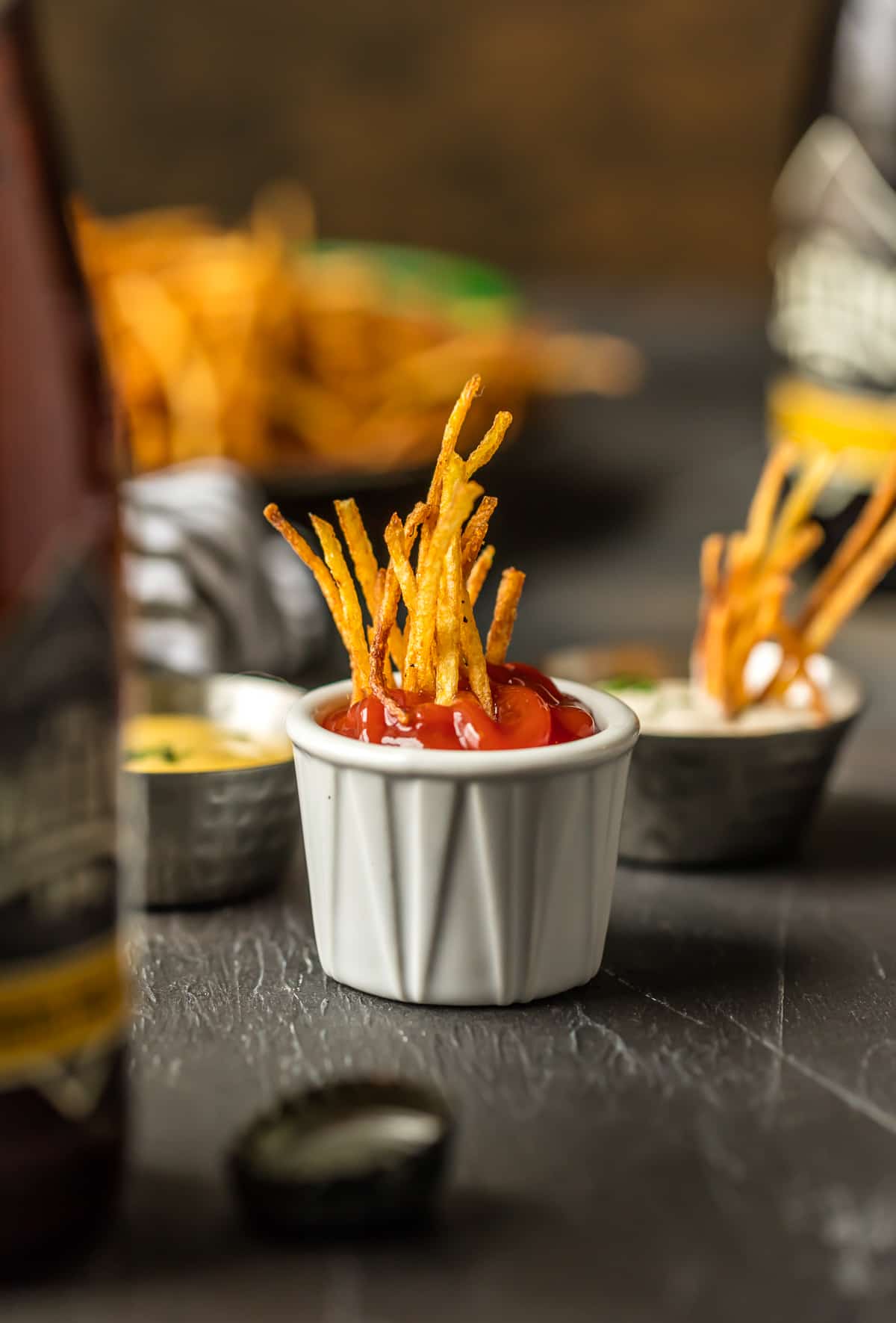 If you're looking for a fun, versatile, and easy side dish that both kids and adults will eat by the fistful, you've come to the right place! Be sure to check out all of our favorite side dishes, we have something for everyone.
If it's potato recipes you crave, we also have you covered there! We have everything from Sweet Potato Chips to the BEST Herb Roasted Potatoes. And PLEASE don't forget the Mashed Potatoes! We have so many options…Goat Cheese Mashed Potatoes, Slow Cooker Garlic Butter Mashed Potatoes, and even Make Ahead Mashed Potatoes. I must really love starch…
See the recipe card below to see How to Make Shoestring Fries. Enjoy!