Shoestring Fries are the perfect side for sandwiches, BBQ, and so much more. We love these super-thin, deep-fried, fun potatoes. They're crispy, customizable– and of course, delicious. Once we show you how to make Shoestring Fries, you'll never make fries the same way again. We love to make Garlic-Parmesan Fries–they're so delicious and fun.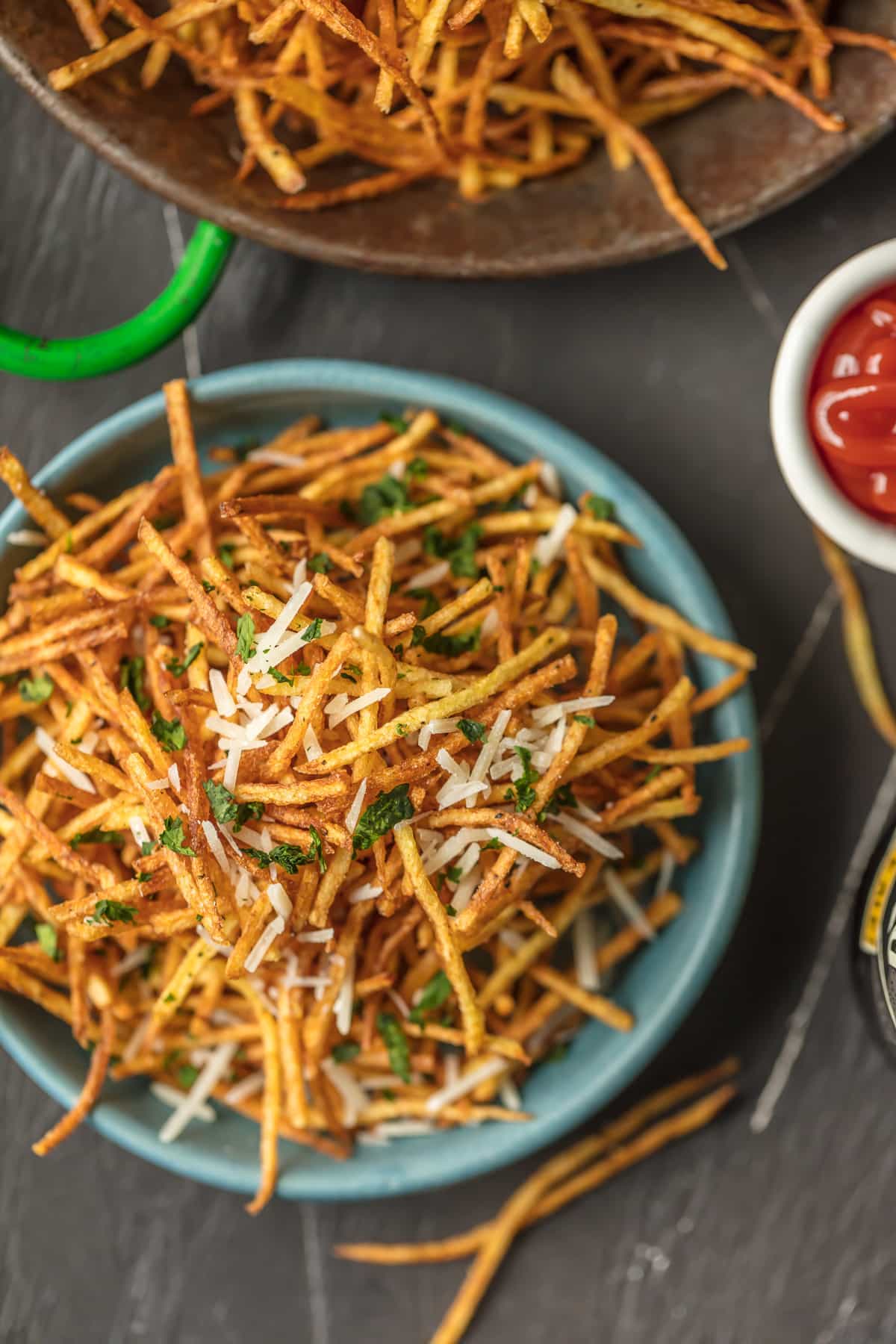 Shoestring Fries (Shoestring Potatoes)
Today's post addresses something near and dear to my heart: SHOESTRING FRIES! These skinny fried potatoes are a favorite side dish for just about any meal out there.
With warmer weather coming to us sooner rather than later, my mind is already on BBQ and all things summer. I'm so ready for the temps to rise and I want to eat these Shoestring Potatoes all summer long!
Shoestring Fries are the ultimate complement to Stovetop Burgers, Best Chili Dogs, Grilled Cheese, Chicken Sandwiches, and…. well, I could go on forever. They're thin enough that they're great for leftovers or even grab-and-go snacking. You must try these!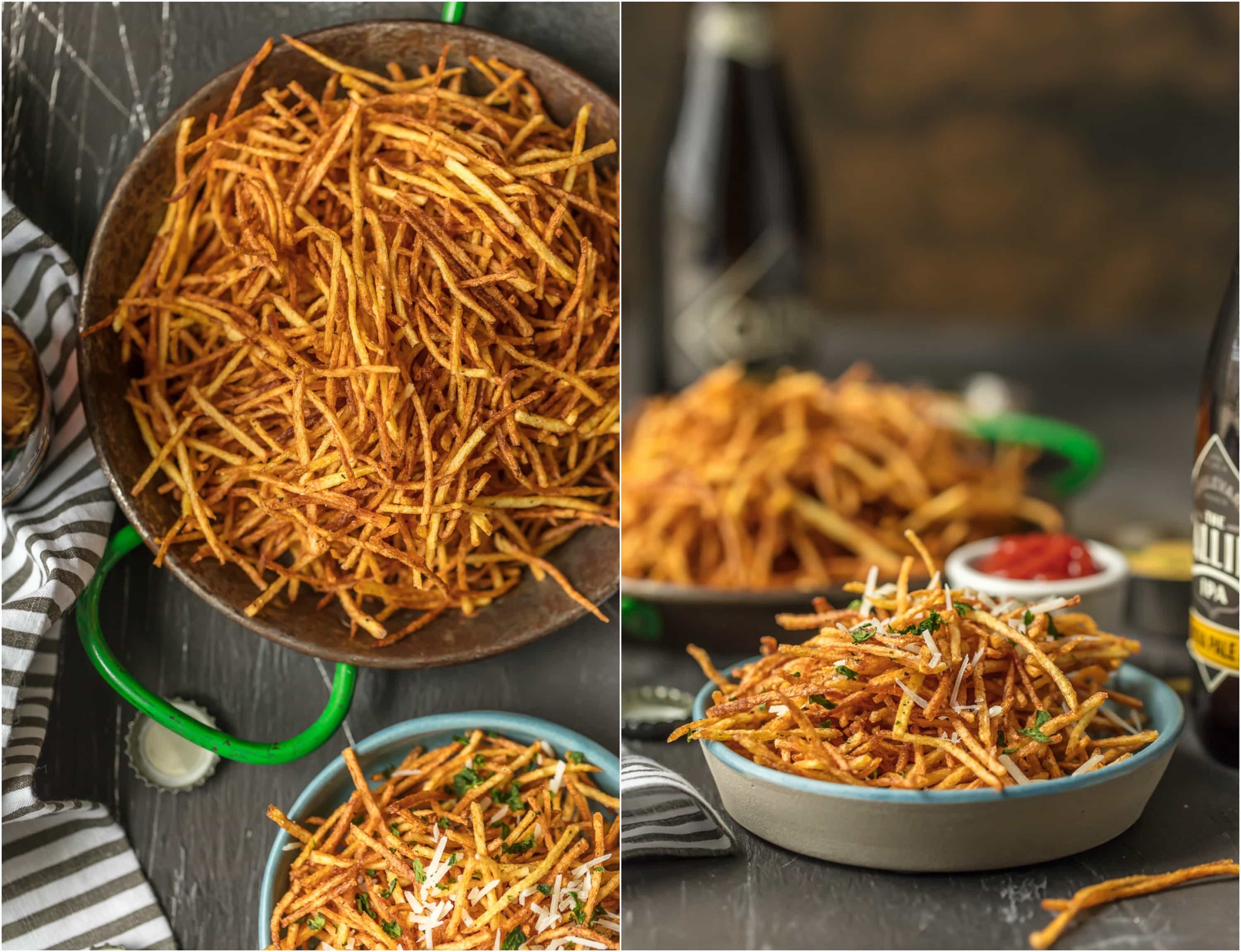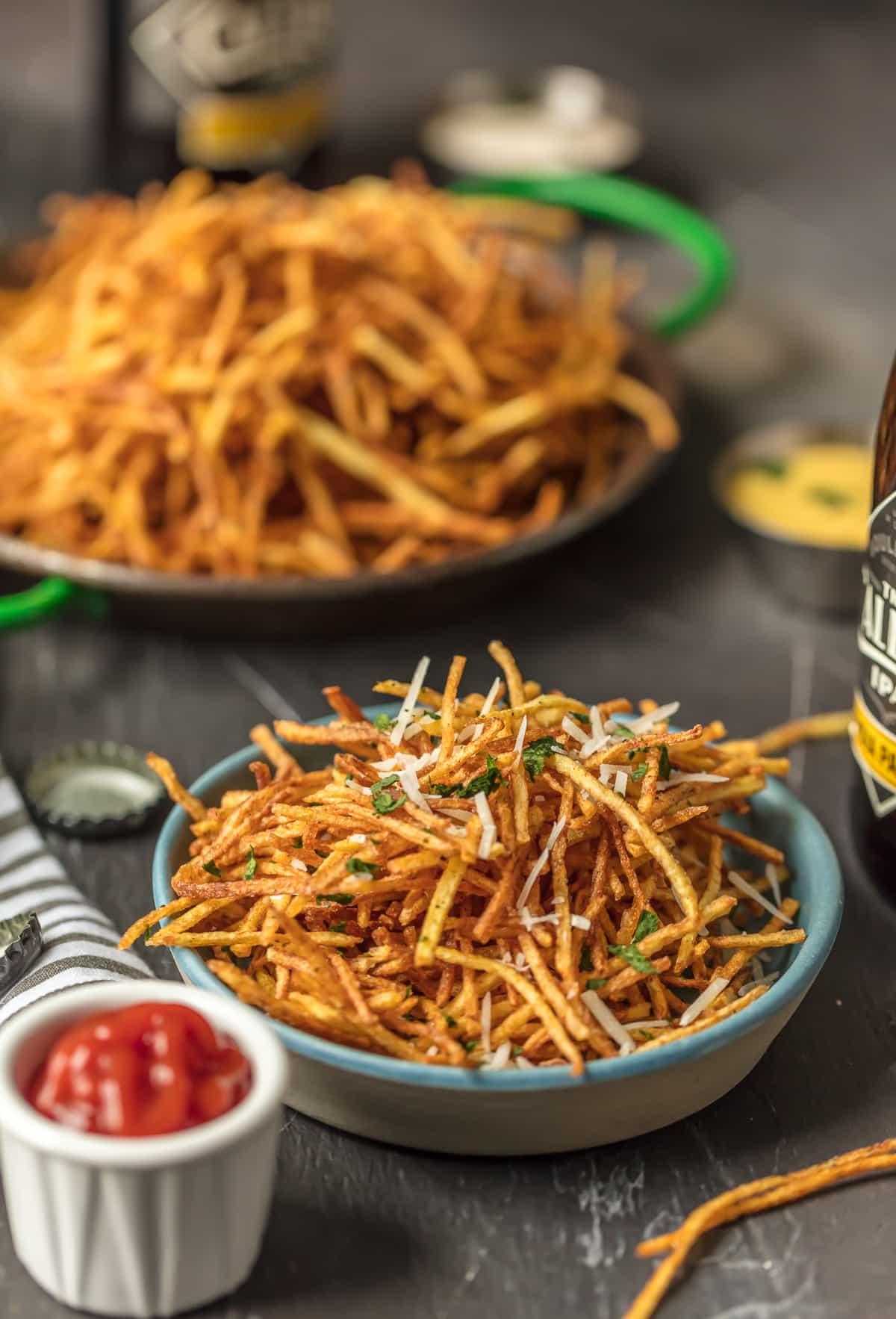 Why You'll Love Shoestring Fries
They're a retro-cool sensation: Shoestring Fries were super popular in the 1950s and 60s. And guess what? They're ba-aack!
They're better than fries: It's hard to beat crispy French fries, but these Shoestring Fries are even crispier.
You can customize them: Add in the seasonings you love and make them your own. Garlic salt, Parmesan cheese, rosemary, and pepper…. the sky's the limit!
How to Make Shoestring Fries
You can jump to the recipe card for full ingredients & instructions!
Heat vegetable oil in a heavy pot.
Use a mandolin slicer to cut matchsticks from washed and peeled potatoes. Soak potato sticks in ice water for 20 minutes; drain and pat dry.
Fry in small batches.
Drain on paper towels and add seasonings.
Repeat with remaining potatoes.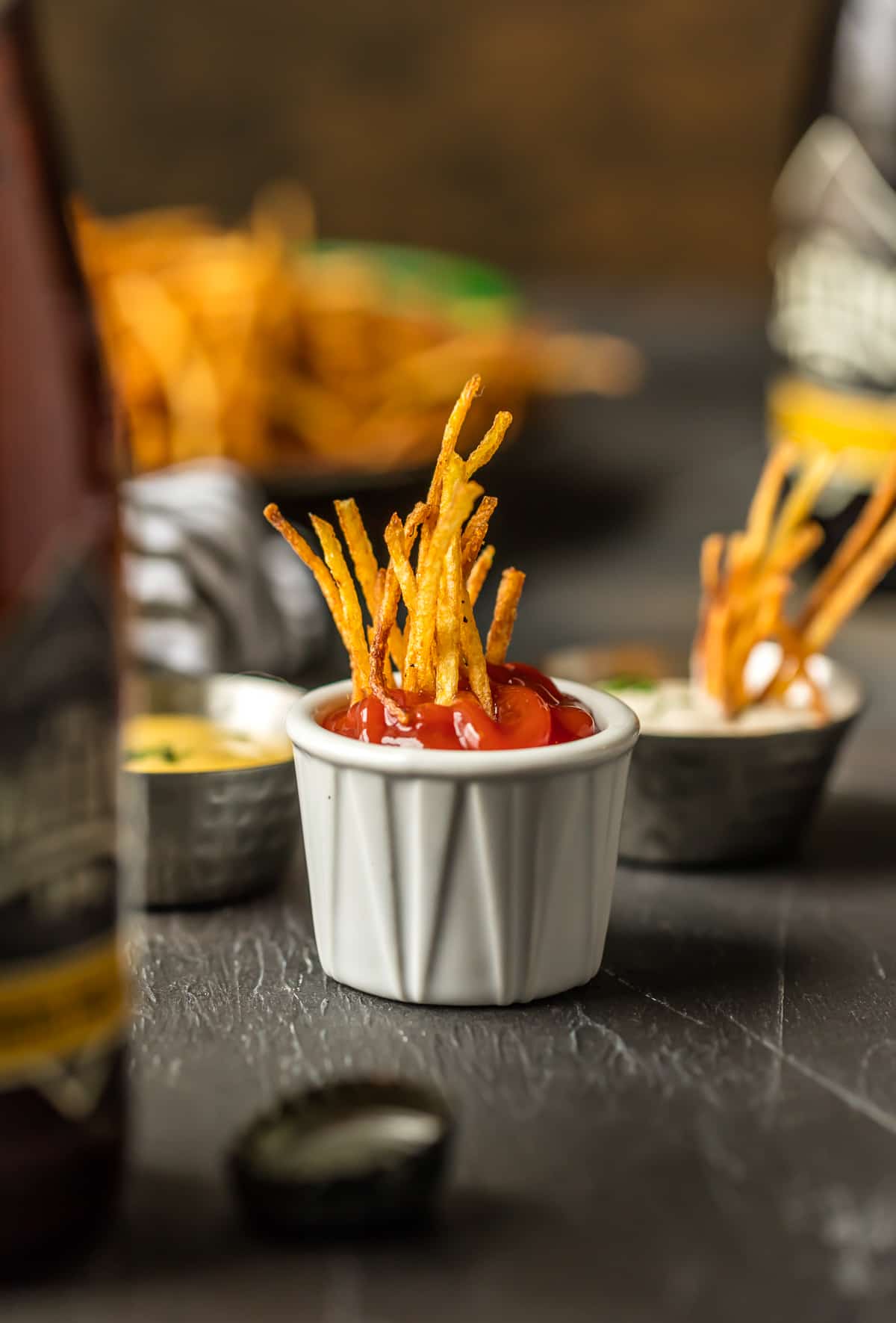 What is a Mandolin Slicer?
Back in the 1960s, TV commercials advertised gadgets called Veg-O-Matics with the slogan, "It slices! It dices!" Mandolin slicers are what we use in the 21st century.
They're hand-held devices with a variety of blades that slice fruits and veggies with more precision than using a regular knife.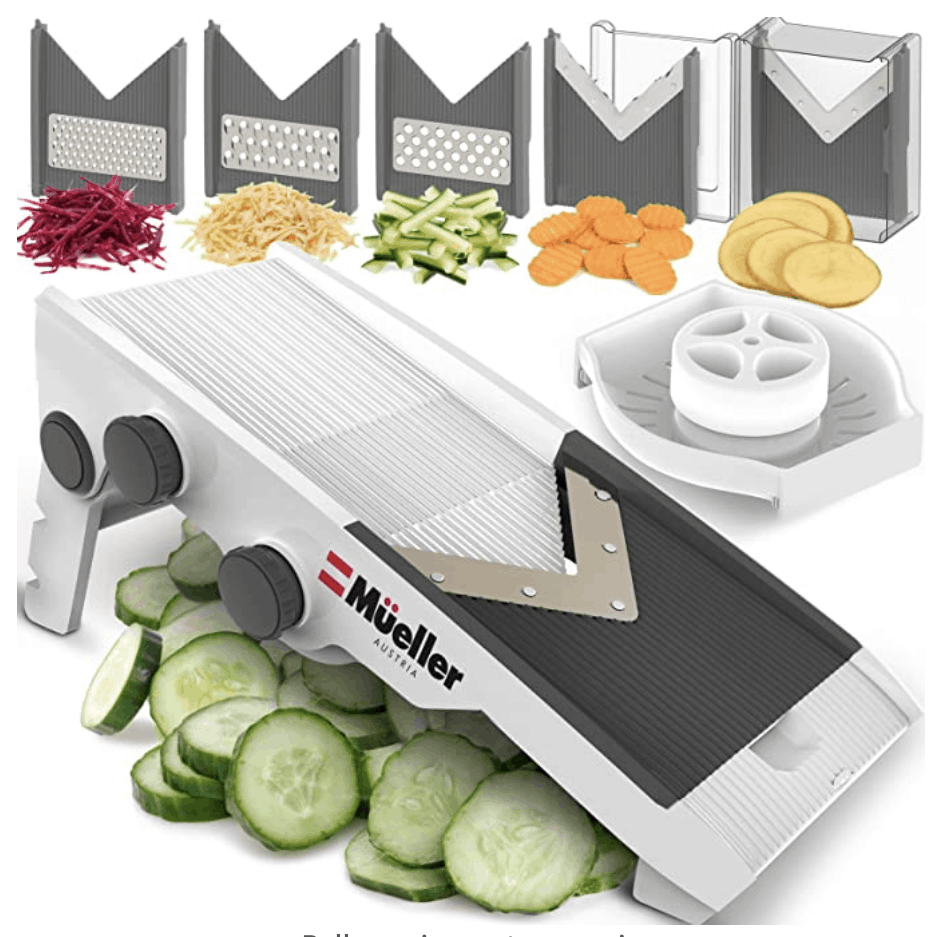 Our Favorite Mandolin Slicer!
This Mandolin is amazing and has over 15,000 reviews on Amazon. It's also cost effective. Win win!
What Flavor Variations Should I Try?
I love that these Shoestring Fries can be customized however you like them.
Try dipping them in ketchup, honey mustard, ranch…whatever appeals. I listed all of my favorite garnishes and different ways to season them in the recipe card, so be sure to check that out. And you just HAVE to dip them in our amazing fry sauce!
I love to eat them by the handful and even stack them on burgers as a garnish. I think you're gonna be a huge Shoestring Fries fan. And I'm always right.
What Kind of Potatoes Should I Use?
With all the varieties of potatoes out there, it can get confusing to know which ones make the best fries. High-starch potatoes are the ones to seek out, and those are generally Russets–also called Idaho baking potatoes.
More Potato Recipes
If it's potato recipes you crave, we have you covered. Try a few of the recipes listed here.
If you make this recipe be sure to upload a photo in the comment section below or leave a rating. Enjoy! You can also jump to recipe.