These delicious and easy Sweet Potato Fries are a tasty vegetable side that works well with so many main dishes. Ready to serve in around 30 minutes and seasoned with honey and herbs.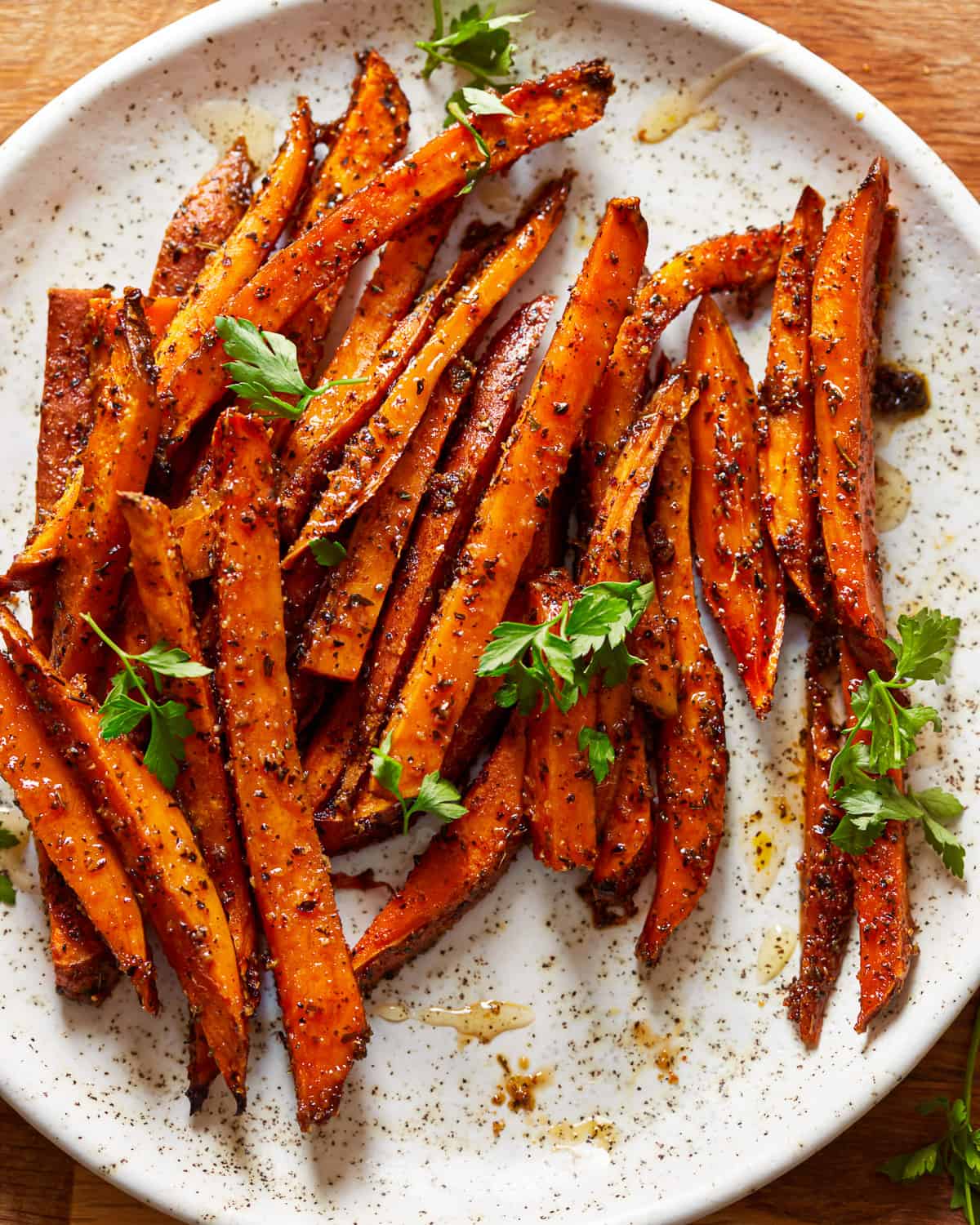 What's in this Sweet Potato Fries Recipe?
You really can never have enough side dish recipes, and if you are bored with regular French fries, sweet potates are a great way to mix things up. They work well with so many mains and are a great way to get an extra helping of vegetables into your day.
Sweet Potatoes: A sweeter, earthier, and nuttier alternative to regular potatoes.
Oil: I like grapeseed oil, but vegetable or peanut oil also works.
Honey: Adds a pop of floral sweetness that balances the spices.
Blackened Seasoning: A spicy blend of sweet and smoked paprika, cayenne pepper, onion and garlic powder, oregano, thyme, salt, pepper, and sugar.
Garlic Powder: Enhances the sweet and earthy flavor of the potatoes.
Dried Basil: Adds a sweet and savory note and a pop of green color.
Ground Cumin: Adds a hint of savory nuttiness that compliments the sweet potato.
Pro Tip: Make them vegan by swapping the honey for maple syrup.
Variations on Baked Sweet Potato Fries
You can season these fries however you like! Try Creole seasoning, ranch seasoning, Italian seasoning, or herbs de Provence. Check out my ultimate spice list for more inspiration!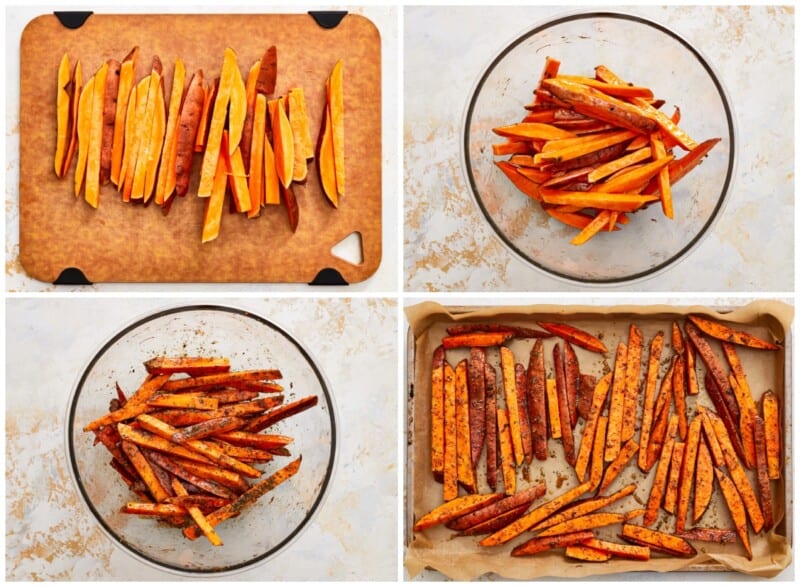 Are sweet potato fries healthy?
Sweet potatoes are an amazing source of vitamins and minerals, as well as fiber and lots of other goodies.
How do you cut sweet potatoes for fries?
Cut them in half lengthwise, then place the flat sides down and slice them into evenly-sized strips.
Can you make them ahead of time?
These fries are best served straight out of the oven, but you can prep them ahead of time. You can cut the sweet potatoes a couple of days ahead – keep them in the fridge in cold water so that they don't dry out. You can season the fries a few hours before you need to bake them.
Why won't my sweet potato fries get crispy?
Your fries will come out of the oven wet if you have overcrowded the sheet pan. Place them in a single layer over two pans or cook them in batches. If you lay the fries on top of each other, they will steam rather than crisp up.
Can I fry them instead?
I prefer to oven-bake these fries, it's a more hands-off process and healthier too. However, if you opt for frying, you will get a super crunchy side. You can deep fry them or use an air fryer.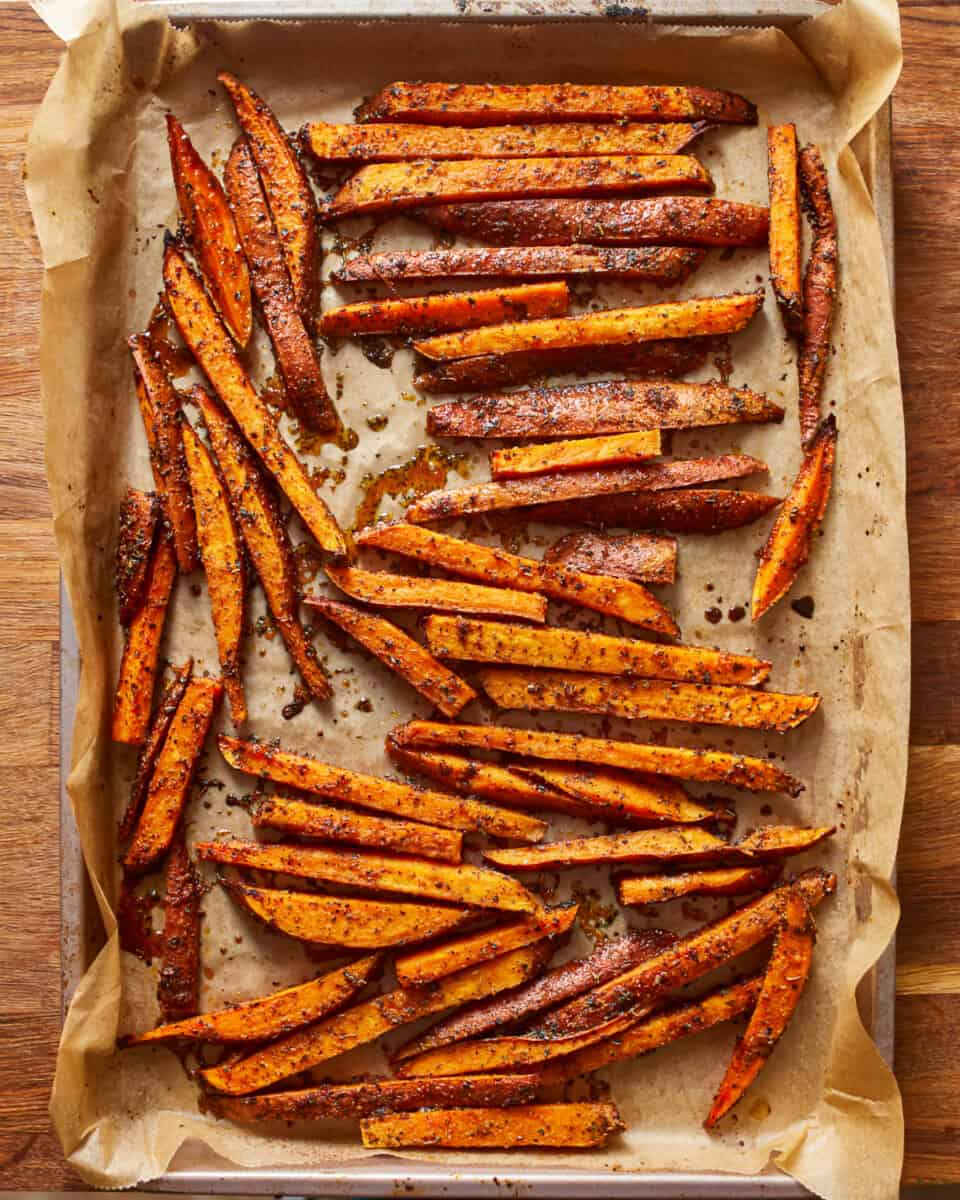 How to Store and Reheat
Store leftover sweet potato fries in an airtight container in the refrigerator for up to 4 days. Reheat in a 350°F oven for 5-10 minutes, or until warmed through and crispy.
How to Freeze
Freeze sweet potato fries in a single layer on a lined baking sheet until solid, about 1-2 hours. Transfer to an airtight container or Ziplock bag for up to 3 months. Bake directly from frozen for 15-20 minutes.
Serving Suggestions
These fries are perfect to serve alongside any sandwich or burger recipe. And they're a great thing to serve the kids with any of their favorite dinners. I love them with a crispy chicken sandwich, turkey sloppy joes, air fryer fish sticks, Kentucky fried chicken, homemade chicken nuggets, or ham and cheese sliders.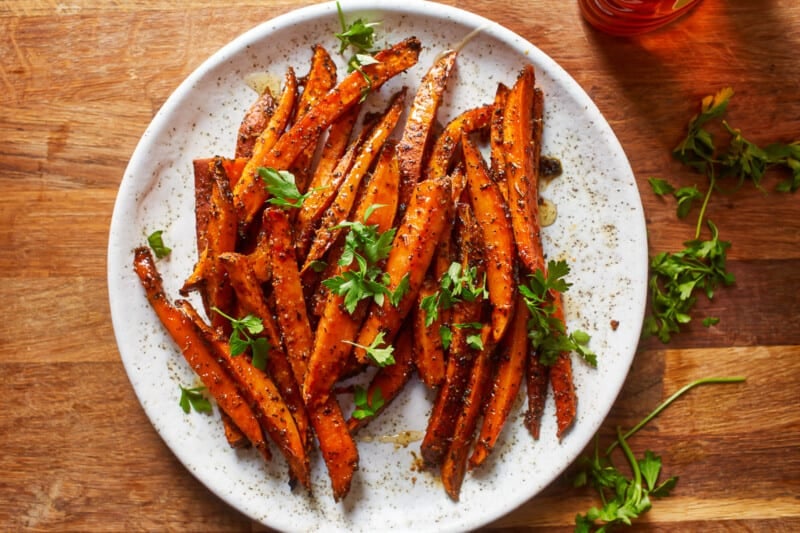 More Sweet Potato Recipes We Love