Burgundy mushrooms are an easy side dish that is packed full of flavor. The mushrooms are slow cooked in red wine and is a perfect accompaniment to your Christmas dinner. They can be made several days ahead of time and are quick to prep.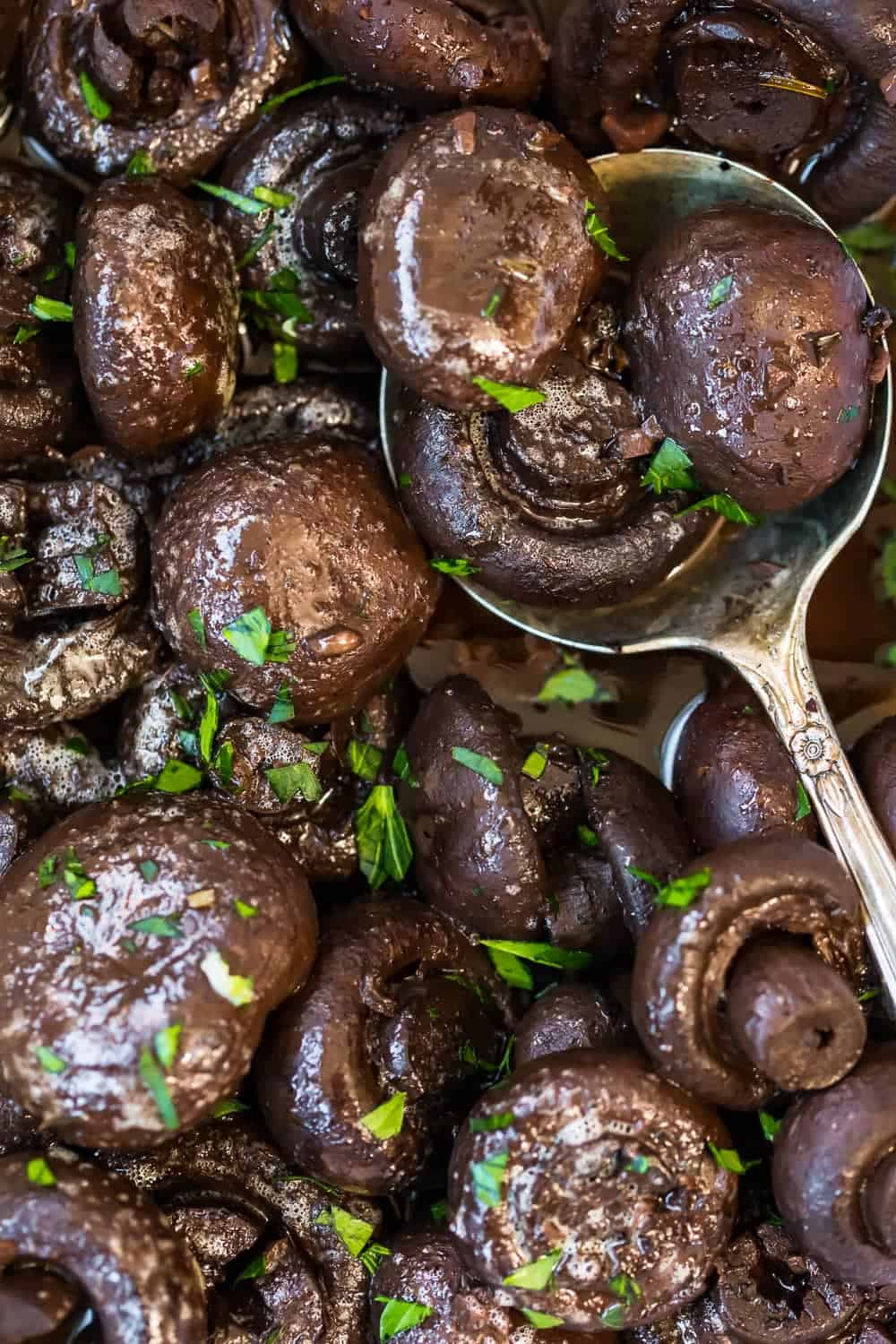 The best side dishes, in my humble opinion, should be easy, make ahead and packed full of flavor and these burgundy mushrooms tick all of those boxes! They are so perfect to serve with Prime Rib Roast for a indulgent Christmas feast!
How to make burgundy mushrooms
Prep the mushrooms by gently rinsing them and trimming any tough parts.
Add all of the ingredients to a saucepan and bring to the boil, lower the heat, cover and simmer for 5 hours. Uncover and simmer for an additional hour before serving or storing.
Recipe variations
Use vegetable stock cubes to make this side dish suitable for vegetarians.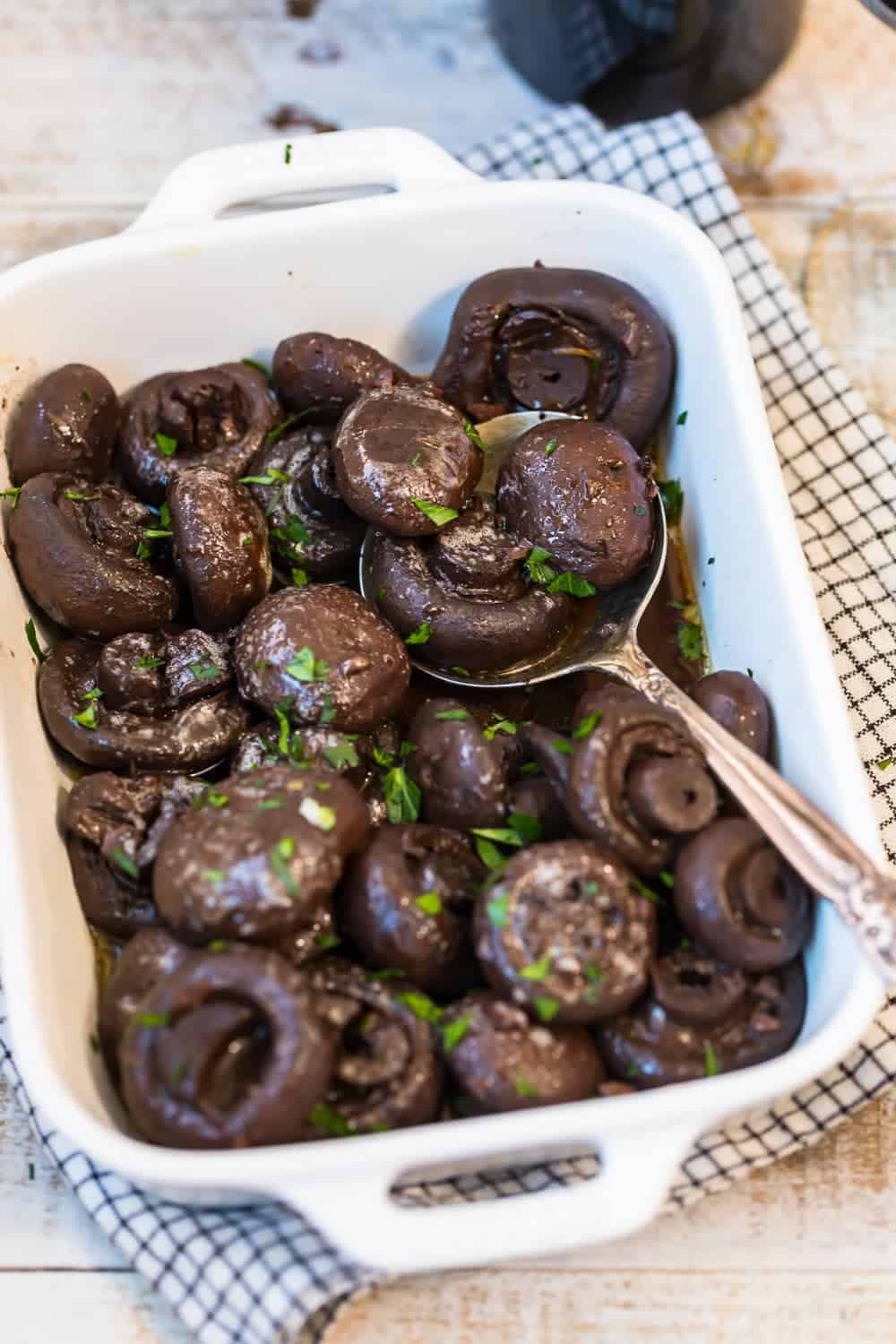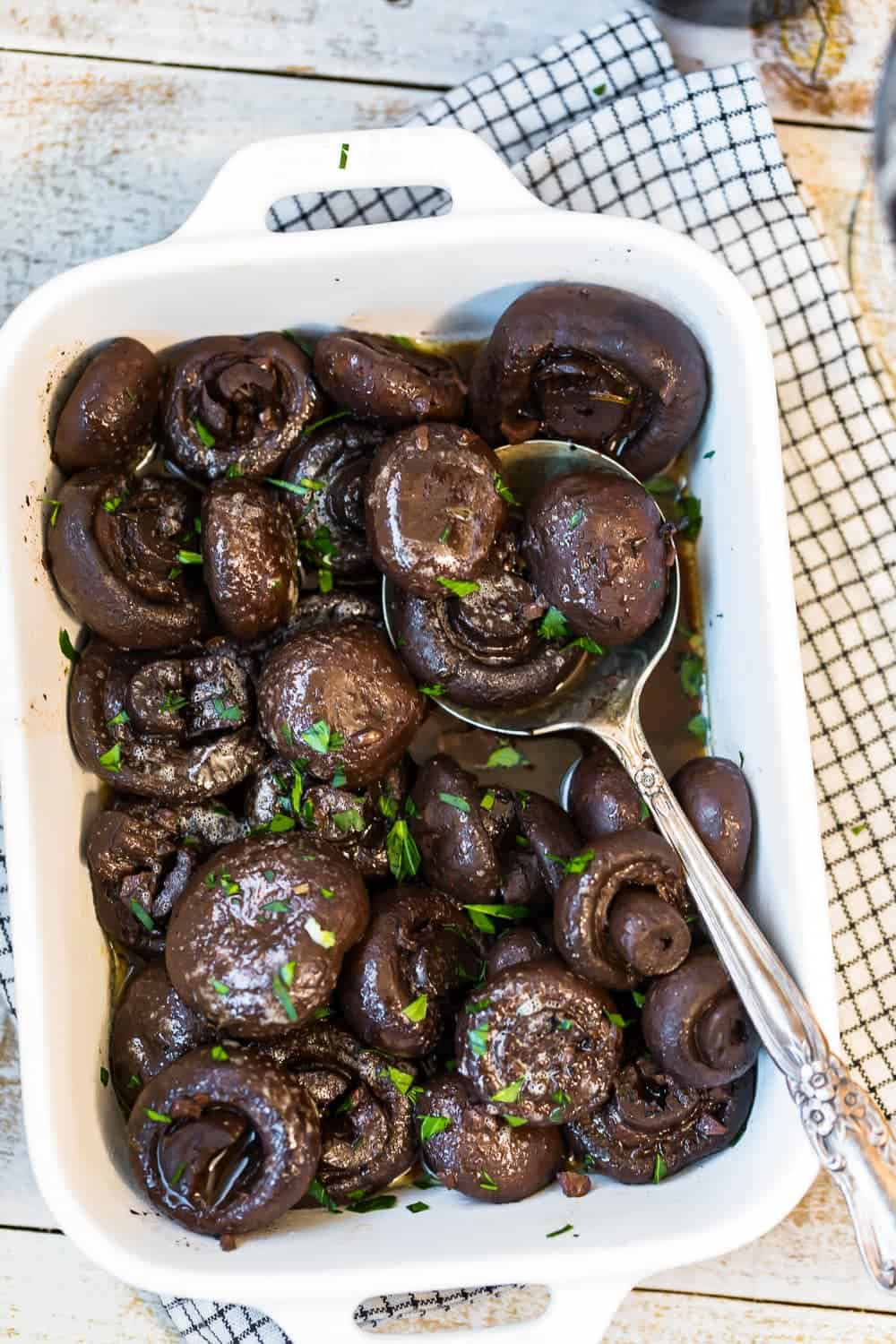 Can you make burgundy mushrooms ahead of time?
These mushrooms can be made up to three days ahead of time, making them an ideal side dish to serve as part of a big feast, especially during the holidays. Once you have cooked them, let the cool to room temperature and then transfer them to an airtight container and store in the fridge. You can then gently reheat them on the stovetop for a few minutes before serving.
What is the best wine to use in this recipe?
You don't need to use an overly expensive red wine for this recipe, but go for something dry with a medium body. Obviously a burgundy is your best choice, but you could also use a cabernet sauvignon, merlot or pinot noir.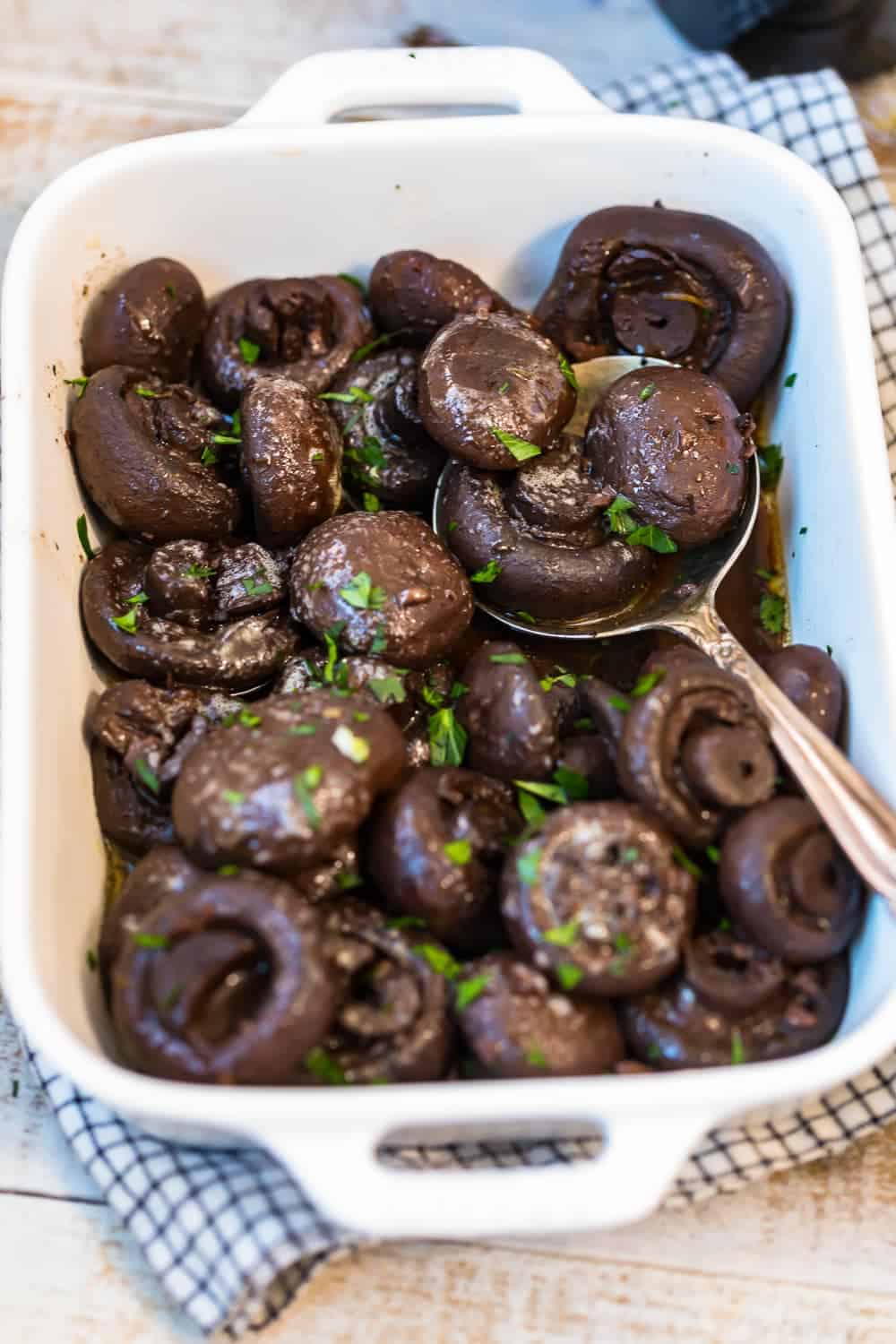 Serving Suggestions
This mushroom side dish is perfect to serve alongside a hearty roast dinner along with some of your other favorite side dishes. Try these mushrooms with:
Top Tips To Make Burgundy Mushrooms
Don't skip any of the cooking time for this recipe, the long cook helps the mushrooms become so rich and flavorful.
White button mushrooms are the best to use for this recipe.
If making ahead of time, let the mushrooms cool fully before storing.
Serve to the table with a sprinkle of fresh parsley.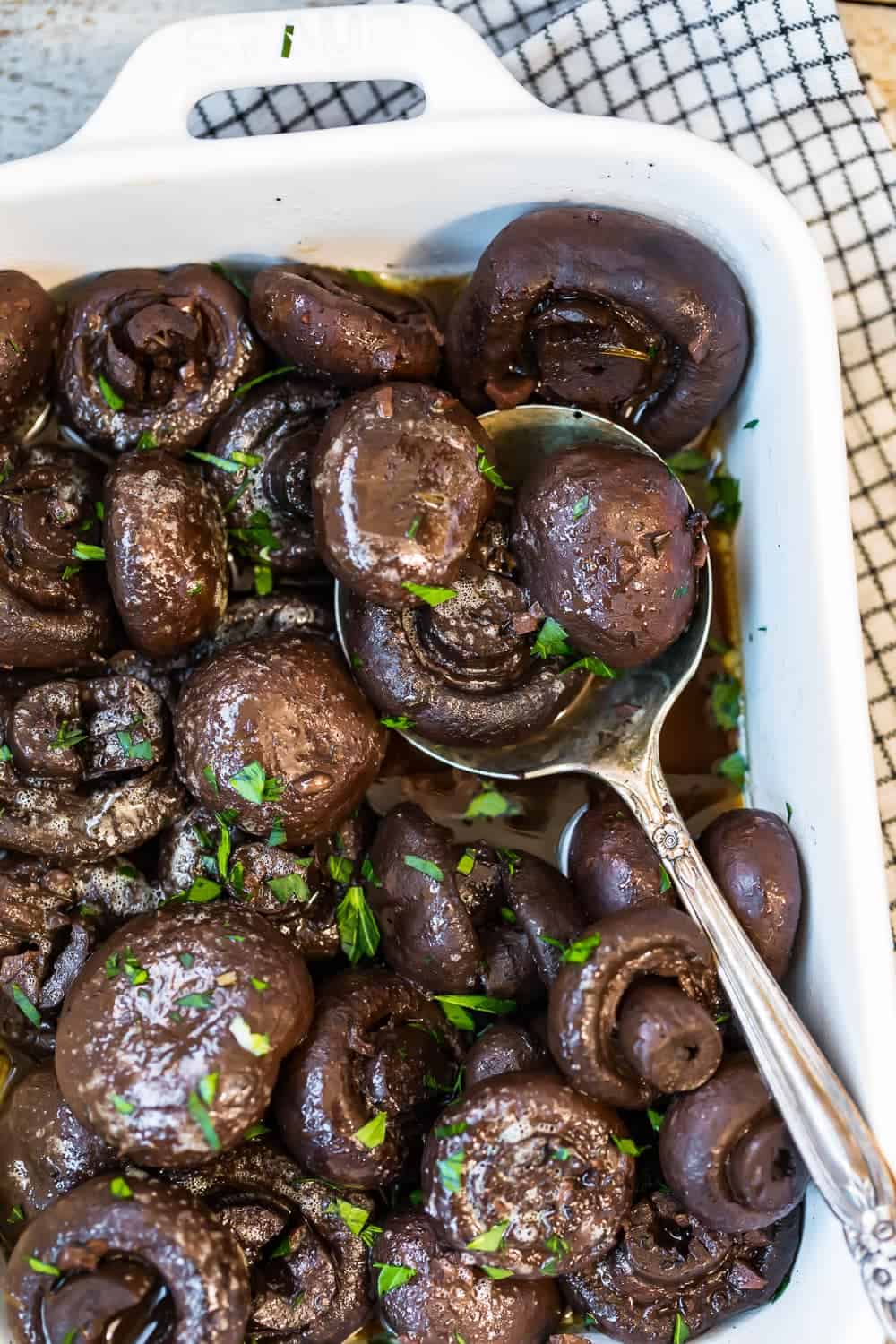 For more delicious side dish recipes: