Prime Rib Roast is a fantastic main dish for any special meal. This is the best prime rib roast recipe, and it's pretty easy too! Learn how to cook prime rib roast for Christmas, Easter, or any night of the year. This is a great recipe to feed your family for several days!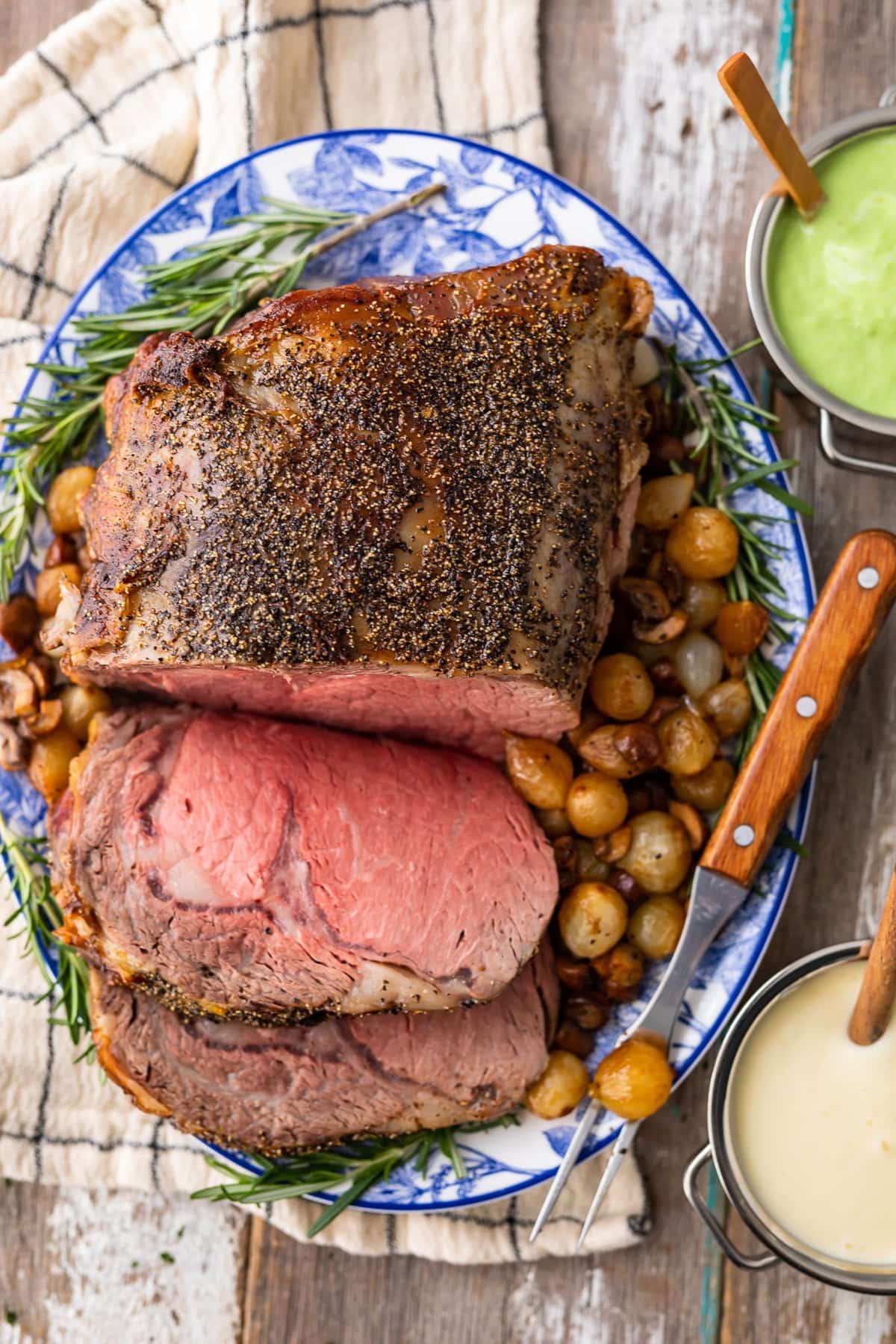 Best Prime Rib Recipe
I'm sharing the best prime rib roast recipe with you to prepare for the holidays. Learn how to cook prime rib roast in the oven and start working on the perfect side dishes to go with it!
A classic roast dinner is one of my favorite meals to make throughout the winter season, especially for the holidays! This Prime Rib Roast surrounded by potatoes, veggies, and other delicious sides is just perfect for Christmas and Easter.
I think I've finally mastered this cut of meat, making something super juicy, tender, and flavorful. It's the best prime rib roast recipe if you ask me, and I'm so happy to share it with you all!
Find out how to cook prime rib roast in the oven and get ready for the big feast! This makes a beautiful Sunday night dinner or a festive Christmas meal.
Why You'll Love this Standing Rib Roast Recipe:
FLAVORFUL: This cut of beef is so succulent and so flavorful when slow roasted to perfection.
PERFECT FOR HOLIDAYS: Prime rib is a great option to put at the center of your holiday feasts. Make it for Christmas, Easter, or any time you need something special.
SHORT INGREDIENT LIST: This roast might take a while to cook, but it only requires a few seasonings to go along with it.
This slow roasted prime rib recipe is so simple and so flavorful. Make this part of your next holiday meal!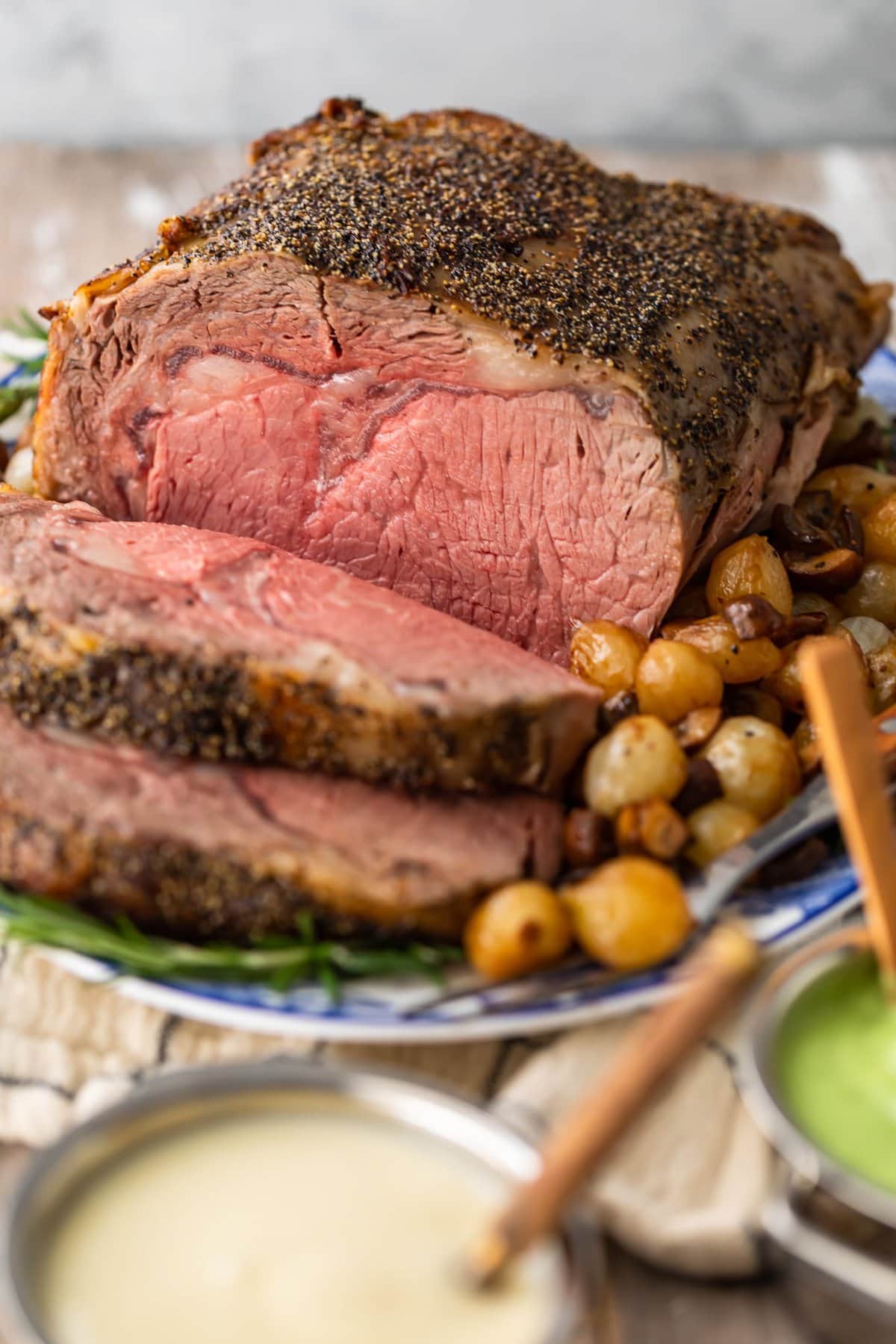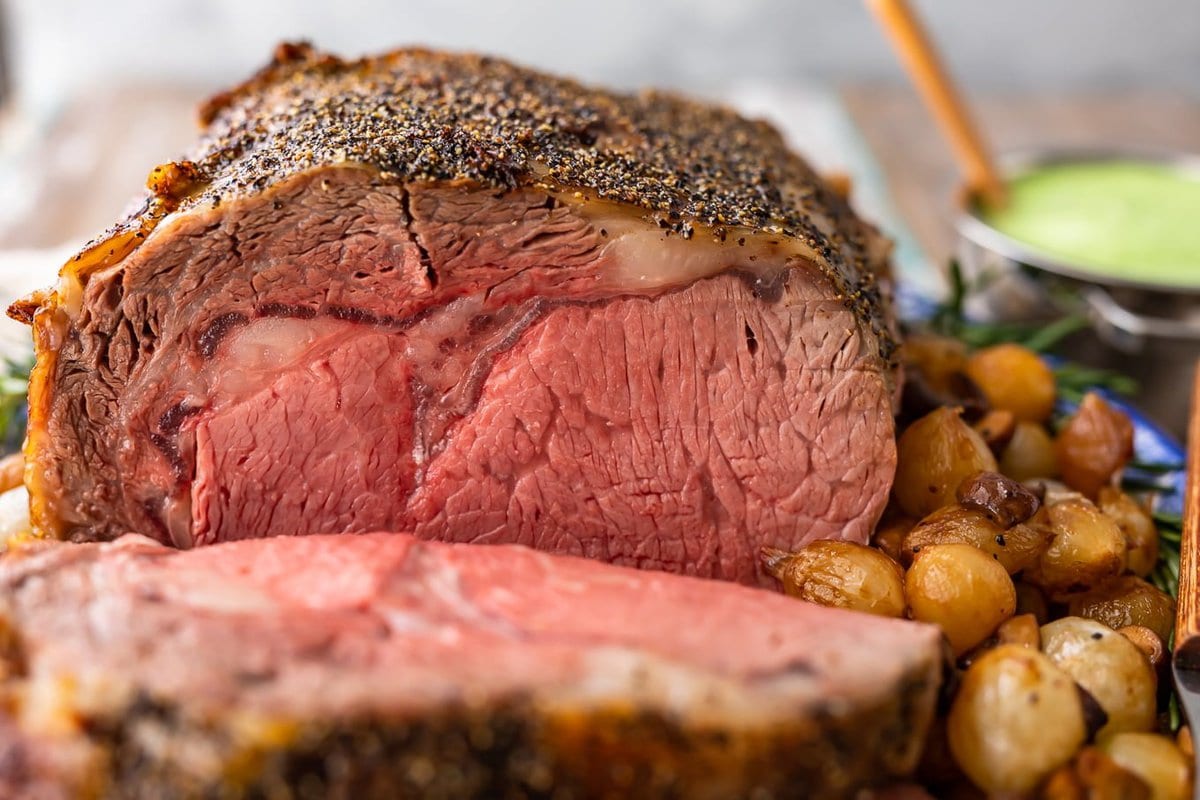 Best Prime Rib Roast Recipe for Christmas
Cooking prime rib roast is a must for Christmas! I always prefer having pork or beef for Christmas dinner rather than having turkey again.
I know some people make the exact same meal for Christmas as they do for Thanksgiving, but I think having separate recipe traditions for each holiday makes them feel more special.
This slow roasted prime rib is just perfect because the flavors are SIMPLE but incredibly DELICIOUS. And while it takes time to prepare, the end result is something worth working for.
What are the best side dishes for prime rib?
There are so many amazing side dishes to consider. I think every good roast requires a potato dish, a delicious veggie dish, a good bread option, and maybe a couple other extras if you're going for a big feast.
Here are my favorite sides: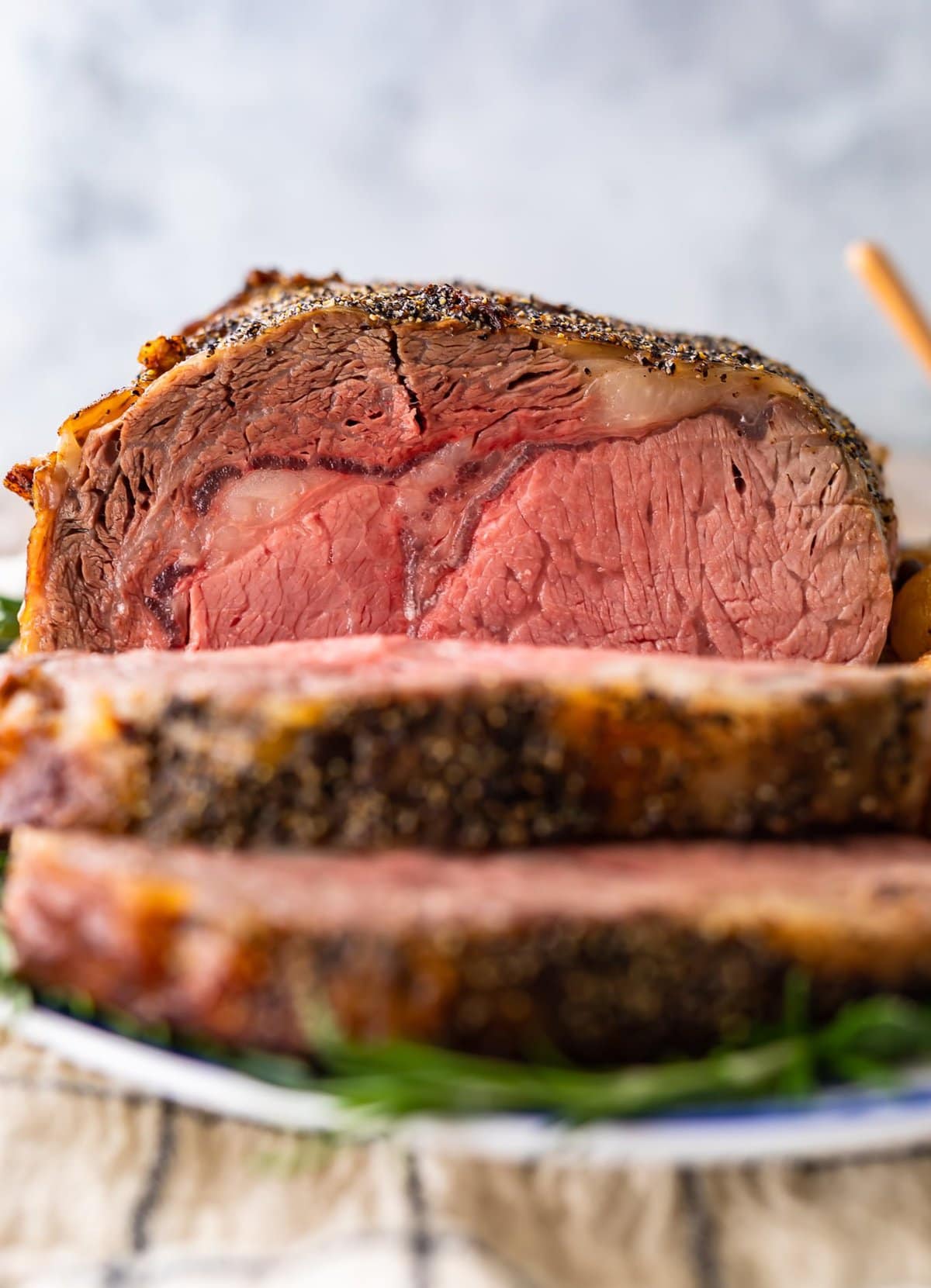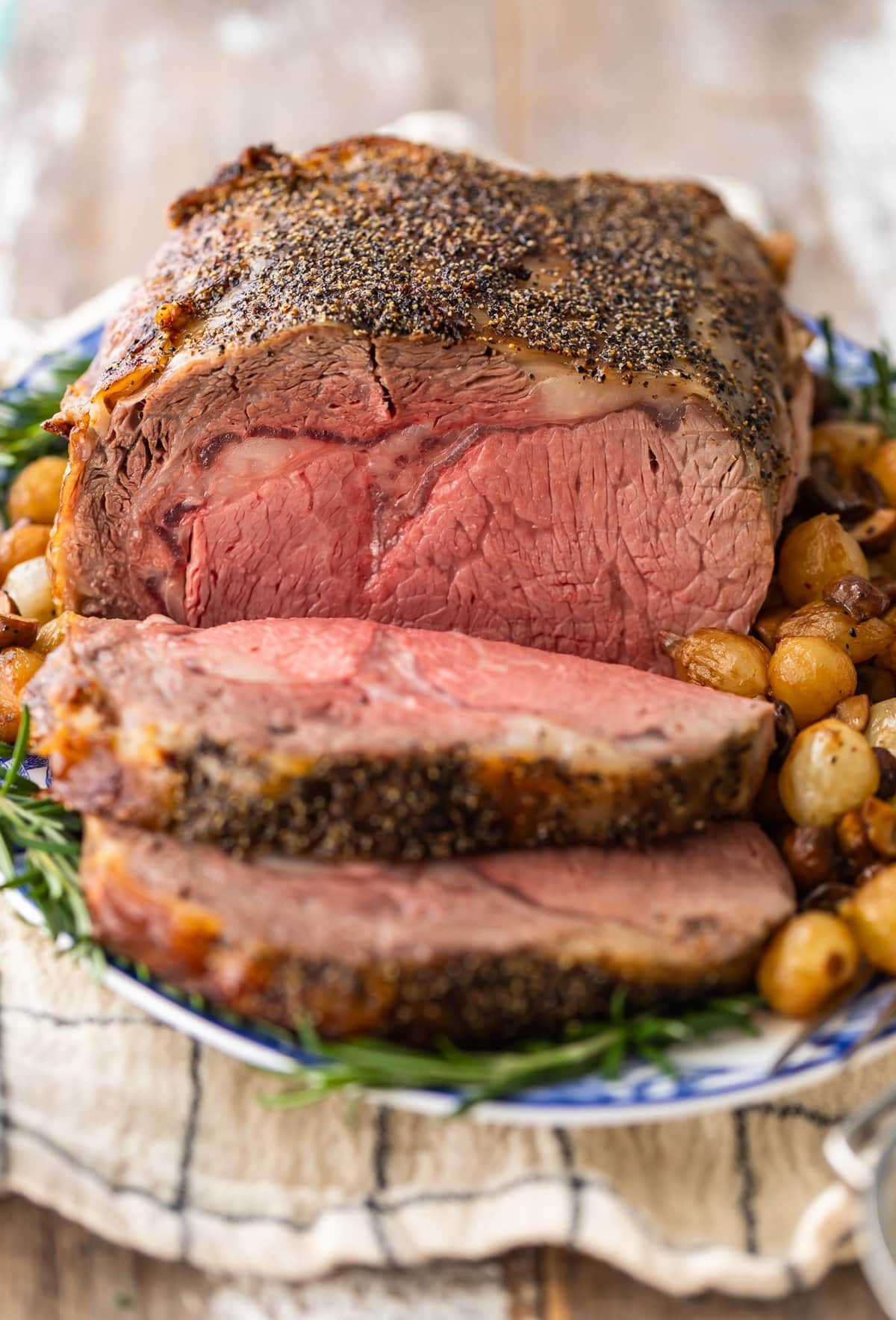 How to Cook Prime Rib Roast
Cooking prime rib roast definitely takes time and preparation, but it's actually not that complicated. There are less than 5 ingredients, basic prep before roasting, and then the oven does the rest of the work.
Be sure to see the recipe card below for full ingredients & instructions!
Leave twine in place and cut slits across the fat caps of the prime rib, then season it with salt and pepper.
Place the roast (uncovered) in the refrigerator for 8-48 hours.
Take the roast out of the refrigerator about 1 hour before cooking, and preheat the oven to 200°F.
Season the meat.
Cook the prime rib roast at 200°F for about 3 hours. At the 3 hour mark, check the internal temperature until it reads 115°F.
Once it has reached the desired temperature, turn off the oven. Let the roast sit in the oven until it reaches your preferred doneness. (See below or check recipe card for internal temperatures).
Remove prime rib from the oven, loosely cover it with foil, and let it rest 15-30 minutes. Set the oven to 500°F.
10 minute before serving, return the roast to the oven to let it brown and crisp up.
Tips!
Ideally, the roast will be prepped up to 48 hours in advance. I recommend a minimum of 8 hours before cooking, but if you're really short on time, it's not necessary.
Take the roast out of the refrigerator about 1 hour before cooking to let it come close to room temperature.
Before serving, return the roast to the oven (set to 500F) to let it brown and crisp up.
Cook prime rib in the oven uncovered.
Internal temperature should reach at least 125F to ensure it's safe to eat.
Use a v-rack with roasting pan, or a wire rack with a rimmed baking sheet
Allow roast to rest 15-30 minutes after cooking
Carve one slice of roast per guest and leave the rest of the roast intact until needed more servings. This will keep the roast warm and help to retain its flavorful juices.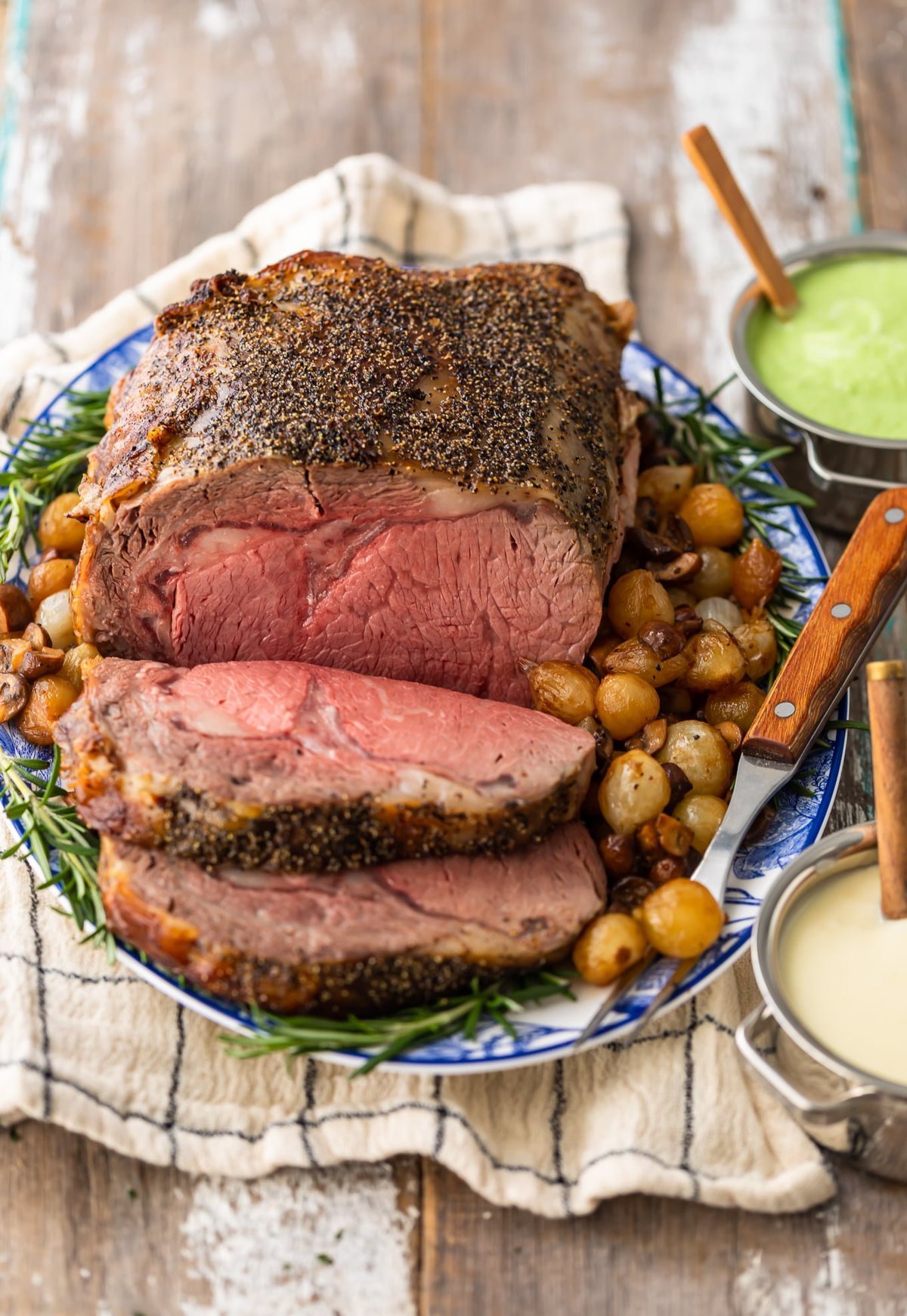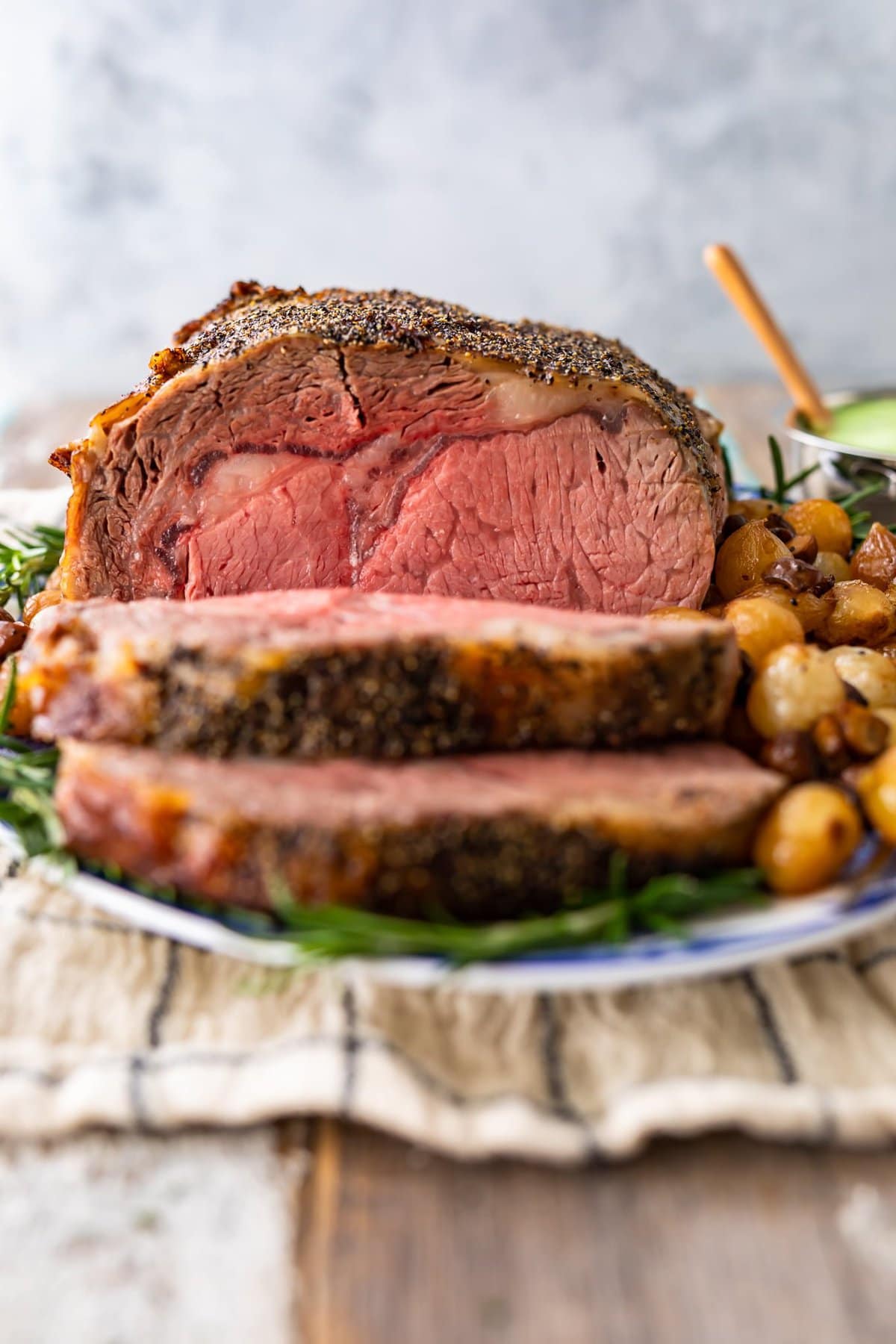 What temperature is medium rare prime rib?
This quick prime rib temperature chart tells you what the internal temperature should be based on you're preferred doneness. I recommend removing the roast from the oven as soon as it reaches the lower end, or up to 5 degrees before.
Rare: 120-125°F
Medium Rare: 130-135°F
Medium: 135°F
Well Done: 140-145F
I find that the best way to reach your desired doneness is to turn off the oven once the internal temperature reaches 115°F, and then let the roast sit in the oven until it reaches the desired temperature.
Note: You should always use a meat thermometer to check internal temperatures while cooking. This is the only way to ensure you are fully cooking the meat to the correct temp.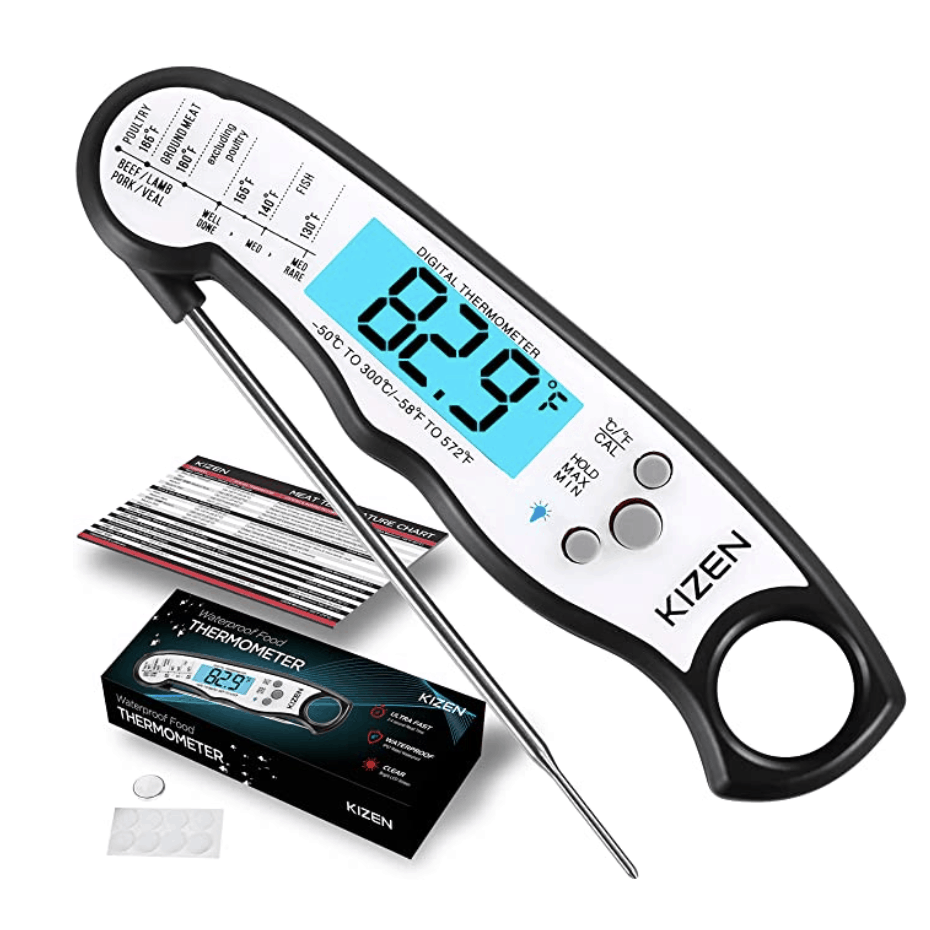 The Best meat thermometer!
I love using this meat thermometer for making sure the meat is at 165 degrees! Easy for beginners & totally worth the $10 cost!
How long does it take to slow roast prime rib?
When making slow roasted prime rib, the total cooking time depends on a few things: the size of the roast, the oven temperature (and the oven itself), and how done you prefer your meat.
With this recipe, we are cooking a 6-7 pound prime rib roast at 200°F. It will need at least 3 hours to cook, and then it will require checking at 15 minute intervals until it reaches the desired temperature.
Of course, the more well done you want your meat, the longer it will need to sit in the oven. Expect it to be in the oven 3-4 hours.
Do you cover prime rib while cooking?
Let it cook in the oven uncovered. You will cover it loosely while it rests, but NOT while it is cooking.
Is standing rib roast the same as prime rib?
Yes, these are the same cut of meat. You might see them labeled as one or the other at the grocery store or other recipes.
Should I let prime rib come to room temperature before cooking?
Yes, or close to it. Remove the roast from the fridge and let it sit out at room temperature for an hour before putting it in the oven.
At what temperature do you pull it out of the oven?
Check the internal temperature chart above. You'll want to pull the roast from the oven up to 10 degrees before it hits your desired temp because it will continue to rise while it rests.
Is prime rib roast tender?
Yes! It it one of the most tender cuts of beef.
How many hours does it take to cook a prime rib?
Once in the oven, it will take about 3-4 hours to cook, depending on whether you prefer rare, medium rare, or well done beef.
Should I salt prime rib the night before?
Yes! Ideally, you'll salt up to 48 hours before cooking, but I recommend at least doing it overnight (8 hours). This gives salt time to penetrate the surface of the meat, which will make it much more flavorful.
How many people does this prime rib roast serve?
This 7 pound rib roast will serve up to 10 people.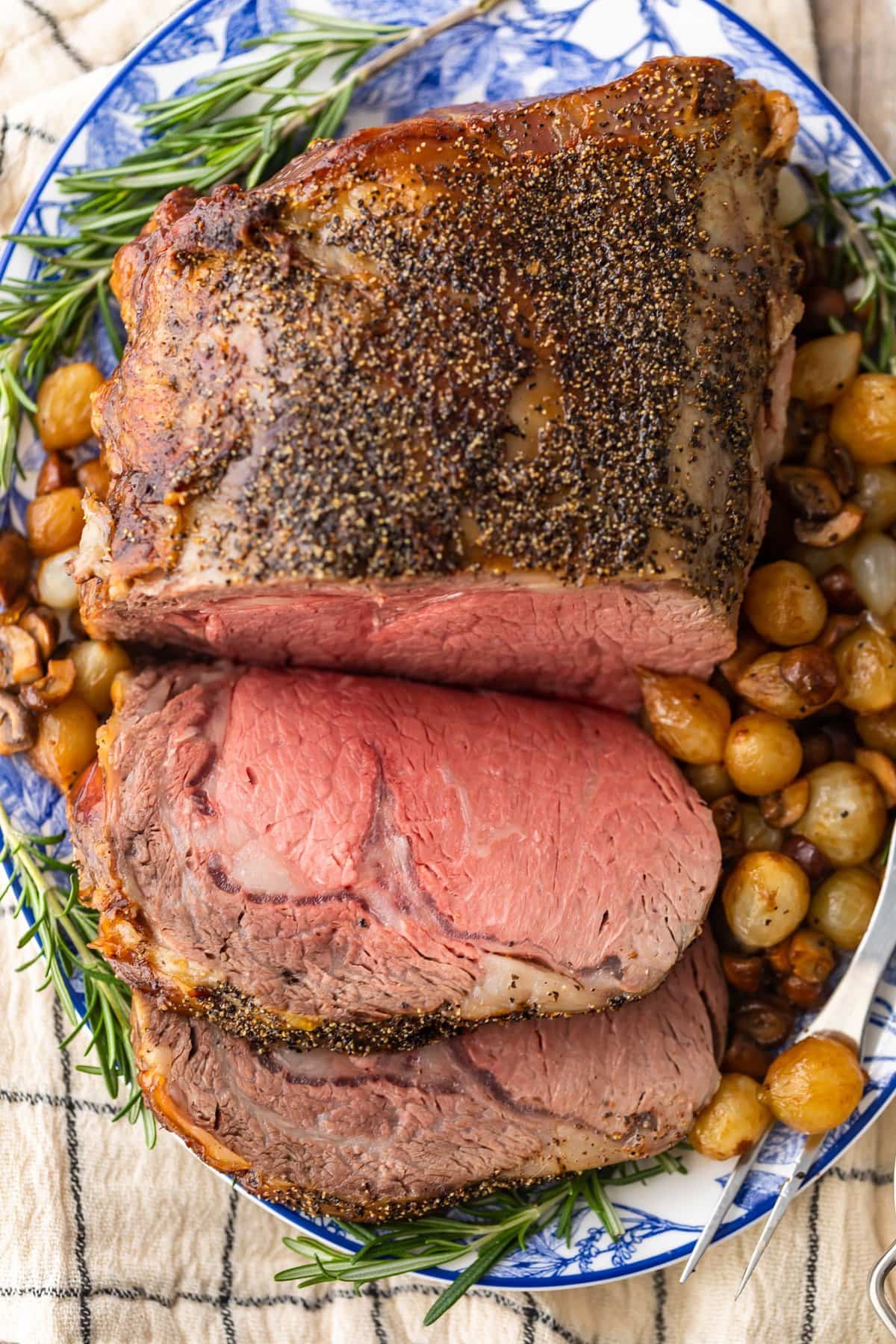 Get ready for the best prime rib roast recipe! This will surely be a holiday hit, something to add to your regular holiday traditions.
Check out these other holiday main dish ideas:
If you make this recipe be sure to upload a photo in the comment section below or leave a rating. Enjoy!