Red Wine Pot Roast is such a traditional meal, but it feels gourmet! This is the best pot roast recipe to make for hearty winter meals, holidays, or special occasions. No one can say no to a juicy pot roast with veggies! Find out how to cook pot roast in the oven for the perfect winter meal.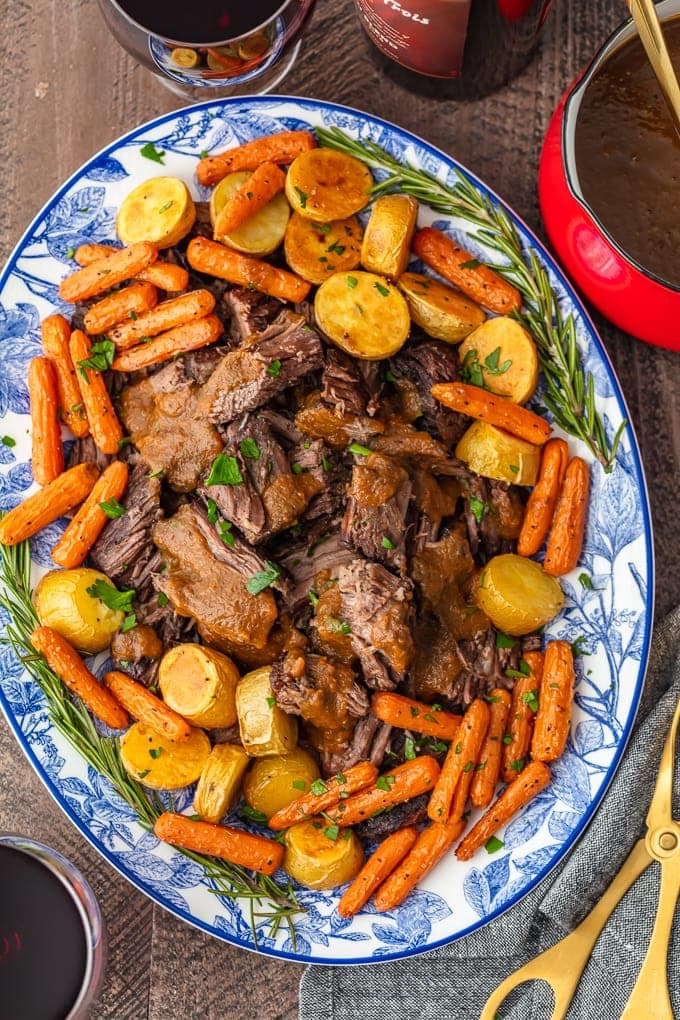 Red Wine Pot Roast
Red Wine Pot Roast is a warm, hearty, delicious meal that never fails to please. This is by far the best pot roast recipe, something that works for regular weeknight dinners or special holiday meals!
What could be better than a meal consisting of juicy meat, tender vegetables, and the most flavorful gravy to join it all together? Add some red wine into the mix, and you've got the best pot roast recipe ever!
I love this Red Wine Pot Roast. It's a go-to recipe during the winter months, when you just want something hearty and delicious to eat for dinner. A nice roast dinner is always welcome, whether it's a Sunday night dinner with family or a big feast to celebrate the holidays. This pot roast recipe makes a great Christmas dinner!
Learn how to cook pot roast in the oven by slow roasting it with red wine, broth, vegetables, and seasonings, and then top it off with the most amazing pot roast gravy!
This Red Wine Pot Roast is hearty and delicious. It's perfect for Christmas or just simple family meals throughout the winter season.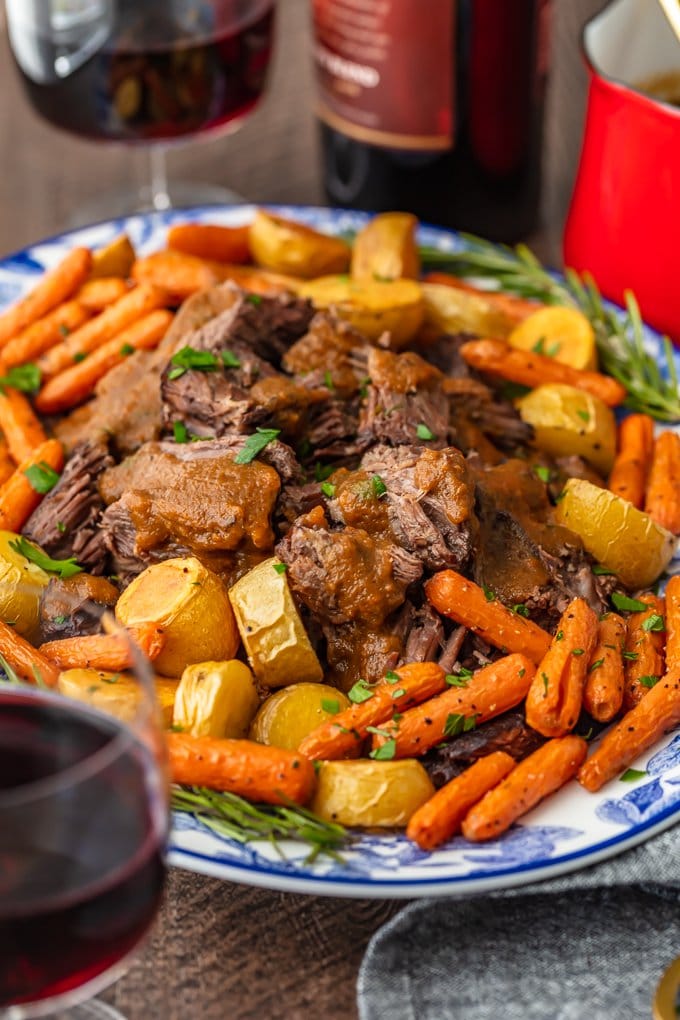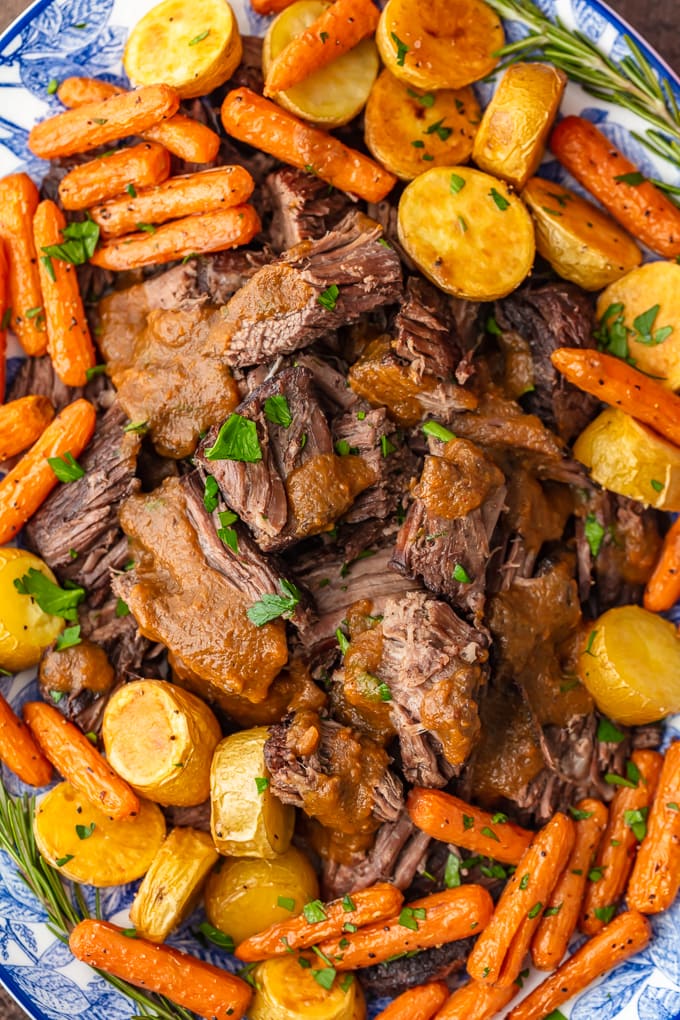 Best Pot Roast Recipe
I've had a lot of pot roast dinners in my life, but this is by far the best pot roast recipe I've had. The flavor combo is just perfect! The meat is so tender and I love how easy it is to pull part after cooking. The pot roast gravy really finishes it off nicely, adding in even more flavor.
If you don't want to cook pot roast in the oven, you can use this Instant Pot Pot Roast recipe instead!
What kind of red wine is good for pot roast?
We don't want a cooking wine for our red wine pot roast. Get a good dry red wine, something like a Merlot or Cabernet Sauvignon. Not only will it taste good IN the pot roast, but a glass of it will also pair nicely with dinner.
What spices are in pot roast?
The flavors of this pot roast recipe come from the beef itself, the other ingredients it's being cooked with, the broth and pot roast gravy, and of course the herbs and spices. We don't need too much extra seasoning to make it taste amazing, but we are adding in fresh thyme and rosemary, along with a bit of salt, pepper, and smoky paprika.
What is the best cut of meat for pot roast?
I recommend using chuck roast for this recipe. It's one of the best cuts of meat for pot roast because it's a bit tougher, but breaks down and becomes tender during slow roasting.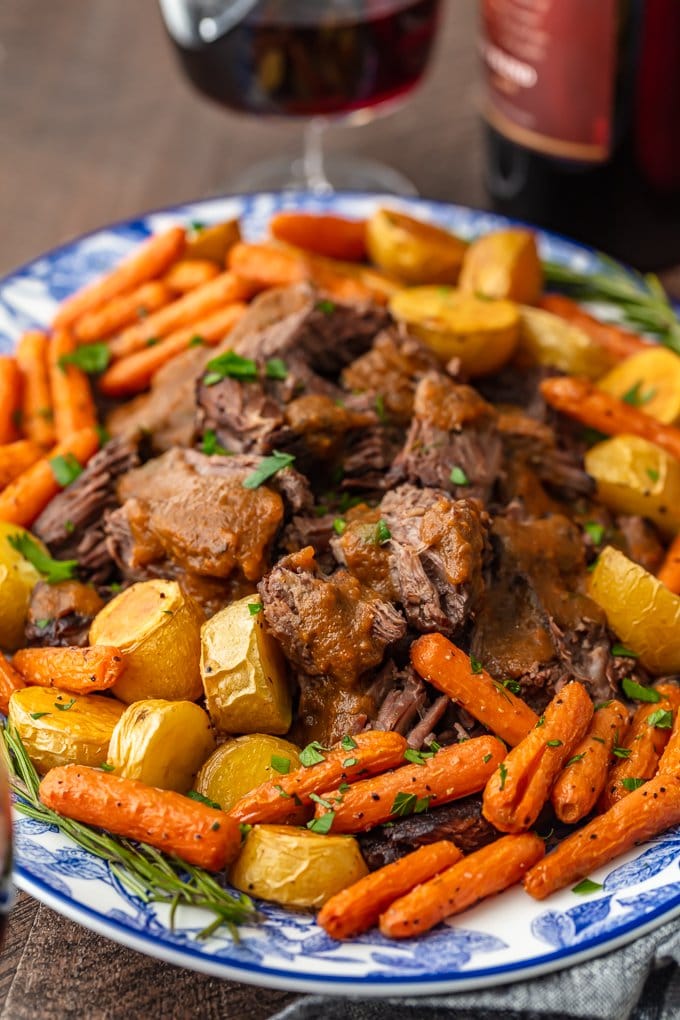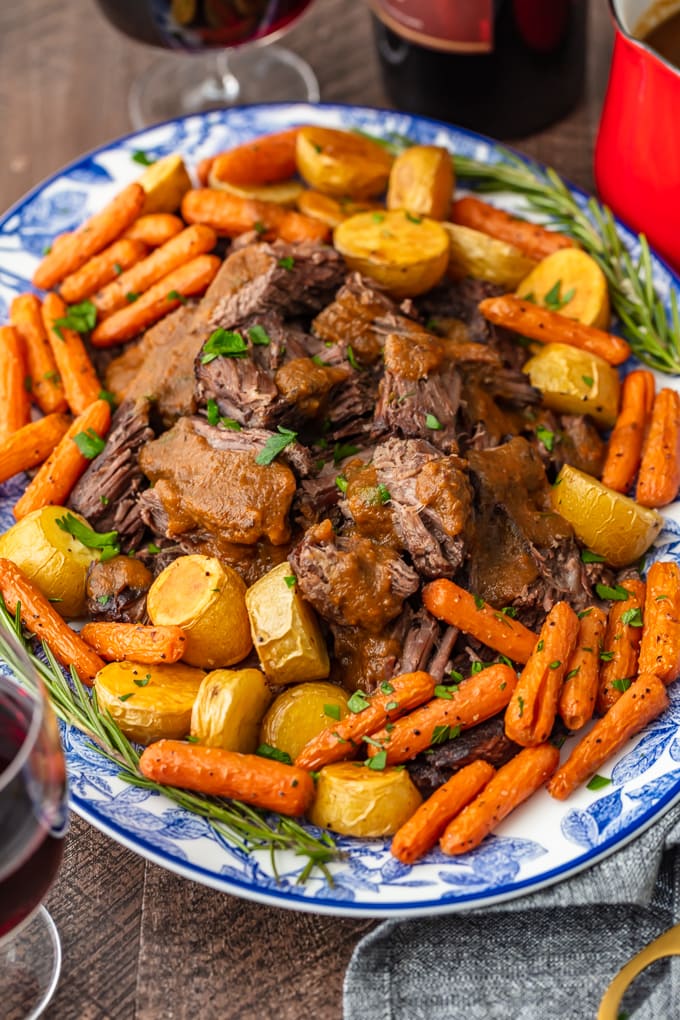 How to Cook a Pot Roast in the Oven
I've really enjoyed learning how to cook pot roast because it's such a classic. It's nice to be able to make these amazing traditional dinners for friends and family, especially during the holidays. As much as I love my easy, quick dinners, these kinds of meals always feel so special.
How to Make Red Wine Pot Roast:
Remove the roast from the fridge 30 minutes before cooking and season it generously.
Preheat oven to 275°F, and then heat butter and oil in a dutch oven on the stove top.
Place the roast in the oven for 3 minutes to sear, then flip it over and sear the other side. Then remove it from the oven and set it aside.
Add onions and carrots into the dutch oven and cook until caramelized.
Reduce the heat slightly and stir in the red wine.
Place the roast in the pot, pour beef broth over it, place herbs on top, and then cover the pot with a lid.
Roast for 3-4 hours at 275°F until meat becomes tender.
Let the pot roast rest after cooking and make the pot roast gravy.
Serve the red wine pot roast in large chunks, along with the gravy and some roasted veggies. Check the recipe card below for more detailed instructions!
How to Make Pot Roast Gravy
Once you're done cooking the pot roast and remove the meat to serve, you'll be left with a pot full of broth and juices from the meat, plus the carrots and onions you cooked along with it. This is all going to transform into the best pot roast gravy to serve with the meat.
Just use a hand blender/immersion blender, and you can blend everything together right in the pot. Make it as smooth or as chunky as you like! If you don't have an immersion blender, you can use a regular blender instead. Just let everything cool before transferring it to the blender, and then heat it up after pureeing it.
Serving Suggestions
A classic pot roast recipe just has to be served with potatoes, carrots, and other roasted vegetables. They're hearty and delicious, and hold up well against the juices and gravy from the roast. I definitely think of pot roast as a winter meal, so winter veggies just make sense.
The carrots and onions listed in this recipe are intended for cooking with the roast, and then blending into the gravy. If you want to cook veggies with the pot roast to eat as a side, just add in some carrots and potatoes during the last hour of cooking. Otherwise you can make a separate side dish to serve with it.
Here are some of my favorite side dishes to serve with Red Wine Pot Roast:
Can you freeze pot roast?
Yes, you can definitely freeze this red wine pot roast and gravy. Just store leftovers in freezer safe containers (store meat and gravy separately) for up to a couple of months. Let them thaw in the refrigerator before reheating them to serve.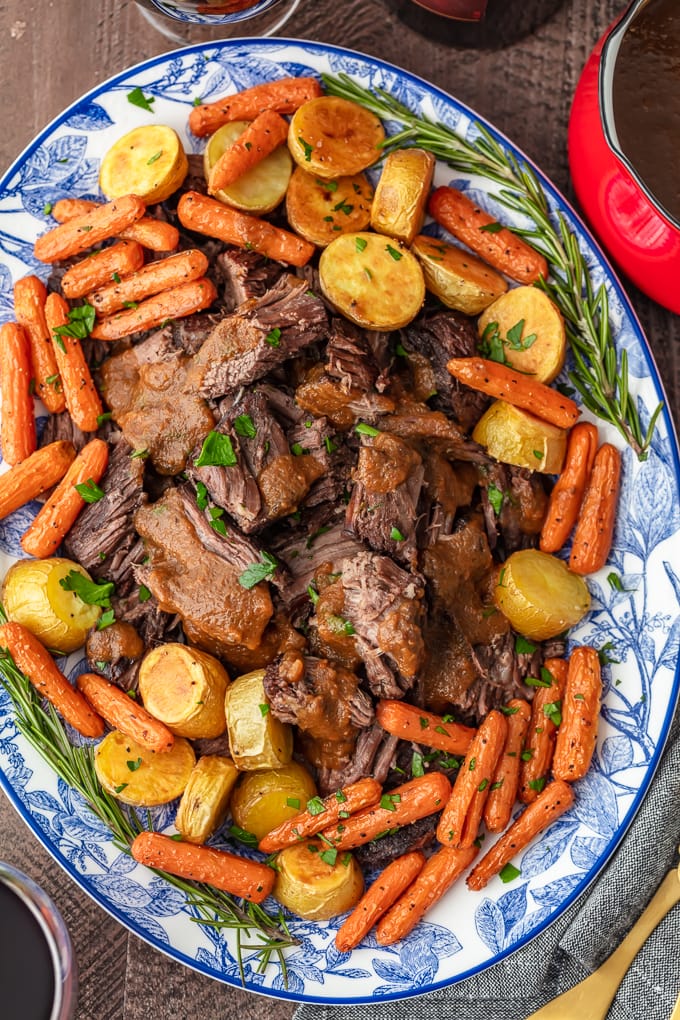 This Red Wine Pot Roast recipe is sure to be a hit for holidays or special occasions!
See the recipe card below for details on how to make Red Wine Pot Roast. Enjoy!
Try these other amazing main dish recipes: