Cod Fish Tacos are so fresh and delicious. The flavors in these Margarita Fish Tacos are off the hook! Citrus from limes, oranges, and tequila brighten the cod fish flavors and when mixed with the acidic slaw these just cannot be beat. This Cod Fish Taco Recipe is the ultimate light recipe to start off the new year. Healthy can be just as delicious as this creative Tex-Mex recipe proves.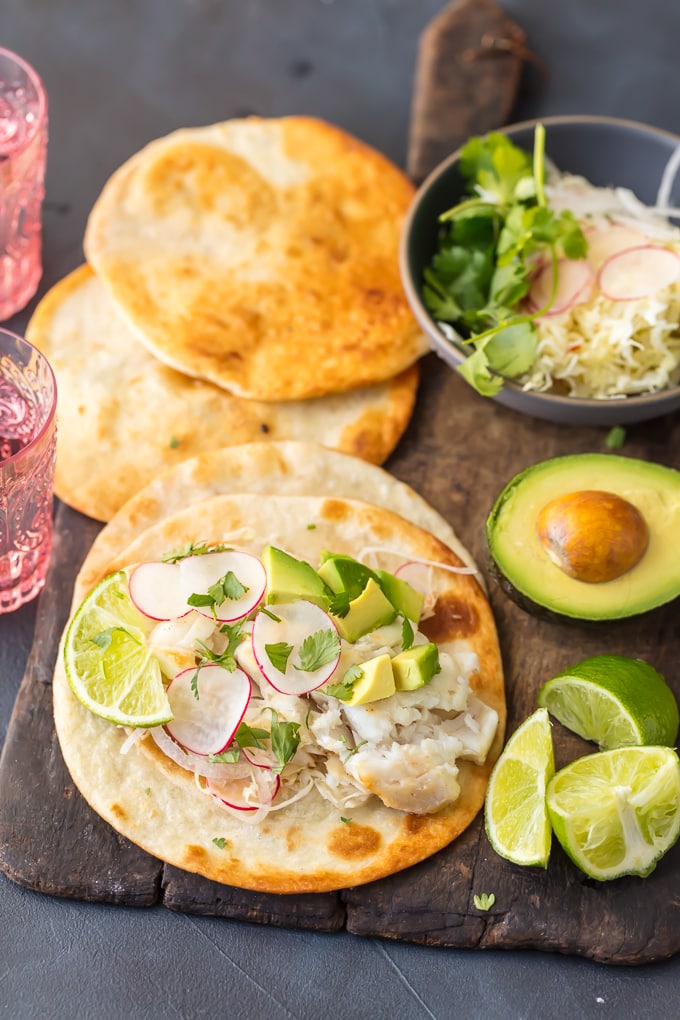 Cod Fish Tacos
This Cod Fish Tacos recipe is so good! Margarita Fish Tacos are such a fun dish to try this Cinco de Mayo.
I feel like I'm getting ready for Cinco de Mayo the entire year and now I'm adding these Cod Fish Tacos. I am a HUGE fan of Mexican cuisine and if I had to eat one type of food every meal for the rest of my life, this would be it. Nachos, tacos, fajitas, queso, rice…all of it. I know I haven't had the most authentic variety but I know that almost everything I've tried…I really love.
These Margarita Fish Tacos are so fun and flavorful! They're so pretty and bright, and they are healthy too! Cod fish tacos are the perfect tailgating meal, plus they make a great recipe for celebrating Cinco de Mayo.
Let's be honest, Margarita Fish Tacos would be an awesome dinner any night of the year (any night can be Taco Night!). I think you're going to love this recipe!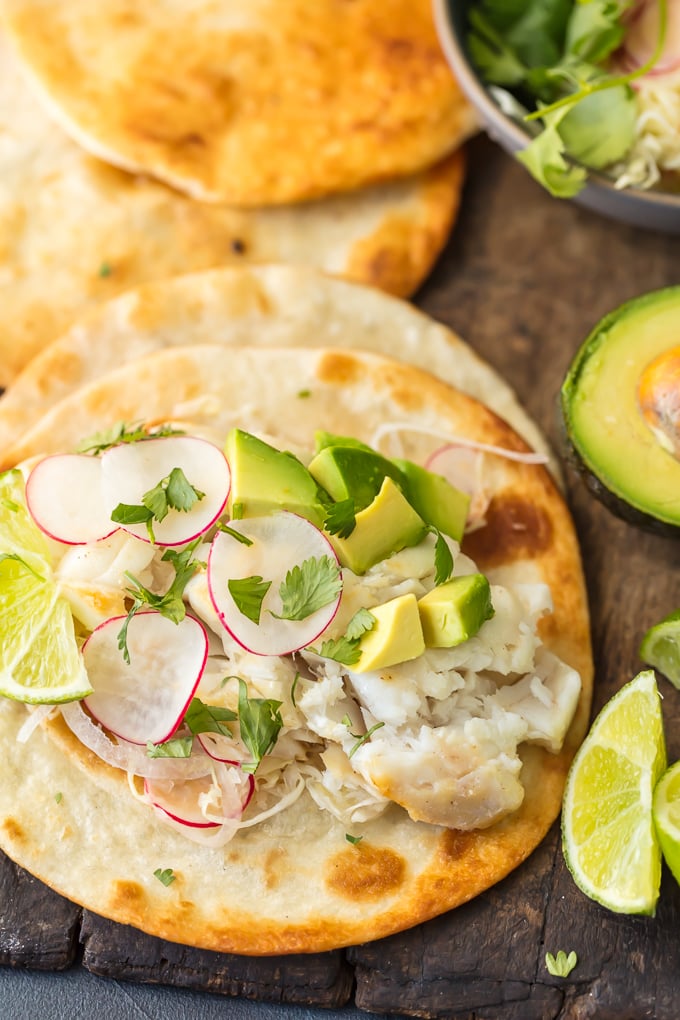 Margarita Fish Tacos with Cod
Pat has always been a huge fan of cod fish tacos while I've typically stuck to ordering old faithful: chicken tacos. He LOVES seafood and is up for trying anything. I have to say, the bright flavors of these Margarita Fish Tacos have won me over, and the ease of preparation sure isn't bad either!
I love the citrus combined with the tequila (duh) and how that marinates in the fish so that everything is extra juicy and flavorful. These cod fish tacos are such a winner for Taco Tuesday!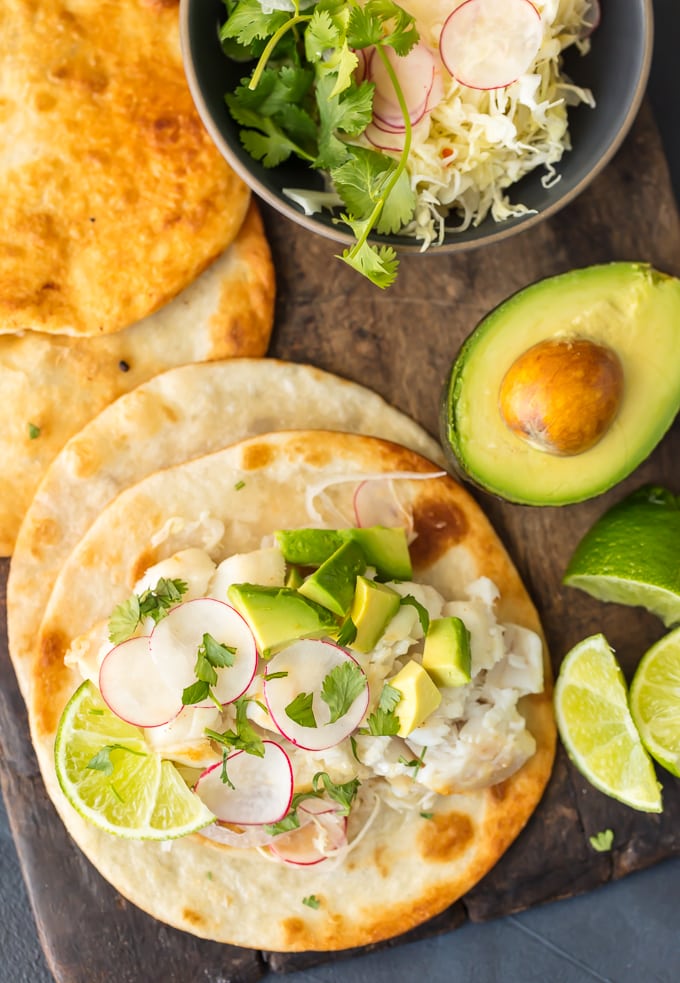 What kind of fish do you use for tacos?
You can use any type of fish you like for tacos. It's totally up to you! We made Cod Fish Tacos for this recipe and I think it's the best choice of fish for it. The tequila, lime, and orange flavors mixed with the pickled cabbage slaw in this Margarita Fish Tacos recipe really go well with cod fish.
However, you can make mahi mahi fish tacos, snapper fish tacos, or halibut fish tacos with this recipe (if you prefer).
What is a good side dish for fish tacos?
We have so many amazing Mexican and Tex-Mex inspired side dishes around here that will go perfectly with these cod fish tacos.
Tacos go well with…Margaritas!
Well this seems like the most obvious statement, but nothing goes better with this cod fish taco recipe than actual margaritas. And we have plenty of those for you to choose from:
You'll really be celebrating Cinco de Mayo when you make these delicious cod fish tacos paired with the perfect margarita! There's nothing better to pair with Fish Tacos than an amazing Margarita! We have compiled all our favorite Margarita Recipes in the ULTIMATE MARGARITA GUIDE. From classic to unique to flavored to frozen, we have you covered! Be sure to check it out today.
Make these Cod Fish Tacos for Taco Night! Check out the full Taco Tuesday Guide for more tips, ideas, and recipes.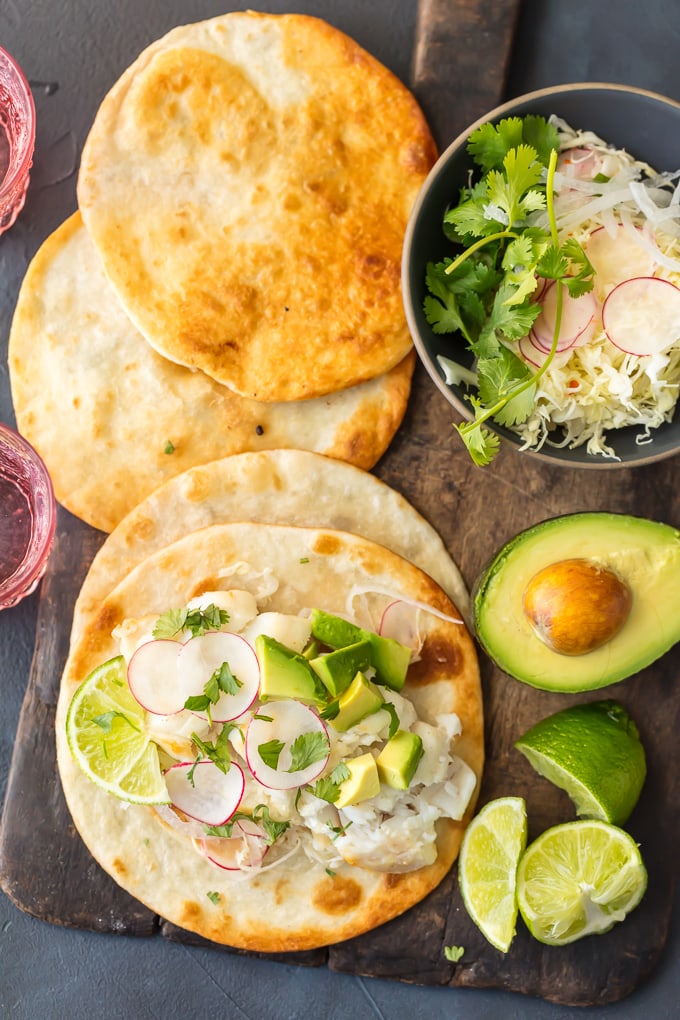 Serving Suggestions
We love to serve these cod fish tacos on lightly fried flour or corn tortillas and pile on the thinly sliced radish, red onion, cilantro, avocado, and lime juice. Keep it simple! You really want to be able to taste all the flavors working in these awesome tacos. The more minimalist the better when it comes to these babies. But of course you can add any of your favorite toppings, and a drizzle of taco sauce wouldn't hurt!
See the recipe card below for full details on How to Make Cod Fish Tacos! Enjoy.
Here are a few more recipes to try for Cinco de Mayo: