This Parmesan Crusted Tilapia recipe is coated in a cheesy, lemon pepper mixture, then oven baked until crispy. This is a simple, healthy fish recipe you'll be excited to eat! It is so flavorful, made with just a few ingredients in under 20 minutes.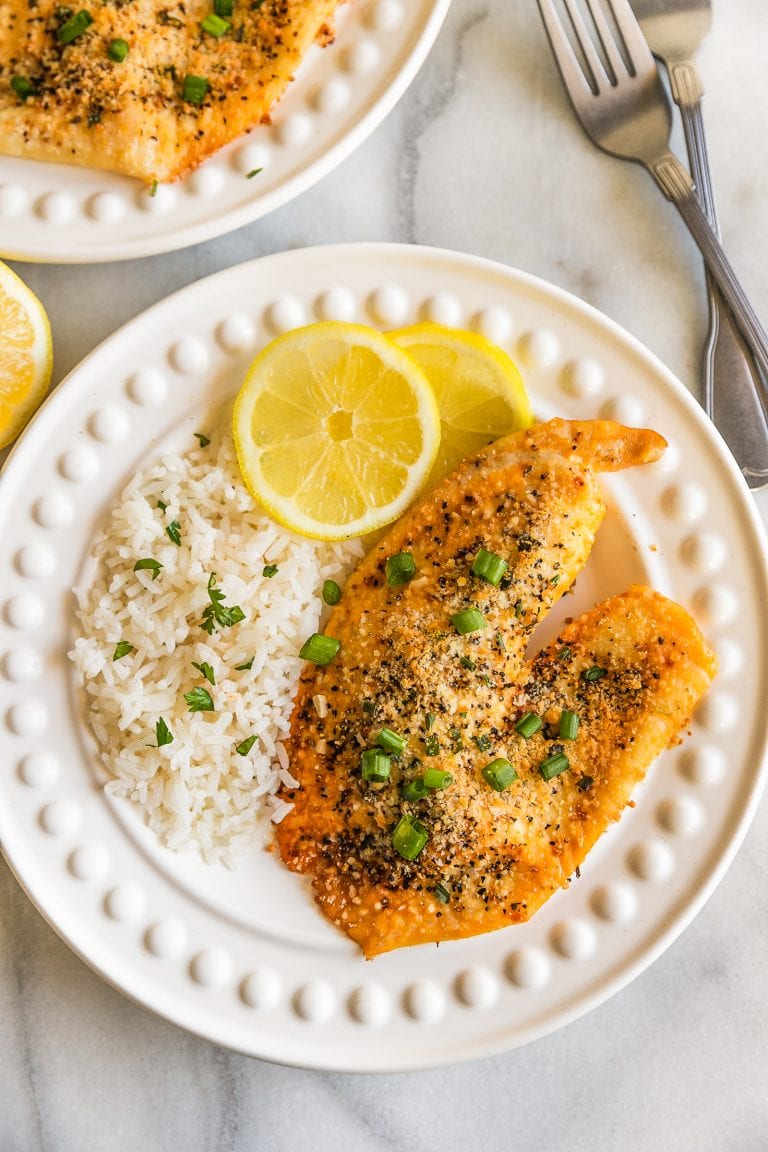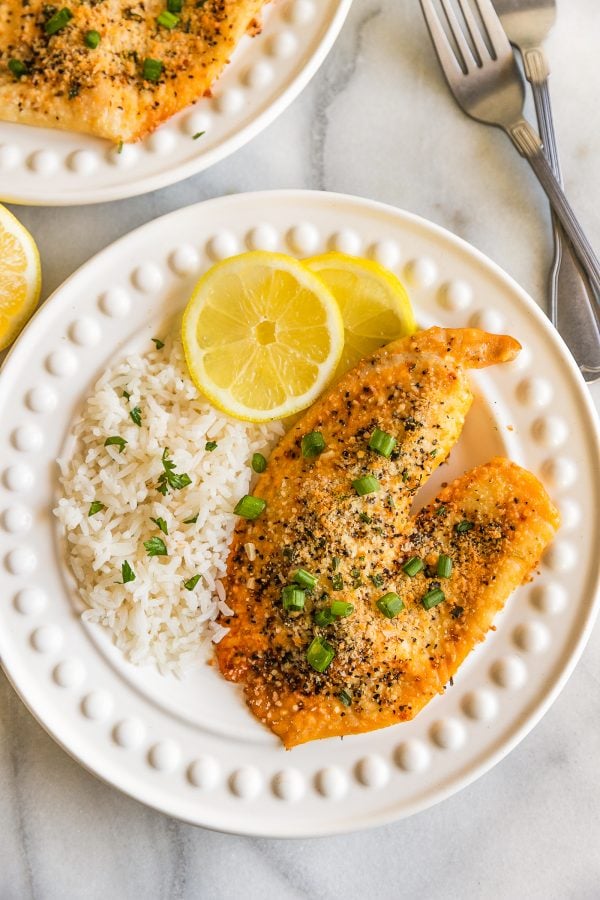 What's in this Baked Tilapia Recipe
Tilapia Filets: Use 4 oz filets. You can use fresh or frozen fish, but I do recommend thawing it if you use frozen. The better quality the fish, the better it's going to taste!
Parmesan: Use grated Parmesan cheese in the seasoning mixture–this will be pressed into the surface of the fish. Then use shredded Parmesan on top of each filet to create that crispy crust in the oven.
Seasonings: Lemon pepper adds the perfect balance of bright and spicy, without overwhelming the tilapia. There's also chopped Parsley in the mix, and you can add salt, but it's fine to skip.
Olive Oil: Your regular olive oil will work great for this recipe, but don't use EVOO.
Tilapia doesn't have much of "fishy" odor or flavor, but if that bothers you, you can soak it in milk before cooking–15 minutes should do the trick!
Switch up the flavor
It's really easy to change up the flavor of this Parmesan crusted tilapia by mixing in different seasonings, spices, and herbs to the cheese mixture.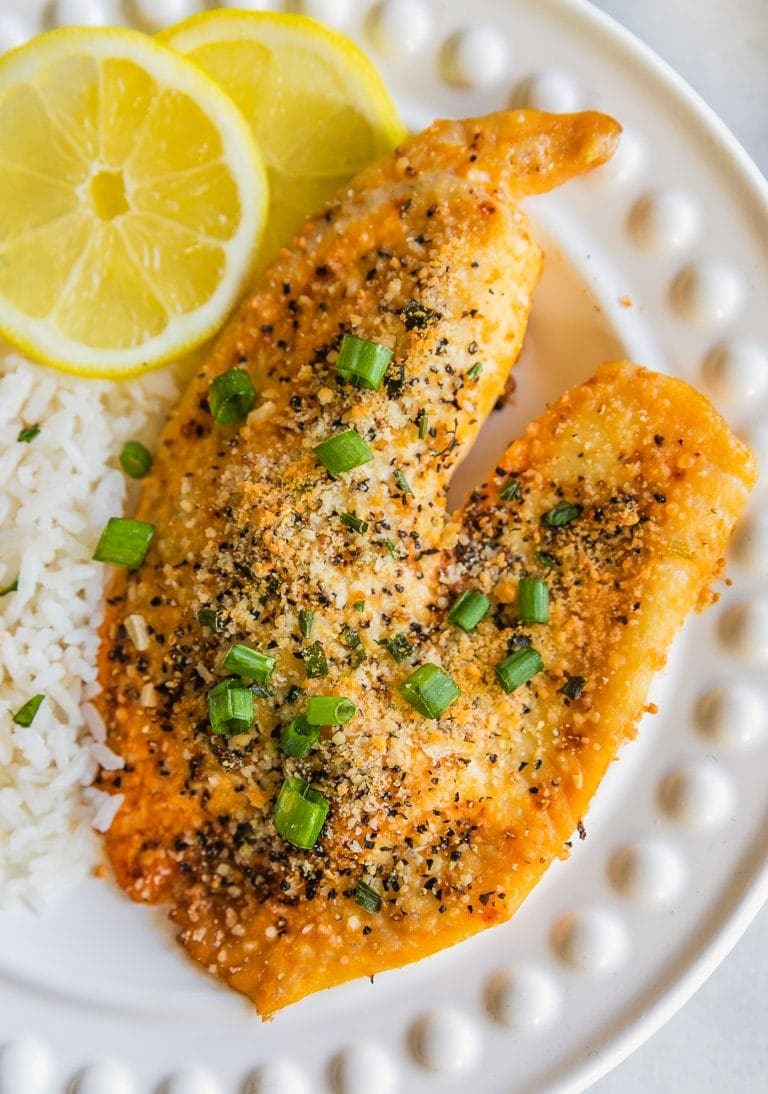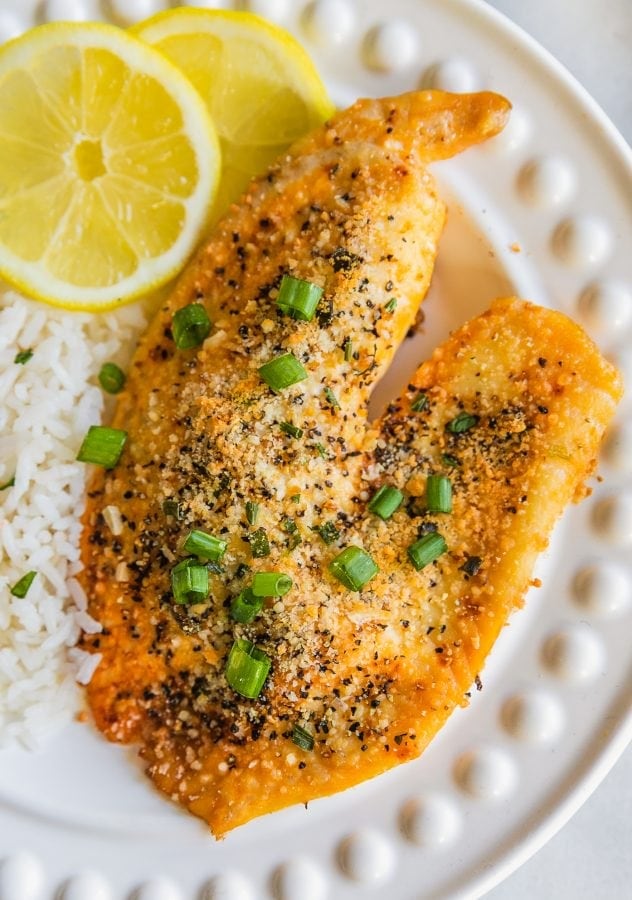 What temperature do you cook tilapia in the oven?
I recommend baking tilapia at 400F. This is ideal so that it will cook through fully relatively fast, without overcooking or burning.
Do you have to flip tilapia while baking?
No, there is no need to flip the fish filets during the cooking time.
How long does tilapia take to bake at 400F?
It should only take about 10 minutes to cook at 400F. Be sure to check for doneness.
How do you know when tilapia is done in the oven?
When cooked through, tilapia will be opaque with a white color. It should also flake easily when you test it with a fork. Check it at the thickest part of the filet.
Is tilapia healthy?
As with many fish and seafoods, tilapia is a low calorie source of protein, filled with plenty of other nutrients. It includes significant amounts of protein, omega-3 fatty acids, potassium, vitamin B12, niacin, and vitamin B6.
How can you tell if tilapia has gone bad?
You can tell that tilapia has gone bad if it develops a fishy odor or sour smell, or if it has a dull color and slimy texture.
What internal temperature should fish be cooked to?
Cook tilapia to an internal temperature of 145F.
Should I rinse tilapia before cooking?
No, according to food safety guidelines, it's not recommended that you wash any fish before cooking.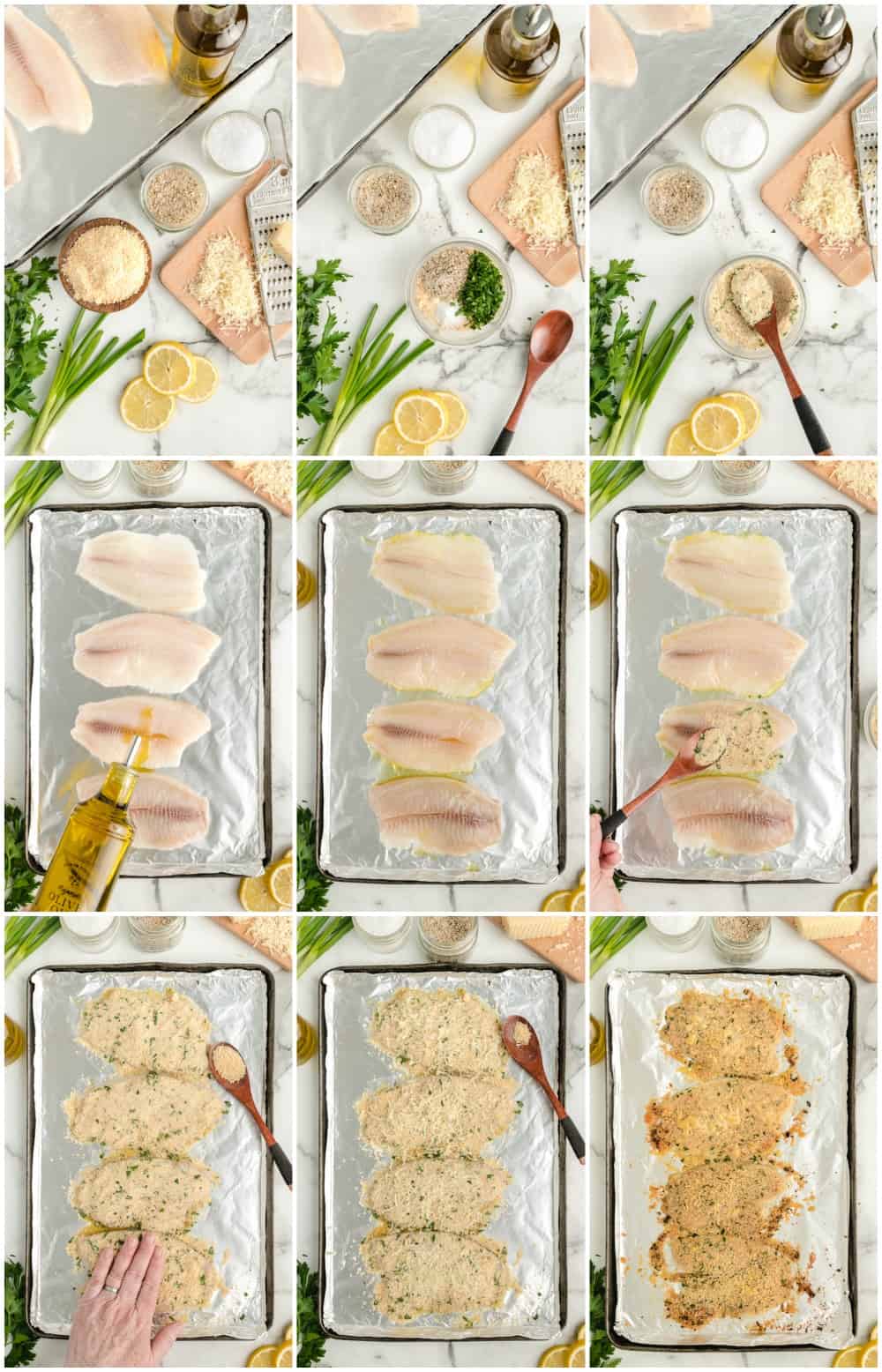 How to store parmesan crusted tilapia
Let the fish cool, then store leftovers in an airtight container or resealable bag. Then keep in the refrigerator up to 3 days.
How to freeze/reheat tilapia
Once cooled, wrap individual tilapia filets in aluminum foil. Then plate the filets in a freezer-safe bag, and freeze up to 3 months.
To reheat, I recommend thawing in the fridge first. Then heat in the oven at 400F until fully heated through.
What to serve with baked tilapia
This Parmesan crusted tilapia is so simple but still flavorful, and it makes a great main dish if you want a healthy dinner. I like to garnish it with diced green onion and lemon slices to finish off the flavor nicely.
Serve it with a side of rice, vegetables, or greens. This lemon parmesan broccoli complements the flavor perfectly. Or cook up these roasted vegetables in the Air Fryer.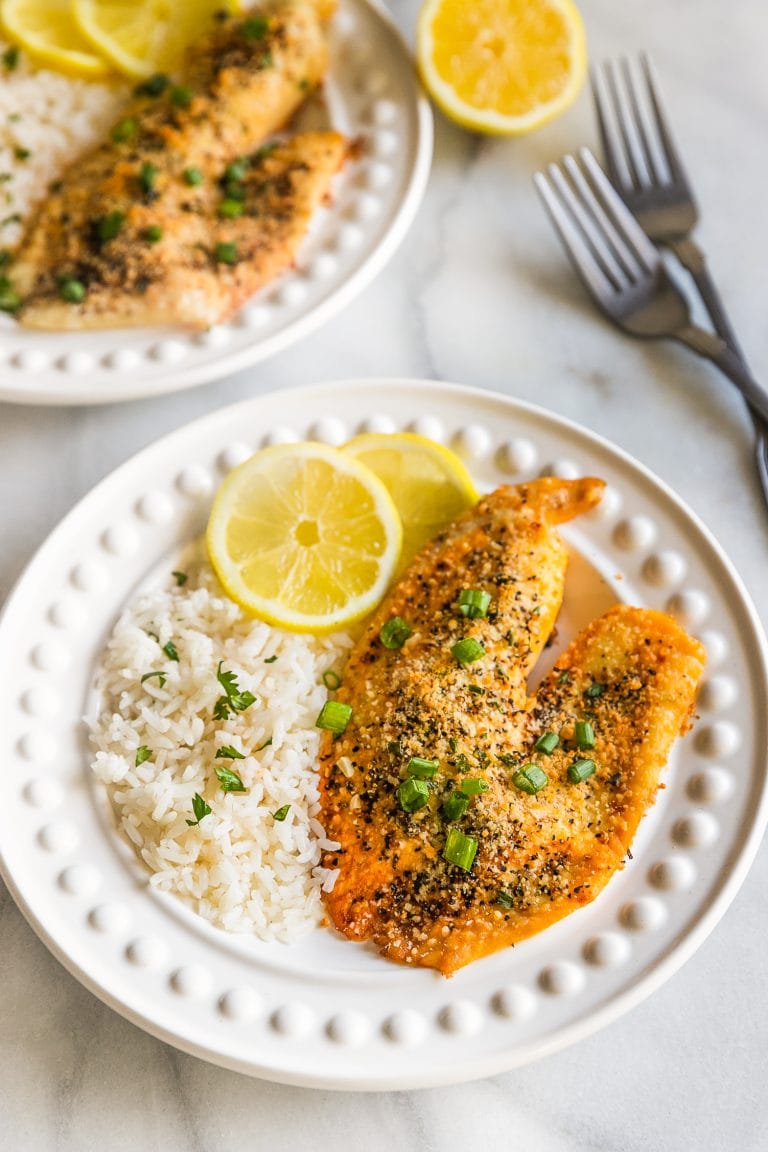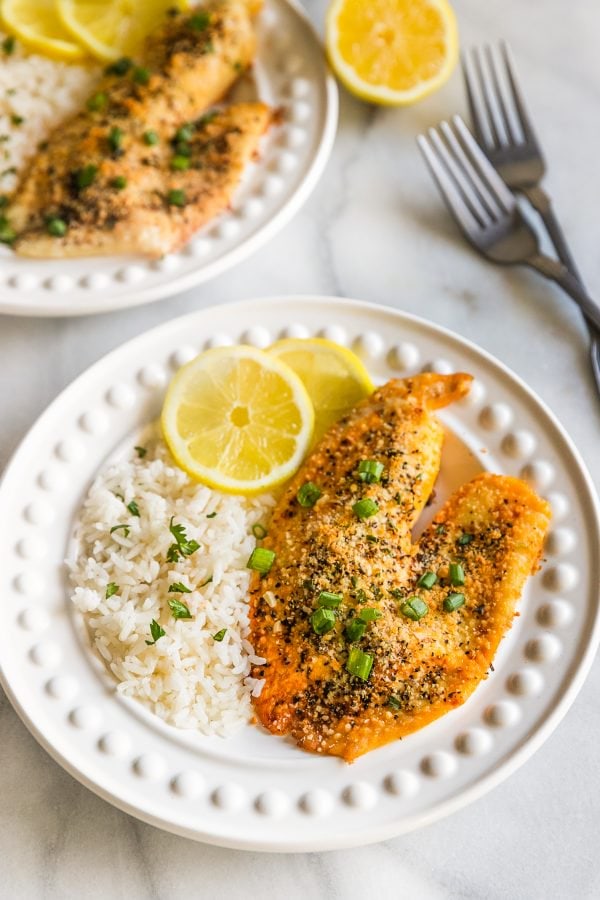 If you make this recipe be sure to upload a photo in the comment section below or leave a rating. Enjoy! You can also jump to recipe.