Parmesan Crusted Tilapia is the one of the BEST tilapia recipes we've ever tasted. This Baked Lemon Pepper Tilapia recipe is as healthy as it is delicious, and it's SUPER EASY as well! It is so flavorful and made in under 20 minutes. Best Easy Tilapia Recipe!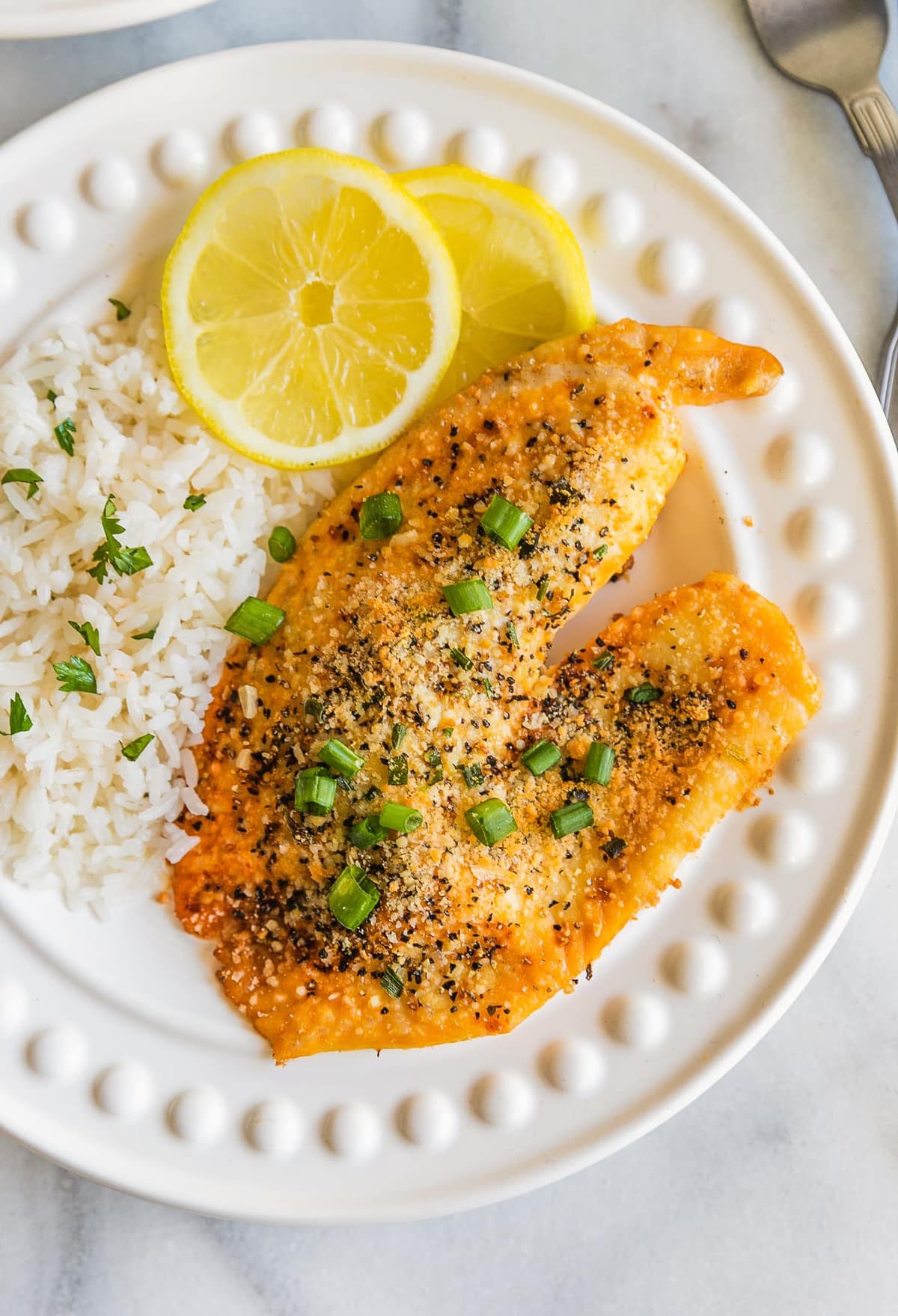 Parmesan Crusted Tilapia
This Parmesan Crusted Lemon Pepper Tilapia is one of the best baked tilapia recipe I've ever had. So delicious, healthy, and easy!
This baked Parmesan Crusted Tilapia recipe checks a lot of boxes for me. It's easy (made in under 20 minutes), healthy (under 350 calories), and SO DELICIOUS!
I have always loved seafood, especially shrimp recipes, salmon and tilapia, so I'm always looking for new EASY Seafood Recipes to add to the list. This healthy baked tilapia recipe is the perfect addition!
I've been trying to make healthier dishes lately, and its always a plus when they are easy as well. This Lemon Pepper Tilapia Recipe blew me away. Prep time and cook time COMBINED only took 15 minutes. Like I said…I'm in love.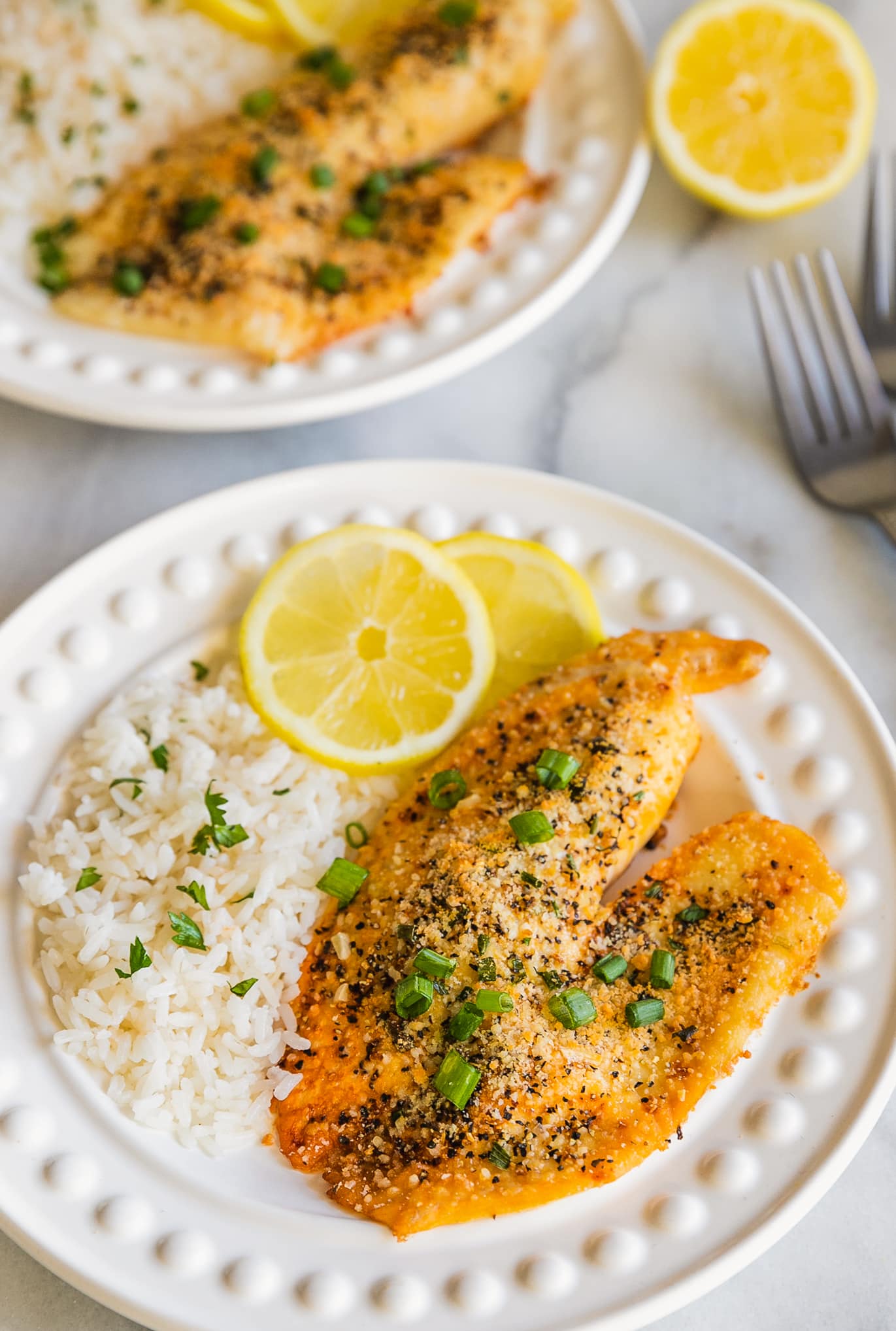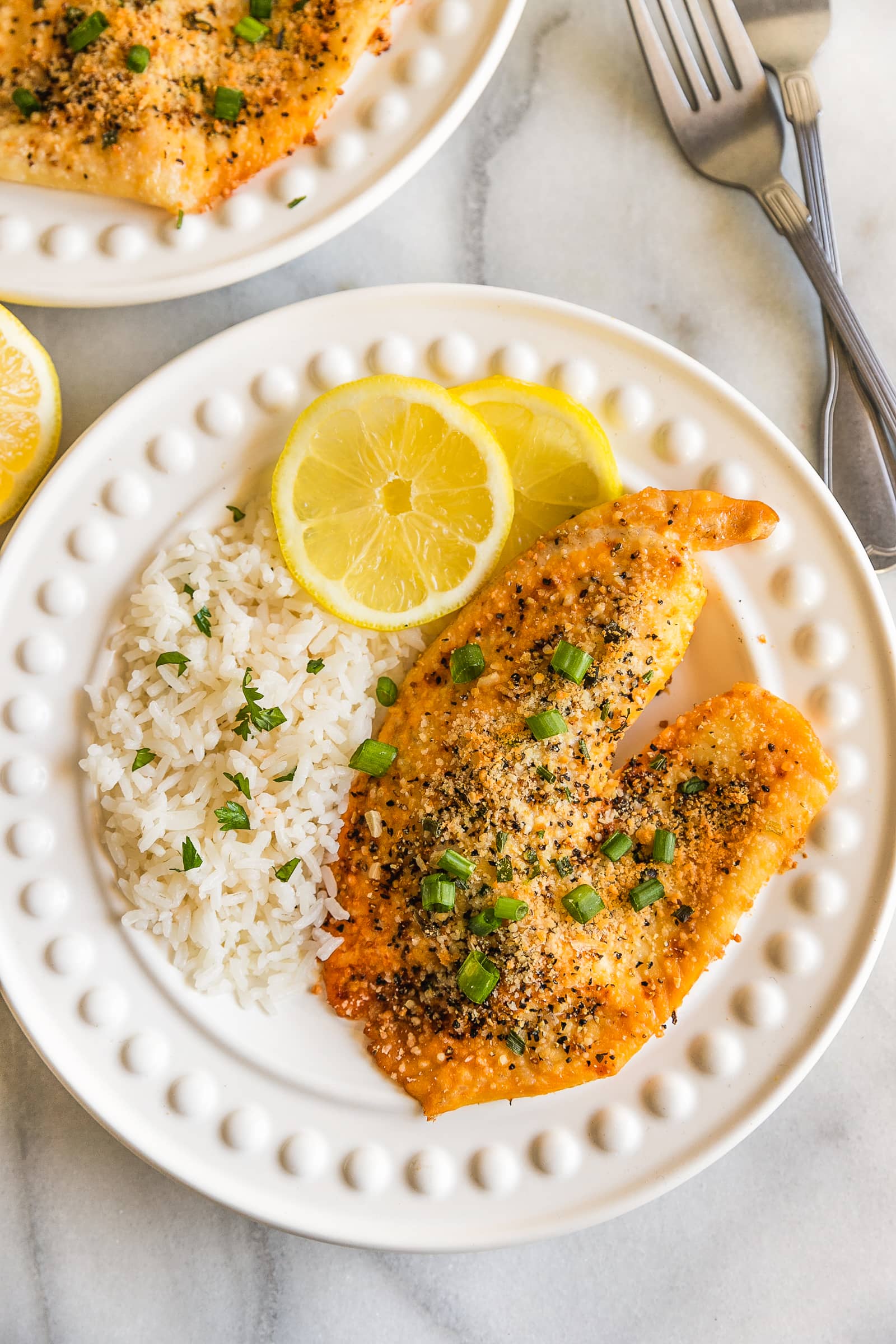 Baked Lemon Pepper Tilapia
This lemon pepper tilapia recipe is one of the tastiest and easiest fish recipes. It only takes about 15 minutes to get this cooked and on the table!
What does tilapia taste like?
Tilapia is a very mild and flakey white fish. It doesn't have a fishy taste or odor at all. I love that it has such a mild flavor that lends itself to virtually any flavor combination. So delicious!
What are the health benefits of eating tilapia?
Eating tilapia has many beneficial qualities, such as nutrients, vitamins, and minerals, including significant amounts of protein, omega-3 fatty acids, potassium, vitamin B12, niacin, and vitamin B6.
Well, wow! Don't mind if I do. I'm ready to make this HEALTHY recipe for dinner now.
How to store tilapia:
Fridge: 3-4 days
Freezer: up to 4 months
You can tell that tilapia has gone bad if it develops a fishy odor/sour smell or has a dull color/slimy texture.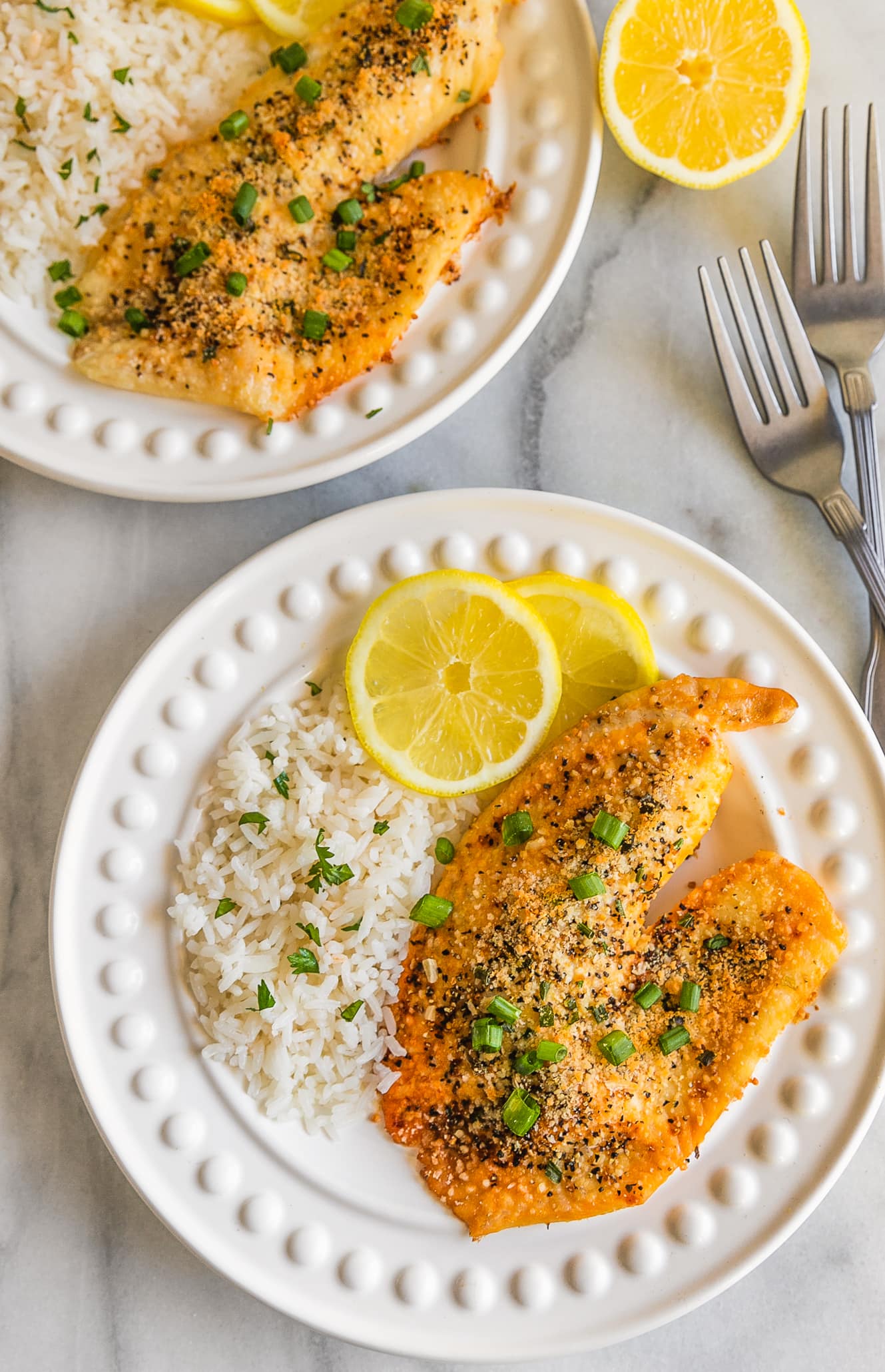 How to Cook Tilapia
Lemon Pepper Parmesan Crusted Tilapia Recipe:
Preheat the oven to 400°F.
Mix together the grated Parmesan, lemon pepper, parsley and salt. Drizzle with olive oil, then coat with the cheese mixture, pressing it in lightly with your fingers to make sure it sticks. sprinkle lightly with shredded parmesan. Transfer to foil lined baking sheet.
Bake until the fish is opaque in the thickest part, about 10 minutes.
To brown further, broil for about 5 more minutes until cheese crust is slightly crispy (watch carefully to make sure fish doesn't burn)
Top with green onions and serve and serve with lemon wedges, optional.
Be sure to see the recipe card below for full ingredients & instructions!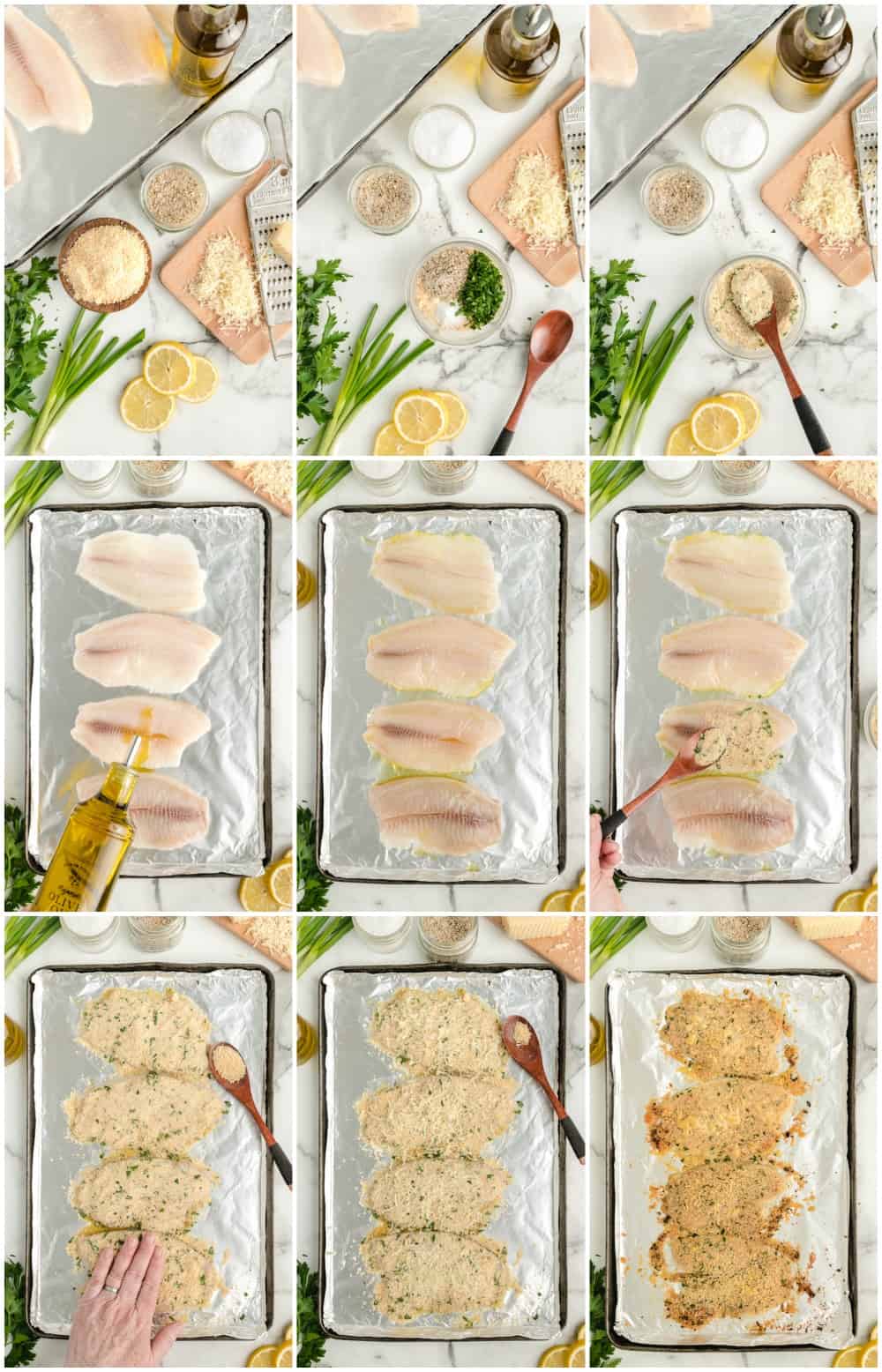 What to serve with tilapia?
The lemon pepper parmesan crust on this baked tilapia recipe is so flavorful and simple.
I tend to serve it with rice for a simple side, and it is a delicious, EASY, and healthy dinner.
This Parmesan Crusted Tilapia would also be tasty served with sides such as Brussels Sprouts, Crock Pot Potatoes, or Parmesan Broccoli.
YUM. Who knew healthy tasted this good! This is the type of recipe that makes me want to find more healthy recipes that are light on calories but not flavor.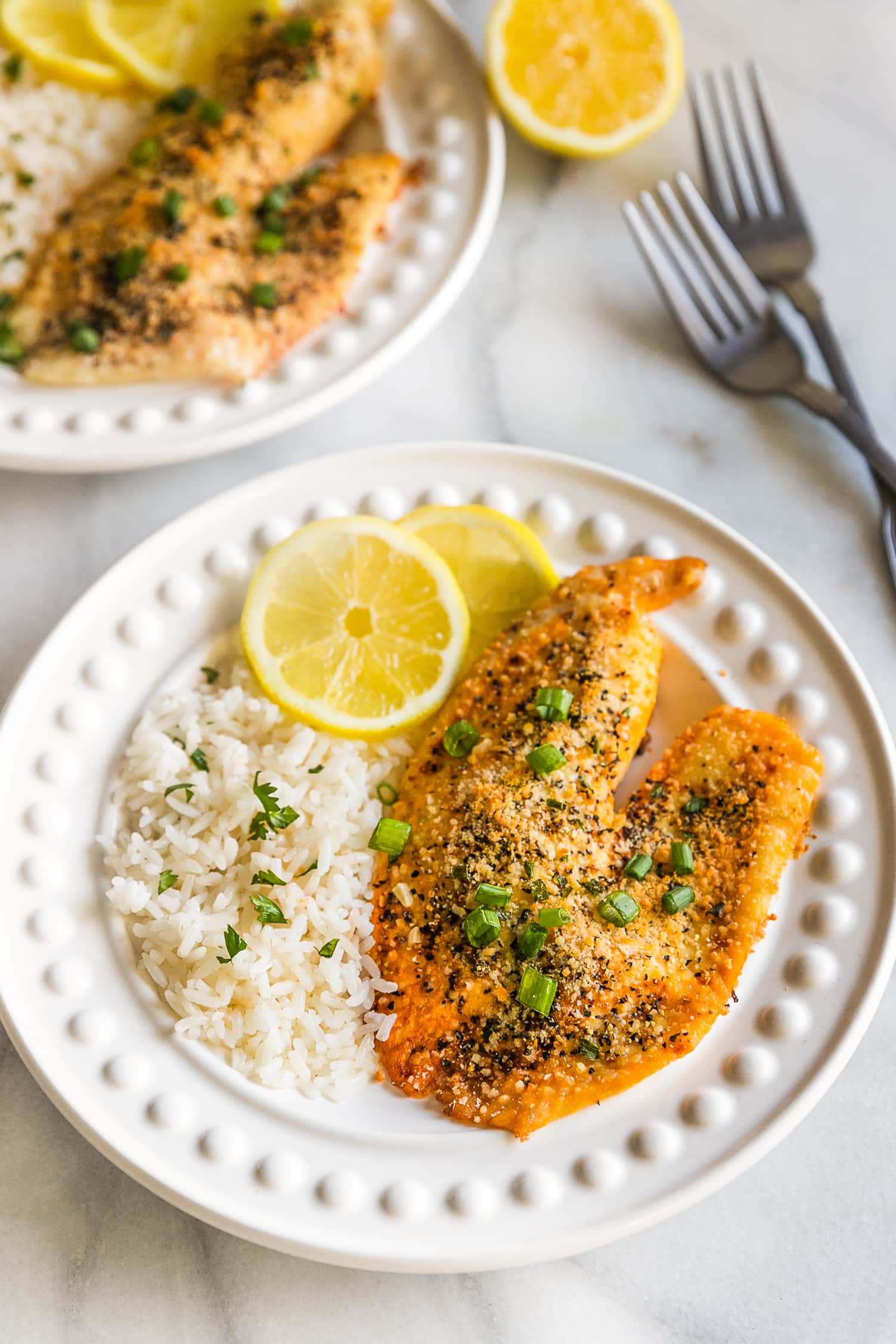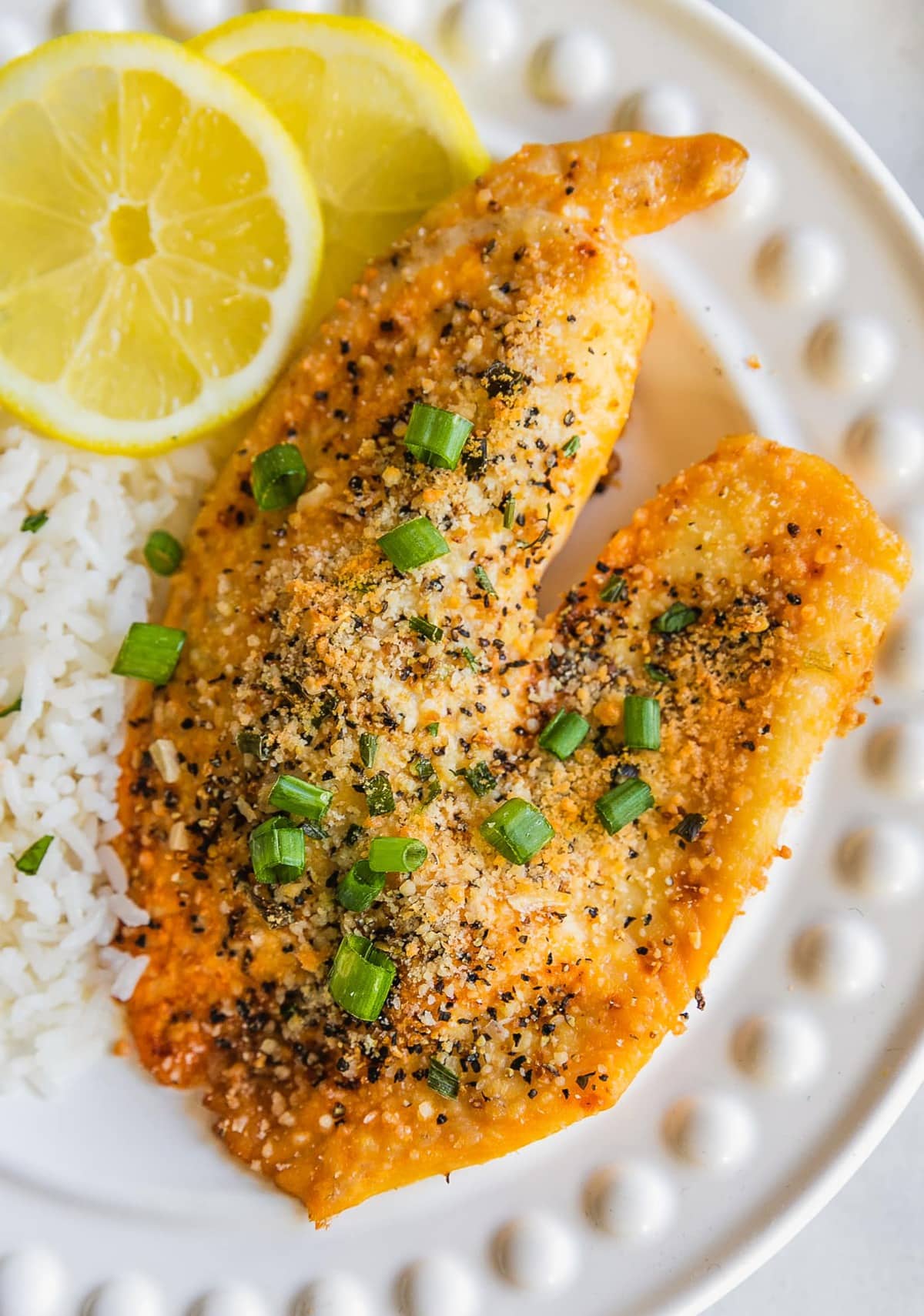 Baked Not Fried
Is it possible to love a baked recipe just as much as a fried recipe? Is it possible for baked recipes to be crispy and flavorful, just like fried recipes? The answer is absolutely yes, and we think this Baked Tilapia is the perfect example!
I hope you can make this easy parmesan crusted tilapia recipe, and then use the extra time to enjoy your family, friends, or whatever you choose! I think I'll waste mine by watching all the reality tv on my DVR.
There's always some version of the Real Housewives on my DVR that is calling my name!
I love that this is a quick and tasty seafood recipe that even the pickiest of eaters will love. This is such a mild fish, a great starter fish for someone that might not be sure they love seafood. See below for more of our seafood favorites as well!
More Seafood Recipes we Love
This Baked Fish is one of our favorite tilapia recipes, but it's just one of many favorite seafood recipes! Be sure to try them all.
See All Seafood
If you make this Tilapia be sure to let us know by uploading a photo below or leaving a rating! Hope you love it.