My Parmesan Crusted Tilapia recipe is coated in a cheesy lemon pepper mixture then oven-baked until crispy. This is a simple, healthy fish recipe you'll be excited to eat! It is so flavorful, made with just a few ingredients in under 20 minutes.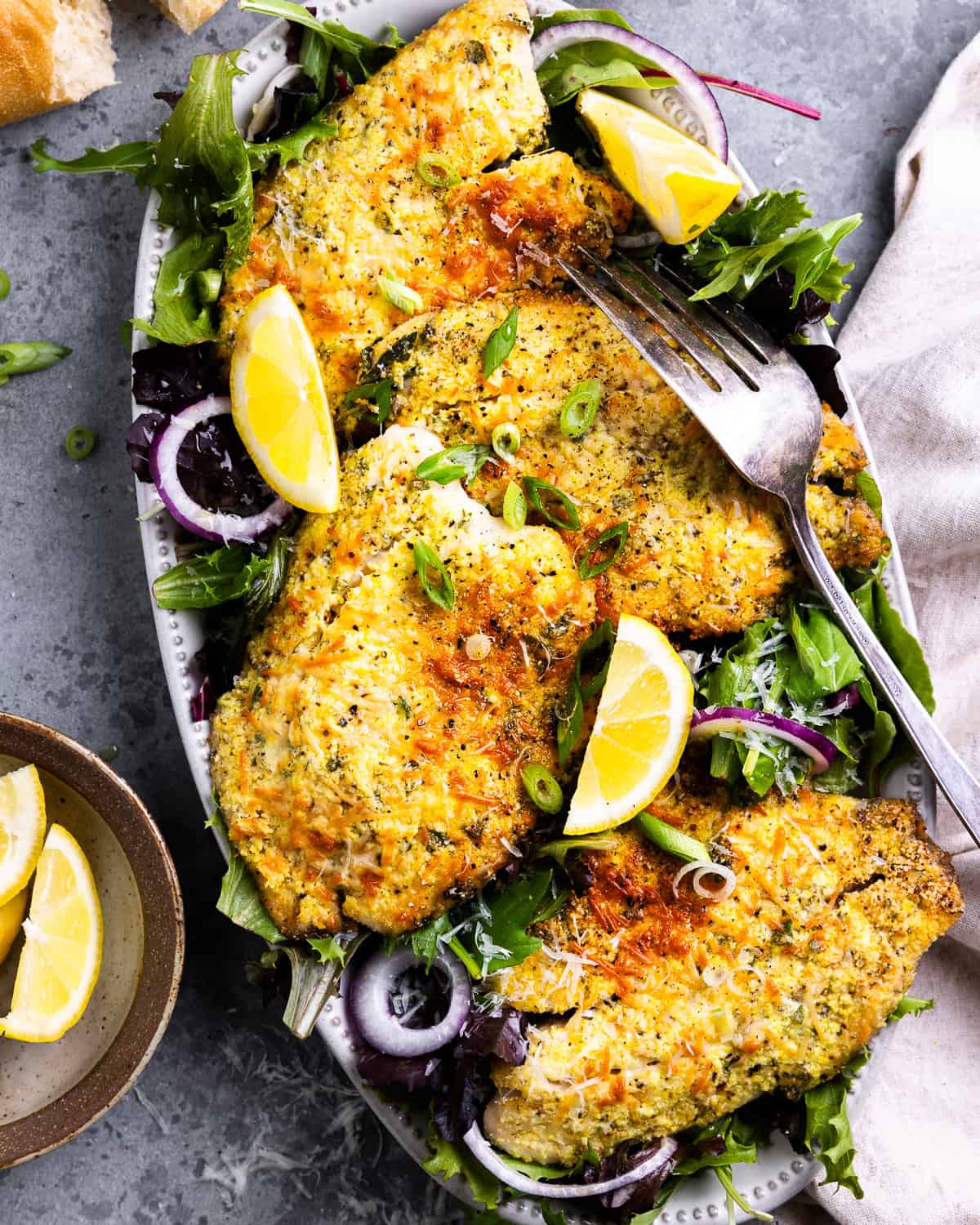 What's in Lemon Pepper Tilapia?
Sweet and mild tilapia filets are seasoned with tangy lemon pepper and Parmesan cheese then baked to crispy perfection in the oven.
Tilapia Filets: Use 4 oz filets. You can use fresh or frozen fish, but I do recommend thawing it if you use frozen. The better quality the fish, the better it's going to taste!
Parmesan: Use grated Parmesan cheese in the seasoning mixture–this will be pressed into the surface of the fish. Then use shredded Parmesan on top of each filet to create that crispy crust in the oven.
Seasonings: Lemon pepper adds the perfect balance of bright and spicy, without overwhelming the tilapia. There's also chopped Parsley in the mix, and you can add salt, but it's fine to skip.
Olive Oil: Your regular olive oil will work great for this recipe, but don't use EVOO.
Pro Tip: Tilapia doesn't have much of "fishy" odor or flavor, but if that bothers you, you can soak it in milk before cooking– 15 minutes should do the trick!
Variations on Parmesan Tilapia
It's really easy to change up the flavor of this lemon pepper tilapia by mixing in different seasonings, spices, and herbs to the cheese mixture.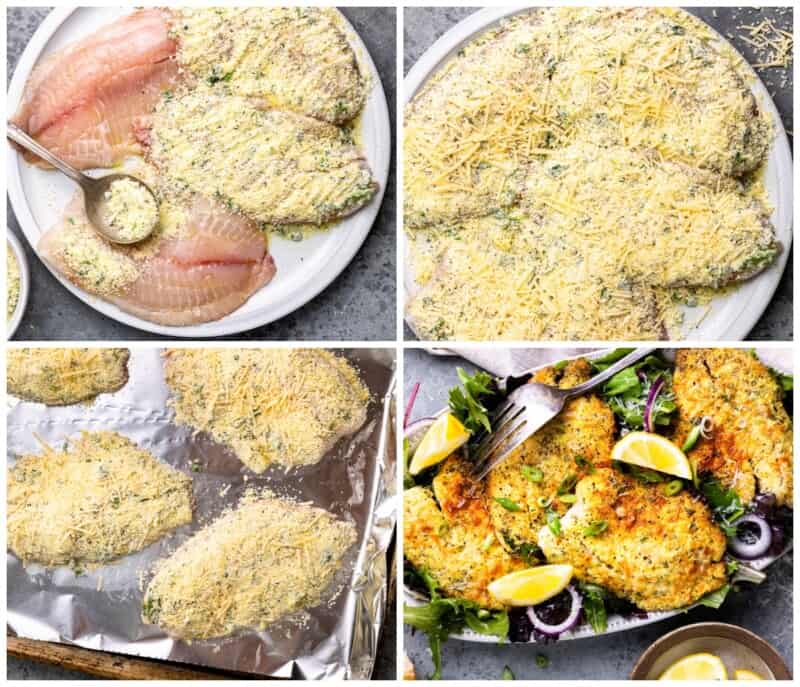 Is tilapia a healthy fish to eat?
As with many fish and seafoods, tilapia is a low-calorie source of protein, filled with plenty of other nutrients. It includes significant amounts of protein, omega-3 fatty acids, potassium, vitamin B12, niacin, and vitamin B6.
Should tilapia be marinated before cooking?
There's no need to marinate this tender, flaky fish, as it is quite mild and takes on flavoring well. Plus, acidic ingredients often found in marinades can make tilapia turn mushy.
How do you know when tilapia is done in the oven?
When cooked through, tilapia will be opaque with a white color. It should also flake easily when you test it with a fork. Check it at the thickest part of the filet, and it should read 145°F on an instant-read thermometer.
Why is my baked tilapia mushy?
Although it is a low-moisture fish, tilapia can still turn mushy. Be sure to pat it dry before baking, and don't marinate it in acidic ingredients, as they can break down the meat too much.
Why does my tilapia taste fishy?
Most seafood contains a compound called trimethylamine oxide which is responsible for that "fishy" taste and odor. Tilapia tends not to taste fishy, but if you're concerned about it, you can soak the raw fish in milk for a bit before breading it to neutralize the flavor.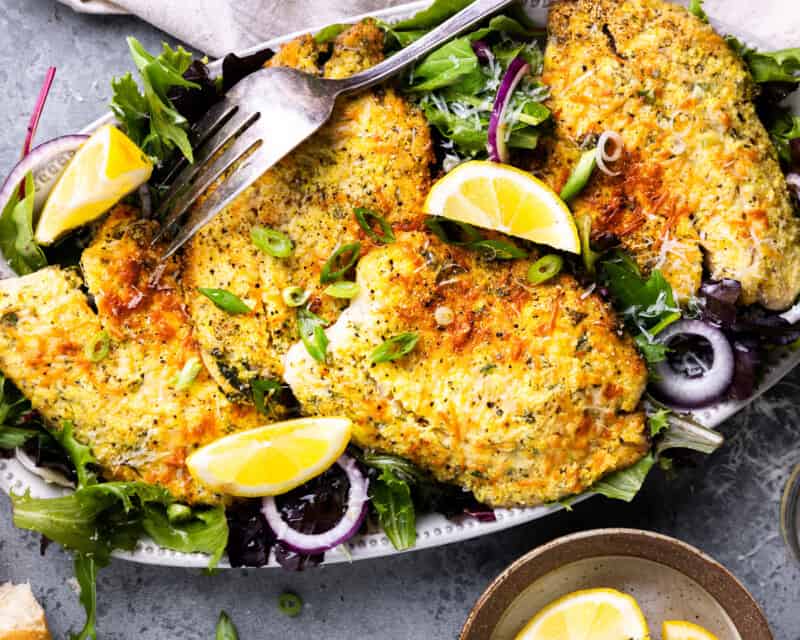 How to Store and Reheat
Store leftover Parmesan crusted tilapia in an airtight container in the refrigerator for up to 3 days. Reheat in a 275°F oven until warmed through.
How to Freeze
To freeze, wrap individual tilapia filets in aluminum foil, place them in a Ziplock bag, and freeze for up to 3 months. Let thaw overnight in the refrigerator before reheating.
Serving Suggestions
These Parmesan crusted tilapia filets are so simple but still flavorful, and they make a great main dish if you want a healthy dinner. I like to garnish tilapia with diced green onion and lemon slices to finish off the flavor nicely.
Serve it over a bed of salad greens (pictured) or with a side of white rice, Parmesan polenta, or Parmesan roasted potatoes. This lemon Parmesan roasted broccoli complements the flavor perfectly.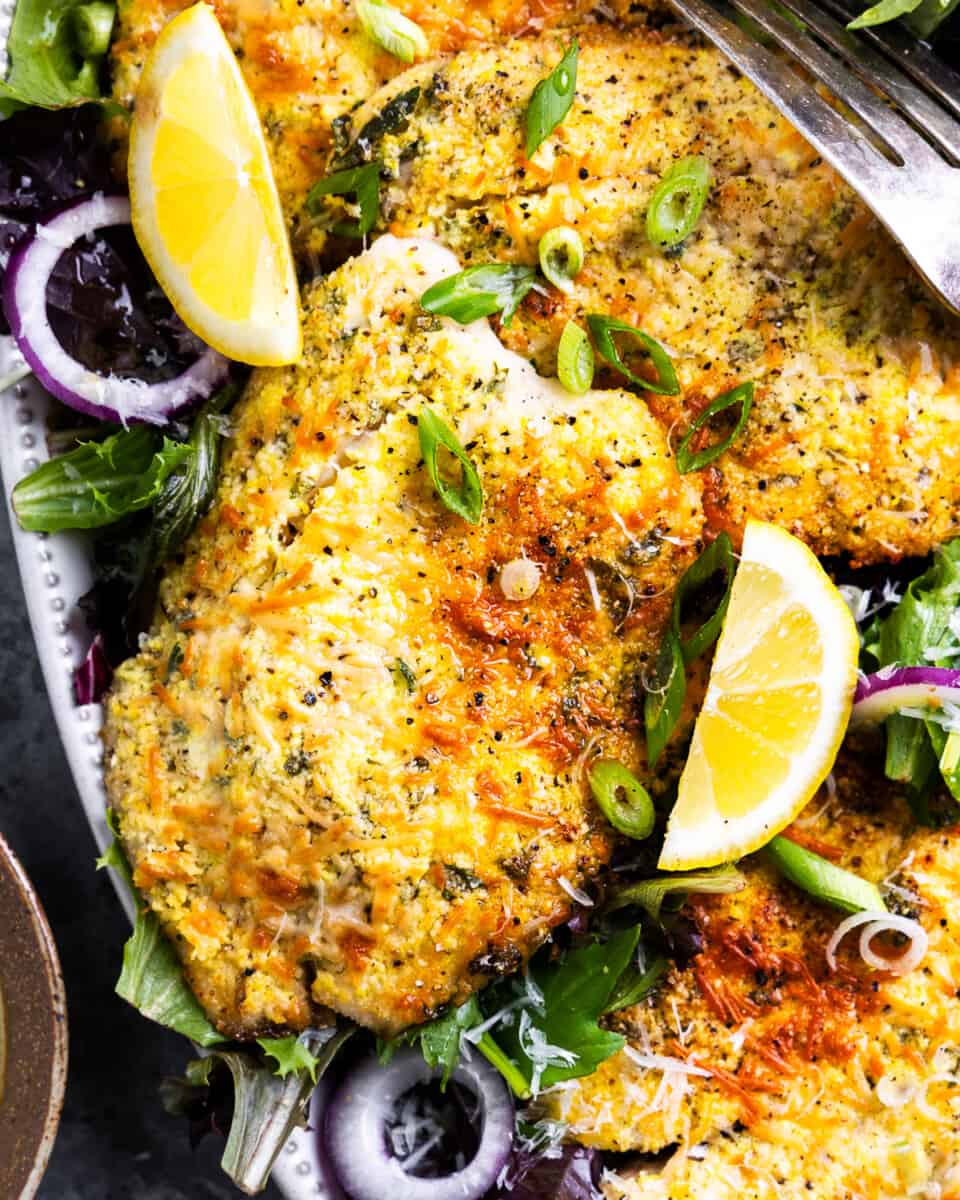 More Crusted Fish Recipes We Love