Seafood Lasagna was a total hit in our house. Full of flavor, beautiful, and fool-proof. Layers of noodles, cheese, crab, shrimp, and more! So delicious! You might think seafood and cheese don't mix, but I hope you give this easy seafood recipe a try! This Seafood Lasagna Recipe is a must-make for any seafood lover. It's a total winner that our entire family loves!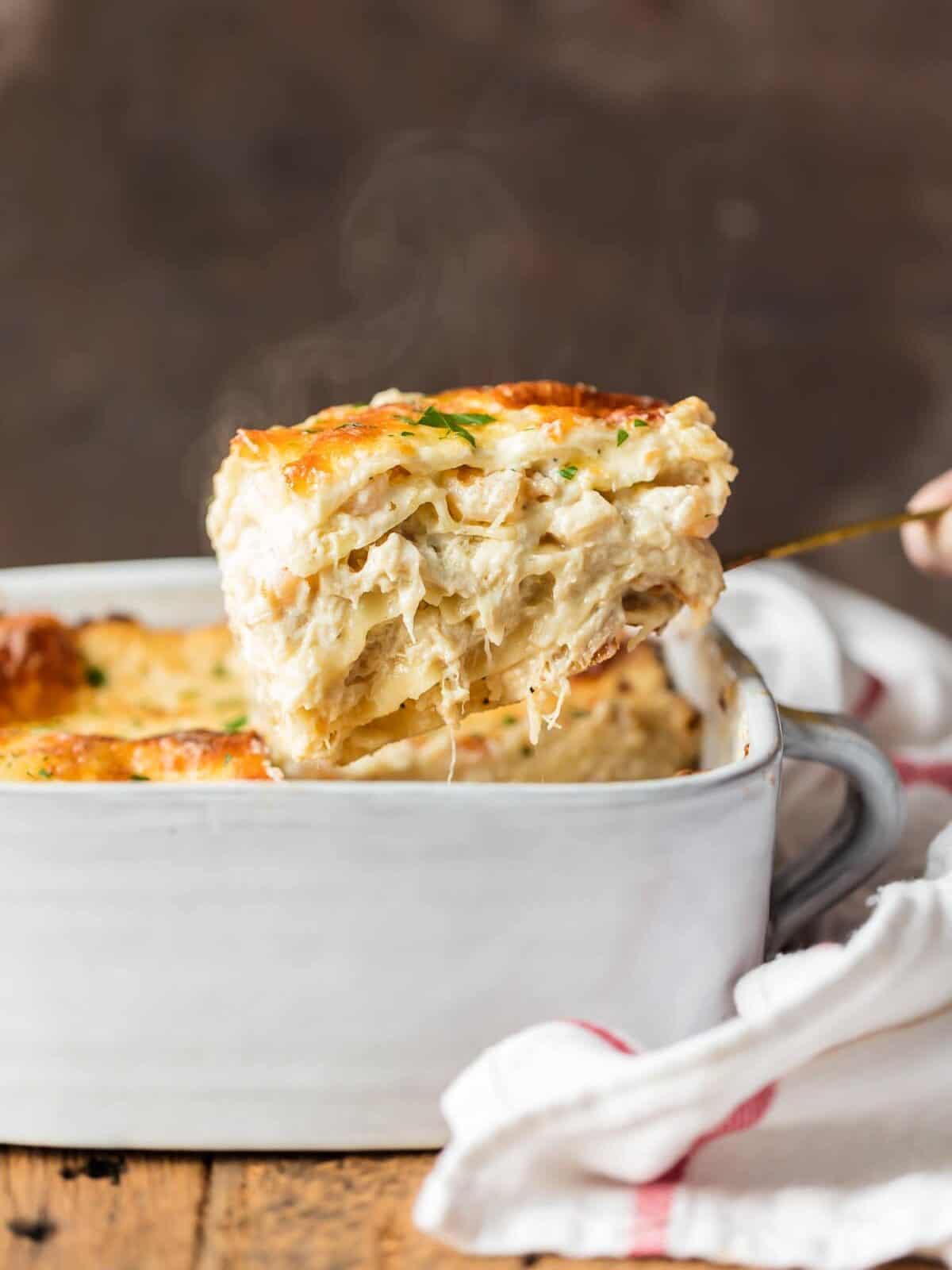 What's in this Seafood Lasagna Recipe?
This is the kind of meal you pay top dollar for at your favorite seafood grill. Layers of crab, shrimp, and scallops, oh my! Its just too good to be true.
Canola Oil: Helps the veggies sear without burning. Any neutral oil works.
Unsalted Butter: Adds rich, creamy flavor to the sauce.
Green Onions: Lighter in flavor than traditional onions, these complement shellfish super well!
Garlic: Adds a bit of earthiness.
Chicken Broth: Forms the base of the sauce and helps the seafood cook gently.
Clam Juice: Adds a distinctive seafood flavor. You can sub with more chicken broth if you prefer.
Seafood: A combination of bay scallops, shrimp, and crabmeat makes this lasagna hearty and delicious!
Black Pepper: Adds a touch of spice.
All-Purpose Flour: Helps thicken the sauce.
Half-and-Half: Makes the sauce creamy.
White Wine: Cuts the creaminess of the sauce and enhances the seafood flavors. You'll want to use a semi-dry to dry white wine, not a sweet one!
Kosher Salt: Enhances the flavors of the dish.
Crushed Red Pepper Flakes: Adds a slight kick!
Cheese: Parmesan, Italian blend, and mozzarella cheese are light enough in flavor to complement the seafood without overpowering it.
Lasagna Noodles: You'll need oven-ready, no-boil noodles to separate the layers.
Pro Tip: The quality of the seafood you use will impact the overall taste of the dish. Fresh or high-quality frozen seafood will give the lasagna a better flavor.
Variations on Seafood Lasagne
This seafood lasagna is absolutely delicious as is, but here are a few ways to change it up just a bit!
Substitute the crab meat in the recipe with slightly sweeter lobster meat.
Add spinach and ricotta cheese to the layers of the seafood lasagna for an even creamier lasagna with healthy greens!
Use salmon in place of the crab meat or shrimp. This gives the lasagna a rich and buttery flavor.
Try making this lasagna with Alfredo sauce. It's similar to the bechamel here, but it has a slightly cheesier flavor.
Add artichoke hearts to the layers of the lasagna. The tanginess of the artichokes complements the sweetness of the crab.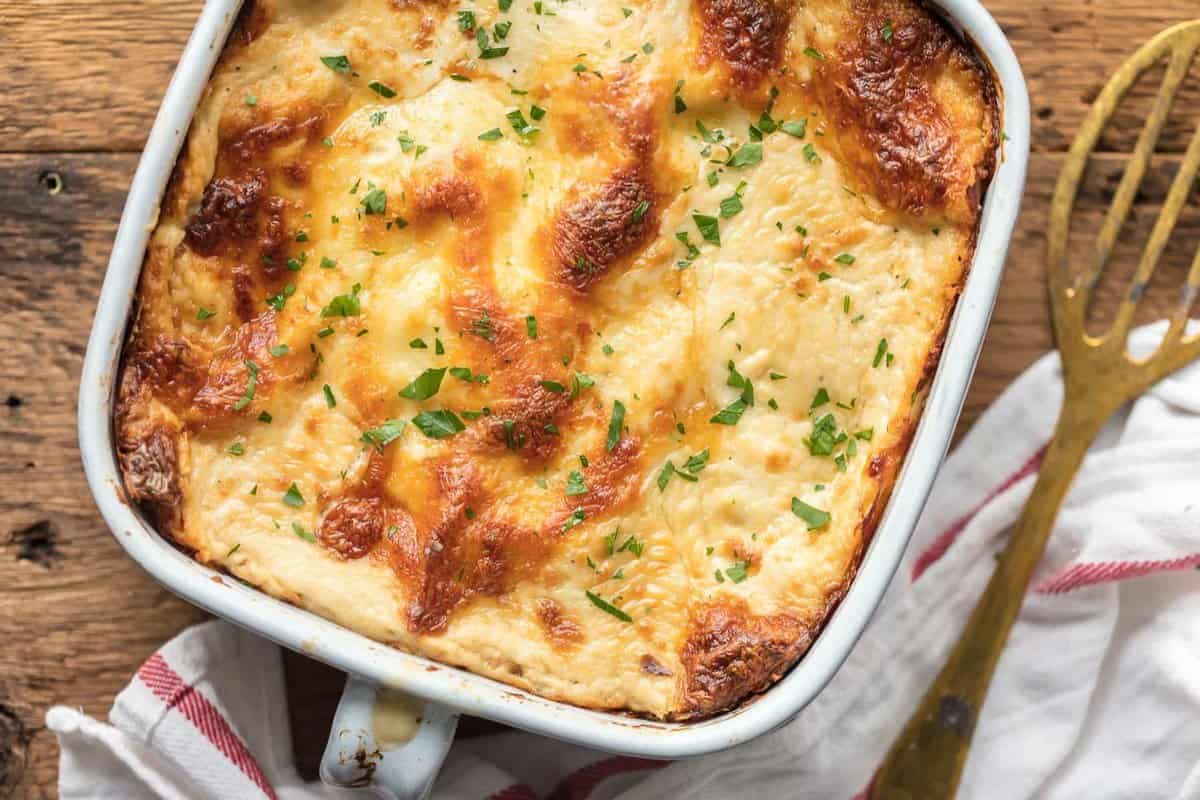 Can I use frozen seafood?
Absolutely! Just make sure to thaw it completely and remove any excess water before using it in the recipe.
Can I make it ahead of time?
Seafood lasagna can be made ahead of time and refrigerated or frozen. Just make sure to cover it tightly with foil or plastic wrap before storing it in the fridge or freezer.
Can I use other types of seafood?
Yes, you can substitute the type of seafood used in the recipe to your preference. Just make sure to adjust the cooking time for the seafood accordingly.
Can I make this lasagna without cheese?
Yes, you can make seafood lasagna without cheese if you have dietary restrictions or prefer not to use cheese.
How do I prevent my seafood lasagna from being too watery?
To prevent your seafood lasagna from being too watery, make sure to drain excess liquid from the seafood before adding it to the recipe. You can also use less sauce and bake the lasagna uncovered for the last 10-15 minutes of baking time to allow the excess liquid to evaporate.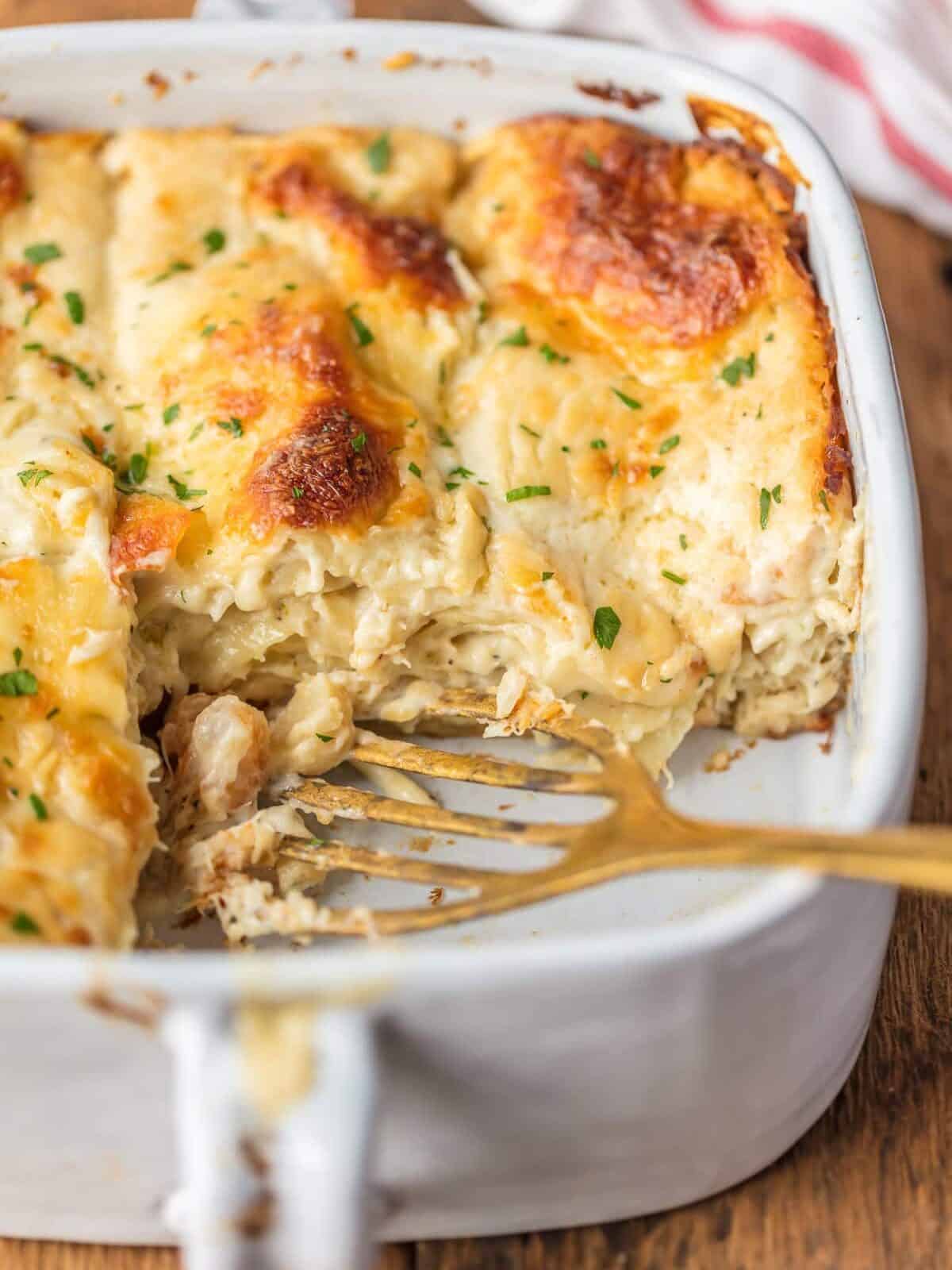 How to Store and Reheat
Store leftover lasagna wrapped tightly in plastic wrap or aluminum foil in the refrigerator for up to 3 days.
Reheat in a 350°F oven covered with foil for 20-30 minutes, or until warmed through. Remove the foil and bake for an additional 5-10 minutes to brown the cheese on top, if desired.
How to Freeze
Freeze seafood lasagna tightly wrapped in 2 layers of plastic wrap and 1 layer of aluminum foil for up to 3 months. Let thaw overnight in the refrigerator before reheating.
Serving Suggestions
Pair this seafood lasagna recipe with some amazing white wine and you'll really be in business. If your dinner guests love seafood, this is a great recipe to serve a crowd. It always impresses! I love it with a side of garlic bread and a light and fresh salad or roasted veggies!
More Lasagna Recipes We Love