Seafood Lasagna Recipe (Cheesy Lasagna Recipe)
CHEESY SEAFOOD LASAGNA was a total hit in our house. Full of flavor, beautiful, and fool-proof. Layers of noodles, cheese, crab, shrimp, and more! SO DELICIOUS! You might think seafood and cheese don't mix, but I hope you give this easy seafood recipe a try! It's a total winner that our entire family loves!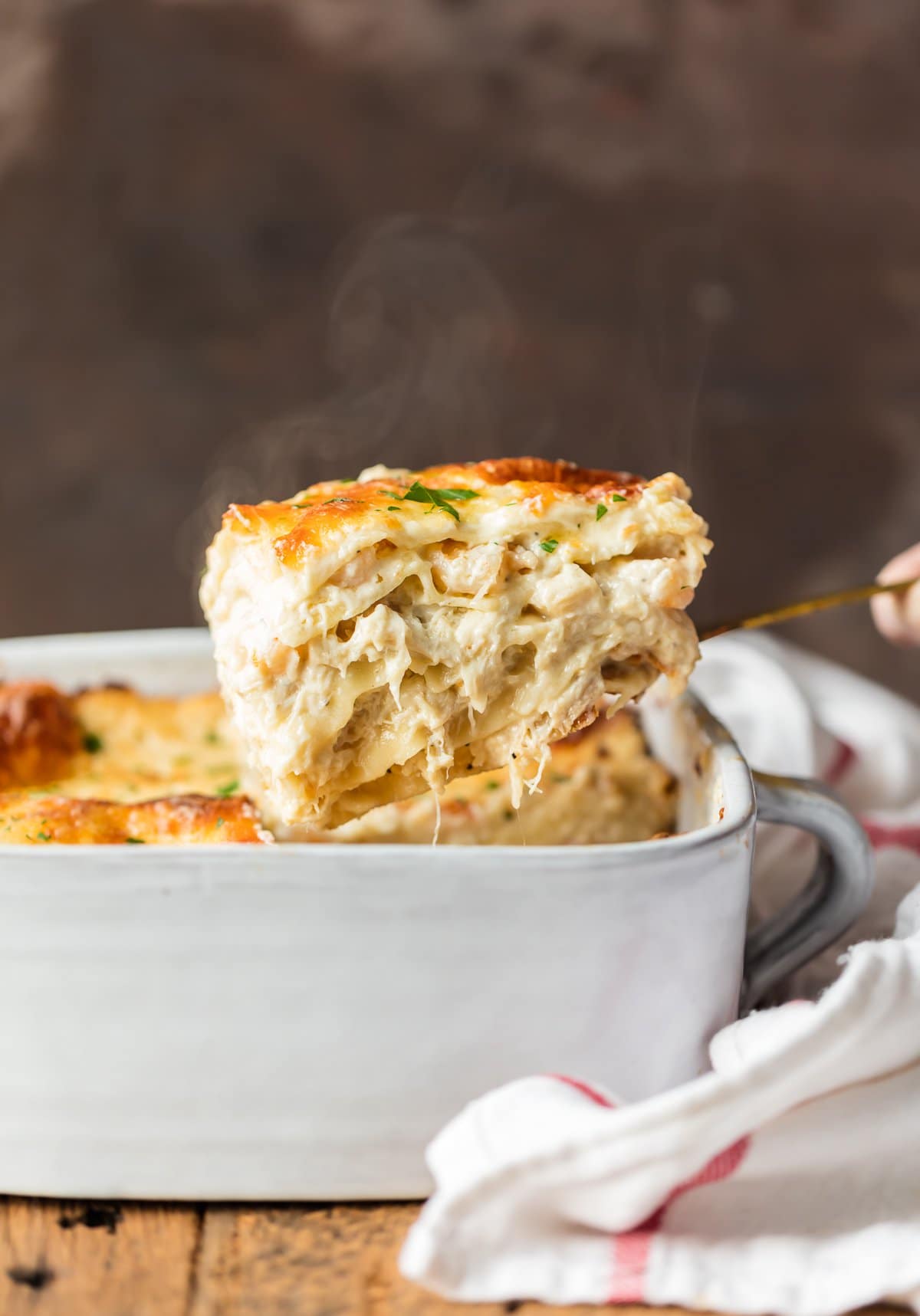 Seafood Lasagna is one of the best easy seafood recipes I've found in a long time. It's the ultimate creative comfort food when you're in the mood for something a little different.
This recipe for CHEESY SEAFOOD LASAGNA has had me so excited for weeks! It's the ultimate comfort food and one recipe that actually stopped Pat in his tracks. HE LOVES IT and I hope you do too! It reminds me a lot of my favorite White Chicken Caprese Lasagna, but even cheesier, creamier, and tastier.
If you're in the mood for a creative and delicious seafood feast, this is it! It's a cold weather must and SO crave worthy. I mean, just look at that hot slice of Heaven! Does it get any better than this? I'm really not sure.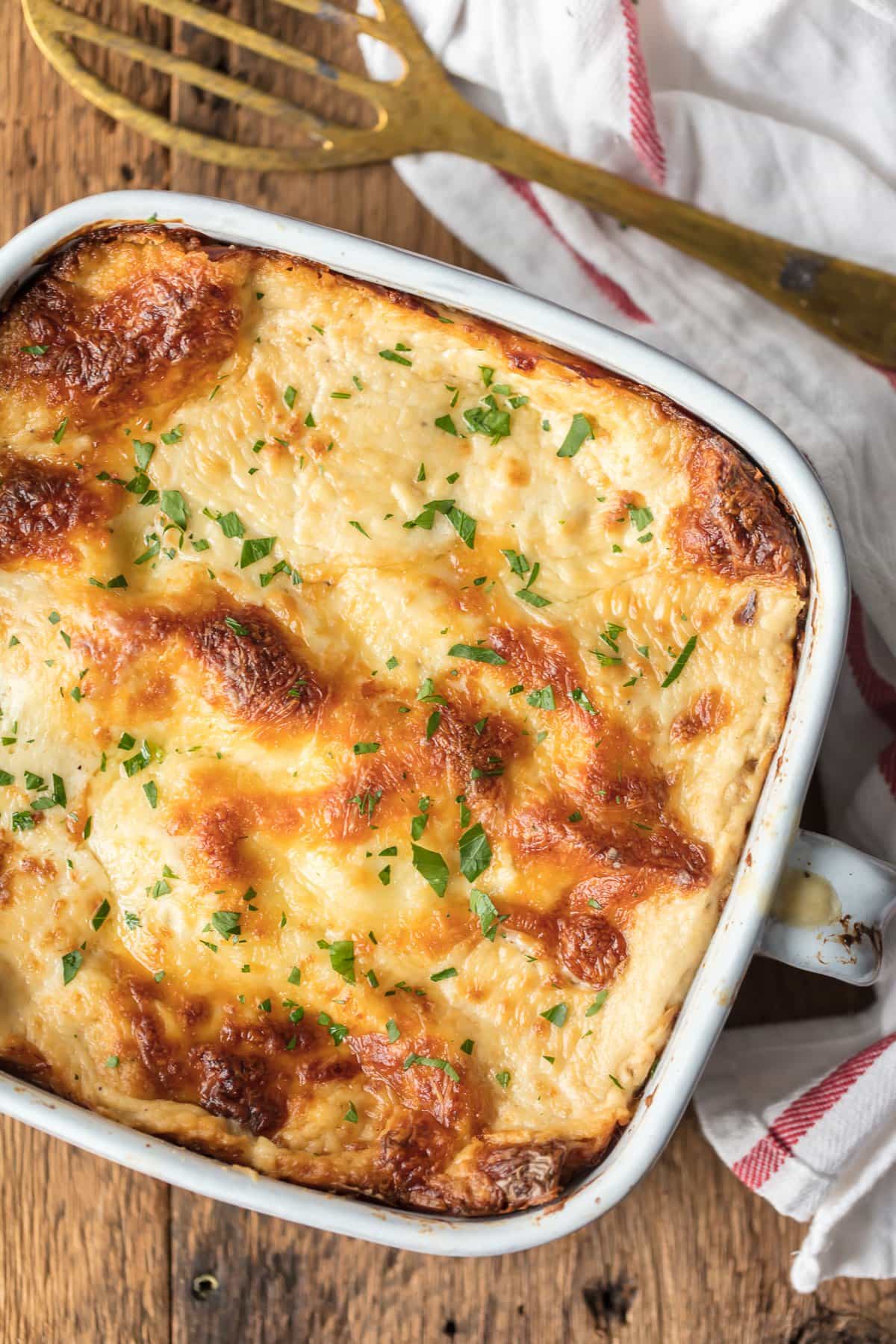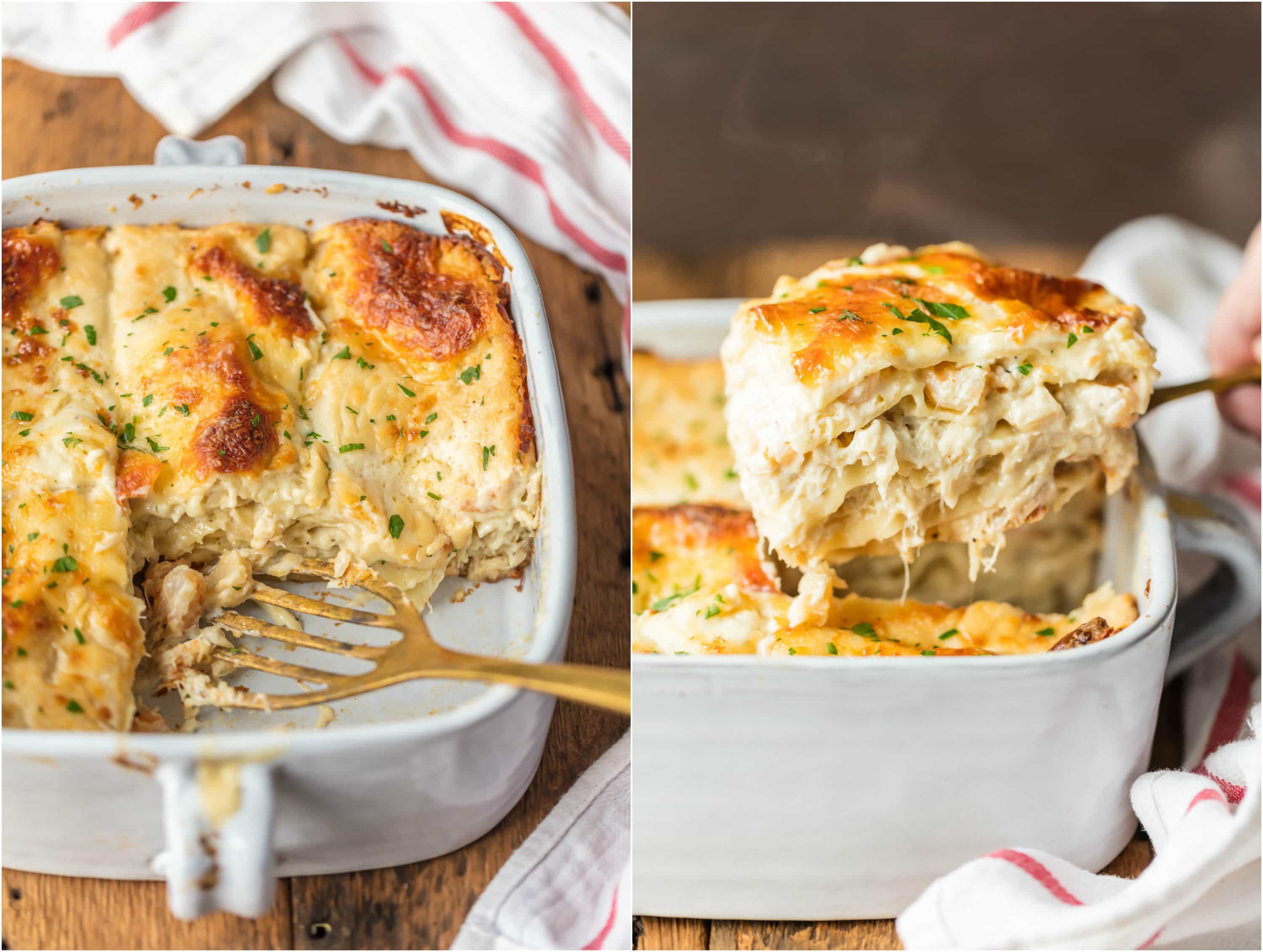 My friend Susie posted on facebook about an amazing recipe for Cheesy Seafood Lasagna she made earlier this year and I knew we had to try it. THANK YOU SUSIE! Mom helped me figure out the recipe, and we were in business. We used real crab instead of imitation and added some cheese (duh). We also made it in a smaller dish in order to make high layers of all the goodness. THE MORE THE BETTER!
If you're worried about cheese + seafood, don't be! It somehow just WORKS in this delicious recipe. It's a creative spin on a classic recipe that everyone is sure to love. Aren't easy seafood recipes the best?!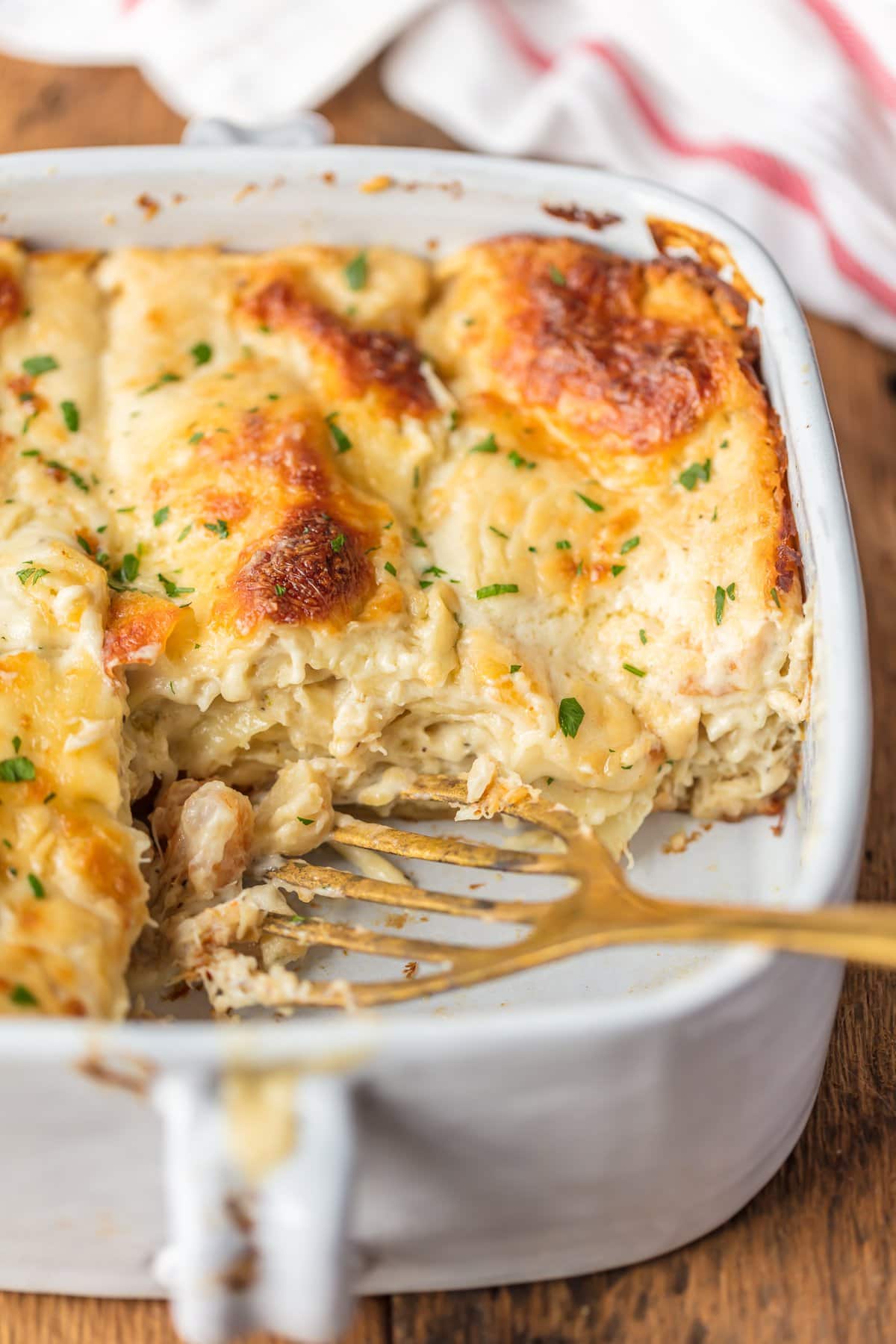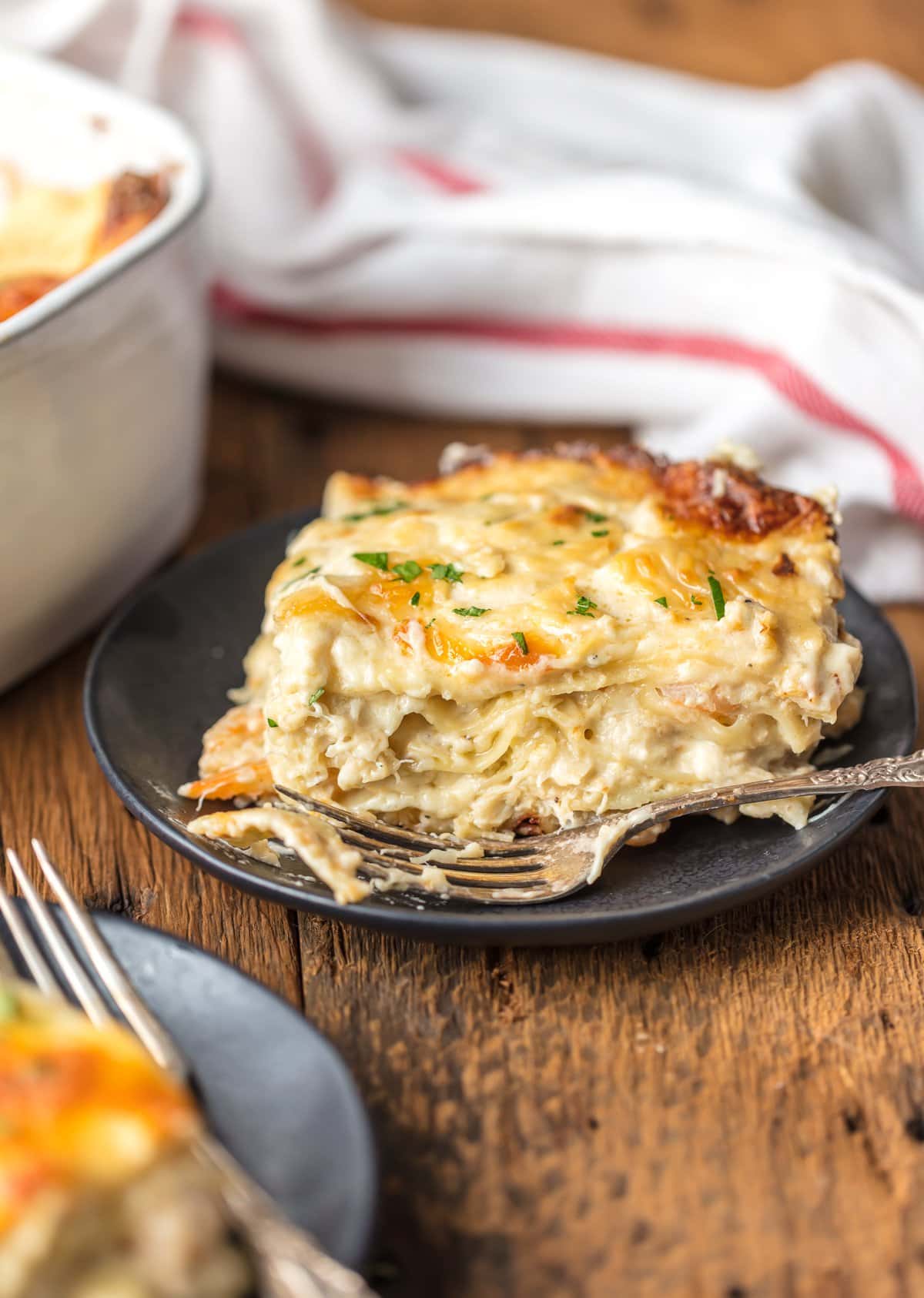 This is the kind of meal you pay top dollar for at your favorite seafood grill. Layers of crab, shrimp, and scallops, OH MY! Its just too good to be true. Pair it with some amazing white wine and you'll really be in business. If your dinner guests love seafood, this is a great recipe to serve a crowd. It always impresses!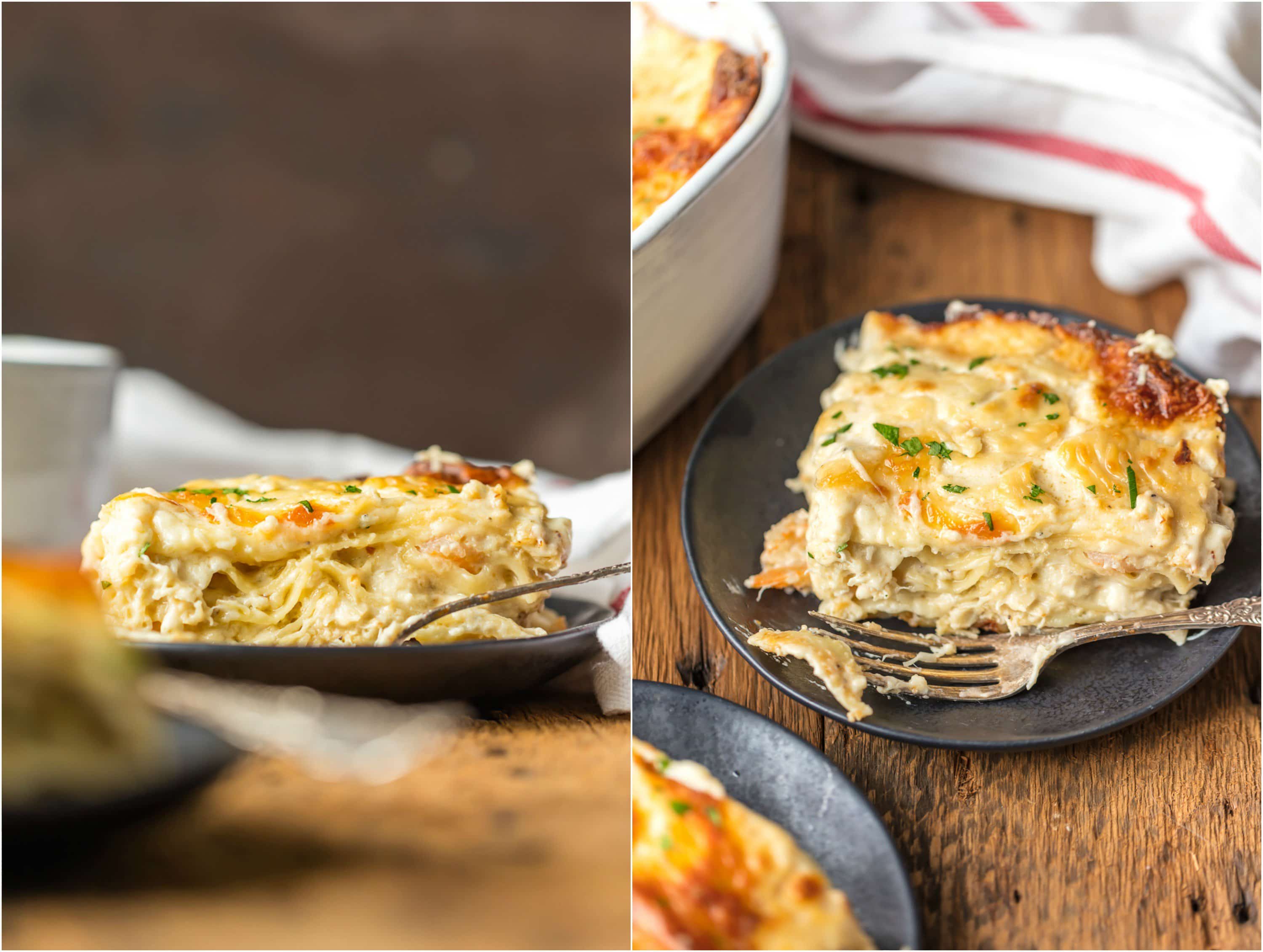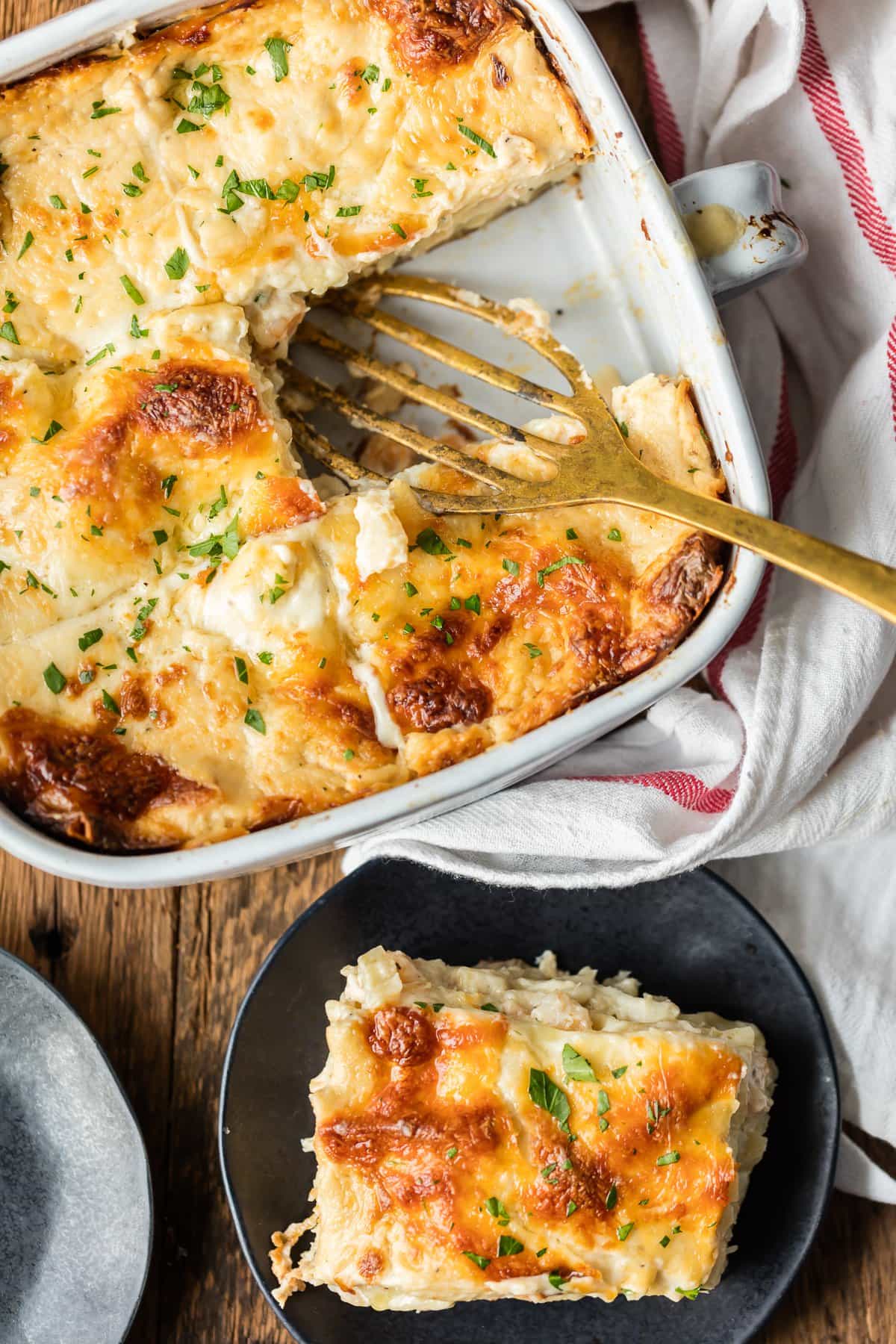 I hope you give this a try. Pat gives it his biggest 5 star thumbs up review. And he is my toughest critic so that's saying something!
Pat loves seafood so I knew this Seafood Lasagna Recipe would be right up his alley. He was so disappointed when the leftovers ran out. Don't worry Pat, I'll be making this Cheesy Lasagna Recipe again and again!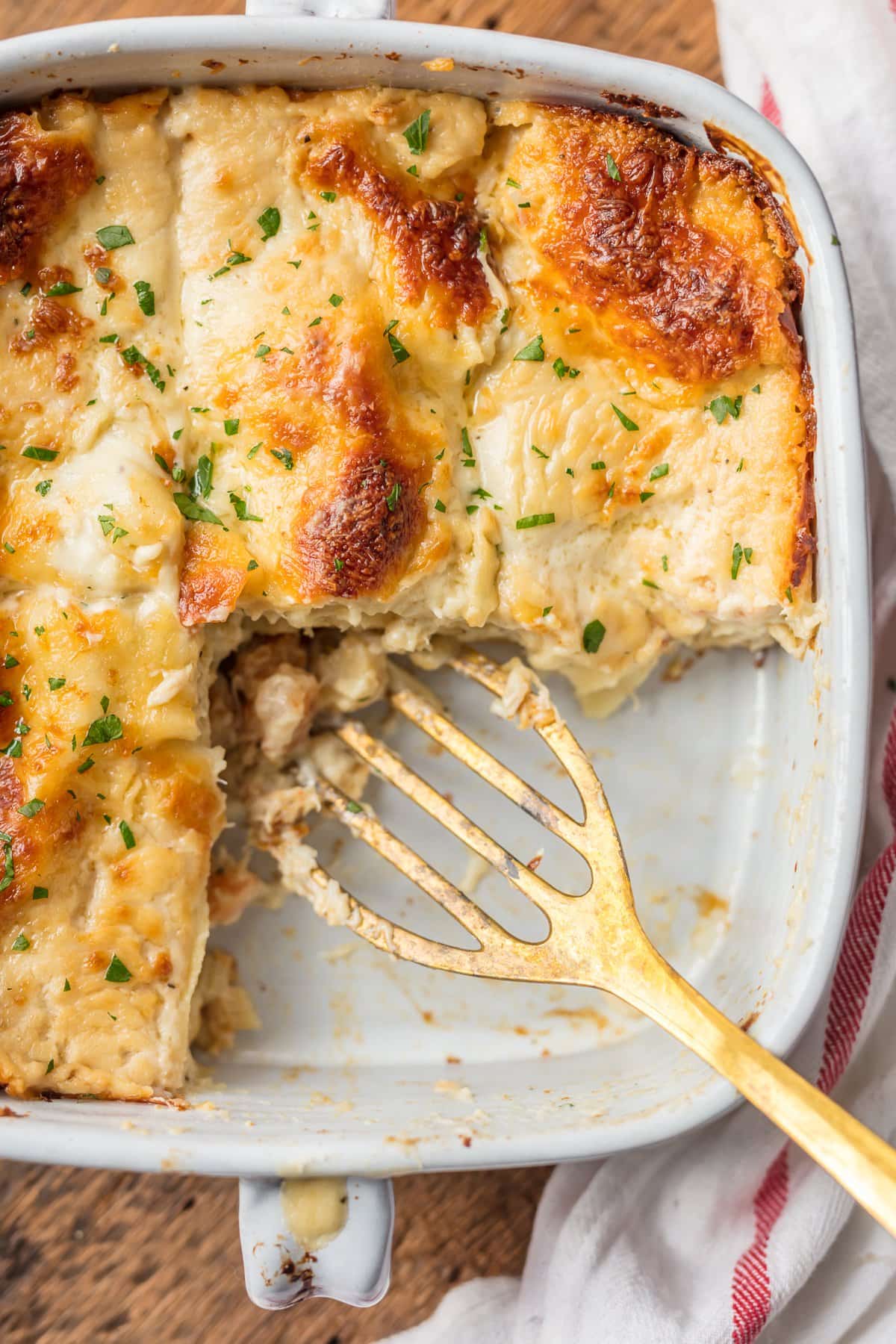 I hope you love this Seafood Lasagna Recipe as much as we do! It's a family favorite for sure. Pair it with our Oatmeal Molasses Rolls and some Oreo Poke Cake for dessert (it won't be a low cal day and that's okay!). Yum!
Enjoy!
Cheesy Seafood Lasagna
Seafood Lasagna (Cheesy Lasagna Recipe) was a total hit in our house. Full of flavor, beautiful, and fool-proof. Layers of noodles, cheese, crab, shrimp, and more! SO DELICIOUS! You might think seafood and cheese don't mix, but I hope you give this easy seafood recipe a try! It's a total winner that our entire family loves!
20 minPrep Time
35 minCook Time
55 minTotal Time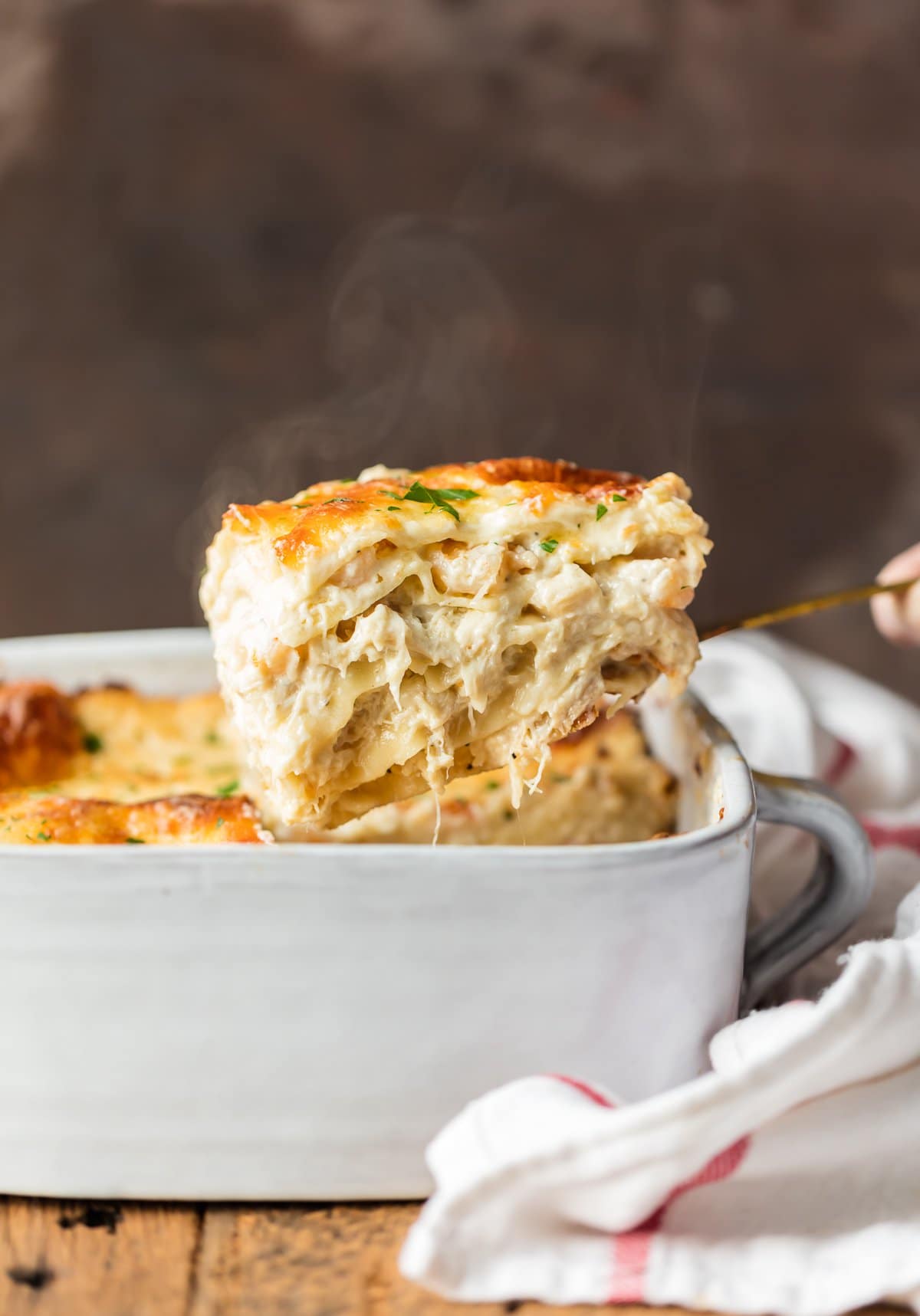 5 based on 3 review(s)
Ingredients
2 tablespoons canola oil
2 tablespoons plus ½ cup unsalted butter, divided
2 green onions, thinly sliced
2 garlic cloves, minced
½ cup chicken broth
1 (8 oz) bottle clam juice
12 oz. bay scallops; cut in half, if desired
1 lb. small shrimp, peeled and deveined
1 (8 oz) package crabmeat, chopped
½ teaspoon freshly ground black pepper, divided
½ cup all-purpose flour
2½ cups cup half 'n half, divided into one 1½ cup portion and one 1 cup portion
¼ cup white wine; a semi-dry wine works well (do NOT use a sweet wine)
½ teaspoon salt
1/8 teaspoon red pepper flakes
½ cup Parmesan cheese, shredded, divided into two ¼ cup portions
8 Oven-Ready lasagna noodles
1 cup shredded Italian cheese blend
1 cup shredded Mozzarella cheese
Instructions
Preheat oven to 350 degrees F. Spray a 9x9 inch casserole dish with non-stick cooking spray.
In a large skillet over medium-high heat, heat the oil and 2 tablespoons butter. Sauté the sliced green onion until tender, then add the minced garlic and sauté another 15 seconds.
Add the broth and clam juice, stir and bring to a boil.
Add scallops, shrimp, crab and ¼ teaspoon pepper and bring mixture to a boil. Reduce heat; simmer uncovered, for 5 minutes or until shrimp is pink and scallops are firm and opaque all the way through. Stir the mixture gently while scallops are cooking. Drain, reserving the liquid. Pour seafood mixture in a medium bowl and set it aside until ready to use.
In the same large skillet, melt the remaining ½ cup butter; stir in flour and whisk until smooth. Combine 1½ cups half 'n half and reserved cooking liquid, then gradually and while whisking, add the liquid to the flour mixture in the skillet. Add salt and the remaining ¼ teaspoon black pepper. Bring the mixture to a boil and cook, while stirring, for 2 minutes or until thickened.
Remove flour mixture from the heat and stir in remaining 1 cup half 'n half, wine, red pepper flakes, and ¼ cup shredded Parmesan cheese creating a white sauce.
Stir ¾ cup of the white sauce into the seafood mixture.

To make a 4-layer lasagna:

Spread ½ cup of the white sauce in the prepared dish. Cover with uncooked lasagna noodles then spread with ¼ of the seafood mixture and ¼ of the white sauce. Sprinkle with ¼ shredded Italian Cheese Blend, ¼ Mozzarella and the grated Parmesan. Repeat three more times and top with white sauce and the different cheeses.
Bake at 350F for 40-45 minutes or until golden brown. Allow the lasagna to set 10-15 minutes before cutting.
To serve: Garnish with chopped, fresh parsley.
Enjoy!
7.6.7
2356
https://www.thecookierookie.com/cheesy-seafood-lasagna/
Around the web: If you love shrimp be sure to check out these fun recipes, Sticky Garlic Shrimp and Garlic Butter Tuscan Shrimp. Our personal favorite is Skinny Bang Bang Shrimp!!