Fish Sticks are fun. This homemade, oven-baked version is crispy, tender, flaky, and SO delicious! Strips of fish are covered in bread crumbs and baked to perfection in this kid-friendly recipe. They make for a simple family dinner, or they can be served as an appetizer or even at a party. And don't forget the homemade tartar sauce for dipping, and fries for the perfect side.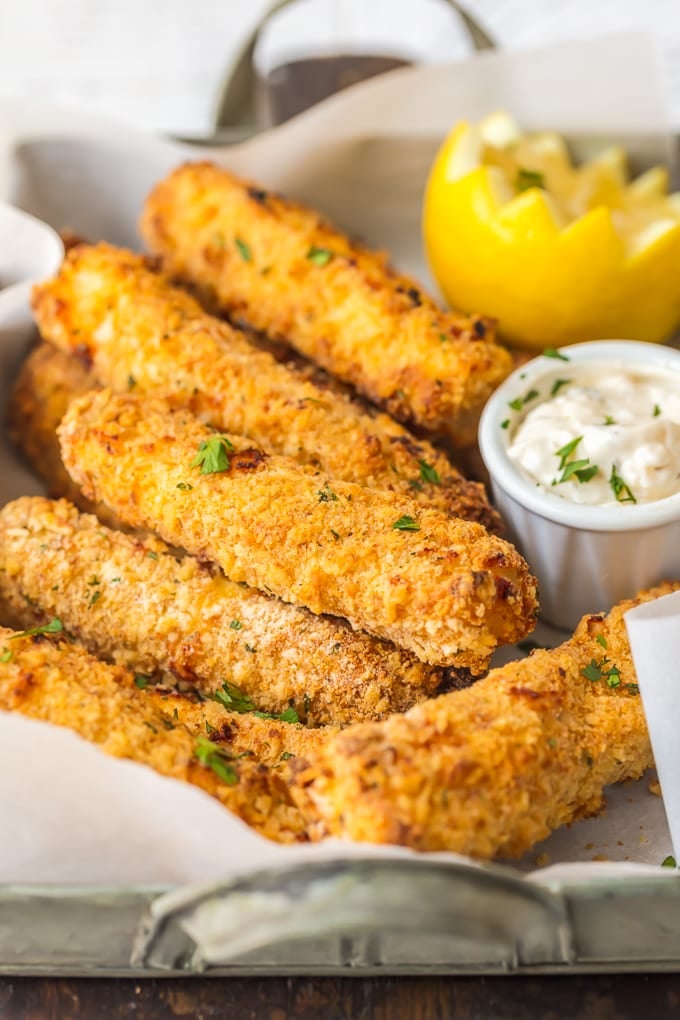 Homemade Fish Sticks
Fish Sticks are a fun, tasty, kid-friendly recipe. These baked fish sticks are something you can feel good about serving!
Fish sticks are a pretty nostalgic food. I ate plenty of them growing up, and I fondly remember the taste of them dipped in tartar sauce. It's a good dinner idea for kids, but admittedly, I don't feel great about serving frozen ones to my family.
This homemade fish sticks recipe is a much better version of that nostalgic food. It's crispy, baked, tender, flaky, and full of flavor.
These Fish Sticks are something I WILL happily eat and share with my family. Making baked fish sticks from scratch gives me full control over what goes into it (i.e. real fish), and they come out so delicious.
Make these for the kids, for yourself, for the whole family! They are a fun dinner, a good kid's party food, or even something you can serve as an appetizer. And don't forget the fries!
Homemade Fish Sticks are such a fun and delicious kid-friendly dinner. Bake these Panko-crusted fish fingers to create a tasty dippable snack!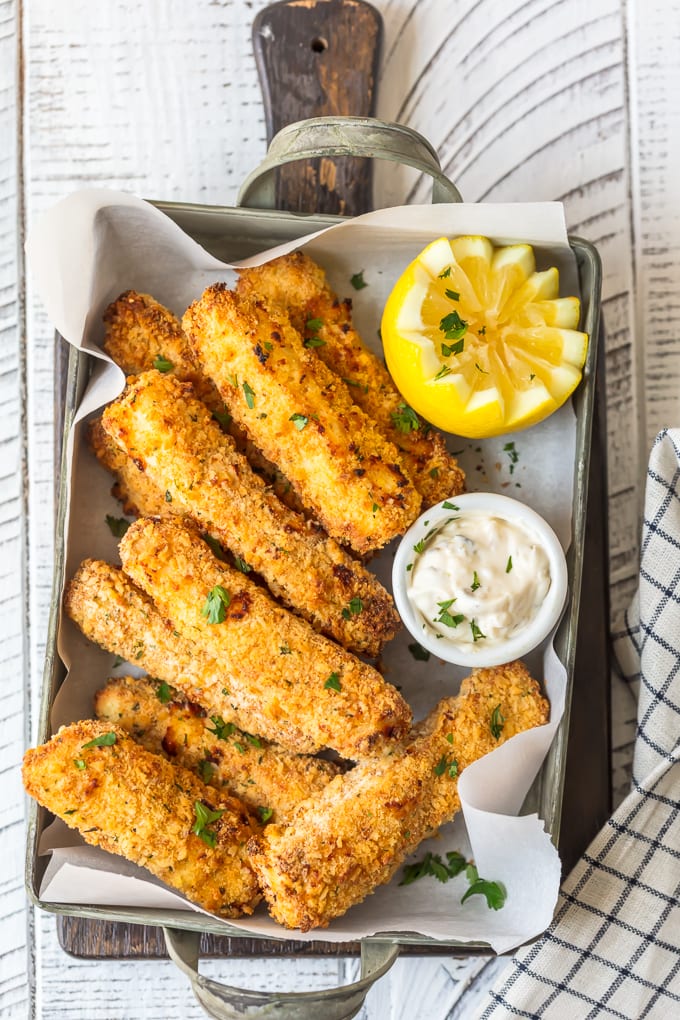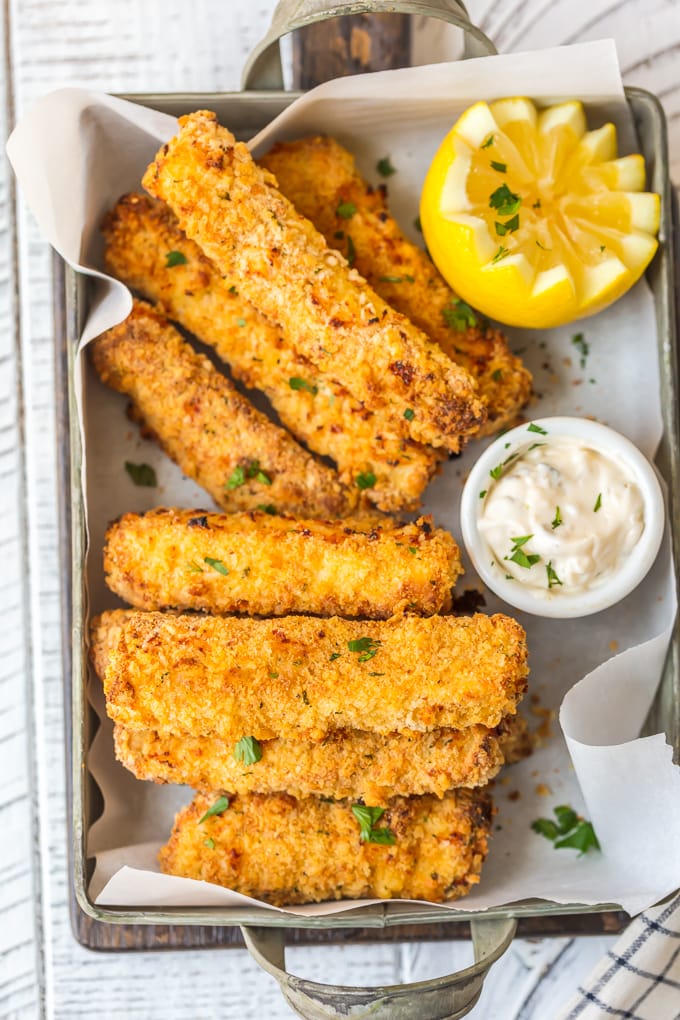 Fish Sticks with Homemade Tartar Sauce
These tasty, crispy, oven-baked fish sticks would not be complete without the perfect dipping sauce. Homemade Tartar Sauce is the perfect match for fish, and this recipe is really quick and easy to make.
Tartar Sauce is a mix of mayonnaise, dill pickles, lemon juice. Dijon mustard, chives, and shallots.
Whisk everything together and refrigerate it before serving. I love this creamy, tangy, bold tartar sauce mixed with the flavor of fish.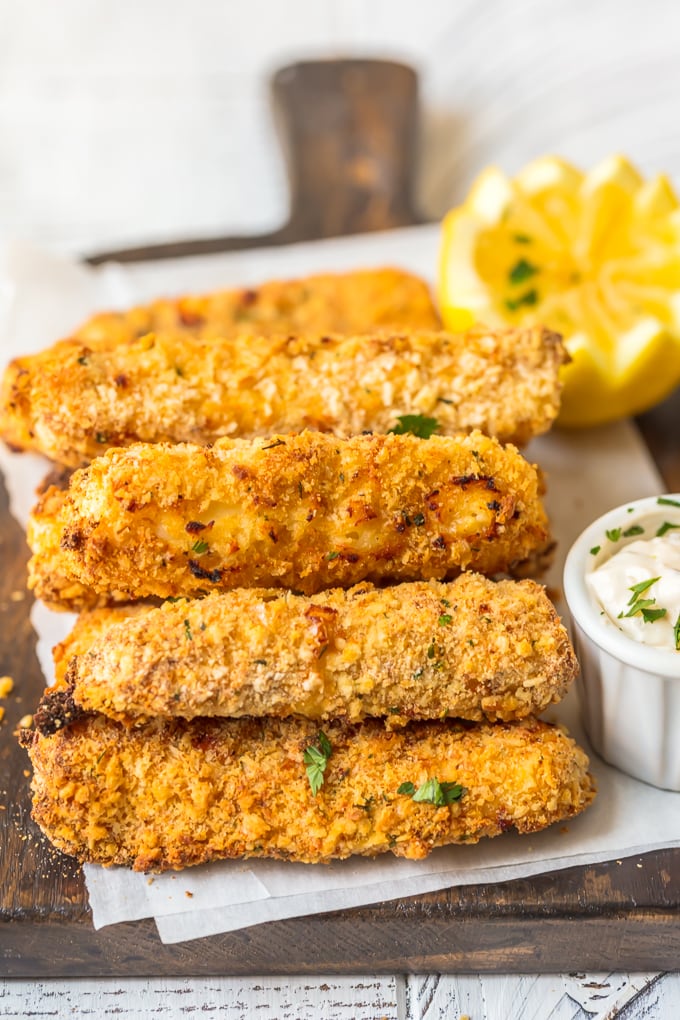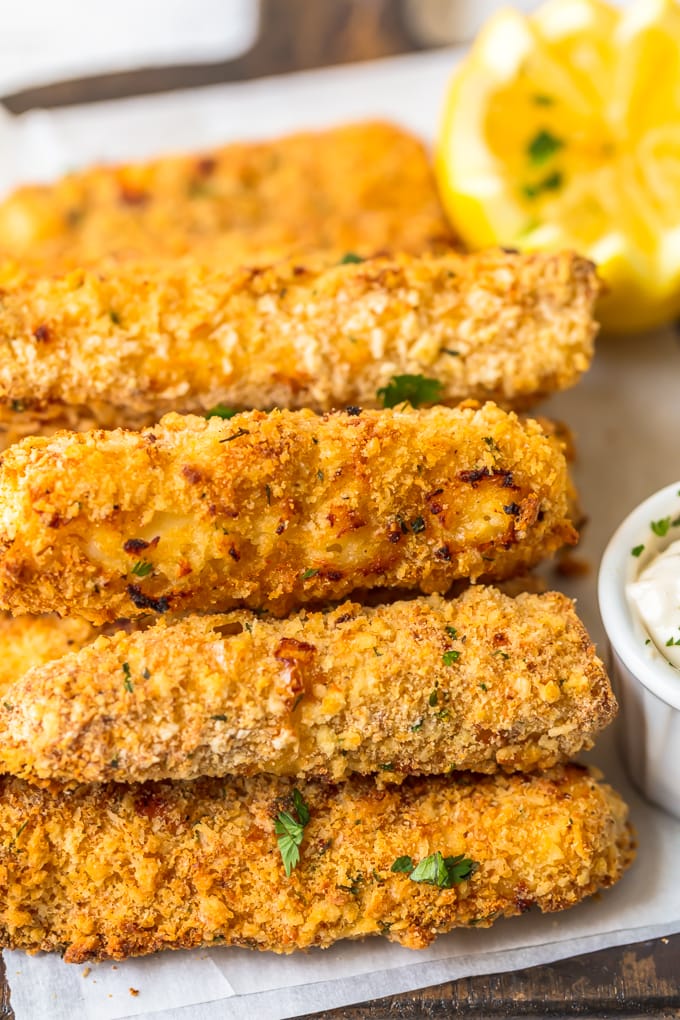 How to Make Fish Sticks
Making homemade fish sticks is pretty easy once you have everything set up. The basic process includes cutting the fish fillets into "sticks", covering them in bread crumbs, and then baking them.
Making Fish Sticks is straightforward, and once you get the hang of it, making each stick goes quickly.
Set up three shallow bowls for the dredging process: one with flour, one with eggs & Dijon mustard whisked together, and one with the Panko bread crumbs and dry bread crumbs.
How to Make Fish Sticks:
You can jump to the recipe card for full ingredients & instructions!
Cut fish fillets into 1-inch strips
Dredging one stick at a time
Press it into the flour & coat
Dip it into the egg mixture and cover it, then let excess drip off
Press it into the bread crumbs
Once they are all coated and laid on the baking sheet, spray them with olive oil cooking spray
Bake in the oven at 400°F for 6 minutes, flip them, then bake for another 6-10 minutes
They come out crispy, flaky, and SOO flavorful! Ready to eat and perfect for dipping.
Try this other recipe if you want to make fish sticks in the Air Fryer instead.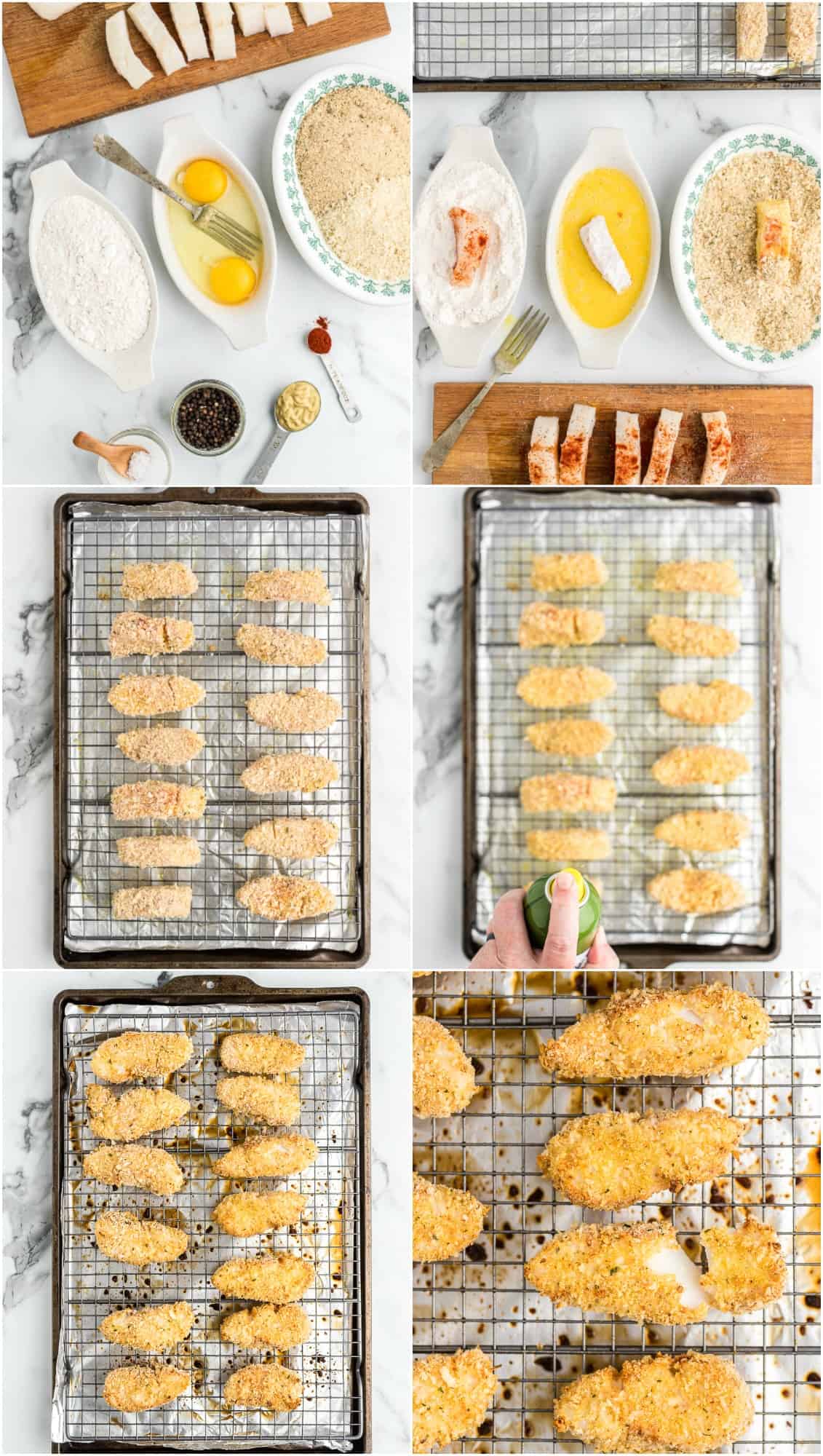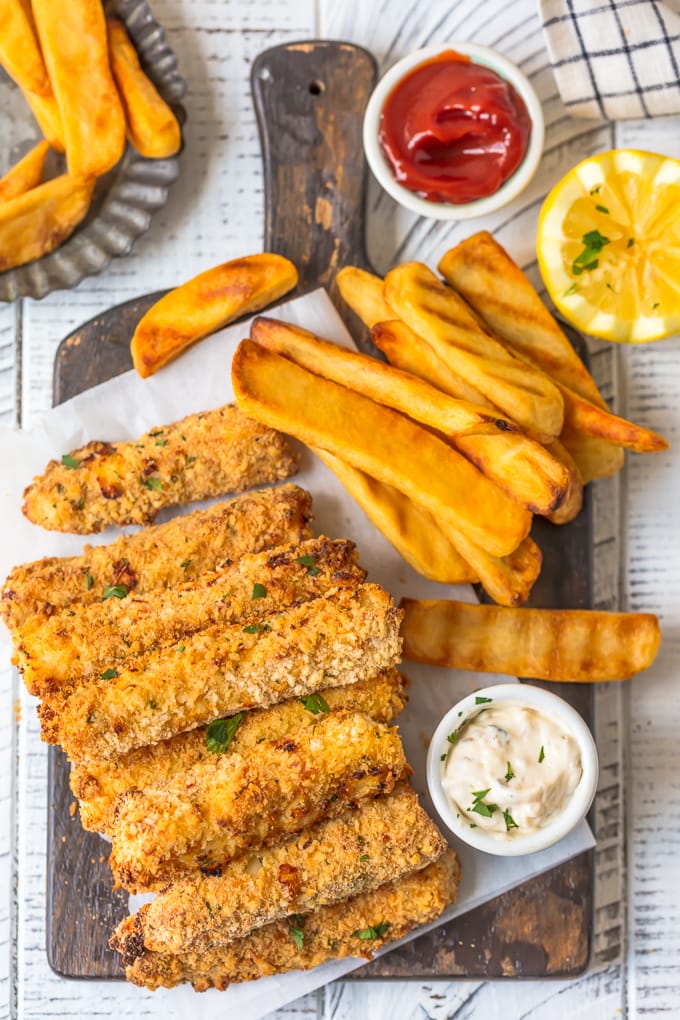 Are fish sticks fried?
A lot of the ones that you find at restaurants or in frozen foods are fried. Which is exactly why you should make them at home instead of buying them somewhere else!
These baked fish sticks are much better in every way. Healthier and just as crispy!
Are fish sticks good for you?
Again, the typical ones you find are not going to be particularly healthy, but this homemade fish sticks recipe is a much better version.
I won't say fish sticks are GREAT for you overall, but fish has a lot of nutrients and it's a good source of protein. Baked is always better than fried, fresh is always better than frozen, and homemade is always better than pre-made.
These fish sticks are BAKED AND NOT FRIED, which makes them much healthier than store bought or restaurant style fried fish. We love baking recipes that are traditionally fried…here are some other favorites:
Are homemade fish sticks made of real fish?
I love this homemade fish sticks recipe because I know exactly what goes in it. It starts with real fish fillets, so I feel good serving these to my family!
What is a good side for fish sticks?
You can't go wrong with fries! Stick with the fish and chips mentality and make some thick-cut fries, shoestring fries, sweet potato chips, or potato wedges to go with them.
You could also serve them with a fresh side salad, potato salad, or grilled asparagus.
What sauce goes well with fish sticks?
Fish sticks and tartar sauce are a match made in heaven! You have to make this homemade tartar sauce to go with this recipe. It's the perfect dipping sauce.
Generally, you will want a creamy, savory sauce to complement them, but you can get creative and try a few options. Ketchup is another classic option.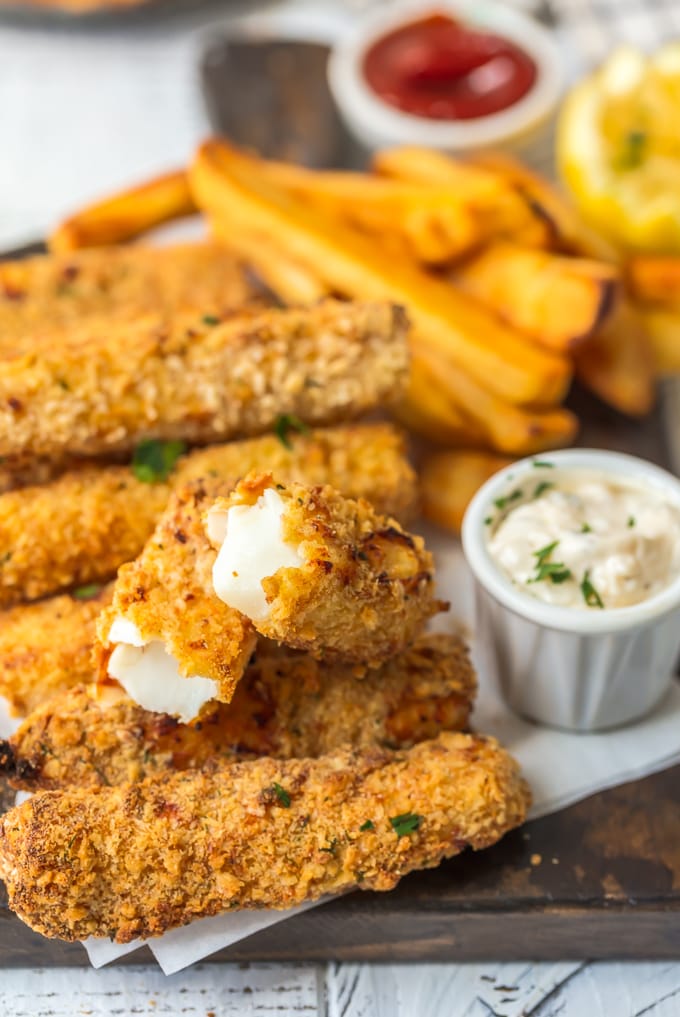 You and your family will love this recipe! It's simple but delicious, and totally fun for kids. Baked fish instead of fried, fresh and homemade. Don't forget the tartar sauce for dipping!
More Kid-Friendly Recipes
Kids go crazy for these homemade fish sticks, but we have tons of other kid-friendly recipes as well. Try them all!
See All
If you make this recipe be sure to upload a photo in the comment section below or leave a rating. Enjoy! You can also jump to recipe.