This crab cake recipe is so simple and tasty! I love fresh, crispy crab cakes, and these Baltimore Crab Cakes are really hitting the spot. This is the BEST crab cake recipe, and once we add on the homemade tartar sauce…YUM! I can't get enough of these things.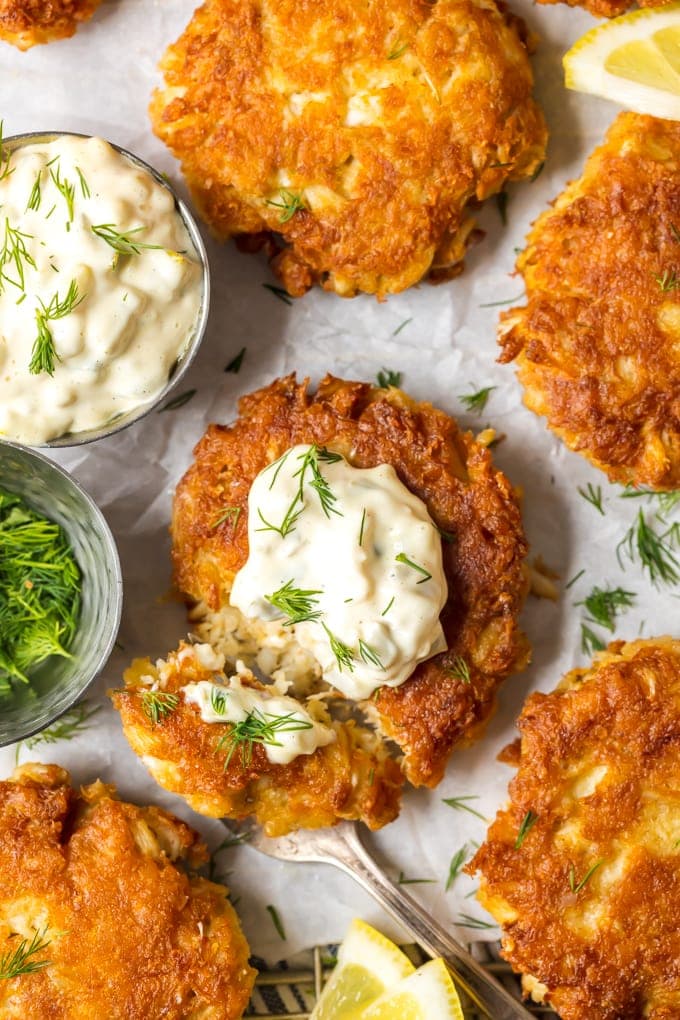 Crab Cake Recipe
The best crab cake recipe in the world? Well, I think so! These Baltimore Crab Cakes are just sooo tasty!
I love seafood. There's really nothing better than fresh seafood, whether grilled, fried, or baked. And with my love for crab cakes, it only made sense that I should come up with the Best Crab Cake Recipe ever. These things are just too good! Especially when combined with my Homemade Tartar Sauce Recipe.
These Baltimore Crab Cakes really are amazing. I kept it pretty classic with mayonnaise, egg, Worcestershire sauce, and (of course) great crab meat. I fried them up just enough to make them a little crispy so that they have the perfect texture, but the baking powder keeps them fluffy.
This Crab Cake Recipe is a great summer appetizer to serve with dinner, lunch, or for parties. Add a bit of lemon juice and dill, and serve with fresh tartar sauce and enjoy!
These Baltimore Crab Cakes are so simple yet delicious. It's the perfect dish for summer!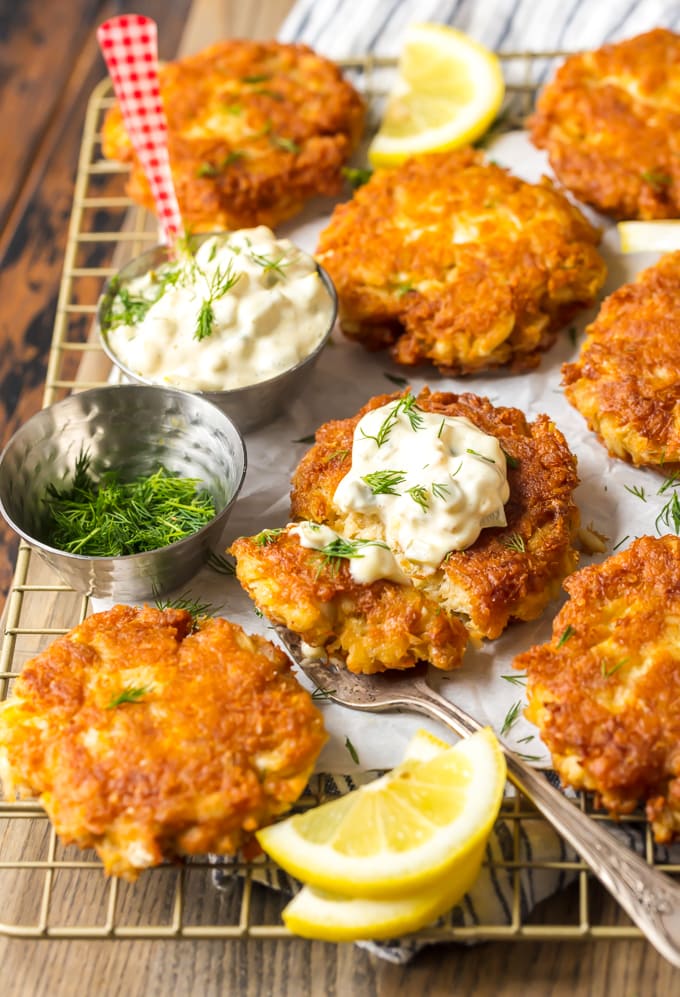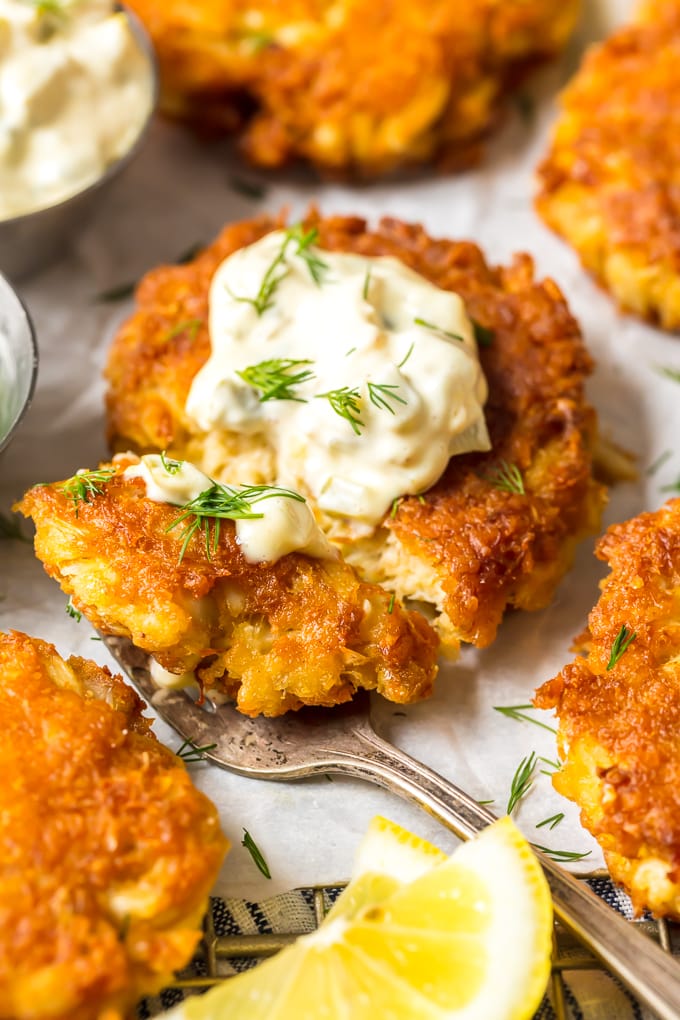 How to Make Crab Cakes
This might surprise you, but the Best Crab Cake Recipe is actually really easy to make. The crab meat mixture only takes a few minutes to prepare, and you can make it a bit ahead of time if needed. Once your crab meat is ready, pat them into patties, and then you'll just fry them in a skillet for a few minutes each. Simple as that!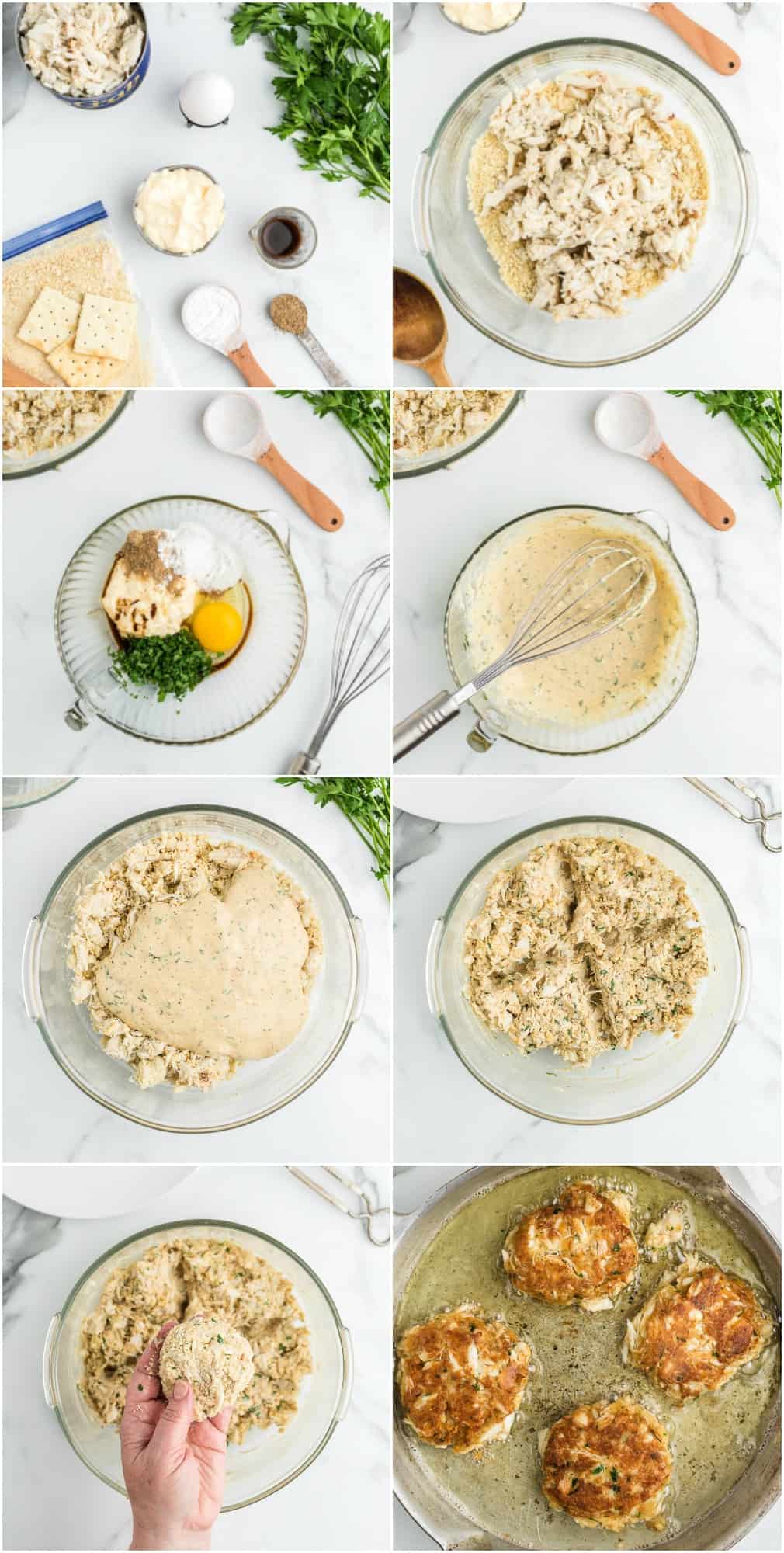 Crab Cake Recipe Tips
Prepare the crab meat mixture ahead of time and refrigerate so they're ready when it's time to cook.
Be careful not to overwork the crab cake patties when molding them into shape.
Cook your crab cakes in multiple batches so they don't get crowded in the skillet.
Adding a bit of baking powder will make your crab cakes light and fluffy.
You're going to love these classic Baltimore Crab Cakes! They will melt in your mouth as soon as you take a bite. Be sure to watch the video and check the recipe card for the full recipe.
Baltimore Crab Cake Recipe with Homemade Tartar Sauce
The Best Crab Cake Recipe wouldn't be complete without a creamy Homemade Tartar Sauce. The flavor of fresh dill pickle mixed with mayonnaise, Dijon mustard, lemon juice, chives, and green onion is so bold and tart. It just makes these Baltimore Crab Cakes taste even better! Check out the full Tartar Sauce Recipe here.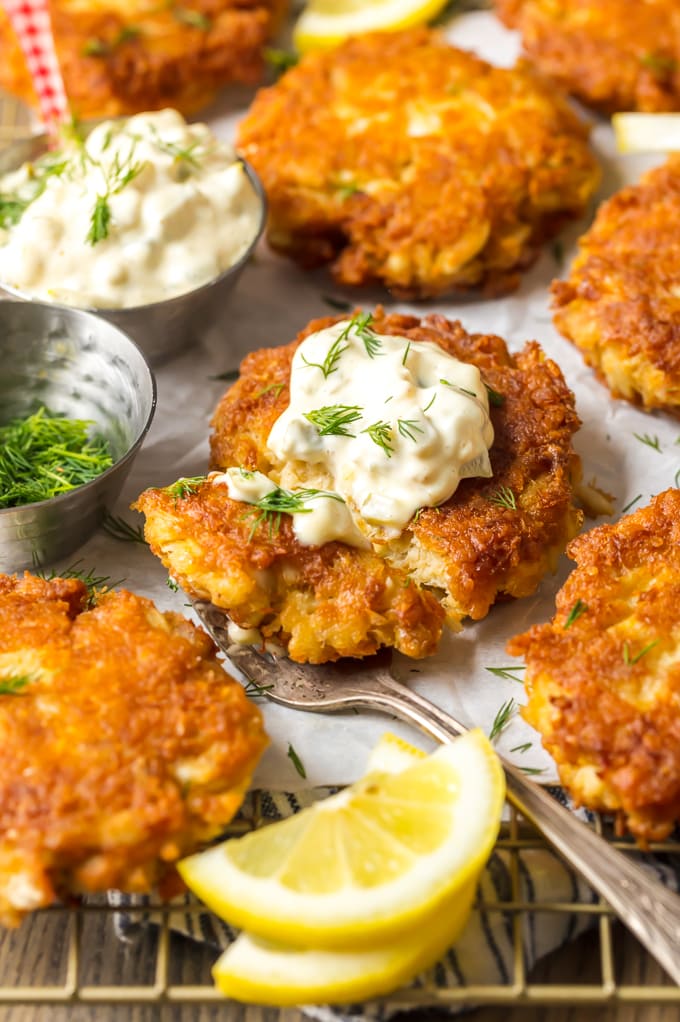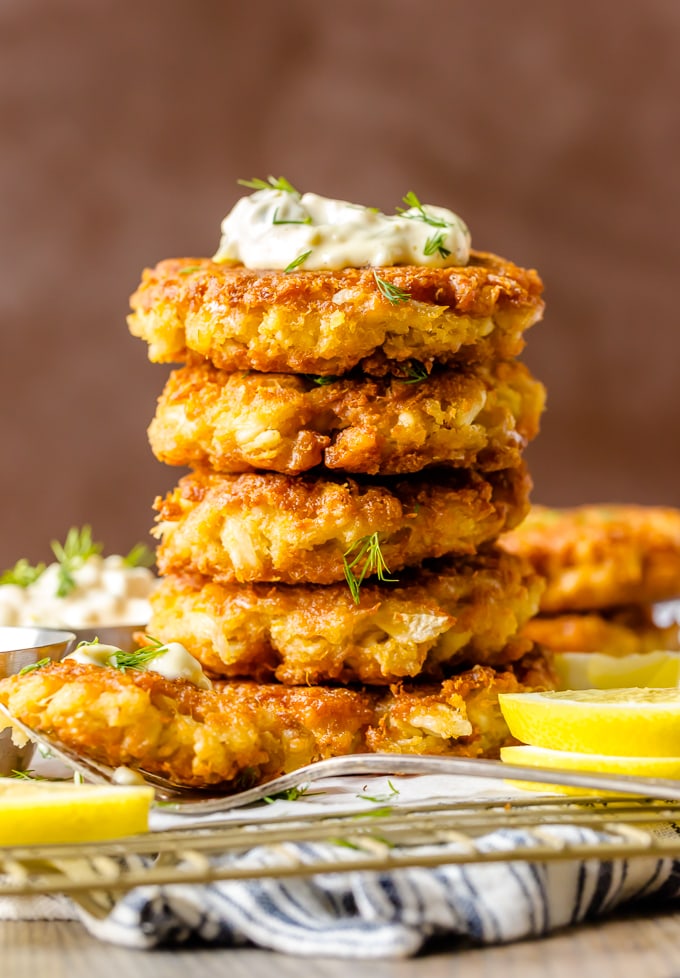 What is a good side dish for crab cakes?
These tasty Baltimore Crab Cakes definitely need some tartar sauce. But besides that, they need a good side dish too! Luckily there are plenty of easy side dishes to go along with classic crab cakes. You can't go wrong with any of these options:
In general, crab cakes taste great with other seafood dishes, bisque, and fresh veggie dishes.
How long do you cook crab cakes in a skillet?
You want to cook this crab cake recipe for about 3 minutes on each side (6 minutes total). They fry up quickly, so keep an eye on them.
How long can you keep uncooked crab cakes in the fridge?
If you want to prepare your crab cakes ahead of time, you can make the mixture and store it in the refrigerator for about 3 days (I wouldn't leave it any longer than that). When you're ready to cook them, take out the crab meat mixture and mold it into crab cake patties.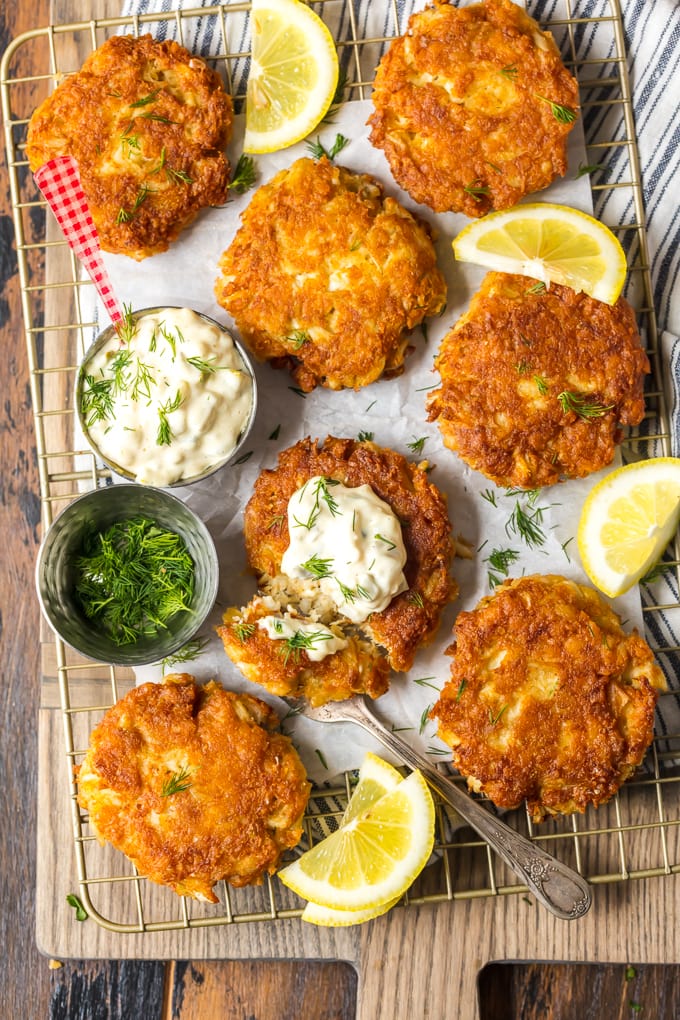 Enjoy these Baltimore Crab Cakes all summer long along with Homemade Tartar Sauce. Once you make these, you'll have no doubt that they're the Best Crab Cake Recipe. SO delicious!
Watch the video or see the recipe card below for details on how to make Crab Cakes. Enjoy!
Be sure to try these other seafood recipes too:
If you make this recipe be sure to upload a photo in the comment section below or leave a rating. Enjoy!