Hungarian goulash is a classic stew type dinner that is packed full of flavor. You start with roasted vegetables and then create a sauce that is rich and savory. Serve your goulash over egg noodles for a delicious meal everyone will love.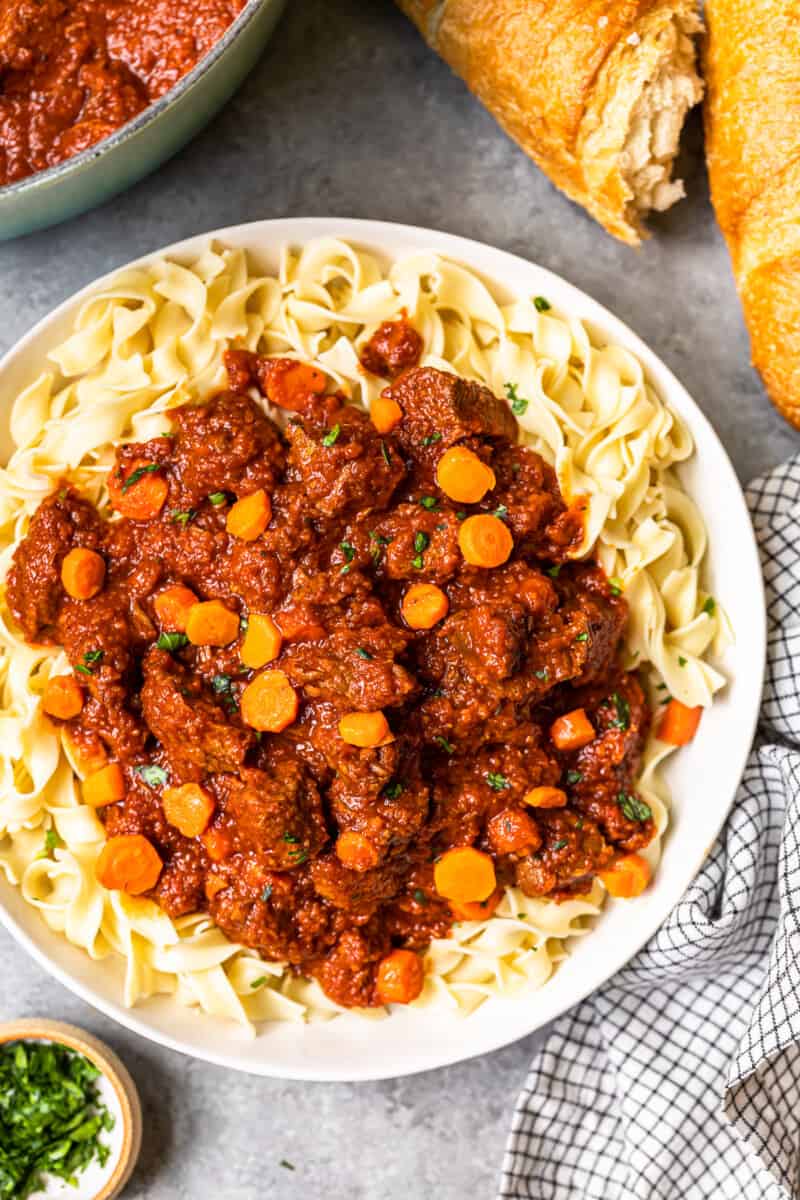 Traditional Hungarian Goulash Recipe
Do you have a recipe that brings back a ton of memories when you make it? Once you take a bite you are flooded with memories of times with family hanging around the kitchen. That's how I feel when I make this Hungarian goulash for my family. I can't help but think of the good times we've had together.
Hungarian goulash is a type of stew that is made with meat and vegetables. It's very different than American goulash, and has an even more dramatic flavor. It's a versatile recipe that is a comforting and hearty meal.
Why you'll love this Beef Goulash recipe:
FILLING MEAL: This easy dinner recipe is a meal that sticks to your ribs. It is filling and one that will leave everyone satisfied.
FULL OF FLAVOR: Hungarian goulash is full of flavor thanks to the roasted vegetables, soy sauce and tomato paste. Together these ingredients create an amazing depth of flavor.
GREAT FOR LEFTOVERS: This goulash recipe is delicious fresh, but it's also great for leftovers the next day.
One of the best things about this homemade goulash recipe is that you use fresh vegetables. You start with fresh vegetables and then roast them in the oven to bring out their flavor. The roasted vegetables then get added to a hearty meat sauce and served over your favorite starchy side dish.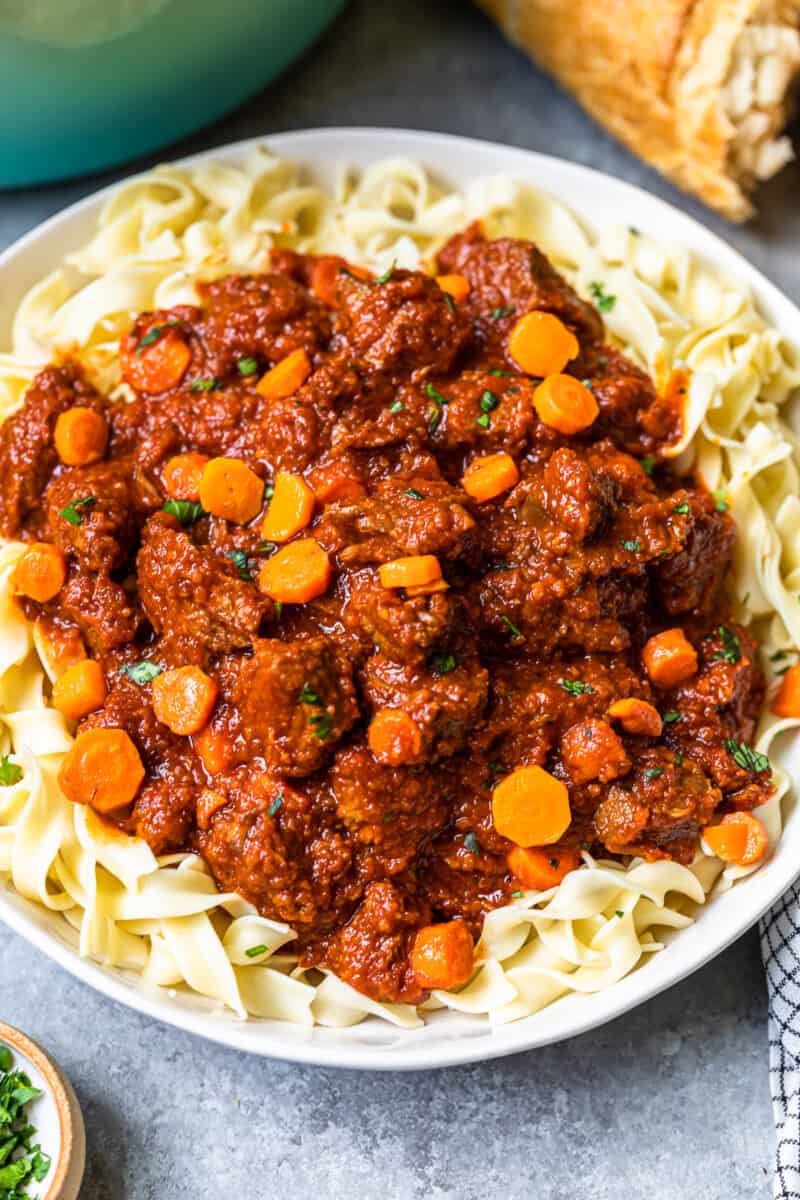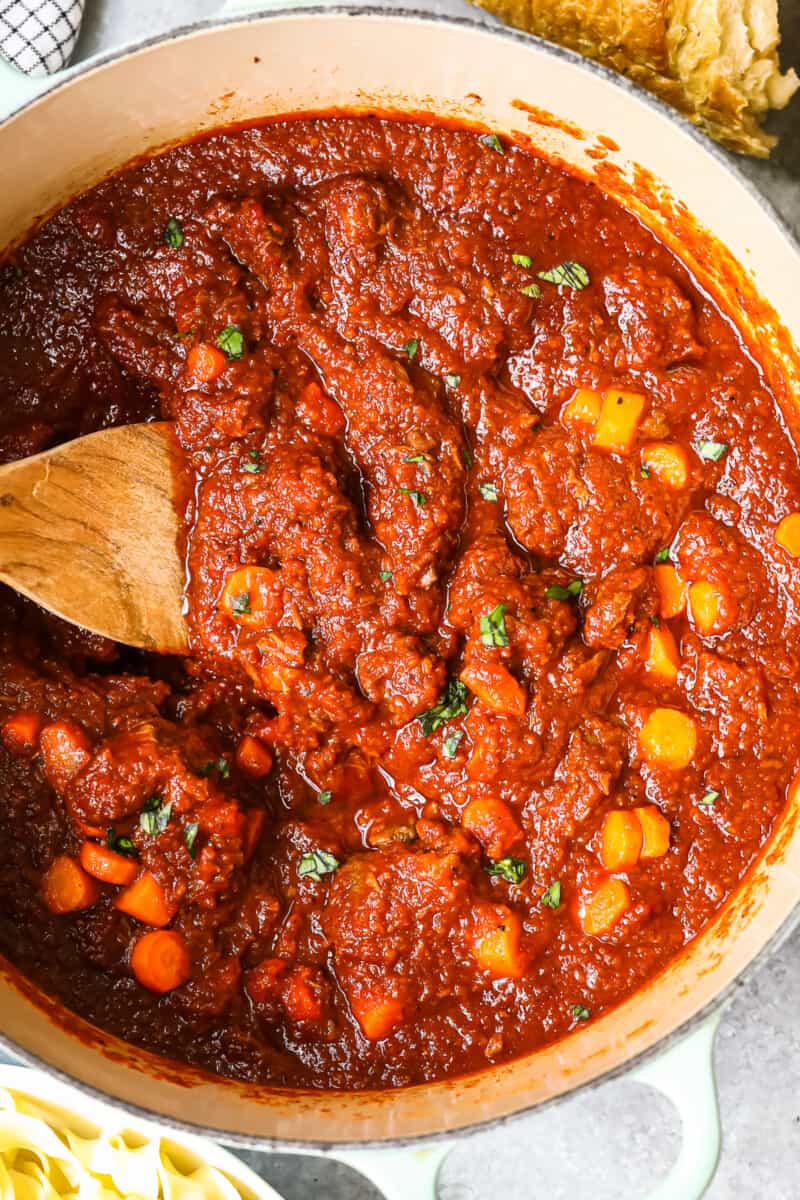 How to make Hungarian Goulash
You can jump to the recipe card for full ingredients & instructions!
Coat the sliced vegetable in the spices and olive oil.
Roast the vegetables for 20-30 minutes or until fork tender.
Add the roasted vegetables, tomato paste, vinegar, spices and juices from the roasting pan into a food processor.
Pulse until smooth.
Season the beef in a bowl.
Add the beef, chicken stock, vegetable puree, soy sauce, thyme, tomato paste, bay leaf and red wine.
Cover in a Dutch oven and cook for 2 1/2 – 3 hours.
Serve over egg noodles.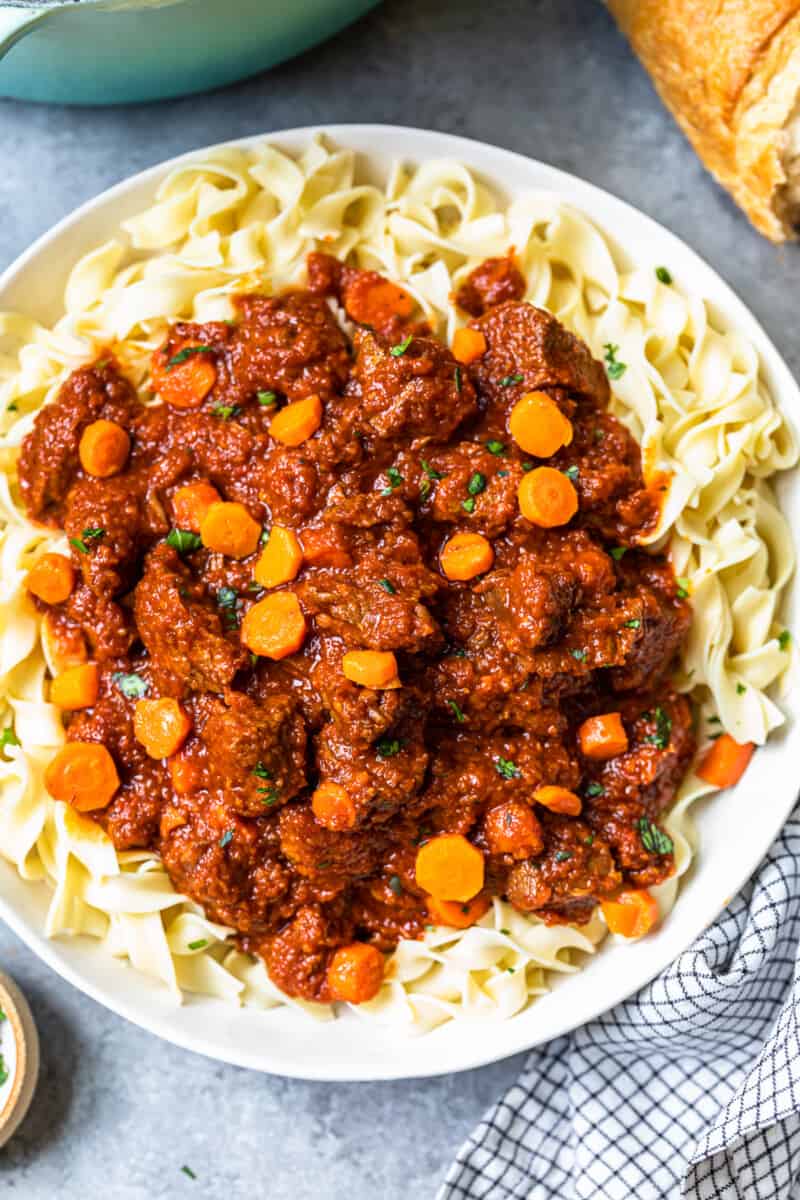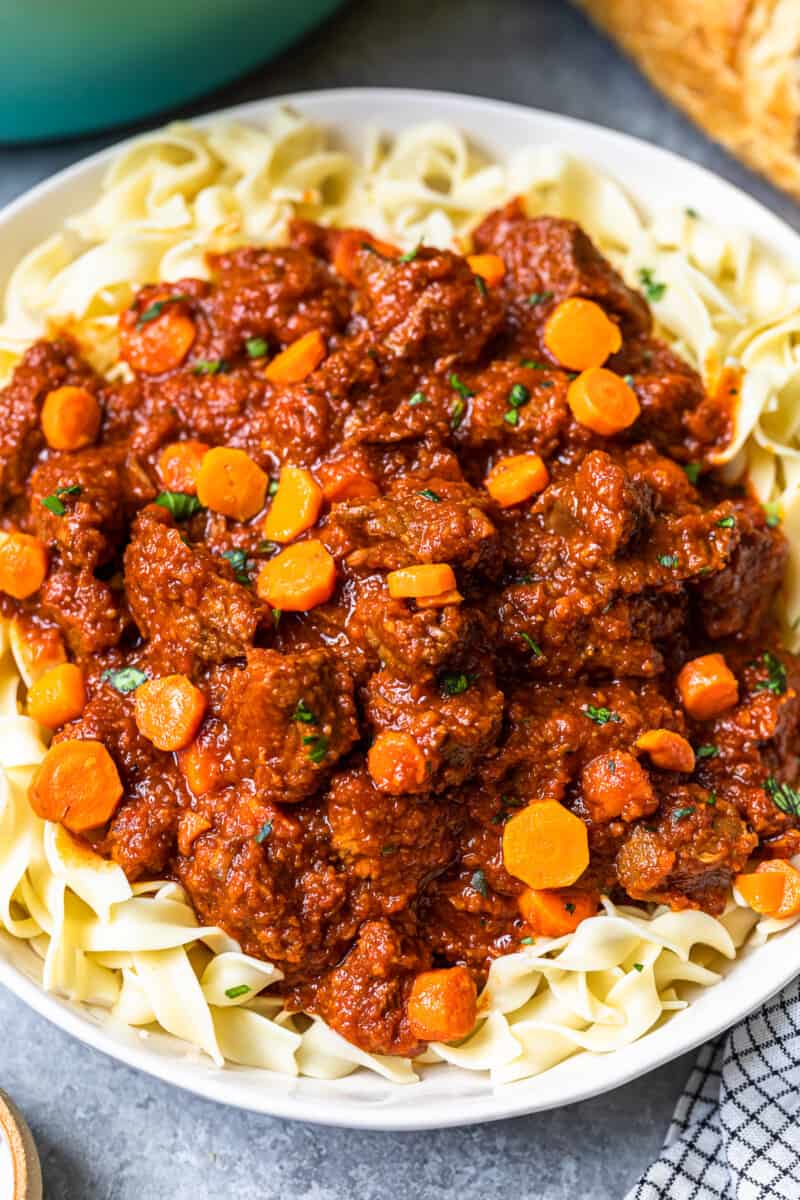 What is Hungarian goulash?
Hungarian goulash is savory stew that uses roasted vegetables to create a thick and hearty meat sauce. It is a flavorful dish that everyone will love.
What cuts of beef are best for goulash?
Chuck roasts are the best type of beef for goulash. It's an easy to find meat that breaks down and becomes tender when cooking. You can use a shoulder roast, blade roast or any other similar roast in this recipe.
Can I make Hungarian goulash in a slow cooker?
Yes! You can make this goulash in a slow cooker. Roast the vegetables and puree them as directed. Then pour the sauce over the meat and other ingredients in a slow cooker. Cook on low for up to 8 hours or high for 4 hours.
How can I make a vegetarian goulash?
You can easily make this goulash vegetarian. Roast your vegetables and then puree them. Instead of a roast, you can use lentils or chickpeas in place of the beef.
Serving Suggestions
This goulash is a meal in itself, but some sides that would pair well with it are:
After you roast your vegetables, be sure to save a few carrots for a garnish later. Save 4 carrots and slice them into 1/4 inch slices and reserve them for the last 5 minutes of cooking.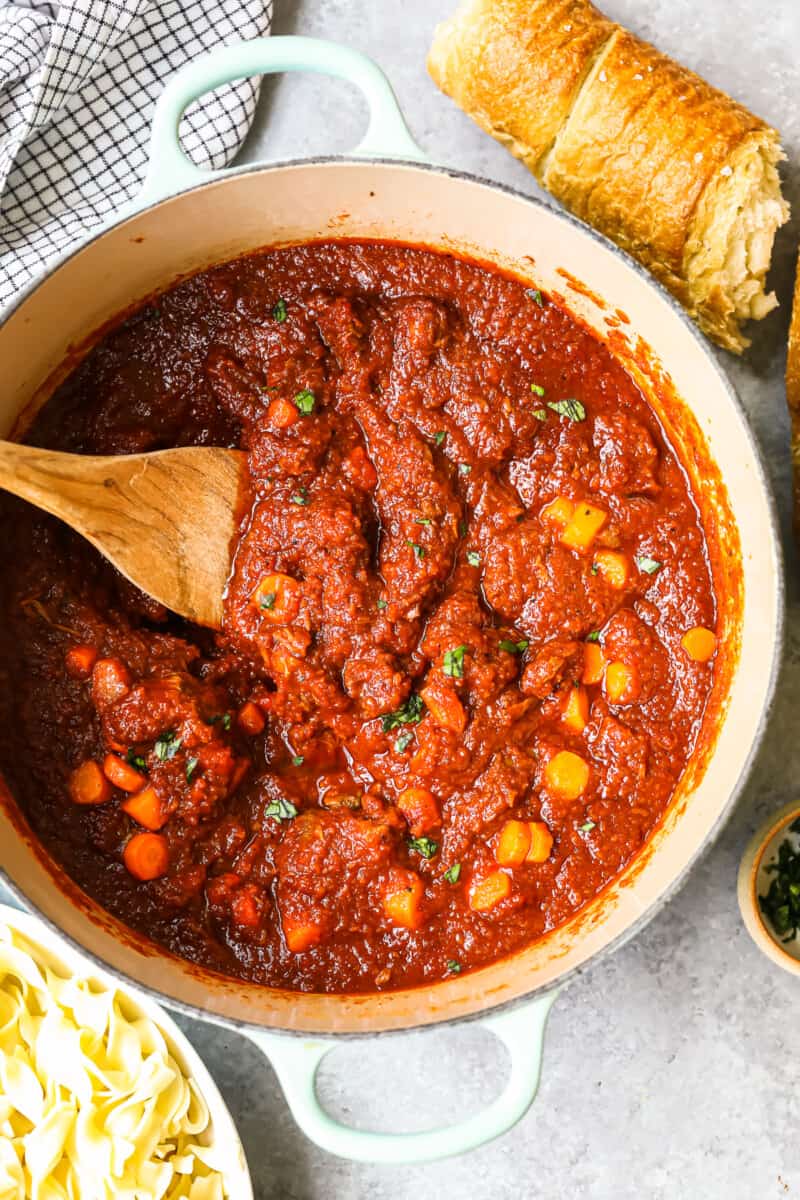 Tips!
For best flavor, use a fresh container of sweet paprika.
You only need 2 tablespoons of tomato paste for this recipe, so freeze the left over paste for other recipes.
You can sear the beef before cooking it. Place a bit of oil in the Dutch oven and sear until the outsides are browned. This will help lock in flavor and keep the meat juicy.
Serve over egg noodles, rice, or even mashed potatoes.
Top your Hungarian goulash with fresh herbs or a sprinkle of Parmesan cheese.
Store any leftover goulash in a Tupperware in the fridge. You can also freeze it for up to 3 months.
You can check and see if the goulash is ready by testing a piece of the beef. Remove a piece of beef and see if it shreds easily. If the meat shreds easily with a fork and is heated all the way through, your goulash is ready.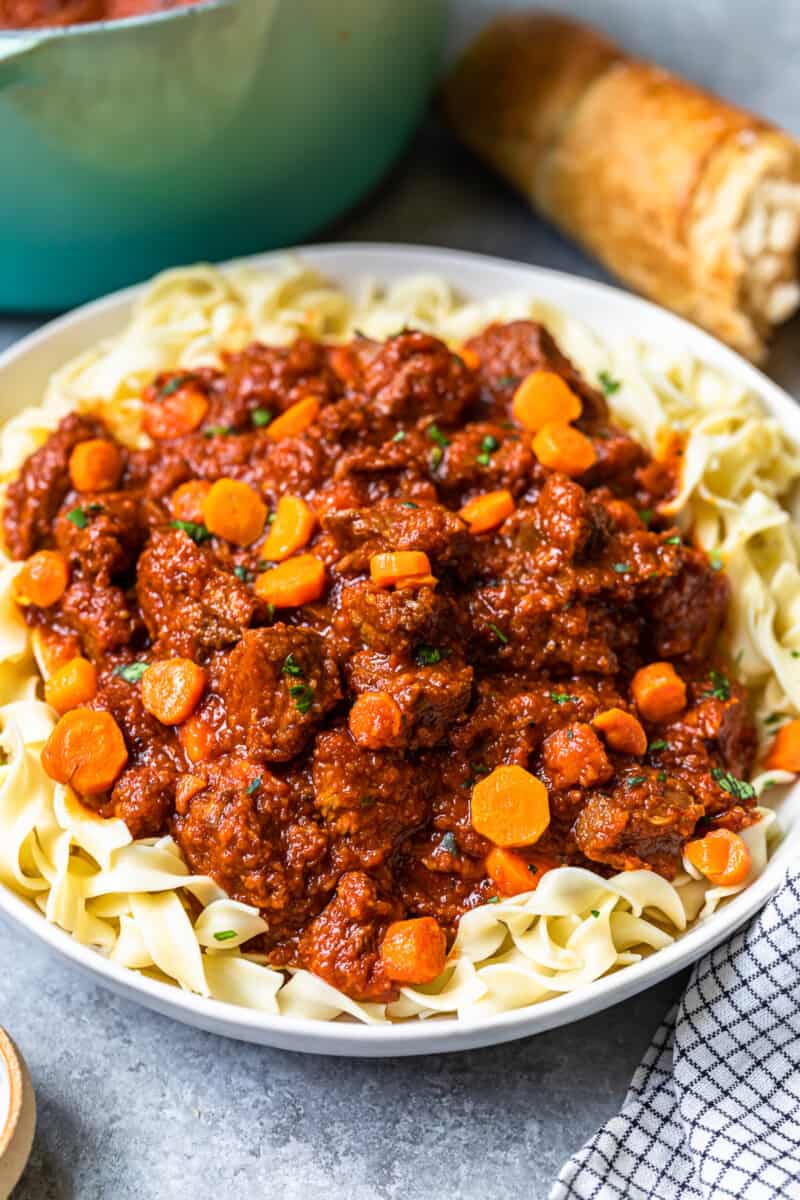 Hungarian goulash is a classic dinner that is hearty and full of flavor. It is an easy dinner recipe that everyone will love. This goulash is one that your family will ask for over and over again.
If you make this recipe be sure to upload a photo in the comment section below or leave a rating. Enjoy! You can also jump to recipe.