Roasted Broccoli is a delicious and healthy side dish recipe, perfect for any meal! I love the flavor combo of the Parmesan Broccoli with lemon and garlic. Yum! This baked broccoli side dish goes with anything, from steak to chicken to fish. This is one of the best roasted broccoli recipes because it's so light and flavorful, I could make it for every meal!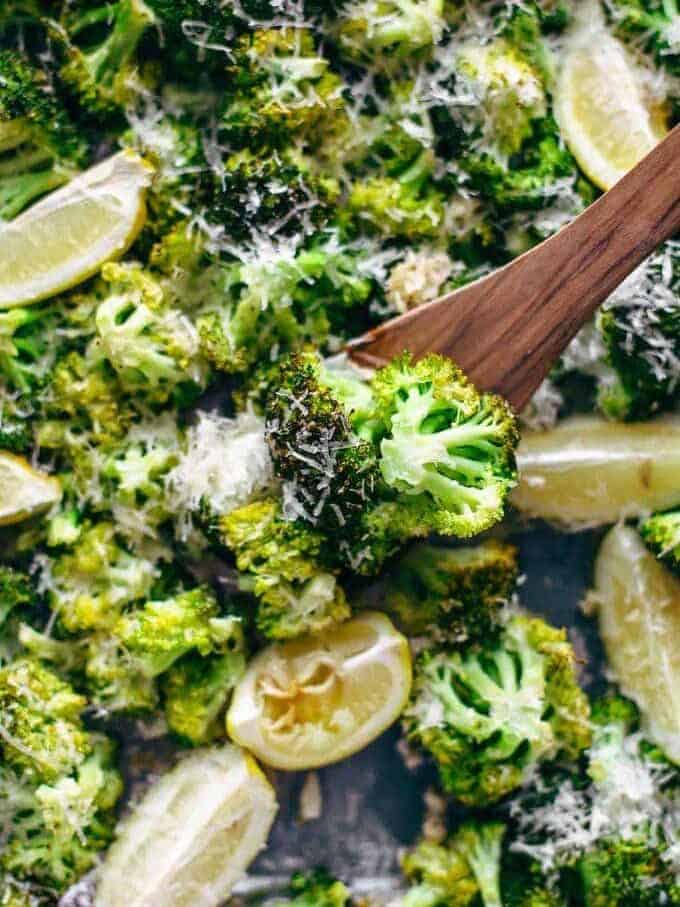 What's in Roasted Broccoli?
This delicious roasted broccoli recipe is light but still so tasty. There's garlic, Parmesan cheese, and fresh lemon juice perfectly blended over the crisp baked broccoli. It just gives it so much flavor!
Broccoli: You'll need 1½ pounds of broccoli florets. You can buy broccoli pre-cut into florets or buy whole heads of broccoli and cut them up yourself.
Olive Oil: Helps the broccoli to roast without burning. I like to use extra-virgin, but you could also use a neutral oil, like avocado oil.
Garlic: Adds earthy flavor to the broccoli.
Parmesan Cheese: The perfect salty, tangy compliment to broccoli. You could use Asiago or Pecorino Romano instead.
Lemon: Adds brightness and acidity. Use fresh lemon juice, not bottled! You'll need 3 whole lemons for this dish.
Pro Tip: Save any leftover broccoli stalks, cut them into coins, and roast them up with the rest of the broccoli. It's a great way to reduce food waste, plus they're delicious!
Variations on Oven Roasted Broccoli
Broccoli is one of those foods that most people grow up trying to avoid, but it's actually so good. Of all the ways you can cook broccoli, roasted broccoli is my favorite. I just love how crispy and tender it gets while roasting in the oven, and I feel like that really helps it soak up flavor.
Speaking of flavor, you can easily change up the flavor of this roasted broccoli. Swap out the Parmesan cheese for a different hard cheese, like Asiago or Pecorino Romano. You could also make this dish vegan by using nutritional yeast instead of cheese. Try adding your favorite seasoning blend, like Italian seasoning, ranch, or everything bagel seasoning.
You could also roast this broccoli simply with oil, salt, and pepper, then toss it in a delicious sauce. Try browned butter, chimichurri, Buffalo sauce, sweet and sour sauce, pesto, or balsamic glaze. The possibilities are endless!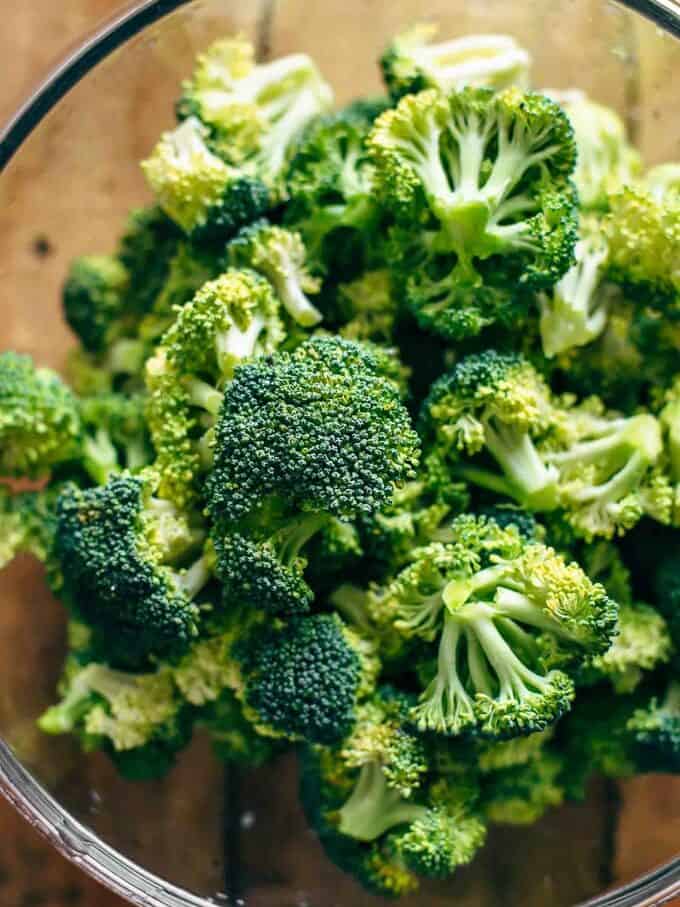 Can you roast frozen broccoli?
You sure can! To bake broccoli from frozen, do not thaw the broccoli. Simply separate the frozen pieces as much as possible, toss them with the seasonings as directed, and place them in the oven to roast. You will probably want to increase the oven temperature to about 450°F to encourage more browning.
Should broccoli be boiled before roasting?
If you like your broccoli super tender, or if you're short on time, you can blanch it for about 2 minutes before roasting, but there's really no need.
How long does it take to roast broccoli?
At 425°F, it should take about 12-14 minutes to roast this broccoli. If using frozen broccoli, it may take upwards of 30 minutes depending on the size of the florets.
Why is my roasted broccoli mushy?
Your roasted broccoli may turn out mushy if you overcrowd the pan. When broccoli is overcrowded, the moisture generated from heating it has nowhere to go, so it steams the broccoli. Make sure to lay out the broccoli in an even layer with space between the florets to encourage browning. You may need to spread it across 2 baking sheets if you have a lot.
Is roasted broccoli healthy?
Yes! Roasted broccoli is low in calories and high in potassium, fiber, vitamins A and C, calcium, and iron. Depending on how much oil you use, this dish can be higher in saturated fats, so roasted broccoli is best consumed in moderation as part of a balanced diet.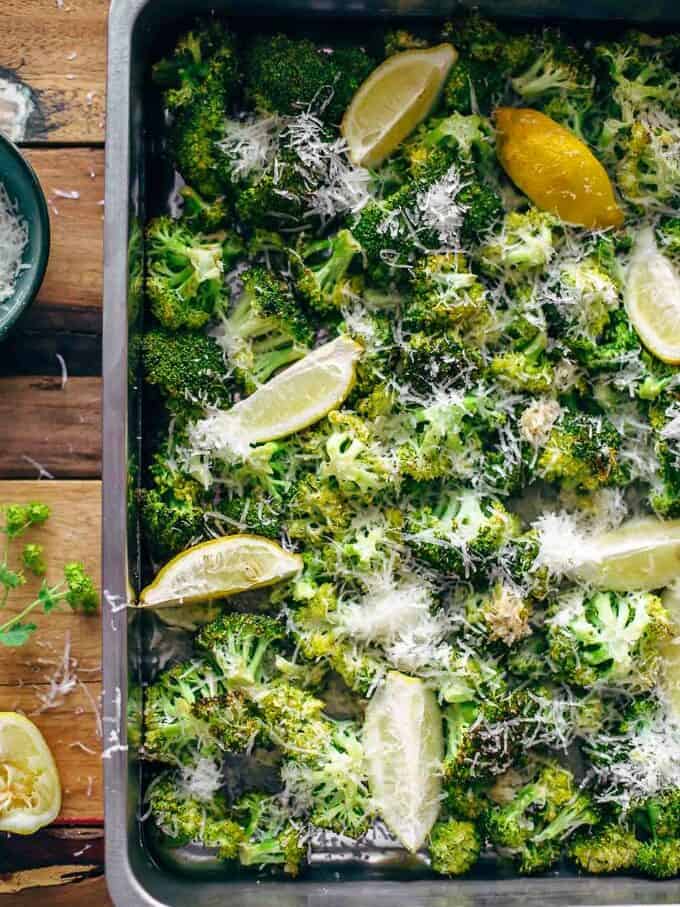 How to Store and Reheat Parmesan Roasted Broccoli
Store leftover lemon Parmesan roasted broccoli in an airtight container in the refrigerator for up to 5 days. Reheat in the microwave in 30-second increments or in a 350°F oven for about 10 minutes, until warmed through.
How to Freeze Roast Broccoli
Freeze lemon Parmesan roasted broccoli in an airtight container or Ziplock bag for up to 3 months. Let thaw overnight in the refrigerator before reheating.
What to Serve with Parm Roasted Broccoli
This roasted broccoli is the perfect side dish for any meal. It's fresh, light, and flavorful. Pair it with chicken, beef, fish, or even pasta for a complete weeknight meal. I love it served alongside goulash, burgers, or steaks; ranch chicken, caesar chicken, or oven fried chicken; herb crusted or lemon butter salmon or garlic butter shrimp; or even mac and cheese or creamy chicken spaghetti.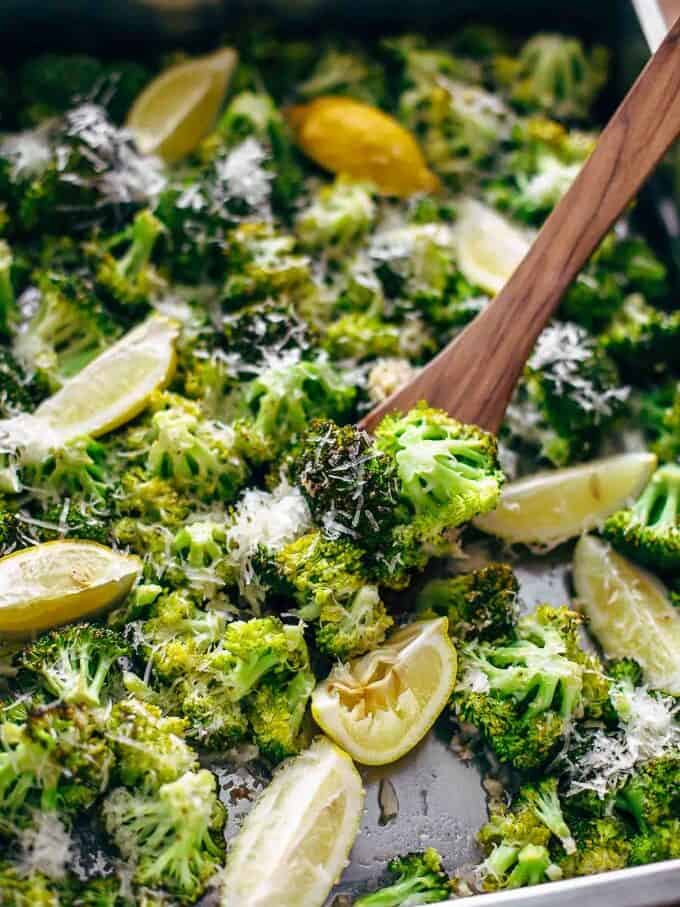 More Broccoli Recipes We Love