Swedish Meatballs are something every type of cook, from home cook to master chef, should know how to make. This delicious recipe features a simple and juicy meatball that anyone can make, baked in the absolute best sauce ever. This classic Swedish Meatball recipe is my go-to for appetizers and nice dinners including the best Swedish Meatballs Sauce to die for!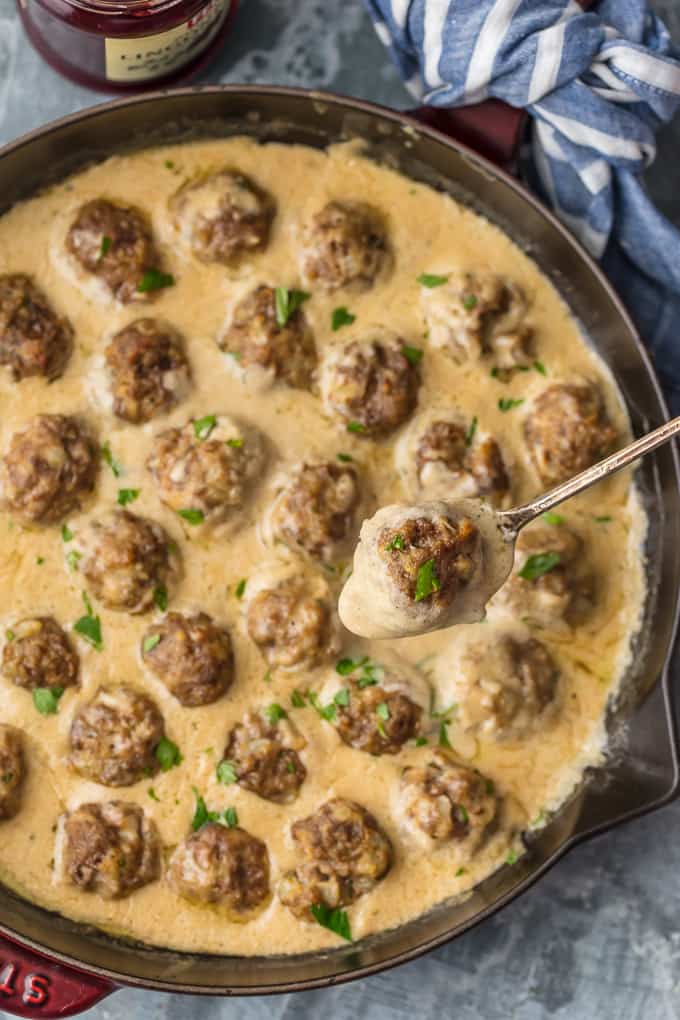 Swedish Meatballs in Sauce
This recipe is close to my heart because my Mom has been making them for years. She has so many great recipes (including her Creamy Chicken Soup), but this is one of my favorite recipes that she makes.
It's great because it can be a meal or an appetizer, and the meatball sauce that goes with it is second to none!
This classic meatball recipe is one that I've needed to learn for years and I'm so glad I finally did. They're great for game day, but also amazing served over pasta for a full meal.
Just try not to pop them all in your mouth while cooking. That's the biggest hurdle you have to overcome.
These easy Swedish Meatballs are so good on their own, but they're just too delicious with that sauce!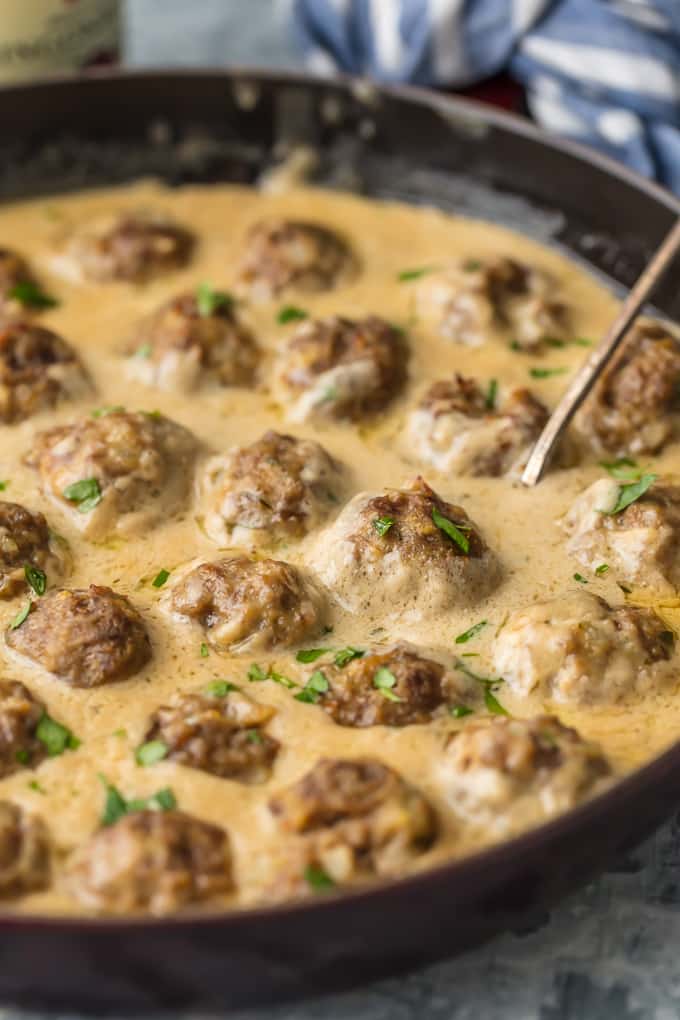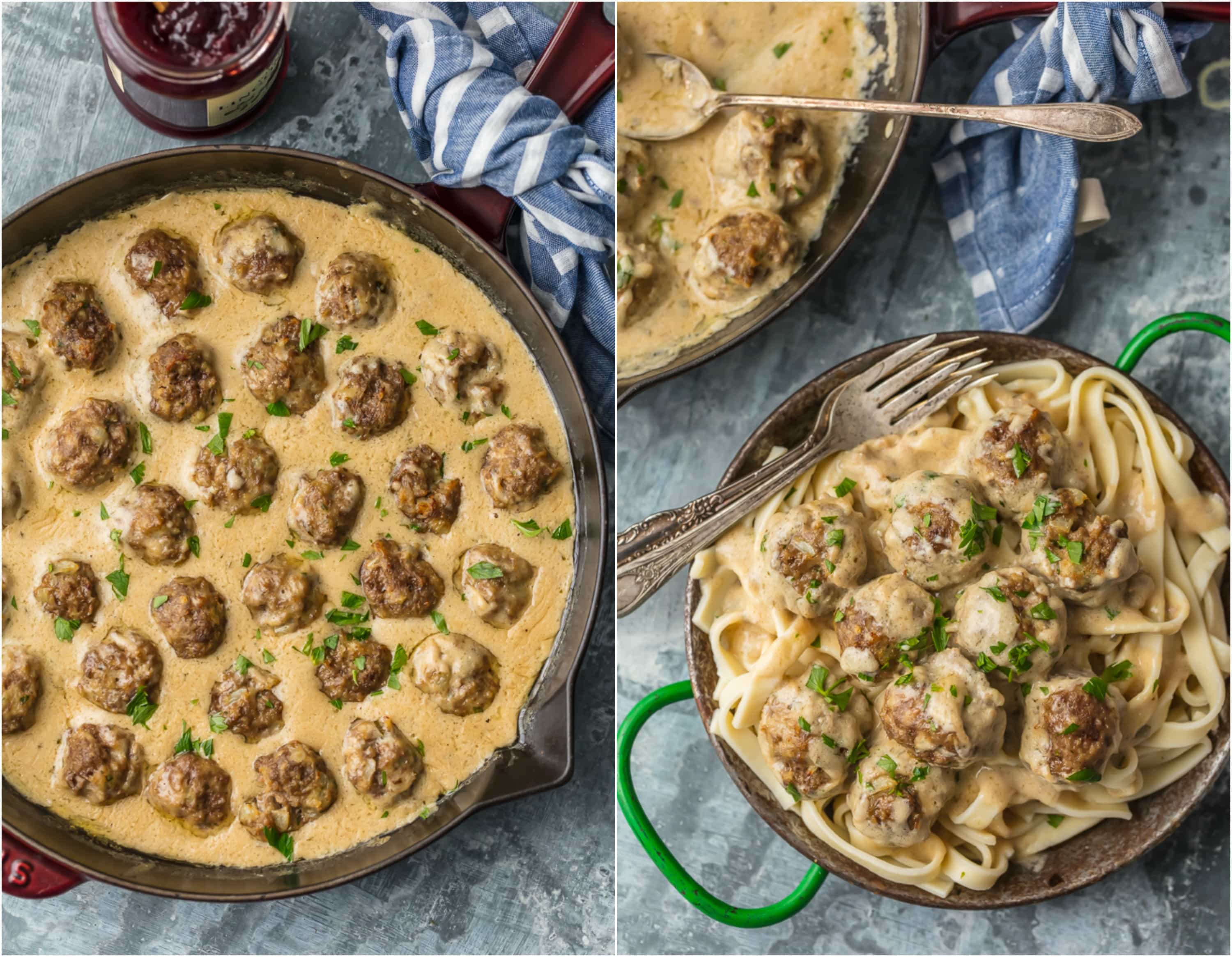 What makes these different than regular meatballs?
The difference is all in the flavor. Yes, it's still just a ball of meat, but it's all about the spices we're using in them (allspice, nutmeg).
And that delicious Swedish Meatball Sauce…Once you try it, you'll understand what's so great about this recipe. So creamy and dreamy!
Best Swedish Meatball Sauce
Okay, so what is in that amazing sauce, you ask? Trust me, it's the absolute best sauce for meatballs. It's just so rich and creamy, I'm drooling just thinking about it.
The meatballs cook up in it and soak up all the flavor, and you can just drench everything in it…yeah, it's good.
Swedish Meatball Sauce Ingredients:
Butter
Beef and Chicken Broth
Heavy Cream
Sour Cream
Beef Bouillon Granules
Soy Sauce
All-Purpose Flour
Dijon Mustard
Worcestershire Sauce
Cider Vinegar
Granulated Sugar
Salt (to taste, if needed) and Pepper
Parsley
Tell me you're not ready to eat these yet? You're going to love them!
How to Make this recipe – Step by Step
I've always kind of avoided meatballs because they seem like so much work. Honestly though, they're a lot easier than I thought!
Yes, you have to roll up your sleeves and roll them into shape, but it's truly not that difficult. This easy recipe takes about 10 minutes more work than my recipes normally require, but since all the recipes on here are intentionally easy, that's not saying much. Its so worth it, trust me.
You can do it, and your family and guests will thank you. These juicy meatballs simply cannot be beat.
Be sure to watch the video for a quick tutorial, and check the recipe card for the full detailed instructions.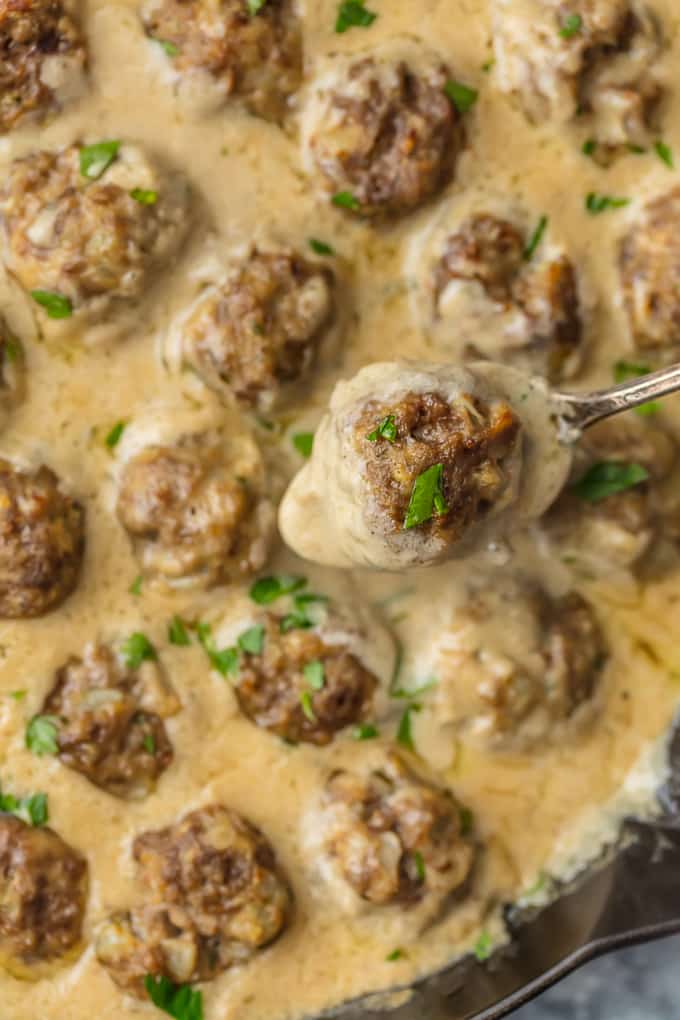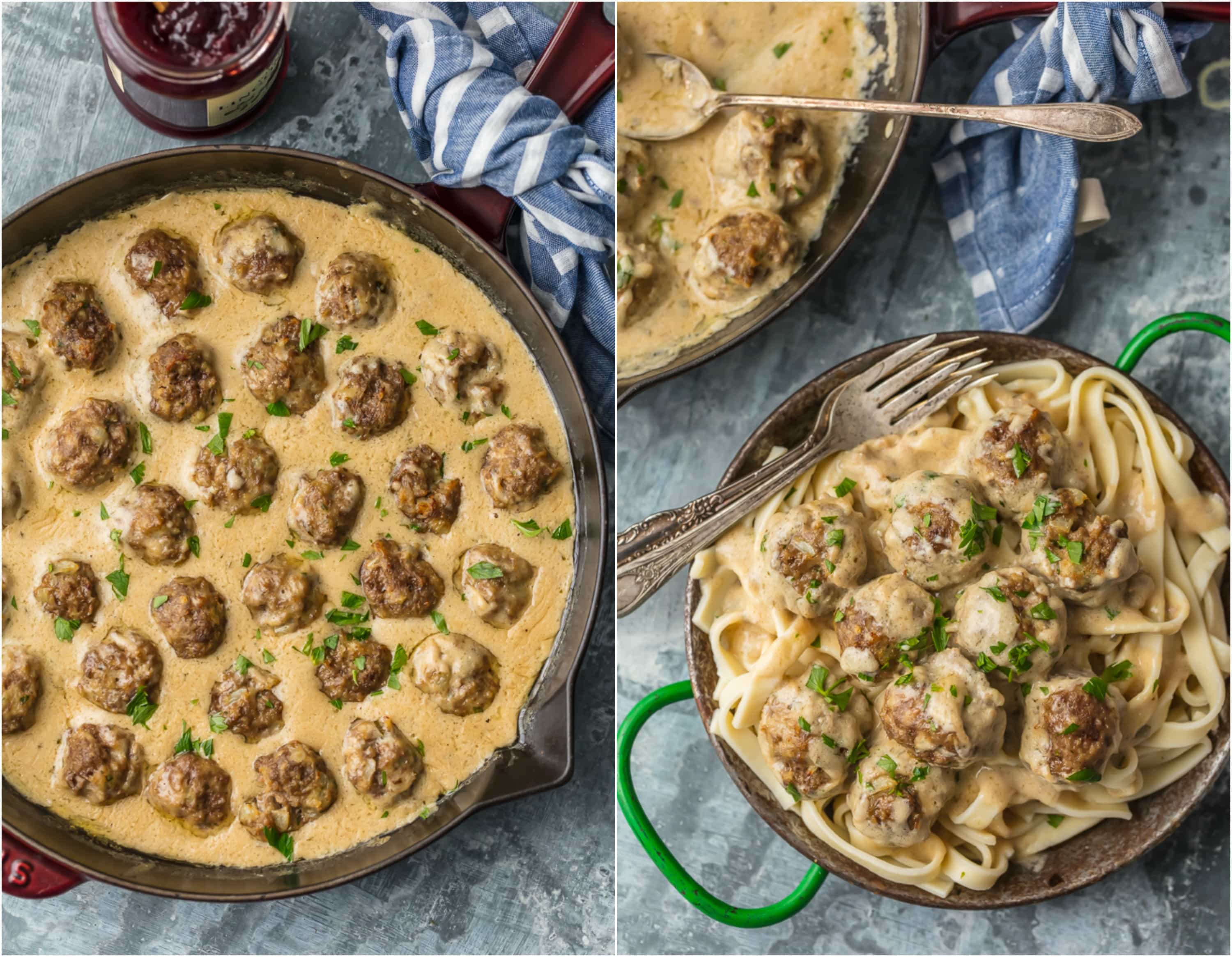 Tip!
For an optional thickener: Before adding the meatballs, mix together 1 tablespoon cornstarch and 2 tablespoons milk or cold water and add it to the sauce, stir over low heat until mixture thickens.
What are Swedish meatballs made of?
Traditionally, they are made from a mixture of pork and beef, but we used chicken (instead of pork) and ground chuck. I just think chicken is a great option for meatballs, and it is a leaner option too.
If you prefer, you can follow this recipe and substitute the pork/beef instead. Or you can use all of one type of meat. It's totally up to you!
How do you thicken the sauce without sacrificing flavor?
Before adding the meatballs, mix together 1 tablespoon cornstarch and 2 tablespoons milk or cold water and add it to the sauce, stir over low heat until mixture thickens.
Can you freeze Swedish Meatballs?
Absolutely! These are such a great thing to make ahead and freeze, especially if you're preparing for a big party (hello New Year's Eve appetizers).
Divide the meatballs and sauce into separate freezer safe containers, and then you can store up to 3 months.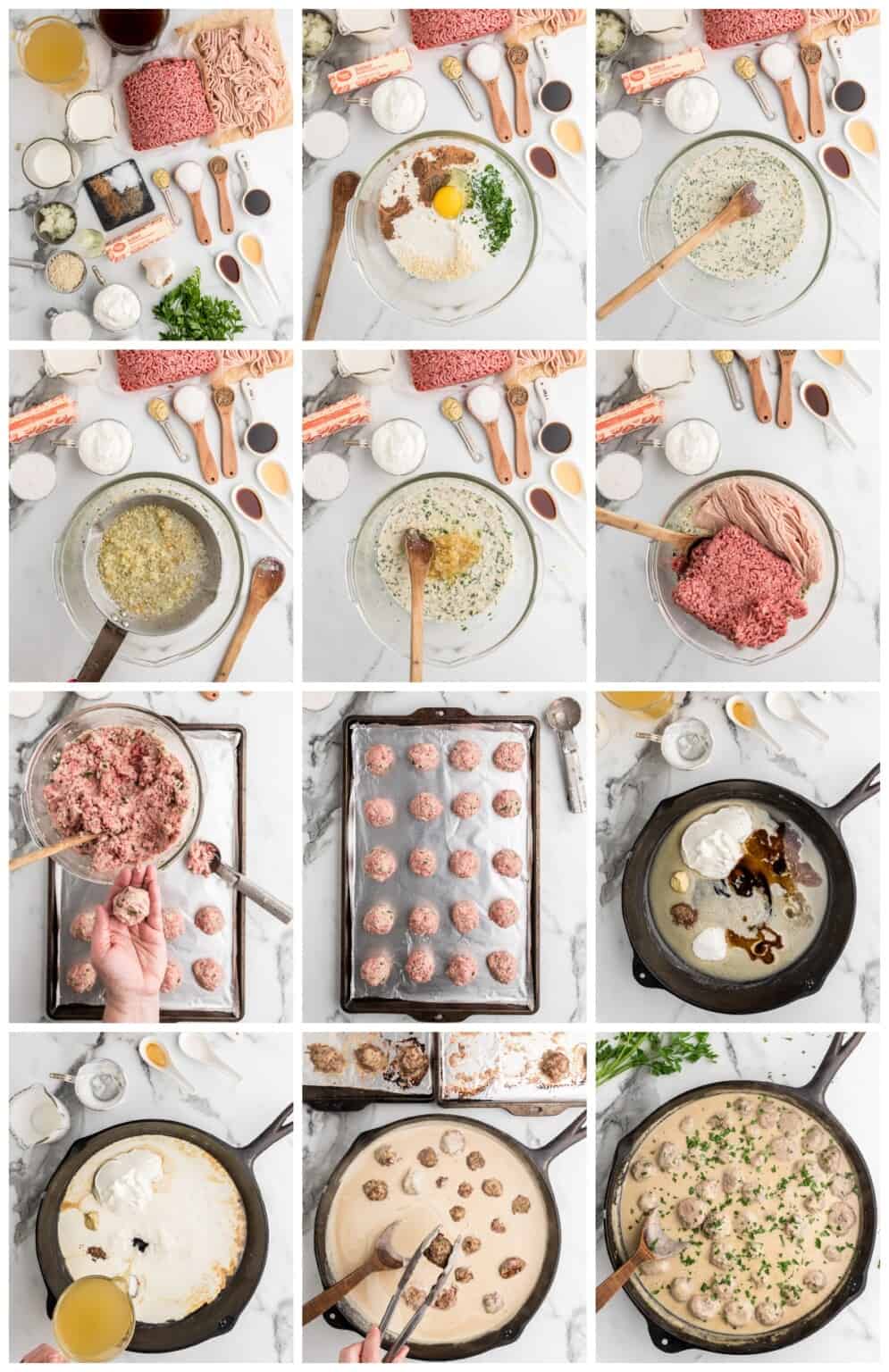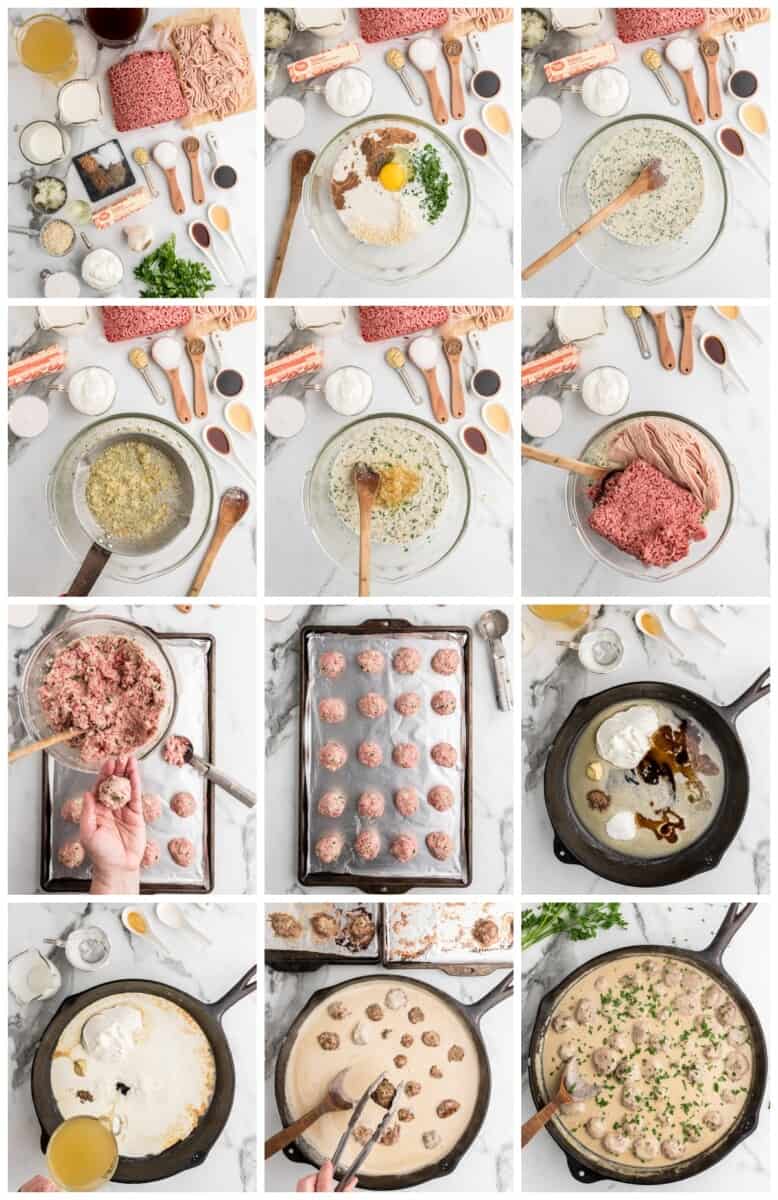 Serving Swedish Meatballs with Lingonberry Jam
Serving these meatballs with Lingonberry Jam sure is a tasty tradition!
We will definitely serve this meal along with this tasty jam going forward. If you can't find it, cranberry sauce or jelly would be equally as delicious. It's just a fun little twist to this delicious appetizer.
We tried both the jam and cranberry sauce and loved them both! It's such a nice savory sweet flavor combination.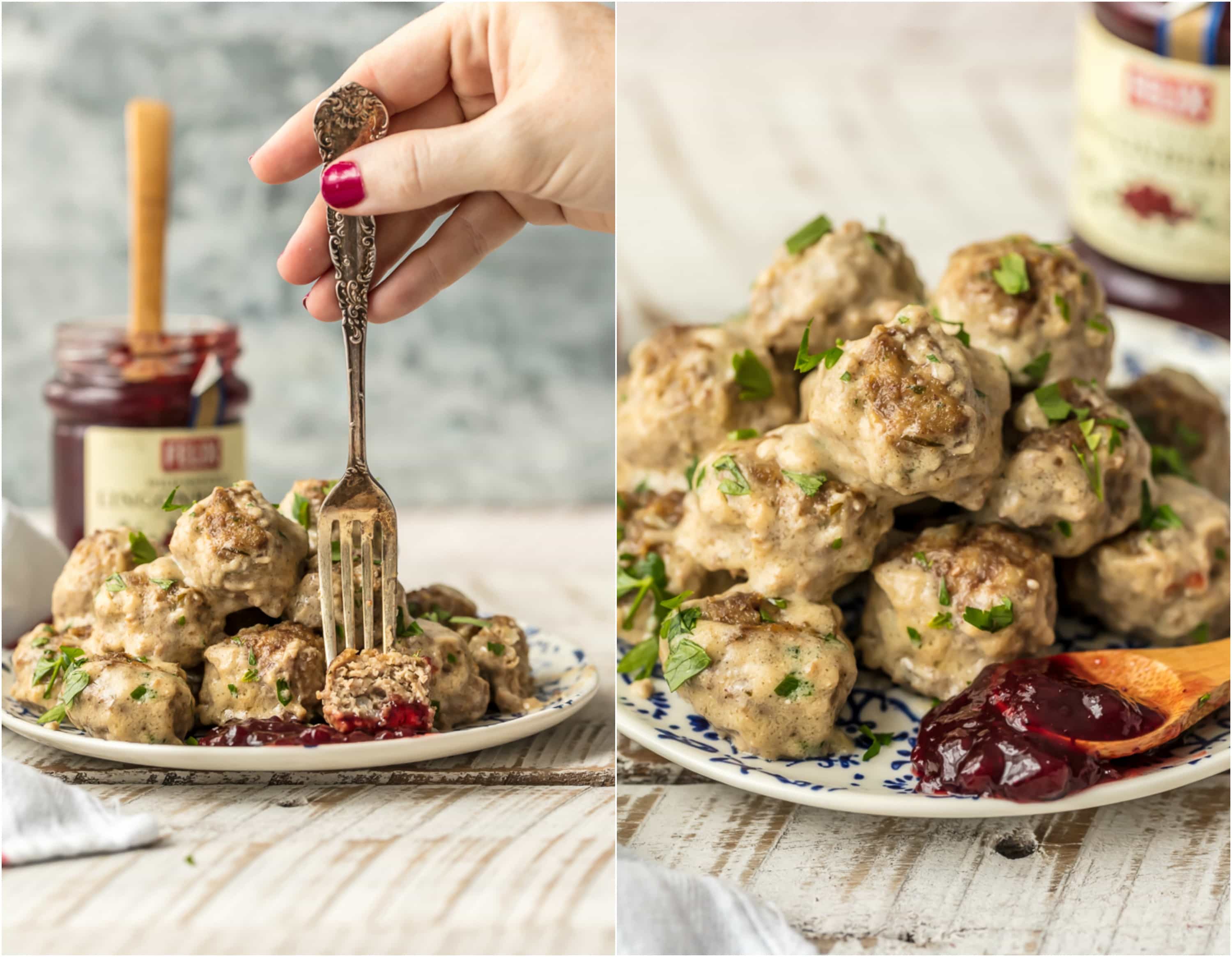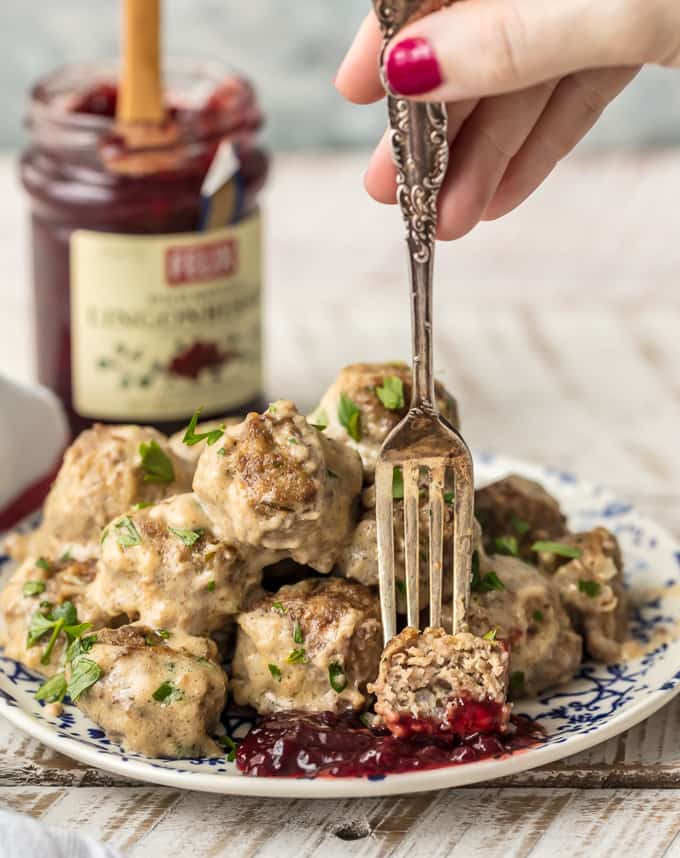 How to Serve:
You can serve this easy meatball recipe on its own, bathed in that creamy sauce. This is the perfect way to do it for easy appetizers on game day or at parties.
But if you want to make these for dinner, try serving them over pasta (the traditional way to do it).
Or you could serve them with buttery roasted potatoes and some crusty bread.
You can't go wrong when that Swedish Meatball Sauce is involved (dip that bread in the sauce and thank me later!).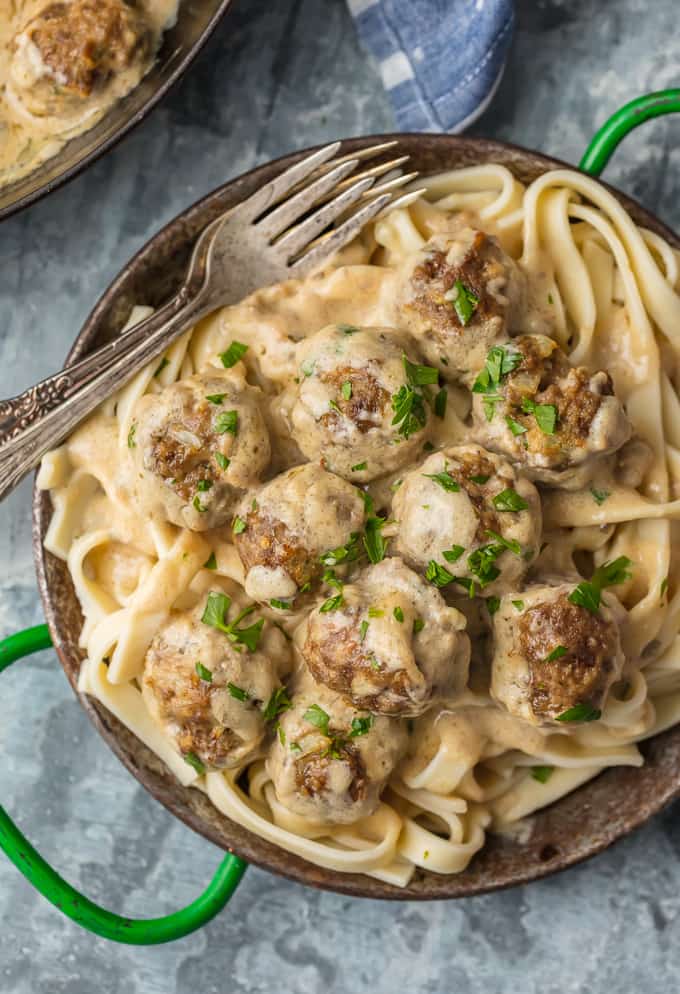 These Easy Swedish Meatballs with the best sauce will knock your socks off. If your family is anything like ours, I know these meatballs will be requested time and time again. Just try your best not to eat all that sauce with a spoon. It's tempting, I know!
Looking for a cozy meal? You'll love this Swedish Meatball Soup!
More Meatball Recipes we Love
If you're looking for the perfect meatball recipe, don't worry, we've got you covered! If you love the Swedish meatball recipe below be sure to also try our other favorites:
If you make this recipe be sure to upload a photo in the comment section below or leave a rating. Enjoy! You can also jump to recipe.