This American Goulash is a hearty mix of ground beef, macaroni, and tomato sauce. It's all cooked in one pot for a quick and easy dinner the whole family will love. Whip up this American Chop Suey any night of the week, and prepare for that delicious comfort food coma!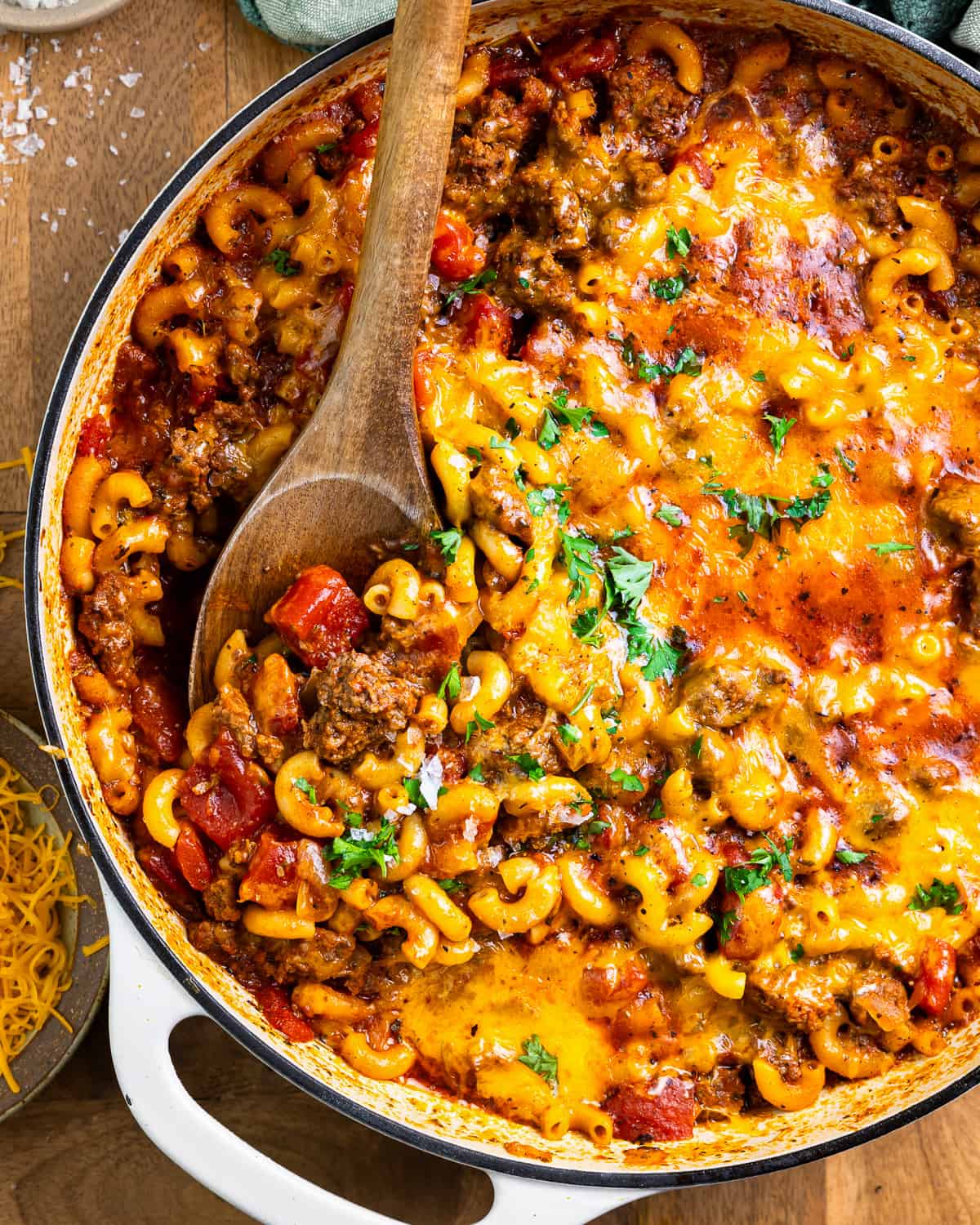 What's in this Goulash Recipe?
What makes this American goulash recipe so easy? All you have to do is throw these simple ingredients into a pot and let it cook!
Ground Beef: Ground beef or hamburger meat is the best option for a quick, one-pot recipe like this.
Onion: I recommend using yellow onion for the best flavor. If you like red onions, use them as a topping instead.
Broth: Beef broth tastes best, but you can substitute chicken broth or vegetable broth if you need to.
Diced Tomatoes: Grab a can of regular diced tomatoes for convenience.
Marinara Sauce: Helps thicken up the sauce and enhances the tomato flavor.
Brown Sugar: This is optional but adds just a touch of sweetness!
Soy Sauce: Enhances the umami flavor of this dish. You could also use Worcestershire sauce.
Seasonings: This recipe uses paprika (a must for any goulash recipe!), Italian seasoning, garlic powder, seasoned salt, pepper, and a bay leaf.
Macaroni: Traditional elbow macaroni is my favorite, but you can use another short or tubular noodle. Penne works great too!
Cheddar Cheese: This is optional, but I love to make our beef goulash cheesy by adding some on top at the end.
Pro Tip: Cook the goulash in a Dutch oven or heavy-based pot. This will distribute the heat more evenly and you are less likely to get hot spots that can burn the bottom.
Variations on American Goulash
If you want to add some vegetables to this dish, you can mix in carrots, potatoes, and other hearty veggies. But you will need to either par-cook them, then add them in with the rest of the ingredients. Or fully cook them separately, and mix them in for the last couple of minutes.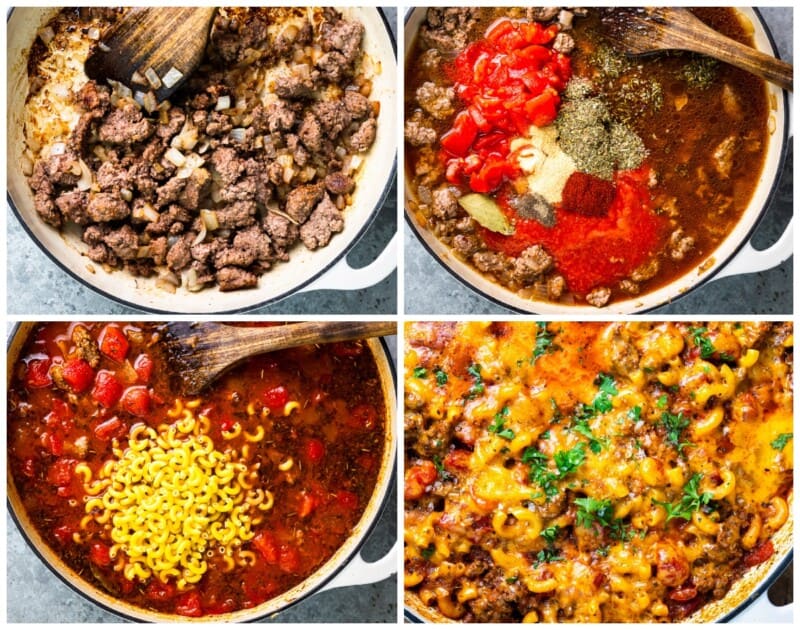 What is goulash?
Goulash is a stew made from meat and vegetables seasoned with paprika and other spices.
Is Hamburger Helper the same as goulash?
Hamburger Helper is similar to goulash, but it is creamier, cheesier, and less tomato-heavy.
What is the difference between Hungarian goulash and American goulash?
American Goulash is made with ground beef, a tomato-based sauce, and elbow macaroni. Overall, it's more like a casserole than a stew. Hungarian Goulash, on the other hand, is more of a traditional stew, made with stew meat (like chuck roast), and lots of vegetables. It's a much thicker consistency and served over a bed of noodles or dumplings.
What cuts of meat are best for goulash?
I like to use lean ground beef for this recipe, but you can easily make it with ground turkey, chicken or pork, or even try ground veal or bison.
Should I cook the pasta beforehand?
No, the pasta will cook through perfectly in the pot along with the other ingredients.
How do you thicken goulash?
If it's watery or runny, just let it continue to simmer for a while longer and stir. This usually does the trick for me, Otherwise, you can mix in just a bit of cornstarch and continue cooking.
Can I add cheese?
If you like, add plenty of shredded cheese on top after everything has finished cooking. Then pop it in the oven to broil for a few minutes to melt the cheese.
Can you freeze goulash?
Absolutely! It will keep well for up to 3 months.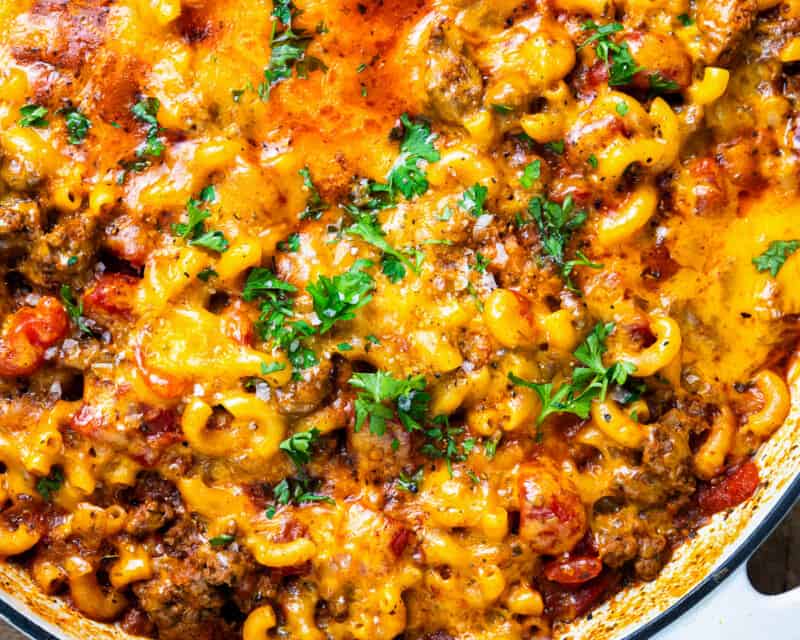 How to Store and Reheat
Store leftover goulash in an airtight container in the refrigerator for up to 4 days. Reheat on the stove over medium-low heat or in the microwave in 30-second increments until warmed through.
How to Freeze
Let the goulash cool completely before transferring it to Ziplock bags or an airtight container. It will keep well for 3 months. Let thaw overnight in the refrigerator before reheating.
Serving Suggestions
This hearty American Chop Suey makes a great dinner by itself, but also pairs well with cornbread, dinner rolls, or any kind of bread you like for a bit of scooping and dipping. You could also serve it with a side of mashed potatoes or au gratin potatoes.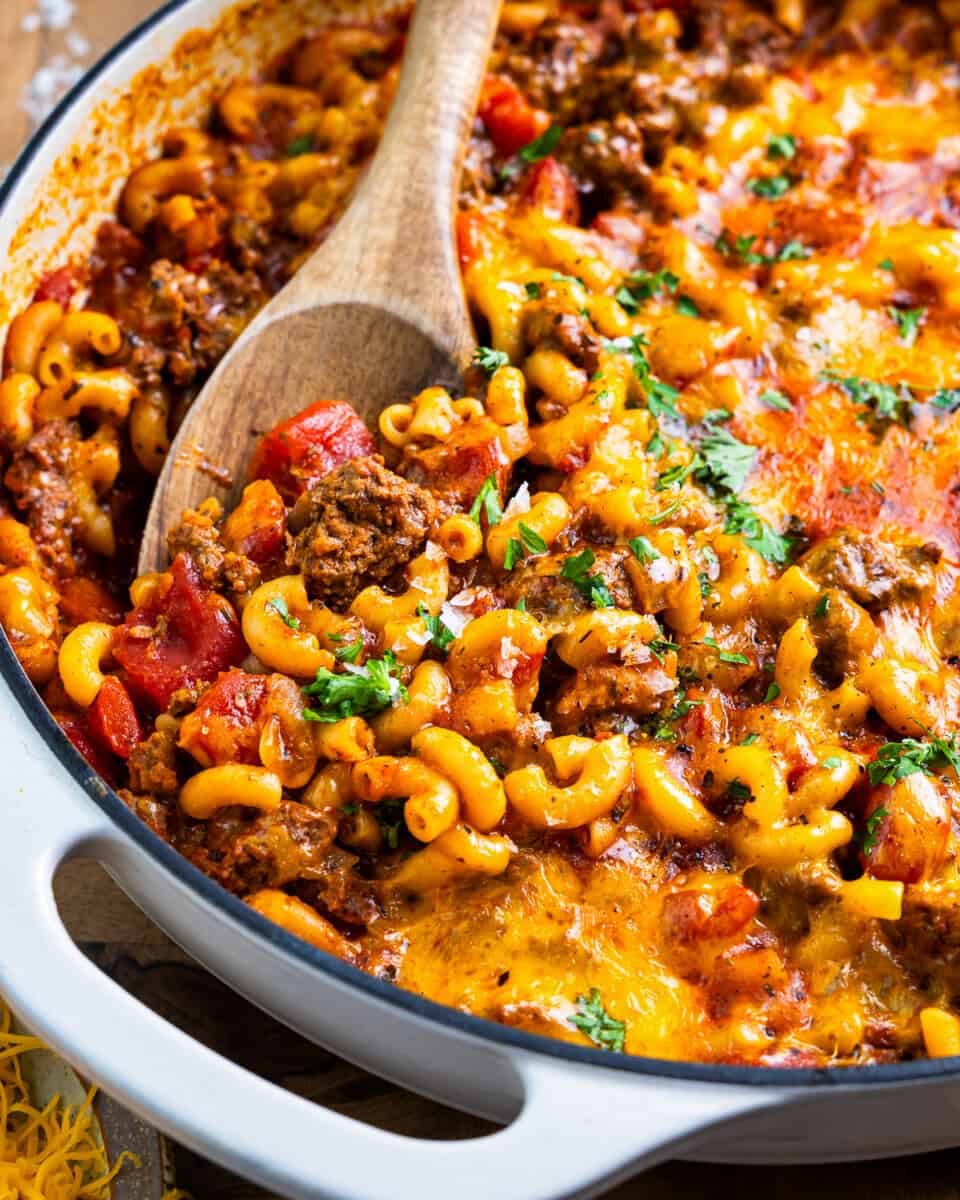 More Goulash Recipes We Love